South America Soluble Dietary Fibers Market Forecast to 2028 - COVID-19 Impact and Regional Analysis By Type (Inulin, Pectin, Polydextrose, Beta-Glucan, and Others), Source (Cereals and Grains, Fruits and Vegetables, and Others), and Application (Food and Beverages, Animal Nutrition, Pharmaceuticals and Nutraceuticals, and Others)
Code:
TIPRE00025238
|
Pages:
113
|
Industry:
Food and Beverages
|
Date:
Oct 2021

Market Introduction
The South America region includes countries such as Brazil, Argentina, and the Rest of SAM. The rising health concerns among the consumers is the major driver for the market in South America. The consumers from the region are becoming more aware about benefits of soluble fiber intake. Additionally, the increasing purchasing power of the consumers further contributes to the growth of the market. Many food manufacturers from the region are utilizing soluble fibers from various sources such as fruits and vegetables, cereals and grains, legumes, and nuts and seeds, to develop fortified food products with high-fiber content. These soluble dietary fibers enable food manufacturers to create calorie-reduced products with improved nutritional profiles. Many players operating the region are constantly expanding their product portfolios to meet the dynamic consumer demands. These players are also promoting a more balanced diet for animals. Thus, the growing demand of soluble dietary fibers in animal feeds is expected to boost the growth of the market.
Brazil has been ranked to be the third-most affected economy due to COVID-19 pandemic globally. In South America, Brazil has the highest number of COVID-19 cases, followed by Ecuador, Chile, Peru, and Argentina, among others. The governments in South America have taken an array of actions to protect their citizens and combat the spread of COVID-19 virus through lockdowns, trade bans, and travel restrictions. This may have a direct impact upon the growth of the soluble dietary fibers market.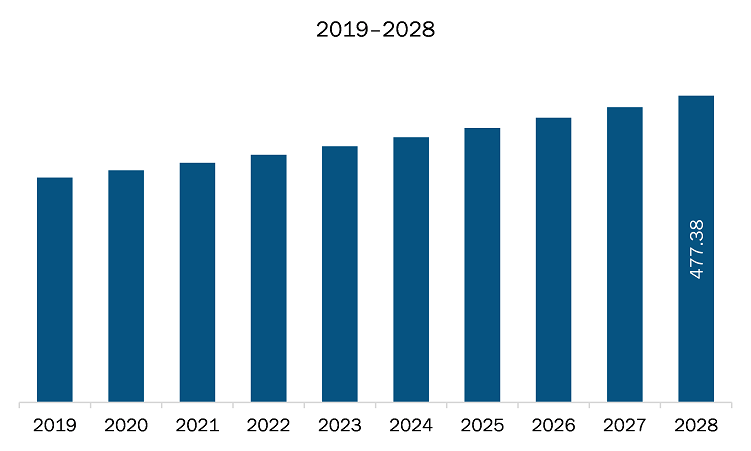 Get more information on this report :
Market Overview and Dynamics
The soluble dietary fibers market in South America is expected to grow from US$ 373.00 million in 2021 to US$ 477.38 million by 2028; it is estimated to grow at a CAGR of 3.6% from 2021 to 2028. The use of soluble dietary fiber is rising fairly in beverages and drinks as it shows better dispersibility in water in comparison to insoluble fiber. Additionally, the incorporation of soluble dietary fiber in beverage formulations helps improve the overall physical and chemical properties as the beverage particles get uniformly distributed; enhance the stability; and prevent precipitation and stratification. Such functional beverages promote satiety, help in weight management, and minimize the need to the intake other high calorific foods. Different types of soluble fibers such as grains and multi-fruits, pectins, β-glucans, and cellulose beet-root fiber, can be used in preparation of beverages. For instance, as per an article published by the National Center for Biotechnology Information (NCBI), oat fiber can be effectively used in preparation of milk shakes, instant type-breakfast drinks, fruit and vegetable juices, iced tea, sports drinks, cappuccino, and wine. An article published by PreScouter" Natural Replacements for Sugar in Beverages" in April 2018, stated that the soluble fiber, inulin, is considered as a perfect ingredient which can be used in instant beverages, soy drinks, and flavored waters, especially "functional" beverages. Inulin possesses high solubility in water along with providing extra strength to body. Inulin is considered as an ideal sugar replacer in low-calorie beverages. Similarly, an article published by FoodIngredientsFirst in April 2020, represented that soluble fibers and natural flavors have grown indispensably in the sweeteners market, attributable to significant shift toward sugar-reduced foods as well as enhanced mouthfeel, texture, and sweetness. The rising inclination toward replacing sugar with artificial sweeteners to improve texture, taste, and nutrition has driven the demand for soluble dietary fibers such as chicory inulin. Chicory inulin possesses a sweetness of approximately 10% in comparison with that of sucrose and has the capability to replace sugars in 1:1 ratio in many applications. Similarly, Litesse Ultra polydextrose is another soluble fiber, which can effectively substitute the lost texture and mouthfeel by reduction of sugar. Similarly, prebiotic dietary fibers, possessing high solubility in water, are significantly used in beverage formulations to promote the digestive health. For instance, barley, which is composed of –20 grams of beta-glucan per 100 grams, is significantly used as a popular cereal grain to produce beer. It contains 2. Beta glucan (β-glucan) is a type of soluble fiber which is known for several functional and bioactive properties and helps to minimizes the risk of dyslipidemia, hypertension, and obesity. Companies such as Ingredion is involved in offering NUTRAFLORA soluble prebiotic fiber, which enhances the flavor of beverages along with acting as an effective sugar substitute. Similarly, Fibersol—a joint venture between Archer Daniels Midland Company; Matsutani Chemical Industry Co., Ltd.; and Matsutani America—is involved in providing low-viscosity soluble prebiotic dietary fiber, which helps increase the fiber content and enhance the nutritional profile of different types of beverages such as juices & fortified waters, shakes & smoothies, protein & nutritional, yogurt & dairy-based, coffee & tea, sports & energy, and carbonated & alcoholic. Hence, the soluble dietary fiber acts as an effective sugar replacement and can also be used as a prebiotic fiber in beverage formulations.
Key Market Segments
In terms of type, the inulin segment accounted for the largest share of the South America soluble dietary fibers market in 2020. In terms of source, the cereals and grains segment accounted for the largest share. Further In term of application, the food and beverages held a larger market share of the soluble dietary fibers market in 2020.
Major Sources and Companies Listed
A few major primary and secondary sources referred to for preparing this report on the soluble dietary fibers market in South America are company websites, annual reports, financial reports, national government documents, and statistical database, among others. Major companies listed in the report are Cargill, Incorporated, Kerry Group, Ingredion Incorporated, Nexira, Roquette Frères, Tate & Lyle PLC, ADM, IFF Nutrition & Biosciences, and BENEO GmbH among others.
Reasons to buy report
To understand the South America soluble dietary fibers market landscape and identify market segments that are most likely to guarantee a strong return
Stay ahead of the race by comprehending the ever-changing competitive landscape for South America soluble dietary fibers market
Efficiently plan M&A and partnership deals in South America soluble dietary fibers market by identifying market segments with the most promising probable sales
Helps to take knowledgeable business decisions from perceptive and comprehensive analysis of market performance of various segment form South America soluble dietary fibers market
Obtain market revenue forecast for market by various segments from 2021-2028 in South America region

.
South America Soluble Dietary Fibers Market Segmentation
South America Soluble Dietary Fibers Market – By Type
Inulin
Pectin
Beta-glucan
Polydextrose
Others
South America Soluble Dietary Fibers Market – By Source
Cereals and Grains
Fruits and Vegetables
Others
South America Soluble Dietary Fibers Market – By Application
Food and Beverages
Animal Nutrition
Pharmaceuticals and Nutraceuticals
Others
South America Soluble Dietary Fibers Market – By Country
Brazil
Argentina
Rest of SAM
South America Soluble Dietary Fibers Market – Companies Mentioned
Cargill, Incorporated
Kerry Group
Ingredion Incorporated
Nexira
Tate & Lyle PLC
ADM
IFF Nutrition & Biosciences
BENEO GmbH
Roquette Frères
1.1 Study Scope
1.2 The Insight Partners Research Report Guidance
1.3 Market Segmentation
2. Key Takeaways
3. Research Methodology
3.1 Scope of the Study
3.2 Research Methodology
3.2.1 Data Collection
3.2.2 Primary Interviews
3.2.3 Hypothesis Formulation
3.2.4 Macro-economic Factor Analysis
3.2.5 Developing Base Number
3.2.6 Data Triangulation
3.2.7 Country Level Data
4. South America Soluble Dietary Fibers – Market Landscape
4.1 Market Overview
4.2 PEST Analysis
4.3 Expert Opinion
5. South America Soluble Dietary Fibers Market – Key Market Dynamics
5.1 Market Drivers
5.1.1 Boosting Demand for Functional Food
5.1.2 Broadening Applications of Soluble Dietary Fibers in Pharmaceuticals and Nutraceuticals
5.2 Market Restraints
5.2.1 Variable Prices of Raw Material
5.3 Market Opportunities
5.3.1 Occurring Sources of Soluble Dietary Fibers
5.4 Future Trends
5.4.1 Surging Demand for Soluble Dietary Fibers as a Sugar Replacement in Beverages and as a Prebiotic
5.5 Impact Analysis of Drivers and Restraints
6. South America Soluble Dietary Fibers – Market Analysis
6.1 Soluble Dietary Fibers Market Overview
6.2 South America Soluble Dietary Fibers Market –Revenue and Forecast To 2028 (US$ Million)
7. South America Soluble Dietary Fibers Market Analysis – By Type
7.1 Overview
7.2 South America: Soluble Dietary Fiber Market, by Type
7.3 Inulin
7.3.1 Overview
7.3.2 Inulin: Soluble Dietary Fibers Market – Revenue and Forecast to 2028 (US$ Million)
7.4 Pectin
7.4.1 Overview
7.4.2 Pectin: Soluble dietary fibers market – Revenue and Forecast to 2028 (US$ Million)
7.5 Polydextrose
7.5.1 Overview
7.5.2 Polydextrose: Soluble dietary fibers market – Revenue and Forecast to 2028 (US$ Million)
7.6 Beta-glucan
7.6.1 Overview
7.6.2 Beta-glucan: Soluble dietary fibers market – Revenue and Forecast to 2028 (US$ Million)
7.7 Others
7.7.1 Overview
7.7.2 Others: Soluble dietary fibers market – Revenue and Forecast to 2028 (US$ Million)
8. South America Soluble Dietary Fibers Market Analysis – By Source
8.1 Overview
8.2 South America: Soluble Dietary Fiber Market, by Source
8.3 Cereals and Grains
8.3.1 Overview
8.3.2 Cereals and Grains: Soluble dietary fibers market – Revenue and Forecast to 2028 (US$ Million)
8.4 Fruits and Vegetables
8.4.1 Overview
8.4.2 Fruits and Vegetables: Soluble dietary fibers market – Revenue and Forecast to 2028 (US$ Million)
8.5 Others
8.5.1 Overview
8.5.2 Others: Soluble dietary fibers market – Revenue and Forecast to 2028 (US$ Million)
9. South America Soluble Dietary Fibers Market Analysis – By Application
9.1 Overview
9.2 South America: Soluble Dietary Fiber Market, by Application
9.3 Food and Beverages
9.3.1 Overview
9.3.2 Food and Beverages: Soluble dietary fibers market – Revenue and Forecast to 2028 (US$ Million)
9.4 Animal Nutrition
9.4.1 Overview
9.4.2 Animal Nutrition: Soluble dietary fibers market – Revenue and Forecast to 2028 (US$ Million)
9.5 Pharmaceuticals and Nutraceuticals
9.5.1 Overview
9.5.2 Pharmaceuticals and Nutraceuticals: Soluble dietary fibers market – Revenue and Forecast to 2028 (US$ Million)
9.6 Others
9.6.1 Overview
9.6.2 Others: Soluble dietary fibers market – Revenue and Forecast to 2028 (US$ Million)
10. South America Soluble Dietary Fibers Market – Country Analysis
10.1 Overview
10.1.1 South America: Soluble Dietary Fibers Market, by Key Country
10.1.1.1 Brazil: Soluble dietary fibers market –Revenue and Forecast to 2028 (US$ Million)
10.1.1.1.1 Brazil: Soluble Dietary Fibers Market, by Type
10.1.1.1.2 Brazil: Soluble Dietary Fibers Market, by Source
10.1.1.1.3 Brazil: Soluble Dietary Fibers Market, by Application
10.1.1.2 Argentina: Soluble dietary fibers market –Revenue and Forecast to 2028 (US$ Million)
10.1.1.2.1 Argentina: Soluble Dietary Fibers Market, by Type
10.1.1.2.2 Argentina: Soluble Dietary Fibers Market, by Source
10.1.1.2.3 Argentina: Soluble Dietary Fibers Market, by Application
10.1.1.3 Rest of South America: Soluble dietary fibers market –Revenue and Forecast to 2028 (US$ Million)
10.1.1.3.1 Rest of South America: Soluble Dietary Fibers Market, by Type
10.1.1.3.2 Rest of South America: Soluble Dietary Fibers Market, by Source
10.1.1.3.3 Rest of South America: Soluble Dietary Fibers Market, by Application
11. South America Soluble Dietary Fibers Market – Impact of COVID-19 Pandemic
11.1 Impact Assessment of COVID-19 Pandemic
12. Industry Landscape
12.1 Product Launch
12.2 Strategy and Business Planning
13. Company Profiles
13.1 Cargill, Incorporated
13.1.1 Key Facts
13.1.2 Business Description
13.1.3 Products and Services
13.1.4 Financial Overview
13.1.5 SWOT Analysis
13.1.6 Key Developments
13.2 Kerry Group
13.2.1 Key Facts
13.2.2 Business Description
13.2.3 Products and Services
13.2.4 Financial Overview
13.2.5 SWOT Analysis
13.2.6 Key Developments
13.3 Ingredion Incorporated
13.3.1 Key Facts
13.3.2 Business Description
13.3.3 Products and Services
13.3.4 Financial Overview
13.3.5 SWOT Analysis
13.3.6 Key Developments
13.4 Nexira
13.4.1 Key Facts
13.4.2 Business Description
13.4.3 Products and Services
13.4.4 Financial Overview
13.4.5 SWOT Analysis
13.4.6 Key Developments
13.5 Roquette Frères
13.5.1 Key Facts
13.5.2 Business Description
13.5.3 Products and Services
13.5.4 Financial Overview
13.5.5 SWOT Analysis
13.5.6 Key Developments
13.6 Tate & Lyle PLC
13.6.1 Key Facts
13.6.2 Business Description
13.6.3 Products and Services
13.6.4 Financial Overview
13.6.5 SWOT Analysis
13.6.6 Key Developments
13.7 ADM
13.7.1 Key Facts
13.7.2 Business Description
13.7.3 Products and Services
13.7.4 Financial Overview
13.7.5 SWOT Analysis
13.7.6 Key Developments
13.8 IFF Nutrition & Biosciences
13.8.1 Key Facts
13.8.2 Business Description
13.8.3 Products and Services
13.8.4 Financial Overview
13.8.5 SWOT Analysis
13.8.6 Key Developments
13.9 BENEO GmbH
13.9.1 Key Facts
13.9.2 Business Description
13.9.3 Products and Services
13.9.4 Financial Overview
13.9.5 SWOT Analysis
13.9.6 Key Developments
14. Appendix
14.1 About The Insight Partners
14.2 Glossary


Table 1. South America Soluble Dietary Fibers Market –Revenue and Forecast to 2028 (US$ Million)
Table 2. Brazil Soluble Dietary Fibers Market, by Type – Revenue and Forecast to 2028 (USD Million)
Table 3. Brazil Soluble Dietary Fibers Market, by Source – Revenue and Forecast to 2028 (USD Million)
Table 4. Brazil Soluble Dietary Fibers Market, by Application– Revenue and Forecast to 2028 (USD Million)
Table 5. Argentina Soluble Dietary Fibers Market, by Type – Revenue and Forecast to 2028 (USD Million)
Table 6. Argentina Soluble Dietary Fibers Market, by Source – Revenue and Forecast to 2028 (USD Million)
Table 7. Argentina Soluble Dietary Fibers Market, by Application– Revenue and Forecast to 2028 (USD Million)
Table 8. Rest of South America Soluble Dietary Fibers Market, by Type – Revenue and Forecast to 2028 (USD Million)
Table 9. Rest of South America Soluble Dietary Fibers Market, by Source – Revenue and Forecast to 2028 (USD Million)
Table 10. Rest of South America Soluble Dietary Fibers Market, by Application– Revenue and Forecast to 2028 (USD Million)
Table 11. Glossary of Terms, Soluble Dietary Fibers Market


Figure 1. South America Soluble Dietary Fibers Market Segmentation
Figure 2. South America Soluble Dietary Fibers Market Segmentation – By Country
Figure 3. South America Soluble Dietary Fibers Market Overview
Figure 4. Food and Beverage Segment Held Largest Share of South America Soluble Dietary Fibers Market
Figure 5. Rest of SAM Region Held Largest Share of South America Soluble Dietary Fibers Market
Figure 6. South America Soluble Dietary Fibers Market, Industry Landscape
Figure 7. South America: PEST Analysis
Figure 8. Expert Opinion
Figure 9. South America Soluble Dietary Fibers Market Impact Analysis of Drivers and Restraints
Figure 10. South America: Soluble Dietary Fibers Market – Revenue and Forecast To 2028 (US$ Million)
Figure 11. South America: Soluble Dietary Fiber Market Revenue Share, by Type (2020 and 2028)
Figure 12. Inulin: Soluble Dietary Fibers Market – Revenue and Forecast to 2028 (US$ Million)
Figure 13. Pectin: Soluble Dietary Fiber – Revenue and Forecast to 2028 (US$ Million)
Figure 14. Polydextrose: Soluble dietary fibers market – Revenue and Forecast to 2028 (US$ Million)
Figure 15. Beta-glucan: Soluble dietary fibers market – Revenue and Forecast to 2028 (US$ Million)
Figure 16. Others: Soluble dietary fibers market – Revenue and Forecast to 2028 (US$ Million)
Figure 17. South America: Soluble Dietary Fiber Market Revenue Share, by Source (2020 and 2028)
Figure 18. Cereals and Grains: Soluble dietary fibers market – Revenue and Forecast to 2028 (US$ Million)
Figure 19. Fruits and Vegetables: Soluble dietary fibers market – Revenue and Forecast to 2028 (US$ Million)
Figure 20. Others: Soluble dietary fibers market – Revenue and Forecast to 2028 (US$ Million)
Figure 21. South America: Soluble Dietary Fiber Market Revenue Share, by Application (2020 and 2028)
Figure 22. Food and Beverages: Soluble dietary fibers market – Revenue and Forecast to 2028 (US$ Million)
Figure 23. Animal Nutrition: Soluble dietary fibers market – Revenue and Forecast to 2028 (US$ Million)
Figure 24. Pharmaceuticals and Nutraceuticals: Soluble dietary fibers market – Revenue and Forecast to 2028 (US$ Million)
Figure 25. Others: Soluble dietary fibers market – Revenue and Forecast to 2028 (US$ Million)
Figure 26. Geographic Overview of South America Soluble Dietary Fibers Market
Figure 27. South America: Soluble dietary fibers market Revenue Share, by Key Country (2020 and 2028)
Figure 28. Brazil: Soluble dietary fibers market –Revenue and Forecast to 2028 (US$ Million)
Figure 29. Argentina: Soluble dietary fibers market –Revenue and Forecast to 2028 (US$ Million)
Figure 30. Rest of South America: Soluble dietary fibers market –Revenue and Forecast to 2028 (US$ Million)
Figure 31. Impact of COVID-19 Pandemic in South America
Cargill, Incorporated

Kerry Group

Ingredion Incorporated

Nexira

Tate & Lyle PLC

ADM

IFF Nutrition & Biosciences

BENEO GmbH

Roquette Frères
Save and reduce time carrying out entry-level research by identifying the growth, size, leading players and segments in the

South America soluble dietary fibers market

.

Highlights key business priorities in order to assist companies to realign their business strategies

The key findings and recommendations highlight crucial progressive industry trends in the

South America soluble dietary fibers market

, thereby allowing players across the value chain to develop effective long-term strategies

Develop/modify business expansion plans by using substantial growth offering developed and emerging markets

Scrutinize in-depth South America market trends and outlook coupled with the factors driving the soluble dietary fibers market, as well as those hindering it

Enhance the decision-making process by understanding the strategies that underpin commercial interest with respect to client products, segmentation, pricing and distribution
---
Related Tags
South America Soluble Dietary Fibers Market Market
South America Soluble Dietary Fibers Market Market Research
South America Soluble Dietary Fibers Market Market Insight
South America Soluble Dietary Fibers Market Market Trends
South America Soluble Dietary Fibers Market Market Forecast
South America Soluble Dietary Fibers Market Market Share
South America Soluble Dietary Fibers Market Market 2028
South America Soluble Dietary Fibers Market Market Growth
South America Soluble Dietary Fibers Market Industry
Sector
South America Soluble Dietary Fibers Market PDF Report
South America Soluble Dietary Fibers Market Analysis
South America Soluble Dietary Fibers Market Research
Competitive Analysis
---