Asia Pacific Soluble Dietary Fibers Market Forecast to 2028 - COVID-19 Impact and Regional Analysis By Type (Inulin, Pectin, Polydextrose, Beta-Glucan, and Others), Source (Cereals and Grains, Fruits and Vegetables, and Others), and Application (Food and Beverages, Animal Nutrition, Pharmaceuticals and Nutraceuticals, and Others)
Code:
TIPRE00025234
|
Pages:
125
|
Industry:
Food and Beverages
|
Date:
Oct 2021

Market Introduction
The Asia Pacific (APAC) region comprises countries such as Australia, China, India, Japan, South Korea, and other Asian countries. In Asia Pacific, growing awareness about healthy diet and increasing health consciousness among people are the major drivers for the soluble dietary fibers market. Owing to the health benefits of soluble dietary fibers, there is growing demand for these fibers. The consumers in several economies across Asia Pacific have begun to pay attention to dietary guidelines, which has boosted the market growth. Countries such as China and India, are major contributors for the market growth in the region. There is an increase in awareness about gut health of both humans and animals in Asia Pacific. As a result, there is a growing demand for specific prebiotic fibers from pharmaceutical and animal nutrition industries. The consumers are expected to pay more attention to healthy nutrition in post COVID-19 times.
The COVID-19 pandemic is anticipated to cause a significant economic loss in Asia Pacific. The consequence and impact can be even worse, and they totally depend on the spread of the virus. The Asian economies have been hit hard due to the pandemic. The emergence of new COVID-19 waves in India, Thailand, and other Asian economies has prolonged the effect of pandemic upon GDP. The ongoing COVID-19 pandemic is anticipated to cause huge disruptions in the growth of various industries of Asia Pacific. However, the uncertainty regarding the future outbreak, especially in countries such as India and few other Asian countries, has altered the status of several industrial sectors. The governments of various Asia Pacific economies are taking possible steps to restrict the spread of the virus by announcing country-wide lockdown, which have a direct impact upon the growth of industrial sectors. This may impact the demand for soluble dietary fibers. However, the market is expected to witness an increase in investment by existing players along with penetration of new players to tap the prevailing opportunities as well as cater to soaring demand for natural, healthy, clean-label products in post-pandemic times.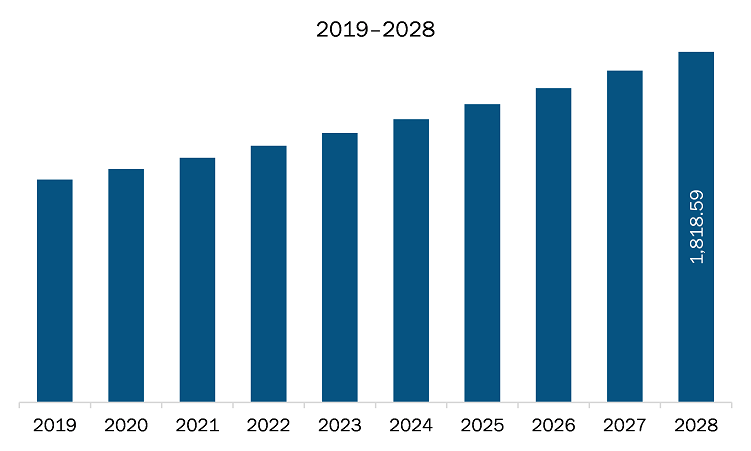 Get more information on this report :
Market Overview and Dynamics
The soluble dietary fibers market in Asia Pacific is expected to grow from US$ 1,268.88 million in 2021 to US$ 1,818.59 million by 2028; it is estimated to grow at a CAGR of 5.3% from 2021 to 2028. Dietary fiber acts as a functional food product as it offers added benefits, along with several health benefits, apart from the normal expected function. Several associations such as Department of Nutrition, School of Health Sciences, and IGI Global identify the role of soluble dietary fiber as the key element in boosting the overall nutritional properties in functional foods. Also, a recent study published by Nutraceutical World in May 2021, describes the use of soluble dietary fiber with blueberry in supplementing diet, which have the potential to minimize the risk of gestational diabetes, along with significant reduction in gestational weight gain, enhanced glycemic control, and reduced inflammation in pregnant women with obesity. Further, an article published by National Center for Biotechnology Information (NCBI) states that dietary fibers such as soluble dietary fibers are significantly used in preparation of functional foods such as bakery, drinks, and meat products which helps to enhance the physio-chemical properties such as such as water-binding capacity, texturizing, thickening and others along with promoting functionality. Colloides Naturels International (CNI) incorporated the use of acacia gum which offers advanced nutritional properties with documented health benefits and is ideal for several functional food formulations such as beverages, bakery products, cereal bars, and extruded products. Similarly, Sabinsa Corporation incorporates the use of wide variety of nutritional fibers obtained from plant food sources, Indian gooseberry, cocoa beans, coconut endosperm, fenugreek, flax seeds, and ginger rhizomes in the preparation of dietary fiber supplements. Besides the several health benefits offered by soluble dietary fibers, these fibers help impart consistency along with texture, improve cooking yields and enhances palatability, and add to rheological and sensory characteristic in food items. For instance, soluble dietary fibers are effectively used as functional ingredients in preparation of several meat products such as beef patties, ground beef and pork, and pork and chicken sausages. As per an article published by National Center for Biotechnology Information (NCBI), the fiber incorporation in meat products has been identified attributable to several functional characteristics such as water retention, lubrication, ability to minimize cooking loss, texture modification, and neutral flavor, which improves the overall taste and flavor of the meat product. Additionally, the functional properties associated with such fibers have a profound impact on the physicochemical features. With increase in investment in research and development activities and rise in focus toward incorporation of soluble dietary fibers in functional food, newer fiber materials have been recognized, which offer health benefits beyond the traditional fiber concepts of basic digestive health.
Key Market Segments
In terms of type, the inulin segment accounted for the largest share of the Asia Pacific soluble dietary fibers market in 2020. In terms of source, the cereals and grains segment accounted for the largest share. Further In term of application, the food and beverages held a larger market share of the soluble dietary fibers market in 2020.
Major Sources and Companies Listed
A few major primary and secondary sources referred to for preparing this report on the soluble dietary fibers market in Asia Pacific are company websites, annual reports, financial reports, national government documents, and statistical database, among others. Major companies listed in the report are Cargill, Incorporated, Kerry Group, Ingredion Incorporated, Nexira, Roquette Frères, Tate & Lyle PLC, ADM, IFF Nutrition & Biosciences, and BENEO GmbH among others.
Reasons to buy report
To understand the Asia Pacific soluble dietary fibers market landscape and identify market segments that are most likely to guarantee a strong return
Stay ahead of the race by comprehending the ever-changing competitive landscape for Asia Pacific soluble dietary fibers market
Efficiently plan M&A and partnership deals in Asia Pacific soluble dietary fibers market by identifying market segments with the most promising probable sales
Helps to take knowledgeable business decisions from perceptive and comprehensive analysis of market performance of various segment form Asia Pacific soluble dietary fibers market
Obtain market revenue forecast for market by various segments from 2021-2028 in Asia Pacific region

.
Asia Pacific Soluble Dietary Fibers Market Segmentation
Asia Pacific Soluble Dietary Fibers Market – By Type
Inulin
Pectin
Beta-glucan
Polydextrose
Others
Asia Pacific Soluble Dietary Fibers Market – By Source
Cereals and Grains
Fruits and Vegetables
Others
Asia Pacific Soluble Dietary Fibers Market – By Application
Food and Beverages
Animal Nutrition
Pharmaceuticals and Nutraceuticals
Others
Asia Pacific Soluble Dietary Fibers Market – By Country
Australia
China
India
Japan
South Korea
Rest of APAC
Asia Pacific Soluble Dietary Fibers Market – Companies Mentioned
Cargill, Incorporated
Kerry Group
Ingredion Incorporated
Nexira
Tate & Lyle PLC
ADM
IFF Nutrition & Biosciences
BENEO GmbH
Roquette Frères
1.1 Study Scope
1.2 The Insight Partners Research Report Guidance
1.3 Market Segmentation
2. Key Takeaways
3. Research Methodology
3.1 Scope of the Study
3.2 Research Methodology
3.2.1 Data Collection
3.2.2 Primary Interviews
3.2.3 Hypothesis Formulation
3.2.4 Macro-economic Factor Analysis
3.2.5 Developing Base Number
3.2.6 Data Triangulation
3.2.7 Country Level Data
4. Asia Pacific Soluble Dietary Fibers – Market Landscape
4.1 Market Overview
4.2 PEST Analysis
4.3 Expert Opinion
5. Asia Pacific Soluble Dietary Fibers Market – Key Market Dynamics
5.1 Market Drivers
5.1.1 Elevating Demand for Functional Food
5.1.2 Widening Applications of Soluble Dietary Fibers in Pharmaceuticals and Nutraceuticals
5.2 Market Restraints
5.2.1 Varying Prices of Raw Material
5.3 Market Opportunities
5.3.1 Emergent Sources of Soluble Dietary Fibers
5.4 Future Trends
5.4.1 Fattening Demand for Soluble Dietary Fibers as a Sugar Replacement in Beverages and as a Prebiotic
5.5 Impact Analysis of Drivers and Restraints
6. Asia Pacific Soluble Dietary Fibers – Market Analysis
6.1 Asia Pacific Soluble Dietary Fibers Market Overview
6.2 Asia Pacific Soluble Dietary Fibers Market –Revenue and Forecast To 2028 (US$ Million)
7. Asia Pacific Soluble Dietary Fibers Market Analysis – By Type
7.1 Overview
7.2 Asia Pacific: Soluble Dietary Fiber Market, by Type
7.3 Inulin
7.3.1 Overview
7.3.2 Inulin: Soluble Dietary Fibers Market – Revenue and Forecast to 2028 (US$ Million)
7.4 Pectin
7.4.1 Overview
7.4.2 Pectin: Soluble dietary fibers market – Revenue and Forecast to 2028 (US$ Million)
7.5 Polydextrose
7.5.1 Overview
7.5.2 Polydextrose: Soluble dietary fibers market – Revenue and Forecast to 2028 (US$ Million)
7.6 Beta-glucan
7.6.1 Overview
7.6.2 Beta-glucan: Soluble dietary fibers market – Revenue and Forecast to 2028 (US$ Million)
7.7 Others
7.7.1 Overview
7.7.2 Others: Soluble dietary fibers market – Revenue and Forecast to 2028 (US$ Million)
8. Asia Pacific Soluble Dietary Fibers Market Analysis – By Source
8.1 Overview
8.2 Asia Pacific: Soluble Dietary Fiber Market, by Source
8.3 Cereals and Grains
8.3.1 Overview
8.3.2 Cereals and Grains: Soluble dietary fibers market – Revenue and Forecast to 2028 (US$ Million)
8.4 Fruits and Vegetables
8.4.1 Overview
8.4.2 Fruits and Vegetables: Soluble dietary fibers market – Revenue and Forecast to 2028 (US$ Million)
8.5 Others
8.5.1 Overview
8.5.2 Others: Soluble dietary fibers market – Revenue and Forecast to 2028 (US$ Million)
9. Asia Pacific Soluble Dietary Fibers Market Analysis – By Application
9.1 Overview
9.2 Asia Pacific: Soluble Dietary Fiber Market, by Application
9.3 Food and Beverages
9.3.1 Overview
9.3.2 Food and Beverages: Soluble dietary fibers market – Revenue and Forecast to 2028 (US$ Million)
9.4 Animal Nutrition
9.4.1 Overview
9.4.2 Animal Nutrition: Soluble dietary fibers market – Revenue and Forecast to 2028 (US$ Million)
9.5 Pharmaceuticals and Nutraceuticals
9.5.1 Overview
9.5.2 Pharmaceuticals and Nutraceuticals: Soluble dietary fibers market – Revenue and Forecast to 2028 (US$ Million)
9.6 Others
9.6.1 Overview
9.6.2 Others: Soluble dietary fibers market – Revenue and Forecast to 2028 (US$ Million)
10. Asia Pacific Soluble Dietary Fibers Market – Country Analysis
10.1 Overview
10.1.1 Asia Pacific: Soluble Dietary Fibers Market, by Key Country
10.1.1.1 Australia: Soluble dietary fibers market –Revenue and Forecast to 2028 (US$ Million)
10.1.1.1.1 Australia: Soluble Dietary Fibers Market, by Type
10.1.1.1.2 Australia: Soluble Dietary Fibers Market, by Source
10.1.1.1.3 Australia: Soluble Dietary Fibers Market, by Application
10.1.1.2 China: Soluble dietary fibers market –Revenue and Forecast to 2028 (US$ Million)
10.1.1.2.1 China: Soluble Dietary Fibers Market, by Type
10.1.1.2.2 China: Soluble Dietary Fibers Market, by Source
10.1.1.2.3 China: Soluble Dietary Fiber Market, by Application
10.1.1.3 India: Soluble dietary fibers market –Revenue and Forecast to 2028 (US$ Million)
10.1.1.3.1 India: Soluble Dietary Fibers Market, by Type
10.1.1.3.2 India: Soluble Dietary Fibers Market, by Source
10.1.1.3.3 India: Soluble Dietary Fiber Market, by Application
10.1.1.4 Japan: Soluble dietary fibers market –Revenue and Forecast to 2028 (US$ Million)
10.1.1.4.1 Japan: Soluble Dietary Fibers Market, by Type
10.1.1.4.2 Japan: Soluble Dietary Fibers Market, by Source
10.1.1.4.3 Japan: Soluble Dietary Fibers Market, by Application
10.1.1.5 South Korea: Soluble dietary fibers market –Revenue and Forecast to 2028 (US$ Million)
10.1.1.5.1 South Korea: Soluble Dietary Fibers Market, by Type
10.1.1.5.2 South Korea: Soluble Dietary Fibers Market, by Source
10.1.1.5.3 South Korea: Soluble Dietary Fibers Market, by Application
10.1.1.6 Rest of Asia Pacific: Soluble dietary fibers market –Revenue and Forecast to 2028 (US$ Million)
10.1.1.6.1 Rest of Asia Pacific: Soluble Dietary Fiber Market, by Type
10.1.1.6.2 Rest of Asia Pacific: Soluble Dietary Fiber Market, by Source
10.1.1.6.3 Rest of Asia Pacific: Soluble Dietary Fibers Market, by Application
11. Asia Pacific Soluble Dietary Fibers Market – Impact of COVID-19 Pandemic
11.1 Asia-Pacific: Impact Assessment of COVID-19 Pandemic
12. Industry Landscape
12.1 Product Launch
12.2 Strategy and Business Planning
13. Company Profiles
13.1 Cargill, Incorporated
13.1.1 Key Facts
13.1.2 Business Description
13.1.3 Products and Services
13.1.4 Financial Overview
13.1.5 SWOT Analysis
13.1.6 Key Developments
13.2 Kerry Group
13.2.1 Key Facts
13.2.2 Business Description
13.2.3 Products and Services
13.2.4 Financial Overview
13.2.5 SWOT Analysis
13.2.6 Key Developments
13.3 Ingredion Incorporated
13.3.1 Key Facts
13.3.2 Business Description
13.3.3 Products and Services
13.3.4 Financial Overview
13.3.5 SWOT Analysis
13.3.6 Key Developments
13.4 Nexira
13.4.1 Key Facts
13.4.2 Business Description
13.4.3 Products and Services
13.4.4 Financial Overview
13.4.5 SWOT Analysis
13.4.6 Key Developments
13.5 Roquette Frères
13.5.1 Key Facts
13.5.2 Business Description
13.5.3 Products and Services
13.5.4 Financial Overview
13.5.5 SWOT Analysis
13.5.6 Key Developments
13.6 Tate & Lyle PLC
13.6.1 Key Facts
13.6.2 Business Description
13.6.3 Products and Services
13.6.4 Financial Overview
13.6.5 SWOT Analysis
13.6.6 Key Developments
13.7 ADM
13.7.1 Key Facts
13.7.2 Business Description
13.7.3 Products and Services
13.7.4 Financial Overview
13.7.5 SWOT Analysis
13.7.6 Key Developments
13.8 IFF Nutrition & Biosciences
13.8.1 Key Facts
13.8.2 Business Description
13.8.3 Products and Services
13.8.4 Financial Overview
13.8.5 SWOT Analysis
13.8.6 Key Developments
13.9 BENEO GmbH
13.9.1 Key Facts
13.9.2 Business Description
13.9.3 Products and Services
13.9.4 Financial Overview
13.9.5 SWOT Analysis
13.9.6 Key Developments
14. Appendix
14.1 About The Insight Partners
14.2 Glossary


Table 1. Asia Pacific Soluble Dietary Fibers Market –Revenue and Forecast To 2028 (US$ Million)
Table 2. Australia Soluble Dietary Fibers Market, by Type – Revenue and Forecast to 2028 (USD Million)
Table 3. Australia Soluble Dietary Fibers Market, by Source – Revenue and Forecast to 2028 (USD Million)
Table 4. Australia Soluble Dietary Fibers Market, by Application – Revenue and Forecast to 2028 (USD Million)
Table 5. China Soluble Dietary Fibers Market, by Type – Revenue and Forecast to 2028 (USD Million)
Table 6. China Soluble Dietary Fiber Market, by Application – Revenue and Forecast to 2028 (USD Million)
Table 7. India Soluble Dietary Fibers Market, by Type – Revenue and Forecast to 2028 (USD Million)
Table 8. India Soluble Dietary Fiber Market, by Application – Revenue and Forecast to 2028 (USD Million)
Table 9. Japan Soluble Dietary Fibers Market, by Type – Revenue and Forecast to 2028 (USD Million)
Table 10. Japan Soluble Dietary Fibers Market, by Source – Revenue and Forecast to 2028 (USD Million)
Table 11. Japan Soluble Dietary Fiber Market, by Application– Revenue and Forecast to 2028 (USD Million)
Table 12. South Korea Soluble Dietary Fiber Market, by Type – Revenue and Forecast to 2028 (USD Million)
Table 13. South Korea Soluble Dietary Fibers Market, by Source – Revenue and Forecast to 2028 (USD Million)
Table 14. South Korea Soluble Dietary Fibers Market, by Application– Revenue and Forecast to 2028 (USD Million)
Table 15. Rest of Asia Pacific Soluble Dietary Fiber Market, by Type – Revenue and Forecast to 2028 (USD Million)
Table 16. Rest of Asia Pacific Soluble Dietary Fiber Market, by Source – Revenue and Forecast to 2028 (USD Million)
Table 17. Rest of Asia Pacific Soluble Dietary Fiber Market, by Application– Revenue and Forecast to 2028 (USD Million)
Table 18. Glossary of Terms, Soluble Dietary Fibers Market


Figure 1. Asia Pacific Soluble Dietary Fibers Market Segmentation
Figure 2. Asia Pacific Soluble Dietary Fibers Market Segmentation – By Country
Figure 3. Asia Pacific Soluble Dietary Fibers Market Overview
Figure 4. Food and Beverage Segment Held Largest Share of Asia Pacific Soluble Dietary Fibers Market
Figure 5. China Held the Largest Share of Asia Pacific Soluble Dietary Fibers Market
Figure 6. Asia Pacific Soluble Dietary Fibers Market, Industry Landscape
Figure 7. Asia Pacific: PEST Analysis
Figure 8. Expert Opinion
Figure 9. Asia Pacific Soluble Dietary Fibers Market Impact Analysis of Drivers and Restraints
Figure 10. Asia Pacific: Soluble Dietary Fibers Market – Revenue and Forecast To 2028 (US$ Million)
Figure 11. Asia Pacific: Soluble Dietary Fiber Market Revenue Share, by Type (2020 and 2028)
Figure 12. Inulin: Soluble Dietary Fibers Market – Revenue and Forecast To 2028 (US$ Million)
Figure 13. Pectin: Soluble Dietary Fiber – Revenue and Forecast To 2028 (US$ Million)
Figure 14. Polydextrose: Soluble dietary fibers market – Revenue and Forecast To 2028 (US$ Million)
Figure 15. Beta-glucan: Soluble dietary fibers market – Revenue and Forecast To 2028 (US$ Million)
Figure 16. Others: Soluble dietary fibers market – Revenue and Forecast To 2028 (US$ Million)
Figure 17. Asia Pacific: Soluble Dietary Fiber Market Revenue Share, by Source (2020 and 2028)
Figure 18. Cereals and Grains: Soluble dietary fibers market – Revenue and Forecast To 2028 (US$ Million)
Figure 19. Fruits and Vegetables: Soluble dietary fibers market – Revenue and Forecast To 2028 (US$ Million)
Figure 20. Others: Soluble dietary fibers market – Revenue and Forecast To 2028 (US$ Million)
Figure 21. Asia Pacific: Soluble Dietary Fiber Market Revenue Share, by Application (2020 and 2028)
Figure 22. Food and Beverages: Soluble dietary fibers market – Revenue and Forecast To 2028 (US$ Million)
Figure 23. Animal Nutrition: Soluble dietary fibers market – Revenue and Forecast To 2028 (US$ Million)
Figure 24. Pharmaceuticals and Nutraceuticals: Soluble dietary fibers market – Revenue and Forecast To 2028 (US$ Million)
Figure 25. Others: Soluble dietary fibers market – Revenue and Forecast To 2028 (US$ Million)
Figure 26. Geographic Overview of Asia Pacific Soluble Dietary Fibers Market
Figure 27. Asia Pacific: Soluble dietary fibers market Revenue Share, by Key Country (2020 and 2028)
Figure 28. Australia: Soluble dietary fibers market –Revenue and Forecast to 2028 (US$ Million)
Figure 29. China: Soluble dietary fibers market –Revenue and Forecast to 2028 (US$ Million)
Figure 30. India: Soluble dietary fibers market –Revenue and Forecast to 2028 (US$ Million)
Figure 31. Japan: Soluble dietary fibers market –Revenue and Forecast to 2028 (US$ Million)
Figure 32. South Korea: Soluble dietary fibers market –Revenue and Forecast to 2028 (US$ Million)
Figure 33. Rest of Asia Pacific: Soluble dietary fibers market –Revenue and Forecast to 2028 (US$ Million)
Figure 34. Impact of COVID-19 Pandemic in Asia Pacific
Cargill, Incorporated

Kerry Group

Ingredion Incorporated

Nexira

Tate & Lyle PLC

ADM

IFF Nutrition & Biosciences

BENEO GmbH

Roquette Frères
Save and reduce time carrying out entry-level research by identifying the growth, size, leading players and segments in the

Asia Pacific soluble dietary fibers market

.

Highlights key business priorities in order to assist companies to realign their business strategies

The key findings and recommendations highlight crucial progressive industry trends in the

Asia Pacific soluble dietary fibers market

, thereby allowing players across the value chain to develop effective long-term strategies

Develop/modify business expansion plans by using substantial growth offering developed and emerging markets

Scrutinize in-depth Asia Pacific market trends and outlook coupled with the factors driving the soluble dietary fibers market, as well as those hindering it

Enhance the decision-making process by understanding the strategies that underpin commercial interest with respect to client products, segmentation, pricing and distribution
---
Related Tags
Asia Pacific Soluble Dietary Fibers Market Market
Asia Pacific Soluble Dietary Fibers Market Market Research
Asia Pacific Soluble Dietary Fibers Market Market Insight
Asia Pacific Soluble Dietary Fibers Market Market Trends
Asia Pacific Soluble Dietary Fibers Market Market Forecast
Asia Pacific Soluble Dietary Fibers Market Market Share
Asia Pacific Soluble Dietary Fibers Market Market 2028
Asia Pacific Soluble Dietary Fibers Market Market Growth
Asia Pacific Soluble Dietary Fibers Market Industry
Sector
Asia Pacific Soluble Dietary Fibers Market PDF Report
Asia Pacific Soluble Dietary Fibers Market Analysis
Asia Pacific Soluble Dietary Fibers Market Research
Competitive Analysis
---