Middle East and Africa Soluble Dietary Fibers Market Forecast to 2028 - COVID-19 Impact and Regional Analysis By Type (Inulin, Pectin, Polydextrose, Beta-Glucan, and Others), Source (Cereals and Grains, Fruits and Vegetables, and Others), and Application (Food and Beverages, Animal Nutrition, Pharmaceuticals and Nutraceuticals, and Others)
Code:
TIPRE00025239
|
Pages:
108
|
Industry:
Food and Beverages
|
Date:
Oct 2021

Market Introduction
The Middle East & Africa (MEA) region includes countries such as South Africa, Saudi Arabia, the UAE, and the Rest of MEA. In Middle East & Africa region, the rising obesity rates have become a major public health concern, along with subsequent increase in obesity-related co-morbidities. Malnutrition rates are particularly high in the region. The prevalence of overweight and obesity in the Middle East and North Africa ranges from 74% to 86% in women and 69% to 77% in men, according to the WHO Regional Office for the Eastern Mediterranean. The various types of dietary risks raise the chances of getting a disease. Hence, nowadays, many people from the region are focusing on following healthy eating patterns. In the Middle East & Africa region, there is a growing preference for low calorie sugar substitutes as an alternative to sugar. The consumers are becoming more aware of the health benefits of soluble dietary fibers and their significance in preventing various kinds of diseases. The various programs are widely implemented in countries from the MEA region to promote healthy diets. Countries such as Egypt and Jordan are leading the charge in prioritizing the improvement and growth of school meals programs. All these factors are creating the demand for soluble dietary fibers. Additionally, the growing demand for soluble dietary fibers from food & beverages, pharmaceutical, and animal nutrition industries further contributes to the market growth.
In the MEA region, Turkey, South Africa, Iraq, and Israel are among the major countries with high number of COVID-19 confirmed cases and deaths. According to the International Finance Corporation, the COVID-19 pandemic has a severe impact on the economy of the Middle East & Africa which has led to decline in oil production, tourism, and remittances. The quarantine measures implemented for sanitary purposes in the region have led to standstill of several activities across diverse economic sectors. The MEA region comprises many growing economies, which are prospective markets for soluble dietary fibers vendors. The pandemic has significantly slowed down the growth of soluble dietary fibers market in the region due to volatility associated with the prices of raw materials such as fruits and vegetables, whole grains, and legumes. However, the shift in consumer dietary patterns is expected to promote the demand for soluble dietary fibers in the regional market.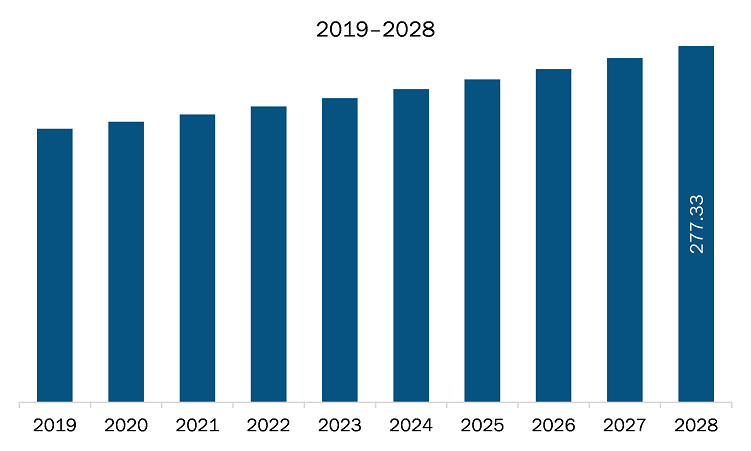 Get more information on this report :
Market Overview and Dynamics
The soluble dietary fibers market in Middle East & Africa is expected to grow from US$ 224.13 million in 2021 to US$ 277.33 million by 2028; it is estimated to grow at a CAGR of 3.1% from 2021 to 2028. Soluble dietary fibers are used as an additive to foods, and they also promote the colonic health, along with bifidobacterial or lactobacillus stimulation in the gut, coronary artery health, lowers cholesterol, and glucose metabolism. Moreover, soluble dietary fibers contribute to weight management and reduce the risk of cardiovascular diseases. Water-soluble dietary fiber is considered as one of the significant forms of dietary fibers. It is composed of inulin, beta-glucan, polydextrose, pectin, fructooligosaccharides, galactooligosaccharides, and corn fiber, which helps promote the nutritional profile of the food and beverage product added. For instance, Roquette is involved in offering non-viscous soluble fiber under its brand "NUTRIOSE" for food, pharmaceutical and nutraceutical industries. NUTRIOSE is produced from cereals such as wheat and corn and provides efficient digestive tolerance. Similarly, Steadfast Nutrition, which is a premium sports and wellness nutrition company, is involved in offering soluble dietary fiber based dietary supplement powder under the brand, Tri Fiber. The presence of soluble dietary fiber helps maintain a healthy intestine, along with balanced blood glucose levels and serum lipids. Moreover, the product helps to manage the appetite hormones, enhances the bowel movement, and manages triglycerides levels in the body to improve the lipid profile by exercising a control over cholesterol levels. The improved effects of resistant maltodextrin are identified by Foods for Specified Health Use (FOSHU). The product can be consumed by office goers, weight watchers, athletes & fitness enthusiasts, and patients. Similarly, Benefiber and Metamucil are over the counter (OTC) soluble fiber supplements. Benefiber is approved by the Food and Drug Administration (FDA) as a dietary fiber supplement, and it is composed of wheat dextrin as an active ingredient. It helps to absorb water in the intestinal tract along with stimulating peristalsis or the repetitive contraction and relaxation of intestinal muscle. Metamucil is prepared from psyllium husks, obtained from seeds of an Indian herb, Plantago ovata. The growing focus on health, along with increasing consciousness toward health benefits offered soluble dietary fibers and increasing instances of chronic diseases, has motivated the manufacturers to produce nutraceutical and pharmaceutical products based upon soluble dietary fibers, which is expected to propel the demand for soluble dietary fibers market.
Key Market Segments
In terms of type, the inulin segment accounted for the largest share of the Middle East & Africa soluble dietary fibers market in 2020. In terms of source, the cereals and grains segment accounted for the largest share. Further In term of application, the food and beverages held a larger market share of the soluble dietary fibers market in 2020.
Major Sources and Companies Listed
A few major primary and secondary sources referred to for preparing this report on the soluble dietary fibers market in Middle East & Africa are company websites, annual reports, financial reports, national government documents, and statistical database, among others. Major companies listed in the report are Cargill, Incorporated, Kerry Group, Ingredion Incorporated, Nexira, Tate & Lyle PLC, ADM, and IFF Nutrition & Biosciences among others.
Reasons to buy report
To understand the Middle East & Africa soluble dietary fibers market landscape and identify market segments that are most likely to guarantee a strong return
Stay ahead of the race by comprehending the ever-changing competitive landscape for Middle East & Africa soluble dietary fibers market
Efficiently plan M&A and partnership deals in Middle East & Africa soluble dietary fibers market by identifying market segments with the most promising probable sales
Helps to take knowledgeable business decisions from perceptive and comprehensive analysis of market performance of various segment form Middle East & Africa soluble dietary fibers market
Obtain market revenue forecast for market by various segments from 2021-2028 in Middle East & Africa region

.
Middle East & Africa Soluble Dietary Fibers Market Segmentation
Middle East & Africa Soluble Dietary Fibers Market – By Type
Inulin
Pectin
Beta-glucan
Polydextrose
Others
Middle East & Africa Soluble Dietary Fibers Market – By Source
Cereals and Grains
Fruits and Vegetables
Others
Middle East & Africa Soluble Dietary Fibers Market – By Application
Food and Beverages
Animal Nutrition
Pharmaceuticals and Nutraceuticals
Others
Middle East & Africa Soluble Dietary Fibers Market – By Country
South Africa
Saudi Arabia
UAE
Rest of MEA
Middle East & Africa Soluble Dietary Fibers Market – Companies Mentioned
Cargill, Incorporated
Kerry Group
Ingredion Incorporated
Nexira
Tate & Lyle PLC
ADM
IFF Nutrition & Biosciences
1.1 Study Scope
1.2 The Insight Partners Research Report Guidance
1.3 Market Segmentation
2. Key Takeaways
3. Research Methodology
3.1 Scope of the Study
3.2 Research Methodology
3.2.1 Data Collection
3.2.2 Primary Interviews
3.2.3 Hypothesis Formulation
3.2.4 Macro-economic Factor Analysis
3.2.5 Developing Base Number
3.2.6 Data Triangulation
3.2.7 Country Level Data
4. Middle East & Africa Soluble Dietary Fibers – Market Landscape
4.1 Market Overview
4.2 PEST Analysis
4.3 Expert Opinion
5. Middle East & Africa Soluble Dietary Fibers Market – Key Market Dynamics
5.1 Market Drivers
5.1.1 Growing Demand for Functional Food
5.1.2 Scaling Applications of Soluble Dietary Fibers in Pharmaceuticals and Nutraceuticals
5.2 Market Restraints
5.2.1 Floating Prices of Raw Material
5.3 Market Opportunities
5.3.1 Looming Sources of Soluble Dietary Fibers
5.4 Future Trends
5.4.1 Ramping Demand for Soluble Dietary Fibers as a Sugar Replacement in Beverages and as a Prebiotic
5.5 Impact Analysis of Drivers and Restraints
6. Middle East & Africa Soluble Dietary Fibers – Market Analysis
6.1 Middle East & Africa Soluble Dietary Fibers Market Overview
6.2 Middle East & Africa Soluble Dietary Fibers Market –Revenue and Forecast to 2028 (US$ Million)
7. Middle East & Africa Soluble Dietary Fibers Market Analysis – By Type
7.1 Overview
7.2 Middle East and Africa: Soluble Dietary Fiber Market, by Type
7.3 Inulin
7.3.1 Overview
7.3.2 Inulin: Soluble Dietary Fibers Market – Revenue and Forecast to 2028 (US$ Million)
7.4 Pectin
7.4.1 Overview
7.4.2 Pectin: Soluble dietary fibers market – Revenue and Forecast to 2028 (US$ Million)
7.5 Polydextrose
7.5.1 Overview
7.5.2 Polydextrose: Soluble dietary fibers market – Revenue and Forecast to 2028 (US$ Million)
7.6 Beta-glucan
7.6.1 Overview
7.6.2 Beta-glucan: Soluble dietary fibers market – Revenue and Forecast to 2028 (US$ Million)
7.7 Others
7.7.1 Overview
7.7.2 Others: Soluble dietary fibers market – Revenue and Forecast to 2028 (US$ Million)
8. Middle East & Africa Soluble Dietary Fibers Market Analysis – By Source
8.1 Overview
8.2 Middle East & Africa: Soluble Dietary Fiber Market, by Source
8.3 Cereals and Grains
8.3.1 Overview
8.3.2 Cereals and Grains: Soluble dietary fibers market – Revenue and Forecast to 2028 (US$ Million)
8.4 Fruits and Vegetables
8.4.1 Overview
8.4.2 Fruits and Vegetables: Soluble dietary fibers market – Revenue and Forecast to 2028 (US$ Million)
8.5 Others
8.5.1 Overview
8.5.2 Others: Soluble dietary fibers market – Revenue and Forecast to 2028 (US$ Million)
9. Middle East & Africa Soluble Dietary Fibers Market Analysis – By Application
9.1 Overview
9.2 Middle East & Africa: Soluble Dietary Fiber Market, by Application
9.3 Food and Beverages
9.3.1 Overview
9.3.2 Food and Beverages: Soluble dietary fibers market – Revenue and Forecast to 2028 (US$ Million)
9.4 Animal Nutrition
9.4.1 Overview
9.4.2 Animal Nutrition: Soluble dietary fibers market – Revenue and Forecast to 2028 (US$ Million)
9.5 Pharmaceuticals and Nutraceuticals
9.5.1 Overview
9.5.2 Pharmaceuticals and Nutraceuticals: Soluble dietary fibers market – Revenue and Forecast to 2028 (US$ Million)
9.6 Others
9.6.1 Overview
9.6.2 Others: Soluble dietary fibers market – Revenue and Forecast to 2028 (US$ Million)
10. Middle East & Africa Soluble Dietary Fibers Market – Country Analysis
10.1 Overview
10.1.1 Middle East and Africa: Soluble Dietary Fibers Market, by Key Country
10.1.1.1 South Africa: Soluble dietary fibers market –Revenue and Forecast to 2028 (US$ Million)
10.1.1.1.1 South Africa: Soluble Dietary Fibers Market, by Type
10.1.1.1.2 South Africa: Soluble Dietary Fibers Market, by Source
10.1.1.1.3 South Africa: Soluble Dietary Fibers Market, by Application
10.1.1.2 Saudi Arabia: Soluble dietary fibers market –Revenue and Forecast to 2028 (US$ Million)
10.1.1.2.1 Saudi Arabia: Soluble Dietary Fibers Market, by Type
10.1.1.2.2 Saudi Arabia: Soluble Dietary Fibers Market, by Source
10.1.1.2.3 Saudi Arabia: Soluble Dietary Fibers Market, by Application
10.1.1.3 UAE: Soluble dietary fibers market –Revenue and Forecast to 2028 (US$ Million)
10.1.1.3.1 UAE: Soluble Dietary Fibers Market, by Type
10.1.1.3.2 UAE: Soluble Dietary Fibers Market, by Source
10.1.1.3.3 UAE: Soluble Dietary Fibers Market, by Application
10.1.1.4 Rest of MEA: Soluble dietary fibers market –Revenue and Forecast to 2028 (US$ Million)
10.1.1.4.1 Rest of MEA: Soluble Dietary Fibers Market, by Type
10.1.1.4.2 Rest of MEA: Soluble Dietary Fibers Market, by Source
10.1.1.4.3 Rest of MEA: Soluble Dietary Fibers Market, by Application
11. Middle East & Africa Soluble Dietary Fibers Market – Impact of COVID-19 Pandemic
11.1 Middle East & Africa: Impact Assessment of COVID-19 Pandemic
12. Industry Landscape
12.1 Product Launch
12.2 Strategy and Business Planning
13. Company Profiles
13.1 Cargill, Incorporated
13.1.1 Key Facts
13.1.2 Business Description
13.1.3 Products and Services
13.1.4 Financial Overview
13.1.5 SWOT Analysis
13.1.6 Key Developments
13.2 Kerry Group
13.2.1 Key Facts
13.2.2 Business Description
13.2.3 Products and Services
13.2.4 Financial Overview
13.2.5 SWOT Analysis
13.2.6 Key Developments
13.3 Ingredion Incorporated
13.3.1 Key Facts
13.3.2 Business Description
13.3.3 Products and Services
13.3.4 Financial Overview
13.3.5 SWOT Analysis
13.3.6 Key Developments
13.4 Nexira
13.4.1 Key Facts
13.4.2 Business Description
13.4.3 Products and Services
13.4.4 Financial Overview
13.4.5 SWOT Analysis
13.4.6 Key Developments
13.5 Tate & Lyle PLC
13.5.1 Key Facts
13.5.2 Business Description
13.5.3 Products and Services
13.5.4 Financial Overview
13.5.5 SWOT Analysis
13.5.6 Key Developments
13.6 ADM
13.6.1 Key Facts
13.6.2 Business Description
13.6.3 Products and Services
13.6.4 Financial Overview
13.6.5 SWOT Analysis
13.6.6 Key Developments
13.7 IFF Nutrition & Biosciences
13.7.1 Key Facts
13.7.2 Business Description
13.7.3 Products and Services
13.7.4 Financial Overview
13.7.5 SWOT Analysis
13.7.6 Key Developments
14. Appendix
14.1 About The Insight Partners
14.2 Glossary


Table 1. Soluble Dietary Fibers Market –Revenue and Forecast to 2028 (US$ Million)
Table 2. South Africa Soluble Dietary Fibers Market, by Type – Revenue and Forecast to 2028 (USD Million)
Table 3. South Africa Soluble Dietary Fibers Market, by Source – Revenue and Forecast to 2028 (USD Million)
Table 4. South Africa Soluble Dietary Fibers Market, by Application– Revenue and Forecast to 2028 (USD Million)
Table 5. Saudi Arabia Soluble Dietary Fibers Market, by Type – Revenue and Forecast to 2028 (USD Million)
Table 6. Saudi Arabia Soluble Dietary Fibers Market, by Source – Revenue and Forecast to 2028 (USD Million)
Table 7. Saudi Arabia Soluble Dietary Fibers Market, by Application– Revenue and Forecast to 2028 (USD Million)
Table 8. UAE Soluble Dietary Fibers Market, by Type – Revenue and Forecast to 2028 (USD Million)
Table 9. UAE Soluble Dietary Fibers Market, by Source – Revenue and Forecast to 2028 (USD Million)
Table 10. UAE Soluble Dietary Fibers Market, by Application– Revenue and Forecast to 2028 (USD Million)
Table 11. Rest of MEA Soluble Dietary Fibers Market, by Type – Revenue and Forecast to 2028 (USD Million)
Table 12. Rest of MEA Soluble Dietary Fibers Market, by Source – Revenue and Forecast to 2028 (USD Million)
Table 13. Rest of MEA Soluble Dietary Fibers Market, by Application– Revenue and Forecast to 2028 (USD Million)
Table 14. Glossary of Terms, Soluble Dietary Fibers Market


Figure 1. Middle East & Africa Soluble Dietary Fibers Market Segmentation
Figure 2. Middle East & Africa Soluble Dietary Fibers Market Segmentation – By Country
Figure 3. Middle East & Africa Soluble Dietary Fibers Market Overview
Figure 4. Food and Beverage Segment Held Largest Share of Middle East & Africa Soluble Dietary Fibers Market
Figure 5. Rest of MEA Region Held Largest Share of Middle East & Africa Soluble Dietary Fibers Market
Figure 6. Middle East & Africa Soluble Dietary Fibers Market, Industry Landscape
Figure 7. Middle East & Africa: PEST Analysis
Figure 8. Expert Opinion
Figure 9. Middle East & Africa Soluble Dietary Fibers Market Impact Analysis of Drivers and Restraints
Figure 10. Middle East & Africa: Soluble Dietary Fibers Market – Revenue and Forecast to 2028 (US$ Million)
Figure 12. Inulin: Soluble Dietary Fibers Market – Revenue and Forecast to 2028 (US$ Million)
Figure 13. Pectin: Soluble Dietary Fiber – Revenue and Forecast to 2028 (US$ Million)
Figure 14. Polydextrose: Soluble dietary fibers market – Revenue and Forecast To 2028 (US$ Million)
Figure 15. Beta-glucan: Soluble dietary fibers market – Revenue and Forecast to 2028 (US$ Million)
Figure 16. Others: Soluble dietary fibers market – Revenue and Forecast to 2028 (US$ Million)
Figure 18. Cereals and Grains: Soluble dietary fibers market – Revenue and Forecast to 2028 (US$ Million)
Figure 19. Fruits and Vegetables: Soluble dietary fibers market – Revenue and Forecast to 2028 (US$ Million)
Figure 20. Others: Soluble dietary fibers market – Revenue and Forecast to 2028 (US$ Million)
Figure 22. Food and Beverages: Soluble dietary fibers market – Revenue and Forecast to 2028 (US$ Million)
Figure 23. Animal Nutrition: Soluble dietary fibers market – Revenue and Forecast to 2028 (US$ Million)
Figure 24. Pharmaceuticals and Nutraceuticals: Soluble dietary fibers market – Revenue and Forecast to 2028 (US$ Million)
Figure 25. Others: Soluble dietary fibers market – Revenue and Forecast To 2028 (US$ Million)
Figure 26. Geographic Overview of Middle East & Africa Soluble Dietary Fibers Market
Figure 27. Middle East and Africa: Soluble dietary fibers market Revenue Share, by Key Country (2020 and 2028)
Figure 28. South Africa: Soluble dietary fibers market –Revenue and Forecast to 2028 (US$ Million)
Figure 29. Saudi Arabia: Soluble dietary fibers market –Revenue and Forecast to 2028 (US$ Million)
Figure 30. UAE: Soluble dietary fibers market –Revenue and Forecast to 2028 (US$ Million)
Figure 31. Rest of MEA: Soluble dietary fibers market –Revenue and Forecast to 2028 (US$ Million)
Figure 32. Impact of COVID-19 Pandemic in Middle East & Africa
Cargill, Incorporated

Kerry Group

Ingredion Incorporated

Nexira

Tate & Lyle PLC

ADM

IFF Nutrition & Biosciences
Save and reduce time carrying out entry-level research by identifying the growth, size, leading players and segments in the

Middle East & Africa soluble dietary fibers market

.

Highlights key business priorities in order to assist companies to realign their business strategies

The key findings and recommendations highlight crucial progressive industry trends in the

Middle East & Africa soluble dietary fibers market

, thereby allowing players across the value chain to develop effective long-term strategies

Develop/modify business expansion plans by using substantial growth offering developed and emerging markets

Scrutinize in-depth Middle East & Africa market trends and outlook coupled with the factors driving the soluble dietary fibers market, as well as those hindering it

Enhance the decision-making process by understanding the strategies that underpin commercial interest with respect to client products, segmentation, pricing and distribution
---
Related Tags
Middle East and Africa Soluble Dietary Fibers Market Market
Middle East and Africa Soluble Dietary Fibers Market Market Research
Middle East and Africa Soluble Dietary Fibers Market Market Insight
Middle East and Africa Soluble Dietary Fibers Market Market Trends
Middle East and Africa Soluble Dietary Fibers Market Market Forecast
Middle East and Africa Soluble Dietary Fibers Market Market Share
Middle East and Africa Soluble Dietary Fibers Market Market 2028
Middle East and Africa Soluble Dietary Fibers Market Market Growth
Middle East and Africa Soluble Dietary Fibers Market Industry
Sector
Middle East and Africa Soluble Dietary Fibers Market PDF Report
Middle East and Africa Soluble Dietary Fibers Market Analysis
Middle East and Africa Soluble Dietary Fibers Market Research
Competitive Analysis
---