North America Soluble Dietary Fibers Market Forecast to 2028 - COVID-19 Impact and Regional Analysis By Type (Inulin, Pectin, Polydextrose, Beta-Glucan, and Others), Source (Cereals and Grains, Fruits and Vegetables, and Others), and Application (Food and Beverages, Animal Nutrition, Pharmaceuticals and Nutraceuticals, and Others)
Code:
TIPRE00025232
|
Pages:
112
|
Industry:
Food and Beverages
|
Date:
Oct 2021

Market Introduction
North America includes economies such as the US, Canada, and Mexico. The increasing consumer demand for healthy fibrous food products is the major driver for soluble dietary fibers market in North America. Many people from the North America rely heavily on whole-grain foods as a source of fiber. There is a growing consumer awareness about the health benefits of different types of soluble dietary fibers including inulin, pectin, polydextrose, and beta-glucan, and their significance in controlling blood sugar level, providing digestive support, and enhancing immunity. As a result of the region's growing urban population and changing lifestyle, dietary preferences have evolved considerably. Rising daily intake of fiber content and promising trend in functional food production are among other drivers for the soluble dietary fibers market in North America. As the worldwide pandemic continues, consumers are placing an even greater emphasis on preventative health when it comes to food choices. The consumers are giving more importance to the health profile of products in the times of COVID-19.
North America is one of the worst affected economies due to the COVID-19 pandemic. The US has the highest number of confirmed cases of COVID-19, compared to Mexico and Canada. The unprecedented rise in number of COVID-19 cases across the US and Canada and the subsequent lockdown of numerous manufacturing facilities in the countries have negatively influenced the growth of the various markets. The significant disruption in manufacturing facilities, along with raw material sourcing, has had a negative impact on the demand for soluble dietary fibers in the country. In the same way, the pandemic had an intense impact on the Canadian economy, causing it into a recession. However, the market is reviving on account of significant measures taken by the government such as vaccination drives. Further, as per an article published by the National Center for Biotechnology Information (NCBI) in 2020, the global public health bodies and governments have implemented several strategies as well as issued advisories to promote health and hygiene, social distancing strategies, and other such guidelines to prevent the spread of COVID-19 virus. With the state of economic recovery, several industrial sectors such as food & beverages, pharmaceuticals and nutraceuticals, and animal feed, are strategically focused on investing in advanced products to maximize revenue. This is expected to provide impetus for the market growth.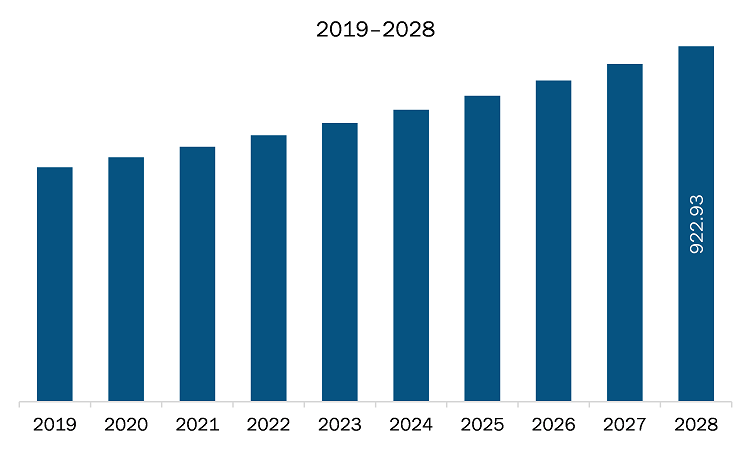 Get more information on this report :
Market Overview and Dynamics
The soluble dietary fibers market in North America is expected to grow from US$ 662.45 million in 2021 to US$ 922.93 million by 2028; it is estimated to grow at a CAGR of 4.9% from 2021 to 2028. Soluble fibers such as pectins, gums, and mucilage are significantly sourced from fruits and vegetables, oat bran, barley, seed husks, flaxseed, psyllium, dried beans, lentils, peas, and soy milk and soy products. Apart from the traditional sources of soluble dietary fibers, new sources of soluble dietary fibers have been identified. According to an article published by Multidisciplinary Digital Publishing Institute (MDPI) in 2020, the water-soluble fibers such as mucilage, can also be obtained from aquatic plants, cactus, aloe vera, and okra, as well as glycoproteins from food additives. For instance, an article published by NCBI justifies cactus being rich source of dietary fibers. The article represents that Mexico is one of the major producers of prickly pear cactus, which have high dietary fiber (DF, 40–60 g/100 g dry weight), along with phytochemicals ingredients and biofunctional activity, which makes the crop an indispensable prospect to be used in fortified foods products. The water-soluble dietary fiber (SDF) obtained from cactus (opuntia streptacantha) shows a potential to suppress the effect for elevation of postprandial blood glucose level. Similarly, seaweed extracts, such as carrageenan, are also considered one of the essential sources of soluble dietary fibers. Carrageenan is effective in maintaining the cholesterol content in foods, owing to its ability to mimic the texture and sensory qualities of fat, which helps to significantly reduce the total amount of fat in food. Similarly, several studies suggest that soluble dietary fibers can be extracted from brown algae. An article published by NCBI in June 2020 states that the soluble fiber content is comparatively higher in red algae (15–22% dry weight) as in Chondrus and Porphyra. In the wake of rising demand for soluble dietary fibers, several manufacturers are trying to invest and explore new sources of such fibers. For instance, Sobigel is involved in production of superior quality dietary agar possessing solubility of up to 85%, which can regulate intestinal flow, control cholesterol and sugar levels, and manage overweight. Owing to its capacity of absorbing water, it is considered as an ideal ingredient to be used in food supplements and cooking purposes. Hence, the soluble dietary fibers market is expected to flourish with the evolution of new sources.
Key Market Segments
In terms of type, the inulin segment accounted for the largest share of the North America soluble dietary fibers market in 2020. In terms of source, the cereals and grains segment accounted for the largest share. Further In term of application, the food and beverages held a larger market share of the soluble dietary fibers market in 2020.
Major Sources and Companies Listed
A few major primary and secondary sources referred to for preparing this report on the soluble dietary fibers market in North America are company websites, annual reports, financial reports, national government documents, and statistical database, among others. Major companies listed in the report are Cargill, Incorporated, Kerry Group, Ingredion Incorporated, Nexira, Roquette Frères, Tate & Lyle PLC, ADM, IFF Nutrition & Biosciences, and BENEO GmbH among others.
Reasons to buy report
To understand the North America soluble dietary fibers market landscape and identify market segments that are most likely to guarantee a strong return
Stay ahead of the race by comprehending the ever-changing competitive landscape for North America soluble dietary fibers market
Efficiently plan M&A and partnership deals in North America soluble dietary fibers market by identifying market segments with the most promising probable sales
Helps to take knowledgeable business decisions from perceptive and comprehensive analysis of market performance of various segment form North America soluble dietary fibers market
Obtain market revenue forecast for market by various segments from 2021-2028 in North America region

.
North America Soluble Dietary Fibers Market Segmentation
North America Soluble Dietary Fibers Market – By Type
Inulin
Pectin
Beta-glucan
Polydextrose
Others
North America Soluble Dietary Fibers Market – By Source
Cereals and Grains
Fruits and Vegetables
Others
North America Soluble Dietary Fibers Market – By Application
Food and Beverages
Animal Nutrition
Pharmaceuticals and Nutraceuticals
Others
North America Soluble Dietary Fibers Market – By Country
North America Soluble Dietary Fibers Market – Companies Mentioned
Cargill, Incorporated
Kerry Group
Ingredion Incorporated
Nexira
Tate & Lyle PLC
ADM
IFF Nutrition & Biosciences
BENEO GmbH
Roquette Frères
1.1 Study Scope
1.2 The Insight Partners Research Report Guidance
1.3 Market Segmentation
2. Key Takeaways
3. Research Methodology
3.1 Scope of the Study
3.2 Research Methodology
3.2.1 Data Collection
3.2.2 Primary Interviews
3.2.3 Hypothesis Formulation
3.2.4 Macro-economic Factor Analysis
3.2.5 Developing Base Number
3.2.6 Data Triangulation
3.2.7 Country Level Data
4. North America Soluble Dietary Fibers – Market Landscape
4.1 Market Overview
4.2 PEST Analysis
4.3 Expert Opinion
5. North America Soluble Dietary Fibers Market – Key Market Dynamics
5.1 Market Drivers
5.1.1 Raising Demand for Functional Food
5.1.2 Up-lifting Applications of Soluble Dietary Fibers in Pharmaceuticals and Nutraceuticals
5.2 Market Restraints
5.2.1 Changing Prices of Fluctuation in Raw Material
5.3 Market Opportunities
5.3.1 Rising Sources of Soluble Dietary Fibers
5.4 Future Trends
5.4.1 Thriving Demand for Soluble Dietary Fibers as a Sugar Replacement in Beverages and as a Prebiotic
5.5 Impact Analysis of Drivers and Restraints
6. North America Soluble Dietary Fibers – Market Analysis
6.1 North America Soluble Dietary Fibers Market Overview
6.2 North America Soluble Dietary Fibers Market –Revenue and Forecast to 2028 (US$ Million)
7. North America Soluble Dietary Fibers Market Analysis – By Type
7.1 Overview
7.2 North America: Soluble Dietary Fibers Market, by Type
7.3 Inulin
7.3.1 Overview
7.3.2 Inulin: Soluble Dietary Fibers Market – Revenue and Forecast to 2028 (US$ Million)
7.4 Pectin
7.4.1 Overview
7.4.2 Pectin: Soluble dietary fibers market – Revenue and Forecast to 2028 (US$ Million)
7.5 Polydextrose
7.5.1 Overview
7.5.2 Polydextrose: Soluble dietary fibers market – Revenue and Forecast to 2028 (US$ Million)
7.6 Beta-glucan
7.6.1 Overview
7.6.2 Beta-glucan: Soluble dietary fibers market – Revenue and Forecast to 2028 (US$ Million)
7.7 Others
7.7.1 Overview
7.7.2 Others: Soluble dietary fibers market – Revenue and Forecast to 2028 (US$ Million)
8. North America Soluble Dietary Fibers Market Analysis – By Source
8.1 Overview
8.2 North America: Soluble Dietary Fibers Market, by Source
8.3 Cereals and Grains
8.3.1 Overview
8.3.2 Cereals and Grains: Soluble dietary fibers market – Revenue and Forecast to 2028 (US$ Million)
8.4 Fruits and Vegetables
8.4.1 Overview
8.4.2 Fruits and Vegetables: Soluble dietary fibers market – Revenue and Forecast to 2028 (US$ Million)
8.5 Others
8.5.1 Overview
8.5.2 Others: Soluble dietary fibers market – Revenue and Forecast to 2028 (US$ Million)
9. North America Soluble Dietary Fibers Market Analysis – By Application
9.1 Overview
9.2 North America: Soluble Dietary Fiber Market, by Application
9.3 Food and Beverages
9.3.1 Overview
9.3.2 Food and Beverages: Soluble dietary fibers market – Revenue and Forecast to 2028 (US$ Million)
9.4 Animal Nutrition
9.4.1 Overview
9.4.2 Animal Nutrition: Soluble dietary fibers market – Revenue and Forecast to 2028 (US$ Million)
9.5 Pharmaceuticals and Nutraceuticals
9.5.1 Overview
9.5.2 Pharmaceuticals and Nutraceuticals: Soluble dietary fibers market – Revenue and Forecast to 2028 (US$ Million)
9.6 Others
9.6.1 Overview
9.6.2 Others: Soluble dietary fibers market – Revenue and Forecast to 2028 (US$ Million)
10. North America Soluble Dietary Fibers Market – Country Analysis
10.1 Overview
10.1.1 North America: Soluble Dietary Fiber Market, by Key Country
10.1.1.1 US: Soluble dietary fibers market –Revenue and Forecast to 2028 (US$ Million)
10.1.1.1.1 US: Soluble Dietary Fibers Market, by Type
10.1.1.1.2 US: Soluble Dietary Fibers Market, by Source
10.1.1.1.3 US: Soluble Dietary Fibers Market, by Application
10.1.1.2 Canada: Soluble dietary fibers market –Revenue and Forecast to 2028 (US$ Million)
10.1.1.2.1 Canada: Soluble Dietary Fibers Market, by Type
10.1.1.2.2 Canada: Soluble Dietary Fibers Market, by Source
10.1.1.2.3 Canada: Soluble Dietary Fibers Market, by Application
10.1.1.3 Mexico: Soluble dietary fibers market –Revenue and Forecast to 2028 (US$ Million)
10.1.1.3.1 Mexico: Soluble Dietary Fibers Market, by Type
10.1.1.3.2 Mexico: Soluble Dietary Fibers Market, by Source
10.1.1.3.3 Mexico: Soluble Dietary Fibers Market, by Application
11. North America Soluble Dietary Fibers Market – Impact of COVID-19 Pandemic
11.1 North America: Impact Assessment of COVID-19 Pandemic
12. Industry Landscape
12.1 Product Launch
12.2 Strategy and Business Planning
13. Company Profiles
13.1 Cargill, Incorporated
13.1.1 Key Facts
13.1.2 Business Description
13.1.3 Products and Services
13.1.4 Financial Overview
13.1.5 SWOT Analysis
13.1.6 Key Developments
13.2 Kerry Group
13.2.1 Key Facts
13.2.2 Business Description
13.2.3 Products and Services
13.2.4 Financial Overview
13.2.5 SWOT Analysis
13.2.6 Key Developments
13.3 Ingredion Incorporated
13.3.1 Key Facts
13.3.2 Business Description
13.3.3 Products and Services
13.3.4 Financial Overview
13.3.5 SWOT Analysis
13.3.6 Key Developments
13.4 Nexira
13.4.1 Key Facts
13.4.2 Business Description
13.4.3 Products and Services
13.4.4 Financial Overview
13.4.5 SWOT Analysis
13.4.6 Key Developments
13.5 Roquette Frères
13.5.1 Key Facts
13.5.2 Business Description
13.5.3 Products and Services
13.5.4 Financial Overview
13.5.5 SWOT Analysis
13.5.6 Key Developments
13.6 Tate & Lyle PLC
13.6.1 Key Facts
13.6.2 Business Description
13.6.3 Products and Services
13.6.4 Financial Overview
13.6.5 SWOT Analysis
13.6.6 Key Developments
13.7 ADM
13.7.1 Key Facts
13.7.2 Business Description
13.7.3 Products and Services
13.7.4 Financial Overview
13.7.5 SWOT Analysis
13.7.6 Key Developments
13.8 IFF Nutrition & Biosciences
13.8.1 Key Facts
13.8.2 Business Description
13.8.3 Products and Services
13.8.4 Financial Overview
13.8.5 SWOT Analysis
13.8.6 Key Developments
13.9 BENEO GmbH
13.9.1 Key Facts
13.9.2 Business Description
13.9.3 Products and Services
13.9.4 Financial Overview
13.9.5 SWOT Analysis
13.9.6 Key Developments
14. Appendix
14.1 About The Insight Partners
14.2 Glossary


Table 1. North America Soluble Dietary Fibers Market –Revenue and Forecast to 2028 (US$ Million)
Table 2. US Soluble Dietary Fibers Market, by Type – Revenue and Forecast to 2028 (USD Million)
Table 3. US Soluble Dietary Fibers Market, by Source – Revenue and Forecast to 2028 (USD Million)
Table 4. US Soluble Dietary Fibers Market, by Application – Revenue and Forecast to 2028 (USD Million)
Table 5. Canada: Soluble Dietary Fibers Market, by Type – Revenue and Forecast to 2028 (USD Million)
Table 6. Canada Soluble Dietary Fibers Market, by Source – Revenue and Forecast to 2028 (USD Million)
Table 7. Canada Soluble Dietary Fibers Market, by Application – Revenue and Forecast to 2028 (USD Million)
Table 8. Mexico Soluble Dietary Fibers Market, by Type – Revenue and Forecast to 2028 (USD Million)
Table 9. Mexico Soluble Dietary Fibers Market, by Source – Revenue and Forecast to 2028 (USD Million)
Table 10. Mexico Soluble Dietary Fibers Market, by Application – Revenue and Forecast to 2028 (USD Million)
Table 11. Glossary of Terms, Soluble Dietary Fibers Market


Figure 1. North America Soluble Dietary Fibers Market Segmentation
Figure 2. North America Soluble Dietary Fibers Market Segmentation – By Country
Figure 3. North America Soluble Dietary Fibers Market Overview
Figure 4. Food and Beverage Segment Held Largest Share of North America Soluble Dietary Fibers Market
Figure 5. The US Held the Largest Share of North America Soluble Dietary Fibers Market
Figure 6. North America Soluble Dietary Fibers Market, Industry Landscape
Figure 7. North America: PEST Analysis
Figure 8. Expert Opinion
Figure 9. North America Soluble Dietary Fibers Market Impact Analysis of Drivers and Restraints
Figure 10. North America: Soluble Dietary Fibers Market – Revenue and Forecast to 2028 (US$ Million)
Figure 11. North America: Soluble Dietary Fiber Market Revenue Share, by Type (2020 and 2028)
Figure 12. Inulin: Soluble Dietary Fibers Market – Revenue and Forecast to 2028 (US$ Million)
Figure 13. Pectin: Soluble Dietary Fiber – Revenue and Forecast to 2028 (US$ Million)
Figure 14. Polydextrose: Soluble dietary fibers market – Revenue and Forecast to 2028 (US$ Million)
Figure 15. Beta-glucan: Soluble dietary fibers market – Revenue and Forecast to 2028 (US$ Million)
Figure 16. Others: Soluble dietary fibers market – Revenue and Forecast to 2028 (US$ Million)
Figure 17. North America: Soluble Dietary Fiber Market Revenue Share, by Source (2020 and 2028)
Figure 18. Cereals and Grains: Soluble dietary fibers market – Revenue and Forecast to 2028 (US$ Million)
Figure 19. Fruits and Vegetables: Soluble dietary fibers market – Revenue and Forecast to 2028 (US$ Million)
Figure 20. Others: Soluble dietary fibers market – Revenue and Forecast to 2028 (US$ Million)
Figure 21. North America: Soluble Dietary Fiber Market Revenue Share, by Application (2020 and 2028)
Figure 22. Food and Beverages: Soluble dietary fibers market – Revenue and Forecast to 2028 (US$ Million)
Figure 23. Animal Nutrition: Soluble dietary fibers market – Revenue and Forecast to 2028 (US$ Million)
Figure 24. Pharmaceuticals and Nutraceuticals: Soluble dietary fibers market – Revenue and Forecast to 2028 (US$ Million)
Figure 25. Others: Soluble dietary fibers market – Revenue and Forecast to 2028 (US$ Million)
Figure 26. Geographic Overview of North America Soluble Dietary Fibers Market
Figure 27. North America: Soluble dietary fibers market Revenue Share, by Key Country (2020 and 2028)
Figure 28. US: Soluble dietary fibers market –Revenue and Forecast to 2028 (US$ Million)
Figure 29. Canada: Soluble dietary fibers market –Revenue and Forecast to 2028 (US$ Million)
Figure 30. Mexico: Soluble dietary fibers market –Revenue and Forecast to 2028 (US$ Million)
Figure 31. Impact of COVID-19 Pandemic in North America
Cargill, Incorporated

Kerry Group

Ingredion Incorporated

Nexira

Tate & Lyle PLC

ADM

IFF Nutrition & Biosciences

BENEO GmbH

Roquette Frères
Save and reduce time carrying out entry-level research by identifying the growth, size, leading players and segments in the

North America soluble dietary fibers market

.

Highlights key business priorities in order to assist companies to realign their business strategies

The key findings and recommendations highlight crucial progressive industry trends in the

North America soluble dietary fibers market

, thereby allowing players across the value chain to develop effective long-term strategies

Develop/modify business expansion plans by using substantial growth offering developed and emerging markets

Scrutinize in-depth North America market trends and outlook coupled with the factors driving the soluble dietary fibers market, as well as those hindering it

Enhance the decision-making process by understanding the strategies that underpin commercial interest with respect to client products, segmentation, pricing and distribution
---
Related Tags
North America Soluble Dietary Fibers Market Market
North America Soluble Dietary Fibers Market Market Research
North America Soluble Dietary Fibers Market Market Insight
North America Soluble Dietary Fibers Market Market Trends
North America Soluble Dietary Fibers Market Market Forecast
North America Soluble Dietary Fibers Market Market Share
North America Soluble Dietary Fibers Market Market 2028
North America Soluble Dietary Fibers Market Market Growth
North America Soluble Dietary Fibers Market Industry
Sector
North America Soluble Dietary Fibers Market PDF Report
North America Soluble Dietary Fibers Market Analysis
North America Soluble Dietary Fibers Market Research
Competitive Analysis
---