Asia Pacific Cut Flowers Market Forecast to 2027 - COVID-19 Impact and Regional Analysis by Flower Type (Rose, Carnation, Lilium, Chrysanthemum and Gerbera, and Others), and Application (Home and Commercial)
Code:
TIPRE00016235
|
Pages:
64
|
Industry:
Food and Beverages
|
Date:
Nov 2020
|
Type:
Regional
Asia- Pacific Cut Flowers Market Forecast to 2027 – COVID-19 Impact and Analysis- by Flower Type (Rose, Carnation, Lilium, Chrysanthemum and Gerbera, and Others), and Application (Home and Commercial)
Number of Pages: 64
Market Introduction
Cut flowers refers to flower or flower buds that is cut from the plant on which it is grown. It is usually taken out from plants for its use in decorative purposes. Most of the gardeners harvest their own cut flowers in their gardens but most of the countries have a floral industry dedicated for cut flowers. The plants from which the cut flowers are cut, vary in climate, culture and the level of wealth locally. Mostly the plants for cut flowers are grown in separate fields or greenhouses. The cultivation of cut flower is intensive as it requires large amounts of highly toxic pesticides and residues. Thus, the E- commerce purchases of cut flower among consumers is expected to create a significant demand for cut flower in the coming years, which is further anticipated to drive the cut flower market.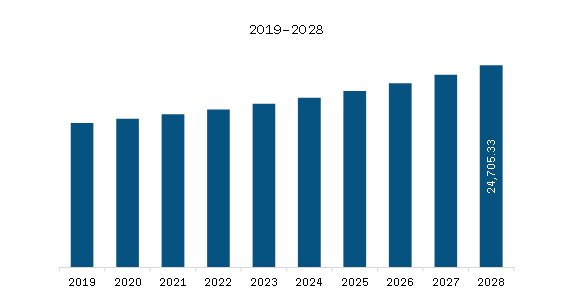 Get more information on this report :
Market Overview and Dynamics
The cut flower market in Asia- Pacific is expected to grow from US$ 6,566.96 million in 2019 to US$ 8,624.78 million by 2027; it is estimated to grow at a CAGR of 3.7% from 2020 to 2027. E-commerce purchases are on the rise, which can be an opportunity for the flower industry. The number of retailers (florists, large supermarkets and online specialists) selling flowers through the internet is increasing. The assortment of flowers that can be purchased online is also growing. The internet is the fastest growing market outlet in many Asian countries, although current market shares are typically below 10%. The online sales trend increases the importance of product uniformity, supply chain efficiency and information exchange standards. It is expected that online sales of cut flowers (both bouquets, mono-bunches and individual flowers) will further increase in the future. Internet sales often involve florists that collectively or individually produce the bouquets and flowers, or specialized bouquet producers. E-commerce will open the door to generate enthusiasm for and sales of flower-related gifts and purchases. It will also give supermarkets valuable information about consumer interest and demand. Targeting the new generation of e-commerce customers, online flower retailers keep their clients engaged with new designs and ideas. The cut flower companies are now using social media platforms to launch marketing campaigns because social media offers many benefits including targeting specific customer segments, wide reach, adaptability, and so on while being fairly inexpensive to use. This is bolstering the growth of the cut flower market.
The COVID-19 is anticipated to cause a loss of more than 3 Billion in the Asia Pacific region. The consequence and impact can be even worse and totally depends on the spread of the virus. The government of Asia Pacific is taking possible steps to reduce its effects by announcing lockdown, and thus, impact the revenue generated by the market. The Airports Council International (ACI) Asia-Pacific warned that the prolonged duration of the coronavirus (COVID-19) outbreak would drastically impact the region's airports' connectivity and economic sustainability, significantly restricting them from achieving previously forecasted growth prospects. Such closures are anticipated to negatively impact the supply of cut flowers market growth in the coming period.
Key Market Segments
In terms of flower type, the rose segment accounted for the largest share of the Asia- Pacific cut flowers market in 2019. Based on application, the cut flower market is divided into home, and commercial. Commercial is expected to be the fastest growing segment over the forecast period.
Major Sources and Companies Listed
A few major primary and secondary sources referred to for preparing this report on the Cut Flower market in Asia- Pacific are company websites, annual reports, financial reports, national government documents, and statistical database, among others. Major companies listed in the report are Washington Bulb Co., Inc., Oserian, Dümmen Orange, The Kariki Group, Selecta one, and MultiFlora among others.
Reasons to buy report
Understand the Asia- Pacific cut flower market landscape and identify market segments that are likely to guarantee a strong return
Stay ahead of the race by comprehending the ever-changing competitive market landscape in Asia- Pacific
Efficiently plan mergers and acquisitions, and partnership deals in the Asia- Pacific cut flower market by identifying market segments with the most promising probable sales
Take knowledgeable business decisions from perceptive and comprehensive analysis of performance of various market segments
Obtain revenue forecast for market based on various segments for the period 2020-2027
Asia- Pacific Cut Flower Market Segmentation
Asia- Pacific Cut Flowers Market- by Flower Type
Rose
Carnation
Lilium
Chrysanthemum and Gerbera
Others
Asia- Pacific Cut Flower Market- by Application
Asia- Pacific Cut Flower Market- by Country
Japan
China
India
Australia
South Korea
Rest of Asia- Pacific
Company Profiles
Oserian
Dümmen Orange
The Kariki Group
Selecta one
MultiFlora
1. Introduction
1.1 Study Scope
1.2 The Insight Partners Research Report Guidance
1.3 Market Segmentation
2. Key Takeaways
3. Research Methodology
3.1 Scope of the Study
3.2 Research Methodology
3.2.1 Data Collection:
3.2.2 Primary Interviews:
3.2.3 Hypothesis formulation:
3.2.4 Macro-economic factor analysis:
3.2.5 Developing base number:
3.2.6 Data Triangulation:
3.2.7 Country level data:
4. Cut Flowers Market Landscape
4.1 Market Overview
4.2 PEST Analysis
4.2.1 APAC
4.3 Expert Opinion
5. Cut Flowers Market – Key Market Dynamics
5.1 Market Drivers
5.1.1 Surging demand of cut flowers for decorative purposes
5.1.2 Numerous health benefits associated with cut flowers
5.2 Market Restraints
5.2.1 Stringent conditions to be met by cut flowers
5.3 Market Opportunities
5.3.1 E-commerce Purchases
5.4 Future Trends
5.4.1 Marketing a farm story to attract customers
5.5 Impact Analysis Of Drivers And Restraints
6. Cut Flowers – APAC Market Analysis
6.1 Cut Flowers Market Overview
6.2 Cut Flowers Market –Revenue and Forecast to 2027 (US$ Mn)
6.3 Market Positioning – Key Market Players
7. APAC Cut Flowers Market Analysis – By Flower Type
7.1 Overview
7.2 APAC Cut Flowers Market Breakdown, By Flower Type, 2019 & 2027
7.3 Rose
7.3.1 Overview
7.3.2 Rose in Cut Flowers Market, Revenue Forecast to 2027 (US$ Mn)
7.4 Carnation
7.4.1 Overview
7.4.2 Carnations in Cut Flowers Market, Revenue and Forecast to 2027 (US$ Mn)
7.5 Lilium
7.5.1 Overview
7.5.2 Lilium in Cut Flowers Market, Revenue and Forecast to 2027 (US$ Mn)
7.6 Chrysanthemum and Gerbera
7.6.1 Overview
7.6.2 Chrysanthemum and Gerbera in Cut Flowers Market, Revenue and Forecast to 2027 (US$ Mn)
7.7 Others
7.7.1 Overview
7.7.2 Others in Cut Flowers Market, Revenue and Forecast to 2027 (US$ Mn)
8. APAC Cut Flowers Market Analysis – By Application
8.1 Overview
8.2 APAC Cut Flowers Market Breakdown, By Application, 2019 & 2027
8.3 Home
8.3.1 Overview
8.3.2 Cut Flowers Market Revenue Via Home Revenue and Forecast, to 2027 (US$ Mn)
8.4 Commercial
8.4.1 Overview
8.4.2 Cut Flowers Market Revenue Via Commercial Revenue and Forecast, to 2027 (US$ Mn)
9. Cut Flowers Market – Country Analysis
9.1 Overview
9.1.1 Asia Pacific: Cut Flowers Market, by Key Country
9.1.1.1 Australia: Cut Flowers Market –Revenue and Forecast to 2027 (US$ Mn)
9.1.1.1.1 Australia: Cut Flowers Market, by Flower Type
9.1.1.1.2 Australia: Cut Flowers Market, by Application
9.1.1.2 China: Cut Flowers Market –Revenue and Forecast to 2027 (US$ Mn)
9.1.1.2.1 China: Cut Flowers Market, by Flower Type
9.1.1.2.2 China: Cut Flowers Market, by Application
9.1.1.3 India: Cut Flowers Market –Revenue and Forecast to 2027 (US$ Mn)
9.1.1.3.1 India: Cut Flowers Market, by Flower Type
9.1.1.3.2 India: Cut Flowers Market, by Application
9.1.1.4 Japan: Cut Flowers Market –Revenue and Forecast to 2027 (US$ Mn)
9.1.1.4.1 Japan: Cut Flowers Market, by Flower Type
9.1.1.4.2 Japan: Cut Flowers Market, by Application
9.1.1.5 South Korea: Cut Flowers Market –Revenue and Forecast to 2027 (US$ Mn)
9.1.1.5.1 South Korea: Cut Flowers Market, by Flower Type
9.1.1.5.2 South Korea: Cut Flowers Market, by Application
9.1.1.6 Rest of APAC: Cut Flowers Market –Revenue and Forecast to 2027 (US$ Mn)
9.1.1.6.1 Rest of Asia Pacific: Cut Flowers Market, by Flower Type
9.1.1.6.2 Rest of Asia Pacific: Cut Flowers Market, by Application
10. Impact of COVID-19 Pandemic on APAC Cut Flowers Market
10.1 Overview
11. Key Company Profiles
11.1 Oserian
11.1.1 Key Facts
11.1.2 Business Description
11.1.3 Products and Services
11.1.4 Financial Overview
11.1.5 SWOT Analysis
11.2 Dümmen Orange
11.2.1 Key Facts
11.2.2 Business Description
11.2.3 Products and Services
11.2.4 Financial Overview
11.2.5 SWOT Analysis
11.2.6 Key Developments
11.3 The Kariki Group
11.3.1 Key Facts
11.3.2 Business Description
11.3.3 Products and Services
11.3.4 Financial Overview
11.3.5 SWOT Analysis
11.4 Selecta one
11.4.1 Key Facts
11.4.2 Business Description
11.4.3 Products and Services
11.4.4 Financial Overview
11.4.5 SWOT Analysis
11.4.6 Key Developments
11.5 MultiFlora
11.5.1 Key Facts
11.5.2 Business Description
11.5.3 Products and Services
11.5.4 Financial Overview
11.5.5 SWOT Analysis
12. Appendix
12.1 About The Insight Partners
12.2 Glossary
LIST OF TABLES
Table 1. APAC Cut Flowers Market –Revenue and Forecast to 2027 (US$ Mn)
Table 2. Australia Cut Flowers Market, by Flower Type – Revenue and Forecast to 2027 (US$ Mn)
Table 3. Australia Cut Flowers Market, by Application – Revenue and Forecast to 2027 (US$ Mn)
Table 4. China Cut Flowers Market, by Flower Type – Revenue and Forecast to 2027 (US$ Mn)
Table 5. China Cut Flowers Market, by Application – Revenue and Forecast to 2027 (US$ Mn)
Table 6. India Cut Flowers Market, by Flower Type – Revenue and Forecast to 2027 (US$ Mn)
Table 7. India Cut Flowers Market, by Application – Revenue and Forecast to 2027 (US$ Mn)
Table 8. Japan Cut Flowers Market, by Flower Type – Revenue and Forecast to 2027 (US$ Mn)
Table 9. Japan Cut Flowers Market, by Application – Revenue and Forecast to 2027 (US$ Mn)
Table 10. South Korea Cut Flowers Market, by Flower Type – Revenue and Forecast to 2027 (US$ Mn)
Table 11. South Korea Cut Flowers Market, by Application – Revenue and Forecast to 2027 (US$ Mn)
Table 12. Rest of Asia Pacific Cut Flowers Market, by Flower Type – Revenue and Forecast to 2027 (US$ Mn)
Table 13. Rest of Asia Pacific Cut Flowers Market, by Application – Revenue and Forecast to 2027 (US$ Mn)
Table 14. Glossary of Terms, APAC Cut Flowers Market
LIST OF FIGURES
Figure 1. APAC Cut Flowers Market Segmentation
Figure 2. APAC Cut Flowers Market Segmentation – By Country
Figure 3. APAC Cut Flowers Market Overview
Figure 4. Rose Segment Held Largest Share of APAC Cut Flowers Market
Figure 5. Japan Country Held Largest Share of APAC Cut Flowers Market
Figure 6. APAC Cut Flowers Market, Industry Landscape
Figure 7. APAC: PEST Analysis
Figure 8. Expert Opinion
Figure 9. APAC Cut Flowers Market Impact Analysis Of Driver And Restraints
Figure 10. APAC: Cut Flowers Market – Revenue and Forecast to 2027 (US$ Mn)
Figure 11. APAC Cut Flowers Market Breakdown, By Flower Type, 2019 & 2027
Figure 12. APAC Rose in Cut Flowers Market, Revenue and Forecast, 2017–2027 (US$ Mn)
Figure 13. APAC Carnations in Cut Flowers Market, Revenue and Forecast, 2017–2027 (US$ Mn)
Figure 14. APAC Lilium in Cut Flowers Market, Revenue and Forecast, 2017–2027 (US$ Mn)
Figure 15. APAC Chrysanthemum and Gerbera in Cut Flowers Market, Revenue and Forecast, 2017–2027 (US$ Mn)
Figure 16. APAC Others in Cut Flowers Market, Revenue and Forecast, 2017–2027 (US$ Mn)
Figure 17. APAC Cut Flowers Market Breakdown By Application, 2019 & 2027 (%)
Figure 18. APAC Cut Flowers Market Revenue Via Home Revenue and Forecast, to 2027 (US$ Mn)
Figure 19. APAC Cut Flowers Market Revenue Via Commercial Revenue and Forecast, to 2027 (US$ Mn)
Figure 20. APAC: Cut Flowers Market Revenue Share, by Key Country (2019 and 2027)
Figure 21. Australia: Cut Flowers Market –Revenue and Forecast to 2027 (US$ Mn)
Figure 22. China: Cut Flowers Market –Revenue and Forecast to 2027 (US$ Mn)
Figure 23. India: Cut Flowers Market –Revenue and Forecast to 2027 (US$ Mn)
Figure 24. Japan: Cut Flowers Market –Revenue and Forecast to 2027 (US$ Mn)
Figure 25. South Korea: Cut Flowers Market –Revenue and Forecast to 2027 (US$ Mn)
Figure 26. Rest of APAC: Cut Flowers Market –Revenue and Forecast to 2027 (US$ Mn)
Figure 27. Impact of COVID-19 Pandemic in Asia Pacific Country Markets
Oserian

Dümmen Orange

The Kariki Group

Selecta one

MultiFlora
---