South America Solid Fuel Market Forecast to 2028 - COVID-19 Impact and Regional Analysis by Fuel Type (Petcoke/Flexicoke, Anthracite, Metallurgical Coke, and Coal)
BMIRE00028492
|
Pages:
97
|
Energy and Power
|
May 2023
|
Type:
Regional
|
Status:
Published
The South America solid fuel market was valued at US$ 22,791.09 million in 2022 and is projected to reach US$ 25,353.39 million by 2028; it is expected to grow at a CAGR of 1.8% from 2022 to 2028.
Rising Demand for Petcoke is Driving the South America Solid Fuel Market
Industries across the world are demanding different energy sources. The cement, steel, and power industries are generating high demand for petroleum coke (petcoke). Petcoke is cheaper than overseas coal. Owing to rising urbanization and population, demand for construction and electricity generation is increasing at an exponential rate. Petcoke is used in manufacturing building materials and generating electricity. Power generation, cement, iron & steel, and other industries consume coal. Coal is a major fuel consumed across the world. Oil and other fuels would become expensive and scarcer in the coming years, whereas coal will dominate the market for the next 200 years. Thus, the presence of coal reserves in various countries across the world drives the solid fuel market growth.
South America Solid Fuel Market Overview
As of 2021, Brazil had the largest coal reserves in South America, predicted at nearly 7.3 billion short tons. After Brazil, Colombia ranked second with approximately five billion tons in 2021, followed by Chile and Mexico with coal reserves amounting to ~1.3 billion tons each. Brazil is one of the region's leading coal producers, and most of the coal is directed into power generation. The coal produced in excess is exported to China; therefore, both countries are trade partners for the same. Brazil is stuck in an intense economic crisis. The state of Rio Grande do Sul is holding 90% of Brazil's coal reserves. It is open to increase mining, develop a coal gasification center, and lock-in into a high-carbon energy infrastructure. China is investing in this gasification center. Since China leverages well-established technologies worldwide, the investment will provide new opportunities for the coal reserves from Rio Grande do Sul state.
Additionally, the region has a large number of operating refineries, which will further promote the use of solid fuels. Countries in the region such as Argentina, Aruba, Brazil, Bolivia, Chile, Costa Rica, Ecuador, El Salvador, Peru, Venezuela, and Colombia have the presence of operating refineries. However, the region is emphasizing on foreign direct investments to facilitate regional development to supply green energy through sea or land and use it leverage re-industrialization process. Colombia is planning to shift from coal-based energy investment plans to clean energy production. Such initiatives are projected to hamper coal usage in countries in South America.
South America Solid Fuel Market Revenue and Forecast to 2028 (US$ Million)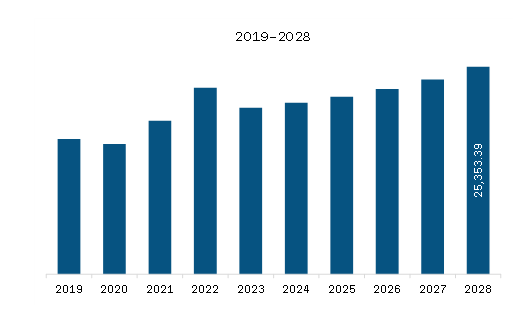 South America Solid Fuel Market Segmentation
The South America solid fuel market is segmented into fuel type, and country.
Based on fuel type, South America solid fuel market is segmented into petcoke/flexicoke, anthracite, metallurgical coke, and coal. The metallurgical coke segment held the largest market share in 2022.
Based on country, the South America solid fuel market is segmented into Brazil, Argentina, and the Rest of South America. Brazil dominated the market in 2022.
Indian Oil Corp Ltd; Essar Global Fund Ltd; BP Plc; and Valero Energy Corp are the leading companies operating in the South America solid fuel market.
1.

Introduction
1.1 Study Scope
1.2 The Insight Partners Research Report Guidance
1.3 Market Segmentation
2.

Key Takeaways
3. Research Methodology
3.1 Coverage
3.2 Secondary Research
3.3 Primary Research
4.

South America Solid Fuel Market Landscape
4.1 Market Overview
4.2 South America PEST Analysis
4.3 Ecosystem Analysis
4.4 Expert Opinions
5.

South America Solid Fuel Market – Key Market Dynamics
5.1 Market Drivers
5.1.1 Use of Coal Across Different Countries
5.1.2 Establishment of Refineries Driving Use of Coal
5.2 Market Restraints
5.2.1 Availability of Coal Substitutes
5.3 Market Opportunities
5.3.1 Development and Expansion of Refineries
5.4 Future Trends
5.4.1 Rising Demand for Petcoke
5.5 Impact Analysis of Drivers and Restraints
6.

Solid Fuel Market – South America Market Analysis
6.1 South America Solid Fuel Market Overview
6.2 South America: Solid Fuel Market – Revenue and Forecast to 2028 (US$ Million)
7.

South America Solid Fuel Market Analysis – By Fuel Type
7.1 Overview
7.2 South America Solid Fuel Market, By Fuel Type (2021 and 2028)
7.3 Petcoke/Flexicoke
7.3.1 Overview
7.3.2 Petcoke/Flexicoke: South America Solid Fuel Market – Revenue and Forecast to 2028 (US$ Million)
7.3.3 Cement
7.3.3.1 Cement: South America Solid Fuel Market – Revenue and Forecast to 2028 (US$ Million)
7.3.4 Lime Kilns
7.3.4.1 Lime Kilns: South America Solid Fuel Market – Revenue and Forecast to 2028 (US$ Million)
7.3.5 Gasification Units
7.3.5.1 Gasification Units: South America Solid Fuel Market – Revenue and Forecast to 2028 (US$ Million)
7.3.6 Industrial Boilers
7.3.6.1 Industrial Boilers: South America Solid Fuel Market – Revenue and Forecast to 2028 (US$ Million)
7.4 Anthracite
7.4.1 Overview
7.4.2 Anthracite: South America Solid Fuel Market – Revenue and Forecast to 2028 (US$ Million)
7.5 Metallurgical Coke
7.5.1 Overview
7.5.2 Metallurgical Coke: South America Solid Fuel Market – Revenue and Forecast to 2028 (US$ Million)
7.5.3 Iron & Steel
7.5.3.1 Iron & Steel: South America Solid Fuel Market – Revenue and Forecast to 2028 (US$ Million)
7.5.4 Glass
7.5.4.1 Glass: South America Solid Fuel Market – Revenue and Forecast to 2028 (US$ Million)
7.5.5 Others
7.5.5.1 Others: South America Solid Fuel Market – Revenue and Forecast to 2028 (US$ Million)
7.6 Coal
7.6.1 Overview
7.6.2 Coal: South America Solid Fuel Market – Revenue and Forecast to 2028 (US$ Million)
7.6.3 Thermal
7.6.3.1 Thermal: South America Solid Fuel Market – Revenue and Forecast to 2028 (US$ Million)
7.6.4 Metallurgical
7.6.4.1 Metallurgical: South America Solid Fuel Market – Revenue and Forecast to 2028 (US$ Million)
8.

South America Solid Fuel Market – Country Analysis
8.1 Overview
8.1.1 SAM: Solid Fuel Market, by Key Country
8.1.1.1 Brazil: Solid Fuel Market – Revenue and Forecast to 2028 (US$ Million)
8.1.1.1.1 Brazil: Solid Fuel Market, By Fuel Type
8.1.1.1.1.1 Brazil: Solid Fuel Market, By Petcoke/Flexicoke
8.1.1.1.1.2 Brazil: Solid Fuel Market, By Metallurgical Coke
8.1.1.1.1.3 Brazil: Solid Fuel Market, By Coal
8.1.1.2 Argentina: Solid Fuel Market – Revenue and Forecast to 2028 (US$ Million)
8.1.1.2.1 Argentina: Solid Fuel Market, By Fuel Type
8.1.1.2.1.1 Argentina: Solid Fuel Market, By Petcoke/Flexicoke
8.1.1.2.1.2 Argentina: Solid Fuel Market, By Metallurgical Coke
8.1.1.2.1.3 Argentina: Solid Fuel Market, By Coal
8.1.1.3 Rest of SAM: Solid Fuel Market – Revenue and Forecast to 2028 (US$ Million)
8.1.1.3.1 Rest of SAM: Solid Fuel Market, By Fuel Type
8.1.1.3.1.1 Rest of SAM: Solid Fuel Market, By Petcoke/Flexicoke
8.1.1.3.1.2 Rest of SAM: Solid Fuel Market, By Metallurgical Coke
8.1.1.3.1.3 Rest of SAM: Solid Fuel Market, By Coal
9.

Industry Landscape
9.1 Overview
9.2 Market Initiative
9.3 Product Development
9.4 Mergers & Acquisitions
10.

Company Profiles
10.1 Indian Oil Corp Ltd
10.1.1 Key Facts
10.1.2 Business Description
10.1.3 Products and Services
10.1.4 Financial Overview
10.1.5 SWOT Analysis
10.1.6 Key Developments
10.2 Essar Global Fund Ltd
10.2.1 Key Facts
10.2.2 Business Description
10.2.3 Products and Services
10.2.4 Financial Overview
10.2.5 SWOT Analysis
10.2.6 Key Developments
10.3 BP Plc
10.3.1 Key Facts
10.3.2 Business Description
10.3.3 Products and Services
10.3.4 Financial Overview
10.3.5 SWOT Analysis
10.3.6 Key Developments
10.4 Valero Energy Corp
10.4.1 Key Facts
10.4.2 Business Description
10.4.3 Products and Services
10.4.4 Financial Overview
10.4.5 SWOT Analysis
10.4.6 Key Developments
11.

Appendix
11.1 About The Insight Partners
11.2 Word Index
LIST OF TABLES
Table 1. South America Solid Fuel Market Revenue and Forecast to 2028 (US$ Million)
Table 2. Brazil: Solid Fuel Market, By Fuel Type – Revenue and Forecast to 2028 (US$ Million)
Table 3. Brazil: Solid Fuel Market, By Petcoke/Flexicoke – Revenue and Forecast to 2028 (US$ Million)
Table 4. Brazil: Solid Fuel Market, By Metallurgical Coke – Revenue and Forecast to 2028 (US$ Million)
Table 5. Brazil: Solid Fuel Market, By Coal – Revenue and Forecast to 2028 (US$ Million)
Table 6. Argentina: Solid Fuel Market, By Fuel Type – Revenue and Forecast to 2028 (US$ Million)
Table 7. Argentina: Solid Fuel Market, By Petcoke/Flexicoke – Revenue and Forecast to 2028 (US$ Million)
Table 8. Argentina: Solid Fuel Market, By Metallurgical Coke – Revenue and Forecast to 2028 (US$ Million)
Table 9. Argentina: Solid Fuel Market, By Coal – Revenue and Forecast to 2028 (US$ Million)
Table 10. Rest of SAM: Solid Fuel Market, By Fuel Type – Revenue and Forecast to 2028 (US$ Million)
Table 11. Rest of SAM: Solid Fuel Market, By Petcoke/Flexicoke – Revenue and Forecast to 2028 (US$ Million)
Table 12. Rest of SAM: Solid Fuel Market, By Metallurgical Coke – Revenue and Forecast to 2028 (US$ Million)
Table 13. Rest of SAM: Solid Fuel Market, By Coal – Revenue and Forecast to 2028 (US$ Million)
Table 14. List of Abbreviation
LIST OF FIGURES
Figure 1. South America Solid Fuel Market Segmentation
Figure 2. South America Solid Fuel Market Segmentation – By Country
Figure 3. South America Solid Fuel Market Overview
Figure 4. South America Solid Fuel Market, by Fuel Type
Figure 5. South America Solid Fuel Market, by Country
Figure 6. SAM – PEST Analysis
Figure 7. South America Solid Fuel Market – Ecosystem Analysis
Figure 8. South America Solid Fuel Market: Impact Analysis of Drivers and Restraints
Figure 9. SAM: Solid Fuel Market – Revenue and Forecast to 2028 (US$ Million)
Figure 10. South America Solid Fuel Market Revenue Share, by Fuel Type (2021 and 2028)
Figure 11. Petcoke/Flexicoke: South America Solid Fuel Market – Revenue and Forecast to 2028 (US$ Million)
Figure 12. Cement: South America Solid Fuel Market – Revenue and Forecast to 2028 (US$ Million)
Figure 13. Lime Kilns: South America Solid Fuel Market – Revenue and Forecast to 2028 (US$ Million)
Figure 14. Gasification Units: South America Solid Fuel Market – Revenue and Forecast to 2028 (US$ Million)
Figure 15. Industrial Boilers: South America Solid Fuel Market – Revenue and Forecast to 2028 (US$ Million)
Figure 16. Anthracite: South America Solid Fuel Market – Revenue and Forecast to 2028 (US$ Million)
Figure 17. Metallurgical Coke: South America Solid Fuel Market – Revenue and Forecast to 2028 (US$ Million)
Figure 18. Iron & Steel: South America Solid Fuel Market – Revenue and Forecast to 2028 (US$ Million)
Figure 19. Glass: South America Solid Fuel Market – Revenue and Forecast to 2028 (US$ Million)
Figure 20. Others: South America Solid Fuel Market – Revenue and Forecast to 2028 (US$ Million)
Figure 21. Coal: South America Solid Fuel Market – Revenue and Forecast to 2028 (US$ Million)
Figure 22. Thermal: South America Solid Fuel Market – Revenue and Forecast to 2028 (US$ Million)
Figure 23. Metallurgical: South America Solid Fuel Market – Revenue and Forecast to 2028 (US$ Million)
Figure 24. SAM: Solid Fuel Market, by Country – Revenue (2021) (US$ Million)
Figure 25. SAM: Solid Fuel Market Revenue Share, by Key Country (2021 & 2028)
Figure 26. Brazil: Solid Fuel Market – Revenue and Forecast to 2028 (US$ Million)
Figure 27. Argentina: Solid Fuel Market – Revenue and Forecast to 2028 (US$ Million)
Figure 28. Rest of SAM: Solid Fuel Market – Revenue and Forecast to 2028 (US$ Million)
Indian Oil Corp Ltd

Essar Global Fund Ltd

BP Plc

Valero Energy Corp
---