Europe Solid Fuel Market Forecast to 2028 - COVID-19 Impact and Regional Analysis by Fuel Type (Petcoke/Flexicoke, Anthracite, Metallurgical Coke, and Coal)
BMIRE00028472
|
Pages:
134
|
Energy and Power
|
May 2023
|
Type:
Regional
|
Status:
Published
The Europe solid fuel market was valued at US$ 34,129.61 million in 2022 and is projected to reach US$ 30,686.97 million by 2028; it is expected to grow at a CAGR of -1.8% from 2022 to 2028.
Rising Demand for Petcoke is Driving the Europe Solid Fuel Market
Industries across the world are demanding different energy sources. The cement, steel, and power industries are generating high demand for petroleum coke (petcoke). Petcoke is cheaper than overseas coal. Owing to rising urbanization and population, demand for construction and electricity generation is increasing at an exponential rate. Petcoke is used in manufacturing building materials and generating electricity. In countries such as India, petcoke is no longer available with Reliance company for local markets. All the factors mentioned above are projected to boost the usage of petcoke, which would bolster the solid fuel market growth during the forecast period.
Europe Solid Fuel Market Overview
Based on country, the Europe solid fuel market is segmented into France, Germany, Italy, the UK, Russia, and the Rest of Europe. Europe has a strong steel industry. Due to the rising demand for steel from the automotive, construction, electronics, and other end-use industries, steel production is increasing in Europe to meet the demand.
European Steel Association AISBL (EUROFER) data shows that Europe, on average, produces around 153 million tons of finished steel annually. The region has ~500 steel production sites across 22 European Union (EU) member states. Thus, Europe's strong steel industry contributes to the demand for petcoke in the region.

According to Coalmint, in April 2022, India and Europe confirmed a deal for the shipments of 50,000 MT of metallurgical coke from India for the European steel industry.
Europe has made constant efforts to boost its steel industry, thereby bolstering the demand for petcoke and metallurgical coke across the region.
Furthermore, the European government is taking considerable initiatives to reduce the use of coal in energy companies due to rising environmental awareness. In Poland, 70% of the country's electricity is generated by fuel, which emits a high amount of CO2. In August 2022, Poland's government signed a deal to acquire stakes in anthracite mine operator Polska Grupa Gornicza (PGG). The deal aims to reduce the pollution from the coal sector and decrease its dependence on coal and boosting the demand for anthracite. Thus, all the above factors will significantly drive the Europe solid fuel market in the coming years.
Europe Solid Fuel Market Revenue and Forecast to 2028 (US$ Million)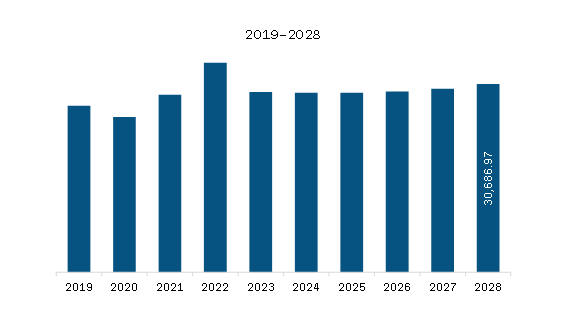 Europe Solid Fuel Market Segmentation
The Europe solid fuel market is segmented into fuel type, and country.
Based on fuel type, Europe solid fuel market is segmented into petcoke/flexicoke, anthracite, metallurgical coke, and coal. The metallurgical coke segment held the largest market share in 2022.
Based on country, the Europe solid fuel market is segmented into Germany, France, Italy, the UK, Russia, and the Rest of Europe. Germany dominated the market in 2022.
Indian Oil Corp Ltd; Essar Global Fund Ltd; BP Plc; Lukoil Oil Co; Valero Energy Corp; Phillips 66; Elinoil Hellenic Petroleum Company SA; RESORBENT Sro; and Hargreaves (UK) Services Ltd are the leading companies operating in the Europe solid fuel market.
1.

Introduction
1.1 Study Scope
1.2 The Insight Partners Research Report Guidance
1.3 Market Segmentation
2.

Key Takeaways
3. Research Methodology
3.1 Coverage
3.2 Secondary Research
3.3 Primary Research
4.

Europe Solid Fuel Market Landscape
4.1 Market Overview
4.2 Europe PEST Analysis
4.3 Ecosystem Analysis
4.4 Expert Opinions
5.

Europe Solid Fuel Market – Key Market Dynamics
5.1 Market Drivers
5.1.1 Use of Coal Across Different Countries
5.1.2 Establishment of Refineries Driving Use of Coal
5.2 Market Restraints
5.2.1 Availability of Coal Substitutes
5.2.2 Government Mandates for Limiting Greenhouse Gas Emissions
5.3 Market Opportunities
5.3.1 Development and Expansion of Refineries
5.4 Future Trends
5.4.1 Rising Demand for Petcoke
5.5 Impact Analysis of Drivers and Restraints
6.

Solid Fuel Market – Europe Market Analysis
6.1 Europe Solid Fuel Market Overview
6.2 Europe: Solid Fuel Market – Revenue and Forecast to 2028 (US$ Million)
7.

Europe Solid Fuel Market Analysis – By Fuel Type
7.1 Overview
7.2 Europe Solid Fuel Market, By Fuel Type (2021 and 2028)
7.3 Petcoke/Flexicoke
7.3.1 Overview
7.3.2 Petcoke/Flexicoke: Europe Solid Fuel Market – Revenue and Forecast to 2028 (US$ Million)
7.3.3 Cement
7.3.3.1 Cement: Europe Solid Fuel Market – Revenue and Forecast to 2028 (US$ Million)
7.3.4 Lime Kilns
7.3.4.1 Lime Kilns: Europe Solid Fuel Market – Revenue and Forecast to 2028 (US$ Million)
7.3.5 Gasification Units
7.3.5.1 Gasification Units: Europe Solid Fuel Market – Revenue and Forecast to 2028 (US$ Million)
7.3.6 Industrial Boilers
7.3.6.1 Industrial Boilers: Europe Solid Fuel Market – Revenue and Forecast to 2028 (US$ Million)
7.4 Anthracite
7.4.1 Overview
7.4.2 Anthracite: Europe Solid Fuel Market – Revenue and Forecast to 2028 (US$ Million)
7.5 Metallurgical Coke
7.5.1 Overview
7.5.2 Metallurgical Coke: Europe Solid Fuel Market – Revenue and Forecast to 2028 (US$ Million)
7.5.3 Iron & Steel
7.5.3.1 Iron & Steel: Europe Solid Fuel Market – Revenue and Forecast to 2028 (US$ Million)
7.5.4 Glass
7.5.4.1 Glass: Europe Solid Fuel Market – Revenue and Forecast to 2028 (US$ Million)
7.5.5 Others
7.5.5.1 Others: Europe Solid Fuel Market – Revenue and Forecast to 2028 (US$ Million)
7.6 Coal
7.6.1 Overview
7.6.2 Coal: Europe Solid Fuel Market – Revenue and Forecast to 2028 (US$ Million)
7.6.3 Thermal
7.6.3.1 Thermal: Europe Solid Fuel Market – Revenue and Forecast to 2028 (US$ Million)
7.6.4 Metallurgical
7.6.4.1 Metallurgical: Europe Solid Fuel Market – Revenue and Forecast to 2028 (US$ Million)
8.

Europe Solid Fuel Market – Country Analysis
8.1 Overview
8.1.1 Europe: Solid Fuel Market, by Key Country
8.1.1.1 Germany: Solid Fuel Market – Revenue and Forecast to 2028 (US$ Million)
8.1.1.1.1 Germany: Solid Fuel Market, By Fuel Type
8.1.1.1.1.1 Germany: Solid Fuel Market, By Petcoke/Flexicoke
8.1.1.1.1.2 Germany: Solid Fuel Market, By Metallurgical Coke
8.1.1.1.1.3 Germany: Solid Fuel Market, By Coal
8.1.1.2 France: Solid Fuel Market – Revenue and Forecast to 2028 (US$ Million)
8.1.1.2.1 France: Solid Fuel Market, By Fuel Type
8.1.1.2.1.1 France: Solid Fuel Market, By Petcoke/Flexicoke
8.1.1.2.1.2 France: Solid Fuel Market, By Metallurgical Coke
8.1.1.2.1.3 France: Solid Fuel Market, By Coal
8.1.1.3 Italy: Solid Fuel Market – Revenue and Forecast to 2028 (US$ Million)
8.1.1.3.1 Italy: Solid Fuel Market, By Fuel Type
8.1.1.3.1.1 Italy: Solid Fuel Market, By Petcoke/Flexicoke
8.1.1.3.1.2 Italy: Solid Fuel Market, By Metallurgical Coke
8.1.1.3.1.3 Italy: Solid Fuel Market, By Coal
8.1.1.4 UK: Solid Fuel Market – Revenue and Forecast to 2028 (US$ Million)
8.1.1.4.1 UK: Solid Fuel Market, By Fuel Type
8.1.1.4.1.1 UK: Solid Fuel Market, By Petcoke/Flexicoke
8.1.1.4.1.2 UK: Solid Fuel Market, By Metallurgical Coke
8.1.1.4.1.3 UK: Solid Fuel Market, By Coal
8.1.1.5 Russia: Solid Fuel Market – Revenue and Forecast to 2028 (US$ Million)
8.1.1.5.1 Russia: Solid Fuel Market, By Fuel Type
8.1.1.5.1.1 Russia: Solid Fuel Market, By Petcoke/Flexicoke
8.1.1.5.1.2 Russia: Solid Fuel Market, By Metallurgical Coke
8.1.1.5.1.3 Russia: Solid Fuel Market, By Coal
8.1.1.6 Rest of Europe: Solid Fuel Market – Revenue and Forecast to 2028 (US$ Million)
8.1.1.6.1 Rest of Europe: Solid Fuel Market, By Fuel Type
8.1.1.6.1.1 Rest of Europe: Solid Fuel Market, By Petcoke/Flexicoke
8.1.1.6.1.2 Rest of Europe: Solid Fuel Market, By Metallurgical Coke
8.1.1.6.1.3 Rest of Europe: Solid Fuel Market, By Coal
9.

Industry Landscape
9.1 Overview
9.2 Market Initiative
9.3 Product Development
9.4 Mergers & Acquisitions
10.

Company Profiles
10.1 Indian Oil Corp Ltd
10.1.1 Key Facts
10.1.2 Business Description
10.1.3 Products and Services
10.1.4 Financial Overview
10.1.5 SWOT Analysis
10.1.6 Key Developments
10.2 Elinoil Hellenic Petroleum Company SA
10.2.1 Key Facts
10.2.2 Business Description
10.2.3 Products and Services
10.2.4 Financial Overview
10.2.5 SWOT Analysis
10.2.6 Key Developments
10.3 RESORBENT Sro
10.3.1 Key Facts
10.3.2 Business Description
10.3.3 Products and Services
10.3.4 Financial Overview
10.3.5 SWOT Analysis
10.3.6 Key Developments
10.4 Hargreaves (UK) Services Ltd
10.4.1 Key Facts
10.4.2 Business Description
10.4.3 Products and Services
10.4.4 Financial Overview
10.4.5 SWOT Analysis
10.4.6 Key Developments
10.5 Essar Global Fund Ltd
10.5.1 Key Facts
10.5.2 Business Description
10.5.3 Products and Services
10.5.4 Financial Overview
10.5.5 SWOT Analysis
10.5.6 Key Developments
10.6 BP Plc
10.6.1 Key Facts
10.6.2 Business Description
10.6.3 Products and Services
10.6.4 Financial Overview
10.6.5 SWOT Analysis
10.6.6 Key Developments
10.7 Lukoil Oil Co
10.7.1 Key Facts
10.7.2 Business Description
10.7.3 Products and Services
10.7.4 Financial Overview
10.7.5 SWOT Analysis
10.7.6 Key Developments
10.8 Valero Energy Corp
10.8.1 Key Facts
10.8.2 Business Description
10.8.3 Products and Services
10.8.4 Financial Overview
10.8.5 SWOT Analysis
10.8.6 Key Developments
10.9 Phillips 66
10.9.1 Key Facts
10.9.2 Business Description
10.9.3 Products and Services
10.9.4 Financial Overview
10.9.5 SWOT Analysis
10.9.6 Key Developments
11.

Appendix
11.1 About The Insight Partners
11.2 Word Index
LIST OF TABLES
Table 1. Europe Solid Fuel Market Revenue and Forecast to 2028 (US$ Million)
Table 2. Germany: Solid Fuel Market, By Fuel Type – Revenue and Forecast to 2028 (US$ Million)
Table 3. Germany: Solid Fuel Market, By Petcoke/Flexicoke – Revenue and Forecast to 2028 (US$ Million)
Table 4. Germany: Solid Fuel Market, By Metallurgical Coke – Revenue and Forecast to 2028 (US$ Million)
Table 5. Germany: Solid Fuel Market, By Coal – Revenue and Forecast to 2028 (US$ Million)
Table 6. France: Solid Fuel Market, By Fuel Type – Revenue and Forecast to 2028 (US$ Million)
Table 7. France: Solid Fuel Market, By Petcoke/Flexicoke – Revenue and Forecast to 2028 (US$ Million)
Table 8. France: Solid Fuel Market, By Metallurgical Coke – Revenue and Forecast to 2028 (US$ Million)
Table 9. France: Solid Fuel Market, By Coal – Revenue and Forecast to 2028 (US$ Million)
Table 10. Italy: Solid Fuel Market, By Fuel Type – Revenue and Forecast to 2028 (US$ Million)
Table 11. Italy: Solid Fuel Market, By Petcoke/Flexicoke – Revenue and Forecast to 2028 (US$ Million)
Table 12. Italy: Solid Fuel Market, By Metallurgical Coke – Revenue and Forecast to 2028 (US$ Million)
Table 13. Italy: Solid Fuel Market, By Coal – Revenue and Forecast to 2028 (US$ Million)
Table 14. UK: Solid Fuel Market, By Fuel Type – Revenue and Forecast to 2028 (US$ Million)
Table 15. UK: Solid Fuel Market, By Petcoke/Flexicoke – Revenue and Forecast to 2028 (US$ Million)
Table 16. UK: Solid Fuel Market, By Metallurgical Coke – Revenue and Forecast to 2028 (US$ Million)
Table 17. UK: Solid Fuel Market, By Coal – Revenue and Forecast to 2028 (US$ Million)
Table 18. Russia: Solid Fuel Market, By Fuel Type – Revenue and Forecast to 2028 (US$ Million)
Table 19. Russia: Solid Fuel Market, By Petcoke/Flexicoke – Revenue and Forecast to 2028 (US$ Million)
Table 20. Russia: Solid Fuel Market, By Metallurgical Coke – Revenue and Forecast to 2028 (US$ Million)
Table 21. Russia: Solid Fuel Market, By Coal – Revenue and Forecast to 2028 (US$ Million)
Table 22. Rest of Europe: Solid Fuel Market, By Fuel Type – Revenue and Forecast to 2028 (US$ Million)
Table 23. Rest of Europe: Solid Fuel Market, By Petcoke/Flexicoke – Revenue and Forecast to 2028 (US$ Million)
Table 24. Rest of Europe: Solid Fuel Market, By Metallurgical Coke – Revenue and Forecast to 2028 (US$ Million)
Table 25. Rest of Europe: Solid Fuel Market, By Coal – Revenue and Forecast to 2028 (US$ Million)
Table 26. List of Abbreviation
LIST OF FIGURES
Figure 1. Europe Solid Fuel Market Segmentation
Figure 2. Europe Solid Fuel Market Segmentation – By Country
Figure 3. Europe Solid Fuel Market Overview
Figure 4. Europe Solid Fuel Market, by Fuel Type
Figure 5. Europe Solid Fuel Market, by Country
Figure 6. Europe – PEST Analysis
Figure 7. Europe Solid Fuel Market – Ecosystem Analysis
Figure 8. Europe Solid Fuel Market: Impact Analysis of Drivers and Restraints
Figure 9. Europe: Solid Fuel Market – Revenue and Forecast to 2028 (US$ Million)
Figure 10. Europe Solid Fuel Market Revenue Share, by Fuel Type (2021 and 2028)
Figure 11. Petcoke/Flexicoke: Europe Solid Fuel Market – Revenue and Forecast to 2028 (US$ Million)
Figure 12. Cement: Europe Solid Fuel Market – Revenue and Forecast to 2028 (US$ Million)
Figure 13. Lime Kilns: Europe Solid Fuel Market – Revenue and Forecast to 2028 (US$ Million)
Figure 14. Gasification Units: Europe Solid Fuel Market – Revenue and Forecast to 2028 (US$ Million)
Figure 15. Industrial Boilers: Europe Solid Fuel Market – Revenue and Forecast to 2028 (US$ Million)
Figure 16. Anthracite: Europe Solid Fuel Market – Revenue and Forecast to 2028 (US$ Million)
Figure 17. Metallurgical Coke: Europe Solid Fuel Market – Revenue and Forecast to 2028 (US$ Million)
Figure 18. Iron & Steel: Europe Solid Fuel Market – Revenue and Forecast to 2028 (US$ Million)
Figure 19. Glass: Europe Solid Fuel Market – Revenue and Forecast to 2028 (US$ Million)
Figure 20. Others: Europe Solid Fuel Market – Revenue and Forecast to 2028 (US$ Million)
Figure 21. Coal: Europe Solid Fuel Market – Revenue and Forecast to 2028 (US$ Million)
Figure 22. Thermal: Europe Solid Fuel Market – Revenue and Forecast to 2028 (US$ Million)
Figure 23. Metallurgical: Europe Solid Fuel Market – Revenue and Forecast to 2028 (US$ Million)
Figure 24. Europe: Solid Fuel Market, by Key Country – Revenue (2021) (US$ Million)
Figure 25. Europe: Solid Fuel Market Revenue Share, by Key Country (2021 & 2028)
Figure 26. Germany: Solid Fuel Market – Revenue and Forecast to 2028 (US$ Million)
Figure 27. France: Solid Fuel Market – Revenue and Forecast to 2028 (US$ Million)
Figure 28. Italy: Solid Fuel Market – Revenue and Forecast to 2028 (US$ Million)
Figure 29. UK: Solid Fuel Market – Revenue and Forecast to 2028 (US$ Million)
Figure 30. Russia: Solid Fuel Market – Revenue and Forecast to 2028 (US$ Million)
Figure 31. Rest of Europe: Solid Fuel Market – Revenue and Forecast to 2028 (US$ Million)
Indian Oil Corp Ltd

Essar Global Fund Ltd

BP Plc

Lukoil Oil Co

Valero Energy Corp

Phillips 66

Elinoil Hellenic Petroleum Company SA

RESORBENT Sro

Hargreaves (UK) Services Ltd
---