Asia Pacific Solid Fuel Market Forecast to 2028 - COVID-19 Impact and Regional Analysis by Fuel Type (Petcoke/Flexicoke, Anthracite, Metallurgical Coke, and Coal)
BMIRE00028464
|
Pages:
127
|
Energy and Power
|
May 2023
|
Type:
Regional
|
Status:
Published
The Asia Pacific solid fuel market was valued at US$ 2,52,041.60 million in 2022 and is projected to reach US$ 2,61,181.03 million by 2028; it is expected to grow at a CAGR of 0.6% from 2022 to 2028.
Rising Demand for Power in Developing Country is Driving the Asia Pacific Solid Fuel Market
Power generation, cement, iron & steel, and other industries consume coal. Countries such as Australia, China, and India have the largest number of coal reserves. Also, they are developing new coal reserves.
The Chinese government recently announced that China has sufficient coal for around five decades and enough oil for minimum 18 years, considering current production rates.

Three billion tonne of coal deposits have been discovered in Sindh's Thar. The discovery was made at Thar Coal Field Block 1 during exploitation.

The Indian government has commenced developing new coal projects. Among these projects, 99 new coal mine projects are in the pipeline. The new coal projects are expected to have the capacity to generate 427 million tonnes of coal annually (mtpa

).
Therefore, coal is a major fuel consumed across the world. Oil and other fuels would become expensive and scarcer in the coming years, whereas coal will dominate the market for the next 200 years. Thus, the presence of coal reserves in various countries across the world drives the solid fuel market growth.
Asia Pacific Solid Fuel Market Overview
There is a rise in steel production in Asia Pacific. World Steel Association stated in December 2022 that Asia and Oceania produced 101.4 Mt steel in November 2022, an increase of 2.7% compared to November 2021. In addition, according to the data by Indian Ministry of Steel published in December 2022, domestic steel production rose to 78.09 Mt in the fiscal year 2022 from 73.02 Mt in fiscal year 2021, with an increase of 6.9%. As anthracite is used in steel making process. Rising steel production will propel the demand for anthracite, which, in turn, is expected to bolster the solid fuel market in the coming years.
Various countries' governments are taking specific initiatives and investing in coal gasification for eco-friendly fuel utilization. According to Gasification India Conference in November 2022, under Aatma Nirbhar Bharat, around US$ 2,439.08 (Rs. 20,000 Crore) will be invested in coal gasification projects to gasify 100Mt of coal by 2030. The Indian government will use around 40% of coal mines to make urea through coal gasification by 2025. In addition, coal gasification will be used to produce methanol and fertilizers by 2025. Thus, government spending on coal gasification will propel the solid fuel market growth in Asia Pacific in the coming years.
Asia Pacific Solid Fuel Market Revenue and Forecast to 2028 (US$ Million)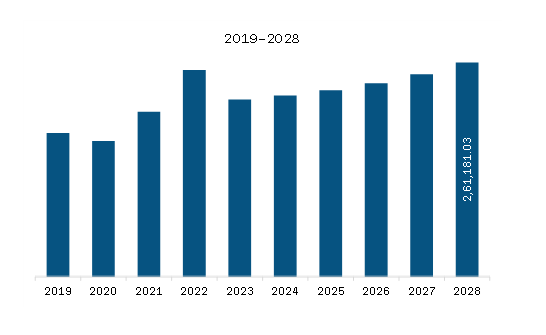 Get more information on this report :
Asia Pacific Solid Fuel Market Segmentation
The Asia Pacific solid fuel market is segmented into fuel type, and country.
Based on fuel type, Asia Pacific solid fuel market is segmented into petcoke/flexicoke, anthracite, metallurgical coke, and coal. The metallurgical coke segment held the largest market share in 2022.
Based on country, the Asia Pacific solid fuel market is segmented into Australia, China, India, Japan, South Korea, and the Rest of Asia Pacific. Germany dominated the market in 2022.
Indian Oil Corp Ltd; Essar Global Fund Ltd; BP Plc; Lukoil Oil Co; Valero Energy Corp; Phillips 66; and JH CARBON PTY LTD are the leading companies operating in the Asia Pacific solid fuel market.
1.

Introduction
1.1 Study Scope
1.2 The Insight Partners Research Report Guidance
1.3 Market Segmentation
2.

Key Takeaways
3. Research Methodology
3.1 Coverage
3.2 Secondary Research
3.3 Primary Research
4.

Asia Pacific Solid Fuel Market Landscape
4.1 Market Overview
4.2 Asia Pacific PEST Analysis
4.3 Ecosystem Analysis
4.4 Expert Opinions
5.

Asia Pacific Solid Fuel Market – Key Market Dynamics
5.1 Market Drivers
5.1.1 Use of Coal Across Different Countries
5.1.2 Establishment of Refineries Driving Use of Coal
5.2 Market Restraints
5.2.1 Availability of Coal Substitutes
5.2.2 Government Mandates for Limiting Greenhouse Gas Emissions
5.3 Market Opportunities
5.3.1 Development and Expansion of Refineries
5.4 Future Trends
5.4.1 Rising Demand for Petcoke
5.5 Impact Analysis of Drivers and Restraints
6.

Solid Fuel Market – Asia Pacific Market Analysis
6.1 Asia Pacific Solid Fuel Market Overview
6.2 Asia Pacific: Solid Fuel Market – Revenue and Forecast to 2028 (US$ Million)
7.

Asia Pacific Solid Fuel Market Analysis – By Fuel Type
7.1 Overview
7.2 Asia Pacific Solid Fuel Market, By Fuel Type (2021 and 2028)
7.3 Petcoke/Flexicoke
7.3.1 Overview
7.3.2 Petcoke/Flexicoke: Asia Pacific Solid Fuel Market – Revenue and Forecast to 2028 (US$ Million)
7.3.3 Cement
7.3.3.1 Cement: Asia Pacific Solid Fuel Market – Revenue and Forecast to 2028 (US$ Million)
7.3.4 Lime Kilns
7.3.4.1 Lime Kilns: Asia Pacific Solid Fuel Market – Revenue and Forecast to 2028 (US$ Million)
7.3.5 Gasification Units
7.3.5.1 Gasification Units: Asia Pacific Solid Fuel Market – Revenue and Forecast to 2028 (US$ Million)
7.3.6 Industrial Boilers
7.3.6.1 Industrial Boilers: Asia Pacific Solid Fuel Market – Revenue and Forecast to 2028 (US$ Million)
7.4 Anthracite
7.4.1 Overview
7.4.2 Anthracite: Asia Pacific Solid Fuel Market – Revenue and Forecast to 2028 (US$ Million)
7.5 Metallurgical Coke
7.5.1 Overview
7.5.2 Metallurgical Coke: Asia Pacific Solid Fuel Market – Revenue and Forecast to 2028 (US$ Million)
7.5.3 Iron & Steel
7.5.3.1 Iron & Steel: Asia Pacific Solid Fuel Market – Revenue and Forecast to 2028 (US$ Million)
7.5.4 Glass
7.5.4.1 Glass: Asia Pacific Solid Fuel Market – Revenue and Forecast to 2028 (US$ Million)
7.5.5 Others
7.5.5.1 Others: Asia Pacific Solid Fuel Market – Revenue and Forecast to 2028 (US$ Million)
7.6 Coal
7.6.1 Overview
7.6.2 Coal: Asia Pacific Solid Fuel Market – Revenue and Forecast to 2028 (US$ Million)
7.6.3 Thermal
7.6.3.1 Thermal: Asia Pacific Solid Fuel Market – Revenue and Forecast to 2028 (US$ Million)
7.6.4 Metallurgical
7.6.4.1 Metallurgical: Asia Pacific Solid Fuel Market – Revenue and Forecast to 2028 (US$ Million)
8.

Asia Pacific Solid Fuel Market – Country Analysis
8.1 Overview
8.1.1 Asia Pacific: Solid Fuel Market, by Key Country
8.1.1.1 Australia: Solid Fuel Market – Revenue and Forecast to 2028 (US$ Million)
8.1.1.1.1 Australia: Solid Fuel Market, By Fuel Type
8.1.1.1.1.1 Australia: Solid Fuel Market, By Petcoke/Flexicoke
8.1.1.1.1.2 Australia: Solid Fuel Market, By Metallurgical Coke
8.1.1.1.1.3 Australia: Solid Fuel Market, By Coal
8.1.1.2 China: Solid Fuel Market – Revenue and Forecast to 2028 (US$ Million)
8.1.1.2.1 China: Solid Fuel Market, By Fuel Type
8.1.1.2.1.1 China: Solid Fuel Market, By Petcoke/Flexicoke
8.1.1.2.1.2 China: Solid Fuel Market, By Metallurgical Coke
8.1.1.2.1.3 China: Solid Fuel Market, By Coal
8.1.1.3 India: Solid Fuel Market – Revenue and Forecast to 2028 (US$ Million)
8.1.1.3.1 India: Solid Fuel Market, By Fuel Type
8.1.1.3.1.1 India: Solid Fuel Market, By Petcoke/Flexicoke
8.1.1.3.1.2 India: Solid Fuel Market, By Metallurgical Coke
8.1.1.3.1.3 India: Solid Fuel Market, By Coal
8.1.1.4 Japan: Solid Fuel Market – Revenue and Forecast to 2028 (US$ Million)
8.1.1.4.1 Japan: Solid Fuel Market, By Fuel Type
8.1.1.4.1.1 Japan: Solid Fuel Market, By Petcoke/Flexicoke
8.1.1.4.1.2 Japan: Solid Fuel Market, By Metallurgical Coke
8.1.1.4.1.3 Japan: Solid Fuel Market, By Coal
8.1.1.5 South Korea: Solid Fuel Market – Revenue and Forecast to 2028 (US$ Million)
8.1.1.5.1 South Korea: Solid Fuel Market, By Fuel Type
8.1.1.5.1.1 South Korea: Solid Fuel Market, By Petcoke/Flexicoke
8.1.1.5.1.2 South Korea: Solid Fuel Market, By Metallurgical Coke
8.1.1.5.1.3 South Korea: Solid Fuel Market, By Coal
8.1.1.6 Rest of APAC: Solid Fuel Market – Revenue and Forecast to 2028 (US$ Million)
8.1.1.6.1 Rest of APAC: Solid Fuel Market, By Fuel Type
8.1.1.6.1.1 Rest of APAC: Solid Fuel Market, By Petcoke/Flexicoke
8.1.1.6.1.2 Rest of APAC: Solid Fuel Market, By Metallurgical Coke
8.1.1.6.1.3 Rest of APAC: Solid Fuel Market, By Coal
9.

Industry Landscape
9.1 Overview
9.2 Market Initiative
9.3 Product Development
9.4 Mergers & Acquisitions
10.

Company Profiles
10.1 Indian Oil Corp Ltd
10.1.1 Key Facts
10.1.2 Business Description
10.1.3 Products and Services
10.1.4 Financial Overview
10.1.5 SWOT Analysis
10.1.6 Key Developments
10.2 JH CARBON PTY LTD
10.2.1 Key Facts
10.2.2 Business Description
10.2.3 Products and Services
10.2.4 Financial Overview
10.2.5 SWOT Analysis
10.2.6 Key Developments
10.3 Essar Global Fund Ltd
10.3.1 Key Facts
10.3.2 Business Description
10.3.3 Products and Services
10.3.4 Financial Overview
10.3.5 SWOT Analysis
10.3.6 Key Developments
10.4 BP Plc
10.4.1 Key Facts
10.4.2 Business Description
10.4.3 Products and Services
10.4.4 Financial Overview
10.4.5 SWOT Analysis
10.4.6 Key Developments
10.5 Lukoil Oil Co
10.5.1 Key Facts
10.5.2 Business Description
10.5.3 Products and Services
10.5.4 Financial Overview
10.5.5 SWOT Analysis
10.5.6 Key Developments
10.6 Valero Energy Corp
10.6.1 Key Facts
10.6.2 Business Description
10.6.3 Products and Services
10.6.4 Financial Overview
10.6.5 SWOT Analysis
10.6.6 Key Developments
10.7 Phillips 66
10.7.1 Key Facts
10.7.2 Business Description
10.7.3 Products and Services
10.7.4 Financial Overview
10.7.5 SWOT Analysis
10.7.6 Key Developments
11.

Appendix
11.1 About The Insight Partners
11.2 Word Index
LIST OF TABLES
Table 1. Asia Pacific Solid Fuel Market Revenue and Forecast to 2028 (US$ Million)
Table 2. Australia: Solid Fuel Market, By Fuel Type – Revenue and Forecast to 2028 (US$ Million)
Table 3. Australia: Solid Fuel Market, By Petcoke/Flexicoke – Revenue and Forecast to 2028 (US$ Million)
Table 4. Australia: Solid Fuel Market, By Metallurgical Coke – Revenue and Forecast to 2028 (US$ Million)
Table 5. Australia: Solid Fuel Market, By Coal – Revenue and Forecast to 2028 (US$ Million)
Table 6. China: Solid Fuel Market, By Fuel Type – Revenue and Forecast to 2028 (US$ Million)
Table 7. China: Solid Fuel Market, By Petcoke/Flexicoke – Revenue and Forecast to 2028 (US$ Million)
Table 8. China: Solid Fuel Market, By Metallurgical Coke – Revenue and Forecast to 2028 (US$ Million)
Table 9. China: Solid Fuel Market, By Coal – Revenue and Forecast to 2028 (US$ Million)
Table 10. India: Solid Fuel Market, By Fuel Type – Revenue and Forecast to 2028 (US$ Million)
Table 11. India: Solid Fuel Market, By Petcoke/Flexicoke – Revenue and Forecast to 2028 (US$ Million)
Table 12. India: Solid Fuel Market, By Metallurgical Coke – Revenue and Forecast to 2028 (US$ Million)
Table 13. India: Solid Fuel Market, By Coal – Revenue and Forecast to 2028 (US$ Million)
Table 14. Japan: Solid Fuel Market, By Fuel Type – Revenue and Forecast to 2028 (US$ Million)
Table 15. Japan: Solid Fuel Market, By Petcoke/Flexicoke – Revenue and Forecast to 2028 (US$ Million)
Table 16. Japan: Solid Fuel Market, By Metallurgical Coke – Revenue and Forecast to 2028 (US$ Million)
Table 17. Japan: Solid Fuel Market, By Coal – Revenue and Forecast to 2028 (US$ Million)
Table 18. South Korea: Solid Fuel Market, By Fuel Type – Revenue and Forecast to 2028 (US$ Million)
Table 19. South Korea: Solid Fuel Market, By Petcoke/Flexicoke – Revenue and Forecast to 2028 (US$ Million)
Table 20. South Korea: Solid Fuel Market, By Metallurgical Coke – Revenue and Forecast to 2028 (US$ Million)
Table 21. South Korea: Solid Fuel Market, By Coal – Revenue and Forecast to 2028 (US$ Million)
Table 22. Rest of APAC: Solid Fuel Market, By Fuel Type – Revenue and Forecast to 2028 (US$ Million)
Table 23. Rest of APAC: Solid Fuel Market, By Petcoke/Flexicoke – Revenue and Forecast to 2028 (US$ Million)
Table 24. Rest of APAC: Solid Fuel Market, By Metallurgical Coke – Revenue and Forecast to 2028 (US$ Million)
Table 25. Rest of APAC: Solid Fuel Market, By Coal – Revenue and Forecast to 2028 (US$ Million)
Table 26. List of Abbreviation
LIST OF FIGURES
Figure 1. Asia Pacific Solid Fuel Market Segmentation
Figure 2. Asia Pacific Solid Fuel Market Segmentation – By Country
Figure 3. Asia Pacific Solid Fuel Market Overview
Figure 4. Asia Pacific Solid Fuel Market, by Fuel Type
Figure 5. Asia Pacific Solid Fuel Market, by Country
Figure 6. Asia Pacific– PEST Analysis
Figure 7. Asia Pacific Solid Fuel Market – Ecosystem Analysis
Figure 8. Asia Pacific Solid Fuel Market: Impact Analysis of Drivers and Restraints
Figure 9. Asia Pacific: Solid Fuel Market – Revenue and Forecast to 2028 (US$ Million)
Figure 10. Asia Pacific Solid Fuel Market Revenue Share, by Fuel Type (2021 and 2028)
Figure 11. Petcoke/Flexicoke: Asia Pacific Solid Fuel Market – Revenue and Forecast to 2028 (US$ Million)
Figure 12. Cement: Asia Pacific Solid Fuel Market – Revenue and Forecast to 2028 (US$ Million)
Figure 13. Lime Kilns: Asia Pacific Solid Fuel Market – Revenue and Forecast to 2028 (US$ Million)
Figure 14. Gasification Units: Asia Pacific Solid Fuel Market – Revenue and Forecast to 2028 (US$ Million)
Figure 15. Industrial Boilers: Asia Pacific Solid Fuel Market – Revenue and Forecast to 2028 (US$ Million)
Figure 16. Anthracite: Asia Pacific Solid Fuel Market – Revenue and Forecast to 2028 (US$ Million)
Figure 17. Metallurgical Coke: Asia Pacific Solid Fuel Market – Revenue and Forecast to 2028 (US$ Million)
Figure 18. Iron & Steel: Asia Pacific Solid Fuel Market – Revenue and Forecast to 2028 (US$ Million)
Figure 19. Glass: Asia Pacific Solid Fuel Market – Revenue and Forecast to 2028 (US$ Million)
Figure 20. Others: Asia Pacific Solid Fuel Market – Revenue and Forecast to 2028 (US$ Million)
Figure 21. Coal: Asia Pacific Solid Fuel Market – Revenue and Forecast to 2028 (US$ Million)
Figure 22. Thermal: Asia Pacific Solid Fuel Market – Revenue and Forecast to 2028 (US$ Million)
Figure 23. Metallurgical: Asia Pacific Solid Fuel Market – Revenue and Forecast to 2028 (US$ Million)
Figure 24. Asia Pacific: Solid Fuel Market, by Key Country – Revenue and Forecast to 2028 (US$ Million)
Figure 25. Asia Pacific: Solid Fuel Market Revenue Share, by Key Country (2021 & 2028)
Figure 26. Australia: Solid Fuel Market – Revenue and Forecast to 2028 (US$ Million)
Figure 27. China: Solid Fuel Market – Revenue and Forecast to 2028 (US$ Million)
Figure 28. India: Solid Fuel Market – Revenue and Forecast to 2028 (US$ Million)
Figure 29. Japan: Solid Fuel Market – Revenue and Forecast to 2028 (US$ Million)
Figure 30. South Korea: Solid Fuel Market – Revenue and Forecast to 2028 (US$ Million)
Figure 31. Rest of APAC: Solid Fuel Market – Revenue and Forecast to 2028 (US$ Million)
Indian Oil Corp Ltd

Essar Global Fund Ltd

BP Plc

Lukoil Oil Co

Valero Energy Corp

Phillips 66

JH CARBON PTY LTD
---