South America Managed Pressure Drilling Market Forecast to 2028 - COVID-19 Impact and Regional Analysis By Technology [Constant Bottom Hole Pressure (CBHP), Mud Cap Drilling (MCD), Dual Gradient Drilling (DGD), and Return Flow Control Drilling (RFCD)] and Application (Onshore and Offshore)
Code:
TIPRE00026107
|
Pages:
112
|
Industry:
Manufacturing and Construction
|
Date:
Nov 2021

Market Introduction
The managed pressure drilling market in South America is further segmented into Brazil, Argentina, and the rest of South America. Brazil, Venezuela, and Argentina are the leading oil producers in the region. Brazil accounts for oil production of ~2.5 million barrels per day (B/D), and it is the tenth-largest oil-producing country in the world. According to the Energy Information Administration 2019 data, a surplus of 90% of the Brazil's oil production is extracted from deepwater oil fields located onshore. In addition, Brazil has ~13 billion barrels in proven oil reserves, which is the second-largest in South America, after Venezuela. According to the latest OPEC data, Venezuela produced 557,000 barrels per day (B/D) of oil, in 2020, indicating 45% decrease from 1.013 million barrels per day (B/D) in 2019. Further, according to Statista data, the oil production in Argentina reached 600 thousand barrels per day in 2020. As per the International Energy Agency, expenditure on upstream activities in South America is expected to increase due to high investment by Brazil, Argentina, and Colombia. Petrobras, a Brazilian state-owned oil company, plans to invest US$ 75.7 billion over the next 5 years to boost oil production. In June 2019, Total, a France-based refining company, along with its partner, took an investment decision for the second phase of the Mero deep onshore project, located 180-kilometer off the coast of Rio de Janeiro, Brazil. Mero to floating production storage and discharge (FPSO) has a liquid treatment capacity of 180,000 barrels per day (B/D). The project, which will start in 2022, is expected to launch a new milestone to enhance the oil resources of the Mero field in Brazil, with the estimated production of 3 to 4 billion barrels. Therefore, with the rising oil and gas sector, and significant investment and on-going projects in the sector, the use of managed pressure drilling equipment is increasing in South America.
In South America, Brazil has the highest number of COVID-19 cases, followed by Ecuador, Chile, Peru, and Argentina. Among all South American countries, Brazil continues to occupy a dominant position in the region's overall oil-producing capabilities. The country also witnessed a major decline in its oil-related activities following the massive decline in oil prices and subsequent limited construction activities, which affected the MPD equipment and machinery manufacturing. Thus, the country also registered a sharp decline in the demand for managed pressure drilling, owing to the COVID-19 outbreak across the South America region and subsequent lower business activities in the oil sector. However, in 2021, with the relaxation of lockdown measures and resumption of MPD equipment & machinery manufacturing, the managed pressure drilling market in South America is expected to grow.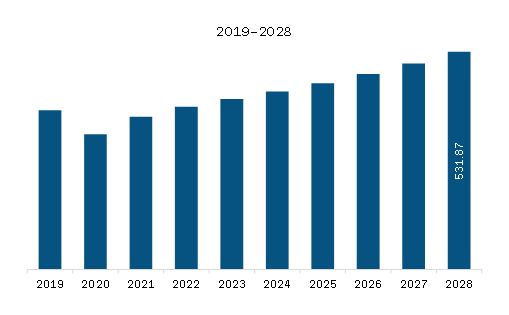 Get more information on this report :
Market Overview and Dynamics
The managed pressure drilling market in South America is expected to grow from US$ 373.16 million in 2021 to US$ 531.87 million by 2028; it is estimated to grow at a CAGR of 5.2% from 2021 to 2028. Proliferation of industry 4.0; digital transformation initiatives, involving technologies such as artificial intelligence (AI), the Internet of Things (IoT), and robotics and advanced analytics, drive the 4th wave of the industrial revolution, Industry 4.0. As a result, spending on advanced infrastructure has significantly increased. Digital transformation is fueling several industry initiatives, and a progressive shift to actual-time data access and intelligence is transforming the way enterprises conduct business. The previous decade experienced massive upgrades in technologies employed in various sectors, including the oil and gas sector. The overall oil and gas operations, especially the volatile and risky work conditions, have led companies to adopt the Industry 4.0 technologies to ensure safe and efficient operations, cut costs, and optimize manual processes. Moreover, automated drilling technologies are expected to reduce drilling time and cost by 30–35%, compared with a conventional drilling rig, thus making wells economically feasible, enabling drilling of smaller targets, and adding a higher number of infill production wells. Therefore, the Industry 4.0 would introduce new trends such as fully automated drilling operations, thereby bolstering the growth of the South America managed pressure drilling market in the coming years.
Key Market Segments
South America managed pressure drilling market is segmented into technology, application, and country. Based on technology, the managed pressure drilling market is segmented into constant bottom hole pressure (CBHP), mud cap drilling (MCD), dual gradient drilling (DGD), and return flow control drilling (RFCD). Return Flow Control Drilling (RFCD) is expected to the fastest growing segment over the forecast period. Based on application, the managed pressure drilling market is bifurcated into onshore and offshore. The offshore segment accounts for largest market share in 2020.
Major Sources and Companies Listed
A few major primary and secondary sources referred to for preparing this report on the managed pressure drilling market in South America are company websites, annual reports, financial reports, national government documents, and statistical database, among others. Major companies listed in the report are Air Drilling Associates, Inc.; Archer; Ensign Energy Services; Halliburton Energy Services, Inc; Nabors Industries Ltd; NOV Inc; Schlumberger Limited; and Weatherford International plc among others.
Reasons to buy report
To understand the South America managed pressure drilling market landscape and identify market segments that are most likely to guarantee a strong return

Stay ahead of the race by comprehending the ever-changing competitive landscape for South America managed pressure drilling market

Efficiently plan M&A and partnership deals in South America managed pressure drilling market by identifying market segments with the most promising probable sales

Helps to take knowledgeable business decisions from perceptive and comprehensive analysis of market performance of various segment form South America managed pressure drilling market

Obtain market revenue forecast for market by various segments from 2021-2028 in South America region

.
SOUTH AMERICA MANAGED PRESSURE DRILLING MARKET SEGMENTATION
Constant Bottom Hole Pressure (CBHP)

Mud Cap Drilling (MCD)

Dual Gradient Drilling (DGD)

Return Flow Control Drilling (RFCD)
By Country
Brazil

Argentina

Rest of SAM
Company Profiles
Air Drilling Associates, Inc.

Archer

Ensign Energy Services

Halliburton Energy Services, Inc

Nabors Industries Ltd

NOV Inc

Schlumberger Limited

Weatherford International plc
TABLE OF CONTENTS
1. Introduction
1.1 Study Scope
1.2 The Insight Partners Research Report Guidance
1.3 Market Segmentation
2. Key Takeaways
3. Research Methodology
3.1 Coverage
3.2 Secondary Research
3.3 Primary Research
4. SAM Managed Pressure Drilling Market Landscape
4.1 Market Overview
4.2 PEST Analysis
4.2.1 SAM
4.3 Ecosystem Analysis
4.4 Expert Opinion
5. SAM Managed Pressure Drilling Market Key Market Dynamics
5.1 Market Drivers
5.1.1 Continuous Rise in Onshore and Offshore Drilling Activities
5.1.2 Significant Investments in Oil and Gas Projects
5.2 Market Restraints
5.2.1 Volatility of Crude Oil Prices
5.3 Market Opportunities
5.3.1 Growing Use of Modern Drilling Equipment for High-Pressure, High-Temperature Wells
5.4 Future Trends
5.4.1 Proliferation of Industry 4.0
5.5 Impact Analysis of Drivers and restraints
6. Managed pressure drilling SAM Market Analysis
6.1 Managed Pressure Drilling SAM Overview
6.2 SAM Managed Pressure Drilling Market Revenue and Forecast to 2028 (US$ Million)
7. SAM Managed Pressure Drilling Market Analysis By Technology
7.1 Overview
7.2 SAM Managed Pressure Drilling Market Breakdown, by Technology, 2020 & 2028
7.3 Constant Bottom Hole Pressure (CBHP)
7.3.1 Overview
7.3.2 Constant Bottom Hole Pressure (CBHP): SAM Managed Pressure Drilling Market Revenue and Forecast to 2028 (US$ Million)
7.4 Mud Cap Drilling (MCD)
7.4.1 Overview
7.4.2 Mud Cap Drilling (MCD): SAM Managed Pressure Drilling Market Revenue and Forecast to 2028 (US$ Million)
7.5 Dual Gradient Drilling (DGD)
7.5.1 Overview
7.5.2 Dual Gradient Drilling (DGD): SAM Managed Pressure Drilling Market Revenue and Forecast to 2028 (US$ Million)
7.6 Return Flow Control Drilling (RFCD)
7.6.1 Overview
7.6.2 Return Flow Control Drilling (RFCD): SAM Managed Pressure Drilling Market Revenue and Forecast to 2028 (US$ Million)
8. SAM Managed Pressure Drilling Market Analysis By Application
8.1 Overview
8.2 SAM Managed Pressure Drilling Market, By Application (2020 and 2028)
8.3 Onshore
8.3.1 Overview
8.3.2 Onshore: SAM Managed Pressure Drilling Market Revenue and Forecast to 2028 (US$ Million)
8.4 Offshore
8.4.1 Overview
8.4.2 Offshore: SAM Managed Pressure Drilling Market Revenue and Forecast to 2028 (US$ Million)
9. SAM Managed Pressure Drilling Market Country Analysis
9.1 SAM Managed Pressure Drilling Market Revenue and Forecast to 2028
9.1.1 Overview
9.1.2 SAM Managed Pressure Drilling Market Breakdown, By Country
9.1.2.1 Brazil Managed Pressure Drilling Market Revenue and Forecast to 2028 (US$ Mn)
9.1.2.1.1 Brazil Managed Pressure Drilling Market Breakdown, By Technology
9.1.2.1.2 Brazil Managed Pressure Drilling Market Breakdown, By Application
9.1.2.2 Argentina Managed Pressure Drilling Market Revenue and Forecast to 2028 (US$ Mn)
9.1.2.2.1 Argentina Managed Pressure Drilling Market Breakdown, By Technology
9.1.2.2.2 Argentina Managed Pressure Drilling Market Breakdown, By Application
9.1.2.3 Rest of SAM Managed Pressure Drilling Market Revenue and Forecast to 2028 (US$ Mn)
9.1.2.3.1 Rest of SAM Managed Pressure Drilling Market Breakdown, By Technology
9.1.2.3.2 Rest of SAM Managed Pressure Drilling Market Breakdown, By Application
10. Impact of COVID-19 Pandemic on SAM Managed Pressure Drilling Market
10.1 SAM: Impact Assessment of COVID-19 Pandemic
11. Industry Landscape
11.1 Overview
11.2 Market Initiative
11.3 New Product Development
12. Company Profiles
12.1 Ensign Energy Services
12.1.1 Key Facts
12.1.2 Business Description
12.1.3 Products and Services
12.1.4 Financial Overview
12.1.5 SWOT Analysis
12.1.6 Key Developments
12.2 Archer
12.2.1 Key Facts
12.2.2 Business Description
12.2.3 Products and Services
12.2.4 Financial Overview
12.2.5 SWOT Analysis
12.2.6 Key Developments
12.3 Nabors Industries Ltd.
12.3.1 Key Facts
12.3.2 Business Description
12.3.3 Products and Services
12.3.4 Financial Overview
12.3.5 SWOT Analysis
12.3.6 Key Developments
12.4 Air Drilling Associates, Inc.
12.4.1 Key Facts
12.4.2 Business Description
12.4.3 Products and Services
12.4.4 Financial Overview
12.4.5 SWOT Analysis
12.4.6 Key Developments
12.5 Halliburton Energy Services, Inc.
12.5.1 Key Facts
12.5.2 Business Description
12.5.3 Products and Services
12.5.4 Financial Overview
12.5.5 SWOT Analysis
12.5.6 Key Developments
12.6 Schlumberger Limited
12.6.1 Key Facts
12.6.2 Business Description
12.6.3 Products and Services
12.6.4 Financial Overview
12.6.5 SWOT Analysis
12.6.6 Key Developments
12.7 Weatherford International plc
12.7.1 Key Facts
12.7.2 Business Description
12.7.3 Products and Services
12.7.4 Financial Overview
12.7.5 SWOT Analysis
12.7.6 Key Developments
12.8 NOV Inc.
12.8.1 Key Facts
12.8.2 Business Description
12.8.3 Products and Services
12.8.4 Financial Overview
12.8.5 SWOT Analysis
12.8.6 Key Developments
13. About The Insight Partners
13.1 Word Index

LIST OF TABLES
Table 1. SAM Managed Pressure Drilling Market Revenue and Forecast to 2028 (US$ Million)
Table 2. Brazil Managed Pressure Drilling Market Revenue and Forecast to 2028 By Technology (US$ Mn)
Table 3. Brazil Managed Pressure Drilling Market Revenue and Forecast to 2028 By Application (US$ Mn)
Table 4. Argentina Managed Pressure Drilling Market Revenue and Forecast to 2028 By Technology (US$ Mn)
Table 5. Argentina Managed Pressure Drilling Market Revenue and Forecast to 2028 By Application (US$ Mn)
Table 6. Rest of SAM Managed Pressure Drilling Market Revenue and Forecast to 2028 By Technology (US$ Mn)
Table 7. Rest of SAM Managed Pressure Drilling Market Revenue and Forecast to 2028 By Application (US$ Mn)
Table 8. List of Abbreviation


LIST OF FIGURES
Figure 1. SAM Managed Pressure Drilling Market Segmentation
Figure 2. SAM Managed Pressure Drilling Market Segmentation By Country
Figure 3. SAM Managed Pressure Drilling Market Overview
Figure 4. SAM Managed Pressure Drilling Market, By Technology
Figure 5. SAM Managed Pressure Drilling Market, By Application
Figure 6. SAM Managed Pressure Drilling Market, By Country
Figure 7. SAM PEST Analysis
Figure 8. SAM Managed Pressure Drilling Market Ecosystem Analysis
Figure 9. Expert Opinion
Figure 10. SAM Managed Pressure Drilling Market Impact Analysis of Drivers and Restraints
Figure 11. SAM Managed Pressure Drilling Market Revenue and Forecast to 2028 (US$ Million)
Figure 12. SAM Managed pressure drilling Market Breakdown, by Technology (2020 and 2028)
Figure 13. Constant Bottom Hole Pressure (CBHP): SAM Managed Pressure Drilling Market Revenue and Forecast to 2028(US$ Million)
Figure 14. Mud Cap Drilling (MCD): SAM Managed Pressure Drilling Market Revenue and Forecast to 2028(US$ Million)
Figure 15. Dual Gradient Drilling (DGD): SAM Managed Pressure Drilling Market Revenue and Forecast to 2028(US$ Million)
Figure 16. Return Flow Control Drilling (RFCD): SAM Managed Pressure Drilling Market Revenue and Forecast to 2028(US$ Million)
Figure 17. SAM Managed Pressure Drilling Market Revenue Share, by Application (2020 and 2028)
Figure 18. Onshore: SAM Managed Pressure Drilling Market Revenue and Forecast to 2028 (US$ Million)
Figure 19. Offshore: SAM Managed Pressure Drilling Market Revenue and Forecast to 2028 (US$ Million)
Figure 20. SAM Managed Pressure Drilling Market Revenue by Country to 2028 (US$ Mn)
Figure 21. SAM Managed Pressure Drilling Market Breakdown, By Country, 2020 & 2028(%)
Figure 22. Brazil Managed Pressure Drilling Market Revenue and Forecast to 2028 (US$ Mn)
Figure 23. Argentina Managed Pressure Drilling Market Revenue and Forecast to 2028 (US$ Mn)
Figure 24. Rest of SAM Managed Pressure Drilling Market Revenue and Forecast to 2028 (US$ Mn)
Figure 25. Impact of COVID-19 Pandemic in SAM Country Markets



1. Air Drilling Associates, Inc.
2. Archer
3. Ensign Energy Services
4. Halliburton Energy Services, Inc
5. Nabors Industries Ltd
6. NOV Inc
7. Schlumberger Limited
8. Weatherford International plc

- Save and reduce time carrying out entry-level research by identifying the growth, size, leading players and segments in the South America Managed Pressure Drilling Market.
- Highlights key business priorities in order to assist companies to realign their business strategies
- The key findings and recommendations highlight crucial progressive industry trends in the South America Managed Pressure Drilling Market, thereby allowing players across the value chain to develop effective long-term strategies
- Develop/modify business expansion plans by using substantial growth offering developed and emerging markets
- Scrutinize in-depth South America market trends and outlook coupled with the factors driving the Managed Pressure Drilling market, as well as those hindering it
- Enhance the decision-making process by understanding the strategies that underpin commercial interest with respect to client products, segmentation, pricing and distribution


---
Related Tags
South America Managed Pressure Drilling Market
South America Managed Pressure Drilling Market Research
South America Managed Pressure Drilling Market Insight
South America Managed Pressure Drilling Market Trends
South America Managed Pressure Drilling Market Forecast
South America Managed Pressure Drilling Market Share
South America Managed Pressure Drilling Market 2028
South America Managed Pressure Drilling Market Growth
South America Managed Pressure Drilling Industry
Sector
South America Managed Pressure Drilling PDF Report
South America Managed Pressure Drilling Analysis
South America Managed Pressure Drilling Research
Competitive Analysis
---