Europe Managed Pressure Drilling Market Forecast to 2028 - COVID-19 Impact and Regional Analysis By Technology [Constant Bottom Hole Pressure (CBHP), Mud Cap Drilling (MCD), Dual Gradient Drilling (DGD), and Return Flow Control Drilling (RFCD)] and Application (Onshore and Offshore)
Code:
TIPRE00026104
|
Pages:
115
|
Industry:
Manufacturing and Construction
|
Date:
Nov 2021

Market Introduction
The managed pressure drilling market in Europe is further segmented into the UK, Germany, Italy, France, Russia, and the Rest of Europe. Rise in the onshore and onshore drilling activities for oil extraction is a major factor magnifying the demand for managed pressure drilling in Europe. According to Breakbulk Europe data, clean and sustainable power generation is likely to meet only 32% of the energy targets of European Union (EU) by 2030; sources such as oil & gas can be utilized to fulfil the remaining (68%) demand. Further, European countries are likely to source ~97% of the oil production from the onshore fields by 2025. The most extractable resources will be found in shallow water, contributing 929,000 barrels per day (B/D) to the production volumes from 2025 onwards. Deepwater and ultra-deepwater oil sources would account for 515 and 1 mb/d, respectively. In 2020, onshore projects ramped up in key locales such as the Baltics, the North Sea, and the Mediterranean. Greece and Cyprus are aiming the construction of 1,900-km subsea gas pipeline. With FEED work presently underway, the pipeline project worth US$ 6 billion is anticipated to kick off in 2025. ~81 projects, including offshore and onshore, are in the pipeline in Europe, which are anticipated to commence by 2025. Thus, with the growing onshore and onshore projects, the need for managed pressure drilling operations is also increasing in the region.
Russia, France, Italy, Germany, Spain, and the UK are some of the worst-hit countries in Europe, considering the count of COVID-19 cases. The region witnessed a significant decline in revenue from several industries as the government authorities imposed stringent containment measures. Owing to travel restrictions, the movement of people from one place to another was reduced drastically. In 2020, several countries in Europe suffered an economic hit due to the decline in business activities across the oil sector because of lowering oil prices in the first quarter of 2020. Many of these member states have implemented drastic measures on imports & exports and shipment of goods, including partially closing their borders, which negatively impacted the oil demand. This is further anticipated to impact the Europe managed pressure drilling market, following the COVID-19 pandemic. The impact of COVID-19 varied from country to country across the European region as selected countries witnessed a surge in the number of confirmed cases and subsequently attracted stringent and more extended lockdown periods or social isolation resulting in disruption of business in the construction industry verticals and subsequently the demand for oil commodities. The lockdown is expected to continue negatively impacting the managed pressure drilling market in Europe due to disruption in the oil sector across selected countries. However, in 2021, with the relaxation of lockdown measures and resumption of manufacturing of MPD equipment & machinery, the managed pressure drilling market in Europe is expected to grow.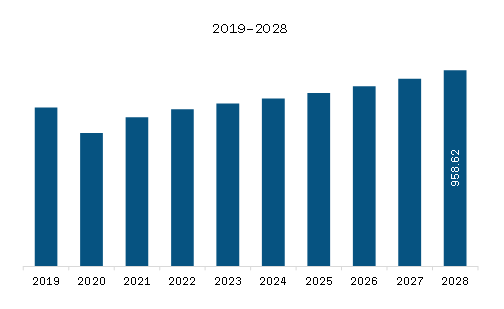 Get more information on this report :
Market Overview and Dynamics
The managed pressure drilling market in Europe is expected to grow from US$ 728.60 million in 2021 to US$ 958.62 million by 2028; it is estimated to grow at a CAGR of 4.0% from 2021 to 2028. Rising use of modern drilling equipment for high-pressure, high-temperature wells; elevation of use of modern technology for high-pressure, high-temperature (HPHT) wells drilling is creating an opportunity for using managed pressure drilling equipment. The drilling activities associates with many problems, including loss of circulation, stuck pipe, twisting off, kick, or loss scenarios. Thus, the advanced drilling equipment are used for safer drilling environment. Further, the number of high-pressure, high-temperature (HPHT) wells has been rising year on year, and many more are planned for the near future. Extreme conditions in these wells trigger the potential for disaster and further minimize the margin of error. Managed pressure drilling is usually used in the HPHT well drilling activities as the equipment helps resolve these issues by improving penetration rate, avoiding kick or loss, narrowing passage window drilling, managing mud programs, allowing early identification of wellbore ballooning, ensuring high efficiency, and reducing non-productive time. Thus, the suitability of managed pressure drilling technique for high-pressure, high-temperature (HPHT) well drilling is providing significant growth opportunities for the managed pressure drilling equipment providers, which in turn driving the Europe managed pressure drilling market.
Key Market Segments
Europe managed pressure drilling market is segmented into technology, application, and country. Based on technology, the managed pressure drilling market is segmented into constant bottom hole pressure (CBHP), mud cap drilling (MCD), dual gradient drilling (DGD), and return flow control drilling (RFCD). Return Flow Control Drilling (RFCD) is expected to the fastest growing segment over the forecast period. Based on application, the managed pressure drilling market is bifurcated into onshore and offshore. The offshore segment accounts for largest market share in 2020.
Major Sources and Companies Listed
A few major primary and secondary sources referred to for preparing this report on the managed pressure drilling market in Europe are company websites, annual reports, financial reports, national government documents, and statistical database, among others. Major companies listed in the report are Archer; Blade Energy Partners; Halliburton Energy Services, Inc; Nabors Industries Ltd; NOV Inc; Schlumberger Limited; and Weatherford International plc among others.
Reasons to buy report
To understand the Europe managed pressure drilling market landscape and identify market segments that are most likely to guarantee a strong return

Stay ahead of the race by comprehending the ever-changing competitive landscape for Europe managed pressure drilling market

Efficiently plan M&A and partnership deals in Europe managed pressure drilling market by identifying market segments with the most promising probable sales

Helps to take knowledgeable business decisions from perceptive and comprehensive analysis of market performance of various segment form Europe managed pressure drilling market

Obtain market revenue forecast for market by various segments from 2021-2028 in Europe region

.
EUROPE MANAGED PRESSURE DRILLING MARKET SEGMENTATION
Constant Bottom Hole Pressure (CBHP)

Mud Cap Drilling (MCD)

Dual Gradient Drilling (DGD)

Return Flow Control Drilling (RFCD)
By Country
France

Germany

UK

Italy

Russia

Rest of Europe
Company Profiles
Archer

Blade Energy Partners

Halliburton Energy Services, Inc

Nabors Industries Ltd

NOV Inc

Schlumberger Limited

Weatherford International plc
TABLE OF CONTENTS
1. Introduction
1.1 Study Scope
1.2 The Insight Partners Research Report Guidance
1.3 Market Segmentation
2. Key Takeaways
3. Research Methodology
3.1 Coverage
3.2 Secondary Research
3.3 Primary Research
4. Europe Managed Pressure Drilling Market Landscape
4.1 Market Overview
4.2 PEST Analysis
4.2.1 Europe
4.3 Ecosystem Analysis
4.4 Expert Opinion
5. Europe Managed Pressure Drilling Market Key Market Dynamics
5.1 Market Drivers
5.1.1 Continuous Surge in Onshore and Offshore Drilling Activities
5.2 Market Restraints
5.2.1 Fickleness of Crude Oil Prices
5.3 Market Opportunities
5.3.1 Rising Use of Modern Drilling Equipment for High-Pressure, High-Temperature Wells
5.4 Future Trends
5.4.1 Proliferation of Industry 4.0
5.5 Impact Analysis of Drivers and restraints
6. Managed pressure drilling Europe Market Analysis
6.1 Managed Pressure Drilling Europe Overview
6.2 Europe Managed Pressure Drilling Market Revenue and Forecast to 2028 (US$ Million)
7. Europe Managed Pressure Drilling Market Analysis By Technology
7.1 Overview
7.2 Europe Managed Pressure Drilling Market Breakdown, by Technology, 2020 & 2028
7.3 Constant Bottom Hole Pressure (CBHP)
7.3.1 Overview
7.3.2 Constant Bottom Hole Pressure (CBHP): Europe Managed Pressure Drilling Market Revenue and Forecast to 2028 (US$ Million)
7.4 Mud Cap Drilling (MCD)
7.4.1 Overview
7.4.2 Mud Cap Drilling (MCD): Europe Managed Pressure Drilling Market Revenue and Forecast to 2028 (US$ Million)
7.5 Dual Gradient Drilling (DGD)
7.5.1 Overview
7.5.2 Dual Gradient Drilling (DGD): Europe Managed Pressure Drilling Market Revenue and Forecast to 2028 (US$ Million)
7.6 Return Flow Control Drilling (RFCD)
7.6.1 Overview
7.6.2 Return Flow Control Drilling (RFCD): Europe Managed Pressure Drilling Market Revenue and Forecast to 2028 (US$ Million)
8. Europe Managed Pressure Drilling Market Analysis By Application
8.1 Overview
8.2 Europe Managed Pressure Drilling Market, By Application (2020 and 2028)
8.3 Onshore
8.3.1 Overview
8.3.2 Onshore: Europe Managed Pressure Drilling Market Revenue and Forecast to 2028 (US$ Million)
8.4 Offshore
8.4.1 Overview
8.4.2 Offshore: Europe Managed Pressure Drilling Market Revenue and Forecast to 2028 (US$ Million)
9. Europe Managed Pressure Drilling Market Country Analysis
9.1 Europe Managed Pressure Drilling Market Revenue and Forecast to 2028
9.1.1 Overview
9.1.2 Europe Managed Pressure Drilling Market Breakdown, By Country
9.1.2.1 Germany Managed Pressure Drilling Market Revenue and Forecast to 2028 (US$ Mn)
9.1.2.1.1 Germany Managed Pressure Drilling Market Breakdown, By Technology
9.1.2.1.2 Germany Managed Pressure Drilling Market Breakdown, By Application
9.1.2.2 France Managed Pressure Drilling Market Revenue and Forecast to 2028 (US$ Mn)
9.1.2.2.1 France Managed Pressure Drilling Market Breakdown, By Technology
9.1.2.2.2 France Managed Pressure Drilling Market Breakdown, By Application
9.1.2.3 Italy Managed Pressure Drilling Market Revenue and Forecast to 2028 (US$ Mn)
9.1.2.3.1 Italy Managed Pressure Drilling Market Breakdown, By Technology
9.1.2.3.2 Italy Managed Pressure Drilling Market Breakdown, By Application
9.1.2.4 UK Managed Pressure Drilling Market Revenue and Forecast to 2028 (US$ Mn)
9.1.2.4.1 UK Managed Pressure Drilling Market Breakdown, By Technology
9.1.2.4.2 UK Managed Pressure Drilling Market Breakdown, By Application
9.1.2.5 Russia Managed Pressure Drilling Market Revenue and Forecast to 2028 (US$ Mn)
9.1.2.5.1 Russia Managed Pressure Drilling Market Breakdown, By Technology
9.1.2.5.2 Russia Managed Pressure Drilling Market Breakdown, By Application
9.1.2.6 Rest of Europe Managed Pressure Drilling Market Revenue and Forecast to 2028 (US$ Mn)
9.1.2.6.1 Rest of Europe Managed Pressure Drilling Market Breakdown, By Technology
9.1.2.6.2 Rest of Europe Managed Pressure Drilling Market Breakdown, By Application
10. Impact of COVID-19 Pandemic on Europe Managed Pressure Drilling Market
10.1 Europe: Impact Assessment of COVID-19 Pandemic
11. Industry Landscape
11.1 Overview
11.2 Market Initiative
11.3 New Product Development
12. Company Profiles
12.1 Archer
12.1.1 Key Facts
12.1.2 Business Description
12.1.3 Products and Services
12.1.4 Financial Overview
12.1.5 SWOT Analysis
12.1.6 Key Developments
12.2 Blade Energy Partners
12.2.1 Key Facts
12.2.2 Business Description
12.2.3 Products and Services
12.2.4 Financial Overview
12.2.5 SWOT Analysis
12.2.6 Key Developments
12.3 Nabors Industries Ltd.
12.3.1 Key Facts
12.3.2 Business Description
12.3.3 Products and Services
12.3.4 Financial Overview
12.3.5 SWOT Analysis
12.3.6 Key Developments
12.4 Halliburton Energy Services, Inc.
12.4.1 Key Facts
12.4.2 Business Description
12.4.3 Products and Services
12.4.4 Financial Overview
12.4.5 SWOT Analysis
12.4.6 Key Developments
12.5 Schlumberger Limited
12.5.1 Key Facts
12.5.2 Business Description
12.5.3 Products and Services
12.5.4 Financial Overview
12.5.5 SWOT Analysis
12.5.6 Key Developments
12.6 Weatherford International plc
12.6.1 Key Facts
12.6.2 Business Description
12.6.3 Products and Services
12.6.4 Financial Overview
12.6.5 SWOT Analysis
12.6.6 Key Developments
12.7 NOV Inc.
12.7.1 Key Facts
12.7.2 Business Description
12.7.3 Products and Services
12.7.4 Financial Overview
12.7.5 SWOT Analysis
12.7.6 Key Developments
13. About The Insight Partners
13.1 Word Index

LIST OF TABLES
Table 1. Europe Managed Pressure Drilling Market Revenue and Forecast to 2028 (US$ Million)
Table 2. Germany Managed Pressure Drilling Market Revenue and Forecast to 2028 By Technology (US$ Mn)
Table 3. Germany Managed Pressure Drilling Market Revenue and Forecast to 2028 By Application (US$ Mn)
Table 4. France Managed Pressure Drilling Market Revenue and Forecast to 2028 By Technology (US$ Mn)
Table 5. France Managed Pressure Drilling Market Revenue and Forecast to 2028 By Application (US$ Mn)
Table 6. Italy Managed Pressure Drilling Market Revenue and Forecast to 2028 By Technology (US$ Mn)
Table 7. Italy Managed Pressure Drilling Market Revenue and Forecast to 2028 By Application (US$ Mn)
Table 8. UK Managed Pressure Drilling Market Revenue and Forecast to 2028 By Technology (US$ Mn)
Table 9. UK Managed Pressure Drilling Market Revenue and Forecast to 2028 By Application (US$ Mn)
Table 10. Russia Managed Pressure Drilling Market Revenue and Forecast to 2028 By Technology (US$ Mn)
Table 11. Russia Managed Pressure Drilling Market Revenue and Forecast to 2028 By Application (US$ Mn)
Table 12. Rest of Europe Managed Pressure Drilling Market Revenue and Forecast to 2028 By Technology (US$ Mn)
Table 13. Rest of Europe Managed Pressure Drilling Market Revenue and Forecast to 2028 By Application (US$ Mn)
Table 14. List of Abbreviation


LIST OF FIGURES
Figure 1. Europe Managed Pressure Drilling Market Segmentation
Figure 2. Europe Managed Pressure Drilling Market Segmentation By Country
Figure 3. Europe Managed Pressure Drilling Market Overview
Figure 4. Europe Managed Pressure Drilling Market, By Technology
Figure 5. Europe Managed Pressure Drilling Market, By Application
Figure 6. Europe Managed Pressure Drilling Market, By Country
Figure 7. Europe PEST Analysis
Figure 8. Europe Managed Pressure Drilling Market Ecosystem Analysis
Figure 9. Expert Opinion
Figure 10. Europe Managed Pressure Drilling Market Impact Analysis of Drivers and Restraints
Figure 11. Europe Managed Pressure Drilling Market Revenue and Forecast to 2028 (US$ Million)
Figure 12. Europe Managed pressure drilling Market Breakdown, by Technology (2020 and 2028)
Figure 13. Constant Bottom Hole Pressure (CBHP): Europe Managed Pressure Drilling Market Revenue and Forecast to 2028(US$ Million)
Figure 14. Mud Cap Drilling (MCD): Europe Managed Pressure Drilling Market Revenue and Forecast to 2028(US$ Million)
Figure 15. Dual Gradient Drilling (DGD): Europe Managed Pressure Drilling Market Revenue and Forecast to 2028(US$ Million)
Figure 16. Return Flow Control Drilling (RFCD): Europe Managed Pressure Drilling Market Revenue and Forecast to 2028(US$ Million)
Figure 17. Europe Managed Pressure Drilling Market Revenue Share, by Application (2020 and 2028)
Figure 18. Onshore: Europe Managed Pressure Drilling Market Revenue and Forecast to 2028 (US$ Million)
Figure 19. Offshore: Europe Managed Pressure Drilling Market Revenue and Forecast to 2028 (US$ Million)
Figure 20. Europe Managed Pressure Drilling Market Revenue by Country to 2028 (US$ Mn)
Figure 21. Europe Managed Pressure Drilling Market Breakdown, By Country, 2020 & 2028(%)
Figure 22. Germany Managed Pressure Drilling Market Revenue and Forecast to 2028 (US$ Mn)
Figure 23. France Managed Pressure Drilling Market Revenue and Forecast to 2028 (US$ Mn)
Figure 24. Italy Managed Pressure Drilling Market Revenue and Forecast to 2028 (US$ Mn)
Figure 25. UK Managed Pressure Drilling Market Revenue and Forecast to 2028 (US$ Mn)
Figure 26. Russia Managed Pressure Drilling Market Revenue and Forecast to 2028 (US$ Mn)
Figure 27. Rest of Europe Managed Pressure Drilling Market Revenue and Forecast to 2028 (US$ Mn)
Figure 28. Impact of COVID-19 Pandemic in European Country Markets



1. Archer
2. Blade Energy Partners
3. Halliburton Energy Services, Inc
4. Nabors Industries Ltd
5. NOV Inc
6. Schlumberger Limited
7. Weatherford International plc

- Save and reduce time carrying out entry-level research by identifying the growth, size, leading players and segments in the Europe Managed Pressure Drilling Market.
- Highlights key business priorities in order to assist companies to realign their business strategies
- The key findings and recommendations highlight crucial progressive industry trends in the Europe Managed Pressure Drilling Market, thereby allowing players across the value chain to develop effective long-term strategies
- Develop/modify business expansion plans by using substantial growth offering developed and emerging markets
- Scrutinize in-depth Europe market trends and outlook coupled with the factors driving the Managed Pressure Drilling market, as well as those hindering it
- Enhance the decision-making process by understanding the strategies that underpin commercial interest with respect to client products, segmentation, pricing and distribution


---
Related Tags
Europe Managed Pressure Drilling Market
Europe Managed Pressure Drilling Market Research
Europe Managed Pressure Drilling Market Insight
Europe Managed Pressure Drilling Market Trends
Europe Managed Pressure Drilling Market Forecast
Europe Managed Pressure Drilling Market Share
Europe Managed Pressure Drilling Market 2028
Europe Managed Pressure Drilling Market Growth
Europe Managed Pressure Drilling Industry
Sector
Europe Managed Pressure Drilling PDF Report
Europe Managed Pressure Drilling Analysis
Europe Managed Pressure Drilling Research
Competitive Analysis
---