North America Slewing Bearing Market Forecast to 2028 - COVID-19 Impact and Regional Analysis By Rolling Element (Ball and Roller), Gear Type (Internal Gear, Ungeared, and External Gear), and Application (Wind and Solar Energy, Aerospace and Defense, Medical, Industrial Machinery, Oil and Gas, Mining, and Others)
TIPRE00024710
|
Pages:
86
|
Manufacturing and Construction
|
Sep 2021
|
Type:
Regional
|
Status:
Published
Market Introduction
The slewing bearings market in North America is further segmented into the US, Canada, and Mexico. Favorable environment for the development and adoption of modern technologies as well as favorable government policies, high GDP, and GDP per capita, vast industrialization, developed infrastructure, and robust healthcare industry make North America one of the prominent regions for the slewing bearing market players. The use of renewable sources of energy is gaining significant traction in the industrial, commercial, and residential sector, which can be mainly attributed to the increasing focus on curtailing carbon emission. For instance, the headquarters of Apple Inc. in California, US, runs completely on renewable energy. Also, Tesla Gigafactory in Nevada, US, is designed to run completely using clean energy. Moreover, the governments of North American countries also provide benefits in form tax incentives and subsidiaries for encouraging consumers to use clean energy. North America has several aerospace and defense industry players. A few of the leading manufacturers in this industry include Northrop Grumman, Gulfstream Aerospace, The Blue Origin, SpaceX, Boing, Textron, Bombardier, Lockheed Martin, and GE. These aircraft original equipment manufacturers (OEMs) have various manufacturing facilities across the region, and each facility has noteworthy production capacity. The US manufacturing industry produces ~18.2% of the world's goods. At present, Canada is becoming a preferred destination for manufacturing companies, with improving numbers for coal, metal, and oil industry. The country's manufacturing sector holds huge potential for its economic growth. Innovative technologies are not merely opening new markets for the country's goods, instead they are changing the process of production of these goods. Companies in Canada are investing in new technologies and advanced machinery for ensuring long-term success. Further, mining regulations relaxed by the Trump Administration is encouraging mining activities in North America, thereby boosting the slewing bearing market growth.
The increasing number of COVID-19 cases has led governments of North American countries to shut down nation's borders during Q2 of 2021. Manufacturing facilities are either temporarily shut or are operating with limited staff strength. Moreover, the supply chains of components and parts are disrupted. The US is the largest market for slewing bearings, especially due to its technologically advanced aerospace & defense and manufacturing sectors. However, the COVID-19 outbreak has severely affected production and revenue generation due to lowered production volumes. Thus, the COVID-19 pandemic continues to have a negative impact on the growth of the slewing bearings market in North America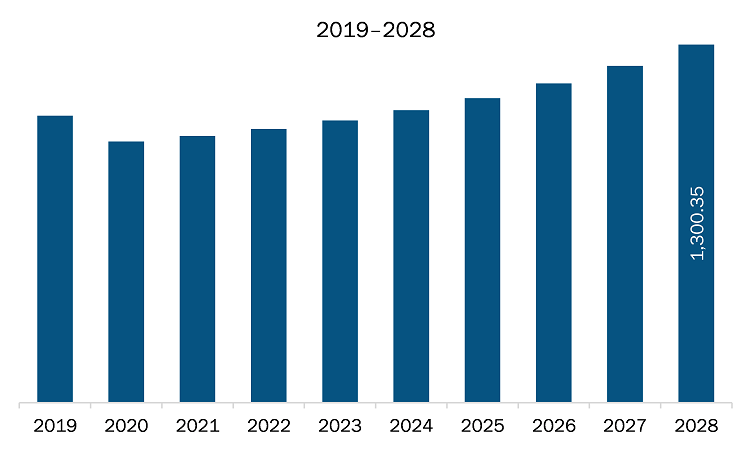 Get more information on this report :
Market Overview and Dynamics
The slewing bearing market in North America is expected to grow from US$ 968.03 million in 2021 to US$ 1,300.35 million by 2028; it is estimated to grow at a CAGR of 4.3% from 2021 to 2028. Growing preference for renewable energy; owing to increasing concerns about climate change, governments and corporates are taking various initiatives for fostering sustainable practices. Such initiatives include promoting recyclable products and harnessing clean energy. These energy sources are considered the cheapest sources of clean energy as the operational & maintenance cost of is restively less. Slewing bearings are used in altitude-azimuth mountings and gear boxes of solar panels as well as in wind turbines of windmill. Thus, the increase in importance of clean energy, coupled with the growing deployment of onshore and offshore solar and wind farms, is expected to bolster the slewing bearings market growth during the forecast period.
Key Market Segments
Based on gear type, the market is segmented into external, internal, and ungeared. The internal gear segment held the largest share of North America slewing bearing market throughout the forecast period. Based on rolling element, the slewing bearing market is segmented into ball and roller. The ball segment held a larger market share throughout the forecast period. Based on application, the slewing bearing market is segmented into wind and solar energy, aerospace & defense, medical, industrial machinery, oil & gas, mining, and others. The industrial machinery segment accounted for a major share of the North America slewing bearing market in 2020.
Major Sources and Companies Listed
A few major primary and secondary sources referred to for preparing this report on the slewing bearing market in North America are company websites, annual reports, financial reports, national government documents, and statistical database, among others. Major companies listed in the report are IMO Group, Italcuscinetti S.p.A. a Socio Unico, Liebherr, NTN Corporation, Schaeffler Technologies AG & Co. KG, SKF, thyssenkrupp rothe erde Germany GmbH, THE TIMKEN COMPANY, and Emerson Bearing Company among others.
Reasons to buy report
To understand the North America slewing bearing market landscape and identify market segments that are most likely to guarantee a strong return
Stay ahead of the race by comprehending the ever-changing competitive landscape for North America slewing bearing market
Efficiently plan M&A and partnership deals in North America slewing bearing market by identifying market segments with the most promising probable sales
Helps to take knowledgeable business decisions from perceptive and comprehensive analysis of market performance of various segment form North America slewing bearing market
Obtain market revenue forecast for market by various segments from 2021-2028 in North America region

.
NORTH AMERICA SLEWING BEARING MARKET SEGMENTATION
By Rolling Element
By Gear Type
Internal Gear
Ungeared
External Gear
By Application
Wind and Solar Energy
Aerospace and Defense
Medical
Industrial Machinery
Oil and Gas
Mining
Others
By Country
Company Profiles
Emerson Bearing Company
IMO Group
Italcuscinetti S.p.A. a Socio Unico
Liebherr
NTN Corporation
Schaeffler Technologies AG & Co. KG
SKF
THE TIMKEN COMPANY
Thyssenkrupp Rothe Erde Germany GmbH
1.1 Study Scope
1.2 The Insight Partners Research Report Guidance
1.3 Market Segmentation
1.3.1 North America Slewing Bearing Market – By Rolling Element
1.3.2 North America Slewing Bearing Market – By Gear Type
1.3.3 North America Slewing Bearing Market – By Application
1.3.4 North America Slewing Bearing Market- By Country
2. Key Takeaways
3. Research Methodology
3.1 Coverage
3.2 Secondary Research
3.3 Primary Research
4. North America Slewing Bearing Market Landscape
4.1 Market Overview
4.2 PEST Analysis
4.2.1 North America PEST Analysis
4.3 Ecosystem Analysis
4.4 Expert Opinion
5. North America Slewing Bearings Market – Key Market Dynamics
5.1 Key Market Drivers
5.1.1 Increasing Defense Budgets
5.1.2 Flourishing Mining Industry
5.2 Key Market Restraints
5.2.1 Fluctuating Raw Material Prices
5.3 Key Market Opportunities
5.3.1 Growing Preference for Renewable Energy
5.4 Future Trends
5.4.1 Proliferation of Industrial Automation
5.5 Impact Analysis of Drivers and Restraints
6. Slewing Bearing Market – North America Analysis
6.1 Slewing Bearing Market North America Overview
6.2 North America Slewing Bearing Market – Revenue and Forecast to 2028 (US$ Million)
7. North America Slewing Bearing Market Analysis – By Rolling Element
7.1 Overview
7.2 North America Slewing Bearing Market, By Rolling Element (2020 and 2028)
7.3 Ball
7.3.1 Overview
7.3.2 Ball: North America Slewing Bearing Market – Revenue and Forecast to 2028 (US$ Million)
7.4 Roller
7.4.1 Overview
7.4.2 Roller: North America Slewing Bearing Market – Revenue and Forecast to 2028 (US$ Million)
8. North America Slewing Bearing Market Analysis – By Gear Type
8.1 Overview
8.2 North America Slewing Bearing Market, By Gear Type (2020 and 2028)
8.3 Internal Gear
8.3.1 Overview
8.3.2 Internal Gear: North America Slewing Bearing Market – Revenue and Forecast to 2028 (US$ Million)
8.4 Ungeared
8.4.1 Overview
8.4.2 Ungeared: North America Slewing Bearing Market – Revenue and Forecast to 2028 (US$ Million)
8.5 External Gear
8.5.1 Overview
8.5.2 External Gear: North America Slewing Bearing Market – Revenue and Forecast to 2028 (US$ Million)
9. North America Slewing Bearing Market Analysis – By Application
9.1 Overview
9.2 North America Slewing Bearing Market Breakdown, by Application, 2020 & 2028
9.3 Wind and Solar Energy
9.3.1 Overview
9.3.2 Wind and Solar Energy: North America Slewing Bearing Market – Revenue and Forecast to 2028 (US$ Million)
9.4 Aerospace and Defense
9.4.1 Overview
9.4.2 Aerospace and Defense: North America Slewing Bearing Market – Revenue and Forecast to 2028 (US$ Million)
9.5 Medical
9.5.1 Overview
9.5.2 Medical: North America Slewing Bearing Market – Revenue and Forecast to 2028 (US$ Million)
9.6 Industrial Machinery
9.6.1 Overview
9.6.2 Industrial Machinery: North America Slewing Bearing Market – Revenue and Forecast to 2028 (US$ Million)
9.7 Oil and Gas
9.7.1 Overview
9.7.2 Oil and Gas: North America Slewing Bearing Market – Revenue and Forecast to 2028 (US$ Million)
9.8 Mining
9.8.1 Overview
9.8.2 Mining: North America Slewing Bearing Market – Revenue and Forecast to 2028 (US$ Million)
9.9 Others
9.9.1 Overview
9.9.2 Others: North America Slewing Bearing Market – Revenue and Forecast to 2028 (US$ Million)
10. North America Slewing Bearing Market – Country Analysis
10.1 North America: Slewing Bearing Market
10.1.1 North America: Slewing Bearing Market – Revenue and Forecast to 2028 (US$ Million)
10.1.2 North America: Slewing Bearing Market, by Key Country
10.1.2.1 US: Slewing Bearing Market – Revenue and Forecast to 2028 (US$ Million)
10.1.2.1.1 US: Slewing Bearing Market, by Rolling Element
10.1.2.1.2 US: Slewing Bearing Market, by Gear Type
10.1.2.1.3 US: Slewing Bearing Market, by Application
10.1.2.2 Canada: Slewing Bearing Market – Revenue and Forecast to 2028 (US$ Million)
10.1.2.2.1 Canada: Slewing Bearing Market, by Rolling Element
10.1.2.2.2 Canada: Slewing Bearing Market, by Gear Type
10.1.2.2.3 Canada: Slewing Bearing Market, by Application
10.1.2.3 Mexico: Slewing Bearing Market – Revenue and Forecast to 2028 (US$ Million)
10.1.2.3.1 Mexico: Slewing Bearing Market, by Rolling Element
10.1.2.3.2 Mexico: Slewing Bearing Market, by Gear Type
10.1.2.3.3 Mexico: Slewing Bearing Market, by Application
11. North America Slewing Bearings Market - COVID-19 Impact Analysis
11.1 North America
12. Industry Landscape
12.1 Overview
12.2 Market Initiative
12.3 Merger and Acquisition
13. Company Profiles
13.1 IMO Group
13.1.1 Key Facts
13.1.2 Business Description
13.1.3 Products and Services
13.1.4 Financial Overview
13.1.5 SWOT Analysis
13.1.6 Key Developments
13.2 Italcuscinetti S.p.A. a Socio Unico
13.2.1 Key Facts
13.2.2 Business Description
13.2.3 Products and Services
13.2.4 Financial Overview
13.2.5 SWOT Analysis
13.2.6 Key Developments
13.3 Liebherr
13.3.1 Key Facts
13.3.2 Business Description
13.3.3 Products and Services
13.3.4 Financial Overview
13.3.5 SWOT Analysis
13.3.6 Key Developments
13.4 NTN Corporation
13.4.1 Key Facts
13.4.2 Business Description
13.4.3 Products and Services
13.4.4 Financial Overview
13.4.5 SWOT Analysis
13.4.6 Key Developments
13.5 Schaeffler Technologies AG & Co. KG
13.5.1 Key Facts
13.5.2 Business Description
13.5.3 Products and Services
13.5.4 Financial Overview
13.5.5 SWOT Analysis
13.5.6 Key Developments
13.6 SKF
13.6.1 Key Facts
13.6.2 Business Description
13.6.3 Products and Services
13.6.4 Financial Overview
13.6.5 SWOT Analysis
13.6.6 Key Developments
13.7 Thyssenkrupp Rothe Erde Germany GmbH
13.7.1 Key Facts
13.7.2 Business Description
13.7.3 Products and Services
13.7.4 Financial Overview
13.7.5 SWOT Analysis
13.7.6 Key Developments
13.8 THE TIMKEN COMPANY
13.8.1 Key Facts
13.8.2 Business Description
13.8.3 Products and Services
13.8.4 Financial Overview
13.8.5 SWOT Analysis
13.8.6 Key Developments
13.9 Emerson Bearing Company
13.9.1 Key Facts
13.9.2 Business Description
13.9.3 Products and Services
13.9.4 Financial Overview
13.9.5 SWOT Analysis
14. Appendix
14.1 About The Insight Partners
14.2 Word Index


Table 1. Slewing Bearing Market – Revenue and Forecast to 2028 (US$ Million)
Table 2. North America Slewing Bearing Market, by Country – Revenue and Forecast to 2028 (USD Million)
Table 3. US: Slewing Bearing Market, by Rolling Element –Revenue and Forecast to 2028 (US$ Million)
Table 4. US: Slewing Bearing Market, by Gear Type –Revenue and Forecast to 2028 (US$ Million)
Table 5. US: Slewing Bearing Market, by Application –Revenue and Forecast to 2028 (US$ Million)
Table 6. Canada: Slewing Bearing Market, by Rolling Element – Revenue and Forecast to 2028 (US$ Million)
Table 7. Canada: Slewing Bearing Market, by Gear Type – Revenue and Forecast to 2028 (US$ Million)
Table 8. Canada: Slewing Bearing Market, by Application – Revenue and Forecast to 2028 (US$ Million)
Table 9. Mexico: Slewing Bearing Market, by Rolling Element – Revenue and Forecast to 2028 (US$ Million)
Table 10. Mexico: Slewing Bearing Market, by Gear Type – Revenue and Forecast to 2028 (US$ Million)
Table 11. Mexico: Slewing Bearing Market, by Application – Revenue and Forecast to 2028 (US$ Million)
Table 12. List of Abbreviation


Figure 1. North America Slewing Bearing Market Segmentation
Figure 2. North America Slewing Bearing Market Segmentation – By Country
Figure 3. North America Slewing Bearing Market Overview
Figure 4. Ball Segment Held the Largest Market Share, Based on Rolling Element
Figure 5. Internal Gear Segment Held the Largest Market Share, Based on Gear Type
Figure 6. Industrial Machinery Segment Held the Largest Market Share, Based on Application
Figure 7. US to Show Great Traction During Forecast Period
Figure 8. North America – Pest Analysis
Figure 9. Expert Opinion
Figure 10. North America Slewing Bearing Market: Impact Analysis of Drivers and Restraints
Figure 11. North America Slewing Bearing Market – Revenue and Forecast to 2028 (US$ Million)
Figure 12. North America Slewing Bearing Market Revenue Share, by Rolling Element (2020 and 2028)
Figure 13. Ball: North America Slewing Bearing Market – Revenue and Forecast to 2028 (US$ Million)
Figure 14. Roller: North America Slewing Bearing Market – Revenue and Forecast to 2028 (US$ Million)
Figure 15. North America Slewing Bearing Market Revenue Share, by Gear Type (2020 and 2028)
Figure 16. Internal Gear: North America Slewing Bearing Market – Revenue and Forecast to 2028 (US$ Million)
Figure 17. Ungeared: North America Slewing Bearing Market – Revenue and Forecast to 2028 (US$ Million)
Figure 18. External Gear: North America Slewing Bearing Market – Revenue and Forecast to 2028 (US$ Million)
Figure 19. North America Slewing Bearing Market Breakdown, by Application (2020 and 2028)
Figure 20. Wind and Solar Energy: North America Slewing Bearing Market – Revenue and Forecast to 2028 (US$ Million)
Figure 21. Aerospace and Defense: North America Slewing Bearing Market – Revenue and Forecast to 2028 (US$ Million)
Figure 22. Medical: North America Slewing Bearing Market – Revenue and Forecast to 2028 (US$ Million)
Figure 23. Industrial Machinery: North America Slewing Bearing Market – Revenue and Forecast to 2028 (US$ Million)
Figure 24. Oil and Gas: North America Slewing Bearing Market – Revenue and Forecast to 2028 (US$ Million)
Figure 25. Mining: North America Slewing Bearing Market – Revenue and Forecast to 2028 (US$ Million)
Figure 26. Others: North America Slewing Bearing Market – Revenue and Forecast to 2028 (US$ Million)
Figure 27. North America: Slewing Bearing Market – Revenue by Country (US$ Million)
Figure 28. North America: Slewing Bearing Market Revenue Share, by Key Country (2020 and 2028)
Figure 29. US: Slewing Bearing Market – Revenue and Forecast to 2028 (US$ Million)
Figure 30. Canada: Slewing Bearing Market – Revenue and Forecast to 2028 (US$ Million)
Figure 31. Mexico: Slewing Bearing Market – Revenue and Forecast to 2028 (US$ Million)
Figure 32. Impact of COVID-19 Pandemic in North America Country Markets
Emerson Bearing Company

IMO Group

Italcuscinetti S.p.A. a Socio Unico

Liebherr

NTN Corporation

Schaeffler Technologies AG & Co. KG

SKF

THE TIMKEN COMPANY

Thyssenkrupp Rothe Erde Germany GmbH
---