Europe Slewing Bearing Market Forecast to 2028 - COVID-19 Impact and Regional Analysis By Rolling Element (Ball and Roller), Gear Type (Internal Gear, Ungeared, and External Gear), and Application (Wind and Solar Energy, Aerospace and Defense, Medical, Industrial Machinery, Oil and Gas, Mining, and Others)
Code:
TIPRE00024704
|
Pages:
92
|
Industry:
Manufacturing and Construction
|
Date:
Sep 2021
|
Type:
Regional
Market Introduction
The slewing bearing market in Europe is sub segmented into France, Germany, Russia, Italy, the UK, and the rest of Europe. The region is witnessing several significant investments in its oil & gas sector. North Sea continues to be one the prime sources for the oil & gas sector in Europe; currently, there are several projects in pipeline in the region. A few of the recent or ongoing projects include the Johan Sverdrup and Johan Castberg fields in Norway, and Aphrodite Gas Field in Cyprus. The manufacturing sector is crucial for the prosperity of Europe. The region has significantly upgraded its industries as per the industry 4.0 standards. The European Commission is focusing on raising the R&D funding to reinforce the competitiveness of its manufacturing sector as well as to continue its global technological leadership. Moreover, Europe has a strong aerospace and defense industry, as it hosts the manufacturing facilities of a few of the major aircraft manufacturers, including Cobham Plc, Airbus, Dassault Aviation, Leonardo, and Thales Group. The presence of such leading players has paved the way for the advancements in military and civil aircraft and helicopters. To curtail the carbon emissions, the governments as well as corporates are investing significantly in renewables, which mainly includes solar and wind farms. Furthermore, in the European Union has set an ambitious goal of becoming carbon neutral by 2050. For instance, the UK government announced to invest USD$208 million to bolster the production of next-gen wind turbines. In April 2020, a 620 MW of solar grid was deployed in Germany. Further, Europe is highly inclined toward public safety and environmental protection, which has highlighted the importance of appropriate wastewater management practices in the region. Since 1995, more than 80% of the population has been connected to wastewater treatment plants; moreover, more 70% of city wastewater receives tertiary treatment in Northern Europe. Since 1995, the rate of connection to wastewater treatment increased to 97%, with 75% receiving tertiary treatment in central part of Europe. The COVID-19 outbreak marginally hindered the adoption of slewing bearings in Europe in 2020 owing to containment measures enacted by government, such business shutdown and lockdown. Nevertheless, with the reopening of economies and initiation of vaccination drives, the slewing bearings market is likely to regain its pace from 2021.
Russia reported the highest number of COVID-19 cases in Europe, followed by France, the UK, and Italy. Owing to the implementation of containment measures such as travel restrictions, shutdown of manufacturing facilities and businesses in the region, the slewing bearing market witnessed a crunch from the supply side. Moreover, containment measures affected the operation of end users of slewing bearings, which subsequently impacted the market from the demand side. However, as containment measures were relaxed, the slewing bearing market started witnessing positive growth from the Q1 of 2021.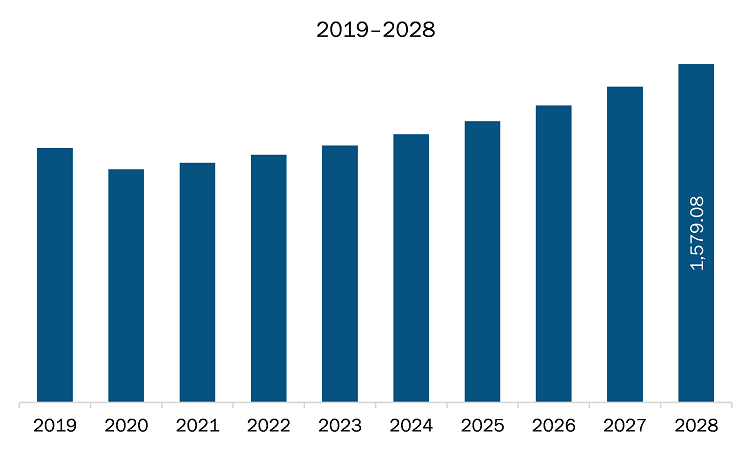 Get more information on this report :
Market Overview and Dynamics
The slewing bearing market in Europe is expected to grow from US$ 1,118.56 million in 2021 to US$ 1,579.08 million by 2028; it is estimated to grow at a CAGR of 5.0% from 2021 to 2028. Proliferation of industrial automation; Manufacturers are adopting automation solutions for the optimization of business operations. Industrial automation involves implementation of robotic systems and advanced technologies to perform various manufacturing and distribution processes. Industrial automation benefits plant operators through high productivity, information accuracy, output quality, safety, and flexibility. The rise in industrial automation along with the advent of new technologies such as computer-aided manufacturing (CAM), computer numerical control (CNC), Servo Drive technology-based automation, and rapid prototyping are subsequently contributing to the adoption of slewing bearings. Slewing bearings are widely used in the automated industrial robots and machinery. Thus, the rise in automation in the manufacturing sector is encouraging the emergence of new future trends in the slewing bearing market.
Key Market Segments
Based on gear type, the market is segmented into external, internal, and ungeared. The internal gear segment held the largest share of Europe slewing bearing market throughout the forecast period. Based on rolling element, the slewing bearing market is segmented into ball and roller. The ball segment held a larger market share throughout the forecast period. Based on application, the slewing bearing market is segmented into wind and solar energy, aerospace & defense, medical, industrial machinery, oil & gas, mining, and others. The industrial machinery segment accounted for a major share of the Europe slewing bearing market in 2020.
Major Sources and Companies Listed
A few major primary and secondary sources referred to for preparing this report on the slewing bearing market in Europe are company websites, annual reports, financial reports, national government documents, and statistical database, among others. Major companies listed in the report are IMO Group, Italcuscinetti S.p.A. a Socio Unico, Liebherr, NTN Corporation, Schaeffler Technologies AG & Co. KG, SKF, thyssenkrupp rothe erde Germany GmbH, and THE TIMKEN COMPANY, among others.
Reasons to buy report
To understand the Europe slewing bearing market landscape and identify market segments that are most likely to guarantee a strong return
Stay ahead of the race by comprehending the ever-changing competitive landscape for Europe slewing bearing market
Efficiently plan M&A and partnership deals in Europe slewing bearing market by identifying market segments with the most promising probable sales
Helps to take knowledgeable business decisions from perceptive and comprehensive analysis of market performance of various segment form Europe slewing bearing market
Obtain market revenue forecast for market by various segments from 2021-2028 in Europe region

.
EUROPE SLEWING BEARING MARKET SEGMENTATION
By Rolling Element
By Gear Type
Internal Gear
Ungeared
External Gear
By Application
Wind and Solar Energy
Aerospace and Defense
Medical
Industrial Machinery
Oil and Gas
Mining
Others
By Country
Germany

France

Italy

Russia

UK

Rest of Europe
Company Profiles
IMO Group
Italcuscinetti S.p.A. a Socio Unico
Liebherr
NTN Corporation
Schaeffler Technologies AG & Co. KG
SKF
THE TIMKEN COMPANY
Thyssenkrupp Rothe Erde Germany GmbH
1. Introduction
1.1 Study Scope
1.2 The Insight Partners Research Report Guidance
1.3 Market Segmentation
1.3.1 Europe Slewing Bearing Market – By Rolling Element
1.3.2 Europe Slewing Bearing Market – By Gear Type
1.3.3 Europe Slewing Bearing Market – By Application
1.3.4 Europe Slewing Bearing Market- By Country
2. Key Takeaways
3. Research Methodology
3.1 Coverage
3.2 Secondary Research
3.3 Primary Research
4. Europe Slewing Bearing Market Landscape
4.1 Market Overview
4.2 PEST Analysis
4.2.1 Europe PEST Analysis
4.3 Ecosystem Analysis
4.4 Expert Opinion
5. Europe Slewing Bearings Market – Key Market Dynamics
5.1 Key Market Drivers
5.1.1 Growing Defense Budgets
5.1.2 Surging Mining Industry
5.2 Key Market Restraints
5.2.1 Varying Raw Material Prices
5.3 Key Market Opportunities
5.3.1 Increasing Preference for Renewable Energy
5.4 Future Trends
5.4.1 Proliferation of Industrial Automation
5.5 Impact Analysis of Drivers and Restraints
6. Slewing Bearing Market – Europe Analysis
6.1 Europe Slewing Bearing Market Overview
6.2 Europe Slewing Bearing Market – Revenue and Forecast to 2028 (US$ Million)
7. Europe Slewing Bearing Market Analysis – By Rolling Element
7.1 Overview
7.2 Europe Slewing Bearing Market, By Rolling Element (2020 and 2028)
7.3 Ball
7.3.1 Overview
7.3.2 Ball: Europe Slewing Bearing Market – Revenue and Forecast to 2028 (US$ Million)
7.4 Roller
7.4.1 Overview
7.4.2 Roller: Europe Slewing Bearing Market – Revenue and Forecast to 2028 (US$ Million)
8. Europe Slewing Bearing Market Analysis – By Gear Type
8.1 Overview
8.2 Europe Slewing Bearing Market, By Gear Type (2020 and 2028)
8.3 Internal Gear
8.3.1 Overview
8.3.2 Internal Gear: Europe Slewing Bearing Market – Revenue and Forecast to 2028 (US$ Million)
8.4 Ungeared
8.4.1 Overview
8.4.2 Ungeared: Europe Slewing Bearing Market – Revenue and Forecast to 2028 (US$ Million)
8.5 External Gear
8.5.1 Overview
8.5.2 External Gear: Europe Slewing Bearing Market – Revenue and Forecast to 2028 (US$ Million)
9. Europe Slewing Bearing Market Analysis – By Application
9.1 Overview
9.2 Europe Slewing Bearing Market Breakdown, by Application, 2020 & 2028
9.3 Wind and Solar Energy
9.3.1 Overview
9.3.2 Wind and Solar Energy: Europe Slewing Bearing Market – Revenue and Forecast to 2028 (US$ Million)
9.4 Aerospace and Defense
9.4.1 Overview
9.4.2 Aerospace and Defense: Europe Slewing Bearing Market – Revenue and Forecast to 2028 (US$ Million)
9.5 Medical
9.5.1 Overview
9.5.2 Medical: Europe Slewing Bearing Market – Revenue and Forecast to 2028 (US$ Million)
9.6 Industrial Machinery
9.6.1 Overview
9.6.2 Industrial Machinery: Europe Slewing Bearing Market – Revenue and Forecast to 2028 (US$ Million)
9.7 Oil and Gas
9.7.1 Overview
9.7.2 Oil and Gas: Europe Slewing Bearing Market – Revenue and Forecast to 2028 (US$ Million)
9.8 Mining
9.8.1 Overview
9.8.2 Mining: Europe Slewing Bearing Market – Revenue and Forecast to 2028 (US$ Million)
9.9 Others
9.9.1 Overview
9.9.2 Others: Europe Slewing Bearing Market – Revenue and Forecast to 2028 (US$ Million)
10. Europe Slewing Bearing Market – Country Analysis
10.1 Europe: Slewing Bearing Market
10.1.1 Europe: Slewing Bearing Market – Revenue by Country (US$ Million)
10.1.2 Europe: Slewing Bearing Market, by Key Country
10.1.2.1 France: Slewing Bearing Market – Revenue and Forecast to 2028 (US$ Million)
10.1.2.1.1 France: Slewing Bearing Market, by Rolling Element
10.1.2.1.2 France: Slewing Bearing Market, by Gear Type
10.1.2.1.3 France: Slewing Bearing Market, by Application
10.1.2.2 Germany: Slewing Bearing Market – Revenue and Forecast to 2028 (US$ Million)
10.1.2.2.1 Germany: Slewing Bearing Market, by Rolling Element
10.1.2.2.2 Germany: Slewing Bearing Market, by Gear Type
10.1.2.2.3 Germany: Slewing Bearing Market, by Application
10.1.2.3 Italy: Slewing Bearing Market – Revenue and Forecast to 2028 (US$ Million)
10.1.2.3.1 Italy: Slewing Bearing Market, by Rolling Element
10.1.2.3.2 Italy: Slewing Bearing Market, by Gear Type
10.1.2.3.3 Italy: Slewing Bearing Market, by Application
10.1.2.4 UK: Slewing Bearing Market – Revenue and Forecast to 2028 (US$ Million)
10.1.2.4.1 UK: Slewing Bearing Market, by Rolling Element
10.1.2.4.2 UK: Slewing Bearing Market, by Gear Type
10.1.2.4.3 UK: Slewing Bearing Market, by Application
10.1.2.5 Russia: Slewing Bearing Market – Revenue and Forecast to 2028 (US$ Million)
10.1.2.5.1 Russia: Slewing Bearing Market, by Rolling Element
10.1.2.5.2 Russia: Slewing Bearing Market, by Gear Type
10.1.2.5.3 Russia: Slewing Bearing Market, by Application
10.1.2.6 Rest of Europe: Slewing Bearing Market – Revenue and Forecast to 2028 (US$ Million)
10.1.2.6.1 Rest of Europe: Slewing Bearing Market, by Rolling Element
10.1.2.6.2 Rest of Europe: Slewing Bearing Market, by Gear Type
10.1.2.6.3 Rest of Europe: Slewing Bearing Market, by Application
11. Europe Slewing Bearings Market - COVID-19 Impact Analysis
11.1 Europe
12. Industry Landscape
12.1 Overview
12.2 Market Initiative
12.3 Merger and Acquisition
13. Company Profiles
13.1 IMO Group
13.1.1 Key Facts
13.1.2 Business Description
13.1.3 Products and Services
13.1.4 Financial Overview
13.1.5 SWOT Analysis
13.1.6 Key Developments
13.2 Italcuscinetti S.p.A. a Socio Unico
13.2.1 Key Facts
13.2.2 Business Description
13.2.3 Products and Services
13.2.4 Financial Overview
13.2.5 SWOT Analysis
13.2.6 Key Developments
13.3 Liebherr
13.3.1 Key Facts
13.3.2 Business Description
13.3.3 Products and Services
13.3.4 Financial Overview
13.3.5 SWOT Analysis
13.3.6 Key Developments
13.4 NTN Corporation
13.4.1 Key Facts
13.4.2 Business Description
13.4.3 Products and Services
13.4.4 Financial Overview
13.4.5 SWOT Analysis
13.4.6 Key Developments
13.5 Schaeffler Technologies AG & Co. KG
13.5.1 Key Facts
13.5.2 Business Description
13.5.3 Products and Services
13.5.4 Financial Overview
13.5.5 SWOT Analysis
13.5.6 Key Developments
13.6 SKF
13.6.1 Key Facts
13.6.2 Business Description
13.6.3 Products and Services
13.6.4 Financial Overview
13.6.5 SWOT Analysis
13.6.6 Key Developments
13.7 Thyssenkrupp Rothe Erde Germany GmbH
13.7.1 Key Facts
13.7.2 Business Description
13.7.3 Products and Services
13.7.4 Financial Overview
13.7.5 SWOT Analysis
13.7.6 Key Developments
13.8 THE TIMKEN COMPANY
13.8.1 Key Facts
13.8.2 Business Description
13.8.3 Products and Services
13.8.4 Financial Overview
13.8.5 SWOT Analysis
13.8.6 Key Developments
14. Appendix
14.1 About The Insight Partners
14.2 Word Index
LIST OF TABLES
Table 1. Europe Slewing Bearing Market – Revenue and Forecast to 2028 (US$ Million)
Table 2. Europe Slewing Bearing Market, by Country – Revenue and Forecast to 2028 (USD Million)
Table 3. France: Slewing Bearing Market, by Rolling Element – Revenue and Forecast to 2028 (US$ Million)
Table 4. France: Slewing Bearing Market, by Gear Type – Revenue and Forecast to 2028 (US$ Million)
Table 5. France: Slewing Bearing Market, by Application – Revenue and Forecast to 2028 (US$ Million)
Table 6. Germany: Slewing Bearing Market, by Rolling Element – Revenue and Forecast to 2028 (US$ Million)
Table 7. Germany: Slewing Bearing Market, by Gear Type – Revenue and Forecast to 2028 (US$ Million)
Table 8. Germany: Slewing Bearing Market, by Application – Revenue and Forecast to 2028 (US$ Million)
Table 9. Italy: Slewing Bearing Market, by Rolling Element – Revenue and Forecast to 2028 (US$ Million)
Table 10. Italy: Slewing Bearing Market, by Gear Type – Revenue and Forecast to 2028 (US$ Million)
Table 11. Italy: Slewing Bearing Market, by Application – Revenue and Forecast to 2028 (US$ Million)
Table 12. UK: Slewing Bearing Market, by Rolling Element – Revenue and Forecast to 2028 (US$ Million)
Table 13. UK: Slewing Bearing Market, by Gear Type – Revenue and Forecast to 2028 (US$ Million)
Table 14. UK: Slewing Bearing Market, by Application – Revenue and Forecast to 2028 (US$ Million)
Table 15. Russia: Slewing Bearing Market, by Rolling Element – Revenue and Forecast to 2028 (US$ Million)
Table 16. Russia: Slewing Bearing Market, by Gear Type – Revenue and Forecast to 2028 (US$ Million)
Table 17. Russia: Slewing Bearing Market, by Application – Revenue and Forecast to 2028 (US$ Million)
Table 18. Rest of Europe: Slewing Bearing Market, by Rolling Element – Revenue and Forecast to 2028 (US$ Million)
Table 19. Rest of Europe: Slewing Bearing Market, by Gear Type – Revenue and Forecast to 2028 (US$ Million)
Table 20. Rest of Europe: Slewing Bearing Market, by Application – Revenue and Forecast to 2028 (US$ Million)
Table 21. List of Abbreviation
LIST OF FIGURES
Figure 1. Europe Slewing Bearing Market Segmentation
Figure 2. Europe Slewing Bearing Market Segmentation – By Country
Figure 3. Europe Slewing Bearing Market Overview
Figure 4. Ball Segment Held the Largest Market Share, Based on Rolling Element
Figure 5. Internal Gear Segment Held the Largest Market Share, Based on Gear Type
Figure 6. Industrial Machinery Segment Held the Largest Market Share, Based on Application
Figure 7. Germany to Show Great Traction During Forecast Period
Figure 8. Europe – PEST Analysis
Figure 9. Expert Opinion
Figure 10. Europe Slewing Bearing Market: Impact Analysis of Drivers and Restraints
Figure 11. Europe Slewing Bearing Market – Revenue and Forecast to 2028 (US$ Million)
Figure 12. Europe Slewing Bearing Market Revenue Share, by Rolling Element (2020 and 2028)
Figure 13. Ball: Europe Slewing Bearing Market – Revenue and Forecast to 2028 (US$ Million)
Figure 14. Roller: Europe Slewing Bearing Market – Revenue and Forecast to 2028 (US$ Million)
Figure 15. Europe Slewing Bearing Market Revenue Share, by Gear Type (2020 and 2028)
Figure 16. Internal Gear: Europe Slewing Bearing Market – Revenue and Forecast to 2028 (US$ Million)
Figure 17. Ungeared: Europe Slewing Bearing Market – Revenue and Forecast to 2028 (US$ Million)
Figure 18. External Gear: Europe Slewing Bearing Market – Revenue and Forecast to 2028 (US$ Million)
Figure 19. Europe Slewing Bearing Market Breakdown, by Application (2020 and 2028)
Figure 20. Wind and Solar Energy: Europe Slewing Bearing Market – Revenue and Forecast to 2028 (US$ Million)
Figure 21. Aerospace and Defense: Europe Slewing Bearing Market – Revenue and Forecast to 2028 (US$ Million)
Figure 22. Medical: Europe Slewing Bearing Market – Revenue and Forecast to 2028 (US$ Million)
Figure 23. Industrial Machinery: Europe Slewing Bearing Market – Revenue and Forecast to 2028 (US$ Million)
Figure 24. Oil and Gas: Europe Slewing Bearing Market – Revenue and Forecast to 2028 (US$ Million)
Figure 25. Mining: Europe Slewing Bearing Market – Revenue and Forecast to 2028 (US$ Million)
Figure 26. Others: Europe Slewing Bearing Market – Revenue and Forecast to 2028 (US$ Million)
Figure 27. Europe: Slewing Bearing Market Revenue Share, by Key Country (2020 and 2028)
Figure 28. France: Slewing Bearing Market – Revenue and Forecast to 2028 (US$ Million)
Figure 29. Germany: Slewing Bearing Market – Revenue and Forecast to 2028 (US$ Million)
Figure 30. Italy: Slewing Bearing Market – Revenue and Forecast to 2028 (US$ Million)
Figure 31. UK: Slewing Bearing Market – Revenue and Forecast to 2028 (US$ Million)
Figure 32. Russia: Slewing Bearing Market – Revenue and Forecast to 2028 (US$ Million)
Figure 33. Rest of Europe: Slewing Bearing Market – Revenue and Forecast to 2028 (US$ Million)
Figure 34. Impact of COVID-19 Pandemic in Europe Country Markets
IMO Group

Italcuscinetti S.p.A. a Socio Unico

Liebherr

NTN Corporation

Schaeffler Technologies AG & Co. KG

SKF

THE TIMKEN COMPANY

Thyssenkrupp Rothe Erde Germany GmbH
---