Middle East & Africa Slewing Bearing Market Forecast to 2028 - COVID-19 Impact and Regional Analysis By Rolling Element (Ball and Roller), Gear Type (Internal Gear, Ungeared, and External Gear), and Application (Wind and Solar Energy, Aerospace and Defense, Medical, Industrial Machinery, Oil and Gas, Mining, and Others)
Code:
TIPRE00024707
|
Pages:
87
|
Industry:
Manufacturing and Construction
|
Date:
Sep 2021
|
Type:
Regional
Market Introduction
The slewing bearing market in the Middle East and Africa (MEA) is further segmented into Turkey, South Africa, and Rest of the MEA. The region has a large number of oil & gas refineries, and the ever-growing oil demand boosts the demands for tools used at the oil & gas exploration and extraction sites. This is the key factor contributing to the slewing bearings market growth in the MEA. The slewing bearings are also used predominantly in the renewable energy sector. The investments of Middle East in renewables reached USD 11 billion in 2016 from USD 1.2 billion in 2008, with a nine-fold increase. Several countries in the region have now become world leaders in terms of the development of renewable energy. The region attained world-record solar prices in recent auctions with 17.8 USD/MWh for the Sakaka project in Saudi Arabia, and 24.2 and 29.9 USD/MWh in Abu Dhabi and Dubai, respectively. Collins Aerospace is extending its footprint in the MEA, with increasing investments and forging new ties in the region; the MEA is one of the fastest growing markets for the aerospace and defense industry players. Also, mining sector in the region is growing rapidly with the surge in foreign investments. The proliferation of these sectors is boosting the demand for slewing bearings. Thus, despite the limited presence of major players, the MEA has huge market potential for the future growth of the market. The COVID-19 pandemic impacted the economy of the region due to disrupted manufacturing and other activities in 2020; however, it is likely to recover quickly with the gradual resumption of activities in different industries in 2021. High investments in various sectors would support the region in mitigating the ill-effects of this pandemic.
The Middle East and Africa slewing bearings market is majorly impacted due to the COVID-19 pandemic as country borders were closed and the supply chain of several industrial equipment and components was disturbed. This has led to the decline in revenue among the slewing bearings manufacturers and distributors offering their products to manufacturing, oil & gas, and aerospace & defense industries. However, with the ease in restrictions, the manufacturing of slewing bearing gained traction and witnessed a steady adoption rate in the Q1 of 2021.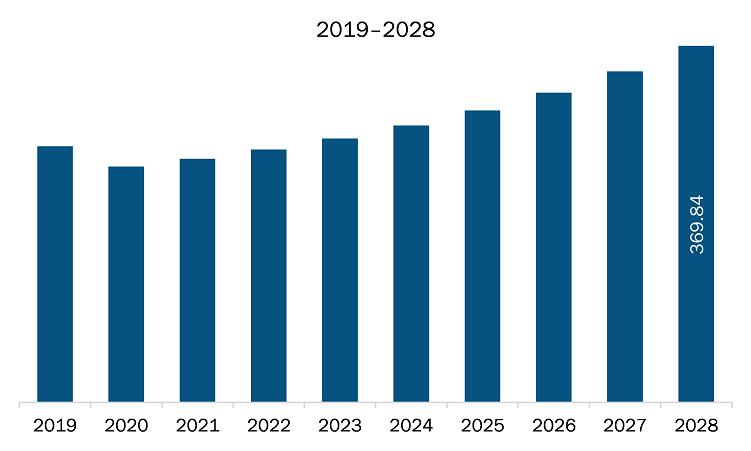 Get more information on this report :
Market Overview and Dynamics
The slewing bearing market in Middle East and Africa is expected to grow from US$ 252.75 million in 2021 to US$ 369.84 million by 2028; it is estimated to grow at a CAGR of 5.6% from 2021 to 2028. Growing defense budgets owing to the increasing concerns about national security, governments are allocating greater funds to strong-arm their defense forces. Higher military budget allocations enable the military forces to focus on the development of robust arms and ammunition, indigenous technologies, communication system, and various other technologies. Currently, communication and combat system modernization practices are peaking among most military forces, as a significant percentage of defense budget is spent on procuring advanced weapons and electronic equipment such as combat tanks, missile systems, and communication systems. The slewing bearings are widely used turrets of combat tanks, missile launchers, precision radar antennas, communication antennae, and gun mounts. Thus, increasing defense budgets in different countries are driving the slewing bearing market growth.
Key Market Segments
Based on gear type, the market is segmented into external, internal, and ungeared. The internal gear segment held the largest share of Middle East and Africa slewing bearing market throughout the forecast period. Based on rolling element, the slewing bearing market is segmented into ball and roller. The ball segment held a larger market share throughout the forecast period. Based on application, the slewing bearing market is segmented into wind and solar energy, aerospace & defense, medical, industrial machinery, oil & gas, mining, and others. The industrial machinery segment accounted for a major share of the Middle East and Africa slewing bearing market in 2020.
Major Sources and Companies Listed
A few major primary and secondary sources referred to for preparing this report on the slewing bearing market in Middle East and Africa are company websites, annual reports, financial reports, national government documents, and statistical database, among others. Major companies listed in the report are IMO Group, Italcuscinetti S.p.A. a Socio Unico, Liebherr, Schaeffler Technologies AG & Co. KG, SKF, thyssenkrupp rothe erde Germany GmbH, THE TIMKEN COMPANY, and Emerson Bearing Company among others.
Reasons to buy report
To understand the Middle East and Africa slewing bearing market landscape and identify market segments that are most likely to guarantee a strong return
Stay ahead of the race by comprehending the ever-changing competitive landscape for Middle East and Africa slewing bearing market
Efficiently plan M&A and partnership deals in Middle East and Africa slewing bearing market by identifying market segments with the most promising probable sales
Helps to take knowledgeable business decisions from perceptive and comprehensive analysis of market performance of various segment form Middle East and Africa slewing bearing market
Obtain market revenue forecast for market by various segments from 2021-2028 in Middle East and Africa region

.
Middle East and Africa SLEWING BEARING MARKET SEGMENTATION
By Rolling Element
By Gear Type
Internal Gear
Ungeared
External Gear
By Application
Wind and Solar Energy
Aerospace and Defense
Medical
Industrial Machinery
Oil and Gas
Mining
Others
By Country
South Africa

Saudi Arabia

UAE

Rest of MEA
Company Profiles
Emerson Bearing Company
IMO Group
Italcuscinetti S.p.A. a Socio Unico
Liebherr
Schaeffler Technologies AG & Co. KG
SKF
THE TIMKEN COMPANY
Thyssenkrupp Rothe Erde Germany GmbH
1.1 Study Scope
1.2 The Insight Partners Research Report Guidance
1.3 Market Segmentation
1.3.1 Middle East and Africa Slewing Bearing Market – By Rolling Element
1.3.2 Middle East and Africa Slewing Bearing Market – By Gear Type
1.3.3 Middle East and Africa Slewing Bearing Market – By Application
1.3.4 Middle East and Africa Slewing Bearing Market- By Country
2. Key Takeaways
3. Research Methodology
3.1 Coverage
3.2 Secondary Research
3.3 Primary Research
4. Middle East and Africa Slewing Bearing Market Landscape
4.1 Market Overview
4.2 PEST Analysis
4.2.1 Middle East and Africa PEST Analysis
4.3 Ecosystem Analysis
4.4 Expert Opinion
5. Middle East and Africa Slewing Bearings Market – Key Market Dynamics
5.1 Key Market Drivers
5.1.1 Growing Defense Budgets
5.1.2 Flourishing Mining Industry
5.2 Key Market Restraints
5.2.1 Fluctuating Raw Material Prices
5.3 Key Market Opportunities
5.3.1 Increasing Preference for Renewable Energy
5.4 Future Trends
5.4.1 Proliferation of Industrial Automation
5.5 Impact Analysis of Drivers and Restraints
6. Slewing Bearing Market – Middle East and Africa Analysis
6.1 Slewing Bearing Market Middle East and Africa Overview
6.2 Middle East and Africa Slewing Bearing Market – Revenue and Forecast to 2028 (US$ Million)
7. Middle East and Africa Slewing Bearing Market Analysis – By Rolling Element
7.1 Overview
7.2 Middle East and Africa Slewing Bearing Market, By Rolling Element (2020 and 2028)
7.3 Ball
7.3.1 Overview
7.3.2 Ball: Middle East and Africa Slewing Bearing Market – Revenue and Forecast to 2028 (US$ Million)
7.4 Roller
7.4.1 Overview
7.4.2 Roller: Middle East and Africa Slewing Bearing Market – Revenue and Forecast to 2028 (US$ Million)
8. Middle East and Africa Slewing Bearing Market Analysis – By Gear Type
8.1 Overview
8.2 Middle East and Africa Slewing Bearing Market, By Gear Type (2020 and 2028)
8.3 Internal Gear
8.3.1 Overview
8.3.2 Internal Gear: Middle East and Africa Slewing Bearing Market – Revenue and Forecast to 2028 (US$ Million)
8.4 Ungeared
8.4.1 Overview
8.4.2 Ungeared: Middle East and Africa Slewing Bearing Market – Revenue and Forecast to 2028 (US$ Million)
8.5 External Gear
8.5.1 Overview
8.5.2 External Gear: Middle East and Africa Slewing Bearing Market – Revenue and Forecast to 2028 (US$ Million)
9. Middle East and Africa Slewing Bearing Market Analysis – By Application
9.1 Overview
9.2 Middle East and Africa Slewing Bearing Market Breakdown, by Application, 2020 & 2028
9.3 Wind and Solar Energy
9.3.1 Overview
9.3.2 Wind and Solar Energy: Middle East and Africa Slewing Bearing Market – Revenue and Forecast to 2028 (US$ Million)
9.4 Aerospace and Defense
9.4.1 Overview
9.4.2 Aerospace and Defense: Middle East and Africa Slewing Bearing Market – Revenue and Forecast to 2028 (US$ Million)
9.5 Medical
9.5.1 Overview
9.5.2 Medical: Middle East and Africa Slewing Bearing Market – Revenue and Forecast to 2028 (US$ Million)
9.6 Industrial Machinery
9.6.1 Overview
9.6.2 Industrial Machinery: Middle East and Africa Slewing Bearing Market – Revenue and Forecast to 2028 (US$ Million)
9.7 Oil and Gas
9.7.1 Overview
9.7.2 Oil and Gas: Middle East and Africa Slewing Bearing Market – Revenue and Forecast to 2028 (US$ Million)
9.8 Mining
9.8.1 Overview
9.8.2 Mining: Middle East and Africa Slewing Bearing Market – Revenue and Forecast to 2028 (US$ Million)
9.9 Others
9.9.1 Overview
9.9.2 Others: Middle East and Africa Slewing Bearing Market – Revenue and Forecast to 2028 (US$ Million)
10. Middle East and Africa Slewing Bearing Market – Country Analysis
10.1 Middle East and Africa: Slewing Bearing Market
10.1.1 Middle East and Africa: Slewing Bearing Market, by Key Country
10.1.1.1 South Africa: Slewing Bearing Market – Revenue and Forecast to 2028 (US$ Million)
10.1.1.1.1 South Africa: Slewing Bearing Market, by Rolling Element
10.1.1.1.2 South Africa: Slewing Bearing Market, by Gear Type
10.1.1.1.3 South Africa: Slewing Bearing Market, by Application
10.1.1.2 Saudi Arabia: Slewing Bearing Market – Revenue and Forecast to 2028 (US$ Million)
10.1.1.2.1 Saudi Arabia: Slewing Bearing Market, by Rolling Element
10.1.1.2.2 Saudi Arabia: Slewing Bearing Market, by Gear Type
10.1.1.2.3 Saudi Arabia: Slewing Bearing Market, by Application
10.1.1.3 UAE: Slewing Bearing Market – Revenue and Forecast to 2028 (US$ Million)
10.1.1.3.1 UAE: Slewing Bearing Market, by Rolling Element
10.1.1.3.2 UAE: Slewing Bearing Market, by Gear Type
10.1.1.3.3 UAE: Slewing Bearing Market, by Application
10.1.1.4 Rest of Middle East and Africa: Slewing Bearing Market – Revenue and Forecast to 2028 (US$ Million)
10.1.1.4.1 Rest of Middle East and Africa: Slewing Bearing Market, by Rolling Element
10.1.1.4.2 Rest of Middle East and Africa: Slewing Bearing Market, by Gear Type
10.1.1.4.3 Rest of Middle East and Africa: Slewing Bearing Market, by Application
11. Middle East and Africa Slewing Bearings Market - COVID-19 Impact Analysis
11.1 Middle East and Africa
12. Industry Landscape
12.1 Overview
12.2 Market Initiative
12.3 Merger and Acquisition
13. Company Profiles
13.1 IMO Group
13.1.1 Key Facts
13.1.2 Business Description
13.1.3 Products and Services
13.1.4 Financial Overview
13.1.5 SWOT Analysis
13.1.6 Key Developments
13.2 Italcuscinetti S.p.A. a Socio Unico
13.2.1 Key Facts
13.2.2 Business Description
13.2.3 Products and Services
13.2.4 Financial Overview
13.2.5 SWOT Analysis
13.2.6 Key Developments
13.3 Liebherr
13.3.1 Key Facts
13.3.2 Business Description
13.3.3 Products and Services
13.3.4 Financial Overview
13.3.5 SWOT Analysis
13.3.6 Key Developments
13.4 Schaeffler Technologies AG & Co. KG
13.4.1 Key Facts
13.4.2 Business Description
13.4.3 Products and Services
13.4.4 Financial Overview
13.4.5 SWOT Analysis
13.4.6 Key Developments
13.5 SKF
13.5.1 Key Facts
13.5.2 Business Description
13.5.3 Products and Services
13.5.4 Financial Overview
13.5.5 SWOT Analysis
13.5.6 Key Developments
13.6 Thyssenkrupp Rothe Erde Germany GmbH
13.6.1 Key Facts
13.6.2 Business Description
13.6.3 Products and Services
13.6.4 Financial Overview
13.6.5 SWOT Analysis
13.6.6 Key Developments
13.7 THE TIMKEN COMPANY
13.7.1 Key Facts
13.7.2 Business Description
13.7.3 Products and Services
13.7.4 Financial Overview
13.7.5 SWOT Analysis
13.7.6 Key Developments
14. Appendix
14.1 About The Insight Partners
14.2 Word Index


Table 1. Middle East and Africa Slewing Bearing Market – Revenue and Forecast to 2028 (US$ Million)
Table 2. Middle East and Africa Slewing Bearing Market, by Country – Revenue and Forecast to 2028 (USD Million)
Table 3. South Africa: Slewing Bearing Market, by Rolling Element – Revenue and Forecast to 2028 (US$ Million)
Table 4. South Africa: Slewing Bearing Market, by Gear Type – Revenue and Forecast to 2028 (US$ Million)
Table 5. South Africa: Slewing Bearing Market, by Application – Revenue and Forecast to 2028 (US$ Million)
Table 6. Saudi Arabia: Slewing Bearing Market, by Rolling Element – Revenue and Forecast to 2028 (US$ Million)
Table 7. Saudi Arabia: Slewing Bearing Market, by Gear Type – Revenue and Forecast to 2028 (US$ Million)
Table 8. Said Arabia: Slewing Bearing Market, by Application – Revenue and Forecast to 2028 (US$ Million)
Table 9. UAE: Slewing Bearing Market, by Rolling Element – Revenue and Forecast to 2028 (US$ Million)
Table 10. UAE: Slewing Bearing Market, by Gear Type – Revenue and Forecast to 2028 (US$ Million)
Table 11. UAE: Slewing Bearing Market, by Application – Revenue and Forecast to 2028 (US$ Million)
Table 12. Rest of Middle East and Africa: Slewing Bearing Market, by Rolling Element – Revenue and Forecast to 2028 (US$ Million)
Table 13. Rest of Middle East and Africa: Slewing Bearing Market, by Gear Type – Revenue and Forecast to 2028 (US$ Million)
Table 14. Rest of Middle East and Africa: Slewing Bearing Market, by Application – Revenue and Forecast to 2028 (US$ Million)
Table 15. List of Abbreviation
Figure 1. Middle East and Africa Slewing Bearing Market Segmentation
Figure 2. Middle East and Africa Slewing Bearing Market Segmentation – By Country
Figure 3. Middle East and Africa Slewing Bearing Market Overview
Figure 4. Ball Segment Held the Largest Market Share, Based on Rolling Element
Figure 5. Internal Gear Segment Held the Largest Market Share, Based on Gear Type
Figure 6. Industrial Machinery Segment Held the Largest Market Share, Based on Application
Figure 7. UAE to Show Great Traction During Forecast Period
Figure 8. Middle East and Africa – PEST Analysis
Figure 9. Expert Opinion
Figure 10. Middle East and Africa Slewing Bearing Market: Impact Analysis of Drivers and Restraints
Figure 11. Middle East and Africa Slewing Bearing Market – Revenue and Forecast to 2028 (US$ Million)
Figure 12. Middle East and Africa Slewing Bearing Market Revenue Share, by Rolling Element (2020 and 2028)
Figure 13. Ball: Middle East and Africa Slewing Bearing Market – Revenue and Forecast to 2028 (US$ Million)
Figure 14. Roller: Middle East and Africa Slewing Bearing Market – Revenue and Forecast to 2028 (US$ Million)
Figure 15. Middle East and Africa Slewing Bearing Market Revenue Share, by Gear Type (2020 and 2028)
Figure 16. Internal Gear: Middle East and Africa Slewing Bearing Market – Revenue and Forecast to 2028 (US$ Million)
Figure 17. Ungeared: Middle East and Africa Slewing Bearing Market – Revenue and Forecast to 2028 (US$ Million)
Figure 18. External Gear: Middle East and Africa Slewing Bearing Market – Revenue and Forecast to 2028 (US$ Million)
Figure 19. Middle East and Africa Slewing Bearing Market Breakdown, by Application (2020 and 2028)
Figure 20. Wind and Solar Energy: Middle East and Africa Slewing Bearing Market – Revenue and Forecast to 2028 (US$ Million)
Figure 21. Aerospace and Defense: Middle East and Africa Slewing Bearing Market – Revenue and Forecast to 2028 (US$ Million)
Figure 22. Medical: Middle East and Africa Slewing Bearing Market – Revenue and Forecast to 2028 (US$ Million)
Figure 23. Industrial Machinery: Middle East and Africa Slewing Bearing Market – Revenue and Forecast to 2028 (US$ Million)
Figure 24. Oil and Gas: Middle East and Africa Slewing Bearing Market – Revenue and Forecast to 2028 (US$ Million)
Figure 25. Mining: Middle East and Africa Slewing Bearing Market – Revenue and Forecast to 2028 (US$ Million)
Figure 26. Others: Middle East and Africa Slewing Bearing Market – Revenue and Forecast to 2028 (US$ Million)
Figure 27. Middle East and Africa: Slewing Bearing Market – Revenue by Country to 2028 (US$ Million)
Figure 28. Middle East and Africa: Slewing Bearing Market Revenue Share, by Key Country (2020 and 2028)
Figure 29. South Africa: Slewing Bearing Market – Revenue and Forecast to 2028 (US$ Million)
Figure 30. Saudi Arabia: Slewing Bearing Market – Revenue and Forecast to 2028 (US$ Million)
Figure 31. UAE: Slewing Bearing Market – Revenue and Forecast to 2028 (US$ Million)
Figure 32. Rest of Middle East and Africa: Slewing Bearing Market – Revenue and Forecast to 2028 (US$ Million)
Figure 33. Impact of COVID-19 Pandemic in Middle East and Africa Country Markets
Emerson Bearing Company

IMO Group

Italcuscinetti S.p.A. a Socio Unico

Liebherr

Schaeffler Technologies AG & Co. KG

SKF

THE TIMKEN COMPANY

Thyssenkrupp Rothe Erde Germany GmbH
---