Middle East and Africa Fixed-Base Operator Market Forecast to 2028 - COVID-19 Impact and Regional Analysis By Services Offered (Hangaring, Fuelling, Flight Instructions, Aircraft Maintenance, and Aircraft Rental) and Application (Business Aviation and Leisure Aviation)
Code:
TIPRE00024248
|
Pages:
108
|
Industry:
Aerospace and Defense
|
Date:
Aug 2021

Market Introduction
The Middle East & Africa fixed-base operator market is a highly fragmented market with the presence of considerable regional and local players providing numerous solutions for companies investing in the market arena. The fixed-base operators offer a diversified range of services such as hangaring, fuelling, flight instructions, aircraft maintenance, and aircraft rental. Of these, fuelling is one of the highest revenues generating segments. Airports across the region offer fuelling services for AVGAS piston engine aircraft and/or Jet Fuel turbine-powered aircraft is accessible at virtually all fixed-base operator facilities. The fuelling services involve selling fuel to plane owners as well as offering them places to park their planes. The fixed-base operators often recruit ground crew and mechanics as well as employ flight planning and baggage-assistance teams and facilities, among others. Airport authorities are continuously investing in the deployment of fixed-based operators to provide different services to travelers for enhancing their travelling experience. Therefore, such investments in fixed-base operator operation in the airport supports the growth of fuelling services among the aircraft owners.


Middle East and Africa, especially South Africa, witnessed an unprecedented rise in the number of COVID-19 cases in 2020. The pandemic conditions resulted in a decrease in aviation and defense activities, consequently lowering the demand for fixed-base operating activities in the first half of 2020. Moreover, decline in the overall travel activities has led to discontinuation of fixed-base operator projects in UAE and Saudi Arabia, among other Middle East and African countries. However, the countries are likely to overcome the consequences of the drop in demand with the economic activities regaining their pace, especially from the beginning of 2021.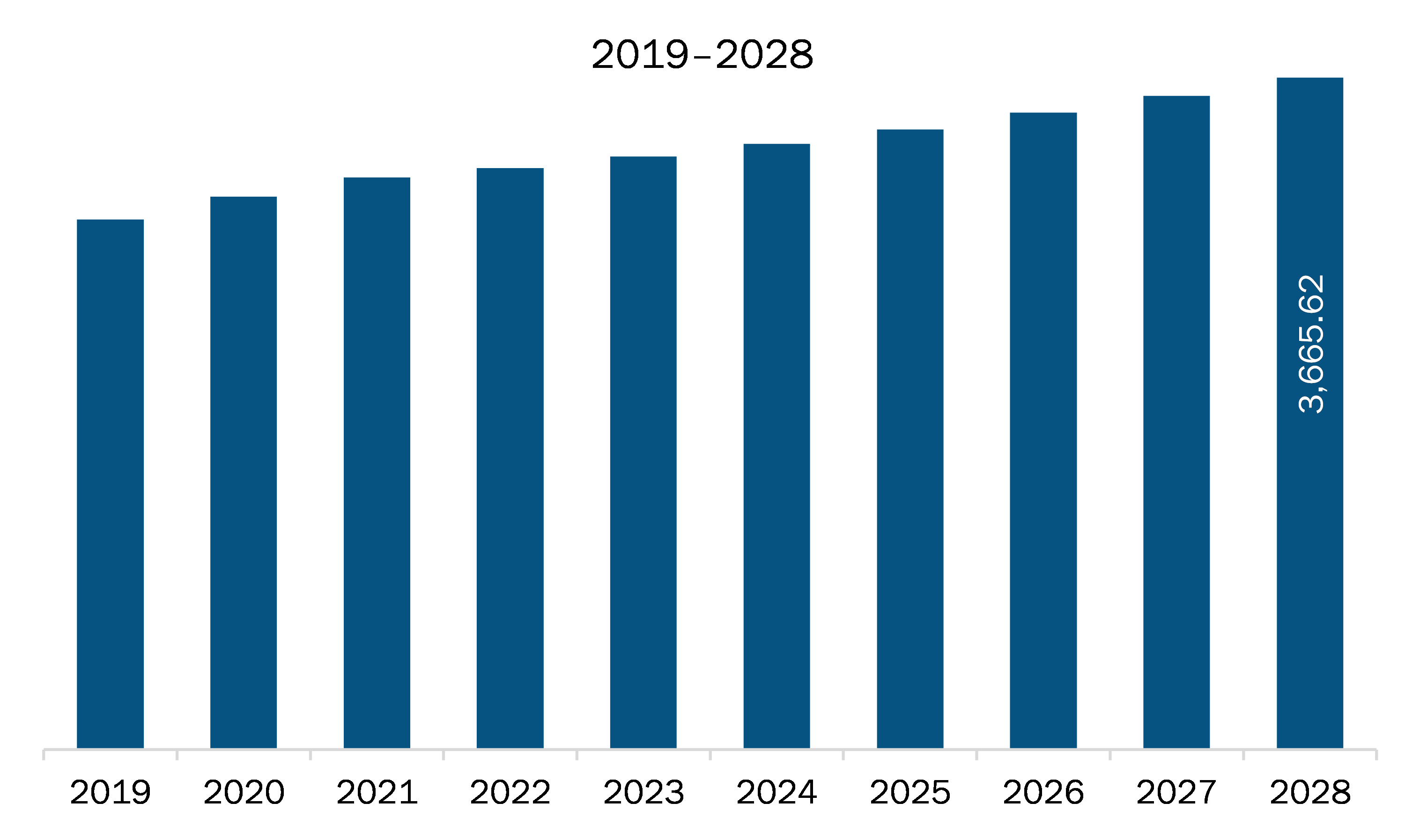 Get more information on this report :
Market Overview and Dynamics
The fixed-base operator market in Middle East and Africa is expected to grow from US$ 2,723.54 million in 2021 to US$ 3,665.62 million by 2028; it is estimated to grow at a CAGR of 4.3% from 2021 to 2028. The high demand for long-range business jets and large-cabin jets, which confer luxury and high comfort, is supporting the growth of fixed-base operator market in the Middle East and Africa. A few of the fixed-base operators present in the region are Dubai National Air Travel Agency, Jet Aviation (a subsidiary of General Dynamics Corporation), Jetex, and Luxaviation among others. However, the COVID-19 pandemic has had a severe impact on the transportation sector in the region, mainly due to the travel ban and lockdown imposed by governments. These conditions hindered the business of fixed-base operators in the first three quarters of 2020. However, the stepwise reopening of border, followed by the imposition of certain social distancing measures, further boosted the demand for private jets for both businesses and leisure travel.


Key Market Segments
Based on services offered, the fuelling segment accounted for the largest share of the Middle East and Africa fixed-base operator market in 2020. Based on application, the business aviation segment accounted for the largest share of the Middle East & Africa fixed-base operator market in 2020.


Major Sources and Companies Listed
A few major primary and secondary sources referred to for preparing this report on the Middle East and Africa fixed-base operator market are company websites, annual reports, financial reports, national government documents, and statistical database, among others. Major companies listed in the report include dnata Corporation, General Dynamics Corporation, Jetex, Luxaviation, Signature Aviation, Swissport International AG and Tag Aviation.

Reasons to buy report
To understand the Middle East and Africa fixed-base operator market landscape and identify market segments that are most likely to guarantee a strong return
Stay ahead of the race by comprehending the ever-changing competitive landscape for Middle East and Africa fixed-base operator market
Efficiently plan M&A and partnership deals in Middle East and Africa fixed-base operator market by identifying market segments with the most promising probable sales
Helps to take knowledgeable business decisions from perceptive and comprehensive analysis of market performance of various segment form Middle East and Africa fixed-base operator market
Obtain market revenue forecast for market by various segments from 2019-2028 in Middle East and Africa region.


Middle East and Africa Fixed-Base Operator Market Segmentation
Middle East and Africa Fixed-Base Operator Market -By Services Offered
Hangaring

Fuelling

Flight Instructions

Aircraft Maintenance

Aircraft Rental
Middle East and Africa Fixed-Base Operator Market -By Application
Business Aviation

Leisure Aviation
Middle East and Africa Fixed-Base Operator Market – By Country
Saudi Arabia

UAE

South Africa

Rest of Middle East and Africa
Middle East and Africa Fixed-Base Operator Market – Company Profiles
dnata Corporation

General Dynamics Corporation

Jetex

Luxaviation

Signature Aviation

Swissport

International AG
Tag Aviation
1. Introduction
1.1 Study Scope
1.2 The Insight Partners Research Report Guidance
1.3 Market Segmentation
2. Key Takeaways
3. Research Methodology
3.1 Coverage
3.2 Secondary Research
3.3 Primary Research
4. Middle East & Africa Fixed-Base Operator Market Landscape
4.1 Market Overview
4.2 Porter's Five Forces Analysis
4.3 Ecosystem Analysis
4.4 Premium Insights
4.4.1 Fixed-Base Operator Traffic
5. Fixed-Base Operator – Market Dynamics
5.1 Market Driver
5.1.1 Growing Business Aviation Sector
5.1.2 High Contribution of Fuelling Services to FBO Service Business
5.2 Market Restraint
5.2.1 Staff Scarcity and High Operational Costs
5.3 Trends:
5.3.1 Elevated Demand for Hangaring Services for Large Aircraft
5.4 Impact Analysis of Drivers and Restraints
6. Fixed-Base Operator Market – Middle East & Africa Market Analysis
6.1 Middle East & Africa Fixed-Base Operator Market Overview
6.2 Middle East & Africa Fixed-Base Operator Market Revenue Forecast and Analysis
7. Middle East & Africa Fixed-Base Operator Market Analysis – by Services Offered
7.1 Overview
7.2 Fixed-Base Operator Market, by Services Offered (2020 and 2028)
7.3 Hangaring
7.3.1 Overview
7.3.2 Hangaring: Fixed-Base Operator Market – Revenue and Forecast to 2028 (US$ Million)
7.4 Fuelling
7.4.1 Overview
7.4.2 Fuelling: Fixed-Base Operator Market – Revenue and Forecast to 2028 (US$ Million)
7.5 Flight Instructions
7.5.1 Overview
7.5.2 Flight Instructions: Fixed-Base Operator Market – Revenue and Forecast to 2028 (US$ Million)
7.6 Aircraft Maintenance
7.6.1 Overview
7.6.2 Aircraft Maintenance: Fixed-Base Operator Market – Revenue and Forecast to 2028 (US$ Million)
7.7 Aircraft Rental
7.7.1 Overview
7.7.2 Aircraft Rental: Fixed-Base Operator Market – Revenue and Forecast to 2028 (US$ Million)
8. Middle East & Africa Fixed-Base Operator Market – By Application
8.1 Overview
8.2 Fixed-Base Operator Market, by Application (2020 and 2028)
8.3 Business Aviation
8.3.1 Overview
8.3.2 Business Aviation: Fixed-Base Operator Market – Revenue and Forecast to 2028 (US$ Million)
8.4 Leisure Aviation
8.4.1 Overview
8.4.2 Leisure Aviation: Fixed-Base Operator Market – Revenue and Forecast to 2028 (US$ Million)
9. Middle East & Africa Fixed-Base Operator Market – Country Analysis
9.1 MEA: Fixed-Base Operator Market
9.1.1 MEA: Fixed-Base Operator Market- by Key Country
9.1.1.1 South Africa: Fixed-Base Operator Market – Revenue and Forecast to 2028 (US$ Million)
9.1.1.1.1 South Africa: Fixed-Base Operator Market- by Services Offered
9.1.1.1.2 South Africa: Fixed-Base Operator Market- By Application
9.1.1.2 Saudi Arabia: Fixed-Base Operator Market – Revenue and Forecast to 2028 (US$ Million)
9.1.1.2.1 Saudi Arabia: Fixed-Base Operator Market- by Services Offered
9.1.1.2.2 Saudi Arabia: Fixed-Base Operator Market- By Application
9.1.1.3 UAE: Fixed-Base Operator Market – Revenue and Forecast to 2028 (US$ Million)
9.1.1.3.1 UAE: Fixed-Base Operator Market- by Services Offered
9.1.1.3.2 UAE: Fixed-Base Operator Market- By Application
9.1.1.4 Rest of MEA: Fixed-Base Operator Market – Revenue and Forecast to 2028 (US$ Million)
9.1.1.4.1 Rest of MEA: Fixed-Base Operator Market- by Services Offered
9.1.1.4.2 Rest of MEA: Fixed-Base Operator Market- By Application
10. Middle East & Africa Fixed-Base Operator Market - COVID-19 Pandemic Impact Analysis
10.1 Overview
10.1.1 Middle East and Africa: Impact Assessment of COVID-19 Pandemic
11. Industry Landscape
11.1 Overview
11.2 Market Initiative
11.3 Merger and Acquisition
11.4 New Development
12. Company Profiles
12.1 dnata Corporation
12.1.1 Key Facts
12.1.2 Business Description
12.1.3 Products and Services
12.1.4 Financial Overview
12.1.5 SWOT Analysis
12.1.6 Key Developments
12.2 General Dynamics Corporation
12.2.1 Key Facts
12.2.2 Business Description
12.2.3 Products and Services
12.2.4 Financial Overview
12.2.5 SWOT Analysis
12.2.6 Key Developments
12.3 Jetex
12.3.1 Key Facts
12.3.2 Business Description
12.3.3 Products and Services
12.3.4 Financial Overview
12.3.5 SWOT Analysis
12.3.6 Key Developments
12.4 Luxaviation
12.4.1 Key Facts
12.4.2 Business Description
12.4.3 Products and Services
12.4.4 Financial Overview
12.4.5 SWOT Analysis
12.4.6 Key Developments
12.5 Signature Aviation
12.5.1 Key Facts
12.5.2 Business Description
12.5.3 Products and Services
12.5.4 Financial Overview
12.5.5 SWOT Analysis
12.5.6 Key Developments
12.6 Swissport
12.6.1 Key Facts
12.6.2 Business Description
12.6.3 Products and Services
12.6.4 Financial Overview
12.6.5 SWOT Analysis
12.6.6 Key Developments
12.7 Tag Aviation
12.7.1 Key Facts
12.7.2 Business Description
12.7.3 Products and Services
12.7.4 Financial Overview
12.7.5 SWOT Analysis
12.7.6 Key Developments
13. Appendix
13.1 About The Insight Partners
13.2
Word Index


Table 1. Middle East & Africa Fixed-Base Operator Market Revenue and Forecast to 2028 (US$ Million)
Table 2. South Africa: Fixed-Base Operator Market- by Services Offered –Revenue and Forecast to 2028 (US$ Million)
Table 3. South Africa: Fixed-Base Operator Market- By Application –Revenue and Forecast to 2028 (US$ Million)
Table 4. Saudi Arabia: Fixed-Base Operator Market- by Services Offered –Revenue and Forecast to 2028 (US$ Million)
Table 5. Saudi Arabia: Fixed-Base Operator Market- By Application –Revenue and Forecast to 2028 (US$ Million)
Table 6. UAE: Fixed-Base Operator Market- by Services Offered –Revenue and Forecast to 2028 (US$ Million)
Table 7. UAE: Fixed-Base Operator Market- By Application –Revenue and Forecast to 2028 (US$ Million)
Table 8. Rest of MEA: Fixed-Base Operator Market- by Services Offered –Revenue and Forecast to 2028 (US$ Million)
Table 9. Rest of MEA: Fixed-Base Operator Market- By Application –Revenue and Forecast to 2028 (US$ Million)
Table 10.

List of Abbreviation


Figure 1. Fixed-Base Operator Market Segmentation
Figure 2. Middle East & Africa Fixed-Base Operator Market Segmentation – By Country
Figure 3. Middle East & Africa Fixed-Base Operator Market Overview
Figure 4. Fixed-Base Operator Market, by Services Offered
Figure 5. Fixed-Base Operator Market, by Application
Figure 6. Fixed-Base Operator Market, By Country
Figure 7. Fixed-Base Operator Market – Porter's Five Forces Analysis
Figure 8. Fixed-Base Operator Market: Ecosystem Analysis
Figure 9. Fixed-Base Operator Market Impact Analysis of Drivers and Restraints
Figure 10. Middle East & Africa Fixed-Base Operator Market Revenue Forecast and Analysis (US$ Million)
Figure 11. Fixed-Base Operator Market Revenue Share, by Services Offered (2020 and 2028)
Figure 12. Hangaring: Fixed-Base Operator Market – Revenue and Forecast to 2028 (US$ Million)
Figure 13. Fuelling: Fixed-Base Operator Market – Revenue and Forecast to 2028 (US$ Million)
Figure 14. Flight Instructions: Fixed-Base Operator Market – Revenue and Forecast to 2028 (US$ Million)
Figure 15. Aircraft Maintenance: Fixed-Base Operator Market – Revenue and Forecast to 2028 (US$ Million)
Figure 16. Aircraft Rental: Fixed-Base Operator Market – Revenue and Forecast to 2028 (US$ Million)
Figure 17. Fixed-Base Operator Market Revenue Share, by Application (2020 and 2028)
Figure 18. Business Aviation: Fixed-Base Operator Market – Revenue and Forecast to 2028 (US$ Million)
Figure 19. Leisure Aviation: Fixed-Base Operator Market – Revenue and Forecast to 2028 (US$ Million)
Figure 20. Middle East & Africa: Fixed-Base Operator Market, by Key Country – Revenue (2020) (USD Million)
Figure 21. MEA: Fixed-Base Operator Market Revenue Share, By Key Country (2020 and 2028)
Figure 22. South Africa: Fixed-Base Operator Market – Revenue and Forecast to 2028 (US$ Million)
Figure 23. Saudi Arabia: Fixed-Base Operator Market – Revenue and Forecast to 2028 (US$ Million)
Figure 24. UAE: Fixed-Base Operator Market – Revenue and Forecast to 2028 (US$ Million)
Figure 25. Rest of MEA: Fixed-Base Operator Market – Revenue and Forecast to 2028 (US$ Million)
Figure 26.

Impact of COVID-19 Pandemic in Middle East and Africa Countries

dnata Corporation

General Dynamics Corporation

Jetex

Luxaviation

Signature Aviation

Swissport International AG

Tag Aviation
---
Related Tags
Middle East and Africa Fixed-Base Operator Market
Middle East and Africa Fixed-Base Operator Market Research
Middle East and Africa Fixed-Base Operator Market Insight
Middle East and Africa Fixed-Base Operator Market Trends
Middle East and Africa Fixed-Base Operator Market Forecast
Middle East and Africa Fixed-Base Operator Market Share
Middle East and Africa Fixed-Base Operator Market 2028
Middle East and Africa Fixed-Base Operator Market Growth
Middle East and Africa Fixed-Base Operator Industry
Sector
Middle East and Africa Fixed-Base Operator PDF Report
Middle East and Africa Fixed-Base Operator Analysis
Middle East and Africa Fixed-Base Operator Research
Competitive Analysis
---