Europe Fixed-Base Operator Market Forecast to 2028 - COVID-19 Impact and Regional Analysis By Services Offered (Hangaring, Fuelling, Flight Instructions, Aircraft Maintenance, and Aircraft Rental) and Application (Business Aviation and Leisure Aviation)
Code:
TIPRE00024241
|
Pages:
115
|
Industry:
Aerospace and Defense
|
Date:
Aug 2021

Market Introduction
The Europe fixed-base operator market is a highly fragmented market with the presence of considerable regional and local players providing numerous solutions for companies investing in the market arena. The region has the presence of business-aviation destinations such as Nice Côte d'Azur Airport, Geneva Cointrin International Airport, and Paris–Le Bourget Airport, across different countries. These airports deal efficiently with the increasing business aviation with the help of different fixed-base operators including Signature NCE and TAG Aviation. There are over 136,000 general aviation aircraft in the region, and the European general aviation fleet has access for over 4,200 airports. The growing general aviation in Europe is anticipated to witness significant growth in the coming years, owing to an increase in number of people opting for business jets and private jets for travel and tourism in the region. The presence of several fixed-base operators in the region such as Jet Aviation, Harrods Aviation, Universal Aviation, Farnborough Airport, Signature Flight Support, and Harrods Aviation, is boosting the market growth.


Europe, especially Russia, witnessed an unprecedented rise in the number of COVID-19 cases in 2020. The pandemic conditions resulted in a decrease in aviation and defense activities, consequently lowering the demand for fixed-base operating activities in the first half of 2020. Moreover, decline in the overall travel activities has led to discontinuation of fixed-base operator projects in France, UK, Spain, Italy and Germany, among other European countries. However, the countries are likely to overcome the consequences of the drop in demand with the economic activities regaining their pace, especially from the beginning of 2021.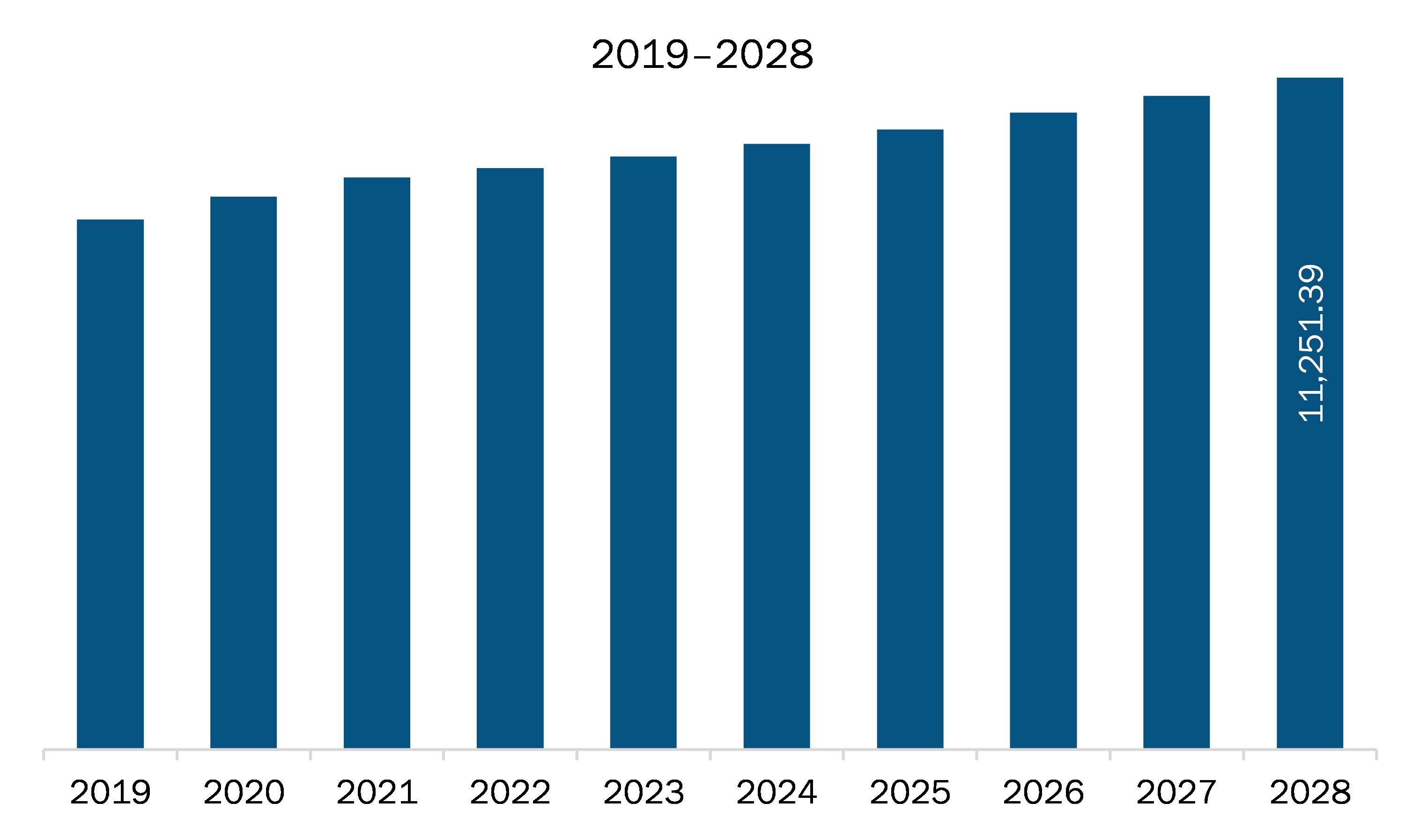 Get more information on this report :
Market Overview and Dynamics
The fixed-base operator market in Europe is expected to grow from US$ 7,396.27 million in 2021 to US$ 11,251.39 million by 2028; it is estimated to grow at a CAGR of 6.2% from 2021 to 2028. The rising demand for business and private jets, including both small and large aircraft, is one of the significant factors driving the business growth of hangaring service providers. The steady rise in air traffic has created a need for new aircraft. The OEMs are also focusing on the development of new-generation aircraft with reduced fuel consumption, large size, and low noise and carbon emissions. As a result, the demand for hangars has increased in the recent time. The design of aircraft hangars has also undergone significant changes to suit the changing aircraft sizes and technologies, with modern aircraft hangars being fitted with temperature control and security devices. At other locations, the fixed-base operators are focusing on the expansion of the hangar size, owing to overcapacity situations, and some are patiently waiting for the announcement of revised National Fire Protection Association (NFPA) 409 code, related to aviation hangars. Thus, the trend of constructing large hangars to cater to the growing number of small and large aircraft is a key trend that would support the growth of fixed-base operator market in the near future.


Key Market Segments
Based on services offered, the fuelling segment accounted for the largest share of the Europe fixed-base operator market in 2020. Based on application, the business aviation segment accounted for the largest share of the Europe fixed-base operator market in 2020.


Major Sources and Companies Listed
A few major primary and secondary sources referred to for preparing this report on the Europe fixed-base operator market are company websites, annual reports, financial reports, national government documents, and statistical database, among others. Major companies listed in the report include dnata Corporation, General Dynamics Corporation, Jetex, Luxaviation, Signature Aviation, Swissport International AG, and Tag Aviation.


Reasons to buy report
To understand the Europe fixed-base operator market landscape and identify market segments that are most likely to guarantee a strong return
Stay ahead of the race by comprehending the ever-changing competitive landscape for Europe fixed-base operator market
Efficiently plan M&A and partnership deals in Europe fixed-base operator market by identifying market segments with the most promising probable sales
Helps to take knowledgeable business decisions from perceptive and comprehensive analysis of market performance of various segment form Europe fixed-base operator market
Obtain market revenue forecast for market by various segments from 2019-2028 in Europe region.
Europe Fixed-Base Operator Market Segmentation
Europe Fixed-Base Operator Market -By Services Offered
Hangaring

Fueling

Flight Instructions

Aircraft Maintenance

Aircraft Rental
Europe Fixed-Base Operator Market -By Application
Business Aviation

Leisure Aviation
Europe Fixed-Base Operator Market – By Country
France

Germany
Italy
UK
Russia
Rest of Europe
Europe Fixed-Base Operator Market – Company Profiles
dnata Corporation

General Dynamics Corporation

Jetex

Luxaviation

Signature Aviation

Swissport

Tag Aviation
1. Introduction
1.1 Study Scope
1.2 The Insight Partners Research Report Guidance
1.3 Market Segmentation
2. Key Takeaways
3. Research Methodology
3.1 Coverage
3.2 Secondary Research
3.3 Primary Research
4. Europe Fixed-Base Operator Market Landscape
4.1 Market Overview
4.2 Porter's Five Forces Analysis
4.3 Ecosystem Analysis
4.4 Premium Insights
4.4.1 Fixed-Base Operator Traffic
5. Fixed-Base Operator – Market Dynamics
5.1 Market Driver
5.1.1 Expansion of the Business Aviation Sector
5.1.2 High Contribution of Fuelling Services to FBO Service Business
5.2 Market Restraint
5.2.1 Staffing Shortages along with High Operational Costs
5.3 Trends:
5.3.1 Incrementing Demand for Hangaring Services for Large Aircraft
5.4 Impact Analysis of Drivers and Restraints
6. Fixed-Base Operator Market – Europe Market Analysis
6.1 Europe Fixed-Base Operator Market Overview
6.2 Europe Fixed-Base Operator Market Revenue Forecast and Analysis
7. Europe Fixed-Base Operator Market Analysis – by Services Offered
7.1 Overview
7.2 Fixed-Base Operator Market, by Services Offered (2020 and 2028)
7.3 Hangaring
7.3.1 Overview
7.3.2 Hangaring: Fixed-Base Operator Market – Revenue and Forecast to 2028 (US$ Million)
7.4 Fuelling
7.4.1 Overview
7.4.2 Fuelling: Fixed-Base Operator Market – Revenue and Forecast to 2028 (US$ Million)
7.5 Flight Instructions
7.5.1 Overview
7.5.2 Flight Instructions: Fixed-Base Operator Market – Revenue and Forecast to 2028 (US$ Million)
7.6 Aircraft Maintenance
7.6.1 Overview
7.6.2 Aircraft Maintenance: Fixed-Base Operator Market – Revenue and Forecast to 2028 (US$ Million)
7.7 Aircraft Rental
7.7.1 Overview
7.7.2 Aircraft Rental: Fixed-Base Operator Market – Revenue and Forecast to 2028 (US$ Million)
8. Europe Fixed-Base Operator Market – By Application
8.1 Overview
8.2 Fixed-Base Operator Market, by Application (2020 and 2028)
8.3 Business Aviation
8.3.1 Overview
8.3.2 Business Aviation: Fixed-Base Operator Market – Revenue and Forecast to 2028 (US$ Million)
8.4 Leisure Aviation
8.4.1 Overview
8.4.2 Leisure Aviation: Fixed-Base Operator Market – Revenue and Forecast to 2028 (US$ Million)
9. Europe Fixed-Base Operator Market – Country Analysis
9.1 Europe: Fixed-Base Operator Market
9.1.1 Europe: Fixed-Base Operator Market- by Key Country
9.1.1.1 Germany: Fixed-Base Operator Market – Revenue and Forecast to 2028 (US$ Million)
9.1.1.1.1 Germany: Fixed-Base Operator Market- by Services Offered
9.1.1.1.2 Germany: Fixed-Base Operator Market- By Application
9.1.1.2 France: Fixed-Base Operator Market – Revenue and Forecast to 2028 (US$ Million)
9.1.1.2.1 France: Fixed-Base Operator Market- by Services Offered
9.1.1.2.2 France: Fixed-Base Operator Market- By Application
9.1.1.3 Italy: Fixed-Base Operator Market – Revenue and Forecast to 2028 (US$ Million)
9.1.1.3.1 Italy: Fixed-Base Operator Market- by Services Offered
9.1.1.3.2 Italy: Fixed-Base Operator Market- By Application
9.1.1.4 UK: Fixed-Base Operator Market – Revenue and Forecast to 2028 (US$ Million)
9.1.1.4.1 UK: Fixed-Base Operator Market- by Services Offered
9.1.1.4.2 UK: Fixed-Base Operator Market- By Application
9.1.1.5 Russia: Fixed-Base Operator Market – Revenue and Forecast to 2028 (US$ Million)
9.1.1.5.1 Russia: Fixed-Base Operator Market- by Services Offered
9.1.1.5.2 Russia: Fixed-Base Operator Market- By Application
9.1.1.6 Rest of Europe: Fixed-Base Operator Market – Revenue and Forecast to 2028 (US$ Million)
9.1.1.6.1 Rest of Europe: Fixed-Base Operator Market- by Services Offered
9.1.1.6.2 Rest of Europe: Fixed-Base Operator Market- By Application
10. Europe Fixed-Base Operator Market - COVID-19 Pandemic Impact Analysis
10.1 Overview
10.1.1 Europe: Impact Assessment of COVID-19 Pandemic
11. Industry Landscape
11.1 Overview
11.2 Market Initiative
11.3 Merger and Acquisition
11.4 New Development
12. Company Profiles
12.1 dnata Corporation
12.1.1 Key Facts
12.1.2 Business Description
12.1.3 Products and Services
12.1.4 Financial Overview
12.1.5 SWOT Analysis
12.1.6 Key Developments
12.2 General Dynamics Corporation
12.2.1 Key Facts
12.2.2 Business Description
12.2.3 Products and Services
12.2.4 Financial Overview
12.2.5 SWOT Analysis
12.2.6 Key Developments
12.3 Jetex
12.3.1 Key Facts
12.3.2 Business Description
12.3.3 Products and Services
12.3.4 Financial Overview
12.3.5 SWOT Analysis
12.3.6 Key Developments
12.4 Luxaviation
12.4.1 Key Facts
12.4.2 Business Description
12.4.3 Products and Services
12.4.4 Financial Overview
12.4.5 SWOT Analysis
12.4.6 Key Developments
12.5 Signature Aviation
12.5.1 Key Facts
12.5.2 Business Description
12.5.3 Products and Services
12.5.4 Financial Overview
12.5.5 SWOT Analysis
12.5.6 Key Developments
12.6 Swissport
12.6.1 Key Facts
12.6.2 Business Description
12.6.3 Products and Services
12.6.4 Financial Overview
12.6.5 SWOT Analysis
12.6.6 Key Developments
12.7 Tag Aviation
12.7.1 Key Facts
12.7.2 Business Description
12.7.3 Products and Services
12.7.4 Financial Overview
12.7.5 SWOT Analysis
12.7.6 Key Developments
13. Appendix
13.1 About The Insight Partners
13.2
Word Index


Table 1. Europe Fixed-Base Operator Market Revenue and Forecast to 2028 (US$ Million)
Table 2. Germany: Fixed-Base Operator Market- by Services Offered –Revenue and Forecast to 2028 (US$ Million)
Table 3. Germany: Fixed-Base Operator Market- By Application –Revenue and Forecast to 2028 (US$ Million)
Table 4. France: Fixed-Base Operator Market- by Services Offered –Revenue and Forecast to 2028 (US$ Million)
Table 5. France: Fixed-Base Operator Market- By Application –Revenue and Forecast to 2028 (US$ Million)
Table 6. Italy: Fixed-Base Operator Market- by Services Offered –Revenue and Forecast to 2028 (US$ Million)
Table 7. Italy: Fixed-Base Operator Market- By Application –Revenue and Forecast to 2028 (US$ Million)
Table 8. UK: Fixed-Base Operator Market- by Services Offered –Revenue and Forecast to 2028 (US$ Million)
Table 9. UK: Fixed-Base Operator Market- By Application –Revenue and Forecast to 2028 (US$ Million)
Table 10. Russia: Fixed-Base Operator Market- by Services Offered –Revenue and Forecast to 2028 (US$ Million)
Table 11. Russia: Fixed-Base Operator Market- By Application –Revenue and Forecast to 2028 (US$ Million)
Table 12. Rest of Europe: Fixed-Base Operator Market- by Services Offered –Revenue and Forecast to 2028 (US$ Million)
Table 13. Rest of Europe: Fixed-Base Operator Market- By Application –Revenue and Forecast to 2028 (US$ Million)
Table 14.

List of Abbreviation


Figure 1. Fixed-Base Operator Market Segmentation
Figure 2. Europe Fixed-Base Operator Market Segmentation – By Country
Figure 3. Europe Fixed-Base Operator Market Overview
Figure 4. Fixed-Base Operator Market, by Services Offered
Figure 5. Fixed-Base Operator Market, by Application
Figure 6. Fixed-Base Operator Market, By Country
Figure 7. Fixed-Base Operator Market – Porter's Five Forces Analysis
Figure 8. Fixed-Base Operator Market: Ecosystem Analysis
Figure 9. Fixed-Base Operator Market Impact Analysis of Drivers and Restraints
Figure 10. Europe Fixed-Base Operator Market Revenue Forecast and Analysis (US$ Million)
Figure 11. Fixed-Base Operator Market Revenue Share, by Services Offered (2020 and 2028)
Figure 12. Hangaring: Fixed-Base Operator Market – Revenue and Forecast to 2028 (US$ Million)
Figure 13. Fuelling: Fixed-Base Operator Market – Revenue and Forecast to 2028 (US$ Million)
Figure 14. Flight Instructions: Fixed-Base Operator Market – Revenue and Forecast to 2028 (US$ Million)
Figure 15. Aircraft Maintenance: Fixed-Base Operator Market – Revenue and Forecast to 2028 (US$ Million)
Figure 16. Aircraft Rental: Fixed-Base Operator Market – Revenue and Forecast to 2028 (US$ Million)
Figure 17. Fixed-Base Operator Market Revenue Share, by Application (2020 and 2028)
Figure 18. Business Aviation: Fixed-Base Operator Market – Revenue and Forecast to 2028 (US$ Million)
Figure 19. Leisure Aviation: Fixed-Base Operator Market – Revenue and Forecast to 2028 (US$ Million)
Figure 20. Europe: Fixed-Base Operator Market, by Key Country – Revenue (2020) (USD Million)
Figure 21. Europe: Fixed-Base Operator Market Revenue Share, By Key Country (2020 and 2028)
Figure 22. Germany: Fixed-Base Operator Market – Revenue and Forecast to 2028 (US$ Million)
Figure 23. France: Fixed-Base Operator Market – Revenue and Forecast to 2028 (US$ Million)
Figure 24. Italy: Fixed-Base Operator Market – Revenue and Forecast to 2028 (US$ Million)
Figure 25. UK: Fixed-Base Operator Market – Revenue and Forecast to 2028 (US$ Million)
Figure 26. Russia: Fixed-Base Operator Market – Revenue and Forecast to 2028 (US$ Million)
Figure 27. Rest of Europe: Fixed-Base Operator Market – Revenue and Forecast to 2028 (US$ Million)
Figure 28.

Impact of COVID-19 Pandemic in Europe Country Markets

dnata Corporation

General Dynamics Corporation

Jetex

Luxaviation

Signature Aviation

Swissport International AG

Tag Aviation
Save and reduce time carrying out entry-level research by identifying the growth, size, leading players, and segments in the

Europe fixed-base operator market

.

Highlights key business priorities in order to assist companies to realign their business strategies

The key findings and recommendations highlight crucial progressive industry trends in the

Europe fixed-base operator market

, thereby allowing players across the value chain to develop effective long-term strategies

Develop/modify business expansion plans by using substantial growth offering developed and emerging markets

Scrutinize in-depth Europe market trends and outlook coupled with the factors driving the

Europe

fixed-base operator

market, as well as those hindering it

Enhance the decision-making process by understanding the strategies that underpin commercial interest with respect to client products, segmentation, pricing and distribution
---
Related Tags
Europe Fixed-Base Operator Market
Europe Fixed-Base Operator Market Research
Europe Fixed-Base Operator Market Insight
Europe Fixed-Base Operator Market Trends
Europe Fixed-Base Operator Market Forecast
Europe Fixed-Base Operator Market Share
Europe Fixed-Base Operator Market 2028
Europe Fixed-Base Operator Market Growth
Europe Fixed-Base Operator Industry
Sector
Europe Fixed-Base Operator PDF Report
Europe Fixed-Base Operator Analysis
Europe Fixed-Base Operator Research
Competitive Analysis
---