Europe Wire Rod Market Forecast to 2028 – COVID-19 Impact and Regional Analysis – by Material (Copper and Aluminium) and Industry (Telecommunication, Power, Aviation, Automotive, and Others) 
BMIRE00028415
|
Pages:
133
|
Manufacturing and Construction
|
May 2023
|
Type:
Regional
|
Status:
Published
The Europe wire rod market is expected to grow from US$ 464.31 million in 2022 to US$ 555.14 million by 2028. It is estimated to grow at a CAGR of 3.0% from 2022 to 2028.
Increasing Construction and Infrastructure Development Activities is Fuelling Europe Wire Rod Market
The construction projects of commercial, industrial, and residential buildings are growing across the region, majorly in developing countries. This factor is projected to fuel the demand for products such as wires, wire ropes, wire, and cables in various electrical and electronic applications. Hence, with rising construction activities, the scope of using different wire rods will endure to boost. This growth is attributed to the increasing demand for houses due to sustained employment and record-low interest rates, and surging government programs initiative to aid confidence in residential construction sector buyers for procuring or renovations, which might get delayed owing to uncertainty caused by the pandemic. Furthermore, several government initiatives are supporting the growth of the housing industry. Moreover, strong economic conditions witness a rise in construction buildings. The region witnessed a slightly subdued growth in the construction activity, supported by a developed construction sector in various countries that allowed better residential and infrastructural spending. In construction activities, wire rods are needed for various purposes such as conducting electricity, data, voice communication, and security. Thus, the growing construction activities are increasing the demand for wire rods, thereby driving Europe wire rod market growth.
Europe Wire Rod Market Overview
The Europe aviation sector comprises several aircraft manufacturers that use wire rods for providing uninterrupted connectivity, power supply, and data transfer. In addition, aluminum wire rods are also used in manufacturing aircraft parts because of their ability to easily create intricate shapes while remaining lightweight yet durable that can be used in aeronautical engineering applications. As a result, the demand for wire rods is increasing in the aviation sector of Europe. According to the Aerospace, Security and Defence Industries Association of Europe (ASD), in 2021, the aerospace sector contributed over US$ 249.31 billion (EUR 240 billion) to the European GDP. Also, the region consists of various aircraft manufacturers, such as Airbus SE, BAE Systems Plc, Thales SA, and Safran SA. These aircraft manufacturers are continuously working on advancing commercial, military, and general aviation aircraft, which is also increasing the demand for wire rods. Hence, the growth of the aerospace sector is propelling the growth of the wire rod market in the region. In addition, the presence of established car manufacturers and an increase in the development and sales of electric vehicles are a few factors boosting the demand for wire rods to produce efficient connectivity in vehicles. According to the European Automobile Manufacturers Association (ACEA), in March 2022, approximately 844,147 automobiles were sold in Europe. Furthermore, governments of various countries in Europe are making several investments in the automotive sector, which are expected to increase the demand for wire rods in the coming years. For instance, in 2020, the UK government awarded US$ 57.87 million for various low-carbon automotive projects, including the manufacturing of electric vehicles. Thus, the growing automotive industry in the region is propelling the growth of the Europe wire rod market.
Europe Wire Rod Market Revenue and Forecast to 2028 (US$ Million)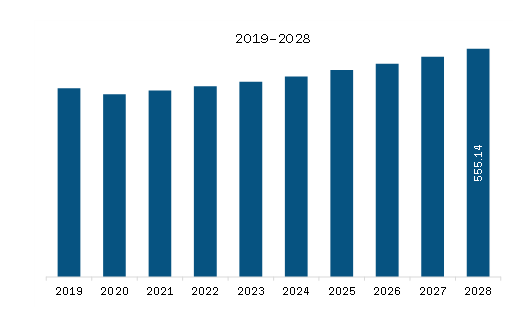 Europe Wire Rod Market Segmentation
The Europe wire rod market is segmented into material, industry, and country.
Based on material, the Europe wire rod market is bifurcated into copper and aluminium. The copper segment held a larger share of the Europe wire rod market in 2022.
Based on industry, the Europe wire rod market is segmented into telecommunication, power, aviation, automotive, and others. The telecommunication segment held the largest share of the Europe wire rod market in 2022.
Based on country, the Europe wire rod market has been categorized into the UK, Germany, France, Italy, Russia, and the rest of Europe. Our regional analysis states that Russia dominated the Europe wire rod market in 2022.
Alcoa Corp, APAR Industries Ltd, Elcowire Group AB, Hindalco Industries Ltd, Mitsubishi Materials Trading Corp, Norsk Hydro ASA, Sumitomo Electric Industries Ltd, United Co RUSAL Plc, Vedanta Aluminium and Power Ltd, and Vimetco NV are the leading companies operating in the Europe wire rod market.
1.

Introduction
1.1 Study Scope
1.2 The Insight Partners Research Report Guidance
1.3 Market Segmentation
2.

Key Takeaways
3. Research Methodology
3.1 Coverage
3.2 Secondary Research
3.3 Primary Research
3.4 Sources and Parameters
4.

Europe Wire Rod Market Landscape
4.1 Market Overview
4.2 Europe PEST Analysis
4.3 Ecosystem Analysis
4.4 Experts' Opinions
5.

Europe Wire Rod Market – Key Market Dynamics
5.1 Market Drivers
5.1.1 Increasing Construction and Infrastructure Development Activities
5.1.2 Growing Investments in Electric Power Transmission and Distribution
5.2 Market Restraints
5.2.1 Rising Demand for Fiber Optic Cables
5.3 Market Opportunities
5.3.1 Evolving Telecommunication Industry
5.4 Future Trends
5.4.1 Strong Inclination Toward Aluminum
5.5 Impact Analysis of Drivers and Restraints
6.

Wire Rod Market – Europe Analysis
6.1 Europe Wire Rod Market Overview
6.2 Europe Wire Rod Market Revenue Forecast and Analysis
7.

Europe Wire Rod Market Analysis – By Material
7.1 Overview
7.2 Europe Wire Rod Market, By Material (2021 And 2028)
7.3 Copper
7.3.1 Overview
7.3.2 Copper: Wire Rod Market Revenue and Forecast to 2028 (US$ Million)
7.4 Aluminum
7.4.1 Overview
7.4.2 Aluminum: Wire Rod Market Revenue and Forecast To 2028 (US$ Million)
8.

Europe Wire Rod Market Analysis – By Industry
8.1 Overview
8.2 Europe Wire Rod Market, By Industry (2021 And 2028)
8.3 Telecommunication
8.3.1 Overview
8.3.2 Copper and Aluminum Telecommunication: Wire Rod Market Revenue and Forecast To 2028 (US$ Million)
8.3.2.1 Copper
8.3.2.1.1 Copper: Wire Rod Market Revenue and Forecast To 2028 (US$ Million)
8.3.2.2 Aluminum
8.3.2.2.1 Aluminum: Wire Rod Market Revenue and Forecast To 2028 (US$ Million)
8.4 Power
8.4.1 Overview
8.4.2 Copper and Aluminum Power: Wire Rod Market Revenue and Forecast To 2028 (US$ Million)
8.4.2.1 Copper
8.4.2.1.1 Copper: Wire Rod Market Revenue and Forecast To 2028 (US$ Million)
8.4.2.2 Aluminum
8.4.2.2.1 Aluminum: Wire Rod Market Revenue and Forecast To 2028 (US$ Million)
8.5 Aviation
8.5.1 Overview
8.5.2 Copper and Aluminum Aviation: Wire Rod Market Revenue and Forecast To 2028 (US$ Million)
8.5.2.1 Copper
8.5.2.1.1 Copper: Wire Rod Market Revenue and Forecast To 2028 (US$ Million)
8.5.2.2 Aluminum
8.5.2.2.1 Aluminum: Wire Rod Market Revenue and Forecast To 2028 (US$ Million)
8.6 Automotive
8.6.1 Overview
8.6.2 Copper and Automotive: Wire Rod Market Revenue and Forecast To 2028 (US$ Million)
8.6.2.1 Copper
8.6.2.1.1 Copper: Wire Rod Market Revenue and Forecast To 2028 (US$ Million)
8.6.2.2 Aluminum
8.6.2.2.1 Aluminum: Wire Rod Market Revenue and Forecast To 2028 (US$ Million)
8.7 Others
8.7.1 Overview
8.7.2 Copper and Aluminum Others: Wire Rod Market Revenue and Forecast To 2028 (US$ Million)
8.7.2.1 Copper
8.7.2.1.1 Copper: Wire Rod Market Revenue and Forecast To 2028 (US$ Million)
8.7.2.2 Aluminum
8.7.2.2.1 Aluminum: Wire Rod Market Revenue and Forecast To 2028 (US$ Million)
9.

Europe Wire Rod Market– Country Analysis
9.1 Overview
9.1.1 Europe: Wire Rod Market, by Key Country (Copper and Aluminum)
9.1.1.1 Germany: Wire Rod Market – Revenue and Forecast to 2028 (US$ Million) (Copper and Aluminum)
9.1.1.1.1 Germany: Wire Rod Market, By Material
9.1.1.1.2 Germany: Wire Rod Market, By Industry
9.1.1.2 France: Wire Rod Market – Revenue and Forecast to 2028 (US$ Million) (Copper and Aluminum)
9.1.1.2.1 France: Wire Rod Market, By Material
9.1.1.2.2 France: Wire Rod Market, By Industry
9.1.1.3 Italy: Wire Rod Market – Revenue and Forecast to 2028 (US$ Million) (Copper and Aluminum)
9.1.1.3.1 Italy: Wire Rod Market, By Material
9.1.1.3.2 Italy: Wire Rod Market, By Industry
9.1.1.4 UK: Wire Rod Market – Revenue and Forecast to 2028 (US$ Million) (Copper and Aluminum)
9.1.1.4.1 UK: Wire Rod Market, By Material
9.1.1.4.2 UK: Wire Rod Market, By Industry
9.1.1.5 Russia: Wire Rod Market – Revenue and Forecast to 2028 (US$ Million) (Copper and Aluminum)
9.1.1.5.1 Russia: Wire Rod Market, By Material
9.1.1.5.2 Russia: Wire Rod Market, By Industry
9.1.1.6 Rest of Europe: Wire Rod Market – Revenue and Forecast to 2028 (US$ Million) (Copper and Aluminum)
9.1.1.6.1 Rest of Europe: Wire Rod Market, By Material
9.1.1.6.2 Rest of Europe: Wire Rod Market, By Industry
10.

Industry Landscape
10.1 Overview
10.2 Product Development
10.3 Mergers & Acquisitions
11.

Company Profiles
11.1 Hindalco Industries Ltd
11.1.1 Key Facts
11.1.2 Business Description
11.1.3 Products and Services
11.1.4 Financial Overview
11.1.5 SWOT Analysis
11.1.6 Key Developments
11.2 Mitsubishi Materials Trading Corp
11.2.1 Key Facts
11.2.2 Business Description
11.2.3 Products and Services
11.2.4 Financial Overview
11.2.5 SWOT Analysis
11.2.6 Key Developments
11.3 APAR Industries Ltd
11.3.1 Key Facts
11.3.2 Business Description
11.3.3 Products and Services
11.3.4 Financial Overview
11.3.5 SWOT Analysis
11.3.6 Key Developments
11.4 Vedanta Aluminium and Power Ltd
11.4.1 Key Facts
11.4.2 Business Description
11.4.3 Products and Services
11.4.4 Financial Overview
11.4.5 SWOT Analysis
11.4.6 Key Developments
11.5 United Co RUSAL Plc
11.5.1 Key Facts
11.5.2 Business Description
11.5.3 Products and Services
11.5.4 Financial Overview
11.5.5 SWOT Analysis
11.5.6 Key Developments
11.6 Vimetco NV
11.6.1 Key Facts
11.6.2 Business Description
11.6.3 Products and Services
11.6.4 Financial Overview
11.6.5 SWOT Analysis
11.6.6 Key Developments
11.7 Sumitomo Electric Industries Ltd
11.7.1 Key Facts
11.7.2 Business Description
11.7.3 Products and Services
11.7.4 Financial Overview
11.7.5 SWOT Analysis
11.7.6 Key Developments
11.8 Norsk Hydro ASA
11.8.1 Key Facts
11.8.2 Business Description
11.8.3 Products and Services
11.8.4 Financial Overview
11.8.5 SWOT Analysis
11.8.6 Key Developments
11.9 Elcowire Group AB
11.9.1 Key Facts
11.9.2 Business Description
11.9.3 Products and Services
11.9.4 Financial Overview
11.9.5 SWOT Analysis
11.9.6 Key Developments
11.10 Alcoa Corp
11.10.1 Key Facts
11.10.2 Business Description
11.10.3 Products and Services
11.10.4 Financial Overview
11.10.5 SWOT Analysis
11.10.6 Key Developments
12.

Appendix
12.1 About The Insight Partners
12.2 Word Index
LIST OF TABLES
Table 1. Europe Wire Rod Market Revenue and Forecast to 2028 (US$ Million)
Table 2. Germany: Wire Rod Market, By Material – Revenue and Forecast to 2028 (US$ Million)
Table 3. Germany: Wire Rod Market, By Industry (Copper and Aluminum)– Revenue and Forecast to 2028 (US$ Million)
Table 4. France: Wire Rod Market, By Material – Revenue and Forecast to 2028 (US$ Million)
Table 5. France: Wire Rod Market, By Industry (Copper and Aluminum)– Revenue and Forecast to 2028 (US$ Million)
Table 6. Italy: Wire Rod Market, By Material – Revenue and Forecast to 2028 (US$ Million)
Table 7. Italy: Wire Rod Market, By Industry (Copper and Aluminum)– Revenue and Forecast to 2028 (US$ Million)
Table 8. UK: Wire Rod Market, By Material – Revenue and Forecast to 2028 (US$ Million)
Table 9. UK: Wire Rod Market, By Industry (Copper and Aluminum)– Revenue and Forecast to 2028 (US$ Million)
Table 10. Russia: Wire Rod Market, By Material – Revenue and Forecast to 2028 (US$ Million)
Table 11. Russia: Wire Rod Market, By Industry (Copper and Aluminum)– Revenue and Forecast to 2028 (US$ Million)
Table 12. Rest of Europe: Wire Rod Market, By Material – Revenue and Forecast to 2028 (US$ Million)
Table 13. Rest of Europe: Wire Rod Market, By Industry (Copper and Aluminum)– Revenue and Forecast to 2028 (US$ Million)
Table 14. List of Abbreviation
LIST OF FIGURES
Figure 1. Europe Wire Rod Market Segmentation
Figure 2. Europe Wire Rod Market Segmentation – By Country
Figure 3. Europe Wire Rod Market Overview
Figure 4. Europe Wire Rod Market, by Material
Figure 5. Europe Wire Rod Market, by Country
Figure 6. Europe – PEST Analysis
Figure 7. Europe Wire Rod Market- Ecosystem Analysis
Figure 8. Europe Wire Rod Market: Impact Analysis of Drivers and Restraints
Figure 9. Europe Wire Rod Market Revenue Forecast and Analysis (US$ Million)
Figure 10. Europe Wire Rod Market, By Material (2021 and 2028)
Figure 11. Copper: Europe Wire Rod Market Revenue and Forecast to 2028 (US$ Million)
Figure 12. Aluminum: Europe Wire Rod Market Revenue and Forecast to 2028 (US$ Million)
Figure 13. Europe Wire Rod Market, By Industry (2021 and 2028)
Figure 14. Copper and Aluminum Telecommunication: Europe Wire Rod Market Revenue and Forecast to 2028 (US$ Million)
Figure 15. Copper: Europe Wire Rod Market Revenue and Forecast to 2028 (US$ Million)
Figure 16. Aluminum: Europe Wire Rod Market Revenue and Forecast to 2028 (US$ Million)
Figure 17. Copper and Aluminum Power: Europe Wire Rod Market Revenue and Forecast to 2028 (US$ Million)
Figure 18. Copper: Europe Wire Rod Market Revenue and Forecast to 2028 (US$ Million)
Figure 19. Aluminum: Europe Wire Rod Market Revenue and Forecast to 2028 (US$ Million)
Figure 20. Copper and Aluminum Aviation: Europe Wire Rod Market Revenue and Forecast to 2028 (US$ Million)
Figure 21. Copper: Europe Wire Rod Market Revenue and Forecast to 2028 (US$ Million)
Figure 22. Aluminum: Europe Wire Rod Market Revenue and Forecast to 2028 (US$ Million)
Figure 23. Copper and Automotive: Europe Wire Rod Market Revenue and Forecast to 2028 (US$ Million)
Figure 24. Copper: Europe Wire Rod Market Revenue and Forecast to 2028 (US$ Million)
Figure 25. Aluminum: Europe Wire Rod Market Revenue and Forecast to 2028 (US$ Million)
Figure 26. Copper and Aluminum Others: Europe Wire Rod Market Revenue and Forecast to 2028 (US$ Million)
Figure 27. Copper: Europe Wire Rod Market Revenue and Forecast to 2028 (US$ Million)
Figure 28. Aluminum: Europe Wire Rod Market Revenue and Forecast to 2028 (US$ Million)
Figure 29. Europe: Wire Rod Market, by Key Country – Revenue (2021) (US$ Million)
Figure 30. Europe: Wire Rod Market Revenue Share, by Key Country (2021 and 2028)
Figure 31. Germany: Wire Rod Market – Revenue and Forecast to 2028 (US$ Million)
Figure 32. France: Wire Rod Market – Revenue and Forecast to 2028 (US$ Million)
Figure 33. Italy: Wire Rod Market – Revenue and Forecast to 2028 (US$ Million)
Figure 34. UK: Wire Rod Market – Revenue and Forecast to 2028 (US$ Million)
Figure 35. Russia: Wire Rod Market – Revenue and Forecast to 2028 (US$ Million)
Figure 36. Rest of Europe: Wire Rod Market – Revenue and Forecast to 2028 (US$ Million)
Alcoa Corp

APAR Industries Ltd

Elcowire Group AB

Hindalco Industries Ltd

Mitsubishi Materials Trading Corp

Norsk Hydro ASA

Sumitomo Electric Industries Ltd

United Co RUSAL Plc

Vedanta Aluminium and Power Ltd

Vimetco NV
---