Asia Pacific Wire Rod Market Forecast to 2028 – COVID-19 Impact and Regional Analysis – by Material (Copper and Aluminium) and Industry (Telecommunication, Power, Aviation, Automotive, and Others) 
BMIRE00028409
|
Pages:
132
|
Manufacturing and Construction
|
Jan 2023
|
Type:
Regional
|
Status:
Published
The Asia Pacific wire rod market is expected to grow from US$ 652.65 million in 2022 to US$ 827.41 million by 2028. It is estimated to grow at a CAGR of 4.0% from 2022 to 2028.
Strong Inclination Toward Aluminum is Fuelling Asia Pacific Wire Rod Market
With constant developments, the automotive industry is witnessing an upward trend. The industry is getting inclined toward using aluminum because of its intrinsic properties. Both passenger and commercial vehicle manufacturers are utilizing aluminum. As aluminum is a lightweight material known for improving performance, the demand for the same is rising. Also, owing to its versatile, durable, and corrosion resistance characteristic, the demand for aluminum is expanding. At present, aluminum is a second used metal in vehicles and predicted to be the fastest growing. Growth in aluminum depicts metal prominence in the automobile manufacturing. Pertaining to changing consumer consciousness toward tightening of emission norms and sustainability, an upward trend is witnessed in aluminum usage among the vehicles including hybrids, internal combustion engine (ICE) vehicles, and battery electric vehicles (BEVs). As major proportion (more than 60%) of aluminum production is used for producing wire rods, the inclination toward manufacturing aluminum wire rods will rise. Also, coupled with rising demand for cars, aluminum wire rods are projected to grow at a faster CAGR during the forecast period. For applications such as electrical wiring, the demand for aluminum-based products (wires) is rising. Therefore, with growing demand of wires in automotive, production of aluminum wire rods will also penetrate.
Asia Pacific Wire Rod Market Overview
A wire rod is used as a communication cable in the telecommunication industry. The growing adoption of 5G communication in Asia Pacific is increasing the demand for wire rods. According to GSMA, mobile operators in Asia Pacific plan to invest US$ 227 billion in 5G deployments between 2022 and 2025. In addition, in April 2022, SoftBank, a Japanese operator, announced its plan to raise approximately US$ 283 million (JPY 35 billion) for the construction of 5G base stations. Through this investment, the company can provide ultra-high speeds, reliability, low latency, and massive device connectivity in the country. Similarly, according to the 2022 World 5G Convention, telecom operators in China have invested ~US$ 59.4 billion (401.6 billion yuan) in 5G. Thus, such investment in 5G technology is expected to boost the demand for wire rods, which is likely to fuel the market growth during the forecast period. Further, wire rods are used for high-voltage overhead transmission lines. They also help to connect power grids with various end users, including industrial, residential, and commercial buildings. In APAC, investment in the power & energy sector is increasing due to the rising demand for electricity. For instance, in February 2023, the Government of India approved the investment of US$ 3.9 billion (Rs. 319 billion) for the 2,880-megawatt Dibang project, a hydropower project in Arunachal Pradesh, India. Similarly, in September 2022, the New South Wales government approved EnergyConnect, the country's biggest transmission project. This project is expected to provide cheaper renewable energy to the power grid. Hence, the growing investment in the power sector is likely to boost the growth of the wire rod market in APAC during the forecast period.
Asia Pacific Wire Rod Market Revenue and Forecast to 2028 (US$ Million)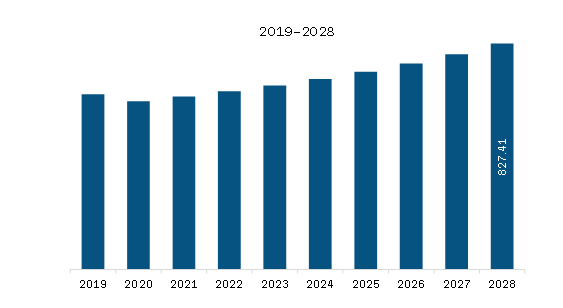 Asia Pacific Wire Rod Market Segmentation
The Asia Pacific wire rod market is segmented into material, industry, and country.
Based on material, the Asia Pacific wire rod market is bifurcated into copper and aluminium. The copper segment held a larger share of the Asia Pacific wire rod market in 2022.
Based on industry, the Asia Pacific wire rod market is segmented into telecommunication, power, aviation, automotive, and others. The telecommunication segment held the largest share of the Asia Pacific wire rod market in 2022.
Based on country, the Asia Pacific wire rod market has been categorized into China, India, Japan, South Korea, Australia, and the rest of Asia Pacific. Our regional analysis states that China dominated the Asia Pacific wire rod market in 2022.
Alcoa Corp, APAR Industries Ltd, Elcowire Group AB, Hindalco Industries Ltd, Mitsubishi Materials Trading Corp, Norsk Hydro ASA, Sumitomo Electric Industries Ltd, United Co RUSAL Plc, Vedanta Aluminium and Power Ltd, and Vimetco NV are the leading companies operating in the Asia Pacific wire rod market.
1.

Introduction
1.1 Study Scope
1.2 The Insight Partners Research Report Guidance
1.3 Market Segmentation
2.

Key Takeaways
3. Research Methodology
3.1 Coverage
3.2 Secondary Research
3.3 Primary Research
3.4 Sources and Parameters
4.

Asia Pacific Wire Rod Market Landscape
4.1 Market Overview
4.2 Asia Pacific PEST Analysis
4.3 Ecosystem Analysis
4.4 Experts' Opinions
5.

Asia Pacific Wire Rod Market – Key Market Dynamics
5.1 Market Drivers
5.1.1 Increasing Construction and Infrastructure Development Activities
5.1.2 Growing Investments in Electric Power Transmission and Distribution
5.2 Market Restraints
5.2.1 Rising Demand for Fiber Optic Cables
5.3 Market Opportunities
5.3.1 Evolving Telecommunication Industry
5.4 Future Trends
5.4.1 Strong Inclination Toward Aluminum
5.5 Impact Analysis of Drivers and Restraints
6.

Wire Rod Market – Asia Pacific Analysis
6.1 Asia Pacific Wire Rod Market Overview
6.2 Asia Pacific Wire Rod Market Revenue Forecast and Analysis
7.

Asia Pacific Wire Rod Market Analysis – By Material
7.1 Overview
7.2 Asia Pacific Wire Rod Market, By Material (2021 And 2028)
7.3 Copper
7.3.1 Overview
7.3.2 Copper: Wire Rod Market Revenue and Forecast to 2028 (US$ Million)
7.4 Aluminum
7.4.1 Overview
7.4.2 Aluminum: Wire Rod Market Revenue and Forecast To 2028 (US$ Million)
8.

Asia Pacific Wire Rod Market Analysis – By Industry
8.1 Overview
8.2 Asia Pacific Wire Rod Market, By Industry (2021 And 2028)
8.3 Telecommunication
8.3.1 Overview
8.3.2 Copper and Aluminum Telecommunication: Wire Rod Market Revenue and Forecast To 2028 (US$ Million)
8.3.2.1 Copper
8.3.2.1.1 Copper: Wire Rod Market Revenue and Forecast To 2028 (US$ Million)
8.3.2.2 Aluminum
8.3.2.2.1 Aluminum: Wire Rod Market Revenue and Forecast To 2028 (US$ Million)
8.4 Power
8.4.1 Overview
8.4.2 Copper and Aluminum Power: Wire Rod Market Revenue and Forecast To 2028 (US$ Million)
8.4.2.1 Copper
8.4.2.1.1 Copper: Wire Rod Market Revenue and Forecast To 2028 (US$ Million)
8.4.2.2 Aluminum
8.4.2.2.1 Aluminum: Wire Rod Market Revenue and Forecast To 2028 (US$ Million)
8.5 Aviation
8.5.1 Overview
8.5.2 Copper and Aluminum Aviation: Wire Rod Market Revenue and Forecast To 2028 (US$ Million)
8.5.2.1 Copper
8.5.2.1.1 Copper: Wire Rod Market Revenue and Forecast To 2028 (US$ Million)
8.5.2.2 Aluminum
8.5.2.2.1 Aluminum: Wire Rod Market Revenue and Forecast To 2028 (US$ Million)
8.6 Automotive
8.6.1 Overview
8.6.2 Copper and Automotive: Wire Rod Market Revenue and Forecast To 2028 (US$ Million)
8.6.2.1 Copper
8.6.2.1.1 Copper: Wire Rod Market Revenue and Forecast To 2028 (US$ Million)
8.6.2.2 Aluminum
8.6.2.2.1 Aluminum: Wire Rod Market Revenue and Forecast To 2028 (US$ Million)
8.7 Others
8.7.1 Overview
8.7.2 Copper and Aluminum Others: Wire Rod Market Revenue and Forecast To 2028 (US$ Million)
8.7.2.1 Copper
8.7.2.1.1 Copper: Wire Rod Market Revenue and Forecast To 2028 (US$ Million)
8.7.2.2 Aluminum
8.7.2.2.1 Aluminum: Wire Rod Market Revenue and Forecast To 2028 (US$ Million)
9.

Asia Pacific Wire Rod Market– Country Analysis
9.1 Overview
9.1.1 Asia Pacific: Wire Rod Market, by Key Country (Copper and Aluminum)
9.1.1.1 Australia: Wire Rod Market – Revenue and Forecast to 2028 (US$ Million) (Copper and Aluminum)
9.1.1.1.1 Australia: Wire Rod Market, By Material
9.1.1.1.2 Australia: Wire Rod Market, By Industry
9.1.1.2 China: Wire Rod Market – Revenue and Forecast to 2028 (US$ Million) (Copper and Aluminum)
9.1.1.2.1 China: Wire Rod Market, By Material
9.1.1.2.2 China: Wire Rod Market, By Industry
9.1.1.3 Japan: Wire Rod Market – Revenue and Forecast to 2028 (US$ Million) (Copper and Aluminum)
9.1.1.3.1 Japan: Wire Rod Market, By Material
9.1.1.3.2 Japan: Wire Rod Market, By Industry
9.1.1.4 India: Wire Rod Market – Revenue and Forecast to 2028 (US$ Million) (Copper and Aluminum)
9.1.1.4.1 India: Wire Rod Market, By Material
9.1.1.4.2 India: Wire Rod Market, By Industry
9.1.1.5 South Korea: Wire Rod Market – Revenue and Forecast to 2028 (US$ Million) (Copper and Aluminum)
9.1.1.5.1 South Korea: Wire Rod Market, By Material
9.1.1.5.2 South Korea: Wire Rod Market, By Industry
9.1.1.6 Rest of Asia Pacific: Wire Rod Market – Revenue and Forecast to 2028 (US$ Million) (Copper and Aluminum)
9.1.1.6.1 Rest of Asia Pacific: Wire Rod Market, By Material
9.1.1.6.2 Rest of Asia Pacific: Wire Rod Market, By Industry
10.

Industry Landscape
10.1 Overview
10.2 Product Development
10.3 Mergers & Acquisitions
11.

Company Profiles
11.1 Hindalco Industries Ltd
11.1.1 Key Facts
11.1.2 Business Description
11.1.3 Products and Services
11.1.4 Financial Overview
11.1.5 SWOT Analysis
11.1.6 Key Developments
11.2 Mitsubishi Materials Trading Corp
11.2.1 Key Facts
11.2.2 Business Description
11.2.3 Products and Services
11.2.4 Financial Overview
11.2.5 SWOT Analysis
11.2.6 Key Developments
11.3 APAR Industries Ltd
11.3.1 Key Facts
11.3.2 Business Description
11.3.3 Products and Services
11.3.4 Financial Overview
11.3.5 SWOT Analysis
11.3.6 Key Developments
11.4 Vedanta Aluminium and Power Ltd
11.4.1 Key Facts
11.4.2 Business Description
11.4.3 Products and Services
11.4.4 Financial Overview
11.4.5 SWOT Analysis
11.4.6 Key Developments
11.5 United Co RUSAL Plc
11.5.1 Key Facts
11.5.2 Business Description
11.5.3 Products and Services
11.5.4 Financial Overview
11.5.5 SWOT Analysis
11.5.6 Key Developments
11.6 Vimetco NV
11.6.1 Key Facts
11.6.2 Business Description
11.6.3 Products and Services
11.6.4 Financial Overview
11.6.5 SWOT Analysis
11.6.6 Key Developments
11.7 Sumitomo Electric Industries Ltd
11.7.1 Key Facts
11.7.2 Business Description
11.7.3 Products and Services
11.7.4 Financial Overview
11.7.5 SWOT Analysis
11.7.6 Key Developments
11.8 Norsk Hydro ASA
11.8.1 Key Facts
11.8.2 Business Description
11.8.3 Products and Services
11.8.4 Financial Overview
11.8.5 SWOT Analysis
11.8.6 Key Developments
11.9 Elcowire Group AB
11.9.1 Key Facts
11.9.2 Business Description
11.9.3 Products and Services
11.9.4 Financial Overview
11.9.5 SWOT Analysis
11.9.6 Key Developments
11.10 Alcoa Corp
11.10.1 Key Facts
11.10.2 Business Description
11.10.3 Products and Services
11.10.4 Financial Overview
11.10.5 SWOT Analysis
11.10.6 Key Developments
12.

Appendix
12.1 About The Insight Partners
12.2 Word Index
LIST OF TABLES
Table 1. Asia Pacific Wire Rod Market Revenue and Forecast to 2028 (US$ Million)
Table 2. Australia: Wire Rod Market, By Material – Revenue and Forecast to 2028 (US$ Million)
Table 3. Australia: Wire Rod Market, By Industry (Copper and Aluminum)– Revenue and Forecast to 2028 (US$ Million)
Table 4. China: Wire Rod Market, By Material – Revenue and Forecast to 2028 (US$ Million)
Table 5. China: Wire Rod Market, By Industry (Copper and Aluminum)– Revenue and Forecast to 2028 (US$ Million)
Table 6. Japan: Wire Rod Market, By Material – Revenue and Forecast to 2028 (US$ Million)
Table 7. Japan: Wire Rod Market, By Industry (Copper and Aluminum)– Revenue and Forecast to 2028 (US$ Million)
Table 8. India: Wire Rod Market, By Material – Revenue and Forecast to 2028 (US$ Million)
Table 9. India: Wire Rod Market, By Industry (Copper and Aluminum)– Revenue and Forecast to 2028 (US$ Million)
Table 10. South Korea: Wire Rod Market, By Material – Revenue and Forecast to 2028 (US$ Million)
Table 11. South Korea: Wire Rod Market, By Industry (Copper and Aluminum)– Revenue and Forecast to 2028 (US$ Million)
Table 12. Rest of Asia Pacific: Wire Rod Market, By Material – Revenue and Forecast to 2028 (US$ Million)
Table 13. Rest of Asia Pacific: Wire Rod Market, By Industry (Copper and Aluminum)– Revenue and Forecast to 2028 (US$ Million)
Table 14. List of Abbreviation
LIST OF FIGURES
Figure 1. Asia Pacific Wire Rod Market Segmentation
Figure 2. Asia Pacific Wire Rod Market Segmentation – By Country
Figure 3. Asia Pacific Wire Rod Market Overview
Figure 4. Asia Pacific Wire Rod Market, by Material
Figure 5. Asia Pacific Wire Rod Market, by Country
Figure 6. Asia Pacific – PEST Analysis
Figure 7. Asia Pacific Wire Rod Market- Ecosystem Analysis
Figure 8. Asia Pacific Wire Rod Market: Impact Analysis of Drivers and Restraints
Figure 9. Asia Pacific Wire Rod Market Revenue Forecast and Analysis (US$ Million)
Figure 10. Asia Pacific Wire Rod Market, By Material (2021 and 2028)
Figure 11. Copper: Asia Pacific Wire Rod Market Revenue and Forecast to 2028 (US$ Million)
Figure 12. Aluminum: Asia Pacific Wire Rod Market Revenue and Forecast to 2028 (US$ Million)
Figure 13. Asia Pacific Wire Rod Market, By Industry (2021 and 2028)
Figure 14. Copper and Aluminum Telecommunication: Asia Pacific Wire Rod Market Revenue and Forecast to 2028 (US$ Million)
Figure 15. Copper: Asia Pacific Wire Rod Market Revenue and Forecast to 2028 (US$ Million)
Figure 16. Aluminum: Asia Pacific Wire Rod Market Revenue and Forecast to 2028 (US$ Million)
Figure 17. Copper and Aluminum Power: Asia Pacific Wire Rod Market Revenue and Forecast to 2028 (US$ Million)
Figure 18. Copper: Asia Pacific Wire Rod Market Revenue and Forecast to 2028 (US$ Million)
Figure 19. Aluminum: Asia Pacific Wire Rod Market Revenue and Forecast to 2028 (US$ Million)
Figure 20. Copper and Aluminum Aviation: Asia Pacific Wire Rod Market Revenue and Forecast to 2028 (US$ Million)
Figure 21. Copper: Asia Pacific Wire Rod Market Revenue and Forecast to 2028 (US$ Million)
Figure 22. Aluminum: Asia Pacific Wire Rod Market Revenue and Forecast to 2028 (US$ Million)
Figure 23. Copper and Automotive: Asia Pacific Wire Rod Market Revenue and Forecast to 2028 (US$ Million)
Figure 24. Copper: Asia Pacific Wire Rod Market Revenue and Forecast to 2028 (US$ Million)
Figure 25. Aluminum: Asia Pacific Wire Rod Market Revenue and Forecast to 2028 (US$ Million)
Figure 26. Copper and Aluminum Others: Asia Pacific Wire Rod Market Revenue and Forecast to 2028 (US$ Million)
Figure 27. Copper: Asia Pacific Wire Rod Market Revenue and Forecast to 2028 (US$ Million)
Figure 28. Aluminum: Asia Pacific Wire Rod Market Revenue and Forecast to 2028 (US$ Million)
Figure 29. Asia Pacific: Wire Rod Market, by Key Country – Revenue (2021) (US$ Million)
Figure 30. Asia Pacific: Wire Rod Market Revenue Share, by Key Country (2021 and 2028)
Figure 31. Australia: Wire Rod Market – Revenue and Forecast to 2028 (US$ Million)
Figure 32. China: Wire Rod Market – Revenue and Forecast to 2028 (US$ Million)
Figure 33. Japan: Wire Rod Market – Revenue and Forecast to 2028 (US$ Million)
Figure 34. India: Wire Rod Market – Revenue and Forecast to 2028 (US$ Million)
Figure 35. South Korea: Wire Rod Market – Revenue and Forecast to 2028 (US$ Million)
Figure 36. Rest of Asia Pacific: Wire Rod Market – Revenue and Forecast to 2028 (US$ Million)
Alcoa Corp

APAR Industries Ltd

Elcowire Group AB

Hindalco Industries Ltd

Mitsubishi Materials Trading Corp

Norsk Hydro ASA

Sumitomo Electric Industries Ltd

United Co RUSAL Plc

Vedanta Aluminium and Power Ltd

Vimetco NV
---