Asia Pacific Green Tea Market to 2027 - Regional Analysis and Forecasts by Type (Green Tea Bags, Green Tea Instant Mixes, Iced Green Tea, Loose Leaf, Others); Flavour (Lemon, Aloe Vera, Cinnamon, Vanilla, Basil, Others); Distribution Channel (Supermarkets and Hypermarkets, Convenience Stores, Online, Others), and Geography
TIPRE00009984
|
Pages:
151
|
Food and Beverages
|
Mar 2020
|
Type:
Regional
|
Status:
Published
The Asia Pacific green tea market is accounted to US$ 8710.7 Mn in 2018 and is expected to grow at a CAGR of 5.9% during the forecast period 2019 – 2027, to account to US$ 14568.7 Mn by 2027.
Green tea is prepared from the Camellia sinens is plant. The leaf buds and dried leaves of the Camellia sinensis plant are used in the preparation of the green tea. It is prepared by pan-frying and steaming these leaves followed by drying them. Green tea is known to be beneficial against various health issues such as depression, various types of cancers such as lung cancer, liver cancer, colon cancer, gastric cancer, and many others. Some of the scientific studies have also proven that the consumption of green tea is beneficial in enhancing the thinking skills and also is helpful in lowering cholesterol and triglycerides in the body. Moreover, The green tea bags are mainly made of filter paper or food-grade plastic, or occasionally of silk cotton or silk. The green tea bags are available with many flavors like ginger, mint and lemon amongst others. Green tea has many health benefits which include better brain function, helps reducing fats, reducing risk of cancer and many other.
Asia Pacific Green Tea Market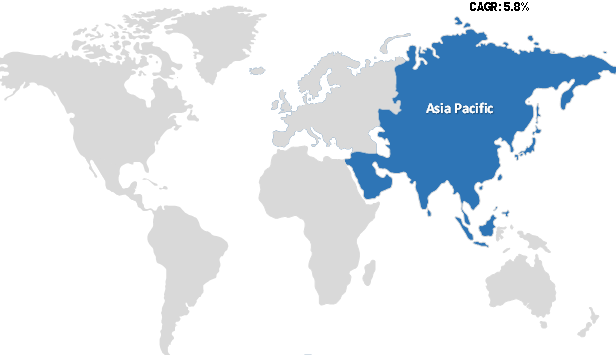 Get more information on this report :
Market Insights
Health benefits of flavoured green trea to favor the Asia Pacific green tea market
Consumers in developed and developing regions have become more aware of their health these days. Green tea is made from leaves and buds of Camellia sinensis, and it does not involve the process of withering and oxidation. The consumption of green tea is known to prevent cancer, liver cirrhosis, obesity, blood pressure, and many other chronic diseases. drink made combining green tea and lemon offers numerous health benefits as it has several anti-inflammatory and anti-microbial properties . The demand for unique flavored, rich aroma, and taste of green tea products is driving the growth of the green tea market. Tulsi green tea is rich in phytonutrients and antioxidants that help protect body against free radicals. Also, jasmine tea is typically made from green tea leaves, and it offers similar potent health benefits as that of green tea.

However, green tea is expensive as it is more selective about the part of the tea plant that is being used. It is made using only the tea plant's new buds/leaves. Green tea leaves are not fermented and therefore do not undergo the process of oxidation as in the case of black tea. These factors make green tea expensive than the regular tea. The key players in the green tea market are experimenting with new, unique flavors, and aromas. As flavor, aroma options increase, consumers may turn to green tea products as a convenient way to benefit their health. Various flavors such as basil, jasmine, lemon, and tulsi are used in the production of green tea. Currently, the RTD green tea beverage consumption is continuously growing with the rise in disposable income and increasing buying power of consumers. Millennials are looking forward to adopting high-end and super-premium products, which is helping in the growth of premium RTD green tea products.
Type Insights
The Asia Pacific green tea market is segmented on the basis of type is segmented into green tea bags, green tea instant mixes, iced green tea, and loose leaf and others. The green tea is in demand due to its multiple health benefits. The green tea bag segment dominated the Asia Pacific green tea market. Tea bags were discovered in 1904. A tea bag is a thin porous bag, filled with tea leaves. They can be opened and empty thus allowing the full-leaf tea to be filled by the tea brewer or the consumers. The green tea bags are generally made of filter paper, food-grade plastic, or silk cotton. The instant tea was invented in the 1930's but not sold until the late 1950's. The instant green tea became popular with the introduction of innovative products in the market. Once the tea is brewed and liquefied, it is then concentrated and dried into powder form. The amount of nutrients in the instant mix is said to be the same as the green tea brewed. An instant green tea mix dissolves quickly in the liquid medium and does not leave any residue. Iced green tea offers cool refreshment during hot days, along with certain health benefits. Unflavored iced green tea contains zero calories; however, sweetened version usually have less calories compared to soft drinks or juices. nce the loose leaf tea is soaked in liquid medium, the tea leaves have room to absorb ample water and expand as they infuse it. This allows the liquid to flow through the leaves and extract a wide range of vitamins, minerals, flavors, and aromas. Capsules or the dietary supplement are included in green tea. The power of green tea to enhance the overall health has been respected by Asian cultures since a very long time.
Flavours Insights
The Asia Pacific green tea market is segmented on the basis of flavour as lemon, aloe vera, cinnamon, vanilla, basil and others. The lemon segment led the Asia Pacific green tea flavoured market. The lemon green tea consists of antioxidants, flavonoids, and other phytonutrients which helps fighting many diseases including cancer. It is also available in the form of iced lemon green tea. Adding fresh lemon juice to the green tea, increases its medicinal properties along with enhanced taste. Aloe vera is a plant which is traditionally known for its medicinal properties, which helps in boosting immunity, enhancing skin elasticity by making it more flexible and smooth. Green tea and cinnamon are meant for their flavor value and health-promoting properties. The distinct sweet and warm aromas of cinnamon enhance the richness in the flavor of green tea. Vanilla, is a significantly used as flavoring agent in most of the desserts and beverages including vanilla ice creams, milk shakes, smoothies and more are always so popular among the consumers across the Asia Pacific region. Basil green tea is consumed by the consumer as the basil has the quality to sharpen the memory while they reduce anxiety. . Green tea farming has spread throughout Asia, creating various sorts and strains such asmint green tea, tulsi green tea, and jasmine green tea. The rich antioxidant concoction of green tea with natural flavors boosts the body energy level and improves digestion. The green tea flavored with jasmine flower essence offers same health benefits as that of normal green tea along with flavored taste.
Distribution Channel Insights
The Asia Pacific green tea market is segmented on the basis of distribution channel is segmented into supermarkets and hypermarkets, convenience stores,online and others. The supermarkets & hypermarkets segment in the Asia Pacific green tea market is estimated to hold a leading share in the market. Hypermarkets and supermarkets are self-help shops giving a wide variety of green tea products such as green tea mixes, iced green tea, different flavors of green tea including basil, tulsi, honey, lemon etc. These wide range of products are placed in a very organized way in different sections and shelves to attract customers. Convenience stores are the stores that are located in a limited area and are small in size as compared to hypermarkets & supermarkets. The online portals like Big Basket, Amazon, Natures Basket, etc. have been beneficial in the growth and expansion of the Asia Pacific green tea market. Increased use of mobile phones, computers, and laptops, has helped in the growth of digital channels, both in strength and volume. The other segment of green tea distribution channel includes grocery stores, retail stores, specialty stores, food services etc. These retailers sell multiple products from various national and local brands in different packaging formats, such as glass, premium plastics and others.
India Green Tea Market, by Type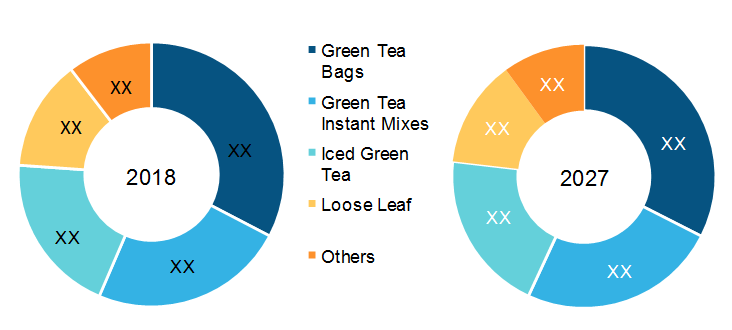 Get more information on this report :
ASIA PACIFIC GREEN TEA MARKET SEGMENTATION
Asia Pacific Green Tea Market, by Type
Green tea bags

Green Tea Instant Mixes

Iced Green Tea

Loose Leaf

Others
Asia Pacific Green Tea Market, by Flavour
Lemon

Aloe Vera

Cinnamon

Vanilla

Basil

Others
Asia Pacific Green Tea Market, by Distribution Channel
Supermarket and Hypermarkets

Convenience stores

Online

Others
Asia Pacific Green Tea Market, by Country
China

India

Japan

South Korea

Rest of APAC
Company Profiles
Finlays

Kirin Holdings Company

Associated British Foods plc.

Nestle, Hankook Tea

ITO EN

Tata Global Beverages

Unilever
1. Introduction
1.1 Scope of the Study
1.2 The Insight Partners Research Report Guidance
1.3 Market Segmentation
1.3.1 Asia Pacific Green Tea Market – By Type
1.3.2 Asia Pacific Green Tea Market – ByFlavour
1.3.3 Asia Pacific Green Tea Market – By Distribution Channel
1.3.4 Asia Pacific Green Tea Market – By Country
2. Key Takeaways
3. Research Methodology
3.1 Coverage
3.2 Secondary Research
3.3 Primary Research
4. Green tea Market Landscape
4.1 Market Overview
4.1.1 Asia Pacific PEST Analysis
5. Green tea Market – Key Industry Dynamics
5.1 Key Market Drivers
5.1.1 Health Benefits of Flavored Green Tea
5.1.2 Cumulative M&A Activities and Product Launches
5.2 Market Restraints
5.2.1 Higher Price of Green Tea as Compared to Other Tea
5.3 Market Opportunities
5.3.1 Introduction of New Flavours and Attractive Packaging
5.4 Future Trends
5.4.1 Surge in Consumption of Premium RTD Green Tea Flavored Beverages
5.5 Impact Analysis
6. Green tea– Asia Pacific Market Analysis
6.1 Asia Pacific Green Tea Market Overview
6.2 Asia Pacific Green Tea Market Forecast and Analysis
7. Asia Pacific Green Tea Market Analysis – By Type
7.1 Overview
7.2 Green Tea Bags
7.2.1 Overview
7.2.2 Asia Pacific Green Tea Bags in Green Tea Market, Revenue Forecast to 2027 (US$ Mn)
7.3 Green Tea Instant Mixes
7.3.1 Overview
7.3.2 Asia Pacific Green Tea Instant Mixes in Green Tea Market, Revenue and Forecast to 2027 (US$ Mn)
7.4 Iced Green Tea
7.4.1 Overview
7.4.2 Asia Pacific Iced Green Tea in Green Tea Market, Revenue and Forecast to 2027 (US$ Mn)
7.5 Loose Leaf
7.5.1 Overview
7.5.2 Asia Pacific Loose Leaf in Green Tea Market, Revenue and Forecast to 2027 (US$ Mn)
7.6 Others
7.6.1 Overview
7.6.2 Asia Pacific Others in Green Tea Market, Revenue and Forecast to 2027 (US$ Mn)
8. Asia Pacific Green Tea Market Analysis – By Flavours
8.1 Overview
8.2 Asia Pacific Green Tea Market Breakdown, by Flavours, 2018 & 2027
8.3 Lemon
8.3.1 Overview
8.3.2 Asia Pacific Lemon in Green Tea Market, Revenue Forecast to 2027 (US$ Mn)
8.4 Aloe Vera
8.4.1 Overview
8.4.2 Asia Pacific Aloe Vera in Green Tea Market, Revenue and Forecast to 2027 (US$ Mn)
8.5 Cinnamon
8.5.1 Overview
8.5.2 Asia Pacific Cinnamon in Green Tea Market, Revenue and Forecast to 2027 (US$ Mn)
8.6 Vanilla
8.6.1 Overview
8.6.2 Asia Pacific Vanilla in Green Tea Market, Revenue and Forecast to 2027 (US$ Mn)
8.7 Basil
8.7.1 Overview
8.7.2 Asia Pacific Basil in Green Tea Market, Revenue and Forecast to 2027 (US$ Mn)
8.8 Others
8.8.1 Overview
8.8.2 Asia Pacific Others in Green Tea Market, Revenue and Forecast to 2027 (US$ Mn)
9. Asia Pacific Green Tea Market Analysis – By Distribution Channel
9.1 Overview
9.2 Asia Pacific Green Tea Market Breakdown, By Distribution Channel, 2018 & 2027
9.3 Hypermarkets and Supermarkets
9.3.1 Asia Pacific Green Tea Market Revenue Via Hypermarkets and Supermarkets Revenue and Forecast, to 2027 (US$ Mn)
9.4 Convenience Store
9.4.1 Asia Pacific Green Tea Market Revenue Via Convenience Stores Revenue and Forecast, to 2027 (US$ Mn)
9.5 Online Stores
9.5.1 Asia Pacific Green Tea Market Revenue Via Online Stores Revenue and Forecast, to 2027 (US$ Mn)
9.6 Others
9.6.1 Asia Pacific Green Tea Market Via Others Forecasts to 2027 (US$ Mn)
10. Asia Pacific Green Tea Market – Country Analysis
10.1 Overview
10.1.1 Asia Pacific Green tea Market Revenue and Forecast to 2027 (US$ Mn)
10.1.2 Asia Pacific Green Tea Market Breakdown, by Key Countries
10.1.2.1 China :Green Tea Market–Revenue and Forecast to 2027(US$ Million)
10.1.2.1.1 China :Green Tea Market by Type
10.1.2.1.2 China :Green Tea Market by Flavour
10.1.2.1.3 China :Green Tea Market by Distribution Channel
10.1.2.2 India: Green Tea Market–Revenue and Forecast to 2027(US$ Million)
10.1.2.2.1 India: Green Tea Market by Type
10.1.2.2.2 India: Green Tea Market by Flavour
10.1.2.2.3 India :Green Tea Market by Distribution Channel
10.1.2.3 Japan: Green Tea Market–Revenue and Forecast to 2027(US$ Million)
10.1.2.3.1 Japan: Green Tea Market by Type
10.1.2.3.2 Japan: Green Tea Market by Flavour
10.1.2.3.3 Japan: Green Tea Market by Distribution Channel
10.1.2.4 South Korea :Green Tea Market–Revenue and Forecast to 2027(US$ Million)
10.1.2.4.1 South Korea :Green Tea Market by Type
10.1.2.4.2 South Korea :Green Tea Market by Flavour
10.1.2.4.3 South Korea: Green Tea Market by Distribution Channel
10.1.2.5 Rest of APAC: Green Tea Market–Revenue and Forecast to 2027(US$ Million)
10.1.2.5.1 Rest of APAC: Green Tea Market by Type
10.1.2.5.2 Rest of APAC :Green Tea Market by Flavour
10.1.2.5.3 Rest of APAC: Green Tea Market by Distribution Channel
11. Company Profiles
11.1 TATA Global Beverages
11.1.1 Key Facts
11.1.2 Business Description
11.1.3 Products and Services
11.1.4 Financial Overview
11.1.5 SWOT Analysis
11.1.6 Key Developments
11.2 Finlays
11.2.1 Key Facts
11.2.2 Business Description
11.2.3 Products and Services
11.2.4 Financial Overview
11.2.5 SWOT Analysis
11.2.6 Key Developments
11.3 Unilever
11.3.1 Key Facts
11.3.2 Business Description
11.3.3 Products and Services
11.3.4 Financial Overview
11.3.5 SWOT Analysis
11.3.6 Key Developments
11.4 Nestlé
11.4.1 Key Facts
11.4.2 Business Description
11.4.3 Products And Services
11.4.4 Financial Overview
11.4.5 SWOT Analysis
11.4.6 Key Developments
11.5 Associated British Foods plc
11.5.1 Key Facts
11.5.2 Business Description
11.5.3 Products and Services
11.5.4 Financial Overview
11.5.5 SWOT Analysis
11.5.6 Key Developments
11.6 Kirin Holdings Company Ltd
11.6.1 Key Facts
11.6.2 Business Description
11.6.3 Products and Services
11.6.4 Financial Overview
11.6.5 SWOT Analysis
11.6.6 Key Developments
11.7 ITO EN
11.7.1 Key Facts
11.7.2 Business Description
11.7.3 Products and Services
11.7.4 Financial Overview
11.7.5 SWOT Analysis
11.7.6 Key Developments
11.8 Hankook Tea
11.8.1 Key Facts
11.8.2 Business Description
11.8.3 Products and Services
11.8.4 Financial Overview
11.8.5 SWOT Analysis
11.8.6 Key Developments
12. Appendix
12.1 About the Insight Partners
12.2 Glossary
LIST OF TABLES
Table 1. Asia Pacific Green Tea Market Revenue and Forecasts to 2027 (US$ Mn)
Table 2. Asia Pacific Green Tea Market Revenue and Forecasts to 2027 – By Type (US$ Mn)
Table 3. China Green Tea Market, by Type – Revenue and Forecast to 2027 (USD Million)
Table 4. China Green Tea Market, by Flavour – Revenue and Forecast to 2027 (USD Million)
Table 5. China Green Tea Market, by Distribution Channel – Revenue and Forecast to 2027 (USD Million)
Table 6. India Green Tea Market, by Type – Revenue and Forecast to 2027 (USD Million)
Table 7. India Green Tea Market, by Flavour – Revenue and Forecast to 2027 (USD Million)
Table 8. India Green Tea Market, by Distribution Channel – Revenue and Forecast to 2027 (USD Million)
Table 9. Japan Green Tea Market, by Type – Revenue and Forecast to 2027 (USD Million)
Table 10. Japan Green Tea Market, by Flavour – Revenue and Forecast to 2027 (USD Million)
Table 11. Japan Green Tea Market, by Distribution Channel – Revenue and Forecast to 2027 (USD Million)
Table 12. South Korea Green Tea Market, by Type – Revenue and Forecast to 2027 (USD Million)
Table 13. South Korea Green Tea Market, by Flavour – Revenue and Forecast to 2027 (USD Million)
Table 14. South Korea Green Tea Market, by Distribution Channel – Revenue and Forecast to 2027 (USD Million)
Table 15. Rest of APAC Green Tea Market, by Type – Revenue and Forecast to 2027 (USD Million)
Table 16. Rest of APAC Green Tea Market, by Flavour – Revenue and Forecast to 2027 (USD Million)
Table 17. Rest of APAC Green Tea Market, by Distribution Channel – Revenue and Forecast to 2027 (USD Million)
Table 18. Glossary of Terms, Asia Pacific Green Tea Market
LIST OF FIGURES
Figure 1. Asia Pacific Green Tea Market Segmentations
Figure 2. Asia Pacific Green Tea Market Segmentation – By Country
Figure 3. Asia Pacific Green Tea Market Overview
Figure 4. Green Tea Bags Held Largest Share In The Asia Pacific Green Tea Market By Type
Figure 5. China Dominated The Asia Pacific Green Tea Market In 2018
Figure 6. Asia Pacific Green Tea Market, Industry Landscape
Figure 7. Asia Pacific – Pest Analysis
Figure 8. Green tea Market Impact Analysis of Driver and Restraints
Figure 9. Asia Pacific Green Tea Market Forecast and Analysis, (US$ Mn)
Figure 10. Asia Pacific Green Tea Market Breakdown by Type, 2018 & 2027 (%)
Figure 11. Asia Pacific Green Tea Bags in Green Tea Market, Revenue and Forecast, 2017–2027 (US$ Mn)
Figure 12. Asia Pacific Green Tea Instant Mixes in Green Tea Market, Revenue and Forecast, 2017–2027 (US$ Mn)
Figure 13. Asia Pacific Iced Green Tea in Green Tea Market, Revenue and Forecast, 2017–2027 (US$ Mn)
Figure 14. Asia Pacific Loose Leaf in Green Tea Market, Revenue and Forecast, 2017–2027 (US$ Mn)
Figure 15. Asia Pacific Others in Green Tea Market, Revenue and Forecast, 2017–2027 (US$ Mn)
Figure 16. Asia Pacific Green Tea Market Breakdown, by Flavours, 2018 & 2027 (%)
Figure 17. Asia Pacific Lemon in Green Tea Market, Revenue and Forecast, 2017–2027 (US$ Mn)
Figure 18. Asia Pacific Aloe Vera in Green Tea Market, Revenue and Forecast, 2017–2027 (US$ Mn)
Figure 19. Asia Pacific Cinnamon in Green Tea Market, Revenue and Forecast, 2017–2027 (US$ Mn)
Figure 20. Asia Pacific Vanilla in Green Tea Market, Revenue and Forecast, 2017–2027 (US$ Mn)
Figure 21. Asia Pacific Basil in Green Tea Market, Revenue and Forecast, 2017–2027 (US$ Mn)
Figure 22. Asia Pacific Others in Green Tea Market, Revenue and Forecast, 2017–2027 (US$ Mn)
Figure 23. Asia Pacific Green Tea Market Breakdown by Distribution Channel, 2018 & 2027 (%)
Figure 24. Asia Pacific Green Tea Market Revenue Via Hypermarkets and Supermarkets Forecast, to 2027 (US$ Mn)
Figure 25. Asia Pacific Green Tea Market Revenue Via Convenience Stores Revenue and Forecasts to 2027 (US$ Mn)
Figure 26. Asia Pacific Green Tea Market Revenue Via Online Revenue and Forecasts to 2027 (US$ Mn)
Figure 27. Asia Pacific Green Tea Market Revenue Via Others Forecasts to 2027 (US$ Mn)
Figure 28. Asia Pacific Green tea Market Revenue and Forecasts To 2027 (US$ Mn)
Figure 29. Asia Pacific Green Tea Market Breakdown by Key Countries, 2018 & 2027(%)
Figure 30. China: Green Tea Market–Revenue and Forecast to 2027 (US$ Million)
Figure 31. India: Green Tea Market–Revenue and Forecast to 2027 (US$ Million)
Figure 32. Japan :Green Tea Market–Revenue and Forecast to 2027 (US$ Million)
Figure 33. South Korea :Green Tea Market–Revenue and Forecast to 2027 (US$ Million)
Figure 34. Rest of APAC: Green Tea Market–Revenue and Forecast to 2027 (US$ Million)
The List of Companies - Asia Pacific Green Tea Market
Finlays

Kirin Holdings Company

Associated British Foods plc.

Nestle, Hankook Tea

ITO EN

Tata Global Beverages

Unilever
---