North America Mechanical Ventilation Systems Market Forecast to 2028 - COVID-19 Impact and Regional Analysis By Type (Exhaust Ventilation, Supply Ventilation, Balanced Ventilation, and Energy Recovery Ventilation) and Application (Industrial, Residential, and Commercial)
Code:
TIPRE00025847
|
Pages:
85
|
Industry:
Electronics and Semiconductor
|
Date:
Nov 2021

Market Introduction
With the rising investments, presence of key market players and emergence of small-scale enterprises in the North America mechanical ventilation systems market, thus it is expected to achieve a significant growth during the forecast period. The lack of proper ventilation often causes lower worker efficiency and decreased productivity. As a result, the demands for mechanical ventilation systems have significantly increased in the industries such as mining and manufacturing to provide airflow of sufficient volume, remove dust and noxious gases, and regulate temperature. There is rising demand for energy-efficient ventilation systems to reduce power consumption, and heating and cooling expenses in the residential sector. Whole-home ventilation systems remove pollutants from the air entering the building. A few systems can help keep heat and moisture during winter and expel more of it during summer.
The increasing number of infected individuals has led governments of North American countries to shut down nation's borders during Q2 of 2021. Manufacturing facilities are either temporarily shut or are operating with limited staff strength; moreover, the supply chains of components and parts are disrupted. The United States is the largest markets for mechanical ventilation system, especially due to its technologically advanced aerospace & defense and manufacturing sectors. However, the outbreak has severely affected the production and revenue generation due to lowered production volumes. Thus, the COVID-19 pandemic continues to have a negative impact on the growth of the mechanical ventilation system market in North America.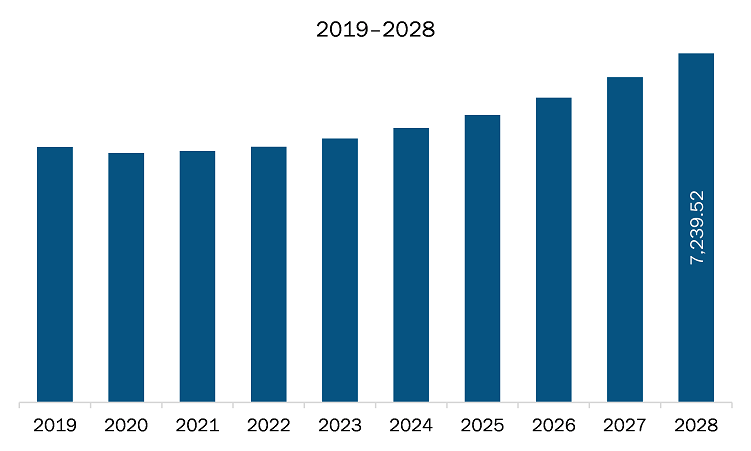 Get more information on this report :
Market Overview and Dynamics
The mechanical ventilation systems market in North America is expected to grow from US$ 5216.29 million in 2021 to US$ 7239.52 million by 2028; it is estimated to grow at a CAGR of 4.8% from 2021 to 2028. Growing innovations in energy recovery ventilation is anticipated to provide lucrative growth opportunities for the mechanical ventilation system market. Prominent players are increasingly investing in the design and development of controlled ventilation that transfers heat from the warm exhaust air to the cold supply air to minimize energy and cost of heating ventilated air. A few energy recovery systems also use existing ductwork to manage the expenses. Efficient ducts can effectively reduce pressure drops in the system and improve overall performance. The incorporation of embedded devices in energy recovery systems prevent it from freezing and reduce frost formation that can damage heat exchangers. This further decreases the maintenance costs. Increased focus on indoor climate have increased demand for turn-key heating, ventilation, and air conditioning (HVAC) solutions and integrated cooling methodologies. This is enabling the market vendors to invest in technologies that helps to obtain good thermal comfort and indoor air quality in warm summer seasons.
Key Market Segments
In terms of type, the exhaust ventilation segment accounted for the largest share of the North America mechanical ventilation systems market in 2020. In term of application, commercial segment held a larger market share of the mechanical ventilation systems market in 2020.
Major Sources and Companies Listed
A few major primary and secondary sources referred to for preparing this report on the mechanical ventilation systems market in North America are company websites, annual reports, financial reports, national government documents, and statistical database, among others. Major companies listed in the report are Vortice, BLAUBERG, Infineon Technologies AG, AERME, and Mitsubishi Electric Corporation among others.
Reasons to buy report
To understand the North America mechanical ventilation systems market landscape and identify market segments that are most likely to guarantee a strong return
Stay ahead of the race by comprehending the ever-changing competitive landscape for North America mechanical ventilation systems market
Efficiently plan M&A and partnership deals in North America mechanical ventilation systems market by identifying market segments with the most promising probable sales
Helps to take knowledgeable business decisions from perceptive and comprehensive analysis of market performance of various segment form North America mechanical ventilation systems market
Obtain market revenue forecast for market by various segments from 2021-2028 in North America region

.
North America Mechanical Ventilation Systems Market Segmentation
North America Mechanical Ventilation Systems Market – By Type
Exhaust Ventilation
Supply Ventilation
Balanced Ventilation
Energy Recovery Ventilation
North America Mechanical Ventilation Systems Market – By Application
Industrial
Residential
Commercial
North America Mechanical Ventilation Systems Market – By Country
North America Mechanical Ventilation Systems Market – Companies Mentioned
Vortice
BLAUBERG
Infineon Technologies AG
AERMEC
Mitsubishi Electric Corporation
1. Introduction
1.1 Study Scope
1.2 The Insight Partners Research Report Guidance
1.3 Market Segmentation
2. Key Takeaways
3. Research Methodology
3.1 Coverage
3.2 Secondary Research
3.3 Primary Research
4. North America Mechanical Ventilation Systems – Market Landscape
4.1 Market Overview
4.2 PEST Analysis
4.3 Ecosystem Analysis
4.4 Expert Opinions
5. North America Mechanical Ventilation Systems Market – Key Market Dynamics
5.1 Market Drivers
5.1.1 Rise in the Development of Smart Cities
5.1.2 Growing Need for Energy-Efficient Ventilation Systems in Residential and Commercial Sectors
5.2 Market Restraints
5.2.1 Heavy Initial Upfront Cost
5.3 Market Opportunities
5.3.1 Increased Innovations in Cost-Effective Energy Recovery Ventilators (ERV)
5.4 Future Trends
5.4.1 Scaling Inclination Towards Hybrid or Mixed Mode Ventilation
5.5 Impact Analysis of Drivers and Restraints
6. North America Mechanical Ventilation Systems – Market Analysis
6.1 North America Mechanical Ventilation Systems Market Overview
6.2 North America Mechanical Ventilation Systems Market – Revenue and Forecast to 2028 (US$ Million)
7. North America Mechanical Ventilation Systems Market Analysis – By Type
7.1 Overview
7.2 North America: Mechanical Ventilation Systems Market – by Type
7.3 Exhaust Ventilation
7.3.1 Overview
7.3.2 Exhaust Ventilation: Mechanical Ventilation Systems Market Revenue and Forecast to 2028 (US$ Million)
7.4 Supply Ventilation
7.4.1 Overview
7.4.2 Supply Ventilation: Mechanical Ventilation Systems Market Revenue and Forecast to 2028 (US$ Million)
7.5 Balanced Ventilation
7.5.1 Overview
7.5.2 Balanced Ventilation: Mechanical Ventilation Systems Market Revenue and Forecast to 2028 (US$ Million)
7.6 Energy Recovery Ventilation
7.6.1 Overview
7.6.2 Energy Recovery Ventilation: Mechanical Ventilation Systems Market Revenue and Forecast to 2028 (US$ Million)
8. North America Mechanical Ventilation Systems Market Analysis – By Application
8.1 Overview
8.2 North America: Mechanical Ventilation Systems Market – By Application
8.3 Industrial
8.3.1 Overview
8.3.2 Industrial: Mechanical Ventilation Systems Market Revenue and Forecast to 2028 (US$ Million)
8.4 Residential
8.4.1 Overview
8.4.2 Residential: Mechanical Ventilation Systems Market Revenue and Forecast to 2028 (US$ Million)
8.5 Commercial
8.5.1 Overview
8.5.2 Commercial: Mechanical Ventilation Systems Market Revenue and Forecast to 2028 (US$ Million)
9. North America Mechanical Ventilation Systems Market – Country Analysis
9.1 Overview
9.1.1 North America: Mechanical Ventilation Systems Market- by Key Country
9.1.1.1 US: Mechanical Ventilation Systems Market – Revenue and Forecast to 2028 (US$ Million)
9.1.1.1.1 US: Mechanical Ventilation Systems Market- by Type
9.1.1.1.2 US: Mechanical Ventilation Systems Market- By Application
9.1.1.2 Canada: Mechanical Ventilation Systems Market – Revenue and Forecast to 2028 (US$ Million)
9.1.1.2.1 Canada: Mechanical Ventilation Systems Market- by Type
9.1.1.2.2 Canada: Mechanical Ventilation Systems Market- By Application
9.1.1.3 Mexico: Mechanical Ventilation Systems Market – Revenue and Forecast to 2028 (US$ Million)
9.1.1.3.1 Mexico: Mechanical Ventilation Systems Market- by Type
9.1.1.3.2 Mexico: Mechanical Ventilation Systems Market- By Application
10. Impact of COVID-19 Pandemic on North America Mechanical Ventilation Systems Market
10.1 Overview
11. North America Mechanical Ventilation System Market – Industry Landscape
11.1 Overview
11.2 Market Initiative
11.3 New Product Development
12. Company Profiles
12.1 Mitsubishi Electric Corporation
12.1.1 Key Facts
12.1.2 Business Description
12.1.3 Products and Services
12.1.4 Financial Overview
12.1.5 SWOT Analysis
12.1.6 Key Developments
12.2 Vortice
12.2.1 Key Facts
12.2.2 Business Description
12.2.3 Products and Services
12.2.4 Financial Overview
12.2.5 SWOT Analysis
12.2.6 Key Developments
12.3 BLAUBERG
12.3.1 Key Facts
12.3.2 Business Description
12.3.3 Products and Services
12.3.4 Financial Overview
12.3.5 SWOT Analysis
12.3.6 Key Developments
12.4 Infineon Technologies AG (Ventilation System Technology Provider)
12.4.1 Key Facts
12.4.2 Business Description
12.4.3 Products and Services
12.4.4 Financial Overview
12.4.5 SWOT Analysis
12.4.6 Key Developments
12.5 AERMEC
12.5.1 Key Facts
12.5.2 Business Description
12.5.3 Products and Services
12.5.4 Financial Overview
12.5.5 SWOT Analysis
12.5.6 Key Developments
13. Appendix
13.1 About The Insight Partners
13.2 Word Index


Table 1. North America Mechanical Ventilation Systems Market – Revenue, and Forecast to 2028 (US$ Million)
Table 2. US: Mechanical Ventilation Systems Market- by Type –Revenue and Forecast to 2028 (US$ Million)
Table 3. US: Mechanical Ventilation Systems Market- By Application –Revenue and Forecast to 2028 (US$ Million)
Table 4. Canada: Mechanical Ventilation Systems Market- by Type –Revenue and Forecast to 2028 (US$ Million)
Table 5. Canada: Mechanical Ventilation Systems Market- By Application –Revenue and Forecast to 2028 (US$ Million)
Table 6. Mexico: Mechanical Ventilation Systems Market- by Type –Revenue and Forecast to 2028 (US$ Million)
Table 7. Mexico: Mechanical Ventilation Systems Market- By Application –Revenue and Forecast to 2028 (US$ Million)
Table 8. List of Abbreviation


Figure 1. Mechanical Ventilation Systems Market Segmentation
Figure 2. North America Mechanical Ventilation Systems Market Segmentation – By Country
Figure 3. North America Mechanical Ventilation Systems Market Overview
Figure 4. Exhaust Mechanical Ventilation Systems Segment Held the Largest Market Share in 2020
Figure 5. Commercial Segment Held the Largest Market Share in 2020
Figure 6. The US was the Largest Revenue Contributor in 2020
Figure 7. PEST Analysis – North America
Figure 8. Mechanical Ventilation Systems Market– Ecosystem Analysis
Figure 9. Expert Opinions
Figure 10. North America Mechanical Ventilation System Market: Impact Analysis of Drivers and Restraints
Figure 11. North America Mechanical Ventilation Systems Market – Revenue and Forecast to 2028 (US$ Million)
Figure 12. North America: Mechanical Ventilation Systems Market Revenue Share, by Type (2020 and 2028)
Figure 13. Exhaust Ventilation: Mechanical Ventilation Systems Market Revenue and Forecast to 2028 (US$ Million)
Figure 14. Supply Ventilation: Mechanical Ventilation Systems Market Revenue and Forecast to 2028 (US$ Million)
Figure 15. Balanced Ventilation: Mechanical Ventilation Systems Market Revenue and Forecast to 2028 (US$ Million)
Figure 16. Energy Recovery Ventilation: Mechanical Ventilation Systems Market Revenue and Forecast to 2028 (US$ Million)
Figure 17. North America: Mechanical Ventilation Systems Market Revenue Share, By Application (2020 and 2028)
Figure 18. Industrial: Mechanical Ventilation Systems Market Revenue and Forecast to 2028 (US$ Million)
Figure 19. Residential: Mechanical Ventilation Systems Market Revenue and Forecast to 2028 (US$ Million)
Figure 20. Commercial: Mechanical Ventilation Systems Market Revenue and Forecast to 2028 (US$ Million)
Figure 21. Geographic Overview: North America Mechanical Ventilation Systems Market
Figure 22. North America: Mechanical Ventilation Systems Market Revenue Share, by Key Country (2020 and 2028)
Figure 23. US: Mechanical Ventilation Systems Market – Revenue and Forecast to 2028 (US$ Million)
Figure 24. Canada: Mechanical Ventilation Systems Market – Revenue and Forecast to 2028 (US$ Million)
Figure 25. Mexico: Mechanical Ventilation Systems Market – Revenue and Forecast to 2028 (US$ Million)
Figure 26. Impact of COVID-19 Pandemic in North America Country Markets
Vortice

BLAUBERG

Infineon Technologies AG

AERMEC

Mitsubishi Electric Corporation
Save and reduce time carrying out entry-level research by identifying the growth, size, leading players and segments in the

North America mechanical ventilation systems market

.

Highlights key business priorities in order to assist companies to realign their business strategies

The key findings and recommendations highlight crucial progressive industry trends in the

North America mechanical ventilation systems market

, thereby allowing players across the value chain to develop effective long-term strategies

Develop/modify business expansion plans by using substantial growth offering developed and emerging markets

Scrutinize in-depth North America market trends and outlook coupled with the factors driving the mechanical ventilation systems market, as well as those hindering it

Enhance the decision-making process by understanding the strategies that underpin commercial interest with respect to client products, segmentation, pricing, and distribution
---
Related Tags
North America Mechanical Ventilation Systems Market
North America Mechanical Ventilation Systems Market Research
North America Mechanical Ventilation Systems Market Insight
North America Mechanical Ventilation Systems Market Trends
North America Mechanical Ventilation Systems Market Forecast
North America Mechanical Ventilation Systems Market Share
North America Mechanical Ventilation Systems Market 2028
North America Mechanical Ventilation Systems Market Growth
North America Mechanical Ventilation Systems Industry
Sector
North America Mechanical Ventilation Systems PDF Report
North America Mechanical Ventilation Systems Analysis
North America Mechanical Ventilation Systems Research
Competitive Analysis
---