Europe Mechanical Ventilation Systems Market Forecast to 2028 - COVID-19 Impact and Regional Analysis By Type (Exhaust Ventilation, Supply Ventilation, Balanced Ventilation, and Energy Recovery Ventilation) and Application (Industrial, Residential, and Commercial)
Code:
TIPRE00025848
|
Pages:
109
|
Industry:
Electronics and Semiconductor
|
Date:
Nov 2021

Market Introduction
Mechanical ventilation systems across the European countries differ on the basis of climate conditions, and building tradition. Mechanical ventilation systems in Europe are witnessing an increased adoption in schools and office buildings. In the industrial sector, the mining industry is increasingly demanding ventilations systems. The mining sector in the region is mature with the presence of large mineral reserves in a few countries. The European Commission Regulation (EU) 2016/2281, published in 2016, established minimum eco-design requirements for air heating and cooling products, high-temperature process chillers, and fan coil units which is providing significant growth opportunities for further innovation in the HVAC industry. The regulation also updates minimum standards in the seasonal space cooling energy efficiency of cooling products. The "Right to Repair" legislation passed by the European Parliament in November 2020 will impact the regional HVAC manufacturers, installers, and suppliers to varying degrees. It was introduced with an aim to increase the ease, attractiveness, and efficiency of repairing equipment rather than replacing them. The "Right to Repair" will promote replacement part guarantees, extended guarantees, and easier access to repair information. These measures are anticipated to prompt a change in consumer behavior and boost Europe's mechanical ventilation system market.
Currently, the UK is the most impacted country by the COVID-19, followed by Russia, France, and Italy. Owing to implementation of containment measures such as travel restriction, shutdown of manufacturing facilities and businesses in the region the slewing bearing market witness a crunch from supply side. Moreover, as containment measures also affected the operation of end user of mechanical ventilation system which subsequently impacted the market from demand side. However, as containment measures were relaxed the mechanical ventilation system market started witnessing positive growth from the Q1 of 2021.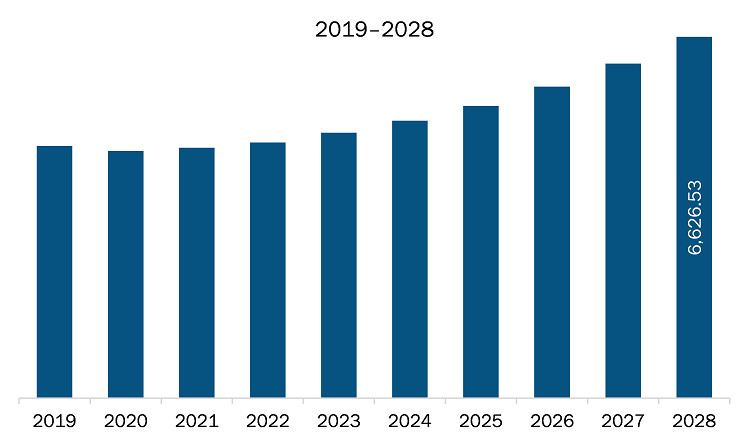 Get more information on this report :
Market Overview and Dynamics
The mechanical ventilation systems market in Europe is expected to grow from US$ 4591.47 million in 2021 to US$ 6626.53 million by 2028; it is estimated to grow at a CAGR of 5.4% from 2021 to 2028. Hybrid or mixed-mode ventilation is a combination of natural ventilation from operable windows and mechanical systems, including air distribution equipment and refrigeration equipment, for cooling. Hybrid ventilation describes schemes where the ventilation is neither entirely natural nor entirely mechanical. Buildings with natural ventilation with heat recycling (NVHR) systems incorporate efficient centrifugal fans to achieve hybrid-mixing ventilation. Modern well-designed buildings have some form of natural ventilation, mechanical ventilation with open-able windows, or separate zones with natural and mechanical ventilation working independently. The hybrid ventilation strategy is emerging as an attractive concept in terms of occupant comfort wherein natural ventilation is assisted by mechanical systems under peak heating or cooling conditions. The hybrid solution accommodates greater extremes of internal heat gains and external temperature fluctuations in comparison to a natural ventilation system. This also results in minimized energy consumption, ensuring sufficient ventilation capacity under a wide range of internal and external scenarios. Therefore, the growing demands for hybrid ventilation systems to meet the needs of the space while minimizing the cost, maintenance, and energy consumption is anticipated to boost the market growth.
Key Market Segments
In terms of type, the exhaust ventilation segment accounted for the largest share of the Europe mechanical ventilation systems market in 2020. In term of application, commercial segment held a larger market share of the mechanical ventilation systems market in 2020.
Major Sources and Companies Listed
A few major primary and secondary sources referred to for preparing this report on the mechanical ventilation systems market in Europe are company websites, annual reports, financial reports, national government documents, and statistical database, among others. Major companies listed in the report are Vortice; BLAUBERG; Infineon Technologies AG; AERMEC; Mitsubishi Electric Corporation; Volution Group plc.; DUCO Ventilation & Sun Control; Caladair International; Airflow Developments Limited; and Mechanical Air Supplies Ltd. among others.
Reasons to buy report
To understand the Europe mechanical ventilation systems market landscape and identify market segments that are most likely to guarantee a strong return
Stay ahead of the race by comprehending the ever-changing competitive landscape for Europe mechanical ventilation systems market
Efficiently plan M&A and partnership deals in Europe mechanical ventilation systems market by identifying market segments with the most promising probable sales
Helps to take knowledgeable business decisions from perceptive and comprehensive analysis of market performance of various segment form Europe mechanical ventilation systems market
Obtain market revenue forecast for market by various segments from 2021-2028 in Europe region

.
Europe Mechanical Ventilation Systems Market Segmentation
Europe Mechanical Ventilation Systems Market – By Type
Exhaust Ventilation
Supply Ventilation
Balanced Ventilation
Energy Recovery Ventilation
Europe Mechanical Ventilation Systems Market – By Application
Industrial
Residential
Commercial
Europe Mechanical Ventilation Systems Market – By Country
France
Germany
Italy
UK
Russia
Rest of Europe
Europe Mechanical Ventilation Systems Market – Companies Mentioned
Vortice
BLAUBERG
Infineon Technologies AG
AERMEC
Mitsubishi Electric Corporation
Volution Group plc.
DUCO Ventilation & Sun Control
Caladair International
Airflow Developments Limited
Mechanical Air Supplies Ltd.
1. Introduction
1.1 Study Scope
1.2 The Insight Partners Research Report Guidance
1.3 Market Segmentation
2. Key Takeaways
3. Research Methodology
3.1 Coverage
3.2 Secondary Research
3.3 Primary Research
4. Europe Mechanical Ventilation Systems – Market Landscape
4.1 Market Overview
4.2 PEST Analysis
4.3 Ecosystem Analysis
4.4 Expert Opinions
5. Europe Mechanical Ventilation Systems Market – Key Market Dynamics
5.1 Market Drivers
5.1.1 Growth in the Development of Smart Cities
5.1.2 Burgeoning Need for Energy-Efficient Ventilation Systems in Residential and Commercial Sectors
5.2 Market Restraints
5.2.1 Expensive Initial Upfront Cost
5.3 Market Opportunities
5.3.1 Raising Innovations in Cost-Effective Energy Recovery Ventilators (ERV)
5.4 Future Trends
5.4.1 Expanding Inclination Towards Hybrid or Mixed Mode Ventilation
5.5 Impact Analysis of Drivers and Restraints
6. Europe Mechanical Ventilation Systems – Market Analysis
6.1 Europe Mechanical Ventilation Systems Market Overview
6.2 Europe Mechanical Ventilation Systems Market – Revenue and Forecast to 2028 (US$ Million)
7. Europe Mechanical Ventilation Systems Market Analysis – By Type
7.1 Overview
7.2 Europe: Mechanical Ventilation Systems Market – by Type
7.3 Exhaust Ventilation
7.3.1 Overview
7.3.2 Exhaust Ventilation: Mechanical Ventilation Systems Market Revenue and Forecast to 2028 (US$ Million)
7.4 Supply Ventilation
7.4.1 Overview
7.4.2 Supply Ventilation: Mechanical Ventilation Systems Market Revenue and Forecast to 2028 (US$ Million)
7.5 Balanced Ventilation
7.5.1 Overview
7.5.2 Balanced Ventilation: Mechanical Ventilation Systems Market Revenue and Forecast to 2028 (US$ Million)
7.6 Energy Recovery Ventilation
7.6.1 Overview
7.6.2 Energy Recovery Ventilation: Mechanical Ventilation Systems Market Revenue and Forecast to 2028 (US$ Million)
8. Europe Mechanical Ventilation Systems Market Analysis – By Application
8.1 Overview
8.2 Europe: Mechanical Ventilation Systems Market- By Application
8.3 Industrial
8.3.1 Overview
8.3.2 Industrial: Mechanical Ventilation Systems Market Revenue and Forecast to 2028 (US$ Million)
8.4 Residential
8.4.1 Overview
8.4.2 Residential: Mechanical Ventilation Systems Market Revenue and Forecast to 2028 (US$ Million)
8.5 Commercial
8.5.1 Overview
8.5.2 Commercial: Mechanical Ventilation Systems Market Revenue and Forecast to 2028 (US$ Million)
9. Europe Mechanical Ventilation Systems Market – Country Analysis
9.1 Overview
9.1.1 Europe: Mechanical Ventilation Systems Market- by Key Country
9.1.1.1 France: Mechanical Ventilation Systems Market – Revenue and Forecast to 2028 (US$ Million)
9.1.1.1.1 France: Mechanical Ventilation Systems Market- by Type
9.1.1.1.2 France: Mechanical Ventilation Systems Market- By Application
9.1.1.2 Germany: Mechanical Ventilation Systems Market – Revenue and Forecast to 2028 (US$ Million)
9.1.1.2.1 Germany: Mechanical Ventilation Systems Market- by Type
9.1.1.2.2 Germany: Mechanical Ventilation Systems Market- By Application
9.1.1.3 Italy: Mechanical Ventilation Systems Market – Revenue and Forecast to 2028 (US$ Million)
9.1.1.3.1 Italy: Mechanical Ventilation Systems Market- by Type
9.1.1.3.2 Italy: Mechanical Ventilation Systems Market- By Application
9.1.1.4 UK: Mechanical Ventilation Systems Market – Revenue and Forecast to 2028 (US$ Million)
9.1.1.4.1 UK: Mechanical Ventilation Systems Market- by Type
9.1.1.4.2 UK: Mechanical Ventilation Systems Market- By Application
9.1.1.5 Russia: Mechanical Ventilation Systems Market – Revenue and Forecast to 2028 (US$ Million)
9.1.1.5.1 Russia: Mechanical Ventilation Systems Market- by Type
9.1.1.5.2 Russia: Mechanical Ventilation Systems Market- By Application
9.1.1.6 Rest of Europe: Mechanical Ventilation Systems Market – Revenue and Forecast to 2028 (US$ Million)
9.1.1.6.1 Rest of Europe: Mechanical Ventilation Systems Market- by Type
9.1.1.6.2 Rest of Europe: Mechanical Ventilation Systems Market- By Application
10. Impact of COVID-19 Pandemic on Europe Mechanical Ventilation Systems Market
10.1 Overview
11. Europe Mechanical Ventilation System Market-Industry Landscape
11.1 Overview
11.1 Market Initiative
11.2 New Product Development
12. Company Profiles
12.1 Volution Group plc
12.1.1 Key Facts
12.1.2 Business Description
12.1.3 Products and Services
12.1.4 Financial Overview
12.1.5 SWOT Analysis
12.1.6 Key Developments
12.2 DUCO Ventilation & Sun Control
12.2.1 Key Facts
12.2.2 Business Description
12.2.3 Products and Services
12.2.4 Financial Overview
12.2.5 SWOT Analysis
12.2.6 Key Developments
12.3 Caladair International
12.3.1 Key Facts
12.3.2 Business Description
12.3.3 Products and Services
12.3.4 Financial Overview
12.3.5 SWOT Analysis
12.3.6 Key Developments
12.4 Mitsubishi Electric Corporation
12.4.1 Key Facts
12.4.2 Business Description
12.4.3 Products and Services
12.4.4 Financial Overview
12.4.5 SWOT Analysis
12.4.6 Key Developments
12.5 Airflow Developments Limited
12.5.1 Key Facts
12.5.2 Business Description
12.5.3 Products and Services
12.5.4 Financial Overview
12.5.5 SWOT Analysis
12.5.6 Key Developments
12.6 Vortice
12.6.1 Key Facts
12.6.2 Business Description
12.6.3 Products and Services
12.6.4 Financial Overview
12.6.5 SWOT Analysis
12.6.6 Key Developments
12.7 BLAUBERG
12.7.1 Key Facts
12.7.2 Business Description
12.7.3 Products and Services
12.7.4 Financial Overview
12.7.5 SWOT Analysis
12.7.6 Key Developments
12.8 Infineon Technologies AG (Ventilation System Technology Provider)
12.8.1 Key Facts
12.8.2 Business Description
12.8.3 Products and Services
12.8.4 Financial Overview
12.8.5 SWOT Analysis
12.8.6 Key Developments
12.9 AERMEC
12.9.1 Key Facts
12.9.2 Business Description
12.9.3 Products and Services
12.9.4 Financial Overview
12.9.5 SWOT Analysis
12.9.6 Key Developments
12.10 MECHANICAL AIR SUPPLIES LTD
12.10.1 Key Facts
12.10.2 Business Description
12.10.3 Products and Services
12.10.4 Financial Overview
12.10.5 SWOT Analysis
12.10.6 Key Developments
13. Appendix
13.1 About The Insight Partners
13.2 Word Index


Table 1. Europe Mechanical Ventilation Systems Market – Revenue, and Forecast to 2028 (US$ Million)
Table 2. France: Mechanical Ventilation Systems Market- by Type –Revenue and Forecast to 2028 (US$ Million)
Table 3. France: Mechanical Ventilation Systems Market- By Application –Revenue and Forecast to 2028 (US$ Million)
Table 4. Germany: Mechanical Ventilation Systems Market- by Type –Revenue and Forecast to 2028 (US$ Million)
Table 5. Germany: Mechanical Ventilation Systems Market- By Application –Revenue and Forecast to 2028 (US$ Million)
Table 6. Italy: Mechanical Ventilation Systems Market- by Type –Revenue and Forecast to 2028 (US$ Million)
Table 7. Italy: Mechanical Ventilation Systems Market- By Application –Revenue and Forecast to 2028 (US$ Million)
Table 8. UK: Mechanical Ventilation Systems Market- by Type –Revenue and Forecast to 2028 (US$ Million)
Table 9. UK: Mechanical Ventilation Systems Market- By Application –Revenue and Forecast to 2028 (US$ Million)
Table 10. Russia: Mechanical Ventilation Systems Market- by Type –Revenue and Forecast to 2028 (US$ Million)
Table 11. Russia: Mechanical Ventilation Systems Market- By Application –Revenue and Forecast to 2028 (US$ Million)
Table 12. Rest of Europe: Mechanical Ventilation Systems Market- by Type –Revenue and Forecast to 2028 (US$ Million)
Table 13. Rest of Europe: Mechanical Ventilation Systems Market- By Application –Revenue and Forecast to 2028 (US$ Million)
Table 14. List of Abbreviation


Figure 1. Europe Mechanical Ventilation Systems Market Segmentation
Figure 2. Europe Mechanical Ventilation Systems Market Segmentation – By Country
Figure 3. Europe Mechanical Ventilation Systems Market Overview
Figure 4. Exhaust Mechanical Ventilation Systems Segment Held the Largest Market Share in 2020
Figure 5. Commercial Segment Held the Largest Market Share in 2020
Figure 6. The UK was the Largest Revenue Contributor in 2020
Figure 7. PEST Analysis – Europe
Figure 8. Mechanical Ventilation Systems Market– Ecosystem Analysis
Figure 9. Expert Opinions
Figure 10. Europe Mechanical Ventilation System Market: Impact Analysis of Drivers and Restraints
Figure 11. Europe Mechanical Ventilation Systems Market – Revenue and Forecast to 2028 (US$ Million)
Figure 12. Europe: Mechanical Ventilation Systems Market Revenue Share, By Type (2020 and 2028)
Figure 13. Exhaust Ventilation: Mechanical Ventilation Systems Market Revenue and Forecast to 2028 (US$ Million)
Figure 14. Supply Ventilation: Mechanical Ventilation Systems Market Revenue and Forecast to 2028 (US$ Million)
Figure 15. Balanced Ventilation: Mechanical Ventilation Systems Market Revenue and Forecast to 2028 (US$ Million)
Figure 16. Energy Recovery Ventilation: Mechanical Ventilation Systems Market Revenue and Forecast to 2028 (US$ Million)
Figure 17. Europe: Mechanical Ventilation Systems Market Revenue Share, By Application (2020 and 2028)
Figure 18. Industrial: Mechanical Ventilation Systems Market Revenue and Forecast to 2028 (US$ Million)
Figure 19. Residential: Mechanical Ventilation Systems Market Revenue and Forecast to 2028 (US$ Million)
Figure 20. Commercial: Mechanical Ventilation Systems Market Revenue and Forecast to 2028 (US$ Million)
Figure 21. Geographic Overview: Europe Mechanical Ventilation Systems Market
Figure 22. Europe: Mechanical Ventilation Systems Market Revenue Share, By Key Country (2020 and 2028)
Figure 23. France: Mechanical Ventilation Systems Market – Revenue and Forecast to 2028 (US$ Million)
Figure 24. Germany: Mechanical Ventilation Systems Market – Revenue and Forecast to 2028 (US$ Million)
Figure 25. Italy: Mechanical Ventilation Systems Market – Revenue and Forecast to 2028 (US$ Million)
Figure 26. UK: Mechanical Ventilation Systems Market – Revenue and Forecast to 2028 (US$ Million)
Figure 27. Russia: Mechanical Ventilation Systems Market – Revenue and Forecast to 2028 (US$ Million)
Figure 28. Rest of Europe: Mechanical Ventilation Systems Market – Revenue and Forecast to 2028 (US$ Million)
Figure 29. Impact of COVID-19 Pandemic in Europe Country Markets
Vortice

BLAUBERG

Infineon Technologies AG

AERMEC

Mitsubishi Electric Corporation

Volution Group plc.

DUCO Ventilation & Sun Control

Caladair International

Airflow Developments Limited

MECHANICAL AIR SUPPLIES LTD
Save and reduce time carrying out entry-level research by identifying the growth, size, leading players and segments in the

Europe mechanical ventilation systems market

.

Highlights key business priorities in order to assist companies to realign their business strategies

The key findings and recommendations highlight crucial progressive industry trends in the

Europe mechanical ventilation systems market

, thereby allowing players across the value chain to develop effective long-term strategies

Develop/modify business expansion plans by using substantial growth offering developed and emerging markets

Scrutinize in-depth Europe market trends and outlook coupled with the factors driving the mechanical ventilation systems market, as well as those hindering it

Enhance the decision-making process by understanding the strategies that underpin commercial interest with respect to client products, segmentation, pricing, and distribution
---
Related Tags
Europe Mechanical Ventilation Systems Market
Europe Mechanical Ventilation Systems Market Research
Europe Mechanical Ventilation Systems Market Insight
Europe Mechanical Ventilation Systems Market Trends
Europe Mechanical Ventilation Systems Market Forecast
Europe Mechanical Ventilation Systems Market Share
Europe Mechanical Ventilation Systems Market 2028
Europe Mechanical Ventilation Systems Market Growth
Europe Mechanical Ventilation Systems Industry
Sector
Europe Mechanical Ventilation Systems PDF Report
Europe Mechanical Ventilation Systems Analysis
Europe Mechanical Ventilation Systems Research
Competitive Analysis
---