Middle East & Africa Smart Retail Devices Market Forecast to 2027 - COVID-19 Impact and Regional Analysis By Technology (Digital Signage, Smart Labels, Smart Payments, Smart Carts, and Others), and Application (Predictive Equipment Maintenance, Inventory Management, Smart Fitting Room, Foot Traffic Monitoring, and Others)
Code:
TIPRE00020991
|
Pages:
103
|
Industry:
Electronics and Semiconductor
|
Date:
Apr 2021

Market Introduction
The smart retail devices market in the MEA is categorized into South Africa, Saudi Arabia, UAE, and the Rest of the MEA. The region is expected to witness a rapid increase in the commercialization and industrialization sectors, which would further boost various industries. The Gulf countries are economically developed, while the African countries are yet to match up to the economic conditions of the Gulf countries. However, certain developing economies of Africa, such as Kenya, Nigeria, Ethiopia, and Tanzania, are witnessing rapid urbanization. Countries in GCC are also investing in developing smart cities. The increasing smart city projects are creating ample opportunities for the smart retail device players in the MEA region. The governments of GCC are taking several initiatives to diversify their economy with an intention to reduce their dependency on the oil & gas sector. Attributed to this, these governments are taking measures to develop other industries such as hospitality and tourism, manufacturing, and retail. Increasing focus to the retail industry offers enhanced service experience for customers is supporting the market growth. For instance, in July 2020, Dubai's Department of Economic Development and other semi-government and private entities partnered with Network International for the Smart Dubai project. The Smart Dubai project was launched in Dubai in 2019, under which Network International is now offering advanced solutions for the retail sector to enhance experiences and services for customers.
Among the MEA countries, Iran has recorded the highest number of COVID-19 confirmed cases. Other major countries facing the economic impact of COVID-19 include Turkey, Saudi Arabia, the UAE, Egypt, Morocco, and Kuwait. The region comprises many growing economies such as which are prospective markets for smart retail devices providers, owing to the huge presence of diverse customer base for the retail and transportation & logistics industry. The COVID-19 pandemic has significantly affected the global economies. Still, the impact on the Middle East region is somewhat more, as there was already a pressure on the economy of various oil-based countries due to falling oil prices. In addition to this, factory and business shutdowns and travel bans further aggravated the economic problems of the countries in the MEA region. Hence, the estimated decline in the MEA's economic condition and the impact of COVID-19 on the growth of various industries in the region is expected to negatively impact the growth of the smart retail devices market in 2020 and 2021.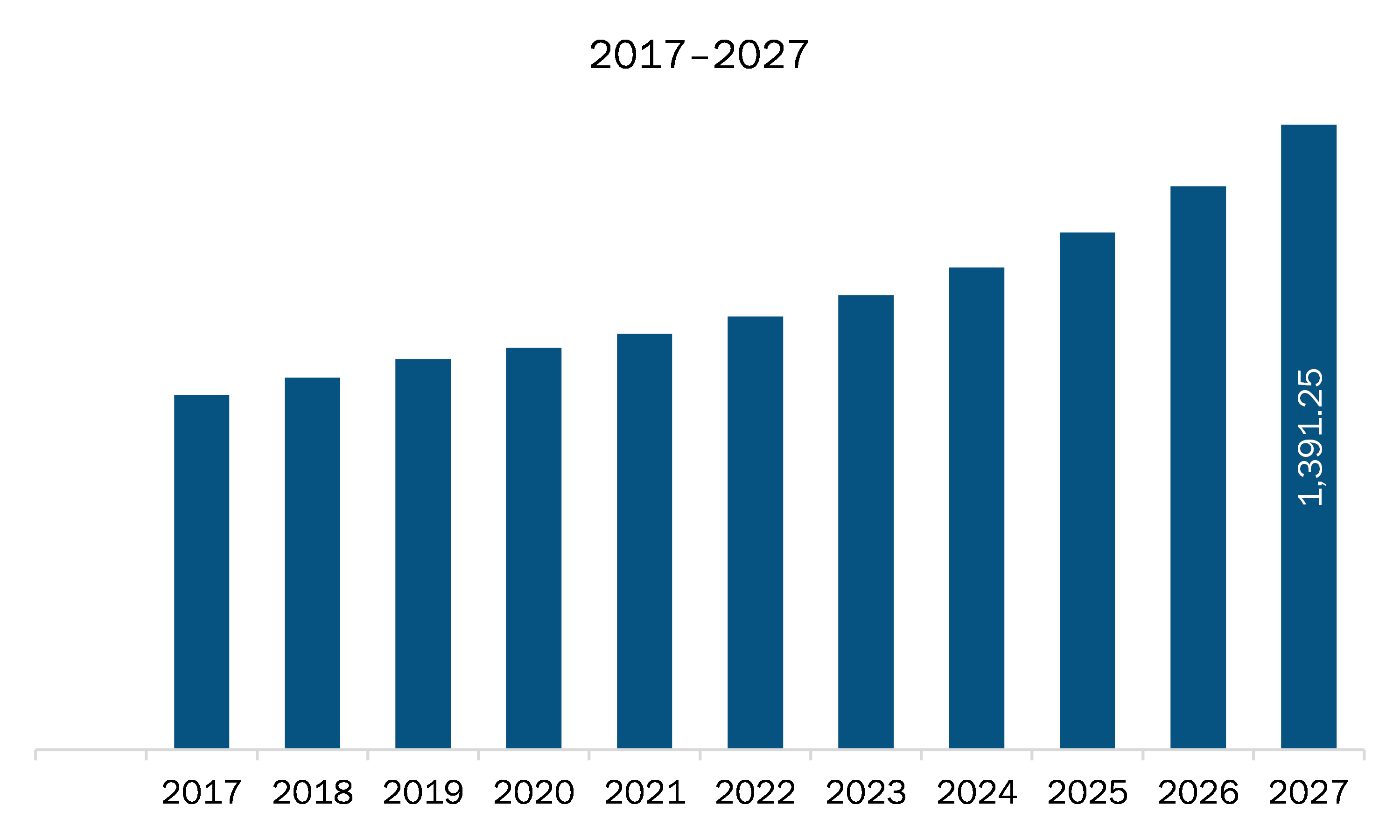 Get more information on this report :
Market Overview and Dynamics
The smart retail devices market in MEA is expected to grow from US$ 869.65 million in 2019 to US$ 1,391.25 million by 2027; it is estimated to grow at a CAGR of 6.5% from 2020 to 2027. Animatronics is the process of manufacturing and operating lifelike robots that are used for entertainment or films, whereas robotics is the process of designing, constructing, and operating robots. Robots offer enhanced services such as data collection for understanding customer behavior, personalized services, and improved in-store services, and enhanced logistics and delivery of goods. Furthermore, the growing adoption of robots by prominent retail chains such as Walmart is expected to drive the growth of the market. For example, in January 2020, Walmart introduced its robot named Alphabot. The system can pick and pack orders 10 times faster than human packs. The increasing competition in the retail industry is encouraging large enterprises such as Amazon, Walmart, and Kroger to invest in smart technologies such as robots to understand customer behavior, offer enhanced shopping experience, ensure better inventory management, and reduce logistics and delivery time. Therefore, the growing adoption of robots and animatronics to provide enhanced shopping experience to customers is driving the growth of the MEA smart retail devices market.
Key Market Segments
The MEA market for smart retail devices is segmented into technology, application, and country. Based on technology, the MEA smart retail devices market is divided into digital signage, smart labels, smart payments, smart carts, and others. Smart payments segment is projected to be the fastest growing segment over the forecast period. On basis of application, the market is segmented into predictive equipment maintenance, inventory management, smart fitting room, foot traffic monitoring, and others. Further, in 2019, predictive equipment maintenance led the MEA smart retail devices market.
Major Sources and Companies Listed
A few major primary and secondary sources referred to for preparing this report on the smart retail devices market in MEA are company websites, annual reports, financial reports, national government documents, and statistical database, among others. Major companies listed in the report are Intel Corporation; LG Electronics; NVIDIA CORPORATION; Panasonic Corporation; Samsung Group; Zebra Technologies Corporation.
Reasons to buy report
To understand the MEA smart retail devices market landscape and identify market segments that are most likely to guarantee a strong return.
Stay ahead of the race by comprehending the ever-changing competitive landscape for MEA smart retail devices market.
Efficiently plan M&A and partnership deals in MEA smart retail devices market by identifying market segments with the most promising probable sales.
Helps to take knowledgeable business decisions from perceptive and comprehensive analysis of market performance of various segment form MEA smart retail devices market.
Obtain market revenue forecast for market by various segments from 2020-2027 in MEA region

.
MEA Smart Retail Devices Market Segmentation
MEA Smart Retail Devices Market ­- By Technology
Digital Signage
Smart Labels
Smart Payments
Smart Carts
Others
MEA Smart Retail Devices Market ­- By Application
Predictive Equipment Maintenance
Inventory Management
Smart Fitting Room
Foot Traffic Monitoring
Others
MEA Smart Retail Devices Market ­- By Country
South Africa
Saudi Arabia
UAE
Rest of MEA
MEA Smart Retail Devices Market - Company Profiles
Intel Corporation
LG Electronics
Nvidia Corporation
Panasonic Corporation
Samsung Group
Zebra Technologies Corporation
1. Introduction
1.1 Study Scope
1.2 The Insight Partners Research Report Guidance
1.3 Market Segmentation
2. Key Takeaways
3. Research Methodology
3.1 Coverage
3.2 Secondary Research
3.3 Primary Research
4. MEA Smart Retail Devices Market Landscape
4.1 Market Overview
4.2 MEA PEST Analysis
4.3 Ecosystem Analysis
4.4 Expert Opinions
5. MEA Smart Retail Devices Market – Key Market Dynamics
5.1 Market Drivers
5.1.1 Significant Rise in Demand for Smart Transportation
5.1.2 Animatronics and Robotics are Becoming More Popular
5.2 Market Restraint
5.2.1 Development and Maintenance of Smart Retail Devices Being Expensive
5.3 Market Opportunities
5.3.1 Emerging Need for Smart Retail and Transportation & Logistics
5.4 Future Trends
5.4.1 Smart Payments Portals Using Blockchain Technology
5.5 Impact Analysis of Drivers and Restraints
6. Smart Retail Devices Market – MEA Analysis
6.1 Overview
6.2 MEA Smart Retail Devices Market – Revenue and Forecast to 2027 (US$ Million)
7. MEA Smart Retail Devices Market Analysis, by Technology
7.1 Overview
7.2 MEA Smart Retail Devices Market, by Technology (2019 and 2027)
7.3 Digital Signage
7.3.1 Overview
7.3.2 Digital Signage: Smart Retail Devices Market Revenue and Forecast to 2027 (US$ Million)
7.4 Smart Labels
7.4.1 Overview
7.4.2 Smart Labels: Smart Retail Devices Market Revenue and Forecast to 2027 (US$ Million)
7.5 Smart Payments
7.5.1 Overview
7.5.2 Smart Payments: Smart Retail Devices Market Revenue and Forecast to 2027 (US$ Million)
7.6 Smart Carts
7.6.1 Overview
7.6.2 Smart Carts: Smart Retail Devices Market Revenue and Forecast to 2027 (US$ Million)
7.7 Others
7.7.1 Overview
7.7.2 Others: Smart Retail Devices Market Revenue and Forecast to 2027 (US$ Million)
8. MEA Smart Retail Devices Market, by Application
8.1 Overview
8.2 MEA Smart Retail Devices Market, by Application (2019 and 2027)
8.3 Predictive Equipment Maintenance
8.3.1 Overview
8.3.2 Predictive Equipment Maintenance: Smart Retail Devices Market Revenue and Forecast to 2027 (US$ Million)
8.4 Inventory Management
8.4.1 Overview
8.4.2 Inventory Management: Smart Retail Devices Market Revenue and Forecast to 2027 (US$ Million)
8.5 Smart Fitting Rooms
8.5.1 Overview
8.5.2 Smart Fitting Room: Smart Retail Devices Market Revenue and Forecast to 2027 (US$ Million)
8.6 Foot Traffic Monitoring
8.6.1 Overview
8.6.2 Foot Traffic Monitoring: Smart Retail Devices Market Revenue and Forecast to 2027 (US$ Million)
8.7 Others
8.7.1 Overview
8.7.2 Others: Smart Retail Devices Market Revenue and Forecast to 2027 (US$ Million)
9. MEA Smart Retail Devices Market – Country Analysis
9.1 Overview
9.1.2 MEA: Smart Retail Devices Market, By Key Country
9.1.2.1 South Africa: Smart Retail Devices Market – Revenue and Forecast to 2027 (US$ Million)
9.1.2.1.1 South Africa: Smart Retail Devices Market, By Technology
9.1.2.1.2 South Africa: Smart Retail Devices Market, By Application
9.1.2.2 Saudi Arabia: Smart Retail Devices Market – Revenue and Forecast to 2027 (US$ Million)
9.1.2.2.1 Saudi Arabia: Smart Retail Devices Market, By Technology
9.1.2.2.2 Saudi Arabia: Smart Retail Devices Market, By Application
9.1.2.3 UAE: Smart Retail Devices Market – Revenue and Forecast to 2027 (US$ Million)
9.1.2.3.1 UAE: Smart Retail Devices Market, By Technology
9.1.2.3.2 UAE: Smart Retail Devices Market, By Application
9.1.2.4 Rest of MEA: Smart Retail Devices Market – Revenue and Forecast to 2027 (US$ Million)
9.1.2.4.1 Rest of MEA: Smart Retail Devices Market, By Technology
9.1.2.4.2 Rest of MEA: Smart Retail Devices Market, By Application
10. Impact of COVID-19 Pandemic
10.1 MEA
11. Industry Landscape
11.1 Overview
11.2 Market Initiative
11.3 New Product Development
11.4 Partnership
12. COMPANY PROFILES
12.1 Intel Corporation
12.1.1 Key Facts
12.1.2 Business Description
12.1.3 Products and Services
12.1.4 Financial Overview
12.1.5 SWOT Analysis
12.1.6 Key Developments
12.2 Samsung Group
12.2.1 Key Facts
12.2.2 Business Description
12.2.3 Products and Services
12.2.4 Financial Overview
12.2.5 SWOT Analysis
12.2.6 Key Developments
12.3 NVIDIA CORPORATION
12.3.1 Key Facts
12.3.2 Business Description
12.3.3 Products and Services
12.3.4 Financial Overview
12.3.5 SWOT Analysis
12.3.6 Key Developments
12.4 LG Electronics
12.4.1 Key Facts
12.4.2 Business Description
12.4.3 Products and Services
12.4.4 Financial Overview
12.4.5 SWOT Analysis
12.4.6 Key Developments
12.5 Zebra Technologies Corporation
12.5.1 Key Facts
12.5.2 Business Description
12.5.3 Products and Services
12.5.4 Financial Overview
12.5.5 SWOT Analysis
12.5.6 Key Developments
12.6 Panasonic Corporation
12.6.1 Key Facts
12.6.2 Business Description
12.6.3 Products and Services
12.6.4 Financial Overview
12.6.5 SWOT Analysis
12.6.6 Key Developments
13. Appendix
13.1 About The Insight Partners
13.2 Word Index
LIST OF TABLES
Table 1. MEA Smart Retail Devices Market – Revenue, and Forecast to 2027 (US$ Million)
Table 2. MEA Smart Retail Devices Market, By Country – Revenue and Forecast to 2027 (USD Million)
Table 3. South Africa: Smart Retail Devices Market, By Technology –Revenue and Forecast to 2027 (US$ Million)
Table 4. South Africa: Smart Retail Devices Market, By Application –Revenue and Forecast to 2027 (US$ Million)
Table 5. Saudi Arabia: Smart Retail Devices Market, By Technology –Revenue and Forecast to 2027 (US$ Million)
Table 6. Saudi Arabia: Smart Retail Devices Market, By Application –Revenue and Forecast to 2027 (US$ Million)
Table 7. UAE: Smart Retail Devices Market, By Technology –Revenue and Forecast to 2027 (US$ Million)
Table 8. UAE: Smart Retail Devices Market, By Application –Revenue and Forecast to 2027 (US$ Million)
Table 9. Rest of MEA: Smart Retail Devices Market, By Technology –Revenue and Forecast to 2027 (US$ Million)
Table 10. Rest of MEA: Smart Retail Devices Market, By Application –Revenue and Forecast to 2027 (US$ Million)
Table 11. List of Abbreviation
LIST OF FIGURES
Figure 1. MEA Smart Retail Devices Market Segmentation
Figure 2. MEA Smart Retail Devices Market Segmentation – By Country
Figure 3. MEA Smart Retail Devices Market Overview
Figure 4. MEA Smart Retail Devices Market, By Technology
Figure 5. MEA Smart Retail Devices Market, By Application
Figure 6. MEA Smart Retail Devices Market, by Country
Figure 7. MEA– PEST Analysis
Figure 8. MEA Smart Retail Devices Market: Ecosystem Analysis
Figure 9. MEA Smart Retail Devices Market: Impact Analysis of Drivers and Restraints
Figure 10. MEA Smart Retail Devices Market – Revenue and Forecast to 2027 (US$ Million)
Figure 11. MEA Smart Retail Devices Market Revenue Share, by Technology (2019 and 2027)
Figure 12. MEA Digital Signage: Smart Retail Devices Market Revenue and Forecast to 2027 (US$ Million)
Figure 13. MEA Smart Labels: Smart Retail Devices Market Revenue and Forecast to 2027 (US$ Million)
Figure 14. MEA Smart Payments: Smart Retail Devices Market Revenue and Forecast to 2027 (US$ Million)
Figure 15. MEA Smart Carts: Smart Retail Devices Market Revenue and Forecast to 2027 (US$ Million)
Figure 16. MEA Others: Smart Retail Devices Market Revenue and Forecast to 2027 (US$ Million)
Figure 17. MEA Smart Retail Devices Market Revenue Share, by Application (2019 and 2027)
Figure 18. MEA Predictive Equipment Maintenance: Smart Retail Devices Market Revenue and Forecast to 2027 (US$ Million)
Figure 19. MEA Inventory Management: Smart Retail Devices Market Revenue and Forecast to 2027 (US$ Million)
Figure 20. MEA Smart Fitting Room: Smart Retail Devices Market Revenue and Forecast to 2027 (US$ Million)
Figure 21. MEA Foot Traffic Monitoring: Smart Retail Devices Market Revenue and Forecast to 2027 (US$ Million)
Figure 22. MEA Others: Smart Retail Devices Market Revenue and Forecast to 2027 (US$ Million)
Figure 23. MEA: Smart Retail Devices Market, by Key Country– Revenue (2019) (US$ Million)
Figure 24. MEA: Smart Retail Devices Market Revenue Share, By Key Country (2020 & 2027)
Figure 25. South Africa: Smart Retail Devices Market – Revenue and Forecast to 2027 (US$ Million)
Figure 26. Saudi Arabia: Smart Retail Devices Market – Revenue and Forecast to 2027 (US$ Million)
Figure 27. UAE: Smart Retail Devices Market – Revenue and Forecast to 2027 (US$ Million)
Figure 28. Rest of MEA: Smart Retail Devices Market – Revenue and Forecast to 2027 (US$ Million)
Figure 29. Impact of COVID-19 Pandemic in MEA Country Markets
Intel Corporation

LG Electronics

Nvidia Corporation

Panasonic Corporation

Samsung Group

Zebra Technologies Corporation
Save and reduce time carrying out entry-level research by identifying the growth, size, leading players and segments in the MEA smart retail devices market

Highlights key business priorities in order to assist companies to realign their business strategies

The key findings and recommendations highlight crucial progressive industry trends in the MEA smart retail devices market, thereby allowing players across the value chain to develop effective long-term strategies

Develop/modify business expansion plans by using substantial growth offering developed and emerging markets

Scrutinize in-depth MEA market trends and outlook coupled with the factors driving the smart retail devices market, as well as those hindering it

Enhance the decision-making process by understanding the strategies that underpin commercial interest with respect to client products, segmentation, pricing and distribution
---
Related Tags
Middle East & Africa Smart Retail Devices Market
Middle East & Africa Smart Retail Devices Market Research
Middle East & Africa Smart Retail Devices Market Insight
Middle East & Africa Smart Retail Devices Market Trends
Middle East & Africa Smart Retail Devices Market Forecast
Middle East & Africa Smart Retail Devices Market Share
Middle East & Africa Smart Retail Devices Market 2027
Middle East & Africa Smart Retail Devices Market Growth
Middle East & Africa Smart Retail Devices Industry
Sector
Middle East & Africa Smart Retail Devices PDF Report
Middle East & Africa Smart Retail Devices Analysis
Middle East & Africa Smart Retail Devices Research
Competitive Analysis
---