Europe B2B Food Marketplace Platforms Market Forecast to 2028 - COVID-19 Impact and Regional Analysis By Enterprise Size (Large Enterprises and SMEs) and Food Category (Chilled & Dairy, Grocery, Beverages, and Others)
Code:
TIPRE00024261
|
Pages:
105
|
Industry:
Technology, Media and Telecommunications
|
Date:
Aug 2021

Market Introduction
Germany, France, Italy, Russia, and the UK are among the major countries in Europe. Europe witnessed promising results for tech investments in 2019, despite economic slowdowns in the UK and European Union. European tech investments have grown by 124% over the past five years, with a rise of 39% between 2018 and 2019, reaching US$ 34.3 billion in capital investment in 2019. Europe's software development services are experiencing steady demand, owing to factors such as increased deployment of IT & telecom, as well as digital transformation and automation. Further, in February 2020, the European Commission presented their strategic plan to shape Europe's digital future. The goal of the plan is to develop a European society empowered by digital solutions, offer lucrative opportunities for the businesses, have a human-centric approach as a basis, and boost the design of trustworthy and advanced technologies. Contractual pricing of the products is the major factor driving the growth of the Europe B2B food marketplace platforms market.
The COVID-19 pandemic in Europe has had a diverse impact on various nations, since only a few nations have seen an increase in the number of cases, resulting in stringent, long-term lockdown periods or social isolation standards. Because of their excellent healthcare systems, Western European nations such as Germany, France, Russia, and the United Kingdom have witnessed a comparably slight decline in their growth activities. These countries' governments have made major investments to improve the efficiency and effectiveness of illness diagnosis and treatment. As European individuals are more inclined towards ready-to-cook meal and instant food items, lockdown due to COVID-19 has caused disruption in mentioned supply chain of food items. With business getting resumed and restrictions on supply chain getting eased, the demand for same products will rise.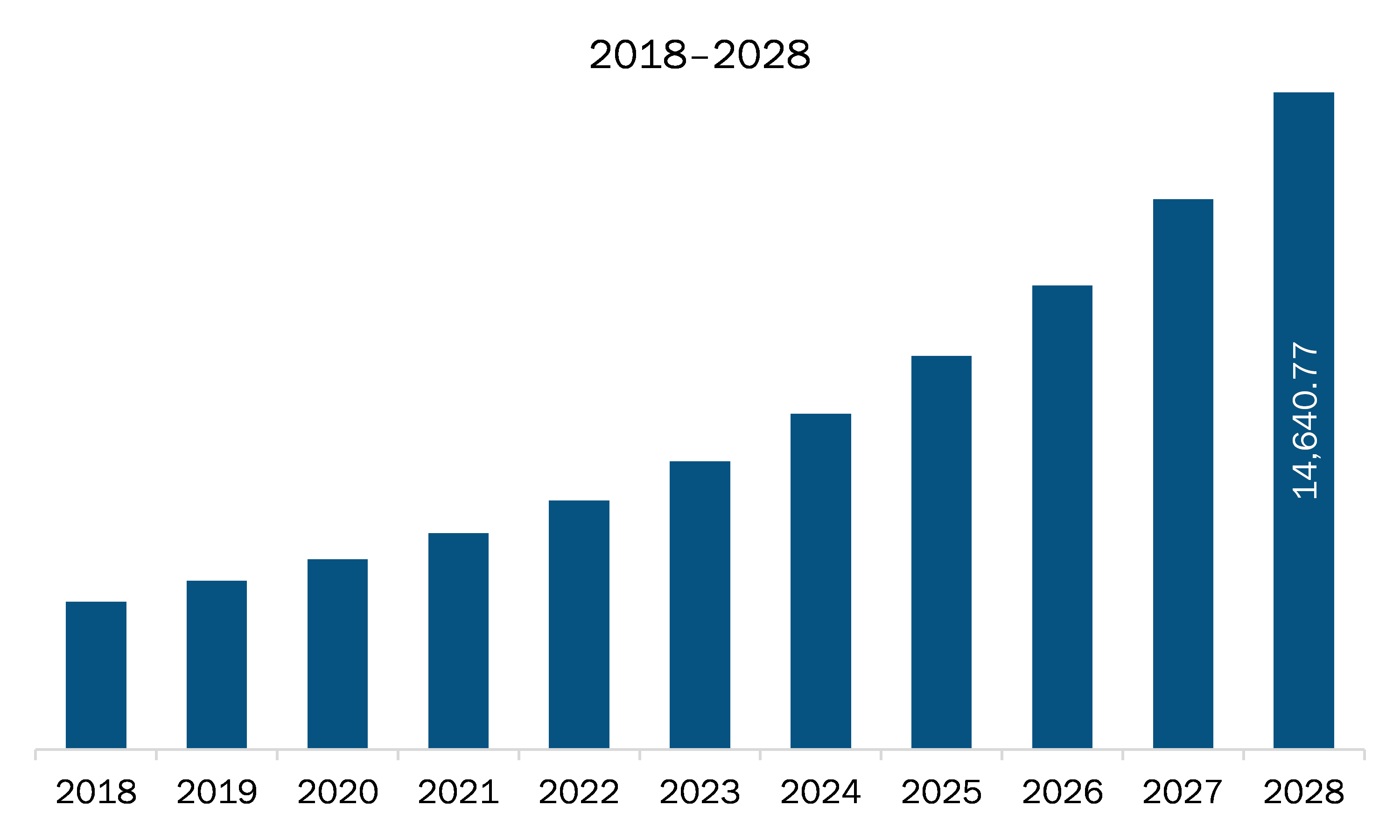 Get more information on this report :
Market Overview and Dynamics
The B2B food marketplace platforms market in Europe is expected to grow from US$ 4820.73 million in 2021 to US$ 14640.77 million by 2028; it is estimated to grow at a CAGR of 17.2% from 2021 to 2028. Companies are concentrating their efforts on enhancing their production capacity, go-to-market processes, and digital activities such as expanding their e-commerce presence and scale. COVID-19 has provided every other firm an incentive to make changes in their marketing strategy post normalcy. Every organization, big or small, has been concentrating on developing new business models to meet the market's changing needs. For example, PepsiCo Inc. has launched its direct-to-consumer (DTC) websites Snacks.com and PantryShop.com in response to the increased demand caused by the COVID-19 pandemic. Both websites are aimed to gain profit from the growing trend of people using e-commerce to satisfy their food and beverage demands amidst the current health crisis. PepsiCo is promoting its Pepsi, Frito-Lay, Gatorade, Quaker Oats, and other well-known brands on these sites. This type of initiative aids other businesses in innovating their online marketplaces based on demand. As a whole, these variables are anticipated to contribute to the B2B food marketplace platform's growth.
Key Market Segments
The market for Europe B2B food marketplace platforms market is segmented into enterprise size, food category, and country. Based on enterprise size, the market is segmented into SMEs and large enterprises. The large enterprises segment dominated the market in 2020 and SMEs segment is expected to be the fastest growing during the forecast period. Based on food category the market is segmented into chilled and dairy, grocery, beverages, and others. The grocery segment dominated the market in 2020 and beverages segment is expected to be the fastest growing during the forecast period. Further beverages is bifurcated into water and others.
Major Sources and Companies Listed
A few major primary and secondary sources referred to for preparing this report on the B2B food marketplace platforms market in Europe are company websites, annual reports, financial reports, national government documents, and statistical database, among others. Major companies listed in the report are Agorara, BioLinked, eFoodChoice.com, FOOD FOR SALE, FoodB2BMarketplace.com, FoodsTrade, GUSTO MARKETPLACE, Mindcurv GmbH, and Ukrainian Food Platform among others.
Reasons to buy report
To understand the Europe B2B food marketplace platforms market landscape and identify market segments that are most likely to guarantee a strong return
Stay ahead of the race by comprehending the ever-changing competitive landscape for Europe B2B food marketplace platforms market
Efficiently plan M&A and partnership deals in Europe B2B food marketplace platforms market by identifying market segments with the most promising probable sales
Helps to take knowledgeable business decisions from perceptive and comprehensive analysis of market performance of various segment form Europe B2B food marketplace platforms market
Obtain market revenue forecast for market by various segments from 2021-2028 in Europe region

.
Europe B2B Food Marketplace Platforms Market Segmentation
Europe B2B Food Marketplace Platforms Market -By Enterprise Size
Europe B2B Food Marketplace Platforms Market -By Food Category
Chilled and Dairy

Grocery

Beverages

Others
Europe B2B Food Marketplace Platforms Market -By Country
Germany
UK
France
Italy
Russia
Spain
Belgium
Rest of Europe
Europe B2B Food Marketplace Platforms Market -Company Profiles
Agorara
BioLinked
eFoodChoice.com
FOOD FOR SALE
FoodB2BMarketplace.com
FoodsTrade
GUSTO MARKETPLACE
Mindcurv GmbH
Ukrainian Food Platform
1. Introduction
1.1 Scope of the Study
1.2 The Insight Partners Research Report Guidance
1.3 Market Segmentation
2. Key Takeaways
3. Research Methodology
3.1 Coverage
3.2 Secondary Research
3.3 Primary Research
4. Europe B2B Food Marketplace Platforms Market Landscape
4.1 Market Overview
4.2 Europe PEST Analysis
4.3 Expert Opinion
4.4 Ecosystem Analysis
5. Europe B2B Food Marketplace Platforms – Market Dynamics
5.1 Market Drivers
5.1.1 Expansion of Smartphones and Tablets Facilitates Better Communications between SME's and Buyers
5.1.2 Contractual Pricing of the Products
5.2 Market Restraints
5.2.1 Hesitation among Consumers to Shift from Brick-and Mortar Shopping to Digital Channels
5.3 Market Opportunities
5.3.1 Innovative Product Selling Models by Manufacturers
5.4 Future Trends
5.4.1 Increased Adoption of E-commerce Platforms
5.5 Impact Analysis of Drivers and Restraints
6. B2B Food Marketplace Platforms Market – Europe Market Analysis
6.1 Europe B2B Food Marketplace Platforms Market Overview
6.2 Europe B2B Food Marketplace Platforms Market –Revenue and Forecast to 2028 (US$ Million)
7. Europe B2B Food Marketplace Platforms Market Revenue and Forecast To 2028 – Enterprise Size
7.1 Overview
7.2 Europe B2B Food Marketplace Platforms Market, By Enterprise Size (2020 & 2028)
7.3 Large Enterprises
7.3.1 Overview
7.3.2 Large Enterprises: B2B Food Marketplace Platforms Market Revenue and Forecast to 2028 (US$ Million)
7.4 SMEs
7.4.1 Overview
7.4.2 SMEs: B2B Food Marketplace Platforms Market Revenue and Forecast to 2028 (US$ Million)
8. Europe B2B Food Marketplace Platforms Market Analysis and Forecast To 2028 – Food Category
8.1 Overview
8.2 Europe B2B Food Marketplace Platforms Market, By Food Category (2020 & 2028)
8.3 Chilled and Dairy
8.3.1 Overview
8.3.2 Chilled and Dairy: B2B Food Marketplace Platforms Market Revenue and Forecast to 2028 (US$ Million)
8.4 Grocery
8.4.1 Overview
8.4.2 Grocery: B2B Food Marketplace Platforms Market Revenue and Forecast to 2028 (US$ Million)
8.5 Beverages
8.5.1 Overview
8.5.2 Beverages: B2B Food Marketplace Platforms Market Revenue and Forecast to 2028 (US$ Million)
8.5.2.1 Water
8.5.2.2 Water: B2B Food Marketplace Platforms Market – Revenue and Forecast to 2028 (US$ Million)
8.5.2.3 Others
8.5.2.4 Others: B2B Food Marketplace Platforms Market – Revenue and Forecast to 2028 (US$ Million)
8.6 Others
8.6.1 Overview
8.6.2 Others: B2B Food Marketplace Platforms Market Revenue and Forecast to 2028 (US$ Million)
9. Europe B2B Food Marketplace Platforms Market – Country Analysis
9.1 Overview
9.1.1 Europe: B2B Food Marketplace Platforms Market, by Key Country
9.1.2 France: B2B Food Marketplace Platforms Market – Revenue and Forecast to 2028 (US$ Million)
9.1.2.1 France: B2B Food Marketplace Platforms Market, by Enterprise Size
9.1.2.2 France: B2B Food Marketplace Platforms Market, by Food Category
9.1.2.2.1 France: B2B Food Marketplace Platforms Market, by Beverages
9.1.3 Germany: B2B Food Marketplace Platforms Market – Revenue and Forecast to 2028 (US$ Million)
9.1.3.1 Germany: B2B Food Marketplace Platforms Market, by Enterprise Size
9.1.3.2 Germany: B2B Food Marketplace Platforms Market, by Food Category
9.1.3.2.1 Germany: B2B Food Marketplace Platforms Market, by Beverages
9.1.4 Italy: B2B Food Marketplace Platforms Market – Revenue and Forecast to 2028 (US$ Million)
9.1.4.1 Italy: B2B Food Marketplace Platforms Market, by Enterprise Size
9.1.4.2 Italy: B2B Food Marketplace Platforms Market, by Food Category
9.1.4.2.1 Italy: B2B Food Marketplace Platforms Market, by Beverages
9.1.5 UK: B2B Food Marketplace Platforms Market – Revenue and Forecast to 2028 (US$ Million)
9.1.5.1 UK: B2B Food Marketplace Platforms Market, by Enterprise Size
9.1.5.2 UK: B2B Food Marketplace Platforms Market, by Food Category
9.1.5.2.1 UK: B2B Food Marketplace Platforms Market, by Beverages
9.1.6 Russia: B2B Food Marketplace Platforms Market – Revenue and Forecast to 2028 (US$ Million)
9.1.6.1 Russia: B2B Food Marketplace Platforms Market, by Enterprise Size
9.1.6.2 Russia: B2B Food Marketplace Platforms Market, by Food Category
9.1.6.2.1 Russia: B2B Food Marketplace Platforms Market, by Beverages
9.1.7 Spain: B2B Food Marketplace Platforms Market – Revenue and Forecast to 2028 (US$ Million)
9.1.7.1 Spain: B2B Food Marketplace Platforms Market, by Enterprise Size
9.1.7.2 Spain: B2B Food Marketplace Platforms Market, by Food Category
9.1.7.2.1 Spain: B2B Food Marketplace Platforms Market, by Beverages
9.1.8 Belgium: B2B Food Marketplace Platforms Market – Revenue and Forecast to 2028 (US$ Million)
9.1.8.1 Belgium: B2B Food Marketplace Platforms Market, by Enterprise Size
9.1.8.2 Belgium: B2B Food Marketplace Platforms Market, by Food Category
9.1.8.2.1 Belgium: B2B Food Marketplace Platforms Market, by Beverages
9.1.9 Rest of Europe: B2B Food Marketplace Platforms Market – Revenue and Forecast to 2028 (US$ Million)
9.1.9.1 Rest of Europe: B2B Food Marketplace Platforms Market, by Enterprise Size
9.1.9.2 Rest of Europe: B2B Food Marketplace Platforms Market, by Food Category
9.1.9.2.1 Rest of Europe: B2B Food Marketplace Platforms Market, by Beverages
10. Europe B2B Food Marketplace Platforms Market - COVID-19 Impact Analysis
10.1 Overview
11. Industry Landscape
11.1 Market Initiative
11.2 New Development
12. Company Profiles
12.1 eFoodChoice.com
12.1.1 Key Facts
12.1.2 Business Description
12.1.3 Products and Services
12.1.4 Financial Overview
12.1.5 SWOT Analysis
12.1.6 Key Developments
12.2 Mindcurv GmbH
12.2.1 Key Facts
12.2.2 Business Description
12.2.3 Products and Services
12.2.4 Financial Overview
12.2.5 SWOT Analysis
12.2.6 Key Developments
12.3 GUSTO MARKETPLACE
12.3.1 Key Facts
12.3.2 Business Description
12.3.3 Products and Services
12.3.4 Financial Overview
12.3.5 SWOT Analysis
12.3.6 Key Developments
12.4 Agorara
12.4.1 Key Facts
12.4.2 Business Description
12.4.3 Products and Services
12.4.4 Financial Overview
12.4.5 SWOT Analysis
12.4.6 Key Developments
12.5 Ukrainian Food Platform
12.5.1 Key Facts
12.5.2 Business Description
12.5.3 Products and Services
12.5.4 Financial Overview
12.5.5 SWOT Analysis
12.5.6 Key Developments
12.6 FoodB2BMarketplace.com
12.6.1 Key Facts
12.6.2 Business Description
12.6.3 Products and Services
12.6.4 Financial Overview
12.6.5 SWOT Analysis
12.6.6 Key Developments
12.7 FOOD FOR SALE
12.7.1 Key Facts
12.7.2 Business Description
12.7.3 Products and Services
12.7.4 Financial Overview
12.7.5 SWOT Analysis
12.7.6 Key Developments
12.8 FoodsTrade
12.8.1 Key Facts
12.8.2 Business Description
12.8.3 Products and Services
12.8.4 Financial Overview
12.8.5 SWOT Analysis
12.8.6 Key Developments
12.9 BioLinked
12.9.1 Key Facts
12.9.2 Business Description
12.9.3 Products and Services
12.9.4 Financial Overview
12.9.5 SWOT Analysis
12.9.6 Key Developments
13. Appendix
13.1 About The Insight Partners
13.2 Word Index


Table 1. Europe B2B Food Marketplace Platforms Market – Revenue, and Forecast to 2028 (US$ Million)
Table 2. Europe: B2B Food Marketplace Platforms Market, by Country – Revenue and Forecast to 2028 (US$ Million)
Table 3. France: B2B Food Marketplace Platforms Market, by Enterprise Size – Revenue and Forecast to 2028 (US$ Million)
Table 4. France: B2B Food Marketplace Platforms Market, by Food Category – Revenue and Forecast to 2028 (US$ Million)
Table 5. France: B2B Food Marketplace Platforms Market, by Beverages – Revenue and Forecast to 2028 (US$ Million)
Table 6. Germany: B2B Food Marketplace Platforms Market, by Enterprise Size – Revenue and Forecast to 2028 (US$ Million)
Table 7. Germany: B2B Food Marketplace Platforms Market, by Food Category – Revenue and Forecast to 2028 (US$ Million)
Table 8. Germany: B2B Food Marketplace Platforms Market, by Beverages – Revenue and Forecast to 2028 (US$ Million)
Table 9. Italy: B2B Food Marketplace Platforms Market, by Enterprise Size – Revenue and Forecast to 2028 (US$ Million)
Table 10. Italy: B2B Food Marketplace Platforms Market, by Food Category – Revenue and Forecast to 2028 (US$ Million)
Table 11. Italy: B2B Food Marketplace Platforms Market, by Beverages – Revenue and Forecast to 2028 (US$ Million)
Table 12. UK: B2B Food Marketplace Platforms Market, by Enterprise Size – Revenue and Forecast to 2028 (US$ Million)
Table 13. UK: B2B Food Marketplace Platforms Market, by Food Category – Revenue and Forecast to 2028 (US$ Million)
Table 14. UK: B2B Food Marketplace Platforms Market, by Beverages – Revenue and Forecast to 2028 (US$ Million)
Table 15. Russia: B2B Food Marketplace Platforms Market, by Enterprise Size – Revenue and Forecast to 2028 (US$ Million)
Table 16. Russia: B2B Food Marketplace Platforms Market, by Food Category – Revenue and Forecast to 2028 (US$ Million)
Table 17. Russia: B2B Food Marketplace Platforms Market, by Beverages – Revenue and Forecast to 2028 (US$ Million)
Table 18. Spain: B2B Food Marketplace Platforms Market, by Enterprise Size – Revenue and Forecast to 2028 (US$ Million)
Table 19. Spain: B2B Food Marketplace Platforms Market, by Food Category – Revenue and Forecast to 2028 (US$ Million)
Table 20. Spain: B2B Food Marketplace Platforms Market, by Beverages – Revenue and Forecast to 2028 (US$ Million)
Table 21. Belgium: B2B Food Marketplace Platforms Market, by Enterprise Size – Revenue and Forecast to 2028 (US$ Million)
Table 22. Belgium: B2B Food Marketplace Platforms Market, by Food Category – Revenue and Forecast to 2028 (US$ Million)
Table 23. Belgium: B2B Food Marketplace Platforms Market, by Beverages – Revenue and Forecast to 2028 (US$ Million)
Table 24. Rest of Europe: B2B Food Marketplace Platforms Market, by Enterprise Size – Revenue and Forecast to 2028 (US$ Million)
Table 25. Rest of Europe: B2B Food Marketplace Platforms Market, by Food Category – Revenue and Forecast to 2028 (US$ Million)
Table 26. Rest of Europe: B2B Food Marketplace Platforms Market, by Beverages – Revenue and Forecast to 2028 (US$ Million)
Table 27. List of Abbreviation


Figure 1. Europe B2B Food Marketplace Platforms Market Segmentation
Figure 2. Europe B2B Food Marketplace Platforms Market Segmentation – By Country
Figure 3. Europe B2B Food Marketplace Platforms Market Overview
Figure 4. Europe B2B Food Marketplace Platforms Market, by Enterprise Size
Figure 5. Europe B2B Food Marketplace Platforms Market, by Food Category
Figure 6. Europe B2B Food Marketplace Platforms Market, By Country
Figure 7. Europe: PEST Analysis
Figure 8. Expert Opinion
Figure 9. Europe B2B Food Marketplace Platforms Market: Ecosystem Analysis
Figure 10. Europe B2B Food Marketplace Platforms Market Impact Analysis of Drivers and Restraints
Figure 11. Europe B2B Food Marketplace Platforms Market – Revenue and Forecast to 2028 (US$ Million)
Figure 12. Europe B2B Food Marketplace Platforms Market, by Enterprise Size (2020 & 2028)
Figure 13. Europe Large Enterprises: B2B Food Marketplace Platforms Market Revenue and Forecast to 2028 (US$ Million)
Figure 14. Europe SMEs: B2B Food Marketplace Platforms Market Revenue and Forecast to 2028 (US$ Million)
Figure 15. Europe B2B Food Marketplace Platforms Market, By Food Category (2020 & 2028)
Figure 16. Europe Chilled and Dairy: B2B Food Marketplace Platforms Market Revenue and Forecast to 2028 (US$ Million)
Figure 17. Europe Grocery: B2B Food Marketplace Platforms Market Revenue and Forecast to 2028 (US$ Million)
Figure 18. Europe Beverages: B2B Food Marketplace Platforms Market Revenue and Forecast to 2028 (US$ Million)
Figure 19. Europe Water: B2B Food Marketplace Platforms Market – Revenue and Forecast to 2028 (US$ Million)
Figure 20. Others: B2B Food Marketplace Platforms Market – Revenue and Forecast to 2028 (US$ Million)
Figure 21. Europe Others: B2B Food Marketplace Platforms Market Revenue and Forecast to 2028 (US$ Million)
Figure 22. Europe: B2B Food Marketplace Platforms Market, by Key Country-Revenue 2020 (US$ Million)
Figure 23. Europe: B2B Food Marketplace Platforms Market Revenue Share, by Key Country (2020 & 2028)
Figure 24. France: B2B Food Marketplace Platforms Market – Revenue and Forecast to 2028 (US$ Million)
Figure 25. Germany: B2B Food Marketplace Platforms Market – Revenue and Forecast to 2028 (US$ Million)
Figure 26. Italy: B2B Food Marketplace Platforms Market – Revenue and Forecast to 2028 (US$ Million)
Figure 27. UK: B2B Food Marketplace Platforms Market – Revenue and Forecast to 2028 (US$ Million)
Figure 28. Russia: B2B Food Marketplace Platforms Market – Revenue and Forecast to 2028 (US$ Million)
Figure 29. Spain: B2B Food Marketplace Platforms Market – Revenue and Forecast to 2028 (US$ Million)
Figure 30. Belgium: B2B Food Marketplace Platforms Market – Revenue and Forecast to 2028 (US$ Million)
Figure 31. Rest of Europe: B2B Food Marketplace Platforms Market – Revenue and Forecast to 2028 (US$ Million)
Figure 32. Impact of COVID-19 Pandemic in Europe Country Markets
Agorara

BioLinked

eFoodChoice.com

FOOD FOR SALE

FoodB2BMarketplace.com

FoodsTrade

GUSTO MARKETPLACE

Mindcurv GmbH

Ukrainian Food Platform
---
Related Tags
Europe B2B Food Market
Europe B2B Food Market Research
Europe B2B Food Market Insight
Europe B2B Food Market Trends
Europe B2B Food Market Forecast
Europe B2B Food Market Share
Europe B2B Food Market 2028
Europe B2B Food Market Growth
Europe B2B Food Industry
Sector
Europe B2B Food PDF Report
Europe B2B Food Analysis
Europe B2B Food Research
Competitive Analysis
---