Europe Automotive Radar Market Forecast to 2027 - COVID-19 Impact and Regional Analysis By Range (Long Range Radar, Medium Range Rada, and Short Range Radar), Frequency (24 GHz, 77 GHz, and 79 GHz), Application (Adaptive Cruise Control, Autonomous Emergency Braking, Blind Spot Detection, Forward Collision Warning System, Intelligent Park Assist, and Others), and Vehicle Type (Passenger Cars, Light Commercial Vehicles, and Medium & Heavy Commercial Vehicles)
Code:
TIPRE00020146
|
Pages:
159
|
Industry:
Automotive and Transportation
|
Date:
Mar 2021

Market Introduction
Germany, France, the UK, and Italy are among the key countries contributing to the European automotive radar market growth. In 2019, the region witnessed promising results of tech investments despite the economic slowdowns in the UK and EU. Over the past 5 years, capital investments in the European technology sector has grown by 124%, with a 39% increase in 2018–2019 alone; in 2019, the investments reached US$ 34.3 billion. Western Europe is characterized by the high standards of living, and it is one of the richest regions on the continent. The automotive manufacturers have 304 vehicle assembly plants and production plants in 27 countries in Europe. In 2019, more than 3 million units of commercial and passenger vehicles were produced at these sites. Thus, the growing production of commercial and passenger vehicles is boosting the demand for radar systems. A disciplined approach by EU through the reinforcement of measures for halving the total road accidents and deaths is another factor escalating the adoption of automotive radar systems in the region. Short-range radar systems are being extensively used in luxury cars that are on road in the region. Additionally, the EU is now promoting 76–79 GHz radar frequency, thereby creating extended growth opportunities for OEM manufacturers. As per spectrum regulations and standards developed by the ETSI and the FCC, c the UWB band of 24 GHz frequency range would be phased out of Europe by the beginning of 2022. Also, rising demand of passenger cars is going to bolster the demand for automotive radar in the coming years, which is further anticipated to drive the Europe automotive radar market.
Europe has been severely affected by the ongoing COVID-19 outbreak. Spain, Italy, Germany, the UK, and France are some of the worst affected member states in the European region. Businesses in the region are facing severe economic difficulties as they had to either suspend their operations or reduce their activities in a substantial manner. Owing to business shutdown, the region is anticipated to face an economic slowdown in 2020 and most likely in 2021 as well. Air business is one of the important businesses in the European countries, and the outbreak of COVID-19 across the region has paralyzed the entire business. The European region witnessed a varying pandemic impact across its economically diverse countries following the COVID-19 virus outbreak. For instance, countries such as Germany, UK, Netherlands, France, and selected other developed countries imposed stringent government restrictions and closed their borders to curb the virus spread hence plummeting the demand as well as the availability of various automotive components, including radar systems. Whereas, selected other countries such as Italy, Russia, and Spain witnessed a significant surge in cases, which notably impacted the demand for passenger vehicle sales during the April and July period. However, numerous European countries did recover swiftly in recent months. They witnessed a reliable surge in demand for automotive sales and its associated components among the OEMs and aftermarket sales. Further, countries in the region, including Germany, UK, France, and Belgium, have witnessed a second wave of the virus and have announced lockdown for the second time in November 2020. The situation amid the COVID-19 pandemic is extraordinary, which is anticipated to hamper the growth of the market.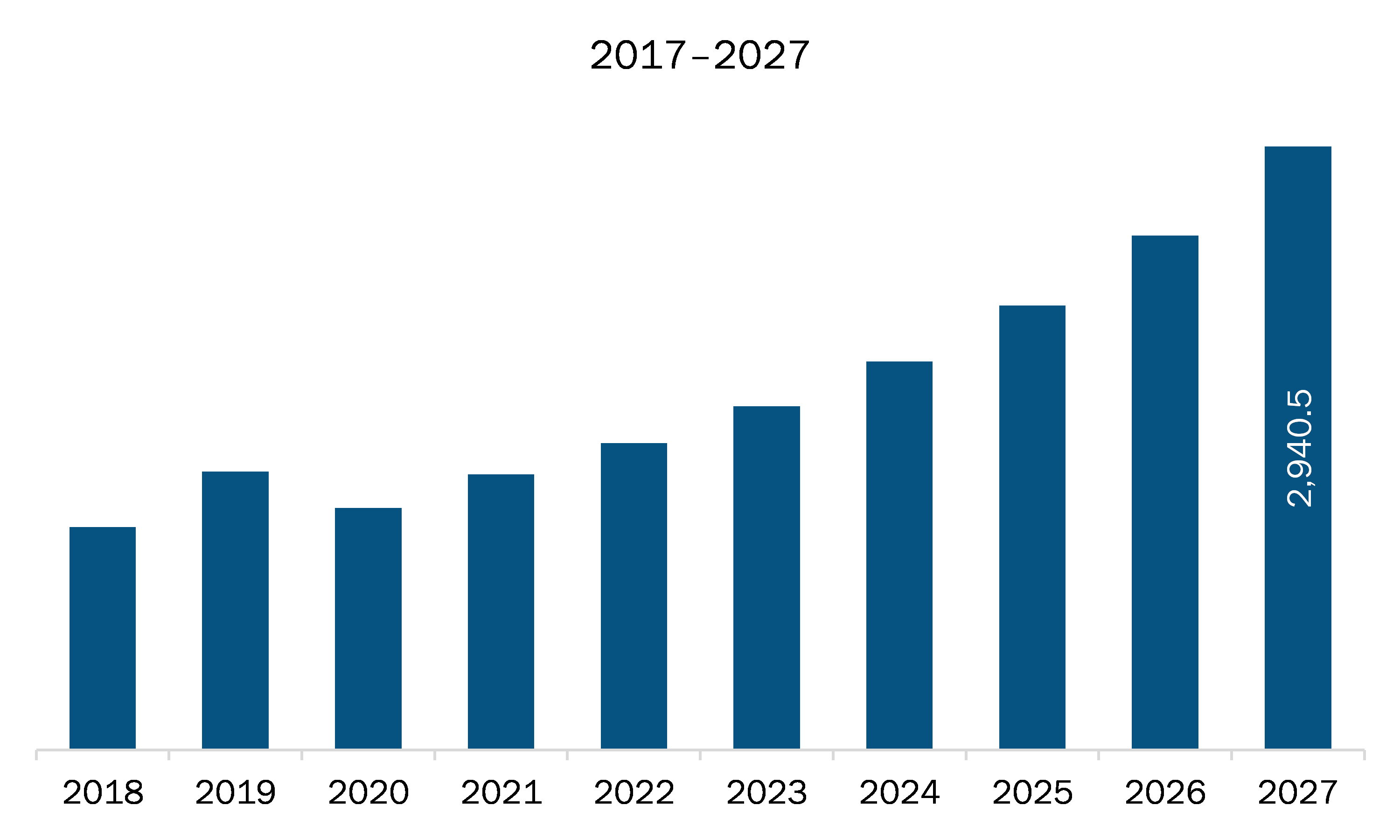 Get more information on this report :
Market Overview and Dynamics
The automotive radar market in Europe is expected to grow from US$ 1,355.8 million in 2019 to US$ 2,940.5 million by 2027; it is estimated to grow at a CAGR of 14.0% from 2020 to 2027. The radar technology is used in automobiles to operate and enable various ADAS functions. There is a significant shift toward smaller node complementary metal-oxide semiconductor (CMOS) or silicon-on-insulator (SOI) chips, which enable higher monolithic functions. The operational frequency of the radar technology is increasing with enhanced velocity and angular resolution. Moreover, the range resolution of the technology is increasing with the improvement in its overall bandwidth. There are number of startups that are in the forefront of some of these trends. For instance, Arbe, an Israel-based company, has designed its own chip and developed its own algorithm for radar signal processing. Furthermore, Uhnder Inc., US, has collaborated with Magna International for the supply of its high-resolution radar systems to a wider clientele.
Key Market Segments
Based on range, the short range radar segment is expected to lead the market throughout the forecast period. By frequency, 24 GHz is expected to dominate the market in 2019; however, the 77 GHz is anticipated to attain the highest market share by frequency by 2027. By Application, the adaptive cruise control segment is anticipated to dominate the market by 2027. The passenger cars segment is expected to hold over 70% of the market share based on vehicle type from 2019 to 2027.
Major Sources and Companies Listed
A few major primary and secondary sources referred to for preparing this report on the automotive radar market in Europe are company websites, annual reports, financial reports, national government documents, and statistical database, among others. Major companies listed in the report are Europe automotive radar market. Aptiv Plc; Continental AG; Denso Corporation; HELLA KGaA Hueck & Co.; Nidec Corporation; Robert Bosch GmbH; Valeo; Veoneer Inc; ZF Friedrichshafen AG.
Reasons to buy report
To understand the Europe automotive radar market landscape and identify market segments that are most likely to guarantee a strong return
Stay ahead of the race by comprehending the ever-changing competitive landscape for Europe automotive radar market
Efficiently plan M&A and partnership deals in Europe automotive radar market by identifying market segments with the most promising probable sales
Helps to take knowledgeable business decisions from perceptive and comprehensive analysis of market performance of various segment form Europe automotive radar market
Obtain market revenue forecast for market by various segments from 2020-2027 in Europe region

.
Europe Automotive Radar Market Segmentation
Europe Automotive Radar Market - By Range
Long Range Radar (LRR)
Medium Range Radar (MRR)
Short Range Radar (SRR)
Europe Automotive Radar Market - By Frequency
Europe Automotive Radar Market – Application
Adaptive Cruise Control
Autonomous Emergency Braking
Blind Spot Detection
Forward Collision Warning System
Intelligent Park Assist
Others
Europe Automotive Radar Market – Vehicle Type
Adaptive Cruise Control
Passenger Cars
Light Commercial Vehicle
Medium & Heavy Commercial Vehicles
Europe Automotive Radar Market - By Country
Germany
France
Italy
UK
Russia
Rest of Europe
Europe Automotive Radar Market - Company Profiles
Aptiv Plc
Continental AG
Denso Corporation
HELLA KGaA Hueck & Co.
Nidec Corporation
Robert Bosch GmbH
Valeo
Veoneer Inc
ZF Friedrichshafen AG
1. Introduction
1.1 Study Scope
1.2 The Insight Partners Research Report Guidance
1.3 Market Segmentation
2. Key Takeaways
3. Research Methodology
3.1 Coverage
3.2 Secondary Research
3.3 Primary Research
4. Europe Automotive Radar Market Landscape
4.1 Market Overview
4.2 Europe PEST Analysis
4.3 Ecosystem Analysis
4.4 Expert Opinion
5. Europe Automotive Radar Market – Key Market Dynamics
5.1 Market Drivers
5.1.1 Road Accidents and Fatalities Rising
5.1.2 Passenger Cars Demand Rising
5.2 Market Restraints
5.2.1 Test and Validation of Radar Sensors Related Challenges
5.3 Market Opportunities
5.3.1 Advanced Imaging Radar at High Demand
5.4 Market Trends
5.4.1 High-Resolution Radar Systems Being Focussed
5.5 Impact Analysis of Drivers and Restraints
6. Automotive Radar Market– Europe Analysis
6.1 Europe Automotive radar Market Overview
6.2 Europe Automotive Radar Market– Revenue and Forecast to 2027 (US$ Million)
6.3 Market Positioning – Five Key Players
7. Europe Automotive Radar Market Analysis – by Range
7.1 Overview
7.2 Europe Automotive Radar Market, by Range (2019 and 2027)
7.3 Long Range Radar (LRR)
7.3.1 Overview
7.3.2 Long Range Radar (LRR): Automotive Radar Market – Revenue and Forecast to 2027 (US$ Million)
7.4 Mid-Range Radar (MRR)
7.4.1 Overview
7.4.2 Mid-Range Radar (MRR): Automotive Radar Market – Revenue and Forecast to 2027 (US$ Million)
7.5 Short Range Radar (SRR)
7.5.1 Overview
7.5.2 Short Range Radar (SRR): Automotive Radar Market – Revenue and Forecast to 2027 (US$ Million)
8. Europe Automotive Radar Market Revenue and Forecast to 2027 By Frequency
8.1 Overview
8.2 Europe Automotive Radar Market Breakdown, By Frequency, 2019 & 2027
8.3 GHZ
8.3.1 Overview
8.3.2 GHZ: Automotive Radar Market – Revenue and Forecast to 2027 (US$ Million)
8.4 GHZ
8.4.1 Overview
8.4.2 GHZ: Automotive Radar Market – Revenue and Forecast to 2027 (US$ Million)
8.5 GHZ
8.5.1 Overview
8.5.2 GHZ: Automotive Radar Market – Revenue and Forecast to 2027 (US$ Million)
9. Europe Automotive Radar Market Revenue and Forecast to 2027 By Application
9.1 Overview
9.2 Europe Automotive Radar Market Breakdown, By Application, 2019 & 2027
9.3 Adaptive Cruise Control
9.3.1 Overview
9.3.2 Adaptive Cruise Control: Automotive Radar Market – Revenue and Forecast to 2027 (US$ Million)
9.4 Autonomous Emergency Braking
9.4.1 Overview
9.4.2 Autonomous Emergency Braking: Automotive Radar Market – Revenue and Forecast to 2027 (US$ Million)
9.5 Blind Spot Detection
9.5.1 Overview
9.5.2 Blind Spot Detection: Automotive Radar Market – Revenue and Forecast to 2027 (US$ Million)
9.6 Forward Collision Warning System
9.6.1 Overview
9.6.2 Forward Collision Warning System: Automotive Radar Market – Revenue and Forecast to 2027 (US$ Million)
9.7 Intelligent Park Assist
9.7.1 Overview
9.7.2 Intelligent Park Assist: Automotive Radar Market – Revenue and Forecast to 2027 (US$ Million)
9.8 Others
9.8.1 Overview
9.8.2 Others: Automotive Radar Market – Revenue and Forecast to 2027 (US$ Million)
10. Europe Automotive Radar Market Revenue and Forecast to 2027 By Vehicle Type
10.1 Overview
10.2 Europe Automotive Radar Market Breakdown, By Vehicle Type, 2019 & 2027
10.3 Passenger Cars
10.3.1 Overview
10.3.2 Passenger Cars: Automotive Radar Market – Revenue and Forecast to 2027 (US$ Million)
10.4 Light Commercial Vehicles
10.4.1 Overview
10.4.2 Light Commercial Vehicles: Automotive Radar Market – Revenue and Forecast to 2027 (US$ Million)
10.5 Medium and Heavy Commercial Vehicles
10.5.1 Overview
10.5.2 Medium and Heavy Commercial Vehicles: Automotive Radar Market – Revenue and Forecast to 2027 (US$ Million)
11. Europe Automotive Radar Market – Country Analysis
11.1 Overview
11.1.1 Europe: Automotive Radar Market, by Key Country
11.1.1.1 UK: Automotive Radar Market – Revenue, and Forecast to 2027 (US$ Million)
11.1.1.1.1 UK: Automotive Radar Market, by Range
11.1.1.1.2 UK: Automotive Radar Market, by Frequency
11.1.1.1.3 UK: Automotive Radar Market, by Application
11.1.1.1.4 UK: Automotive Radar Market, by Vehicle Type
11.1.1.2 Germany: Automotive Radar Market – Revenue, and Forecast to 2027 (US$ Million)
11.1.1.2.1 Germany: Automotive Radar Market, by Range
11.1.1.2.2 Germany: Automotive Radar Market, by Frequency
11.1.1.2.3 Germany: Automotive Radar Market, by Application
11.1.1.2.4 Germany: Automotive Radar Market, by Vehicle Type
11.1.1.3 France: Automotive Radar Market – Revenue, and Forecast to 2027 (US$ Million)
11.1.1.3.1 France: Automotive Radar Market, by Range
11.1.1.3.2 France: Automotive Radar Market, by Frequency
11.1.1.3.3 France: Automotive Radar Market, by Application
11.1.1.3.4 France: Automotive Radar Market, by Vehicle Type
11.1.1.4 Italy: Automotive Radar Market – Revenue, and Forecast to 2027 (US$ Million)
11.1.1.4.1 Italy: Automotive Radar Market, by Range
11.1.1.4.2 Italy: Automotive Radar Market, by Frequency
11.1.1.4.3 Italy: Automotive Radar Market, by Application
11.1.1.4.4 Italy: Automotive Radar Market, by Vehicle Type
11.1.1.5 Russia: Automotive Radar Market – Revenue, and Forecast to 2027 (US$ Million)
11.1.1.5.1 Russia: Automotive Radar Market, by Range
11.1.1.5.2 Russia: Automotive Radar Market, by Frequency
11.1.1.5.3 Russia: Automotive Radar Market, by Application
11.1.1.5.4 Russia: Automotive Radar Market, by Vehicle Type
11.1.1.6 Rest of Europe: Automotive Radar Market – Revenue, and Forecast to 2027 (US$ Million)
11.1.1.6.1 Rest of Europe: Automotive Radar Market, by Range
11.1.1.6.2 Rest of Europe: Automotive Radar Market, by Frequency
11.1.1.6.3 Rest of Europe: Automotive Radar Market, by Application
11.1.1.6.4 Rest of Europe: Automotive Radar Market, by Vehicle Type
12. Impact of COVID-19 Pandemic on Europe Automotive Radar Market
12.1 Europe: Impact Assessment of COVID-19 Pandemic
13. Industry Landscape
13.1 Market Initiative
13.2 Merger and Acquisition
13.3 New Product Development
14. Company Profiles
14.1 Continental AG
14.1.1 Key Facts
14.1.2 Business Description
14.1.3 Products and Services
14.1.4 Financial Overview
14.1.5 SWOT Analysis
14.1.6 Key Developments
14.2 Denso Corporation
14.2.1 Key Facts
14.2.2 Business Description
14.2.3 Products and Services
14.2.4 Financial Overview
14.2.5 SWOT Analysis
14.2.6 Key Developments
14.3 Aptiv PLC
14.3.1 Key Facts
14.3.2 Business Description
14.3.3 Products and Services
14.3.4 Financial Overview
14.3.5 SWOT Analysis
14.3.6 Key Developments
14.4 HELLA GmbH and Co. KGaA
14.4.1 Key Facts
14.4.2 Business Description
14.4.3 Products and Services
14.4.4 Financial Overview
14.4.5 SWOT Analysis
14.4.6 Key Developments
14.5 Robert Bosch GmbH
14.5.1 Key Facts
14.5.2 Business Description
14.5.3 Products and Services
14.5.4 Financial Overview
14.5.5 SWOT Analysis
14.5.6 Key Developments
14.6 Valeo
14.6.1 Key Facts
14.6.2 Business Description
14.6.3 Products and Services
14.6.4 Financial Overview
14.6.5 SWOT Analysis
14.6.6 Key Developments
14.7 ZF Friedrichshafen AG
14.7.1 Key Facts
14.7.2 Business Description
14.7.3 Products and Services
14.7.4 Financial Overview
14.7.5 SWOT Analysis
14.7.6 Key Developments
14.8 Nidec Corporation
14.8.1 Key Facts
14.8.2 Business Description
14.8.3 Products and Services
14.8.4 Financial Overview
14.8.5 SWOT Analysis
14.8.6 Key Developments
14.9 Veoneer Inc
14.9.1 Key Facts
14.9.2 Business Description
14.9.3 Products and Services
14.9.4 Financial Overview
14.9.5 SWOT Analysis
14.9.6 Key Developments
15. Appendix
15.1 About The Insight Partners
15.2 Word Index
LIST OF TABLES
Table 1. Europe Automotive Radar Market– Revenue and Forecast to 2027 (US$ Million)
Table 2. UK: Automotive Radar Market, by Range –Revenue and Forecast to 2027 (US$ Million)
Table 3. UK: Automotive Radar Market, by Frequency –Revenue and Forecast to 2027 (US$ Million)
Table 4. UK: Automotive Radar Market, by Application –Revenue and Forecast to 2027 (US$ Million)
Table 5. UK: Automotive Radar Market, by Vehicle Type –Revenue and Forecast to 2027 (US$ Million)
Table 6. Germany: Automotive Radar Market, by Range –Revenue and Forecast to 2027 (US$ Million)
Table 7. Germany: Automotive Radar Market, by Frequency –Revenue and Forecast to 2027 (US$ Million)
Table 8. Germany: Automotive Radar Market, by Application –Revenue and Forecast to 2027 (US$ Million)
Table 9. Germany: Automotive Radar Market, by Vehicle Type –Revenue and Forecast to 2027 (US$ Million)
Table 10. France: Automotive Radar Market, by Range –Revenue and Forecast to 2027 (US$ Million)
Table 11. France: Automotive Radar Market, by Frequency –Revenue and Forecast to 2027 (US$ Million)
Table 12. France: Automotive Radar Market, by Application –Revenue and Forecast to 2027 (US$ Million)
Table 13. France: Automotive Radar Market, by Vehicle Type –Revenue and Forecast to 2027 (US$ Million)
Table 14. Italy: Automotive Radar Market, by Range –Revenue and Forecast to 2027 (US$ Million)
Table 15. Italy: Automotive Radar Market, by Frequency –Revenue and Forecast to 2027 (US$ Million)
Table 16. Italy: Automotive Radar Market, by Application –Revenue and Forecast to 2027 (US$ Million)
Table 17. Italy: Automotive Radar Market, by Vehicle Type –Revenue and Forecast to 2027 (US$ Million)
Table 18. Russia: Automotive Radar Market, by Range –Revenue and Forecast to 2027 (US$ Million)
Table 19. Russia: Automotive Radar Market, by Frequency –Revenue and Forecast to 2027 (US$ Million)
Table 20. Russia: Automotive Radar Market, by Application –Revenue and Forecast to 2027 (US$ Million)
Table 21. Russia: Automotive Radar Market, by Vehicle Type –Revenue and Forecast to 2027 (US$ Million)
Table 22. Rest of Europe: Automotive Radar Market, by Range –Revenue and Forecast to 2027 (US$ Million)
Table 23. Rest of Europe: Automotive Radar Market, by Frequency –Revenue and Forecast to 2027 (US$ Million)
Table 24. Rest of Europe: Automotive Radar Market, by Application –Revenue and Forecast to 2027 (US$ Million)
Table 25. Rest of Europe: Automotive Radar Market, by Vehicle Type –Revenue and Forecast to 2027 (US$ Million)
Table 26. List of Abbreviation
LIST OF FIGURES
Figure 1. Europe Automotive Radar Market Segmentation
Figure 2. Europe Automotive Radar Market Segmentation – By Country
Figure 3. Europe Automotive Radar Market Overview
Figure 4. Short Range Radar Segment Held the Largest Share During Forecast Period
Figure 5. GHZ Frequency Segment to Grow at A Faster CAGR
Figure 6. Adaptive Cruise Control Segment Held the Largest Share During Forecast Period
Figure 7. Passenger Cars Segment Held the Largest Share During Forecast Period
Figure 8. Europe Automotive Radar Market, Country Analysis
Figure 9. Europe PEST Analysis
Figure 10. Ecosystem Analysis
Figure 11. Expert Opinion
Figure 12. Europe Automotive Radar Market Impact Analysis of Drivers and Restraints
Figure 13. Europe Automotive Radar Market– Revenue and Forecast to 2027 (US$ Million)
Figure 14. Europe Automotive Radar Market Revenue Share, by Range (2019 and 2027)
Figure 15. Europe Long Range Radar (LRR): Automotive Radar Market – Revenue and Forecast to 2027 (US$ Million)
Figure 16. Europe Mid-Range Radar (MRR): Automotive Radar Market – Revenue and Forecast to 2027 (US$ Million)
Figure 17. Europe Short Range Radar (SRR): Automotive Radar Market – Revenue and Forecast to 2027 (US$ Million)
Figure 18. Europe Automotive Radar Market Breakdown, By Frequency, 2019 & 2027
Figure 19. Europe 24 GHZ: Automotive Radar Market – Revenue and Forecast to 2027 (US$ Million)
Figure 20. Europe 77 GHZ: Automotive Radar Market – Revenue and Forecast to 2027 (US$ Million)
Figure 21. Europe 79 GHZ: Automotive Radar Market – Revenue and Forecast to 2027 (US$ Million)
Figure 22. Europe Automotive Radar Market Breakdown, By Application, 2019 & 2027
Figure 23. Europe Adaptive Cruise Control: Automotive Radar Market – Revenue and Forecast to 2027 (US$ Million)
Figure 24. Europe Autonomous Emergency Braking: Automotive Radar Market – Revenue and Forecast to 2027 (US$ Million)
Figure 25. Europe Blind Spot Detection: Automotive Radar Market – Revenue and Forecast to 2027 (US$ Million)
Figure 26. Europe Forward Collision Warning System: Automotive Radar Market – Revenue and Forecast to 2027 (US$ Million)
Figure 27. Europe Intelligent Park Assist: Automotive Radar Market – Revenue and Forecast to 2027 (US$ Million)
Figure 28. Europe Others: Automotive Radar Market – Revenue and Forecast to 2027 (US$ Million)
Figure 29. Europe Automotive Radar Market Breakdown, By Vehicle Type, 2019 & 2027
Figure 30. Europe Passenger Cars: Automotive Radar Market – Revenue and Forecast to 2027 (US$ Million)
Figure 31. Europe Light Commercial Vehicles: Automotive Radar Market – Revenue and Forecast to 2027 (US$ Million)
Figure 32. Europe Medium and Heavy Commercial Vehicles: Automotive Radar Market – Revenue and Forecast to 2027 (US$ Million)
Figure 33. Europe: Automotive Radar Market Revenue Share, by Key Country (2019 and 2027)
Figure 34. UK: Automotive Radar Market – Revenue, and Forecast to 2027 (US$ Million)
Figure 35. Germany: Automotive Radar Market – Revenue, and Forecast to 2027 (US$ Million)
Figure 36. France: Automotive Radar Market – Revenue, and Forecast to 2027 (US$ Million)
Figure 37. Italy: Automotive Radar Market – Revenue, and Forecast to 2027 (US$ Million)
Figure 38. Russia: Automotive Radar Market – Revenue, and Forecast to 2027 (US$ Million)
Figure 39. Rest of Europe: Automotive Radar Market – Revenue, and Forecast to 2027 (US$ Million)
Figure 40. Impact of COVID-19 Pandemic in Europe Country Markets
Aptiv Plc

Continental AG

Denso Corporation

HELLA KGaA Hueck & Co.

Nidec Corporation

Robert Bosch GmbH

Valeo

Veoneer Inc

ZF Friedrichshafen AG
Save and reduce time carrying out entry-level research by identifying the growth, size, leading players and segments in the Europe automotive radar market

Highlights key business priorities in order to assist companies to realign their business strategies

The key findings and recommendations highlight crucial progressive industry trends in the Europe automotive radar market, thereby allowing players across the value chain to develop effective long-term strategies

Develop/modify business expansion plans by using substantial growth offering developed and emerging markets

Scrutinize in-depth Europe market trends and outlook coupled with the factors driving the

automotive radar market, as well as those hindering it

Enhance the decision-making process by understanding the strategies that underpin commercial interest with respect to client products, segmentation, pricing and distribution
---
Related Tags
Europe Automotive Radar Market
Europe Automotive Radar Market Research
Europe Automotive Radar Market Insight
Europe Automotive Radar Market Trends
Europe Automotive Radar Market Forecast
Europe Automotive Radar Market Share
Europe Automotive Radar Market 2027
Europe Automotive Radar Market Growth
Europe Automotive Radar Industry
Sector
Europe Automotive Radar PDF Report
Europe Automotive Radar Analysis
Europe Automotive Radar Research
Competitive Analysis
---