Europe Automated Storage and Retrieval System (ASRS) Market Forecast to 2030 – COVID-19 Impact and Regional Analysis – by Type (Unit Load ASRS, Mini Load ASRS, Vertical Lift Module, Vertical Carousels, Horizontal Carousels, AutoStore, and Others) and End use Industry (Automotive, Food & Beverages, Electronic & Semiconductors, E-Commerce, Chemicals, Aerospace, Retail, Pharmaceuticals, and Others)       
BMIRE00028410
|
Pages:
156
|
Electronics and Semiconductor
|
May 2023
|
Type:
Regional
|
Status:
Published
The Europe Automated Storage and Retrieval System (ASRS) market is expected to grow from US$ 1,027.93 million in 2022 to US$ 1,645.20 million by 2030. It is estimated to grow at a CAGR of 6.1% from 2022 to 2030.
Optimized and Space-Efficient Storage Systems Europe Automated Storage and Retrieval System (ASRS) Market
The growing population in the region is remarkably impacting the demand for multiple product categories in industries such as automotive, pharmaceutical, retail, electronics, food & beverages, and many other. To cater to this increasing demand, manufacturers have expanded their production significantly. However, increased production demands for the extensive requirement of storage spaces, efficient in terms of both occupied floor space and cost incurred. Warehouses, storage centers, and distribution centers play a vital role in maintaining the stocks of consumer goods for various companies. Minimal damage to the product while storage, limited storage costs, and fast pick and drop of goods are the factors that manufacturers and supply chain partners are opting for storage purposes and further movement of goods.
Diverse storage solutions such as unit load, mid-load, carousels, and VLM serve various purposes to their users with added value, thereby helping them in reducing costs. For instance, VLMs save more than 80% of floor space by stacking the material on vertical shelves. Also, these storage systems are designed so that storing and picking up goods becomes less time-consuming and more efficient and helps increase productivity at the workplace. Similarly, horizontal and vertical carousels are used for the storage of small parts and tools used either at the manufacturing plant shop floor or for the storage of consumer goods. Moreover, the modular structure of these systems ensures flexibility and scalability. Thus, the need for fast, space-efficient, and cost-effective storage systems, along with maximum throughput and productivity, is driving the market for ASRS across most end-user industries.
Europe Automated Storage and Retrieval System (ASRS) Market Overview
The automated storage and retrieval system market in Europe is sub segmented into France, Germany, Russia, Italy, the UK, and the Rest of Europe. Europe is a highly diverse market with a group of more than 40 countries in it. Western European countries are more advanced than the NORDIC and other east European countries. Therefore, the western part of Europe has experienced more developments and advancements in the field of automation. The NORDIC countries consist of a large number of small and medium enterprises (SMEs) that do not have much demand for automated storage warehouses. Pharmaceutical, e-commerce, healthcare, automobile, and food & beverage processing industries are the largest consumers of ASRS solutions.
Concerns and uncertainties about the return on investment (ROI) after the implementation of automated storage solutions restrict the growth of the automated storage and retrieval systems (ASRS) market in NORDIC countries. However, the need to have space-efficient warehouses to save up on capital expenditure (CAPEX) on product storage activities has been the major reason for popular implementations of the system in Europe. Germany, Italy, and Spain are the potential growth markets for the deployment of ASRS. The automotive industry in Germany, and the textile and manufacturing industries in Italy and Spain, respectively, have been using ASRS for accuracy and efficiency in operations. Also, the progress of automation technologies has enabled more ASRS implementations in western Europe.
The major players in Europe offering ASRS solutions include System Logistics SpA, Swisslog Holdings AB, Vanderlande Industries, and SSI Schaefer Systems International. Vanderlande Industries is one of the key players in the region for value-added logistic process automation at airports and in the parcel market. 12 of Europe's top 20 e-commerce businesses and distribution firms have implemented Vanderlande's solutions in their business processes. In September 2019, Swiss log Holding AG, an automation company based in Switzerland, provided its robotic warehouse system in retail and e-commerce for Axiom Telecom in the UAE. Its AutoStore system is an automated storage and picking system that uses robots on top of an aluminum grid system for storing and locating goods.
Europe Automated Storage and Retrieval System (ASRS) market Revenue and Forecast to 2030 (US$ Million)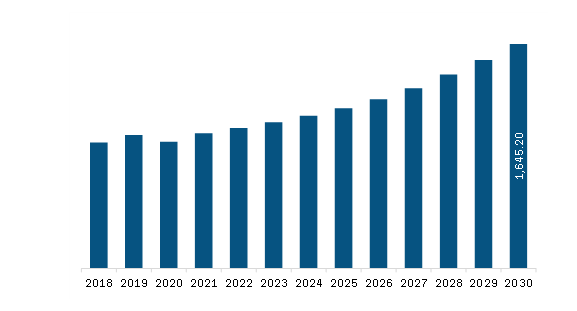 Europe Automated Storage and Retrieval System (ASRS) Market Segmentation
The Europe Automated Storage and Retrieval System (ASRS) market is segmented into type, end use industry, and country. Based on type, the market is categorized into unit load ASRS, mini load ASRS, vertical lift module, vertical carousels, horizontal carousels, autoStore, and others. The vertical lift module segment registered the largest market share in 2022.
Based on end use industry, the market is segmented into automotive, food & beverage, e-commerce, chemicals, aerospace, retail, pharmaceuticals, and others. The e-commerce held the largest market share in 2022.
Based on country, the market is segmented into France, Germany, Italy, the UK, Russia, and Rest of Europe. Germany dominated the market share in 2022.
SSI Schafer; Swisslog Holding AG; System Logistics SpA; Bastian Solutions LLC; Daifuku Co Ltd; Kardex Holding AG; KNAPP AG; Vanderlande Industries BV; and Autocrib Inc are the leading companies operating in the Automated Storage and Retrieval System (ASRS) market in the region.
1.

Introduction
1.1 Study Scope
1.2 The Insight Partners Research Report Guidance
1.3 Market Segmentation
1.3.1 Europe Automated Storage and Retrieval System (ASRS) Market – By Type
1.3.2 Europe Automated Storage and Retrieval System (ASRS) Market – By End Use Industry
1.3.3 Europe Automated Storage and Retrieval System (ASRS) Market- By Country
2.

Key Takeaways
3. Research Methodology
3.1 Coverage
3.2 Secondary Research
3.3 Primary Research
4.

Europe Automated Storage and Retrieval System (ASRS) Market Landscape
4.1 Market Overview
4.2 PEST Analysis
4.2.1 Europe
4.3 Ecosystem Analysis
4.4 Expert Opinion
5.

Europe Automated Storage and Retrieval System (ASRS) Market – Key Market Dynamics
5.1 Market Drivers
5.1.1 Optimized and Space-Efficient Storage Systems
5.1.2 Need for Efficient Supply Chain
5.1.3 Emergence of Automation In Storage and Retrieval Tasks
5.2 Market Restraints
5.2.1 Requirement of High Initial Investment
5.3 Market Opportunities
5.3.1 Increasing Demand for Automation in the E-commerce Industry
5.3.2 Growth in demand for Cold Storage ASRS
5.4 Future Trends
5.4.1 Integration of Robotics
5.5 Impact Analysis of Drivers and Restraints
6.

Automated Storage and Retrieval System (ASRS) Market – Europe Analysis
6.1 Europe Automated Storage and Retrieval System (ASRS) Market Overview
6.2 Europe Automated Storage and Retrieval System (ASRS) Market – Revenue and Forecast to 2030 (US$ Million)
7.

Europe Automated Storage and Retrieval System (ASRS) Market Analysis – By Type
7.1 Overview
7.2 Automated Storage and Retrieval System (ASRS) Market Revenue Breakdown, By Type (2021 and 2028)
7.3 Unit Load ASRS
7.3.1 Overview
7.3.2 Unit Load ASRS: Automated Storage and Retrieval System (ASRS) Market – Revenue, and Forecast to 2030 (US$ Million)
7.4 Mini Load ASRS
7.4.1 Overview
7.4.2 Mini Load ASRS: Automated Storage and Retrieval System (ASRS) Market – Revenue, and Forecast to 2030 (US$ Million)
7.5 Vertical Lift Module
7.5.1 Overview
7.5.2 Vertical Lift Module: Automated Storage and Retrieval System (ASRS) Market – Revenue, and Forecast to 2030 (US$ Million)
7.6 Vertical Carousels
7.6.1 Overview
7.6.2 Vertical Carousels: Automated Storage and Retrieval System (ASRS) Market – Revenue, and Forecast to 2030 (US$ Million)
7.7 Horizontal Carousels
7.7.1 Overview
7.7.2 Horizontal Carousels: Automated Storage and Retrieval System (ASRS) Market – Revenue, and Forecast to 2030 (US$ Million)
7.8 AutoStore
7.8.1 Overview
7.8.2 AutoStore: Automated Storage and Retrieval System (ASRS) Market – Revenue, and Forecast to 2030 (US$ Million)
7.9 Others
7.9.1 Overview
7.9.2 Others: Automated Storage and Retrieval System (ASRS) Market – Revenue, and Forecast to 2030 (US$ Million)
8.

Europe Automated Storage and Retrieval System (ASRS) Market Analysis – By End Use Industry
8.1 Overview
8.2 Automated Storage and Retrieval System (ASRS) Market, By End Use Industry (2021 and 2028)
8.3 Automotive
8.3.1 Overview
8.3.2 Automotive: Automated Storage and Retrieval System (ASRS) Market – Revenue, and Forecast to 2030 (US$ Million)
8.4 Food & Beverages
8.4.1 Overview
8.4.2 Food & Beverages: Automated Storage and Retrieval System (ASRS) Market – Revenue, and Forecast to 2030 (US$ Million)
8.5 Electronics & Semiconductor
8.5.1 Overview
8.5.2 Electronics & Semiconductor: Automated Storage and Retrieval System (ASRS) Market – Revenue, and Forecast to 2030 (US$ Million)
8.6 E-Commerce
8.6.1 Overview
8.6.2 E-Commerce: Automated Storage and Retrieval System (ASRS) Market – Revenue, and Forecast to 2030 (US$ Million)
8.7 Chemicals
8.7.1 Overview
8.7.2 Chemicals: Automated Storage and Retrieval System (ASRS) Market – Revenue, and Forecast to 2030 (US$ Million)
8.8 Aerospace
8.8.1 Overview
8.8.2 Aerospace: Automated Storage and Retrieval System (ASRS) Market – Revenue, and Forecast to 2030 (US$ Million)
8.9 Retail
8.9.1 Overview
8.9.2 Retail: Automated Storage and Retrieval System (ASRS) Market – Revenue, and Forecast to 2030 (US$ Million)
8.10 Pharmaceuticals
8.10.1 Overview
8.10.2 Pharmaceuticals: Automated Storage and Retrieval System (ASRS) Market – Revenue, and Forecast to 2030 (US$ Million)
8.11 Others
8.11.1 Overview
8.11.2 Others: Automated Storage and Retrieval System (ASRS) Market – Revenue, and Forecast to 2030 (US$ Million)
9.

Europe Automated Storage and Retrieval System (ASRS) Market –by Country Analysis
9.1 Europe: Automated Storage and Retrieval System (ASRS) Market
9.1.1 Overview
9.1.2 Europe Automated Storage and Retrieval System (ASRS) Market Breakdown, by Country
9.1.2.1 France Automated Storage and Retrieval System (ASRS) Market, Revenue and Forecast to 2030
9.1.2.1.1 France Automated Storage and Retrieval System (ASRS) Market Breakdown, By Type
9.1.2.1.2 France Automated Storage and Retrieval System (ASRS) Market Breakdown, By Type
9.1.2.1.3 France Automated Storage and Retrieval System (ASRS) Market Breakdown, By End Use Vertical
9.1.2.2 Germany Automated Storage and Retrieval System (ASRS) Market, Revenue and Forecast to 2030
9.1.2.2.1 Germany Automated Storage and Retrieval System (ASRS) Market Breakdown, By Type
9.1.2.2.2 Germany Automated Storage and Retrieval System (ASRS) Market Breakdown, By Type
9.1.2.2.3 Germany Automated Storage and Retrieval System (ASRS) Market Breakdown, By End Use Vertical
9.1.2.3 Italy Automated Storage and Retrieval System (ASRS) Market, Revenue and Forecast to 2030
9.1.2.3.1 Italy Automated Storage and Retrieval System (ASRS) Market Breakdown, By Type
9.1.2.3.2 Italy Automated Storage and Retrieval System (ASRS) Market Breakdown, By Type
9.1.2.3.3 Italy Automated Storage and Retrieval System (ASRS) Market Breakdown, By End Use Vertical
9.1.2.4 UK Automated Storage and Retrieval System (ASRS) Market, Revenue and Forecast to 2030
9.1.2.4.1 UK Automated Storage and Retrieval System (ASRS) Market Breakdown, By Type
9.1.2.4.2 UK Automated Storage and Retrieval System (ASRS) Market Breakdown, By Type
9.1.2.4.3 UK Automated Storage and Retrieval System (ASRS) Market Breakdown, By End Use Vertical
9.1.2.5 Spain Automated Storage and Retrieval System (ASRS) Market, Revenue and Forecast to 2030
9.1.2.5.1 Spain Automated Storage and Retrieval System (ASRS) Market Breakdown, By Type
9.1.2.5.2 Spain Automated Storage and Retrieval System (ASRS) Market Breakdown, By Type
9.1.2.5.3 Spain Automated Storage and Retrieval System (ASRS) Market Breakdown, By End Use Vertical
9.1.2.6 Rest of Europe Automated Storage and Retrieval System (ASRS) Market, Revenue and Forecast to 2030
9.1.2.6.1 Rest of Europe Automated Storage and Retrieval System (ASRS) Market Breakdown, By Type
9.1.2.6.2 Rest of Europe Automated Storage and Retrieval System (ASRS) Market Breakdown, By Type
9.1.2.6.3 Rest of Europe Automated Storage and Retrieval System (ASRS) Market Breakdown, By End Use Vertical
10.

Industry Landscape
10.1 Overview
10.2 Market Initiative
10.3 New Product Development
10.4 Merger and Acquisition
11.

Company Profiles
11.1 SSI Schafer
11.1.1 Key Facts
11.1.2 Business Description
11.1.3 Products and Services
11.1.4 Financial Overview
11.1.5 SWOT Analysis
11.1.6 Key Developments
11.2 Swisslog Holding AG
11.2.1 Key Facts
11.2.2 Business Description
11.2.3 Products and Services
11.2.4 Financial Overview
11.2.5 SWOT Analysis
11.2.6 Key Developments
11.3 System Logistics SpA
11.3.1 Key Facts
11.3.2 Business Description
11.3.3 Products and Services
11.3.4 Financial Overview
11.3.5 SWOT Analysis
11.3.6 Key Developments
11.4 Bastian Solutions LLC
11.4.1 Key Facts
11.4.2 Business Description
11.4.3 Products and Services
11.4.4 Financial Overview
11.4.5 SWOT Analysis
11.4.6 Key Developments
11.5 Daifuku Co Ltd
11.5.1 Key Facts
11.5.2 Business Description
11.5.3 Financial Overview
11.5.4 SWOT Analysis
11.5.5 Key Developments
11.6 Kardex Holding AG
11.6.1 Key Facts
11.6.2 Business Description
11.6.3 Products and Services
11.6.4 Financial Overview
11.6.5 SWOT Analysis
11.6.6 Key Developments
11.7 KNAPP AG
11.7.1 Key Facts
11.7.2 Business Description
11.7.3 Products and Services
11.7.4 Financial Overview
11.7.5 SWOT Analysis
11.7.6 Key Developments
11.8 Mecalux SA
11.8.1 Key Facts
11.8.2 Business Description
11.8.3 Products and Services
11.8.4 Financial Overview
11.8.5 SWOT Analysis
11.8.6 Key Developments
11.9 Vanderlande Industries BV
11.9.1 Key Facts
11.9.2 Business Description
11.9.3 Products and Services
11.9.4 Financial Overview
11.9.5 SWOT Analysis
11.9.6 Key Developments
11.10 Autocrib Inc
11.10.1 Key Facts
11.10.2 Business Description
11.10.3 Products and Services
11.10.4 Financial Overview
11.10.5 SWOT Analysis
11.10.6 Key Developments
12.

Appendix
12.1 About The Insight Partners
12.2 Word Index
LIST OF TABLES
Table 1. Europe Automated Storage and Retrieval System (ASRS) Market – Revenue and Forecast to 2030 (US$ Million)
Table 2. Europe Automated Storage and Retrieval System (ASRS) Market – Volume and Forecast to 2030 (Units)
Table 3. Unit Load ASRS: Automated Storage and Retrieval System (ASRS) Market – Volume, and Forecast to 2030 (Units)
Table 4. Mini Load ASRS: Europe Automated Storage and Retrieval System (ASRS) Market – Volume, and Forecast to 2030 (Units)
Table 5. Vertical Lift Module: Europe Automated Storage and Retrieval System (ASRS) Market – Volume, and Forecast to 2030 (Units)
Table 6. Vertical Carousels: Europe Automated Storage and Retrieval System (ASRS) Market – Volume, and Forecast to 2030 (Units)
Table 7. Horizontal Carousels: Europe Automated Storage and Retrieval System (ASRS) Market – Volume, and Forecast to 2030 (Units)
Table 8. AutoStore: Europe Automated Storage and Retrieval System (ASRS) Market – Volume, and Forecast to 2030 (Units)
Table 9. Others: Europe Automated Storage and Retrieval System (ASRS) Market – Volume, and Forecast to 2030 (Units)
Table 10. Europe Automated Storage and Retrieval System (ASRS) Market, Revenue and Forecast To 2030 – By Country (US$ Million)
Table 11. Europe Automated Storage and Retrieval System (ASRS) Market, Volume and Forecast To 2030 – By Country (Units)
Table 12. France Automated Storage and Retrieval System (ASRS) Market, Revenue and Forecast to 2030 – By Type (US$ Million)
Table 13. France Automated Storage and Retrieval System (ASRS) Market, Volume and Forecast to 2030 – By Type (Units)
Table 14. France Automated Storage and Retrieval System (ASRS) Market, Revenue and Forecast to 2030 – By End Use Vertical (US$ Million)
Table 15. Germany Automated Storage and Retrieval System (ASRS) Market, Revenue and Forecast to 2030 – By Type (US$ Million)
Table 16. Germany Automated Storage and Retrieval System (ASRS) Market, Volume and Forecast to 2030 – By Type (Units)
Table 17. Germany Automated Storage and Retrieval System (ASRS) Market, Revenue and Forecast to 2030 – By End Use Vertical (US$ Million)
Table 18. Italy Automated Storage and Retrieval System (ASRS) Market, Revenue and Forecast to 2030 – By Type (US$ Million)
Table 19. Italy Automated Storage and Retrieval System (ASRS) Market, Volume and Forecast to 2030 – By Type (Units)
Table 20. Italy Automated Storage and Retrieval System (ASRS) Market, Revenue and Forecast to 2030 – By End Use Vertical (US$ Million)
Table 21. UK Automated Storage and Retrieval System (ASRS) Market, Revenue and Forecast to 2030 – By Type (US$ Million)
Table 22. UK Automated Storage and Retrieval System (ASRS) Market, Volume and Forecast to 2030 – By Type (Units)
Table 23. UK Automated Storage and Retrieval System (ASRS) Market, Revenue and Forecast to 2030 – By End Use Vertical (US$ Million)
Table 24. Spain Automated Storage and Retrieval System (ASRS) Market, Revenue and Forecast to 2030 – By Type (US$ Million)
Table 25. Spain Automated Storage and Retrieval System (ASRS) Market, Volume and Forecast to 2030 – By Type (Units)
Table 26. Spain Automated Storage and Retrieval System (ASRS) Market, Revenue and Forecast to 2030 – By End Use Vertical (US$ Million)
Table 27. Rest of Europe Automated Storage and Retrieval System (ASRS) Market, Revenue and Forecast to 2030 – By Type (US$ Million)
Table 28. Rest of Europe Automated Storage and Retrieval System (ASRS) Market, Volume and Forecast to 2030 – By Type (Units)
Table 29. Rest of Europe Automated Storage and Retrieval System (ASRS) Market, Revenue and Forecast to 2030 – By End Use Vertical (US$ Million)
Table 30. List of Abbreviation
LIST OF FIGURES
Figure 1. Europe Automated Storage and Retrieval System (ASRS) Market Segmentation
Figure 2. Europe Automated Storage and Retrieval System (ASRS) Market Segmentation – By Country
Figure 3. Europe Automated Storage and Retrieval System (ASRS) Market Overview
Figure 4. Vertical Lift Module Segment held the Largest Share of Automated Storage and Retrieval System (ASRS) Market
Figure 5. E-Commerce Segment held the Largest Share of Automated Storage and Retrieval System (ASRS) Market
Figure 6. Germany to Show Great Traction During Forecast Period
Figure 7. Europe: PEST Analysis
Figure 8. Europe Ecosystem Analysis
Figure 9. Europe Expert Opinion
Figure 10. Europe Automated Storage and Retrieval System (ASRS) Market Impact Analysis of Drivers and Restraints
Figure 11. Europe Automated Storage and Retrieval System (ASRS) Market – Revenue and Forecast to 2030 (US$ Million)
Figure 12. Europe Automated Storage and Retrieval System (ASRS) Market Revenue Share, By Type (2021 and 2028)
Figure 13. Unit Load ASRS: Europe Automated Storage and Retrieval System (ASRS) Market – Revenue, and Forecast to 2030 (US$ Million)
Figure 14. Mini Load ASRS: Europe Automated Storage and Retrieval System (ASRS) Market – Revenue, and Forecast to 2030 (US$ Million)
Figure 15. Vertical Lift Module: Europe Automated Storage and Retrieval System (ASRS) Market – Revenue, and Forecast to 2030 (US$ Million)
Figure 16. Vertical Carousels: Europe Automated Storage and Retrieval System (ASRS) Market – Revenue, and Forecast to 2030 (US$ Million)
Figure 17. Horizontal Carousels: Europe Automated Storage and Retrieval System (ASRS) Market – Revenue, and Forecast to 2030 (US$ Million)
Figure 18. AutoStore: Europe Automated Storage and Retrieval System (ASRS) Market – Revenue, and Forecast to 2030 (US$ Million)
Figure 19. Others: Europe Automated Storage and Retrieval System (ASRS) Market – Revenue, and Forecast to 2030 (US$ Million)
Figure 20. Europe Automated Storage and Retrieval System (ASRS) Market Revenue Share, By End Use Industry (2021 and 2028)
Figure 21. Automotive: Europe Automated Storage and Retrieval System (ASRS) Market – Revenue, and Forecast to 2030 (US$ Million)
Figure 22. Food & Beverages: Europe Automated Storage and Retrieval System (ASRS) Market – Revenue, and Forecast to 2030 (US$ Million)
Figure 23. Electronics & Semiconductor: Europe Automated Storage and Retrieval System (ASRS) Market – Revenue, and Forecast to 2030 (US$ Million)
Figure 24. E-Commerce: Europe Automated Storage and Retrieval System (ASRS) Market – Revenue, and Forecast to 2030 (US$ Million)
Figure 25. Chemicals: Europe Automated Storage and Retrieval System (ASRS) Market – Revenue, and Forecast to 2030 (US$ Million)
Figure 26. Aerospace: Europe Automated Storage and Retrieval System (ASRS) Market – Revenue, and Forecast to 2030 (US$ Million)
Figure 27. Retail: Europe Automated Storage and Retrieval System (ASRS) Market – Revenue, and Forecast to 2030 (US$ Million)
Figure 28. Pharmaceuticals: Europe Automated Storage and Retrieval System (ASRS) Market – Revenue, and Forecast to 2030 (US$ Million)
Figure 29. Others: Europe Automated Storage and Retrieval System (ASRS) Market – Revenue, and Forecast to 2030 (US$ Million)
Figure 30. Europe: Automated Storage and Retrieval System (ASRS) Market, by key Country –Revenue (2021) (US$ Million)
Figure 31. Europe Automated Storage and Retrieval System (ASRS) Market Breakdown, by Country, 2021 & 2030 (%)
Figure 32. France Automated Storage and Retrieval System (ASRS) Market, Revenue and Forecast to 2030 (US$ Million)
Figure 33. Germany Automated Storage and Retrieval System (ASRS) Market, Revenue and Forecast to 2030 (US$ Million)
Figure 34. Italy Automated Storage and Retrieval System (ASRS) Market, Revenue and Forecast to 2030 (US$ Million)
Figure 35. UK Automated Storage and Retrieval System (ASRS) Market, Revenue and Forecast to 2030 (US$ Million)
Figure 36. Spain Automated Storage and Retrieval System (ASRS) Market, Revenue and Forecast to 2030 (US$ Million)
Figure 37. Rest of Europe Automated Storage and Retrieval System (ASRS) Market, Revenue and Forecast to 2030 (US$ Million)
SSI Schafer

Swisslog Holding AG

System Logistics SpA

Bastian Solutions LLC

Daifuku Co Ltd

Kardex Holding AG

KNAPP AG

Mecalux SA

Vanderlande Industries BV

Autocrib Inc
---