Asia Pacific Automated Storage and Retrieval System (ASRS) Market Forecast to 2030 – COVID-19 Impact and Regional Analysis – by Type (Unit Load ASRS, Mini Load ASRS, Vertical Lift Module, Vertical Carousels, Horizontal Carousels, AutoStore, and Others) and End use Industry (Automotive, Food & Beverages, Electronic & Semiconductors, E-Commerce, Chemicals, Aerospace, Retail, Pharmaceuticals, and Others)
BMIRE00028404
|
Pages:
153
|
Electronics and Semiconductor
|
May 2023
|
Type:
Regional
|
Status:
Published
The Asia Pacific Automated Storage and Retrieval System (ASRS) market is expected to grow from US$ 612.70 million in 2022 to US$ 1,183.92 million by 2030. It is estimated to grow at a CAGR of 8.6% from 2022 to 2030.
Integration of robotics Asia Pacific Automated Storage and Retrieval System (ASRS) Market
Automation has been introduced in the warehousing and storage industry recently, and the market is still in its initial stages. As the market witnesses growth and adoption of automation, competition is set to get tougher, with competitors expected to come up with innovation in this field in a very short span of time. The advent of IoT has become a path-breaking business operations methodology. With IoT and pick-by-light technology integrated into automated storage systems, business providers can provide end users with highly customized solutions for stocking different varieties and sizes of products in the warehouse in a very efficient manner. A warehouse needs to store different varieties of the same product and different package sizes of the same product to cater to different consumer segments in the market.
Robotics is expected to play a supplementary role in IoT and pick-by-light technology in the automated storage system. In such a system, all the entities can be connected with each other and communicate as soon as an input command is given by the operator from a remote location or the same location on a monitor. A sensor mounted on the robotic device would initiate the movement in the direction where the item needs to be picked or stored. Pick-by-light technology at the output will guide the robot to the accurate location of the product. Once the product is extracted or inserted from or into the storage location, the result will be updated at the main server via a sensor. An efficient pick-by-light technology, where color coding can be used to differentiate between various SKUs and the broad product line of the mix coupled with sensors, will help update the numbers at the operator end can prove to be very effective for the future growth of this market. Companies are adapting robotics solutions to simplify processes and increase business efficiency. For instance, in Singapore, third-party logistic firms such as LF Logistics and DHL are opening high-tech spaces to help retailers cope with growing volumes of online orders. For example, DHL's US$ 160 million Advanced Regional Center includes a specialized automation system with robotic shuttles to pick up and store products from 72,000 locations. Thus, integrating robotics with ASRS technology is considered a trend in the market.
Asia Pacific Automated Storage and Retrieval System (ASRS) Market Overview
The automated storage and retrieval systems (ASRS) market in Asia Pacific is subsegmented into India, China, Japan, Australia, South Korea, and the Rest of Asia Pacific. Japan, India, China, Australia, Singapore, Taiwan, and Indonesia, among others, have a plethora of manufacturing industries, including electronics, food & beverage, chemicals, textile, automobiles, and healthcare businesses. The manufacturing sector in countries in Asia Pacific has experienced a huge shift over the years. It is now known to rapidly adopt innovation accelerators such as robotics and emerging cloud and mobility technologies. According to an issue by The Economics Times in December 2022, India is expected to add 30 million square feet of space for building new warehouses. The demand for additional space for warehousing is due to the growing manufacturing sector and e-commerce activities. Furthermore, government policies such as Make-in-India encourage the setup of manufacturing plants in India, as well as in other fast-developing countries. Governments of these countries are encouraging the manufacturing sector to make their nations self-sufficient, which will allow them to export the surplus produce. A busy manufacturing hub requires deployments of storage houses, and efficient and automated storage houses improve accuracy and achieve space savings by vertically stacking up the products.
The cold chain logistics industry in Asia Pacific is anticipated to witness significant growth in the coming years. With two of the fastest-growing economies in the region, such as China and India, the industry accelerated the cold chain warehousing industry. However, plant operators in this industry are facing challenges such as decreasing manpower availability and growing costs. Thus, to gain traction in the market, cold chain operators are looking for automated logistics solutions that help improve warehouse efficiency at lowered costs. Cold store warehouses stock raw materials, work-in-progress products, finished goods, etc. ASRS machines help ensure proper storage and inventory control of perishable or temperature-sensitive products with reliable and safe product handling
Asia Pacific Automated Storage and Retrieval System (ASRS) Market Revenue and Forecast to 2030 (US$ Million)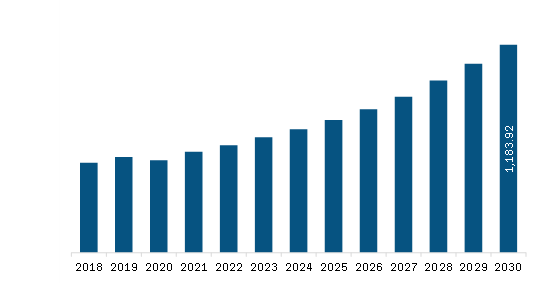 Asia Pacific Automated Storage and Retrieval System (ASRS) Market Segmentation
The Asia Pacific Automated Storage and Retrieval System (ASRS) Market is segmented into type, end use industry, and country. Based on type, the market is categorized into unit load ASRS, mini load ASRS, vertical lift module, vertical carousels, horizontal carousels, autoStore, and others. The vertical lift module segment registered the largest market share in 2022.
Based on end use industry, the market is segmented into automotive, food & beverage, e-commerce, chemicals, aerospace, retail, pharmaceuticals, and others. The e-commerce held the largest market share in 2022.
Based on country, the market is segmented into Australia, China, India, Japan, South Korea, and the Rest of Asia Pacific. China dominated the market share in 2022.
SSI Schafer; Swisslog Holding AG; System Logistics SpA; Bastian Solutions LLC; Daifuku Co Ltd; Kardex Holding AG; KNAPP AG; Vanderlande Industries BV; and Autocrib Inc are the leading companies operating in the automated storage and retrieval system (ASRS) market in the region.
1.

Introduction
1.1 Study Scope
1.2 The Insight Partners Research Report Guidance
1.3 Market Segmentation
1.3.1 Asia Pacific Automated Storage and Retrieval System (ASRS) Market – By Type
1.3.2 Asia Pacific Automated Storage and Retrieval System (ASRS) Market – By End Use Industry
1.3.3 Asia Pacific Automated Storage and Retrieval System (ASRS) Market- By Country
2.

Key Takeaways
3. Research Methodology
3.1 Coverage
3.2 Secondary Research
3.3 Primary Research
4.

Asia Pacific Automated Storage and Retrieval System (ASRS) Market Landscape
4.1 Market Overview
4.2 PEST Analysis
4.2.1 Asia Pacific
4.3 Ecosystem Analysis
4.4 Expert Opinion
5.

Asia Pacific Automated Storage and Retrieval System (ASRS) Market – Key Market Dynamics
5.1 Market Drivers
5.1.1 Optimized and Space-Efficient Storage Systems
5.1.2 Need for Efficient Supply Chain
5.1.3 Emergence of Automation in Storage and Retrieval Tasks
5.2 Market Restraints
5.2.1 Requirement of High Initial Investment
5.3 Market Opportunities
5.3.1 Increasing Demand for Automation in the E-commerce Industry
5.3.2 Growth in demand for Cold Storage ASRS
5.4 Future Trends
5.4.1 Integration of Robotics
5.5 Impact Analysis of Drivers and Restraints
6.

Automated Storage and Retrieval System (ASRS) Market – Asia Pacific Analysis
6.1 Asia Pacific Automated Storage and Retrieval System (ASRS) Market Overview
6.2 Asia Pacific Automated Storage and Retrieval System (ASRS) Market – Revenue and Forecast to 2030 (US$ Million)
7.

Asia Pacific Automated Storage and Retrieval System (ASRS) Market Analysis – By Type
7.1 Overview
7.2 Automated Storage and Retrieval System (ASRS) Market Revenue Breakdown, By Type (2021 and 2030)
7.3 Unit Load ASRS
7.3.1 Overview
7.3.2 Unit Load ASRS: Automated Storage and Retrieval System (ASRS) Market – Revenue, and Forecast to 2030 (US$ Million)
7.4 Mini Load ASRS
7.4.1 Overview
7.4.2 Mini Load ASRS: Automated Storage and Retrieval System (ASRS) Market – Revenue, and Forecast to 2030 (US$ Million)
7.5 Vertical Lift Module
7.5.1 Overview
7.5.2 Vertical Lift Module: Automated Storage and Retrieval System (ASRS) Market – Revenue, and Forecast to 2030 (US$ Million)
7.6 Vertical Carousels
7.6.1 Overview
7.6.2 Vertical Carousels: Automated Storage and Retrieval System (ASRS) Market – Revenue, and Forecast to 2030 (US$ Million)
7.7 Horizontal Carousels
7.7.1 Overview
7.7.2 Horizontal Carousels: Automated Storage and Retrieval System (ASRS) Market – Revenue, and Forecast to 2030 (US$ Million)
7.8 AutoStore
7.8.1 Overview
7.8.2 AutoStore: Automated Storage and Retrieval System (ASRS) Market – Revenue, and Forecast to 2030 (US$ Million)
7.9 Others
7.9.1 Overview
7.9.2 Others: Automated Storage and Retrieval System (ASRS) Market – Revenue, and Forecast to 2030 (US$ Million)
8.

Asia Pacific Automated Storage and Retrieval System (ASRS) Market Analysis – By End Use Industry
8.1 Overview
8.2 Automated Storage and Retrieval System (ASRS) Market, By End Use Industry (2021 and 2030)
8.3 Automotive
8.3.1 Overview
8.3.2 Automotive: Automated Storage and Retrieval System (ASRS) Market – Revenue, and Forecast to 2030 (US$ Million)
8.4 Food & Beverages
8.4.1 Overview
8.4.2 Food & Beverages: Automated Storage and Retrieval System (ASRS) Market – Revenue, and Forecast to 2030 (US$ Million)
8.5 Electronics & Semiconductor
8.5.1 Overview
8.5.2 Electronics & Semiconductor: Automated Storage and Retrieval System (ASRS) Market – Revenue, and Forecast to 2030 (US$ Million)
8.6 E-Commerce
8.6.1 Overview
8.6.2 E-Commerce: Automated Storage and Retrieval System (ASRS) Market – Revenue, and Forecast to 2030 (US$ Million)
8.7 Chemicals
8.7.1 Overview
8.7.2 Chemicals: Automated Storage and Retrieval System (ASRS) Market – Revenue, and Forecast to 2030 (US$ Million)
8.8 Aerospace
8.8.1 Overview
8.8.2 Aerospace: Automated Storage and Retrieval System (ASRS) Market – Revenue, and Forecast to 2030 (US$ Million)
8.9 Retail
8.9.1 Overview
8.9.2 Retail: Automated Storage and Retrieval System (ASRS) Market – Revenue, and Forecast to 2030 (US$ Million)
8.10 Pharmaceuticals
8.10.1 Overview
8.10.2 Pharmaceuticals: Automated Storage and Retrieval System (ASRS) Market – Revenue, and Forecast to 2030 (US$ Million)
8.11 Others
8.11.1 Overview
8.11.2 Others: Automated Storage and Retrieval System (ASRS) Market – Revenue, and Forecast to 2030 (US$ Million)
9.

Asia Pacific Automated Storage and Retrieval System (ASRS) Market – By Country Analysis
9.1 Asia Pacific: Automated Storage and Retrieval System (ASRS) Market
9.1.1 Overview
9.1.2 Asia Pacific Automated Storage and Retrieval System (ASRS) Market Breakdown, by Country
9.1.2.1 Australia Automated Storage and Retrieval System (ASRS) Market, Revenue and Forecast to 2030
9.1.2.1.1 Australia Automated Storage and Retrieval System (ASRS) Market Breakdown, By Type
9.1.2.1.2 Australia Automated Storage and Retrieval System (ASRS) Market Breakdown, By Type
9.1.2.1.3 Australia Automated Storage and Retrieval System (ASRS) Market Breakdown, By End Use Vertical
9.1.2.2 China Automated Storage and Retrieval System (ASRS) Market, Revenue and Forecast to 2030
9.1.2.2.1 China Automated Storage and Retrieval System (ASRS) Market Breakdown, By Type
9.1.2.2.2 China Automated Storage and Retrieval System (ASRS) Market Breakdown, By Type
9.1.2.2.3 China Automated Storage and Retrieval System (ASRS) Market Breakdown, By End Use Vertical
9.1.2.3 India Automated Storage and Retrieval System (ASRS) Market, Revenue and Forecast to 2030
9.1.2.3.1 India Automated Storage and Retrieval System (ASRS) Market Breakdown, By Type
9.1.2.3.2 India Automated Storage and Retrieval System (ASRS) Market Breakdown, By Type
9.1.2.3.3 India Automated Storage and Retrieval System (ASRS) Market Breakdown, By End Use Vertical
9.1.2.4 Japan Automated Storage and Retrieval System (ASRS) Market, Revenue and Forecast to 2030
9.1.2.4.1 Japan Automated Storage and Retrieval System (ASRS) Market Breakdown, By Type
9.1.2.4.2 Japan Automated Storage and Retrieval System (ASRS) Market Breakdown, By Type
9.1.2.4.3 Japan Automated Storage and Retrieval System (ASRS) Market Breakdown, By End Use Vertical
9.1.2.5 South Korea Automated Storage and Retrieval System (ASRS) Market, Revenue and Forecast to 2030
9.1.2.5.1 South Korea Automated Storage and Retrieval System (ASRS) Market Breakdown, By Type
9.1.2.5.2 South Korea Automated Storage and Retrieval System (ASRS) Market Breakdown, By Type
9.1.2.5.3 South Korea Automated Storage and Retrieval System (ASRS) Market Breakdown, By End Use Vertical
9.1.2.6 Rest of Asia Pacific Automated Storage and Retrieval System (ASRS) Market, Revenue and Forecast to 2030
9.1.2.6.1 Rest of Asia Pacific Automated Storage and Retrieval System (ASRS) Market Breakdown, By Type
9.1.2.6.2 Rest of Asia Pacific Automated Storage and Retrieval System (ASRS) Market Breakdown, By Type
9.1.2.6.3 Rest of Asia Pacific Automated Storage and Retrieval System (ASRS) Market Breakdown, By End Use Vertical
10.

Industry Landscape
10.1 Overview
10.2 Market Initiative
10.3 New Product Development
10.4 Merger and Acquisition
11.

Company Profiles
11.1 SSI Schafer
11.1.1 Key Facts
11.1.2 Business Description
11.1.3 Products and Services
11.1.4 Financial Overview
11.1.5 SWOT Analysis
11.1.6 Key Developments
11.2 Swisslog Holding AG
11.2.1 Key Facts
11.2.2 Business Description
11.2.3 Products and Services
11.2.4 Financial Overview
11.2.5 SWOT Analysis
11.2.6 Key Developments
11.3 System Logistics SpA
11.3.1 Key Facts
11.3.2 Business Description
11.3.3 Products and Services
11.3.4 Financial Overview
11.3.5 SWOT Analysis
11.3.6 Key Developments
11.4 Bastian Solutions LLC
11.4.1 Key Facts
11.4.2 Business Description
11.4.3 Products and Services
11.4.4 Financial Overview
11.4.5 SWOT Analysis
11.4.6 Key Developments
11.5 Daifuku Co Ltd
11.5.1 Key Facts
11.5.2 Business Description
11.5.3 Financial Overview
11.5.4 SWOT Analysis
11.5.5 Key Developments
11.6 Kardex Holding AG
11.6.1 Key Facts
11.6.2 Business Description
11.6.3 Products and Services
11.6.4 Financial Overview
11.6.5 SWOT Analysis
11.6.6 Key Developments
11.7 KNAPP AG
11.7.1 Key Facts
11.7.2 Business Description
11.7.3 Products and Services
11.7.4 Financial Overview
11.7.5 SWOT Analysis
11.7.6 Key Developments
11.8 Vanderlande Industries BV
11.8.1 Key Facts
11.8.2 Business Description
11.8.3 Products and Services
11.8.4 Financial Overview
11.8.5 SWOT Analysis
11.8.6 Key Developments
11.9 Autocrib Inc
11.9.1 Key Facts
11.9.2 Business Description
11.9.3 Products and Services
11.9.4 Financial Overview
11.9.5 SWOT Analysis
11.9.6 Key Developments
12.

Appendix
12.1 About The Insight Partners
12.2 Word Index
LIST OF TABLES
Table 1. Asia Pacific Automated Storage and Retrieval System (ASRS) Market – Revenue and Forecast to 2030 (US$ Million)
Table 2. Asia Pacific Automated Storage and Retrieval System (ASRS) Market – Volume and Forecast to 2030 (Units)
Table 3. Unit Load ASRS: Automated Storage and Retrieval System (ASRS) Market – Volume, and Forecast to 2030 (Units)
Table 4. Mini Load ASRS: Asia Pacific Automated Storage and Retrieval System (ASRS) Market – Volume, and Forecast to 2030 (Units)
Table 5. Vertical Lift Module: Asia Pacific Automated Storage and Retrieval System (ASRS) Market – Volume, and Forecast to 2030 (Units)
Table 6. Vertical Carousels: Asia Pacific Automated Storage and Retrieval System (ASRS) Market – Volume, and Forecast to 2030 (Units)
Table 7. Horizontal Carousels: Asia Pacific Automated Storage and Retrieval System (ASRS) Market – Volume, and Forecast to 2030 (Units)
Table 8. AutoStore: Asia Pacific Automated Storage and Retrieval System (ASRS) Market – Volume, and Forecast to 2030 (Units)
Table 9. Others: Asia Pacific Automated Storage and Retrieval System (ASRS) Market – Volume, and Forecast to 2030 (Units)
Table 10. Asia Pacific Automated Storage and Retrieval System (ASRS) Market, Revenue and Forecast To 2030 – By Country (US$ Million)
Table 11. Asia Pacific Automated Storage and Retrieval System (ASRS) Market, Volume and Forecast To 2030 – By Country (Units)
Table 12. Australia Automated Storage and Retrieval System (ASRS) Market, Revenue and Forecast to 2030 – By Type (US$ Million)
Table 13. Australia Automated Storage and Retrieval System (ASRS) Market, Volume and Forecast to 2030 – By Type (Units)
Table 14. Australia Automated Storage and Retrieval System (ASRS) Market, Revenue and Forecast to 2030 – By End Use Vertical (US$ Million)
Table 15. China Automated Storage and Retrieval System (ASRS) Market, Revenue and Forecast to 2030 – By Type (US$ Million)
Table 16. China Automated Storage and Retrieval System (ASRS) Market, Volume and Forecast to 2030 – By Type (Units)
Table 17. China Automated Storage and Retrieval System (ASRS) Market, Revenue and Forecast to 2030 – By End Use Vertical (US$ Million)
Table 18. India Automated Storage and Retrieval System (ASRS) Market, Revenue and Forecast to 2030 – By Type (US$ Million)
Table 19. India Automated Storage and Retrieval System (ASRS) Market, Volume and Forecast to 2030 – By Type (Units)
Table 20. India Automated Storage and Retrieval System (ASRS) Market, Revenue and Forecast to 2030 – By End Use Vertical (US$ Million)
Table 21. Japan Automated Storage and Retrieval System (ASRS) Market, Revenue and Forecast to 2030 – By Type (US$ Million)
Table 22. Japan Automated Storage and Retrieval System (ASRS) Market, Volume and Forecast to 2030 – By Type (Units)
Table 23. Japan Automated Storage and Retrieval System (ASRS) Market, Revenue and Forecast to 2030 – By End Use Vertical (US$ Million)
Table 24. South Korea Automated Storage and Retrieval System (ASRS) Market, Revenue and Forecast to 2030 – By Type (US$ Million)
Table 25. South Korea Automated Storage and Retrieval System (ASRS) Market, Volume and Forecast to 2030 – By Type (Units)
Table 26. South Korea Automated Storage and Retrieval System (ASRS) Market, Revenue and Forecast to 2030 – By End Use Vertical (US$ Million)
Table 27. Rest of Asia Pacific Automated Storage and Retrieval System (ASRS) Market, Revenue and Forecast to 2030 – By Type (US$ Million)
Table 28. Rest of Asia Pacific Automated Storage and Retrieval System (ASRS) Market, Volume and Forecast to 2030 – By Type (Units)
Table 29. Rest of Asia Pacific Automated Storage and Retrieval System (ASRS) Market, Revenue and Forecast to 2030 – By End Use Vertical (US$ Million)
Table 30. List of Abbreviation
LIST OF FIGURES
Figure 1. Asia Pacific Automated Storage and Retrieval System (ASRS) Market Segmentation
Figure 2. Asia Pacific Automated Storage and Retrieval System (ASRS) Market Segmentation – By Country
Figure 3. Asia Pacific Automated Storage and Retrieval System (ASRS) Market Overview
Figure 4. Vertical Lift Module Segment held the Largest Share of Automated Storage and Retrieval System (ASRS) Market
Figure 5. E-Commerce Segment held the Largest Share of Automated Storage and Retrieval System (ASRS) Market
Figure 6. China to Show Great Traction During Forecast Period
Figure 7. Asia Pacific PEST Analysis
Figure 8. Asia Pacific Ecosystem Analysis
Figure 9. Asia Pacific Expert Opinion
Figure 10. Asia Pacific Automated Storage and Retrieval System (ASRS) Market Impact Analysis of Drivers and Restraints
Figure 11. Asia Pacific Automated Storage and Retrieval System (ASRS) Market – Revenue and Forecast to 2030 (US$ Million)
Figure 12. Asia Pacific Automated Storage and Retrieval System (ASRS) Market Revenue Share, By Type (2021 and 2030)
Figure 13. Unit Load ASRS: Asia Pacific Automated Storage and Retrieval System (ASRS) Market – Revenue, and Forecast to 2030 (US$ Million)
Figure 14. Mini Load ASRS: Asia Pacific Automated Storage and Retrieval System (ASRS) Market – Revenue, and Forecast to 2030 (US$ Million)
Figure 15. Vertical Lift Module: Asia Pacific Automated Storage and Retrieval System (ASRS) Market – Revenue, and Forecast to 2030 (US$ Million)
Figure 16. Vertical Carousels: Asia Pacific Automated Storage and Retrieval System (ASRS) Market – Revenue, and Forecast to 2030 (US$ Million)
Figure 17. Horizontal Carousels: Asia Pacific Automated Storage and Retrieval System (ASRS) Market – Revenue, and Forecast to 2030 (US$ Million)
Figure 18. AutoStore: Asia Pacific Automated Storage and Retrieval System (ASRS) Market – Revenue, and Forecast to 2030 (US$ Million)
Figure 19. Others: Asia Pacific Automated Storage and Retrieval System (ASRS) Market – Revenue, and Forecast to 2030 (US$ Million)
Figure 20. Asia Pacific Automated Storage and Retrieval System (ASRS) Market Revenue Share, By End Use Industry (2021 and 2030)
Figure 21. Automotive: Asia Pacific Automated Storage and Retrieval System (ASRS) Market – Revenue, and Forecast to 2030 (US$ Million)
Figure 22. Food & Beverages: Asia Pacific Automated Storage and Retrieval System (ASRS) Market – Revenue, and Forecast to 2030 (US$ Million)
Figure 23. Electronics & Semiconductor: Asia Pacific Automated Storage and Retrieval System (ASRS) Market – Revenue, and Forecast to 2030 (US$ Million)
Figure 24. E-Commerce: Asia Pacific Automated Storage and Retrieval System (ASRS) Market – Revenue, and Forecast to 2030 (US$ Million)
Figure 25. Chemicals: Asia Pacific Automated Storage and Retrieval System (ASRS) Market – Revenue, and Forecast to 2030 (US$ Million)
Figure 26. Aerospace: Asia Pacific Automated Storage and Retrieval System (ASRS) Market – Revenue, and Forecast to 2030 (US$ Million)
Figure 27. Retail: Asia Pacific Automated Storage and Retrieval System (ASRS) Market – Revenue, and Forecast to 2030 (US$ Million)
Figure 28. Pharmaceuticals: Asia Pacific Automated Storage and Retrieval System (ASRS) Market – Revenue, and Forecast to 2030 (US$ Million)
Figure 29. Others: Asia Pacific Automated Storage and Retrieval System (ASRS) Market – Revenue, and Forecast to 2030 (US$ Million)
Figure 30. Asia Pacific: Automated Storage and Retrieval System (ASRS) Market, by key Country – Revenue (2021) (US$ Million)
Figure 31. Asia Pacific Automated Storage and Retrieval System (ASRS) Market Breakdown, by Country, 2021 & 2030 (%)
Figure 32. Australia Automated Storage and Retrieval System (ASRS) Market, Revenue and Forecast to 2030 (US$ Million)
Figure 33. China Automated Storage and Retrieval System (ASRS) Market, Revenue and Forecast to 2030 (US$ Million)
Figure 34. India Automated Storage and Retrieval System (ASRS) Market, Revenue and Forecast to 2030 (US$ Million)
Figure 35. Japan Automated Storage and Retrieval System (ASRS) Market, Revenue and Forecast to 2030 (US$ Million)
Figure 36. South Korea Automated Storage and Retrieval System (ASRS) Market, Revenue and Forecast to 2030 (US$ Million)
Figure 37. Rest of Asia Pacific Automated Storage and Retrieval System (ASRS) Market, Revenue and Forecast to 2030 (US$ Million)
SSI Schafer

Swisslog Holding AG

System Logistics SpA

Bastian Solutions LLC

Daifuku Co Ltd

Kardex Holding AG

KNAPP AG

Vanderlande Industries BV

Autocrib Inc
---