Asia Pacific IoT Market Forecast to 2030 - COVID-19 Impact and Regional Analysis - by Component [Hardware, Software (Device Management, Application Management, Data Management, and Network Management), and Services], Enterprise Size (Large Enterprises and SMEs), and Application (Building & Automation, Smart Energy & Utilities, Smart Manufacturing, Connected Logistics, Banking & Financial Services, Aerospace & Defense, and Others)
BMIRE00027979
|
Pages:
138
|
Electronics and Semiconductor
|
Aug 2023
|
Type:
Regional
|
Status:
Published
The Asia Pacific IoT market is expected to grow from US$ 141.14 billion in 2023 to US$ 1,044.38 billion by 2030; it is estimated to grow at a CAGR of 33.1% from 2023 to 2030.
Increase in Digitalization Across Industries
The growing transition from traditional to digital ecosystems across industries creates a tremendous need for connected ecosystems, which is increasing the demand for IoT-based solutions. In January 2023, Schlag, one of the prominent providers of home security and access solutions, launched Schlage Encode Smart Wi-Fi Lever. This Wi-Fi-enabled smart lock can seamlessly integrate with other smart home technologies, Google Home and Amazon Alexa. Further, rising investments in start-ups offering IoT solutions and supporting market ecosystems are a few factors bolstering IoT-related research and development projects.
Asia Pacific IoT Market Overview
IoT solutions are widely adopted across several business verticals in Asia Pacific owing to faster connectivity and progressive government initiatives for smart city development and smart manufacturing projects. In addition, governments of various countries in the region are launching several smart infrastructure projects to provide better transport facilities, health services, and mobility. Moreover, with growing consumer preference for better solutions that promise safety, convenience, and efficiency, the transportation sector in Asia Pacific countries is deploying IoT technologies for tracking and optimizing supply chains. Furthermore, the applications of IoT have increased in smart city projects as it enables better energy utilization, and powers modern concepts such as autonomous vehicles, fintech, and contactless payment. Additionally, the deployment of IoT technologies has increased across broader governance applications, which enables capabilities such as evidence-based decision-making, urban planning, and infrastructure development.
The logistics industry in Asia Pacific continues to transform its supply chains due to the rising preference for online shopping, which triggers the need for better customer service and convenient product deliveries. Moreover, there is an increasing need for end-to-end supply chain visibility to overcome challenges such as on-demand delivery preferences, volume spikes, and dynamic changes in route conditions. As a result, companies in the IoT market are developing real-time fleet tracking and management solutions, which would support the growth of the IoT market in Asia Pacific in the coming years.
Asia Pacific IoT Market Revenue and Forecast to 2030 (US$ Billion)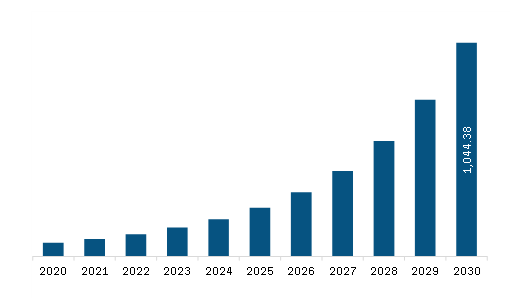 Asia Pacific IoT Market Segmentation
The Asia Pacific IoT market is segmented based on component, enterprise size, application, and country. Based on component, the Asia Pacific IoT market is segmented into hardware, software, and services. The hardware segment held the largest market share in 2023. Furthermore, software is segmented into device management, application management, data management, and network management.
Based on enterprise size, the Asia Pacific IoT market is bifurcated into large enterprises and SMEs. The large enterprises segment held a larger market share in 2023.
Based on application, the Asia Pacific IoT market is segmented into building & automation, smart energy & utilities, smart manufacturing, connected logistics, banking & financial services, aerospace & defense, and others. The smart manufacturing segment held the largest market share in 2023.
Based on country, the Asia Pacific IoT market is segmented into Australia, China, India, Japan, South Korea, Indonesia, Singapore, Malaysia, Thailand, and the Rest of Asia Pacific. China dominated the Asia Pacific IoT market share in 2023.
Amazon Web Services Inc.; Cisco Systems Inc.; Google LLC; Software AG; International Business Machines Corp; Intel Corp; Microsoft Corp; Oracle Corp; Siemens AG; and SAP SE are the leading companies operating in the Asia Pacific IoT market.
1.

Introduction
1.1 Study Scope
1.2 The Insight Partners Research Report Guidance
1.3 Market Segmentation
2.

Key Takeaways
3. Research Methodology
3.1 Scope of the Study
3.2 Research Methodology
3.2.1 Data Collection:
3.2.2 Primary Interviews:
3.2.3 Company Profile:
3.2.4 Sources:
3.2.5 Calculation Base and Assumptions
3.2.6 List of Companies Analysed
4.

Asia Pacific IoT Market Landscape
4.1 Market Overview
4.2 PEST Analysis
4.2.1 Asia Pacific
4.3 Ecosystem Analysis
4.4 Expert Opinions
5.

Asia Pacific IoT Market – Key Market Dynamics
5.1 Market Drivers
5.1.1 Increase in Number of Smart City Projects
5.1.2 Low Cost of Connected Devices and Increase in Investments in IoT
5.1.3 Rise in Implementation of IoT in Automotive Sector
5.2 Market Restraints
5.2.1 Data Security and Interoperability Issues
5.3 Market Opportunities
5.3.1 Progressive Deployment of 5G Networks
5.4 Future Trends
5.4.1 Massive Expansion of E-Commerce Industry
5.4.2 Increase in Digitalization Across Industries
5.5 Impact Analysis of Drivers and Restraints
6.

IoT Market – Asia Pacific Market Analysis
6.1 Asia Pacific IoT Market Overview
6.2 Asia Pacific IoT Market Revenue and Volume Forecast and Analysis
7.

Asia Pacific IoT Market – By Component
7.1 Overview
7.2 IoT Market, by Component (2022 and 2030)
7.3 Hardware
7.3.1 Overview
7.3.2 Hardware: IoT Market – Revenue and Forecast to 2030 (US$ Billion)
7.4 Software
7.4.1 Overview
7.4.2 Software: IoT Market – Revenue and Forecast to 2030 (US$ Billion)
7.4.3 Device Management
7.4.3.1 Overview
7.4.3.2 Device Management: IoT Market – Revenue and Forecast to 2030 (US$ Billion)
7.4.4 Application Management
7.4.4.1 Overview
7.4.4.2 Application Management: IoT Market – Revenue and Forecast to 2030 (US$ Billion)
7.4.5 Data Management
7.4.5.1 Overview
7.4.5.2 Data Management: IoT Market – Revenue and Forecast to 2030 (US$ Billion)
7.4.6 Network Management
7.4.6.1 Overview
7.4.6.2 Network Management: IoT Market – Revenue and Forecast to 2030 (US$ Billion)
7.5 Services
7.5.1 Overview
7.5.2 Service: IoT Market – Revenue and Forecast to 2030 (US$ Billion)
8.

Asia Pacific IoT Market Analysis – by Enterprise Size
8.1 Overview
8.2 IoT Market, by Enterprise Size (2022 and 2030)
8.3 Large Enterprises
8.3.1 Overview
8.3.2 Large Enterprises: IoT Market – Revenue and Forecast to 2030 (US$ Billion)
8.4 SMEs
8.4.1 Overview
8.4.2 SMEs: IoT Market – Revenue and Forecast to 2030 (US$ Billion)
9.

Asia Pacific IoT Market Analysis – by Application
9.1 Overview
9.2 IoT Market, by Application (2022 and 2030)
9.3 Building & Automation
9.3.1 Overview
9.3.2 Building & Automation: IoT Market – Revenue and Forecast to 2030 (US$ Billion)
9.4 Smart Energy & Utilities
9.4.1 Overview
9.4.2 Smart Energy & Utilities: IoT Market – Revenue and Forecast to 2030 (US$ Billion)
9.5 Smart Manufacturing
9.5.1 Overview
9.5.2 Smart Manufacturing: IoT Market – Revenue and Forecast to 2030 (US$ Billion)
9.6 Connected Logistics
9.6.1 Overview
9.6.2 Connected Logistics: IoT Market – Revenue and Forecast to 2030 (US$ Billion)
9.7 Smart Mobility and Transportation
9.7.1 Overview
9.7.2 Smart Mobility and Transportation: IoT Market – Revenue and Forecast to 2030 (US$ Billion)
9.8 Banking & Financial Services
9.8.1 Overview
9.8.2 Banking & Financial Services: IoT Market – Revenue and Forecast to 2030 (US$ Billion)
9.9 Aerospace & Defense
9.9.1 Overview
9.9.2 Aerospace & Defense: IoT Market – Revenue and Forecast to 2030 (US$ Billion)
9.10 Others
9.10.1 Overview
9.10.2 Others: IoT Market – Revenue and Forecast to 2030 (US$ Billion)
10.

Asia Pacific IoT Market – by Country Analysis
10.1 Asia Pacific (APAC): IoT Market
10.1.1 Overview
10.1.2 Asia Pacific IoT Market, by Country
10.1.2.1 Australia IoT Market - Revenue and Forecast to 2030
10.1.2.1.1 Australia IoT Market, By Component
10.1.2.1.2 Australia IoT Market, By Software
10.1.2.1.3 Australia IoT Market, By Enterprise Size
10.1.2.1.4 Australia IoT Market, By Application
10.1.2.2 China IoT Market - Revenue and Forecast to 2030
10.1.2.2.1 China IoT Market, By Component
10.1.2.2.2 China IoT Market, By Software
10.1.2.2.3 China IoT Market, By Enterprise Size
10.1.2.2.4 China IoT Market, By Application
10.1.2.3 India IoT Market - Revenue and Forecast to 2030
10.1.2.3.1 India IoT Market, By Component
10.1.2.3.2 India IoT Market, By Software
10.1.2.3.3 India IoT Market, By Enterprise Size
10.1.2.3.4 India IoT Market, By Application
10.1.2.4 Japan IoT Market - Revenue and Forecast to 2030
10.1.2.4.1 Japan IoT Market, By Component
10.1.2.4.2 Japan IoT Market, By Software
10.1.2.4.3 Japan IoT Market, By Enterprise Size
10.1.2.4.4 Japan IoT Market, By Application
10.1.2.5 South Korea IoT Market - Revenue and Forecast to 2030
10.1.2.5.1 South Korea IoT Market, By Component
10.1.2.5.2 South Korea IoT Market, By Software
10.1.2.5.3 South Korea IoT Market, By Enterprise Size
10.1.2.5.4 South Korea IoT Market, By Application
10.1.2.6 Indonesia IoT Market - Revenue and Forecast to 2030
10.1.2.6.1 Indonesia IoT Market, By Component
10.1.2.6.2 Indonesia IoT Market, By Software
10.1.2.6.3 Indonesia IoT Market, By Enterprise Size
10.1.2.6.4 Indonesia IoT Market, By Application
10.1.2.7 Singapore IoT Market - Revenue and Forecast to 2030
10.1.2.7.1 Singapore IoT Market, By Component
10.1.2.7.2 Singapore IoT Market, By Software
10.1.2.7.3 Singapore IoT Market, By Enterprise Size
10.1.2.7.4 Singapore IoT Market, By Application
10.1.2.8 Malaysia IoT Market - Revenue and Forecast to 2030
10.1.2.8.1 Malaysia IoT Market, By Component
10.1.2.8.2 Malaysia IoT Market, By Software
10.1.2.8.3 Malaysia IoT Market, By Enterprise Size
10.1.2.8.4 Malaysia IoT Market, By Application
10.1.2.9 Thailand IoT Market - Revenue and Forecast to 2030
10.1.2.9.1 Thailand IoT Market, By Component
10.1.2.9.2 Thailand IoT Market, By Software
10.1.2.9.3 Thailand IoT Market, By Enterprise Size
10.1.2.9.4 Thailand IoT Market, By Application
10.1.2.10 Rest of Asia Pacific IoT Market - Revenue and Forecast to 2030
10.1.2.10.1 Rest of Asia Pacific IoT Market, By Component
10.1.2.10.2 Rest of Asia Pacific IoT Market, By Software
10.1.2.10.3 Rest of Asia Pacific IoT Market, By Enterprise Size
10.1.2.10.4 Rest of Asia Pacific IoT Market, By Application
11.

Industry Landscape
11.1 Overview
11.2 Market Initiative
11.3 Product Development
11.4 Mergers & Acquisitions
12.

Company Profiles
12.1 Amazon Web Services Inc
12.1.1 Key Facts
12.1.2 Business Description
12.1.3 Products and Services
12.1.4 Financial Overview
12.1.5 SWOT Analysis
12.1.6 Key Developments
12.2 Cisco Systems Inc
12.2.1 Key Facts
12.2.2 Business Description
12.2.3 Products and Services
12.2.4 Financial Overview
12.2.5 SWOT Analysis
12.2.6 Key Developments
12.3 Google LLC
12.3.1 Key Facts
12.3.2 Business Description
12.3.3 Products and Services
12.3.4 Financial Overview
12.3.5 SWOT Analysis
12.3.6 Key Developments
12.4 Software AG
12.4.1 Key Facts
12.4.2 Business Description
12.4.3 Products and Services
12.4.4 Financial Overview
12.4.5 SWOT Analysis
12.4.6 Key Developments
12.5 International Business Machines Corp
12.5.1 Key Facts
12.5.2 Business Description
12.5.3 Products and Services
12.5.4 Financial Overview
12.5.5 SWOT Analysis
12.5.6 Key Developments
12.6 Intel Corp
12.6.1 Key Facts
12.6.2 Business Description
12.6.3 Products and Services
12.6.4 Financial Overview
12.6.5 SWOT Analysis
12.6.6 Key Developments
12.7 Microsoft Corp
12.7.1 Key Facts
12.7.2 Business Description
12.7.3 Products and Services
12.7.4 Financial Overview
12.7.5 SWOT Analysis
12.7.6 Key Developments
12.8 Oracle Corp
12.8.1 Key Facts
12.8.2 Business Description
12.8.3 Products and Services
12.8.4 Financial Overview
12.8.5 SWOT Analysis
12.8.6 Key Developments
12.9 Siemens AG
12.9.1 Key Facts
12.9.2 Business Description
12.9.3 Products and Services
12.9.4 Financial Overview
12.9.5 SWOT Analysis
12.9.6 Key Developments
12.10 SAP SE
12.10.1 Key Facts
12.10.2 Business Description
12.10.3 Products and Services
12.10.4 Financial Overview
12.10.5 SWOT Analysis
12.10.6 Key Developments
13.

Appendix
13.1 About The Insight Partners
13.2 Word Index
LIST OF TABLES
Table 1. Asia Pacific IoT Market Revenue and Forecast to 2030 (US$ Billion)
Table 2. Australia IoT Market - Revenue and Forecast to 2030 – By Component (US$ Billion)
Table 3. Australia IoT Market - Revenue and Forecast to 2030 – By Software (US$ Billion)
Table 4. Australia IoT Market - Revenue and Forecast to 2030 – By Enterprise Size (US$ Billion)
Table 5. Australia IoT Market - Revenue and Forecast to 2030 – By Application (US$ Billion)
Table 6. China IoT Market - Revenue and Forecast to 2030 – By Component (US$ Billion)
Table 7. China IoT Market - Revenue and Forecast to 2030 – By Software (US$ Billion)
Table 8. China IoT Market - Revenue and Forecast to 2030 – By Enterprise Size (US$ Billion)
Table 9. China IoT Market - Revenue and Forecast to 2030 – By Application (US$ Billion)
Table 10. India IoT Market - Revenue and Forecast to 2030 – By Component (US$ Billion)
Table 11. India IoT Market - Revenue and Forecast to 2030 – By Software (US$ Billion)
Table 12. India IoT Market - Revenue and Forecast to 2030 – By Enterprise Size (US$ Billion)
Table 13. India IoT Market - Revenue and Forecast to 2030 – By Application (US$ Billion)
Table 14. Japan IoT Market - Revenue and Forecast to 2030 – By Component (US$ Billion)
Table 15. Japan IoT Market - Revenue and Forecast to 2030 – By Software (US$ Billion)
Table 16. Japan IoT Market - Revenue and Forecast to 2030 – By Enterprise Size (US$ Billion)
Table 17. Japan IoT Market - Revenue and Forecast to 2030 – By Application (US$ Billion)
Table 18. South Korea IoT Market - Revenue and Forecast to 2030 – By Component (US$ Billion)
Table 19. South Korea IoT Market - Revenue and Forecast to 2030 – By Software (US$ Billion)
Table 20. South Korea IoT Market - Revenue and Forecast to 2030 – By Enterprise Size (US$ Billion)
Table 21. South Korea IoT Market - Revenue and Forecast to 2030 – By Application (US$ Billion)
Table 22. Indonesia IoT Market - Revenue and Forecast to 2030 – By Component (US$ Billion)
Table 23. Indonesia IoT Market - Revenue and Forecast to 2030 – By Software (US$ Billion)
Table 24. Indonesia IoT Market - Revenue and Forecast to 2030 – By Enterprise Size (US$ Billion)
Table 25. Indonesia IoT Market - Revenue and Forecast to 2030 – By Application (US$ Billion)
Table 26. Singapore IoT Market - Revenue and Forecast to 2030 – By Component (US$ Billion)
Table 27. Singapore IoT Market - Revenue and Forecast to 2030 – By Software (US$ Billion)
Table 28. Singapore IoT Market - Revenue and Forecast to 2030 – By Enterprise Size (US$ Billion)
Table 29. Singapore IoT Market - Revenue and Forecast to 2030 – By Application (US$ Billion)
Table 30. Malaysia IoT Market - Revenue and Forecast to 2030 – By Component (US$ Billion)
Table 31. Malaysia IoT Market - Revenue and Forecast to 2030 – By Software (US$ Billion)
Table 32. Malaysia IoT Market - Revenue and Forecast to 2030 – By Enterprise Size (US$ Billion)
Table 33. Malaysia IoT Market - Revenue and Forecast to 2030 – By Application (US$ Billion)
Table 34. Thailand IoT Market - Revenue and Forecast to 2030 – By Component (US$ Billion)
Table 35. Thailand IoT Market - Revenue and Forecast to 2030 – By Software (US$ Billion)
Table 36. Thailand IoT Market - Revenue and Forecast to 2030 – By Enterprise Size (US$ Billion)
Table 37. Thailand IoT Market - Revenue and Forecast to 2030 – By Application (US$ Billion)
Table 38. Rest of Asia Pacific IoT Market - Revenue and Forecast to 2030 – By Component (US$ Billion)
Table 39. Rest of Asia Pacific IoT Market - Revenue and Forecast to 2030 – By Software (US$ Billion)
Table 40. Rest of Asia Pacific IoT Market - Revenue and Forecast to 2030 – By Enterprise Size (US$ Billion)
Table 41. Rest of Asia Pacific IoT Market - Revenue and Forecast to 2030 – By Application (US$ Billion)
Table 42. List of Abbreviation
LIST OF FIGURES
Figure 1. Asia Pacific IoT Market Segmentation
Figure 2. Asia Pacific IoT Market Segmentation – By Country
Figure 3. Asia Pacific IoT Market Overview
Figure 4. Asia Pacific IoT Market, by Component
Figure 5. Asia Pacific IoT Market, by Software
Figure 6. Asia Pacific IoT Market, by Enterprise Size
Figure 7. Asia Pacific IoT Market, by Country
Figure 8. Asia Pacific – PEST Analysis
Figure 9. Asia Pacific IoT Market- Ecosystem Analysis
Figure 10. Asia Pacific Expert Opinion
Figure 11. Asia Pacific IoT Market: Impact Analysis of Drivers and Restraints
Figure 12. Asia Pacific IoT Market Revenue and Forecast (US$ Billion)
Figure 13. Asia Pacific IoT Market Revenue Share, by Component (2022 and 2030)
Figure 14. Hardware: Asia Pacific IoT Market – Revenue and Forecast to 2030 (US$ Billion)
Figure 15. Software: Asia Pacific IoT Market – Revenue and Forecast to 2030 (US$ Billion)
Figure 16. Device Management: Asia Pacific IoT Market – Revenue and Forecast to 2030 (US$ Billion)
Figure 17. Application Management: Asia Pacific IoT Market – Revenue and Forecast to 2030 (US$ Billion)
Figure 18. Data Management: Asia Pacific IoT Market – Revenue and Forecast to 2030 (US$ Billion)
Figure 19. Network Management: Asia Pacific IoT Market – Revenue and Forecast to 2030 (US$ Billion)
Figure 20. Service: Asia Pacific IoT Market – Revenue and Forecast to 2030 (US$ Billion)
Figure 21. Asia Pacific IoT Market Revenue Share, by Enterprise Size (2022 and 2030)
Figure 22. Large Enterprises: Asia Pacific IoT Market – Revenue and Forecast to 2030 (US$ Billion)
Figure 23. SMEs: Asia Pacific IoT Market – Revenue and Forecast to 2030 (US$ Billion)
Figure 24. Asia Pacific IoT Market Revenue Share, by Application (2022 and 2030)
Figure 25. Building & Automation: Asia Pacific IoT Market – Revenue and Forecast to 2030 (US$ Billion)
Figure 26. Smart Energy & Utilities: Asia Pacific IoT Market – Revenue and Forecast to 2030 (US$ Billion)
Figure 27. Smart Manufacturing: Asia Pacific IoT Market – Revenue and Forecast to 2030 (US$ Billion)
Figure 28. Connected Logistics: Asia Pacific IoT Market – Revenue and Forecast to 2030 (US$ Billion)
Figure 29. Smart Mobility and Transportation: Asia Pacific IoT Market – Revenue and Forecast to 2030 (US$ Billion)
Figure 30. Banking & Financial Services: Asia Pacific IoT Market – Revenue and Forecast to 2030 (US$ Billion)
Figure 31. Aerospace & Defense: Asia Pacific IoT Market – Revenue and Forecast to 2030 (US$ Billion)
Figure 32. Others: Asia Pacific IoT Market – Revenue and Forecast to 2030 (US$ Billion)
Figure 33. Asia Pacific IoT Market, by Key Country – Revenue (2022) (US$ Million)
Figure 34. Asia Pacific IoT Market, by Country, 2022 & 2030 (%)
Figure 35. Australia IoT Market - Revenue and Forecast to 2030 (US$ Billion)
Figure 36. China IoT Market - Revenue and Forecast to 2030 (US$ Billion)
Figure 37. India IoT Market - Revenue and Forecast to 2030 (US$ Billion)
Figure 38. Japan IoT Market - Revenue and Forecast to 2030 (US$ Billion)
Figure 39. South Korea IoT Market - Revenue and Forecast to 2030 (US$ Billion)
Figure 40. Indonesia IoT Market - Revenue and Forecast to 2030 (US$ Billion)
Figure 41. Singapore IoT Market - Revenue and Forecast to 2030 (US$ Billion)
Figure 42. Malaysia IoT Market - Revenue and Forecast to 2030 (US$ Billion)
Figure 43. Thailand IoT Market - Revenue and Forecast to 2030 (US$ Billion)
Figure 44. Rest of Asia Pacific IoT Market - Revenue and Forecast to 2030 (US$ Billion)
Amazon Web Services Inc.

Cisco Systems Inc.

Google LLC

Intel Corp

International Business Machines Corp

Microsoft Corp

Oracle Corp

SAP SE

Siemens AG

Software AG
Save and reduce time carrying out entry-level research by identifying the growth, size, leading players, and segments in the Asia Pacific IoT market.

Highlights key business priorities in order to assist companies to realign their business strategies

The key findings and recommendations highlight crucial progressive industry trends in the Asia Pacific IoT market, thereby allowing players across the value chain to develop effective long-term strategies

Develop/modify business expansion plans by using substantial growth offering developed and emerging markets

Scrutinize in-depth Asia Pacific market trends and outlook coupled with the factors driving the Asia Pacific IoT market, as well as those hindering it

Enhance the decision-making process by understanding the strategies that underpin commercial interest with respect to client products, segmentation, pricing, and distribution
---