US Edge Banding Materials Market Forecast to 2028 - COVID-19 Impact and Country Analysis By Material [Plastic (PVC, ABS, Acrylic, and Others), Wood, Metal, and Others] and End Use (Residential and Commercial & Industrial)
Code:
BMIRE00027305
|
Pages:
101
|
Industry:
Chemicals and Materials
|
Date:
Oct 2022
|
Type:
Regional
The US edge banding materials market is expected to grow from US$ 163.4 million in 2021 to US$ 297.0 million by 2028; it is expected to grow at a CAGR of 9.3% from 2021 to 2028.
Market Introduction
Edge banding is the decorative material used on the exposed edges of furniture to cover the wood edges. It is generally used on medium-density fiberboard, plywood, and melamine-coated particle board with rough edges. Edge banding is a thin material that covers the plywood's exposed and raw edges. The heat-sensitive adhesive on one side is employed on the board, while the other acts as a barrier against moisture and dirt. Edge banding is mainly done to cover plywood sides to match a cabinet's finished look, but it also shields the inner plywood from possibly warping. In addition, edge banding minimizes the risk of quality issues in solid wood lipping. Edge banding materials in various widths and thicknesses can be used in a small crevasse and bent to a large extent as required.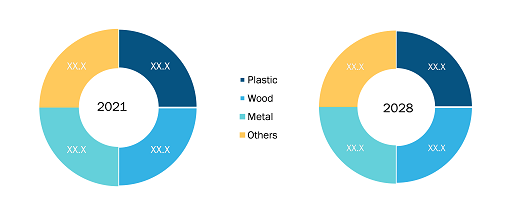 Get more information on this report :



Market Overview and Dynamics

In North America, the residential furniture industry is booming with the rising number of residential construction projects. According to the US Census Bureau and the US Department of Housing and Urban Development, the completed number of new, privately owned housing units increased by 3.1% from August 2021 to August 2022. As per the US Census Bureau, 37 million (15%) adults aged 18 and above lived alone in 2021, up from 33 million (14%) in 2011. Thus, there has been a rise in the number of single and two-person households, indicating growth in residential construction projects. Moreover, during the COVID-19 pandemic, the increased practice of working and studying at home resulted in a surge in purchases of residential and office furniture. The aforementioned factors are driving the US edge banding material market growth.

Moreover, the demand for furniture dropped in 2020 as schools, offices, and restaurants were temporarily shut down to control the spread of SARS-CoV-2. However, with the decreasing number of COVID-19 cases in 2021, governments of various countries announced relaxations in several restrictions, including lockdowns and travel bans. Schools, offices, and other commercial and industrial facilities were reopened. Additionally, increasing renovation, remodeling, and modification activities at offices and other institutional spaces triggered the demand for furniture across the US. Thus, the resumption of commercial, institutional, and industrial renovation activities is expected to provide growth opportunities to the companies operating in the US edge banding materials market in the coming years.

Key Market Segments

Based on material, the US edge banding materials market is segmented into plastic, metal, wood, and others. In 2021, the plastic segment dominated the market, and the wood segment is expected to register the highest CAGR during the forecast period. Based on end use, the US edge banding materials market is segmented into residential and commercial & industrial. In 2021, the residential segment dominated the market, and the commercial & industrial segment is expected to register the highest CAGR during the forecast period.

Major Sources and Companies

A few primary and secondary sources referred to while preparing this report on the US edge banding materials market are paid databases (factiva), publications, hoovers, investor presentations, newsletters, sec archives, annual reports, and other information available in the public domain. Key companies listed in the report are Product Resources, Inc.; EdgeCo Incorporated; Surteco USA Inc.; Charter Industries, LLC; JSO Wood Product; Product Resources, Inc.; Sauers & Company Veneers; EdgeCo Incorporated; Edgebanding Services, Inc. (ESI); and REHAU Incorporated.

Reasons to buy the report
Progressive industry trends in the US edge banding materials market to help players develop effective long-term strategies

Business growth strategies adopted by developed and developing markets

Quantitative analysis of the US edge banding materials market from 2021 to 2028

Estimation of the demand for US edge banding materials across various industries

Porter's Five Forces analysis illustrates the efficacy of buyers and suppliers operating in the industry to predict the market growth

Recent developments to understand the competitive market scenario and the demand for edge banding materials compounds in the US.

Trends and outlook coupled with factors driving and restraining the US edge banding materials market.

Decision-making process by understanding strategies that underpin commercial interest concerning the US edge banding materials market growth

The US edge banding materials market size at various nodes of market

Detailed overview and segmentation of the US edge banding materials market as well as its dynamics in the industry
US Edge Banding Materials Market Segmentation
By Material
By End Use
Residential

Commercial and Industrial
Company Profiles
Product Resources, Inc.

EdgeCo Incorporated

Surteco USA Inc.

A Charter Industries, LLC.

JSO Wood Product

Product Resources, Inc.

Sauers & Company Veneers

EdgeCo Incorporated

Edgebanding Services, Inc. (ESI)

REHAU Incorporated
1.

Introduction
1.1 Study Scope
1.2 The Insight Partners Research Report Guidance
1.3 Market Segmentation
1.3.1 US Edge Banding Materials Market, by Material
1.3.2 US Edge Banding Materials Market, by End Use
2.

Key Takeaways
3. Research Methodology
3.1 Scope of the Study
3.2 Research Methodology
3.2.1 Data Collection:
3.2.2 Primary Interviews:
3.2.3 Hypothesis formulation:
3.2.4 Macro-economic factor analysis:
3.2.5 Developing base number:
3.2.6 Data Triangulation:
3.2.7 Country level data:
4.

US Edge Banding Materials Market Landscape
4.1 Market Overview
4.2 Porter's Five Forces Analysis
4.3 Expert Opinion
5.

US Edge Banding Materials Market – Key Market Dynamics
5.1 Market Drivers
5.1.1 High Aesthetics Appeal of Wood-Based Edge Banding
5.1.2 Increasing Demand from Residential Furniture Industry
5.2 Market Restraints
5.2.1 Adverse Effects of Plastic Products on Environment
5.3 Market Opportunities
5.3.1 Resurgence of Commercial, Institutional, and Industrial Sectors
5.4 Future Trends
5.4.1 Growing Interest in Eco-Friendly Products
5.5 Impact Analysis
6.

Edge Banding Materials Market – US Market Analysis
6.1 US Edge Banding Materials Market Overview
6.2 US Edge Banding Materials Market –Volume and Forecast to 2028 (Million Meter)
6.3 US Edge Banding Materials Market –Revenue and Forecast to 2028 (US$ Million)
7.

US Edge Banding Materials Market Analysis – By Material
7.1 Overview
7.2 US Edge Banding Materials Market, By Material (2021 and 2028)
7.3 Plastic
7.3.1 Overview
7.3.2 Plastic: US Edge Banding Materials Market – Revenue and Forecast to 2028 (US$ Million)
7.3.3 Plastic: US Edge Banding Materials Market – Volume and Forecast to 2028 (Million Meters)
7.3.4 PVC
7.3.4.1 Overview
7.3.4.2 PVC: US Edge Banding Materials Market –Volume and Forecast to 2028 (Million Meter)
7.3.4.3 PVC: US Edge Banding Materials Market – Revenue and Forecast to 2028 (US$ Mn)
7.3.5 ABS
7.3.5.1 Overview
7.3.5.2 ABS: US Edge Banding Materials Market –Volume and Forecast to 2028 (Million Meter)
7.3.5.3 ABS: US Edge Banding Materials Market – Revenue and Forecast to 2028 (US$ Mn)
7.3.6 Acrylic
7.3.6.1 Overview
7.3.6.2 Acrylic: US Edge Banding Materials Market –Volume and Forecast to 2028 (Million Meter)
7.3.6.3 Acrylic: US Edge Banding Materials Market – Revenue and Forecast to 2028 (US$ Mn)
7.3.7 Others
7.3.7.1 Overview
7.3.7.2 Others: US Edge Banding Materials Market –Volume and Forecast to 2028 (Million Meter)
7.3.7.3 Others: US Edge Banding Materials Market – Revenue and Forecast to 2028 (US$ Mn)
7.4 Wood
7.4.1 Overview
7.4.2 Wood: US Edge Banding Materials Market – Revenue and Forecast to 2028 (US$ Million)
7.4.3 Wood: US Edge Banding Materials Market – Volume and Forecast to 2028 (Million Meters)
7.5 Metal
7.5.1 Overview
7.5.2 Metal: US Edge Banding Materials Market – Revenue and Forecast to 2028 (US$ Million)
7.5.3 Metal: US Edge Banding Materials Market – Volume and Forecast to 2028 (Million Meters)
7.6 Others
7.6.1 Overview
7.6.2 Others: US Edge Banding Materials Market – Revenue and Forecast to 2028 (US$ Million)
7.6.3 Others: US Edge Banding Materials Market – Volume and Forecast to 2028 (Million Meters)
8.

US Edge Banding Materials Market Analysis – By End Use
8.1 Overview
8.2 US Edge Banding Materials Market, By End Use (2021 and 2028)
8.3 Residential
8.3.1 Overview
8.3.2 Residential: US Edge Banding Materials Market – Revenue and Forecast to 2028 (US$ Million)
8.3.3 Residential: US Edge Banding Materials Market –Volume and Forecast to 2028 (Million Meter)
8.4 Commercial and Industrial
8.4.1 Overview
8.4.2 Commercial and Industrial: US Edge Banding Materials Market – Revenue and Forecast to 2028 (US$ Million)
8.4.3 Commercial and Industrial: US Edge Banding Materials Market –Volume and Forecast to 2028 (Million Meter)
9.

Appendix
9.1 About The Insight Partners
9.2 Glossary of Terms
LIST OF TABLES
Table 1. US Edge Banding Materials Market –Volume and Forecast to 2028 (Million Meter)
Table 2. US Edge Banding Materials Market –Revenue and Forecast to 2028 (US$ Million)
Table 3. Glossary of Terms, US Edge Banding Materials Market
LIST OF FIGURES
Figure 1. US Edge Banding Materials Market Segmentation
Figure 2. US Edge Banding Materials Market Overview
Figure 3. US Edge Banding Materials Market, By Material
Figure 4. Porter's Five Forces Analysis
Figure 5. Expert Opinion
Figure 6. US Edge Banding Materials Market Impact Analysis of Drivers and Restraints
Figure 7. Geographic Overview of US Edge Banding Materials Market
Figure 8. US Edge Banding Materials Market –Volume and Forecast to 2028 (Million Meter)
Figure 9. US Edge Banding Materials Market –Revenue and Forecast to 2028 (US$ Million)
Figure 10. US Edge Banding Materials Market Revenue Share, By Material (2021 and 2028)
Figure 11. Plastic: US Edge Banding Materials Market – Revenue and Forecast To 2028 (US$ Million)
Figure 12. Plastic: US Edge Banding Materials Market – Volume and Forecast To 2028 (Million Meters)
Figure 13. PVC: US Edge Banding Materials Market –Volume and Forecast To 2028 (Million Meter)
Figure 14. PVC: US Edge Banding Materials Market – Revenue and Forecast To 2028 (US$ Mn)
Figure 15. ABS: US Edge Banding Materials Market –Volume and Forecast To 2028 (Million Meter)
Figure 16. ABS: US Edge Banding Materials Market – Revenue and Forecast To 2028 (US$ Mn)
Figure 17. Acrylic: US Edge Banding Materials Market –Volume and Forecast To 2028 (Million Meter)
Figure 18. Acrylic: US Edge Banding Materials Market – Revenue and Forecast To 2028 (US$ Mn)
Figure 19. Others: US Edge Banding Materials Market –Volume and Forecast To 2028 (Million Meter)
Figure 20. Others: US Edge Banding Materials Market – Revenue and Forecast To 2028 (US$ Mn)
Figure 21. Wood: US Edge Banding Materials Market – Revenue and Forecast To 2028 (US$ Million)
Figure 22. Wood: US Edge Banding Materials Market – Volume and Forecast To 2028 (Million Meters)
Figure 23. Metal: US Edge Banding Materials Market – Revenue and Forecast To 2028 (US$ Million)
Figure 24. Metal: US Edge Banding Materials Market – Volume and Forecast To 2028 (Million Meters)
Figure 25. Others: US Edge Banding Materials Market – Revenue and Forecast To 2028 (US$ Million)
Figure 26. Others: US Edge Banding Materials Market – Volume and Forecast To 2028 (Million Meters)
Figure 27. US Edge Banding Materials Market Revenue Share, By End Use (2021 and 2028)
Figure 28. Residential: US Edge Banding Materials Market – Revenue and Forecast To 2028 (US$ Million)
Figure 29. Residential: US Edge Banding Materials Market –Volume and Forecast To 2028 (Million Meter)
Figure 30. Commercial and Industrial: US Edge Banding Materials Market – Revenue and Forecast To 2028 (US$ Million)
Figure 31. Commercial and Industrial: US Edge Banding Materials Market –Volume and Forecast To 2028 (Million Meter)
Product Resources, Inc.

EdgeCo Incorporated

Surteco USA Inc.

A Charter Industries, LLC.

JSO Wood Product

Product Resources, Inc.

Sauers & Company Veneers

EdgeCo Incorporated

Edgebanding Services, Inc. (ESI)

REHAU Incorporated
---