UAE Drywall Panels Market Forecast to 2028 - COVID-19 Impact and Country Analysis By Type (Regular, Moisture-Resistant, Plaster Baseboard, Paperless, Type X, and Others); and Application (Residential, and Non-Residential)
Code:
TIPRE00022058
|
Pages:
99
|
Industry:
Chemicals and Materials
|
Date:
May 2021
|
Type:
Regional
Market Introduction
Drywall panels, commonly referred to as wallboard, this lightweight panel comes in different types and sizes and can be attached easily to studs to create walls. Drywall is basically a flat panel produced of gypsum plaster sandwiched mainly in between two sheets of thick paper. It also adheres to metal and wood studs utilizing nails or screws. Various types of drywall panels are available in the UAE market, and some of them are regular, moisture-resistant, plaster baseboard, paperless, type x, and others. Growth of the construction & infrastructure industry and government initiatives in the UAE has significantly contributed to the growth of the drywall panels.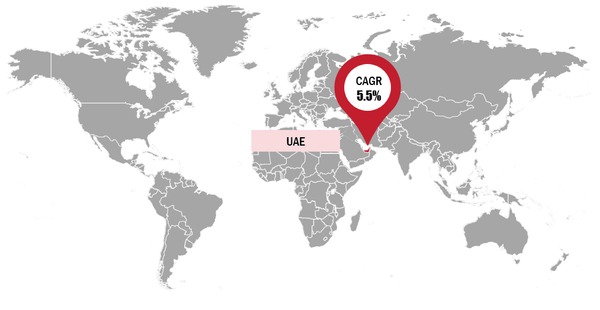 Get more information on this report :



Market Overview and Dynamics

The Drywall Panels market in UAE is expected to grow from US$ 278.07 million in 2020 and is projected to reach US$ 419.35 million by 2028; it is expected to grow at a CAGR of 5.5% from 2021 to 2028. UAE is witnessing high demand for drywall panels due to the rapid growth of the residential and non-residential construction activities in the region. Infrastructure development is the second largest sector after the oil industry in UAE and contributes heavily to the growth of the country's GDP. In 2017, the total value of the 11,755 construction projects in the UAE had reached around USD 818.2 billion, accounting for 33% of the total value and a further 52% of all construction activities in the GCC region. In addition, the UAE has kicked off large-scale leisure projects, including new hotels, Dubai South, and Dubailand. These activities will significantly propel the demand for drywall panels in UAE. Furthermore, the government of UAE is looking to implement various infrastructure development plans, and government initiatives, including the Energy Strategy 2050, the Dubai Tourism Strategy, and the Sheikh Zayed Housing Program. Infrastructure projects are a significant part of the country's economic expansion. All these government initiatives are presumed to fuel the drywall panels market. Introduction of innovative products like 3D panels by market players are also influencing the market growth. The utilization of modern 3d wall panels has been impressively changing the feeling of space in any room and further creates a new sight on the interior design of the bathroom, bedroom, and kitchen.


Key Market Segments

In terms of type, the regular segment in 2020, accounted for the largest share of the UAE Drywall Panels market. In 2020, by end-user, the non-residential segment held the largest market share.

Major Sources and Companies Listed

A few major primary and secondary sources referred to while preparing the report on the UAE Drywall Panels market are company websites, annual reports, financial reports, national government documents, and statistical database. Major companies listed in the report are Wasit General Trading LLC, Gypsemna, IKK Group, Mada Gypsum, TechnoMec, Knauf Gips KG, Gyproc, USG Boral, United Mining Industries, and Sadaf Gypsum Company.

Reasons to Buy Report
Understand the UAE Drywall Panels market landscape and identify segments that are most likely to guarantee a strong return

Stay ahead of the race by comprehending the ever-changing competitive market landscape in US

Efficiently plan mergers and acquisitions, and partnership deals in the UAE Drywall Panels market by identifying market segments with the most promising probable sales

Take knowledgeable business decisions from perceptive and comprehensive analysis of performance of various market segments

Obtain market revenue forecast for market by various segments for the period 2019–2027
UAE Drywall Panels Market, by Type
Regular

Moisture-Resistant

Plaster Baseboard

Paperless

Type X

Others
UAE Drywall Panels Market, by End-User
Residential

Non-Residential
Company Profiles
Wasit General Trading LLC

Gypsemna

IKK Group

Mada Gypsum

TechnoMec

Knauf Gips KG

Gyproc

USG Boral

United Mining Industries,

Sadaf Gypsum Company Avery Dennison Corporation
1. Introduction
1.1 Study Scope
1.2 The Insight Partners Research Report Guidance
1.3 Market Segmentation
2. Key Takeaways
3. Research Methodology
3.1 Scope of the Study
3.2 Research Methodology
3.2.1 Data Collection:
3.2.2 Primary Interviews:
3.2.3 Hypothesis formulation:
3.2.4 Macro-economic factor analysis:
3.2.5 Developing base number:
3.2.6 Data Triangulation:
3.2.7 Country level data:
4. Drywall Panels Market Landscape
4.1 Market Overview
4.2 PEST Analysis
4.2.1 UAE
4.3 Expert Opinion
4.4 Export Analysis 2018 (HS CODE: 680911, 680919)
4.5 Pricing Analysis of Gypsum Boards, 2019
4.6 Route to Market
4.7 Construction Material Standards
4.8 Shift in Construction Habits
5. Drywall Panels Market – Key Market Dynamics
5.1 Market Drivers
5.1.1 Surging Use of Drywall Panels in Modern Buildings
5.1.2 Rise in Middle-Class Population in UAE and Surge in Infrastructure Projects
5.2 Market Restraints
5.2.1 Import-Driven Market and Presence of Limited Manufacturers
5.3 Market Opportunities
5.3.1 Increasing Production of Low VOC Drywall Panels
5.4 Future Trends
5.4.1 Recycling of Drywall Panels and Emergence of 3D Drywall Panels
5.5 Impact Analysis of Drivers and Restraints
6. Drywall Panels – UAE Market Analysis
6.1 Drywall Panels Market Overview
6.2 Drywall Panels Market Forecast and Analysis, 2020 to 2028
6.3 Market Positioning of Key Players
7. Drywall Panels Market Analysis – By Type
7.1 Overview
7.2 Drywall Panels Market, By Type (2020 and 2028)
7.3 Regular
7.3.1 Overview
7.3.1.1 Regular: Drywall Panels Market –Forecast and Analysis to 2028 (US$ Million)
7.4 Moisture-Resistant
7.4.1 Overview
7.4.1.1 Moisture-Resistant: Drywall Panels Market – Forecast and Analysis to 2028 (US$ Million)
7.5 Plaster Baseboard
7.5.1 Overview
7.5.1.1 Plaster Baseboard: Drywall Panels Market – Forecast and Analysis to 2028 (US$ Million)
7.6 Paperless
7.6.1 Overview
7.6.1.1 Paperless: Drywall Panels Market – Forecast and Analysis to 2028 (US$ Million)
7.7 Type X
7.7.1 Overview
7.7.1.1 Type X: Drywall Panels Market – Forecast and Analysis to 2028 (US$ Million)
7.8 Others
7.8.1 Overview
7.8.1.1 Others: Drywall Panels Market – Forecast and Analysis to 2028 (US$ Million)
8. Drywall Panels Market Analysis – By Application
8.1 Overview
8.2 Drywall Panels Market, By Application (2019 and 2028)
8.3 Residential
8.3.1 Overview
8.3.1.1 Residential: Drywall Panels Market – Revenue and Forecast to 2028 (US$ Million)
8.4 Non-Residential
8.4.1 Overview
8.4.1.1 Non-Residential: Drywall Panels Market –Forecast and Analysis to 2028 (US$ Million)
9. Overview- Impact of COVID-19
9.1 UAE: Impact Assessment of COVID-19 Pandemic
10. UAE Cement Market Revenue and Volume Forecasts to 2028
10.1 Overview
10.2 UAE Cement Market Revenue (US$) and Forecasts to 2028
10.3 UAE Cement Market Volume (Million Tons) and Forecasts to 2028
11. Key Company Profiles
11.1 Wasit General Trading LLC
11.1.1 Key Facts
11.1.2 Business Description
11.1.3 Products and Services
11.1.4 Financial Overview
11.1.5 SWOT Analysis
11.1.6 Key Developments
11.2 Gypsemna
11.2.1 Key Facts
11.2.2 Business Description
11.2.3 Products and Services
11.2.4 Financial Overview
11.2.5 SWOT Analysis
11.2.6 Key Developments
11.3 IKK Group
11.3.1 Key Facts
11.3.2 Business Description
11.3.3 Products and Services
11.3.4 Financial Overview
11.3.5 SWOT Analysis
11.3.6 Key Developments
11.4 MADA GYPSUM
11.4.1 Key Facts
11.4.2 Business Description
11.4.3 Products and Services
11.4.4 Financial Overview
11.4.5 SWOT Analysis
11.4.6 Key Developments
11.5 Technomec Building Industries LLC
11.5.1 Key Facts
11.5.2 Business Description
11.5.3 Products and Services
11.5.4 Financial Overview
11.5.5 SWOT Analysis
11.5.6 Key Developments
11.6 Knauf Gips KG
11.6.1 Key Facts
11.6.2 Business Description
11.6.3 Products and Services
11.6.4 Financial Overview
11.6.5 SWOT Analysis
11.6.6 Key Developments
11.7 Gyproc
11.7.1 Key Facts
11.7.2 Business Description
11.7.3 Products and Services
11.7.4 Financial Overview
11.7.5 SWOT Analysis
11.7.6 Key Developments
11.8 USG Boral
11.8.1 Key Facts
11.8.2 Business Description
11.8.3 Products and Services
11.8.4 Financial Overview
11.8.5 SWOT Analysis
11.8.6 Key Developments
11.9 United Mining Industries
11.9.1 Key Facts
11.9.2 Business Description
11.9.3 Products and Services
11.9.4 Financial Overview
11.9.5 SWOT Analysis
11.9.6 Key Developments
11.10 Sadaf Gypsum Company
11.10.1 Key Facts
11.10.2 Business Description
11.10.3 Products and Services
11.10.4 Financial Overview
11.10.5 SWOT Analysis
11.10.6 Key Developments
12. Appendix
12.1 About The Insight Partners
12.2 Glossary
LIST OF TABLES
Table 1. UAE Drywall Panels Market –Revenue and Forecast to 2028 (US$ Million)
Table 2. UAE Drywall Panels Market – Volume and Forecast to 2028 (Million Square Meter)
Table 3. UAE Drywall Panels Market by Type –Revenue and Forecast to 2028 (US$ Million)
Table 4. UAE Drywall Panels Market by Type – Volume and Forecast to 2028 (Million Square Meter)
Table 5. UAE Drywall Panels Market by Application –Revenue and Forecast to 2028 (US$ Million)
Table 6. UAE Drywall Panels Market by Application – Volume and Forecast to 2028 (Million Square Meter)
Table 7. Glossary of Terms, UAE Drywall Panels Market
LIST OF FIGURES
Figure 1. UAE Drywall Panels Market Segmentation
Figure 2. UAE Drywall Panels Market Overview
Figure 3. Regular Segment Held Largest Share of UAE Drywall Panels Market
Figure 4. Non-Residential Segment Held Largest Share of UAE Drywall Panels Market
Figure 5. UAE Drywall Panels Market, Industry Landscape
Figure 6. UAE: PEST Analysis
Figure 7. UAE Drywall Panels Market Impact Analysis of Driver and Restraints
Figure 8. UAE Overview of Drywall Panels Market
Figure 9. UAE Drywall Panels Market – Revenue and Forecast to 2028 (US$ Million)
Figure 10. UAE Drywall Panels Market – Volume and Forecast to 2028 (Million Square Meter)
Figure 11. Market Positioning of Key Players In UAE Drywall Panels Market
Figure 12. Drywall Panels Market Revenue Share, by Type (2020 and 2028)
Figure 13. Regular: Drywall Panels Market – Revenue and Forecast to 2028 (US$ Million)
Figure 14. Regular: Drywall Panels Market – Volume and Forecast to 2028 (Million Square Meters)
Figure 15. Moisture- Resistant: Drywall Panels Market – Revenue and Forecast to 2028 (US$ Million)
Figure 16. Moisture- Resistant: Drywall Panels Market – Volume and Forecast to 2028 (Million Square Meters)
Figure 17. Plaster Baseboard: Drywall Panels Market – Revenue and Forecast to 2028 (US$ Million)
Figure 18. Plaster Baseboard: Drywall Panels Market – Volume and Forecast to 2028 (Million Square Meters)
Figure 19. Paperless: Drywall Panels Market – Revenue and Forecast to 2028 (US$ Million)
Figure 20. Paperless: Drywall Panels Market – Volume and Forecast to 2028 (Million Square Meters)
Figure 21. Type X: Drywall Panels Market – Revenue and Forecast to 2028 (US$ Million)
Figure 22. Type X: Drywall Panels Market – Volume and Forecast to 2028 (Million Square Meters)
Figure 23. Others: Drywall Panels Market – Revenue and Forecast to 2028 (US$ Million)
Figure 24. Others: Drywall Panels Market – Volume and Forecast to 2028 (Million Square Meters)
Figure 25. Drywall Panels Market Revenue Share, by Application (2020 and 2028)
Figure 26. Residential: Drywall Panels Market – Revenue and Forecast to 2028 (US$ Million)
Figure 27. Residential: Drywall Panels Market – Volume and Forecast to 2028 (Million Square Meters)
Figure 28. Non-Residential: Drywall Panels Market – Revenue and Forecast to 2028 (US$ Million)
Figure 29. Non-Residential: Drywall Panels Market – Volume and Forecast to 2028 (Million Square Meters)
Figure 30. Impact of COVID-19 Pandemic on UAE Drywall Panel Market
Figure 31. UAE Cement Market Revenue (US$) and Forecasts to 2028
Figure 32. UAE Cement Market Volume (Million Tons) and Forecasts to 2028
The List of Companies - UAE Drywall Panels Market
Wasit General Trading LLC

Gypsemna

IKK Group

Mada Gypsum

TechnoMec

Knauf Gips KG

Gyproc

USG Boral

United Mining Industries

Sadaf Gypsum Company
---