Qatar Homeland Security and Emergency Market Forecast to 2028 - COVID-19 Impact and Country Analysis By Vertical (Border Security, Critical Infrastructure Security, Cyber Security, and Mass Transport Security) and End User (Government, Defense Forces, Transport, and Industries)
TIPRE00026066
|
Pages:
98
|
Aerospace and Defense
|
Nov 2021
|
Type:
Regional
|
Status:
Published
Market Introduction
With rising concerns about security in government organizations, industries, and enterprises in Qatar, technology experts are focusing on offering solutions based on improved security protocols to combat cyber threats. They are capitalizing on multilayered approach to safeguard and prevent users from accessing malicious fields, which might be the sources of malware. Factors contributing to the homeland security and emergency market growth in Qatar include the deployment of automation and security technologies in airports, railways, and bus transport infrastructure, among others; the integration of advanced technologies such as facial recognition and biometrics in financial institutions; and rising inclination toward enhancing cybersecurity as a result of the mounting number of cyberattacks in banks and industries. These factors are collectively boosting the deployment of advanced and sophisticated technologies in banks; oil & gas, energy & power, telecommunications, military & defense, and government sectors; and airports, railways, roadways, and seaports. In Q1 2020, Qatar recorded 2,033 e-mail, URL, and file threats associated with COVID-19, registering the second-highest number of threats in the Gulf Cooperation Council (GCC). As a result, the country government is compelling experts and officials to investigate and deploy better security systems for protecting nation's businesses, which is projected to boost the adoption of advanced security systems across Qatar in the coming years.
The transportation industry in Qatar is adopting advanced technologies and intelligent systems to ensure seamless activities. Sophisticated technologies are being deployed at airports, railways, roadways, and seaports. With an escalating demand for AI solutions from customers in Qatar, the implementation of AI trials is also growing. For instance, the Integrated Automated Fare Collection and Ticketing System is a new system developed for public transportation in Qatar. The Ministry of Transport and Communications (MoTC) signed a partnership with MSI Global (Taiwan) and GBM Qatar for the development of new systems to unify ticketing mechanism for public transport in Qatar's internal transportation network. The latest credit card payment technologies, and payment through smartphones and smartwatches are supporting the evolution of the transportation industry in the country. Similarly, Ashghal—a Public Works Authority of Qatar—is in the last stage of preparing an Intelligent Transport System (ITS) master plan, whereas smart transport solutions have already been integrated in traffic system of the country. The authority is planning to execute fully integrated ITS before FIFA World Cup 2022. Moreover, in May 2019, the country revealed the second phase of its "Smart Airport program," with a plan to introduce biometric systems throughout the journey of passengers. This facial recognition technology is already in use at Hamad International Airport at boarding and bag-drop counters. Moreover, Thales Group is providing advanced communications-based train control (CBTC) signaling; passenger services; communications and security; fully integrated operational control center; and automatic fare collection systems such as access gates, ticket vending machines, and transaction management systems for Doha Metro. Moreover, the company is also offering a fully integrated solution for supervision, security, telecommunication, and fare collection systems for new Lusail Tram Project in Qatar. The adoption of automation and security technologies, such as biometrics, in the transportation industry, thus driving the homeland security and emergency market growth in Qatar.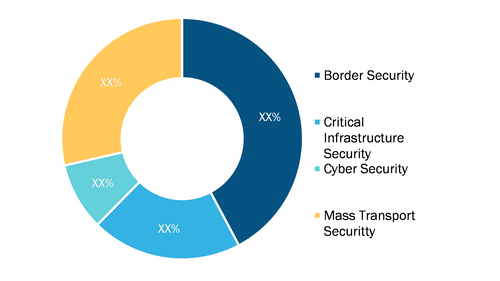 Get more information on this report :
Market Overview and Dynamics
The Qatar's banking sector is evolving heavily. It has been noticed that Qatari financial institutions are signing collaborations with the Fintech companies and targeting young digital-savvy end users in Qatar and overseas. The banking industry in Qatar is looking forward for implementing advanced technologies such as AI, machine learning, robotics, and Blockchain. Owing to the fact that the banking sector in the country has been a target for cyberattacks, the sector is procuring new technologies into their systems to ensure the protection of valuable business assets. In 2019, the phishing attempts and user-targeted social engineering attacks depicted over half of the total attacks, while rest of attacks were aimed at the systems and network infrastructure. Therefore, the banking sector in Qatar is taking steps to secure its operations and client data.
In November 2019, largest financial institution in the Middle East and Africa- QNB received "Best Biometrics Initiative, Application or Program in Qatar" Award from the Asian Banker magazine. The bank was acknowledged with this award for their Biometric Eyes Scan ATMs. Installation of biometric authentication system in Qatar for the first time was a part of the Bank's commitment to start using latest technological solutions to provide premium quality services to their customers.

In February 2020, Doha Bank has integrated facial & voice Recognition technology in mobile banking App to ensure seamless, organized, and secure access. This technology has made the smartphone users to now log in to the app by using registered facial & voice identity as a step for verification, in addition to fingerprint authentication.
Improving customer experience (CX), online banking communication, open banking application programming interfaces (APIs), and biometric access are among the solutions transforming the banking sector operations in Qatar, further assisting in mitigating cyber-attacks in the country.
Key Market Segments
The homeland security and emergency market in Qatar is segmented on the basis of vertical and end user. Based on vertical, the market is further segmented into border security, critical infrastructure security, cyber security, and mass transport security. The border security segment held the largest share of the homeland security and emergency market in Qatar in 2020. On the basis of end user, the market is segmented into government, defense forces, transport, and industries. In 2020, the defense forces segment dominated the homeland security and emergency market.
Major Sources and Companies Listed
A few major primary and secondary sources referred to for preparing this report on the Qatar homeland security and emergency market are company websites, annual reports, financial reports, national government documents, and statistical databases. Major companies listed in the report are Advanced Information and Security Solutions, ATOS SE, BAE Systems, Bayanat Engineering Qatar, Globesoft Qatar, HIT Security, Nobel Security Solution Qatar, Protiviti, Seniors IT, and Thales Group.
Reasons to Buy This Report
To understand the Qatar homeland security and emergency market landscape and identify market segments that are most likely to guarantee a strong return

Stay ahead of the race by comprehending the ever-changing competitive landscape for Qatar homeland security and emergency market

Efficiently plan merger and acquisition, and partnership deals in the market by identifying market segments with the most promising probable sales

To take knowledgeable business decisions from perceptive and comprehensive analysis of the performance of various segment of the Qatar homeland security and emergency market

Obtain market revenue forecast for market by various segments for the period 2021–2028

.
Qatar Homeland Security and Emergency Market Segmentation
Qatar Homeland Security and Emergency Market – By Vertical
Border Security

Critical Infrastructure Security

Cyber Security

Mass Transport Security
Qatar Homeland Security and Emergency Market – By End-User
Government

Defense Forces

Transport

Industries
Qatar Homeland Security and Emergency Market - Company Profiles
Advanced Information and Security Solutions

ATOS SE

BAE Systems

Bayanat Engineering Qatar

Globesoft Qatar

HIT Security

Nobel Security Solution Qatar

Protiviti

Seniors IT

Thales Group
1. Introduction
1.1 Study Scope
1.2 The Insight Partners Research Report Guidance
1.3 Market Segmentation
2. Key Takeaways
3. Research Methodology
3.1 Coverage
3.2 Secondary Research
3.3 Primary Research
4. Homeland Security and Emergency Market Landscape
4.1 Market Overview
4.2 Porter's Five Forces Analysis
4.2.1 Bargaining Power of Buyers
4.2.2 Bargaining Power of Suppliers
4.2.3 Threat to New Entrants
4.2.4 Threat to Substitutes
4.2.5 Competitive Rivalry
4.3 Ecosystem Analysis
5. Homeland Security and Emergency – Market Dynamics
5.1 Market Drivers
5.1.1 Deployment of Automation & Security Technologies in Transportation
5.2 Market Restraint
5.2.1 Limited Presence of International Players in Qatar
5.3 Market Opportunity
5.3.1 Integration of Advanced Technologies in BFSI
5.4 Future Trends
5.4.1 Growing Focus Toward Enhancing Cybersecurity
5.5 Impact Analysis of Drivers and Restraints
6. Homeland Security and Emergency Market – Qatar Market Analysis
6.1 Qatar Homeland Security and Emergency Market Overview
6.2 Qatar Homeland Security and Emergency Market Revenue Forecast and Analysis
6.3 Market Positioning – Five Key Players
7. Homeland Security and Emergency Market Revenue and Forecast to 2028 – Vertical
7.1 Overview
7.2 Homeland Security and Emergency Market, By Vertical (2020 & 2028)
7.3 Border Security
7.3.1 Overview
7.3.2 Border Security: Homeland Security and Emergency Market Revenue and Forecast to 2028 (US$ Million)
7.4 Critical Infrastructure Security
7.4.1 Overview
7.4.2 Critical Infrastructure Security: Homeland Security and Emergency Market Revenue and Forecast to 2028 (US$ Million)
7.5 Cyber Security
7.5.1 Overview
7.5.2 Cyber Security: Homeland Security and Emergency Market Revenue and Forecast to 2028 (US$ Million)
7.6 Mass Transport Security
7.6.1 Overview
7.6.2 Mass Transport Security: Homeland Security and Emergency Market Revenue and Forecast to 2028 (US$ Million)
8. Homeland Security and Emergency Market Revenue and Forecast to 2028 – End User
8.1 Overview
8.2 Homeland Security and Emergency Market, By End User (2020 & 2028)
8.3 Government
8.3.1 Overview
8.3.2 Government: Homeland Security and Emergency Market Revenue and Forecast to 2028 (US$ Million)
8.4 Defense Forces
8.4.1 Overview
8.4.2 Defense Forces: Homeland Security and Emergency Market Revenue and Forecast to 2028 (US$ Million)
8.5 Transport
8.5.1 Overview
8.5.2 Transport: Homeland Security and Emergency Market Revenue and Forecast to 2028 (US$ Million)
8.6 Industries
8.6.1 Overview
8.6.2 Industries: Homeland Security and Emergency Market Revenue and Forecast to 2028 (US$ Million)
9. Homeland Security and Emergency Market - COVID-19 Impact Analysis
9.1 Qatar: Impact Assessment of COVID-19 Pandemic
10. Qatar Homeland Security and Emergency Market -Industry Landscape
10.1 Overview
10.2 Market Initiative
10.3 New Product Launch
10.4 Merger and Acquisition
11. Company Profiles
11.1 ADVANCED INFORMATION AND SECURITY SOLUTIONS (AISS)
11.1.1 Key Facts
11.1.2 Business Description
11.1.3 Products and Services
11.1.4 Financial Overview
11.1.5 SWOT Analysis
11.1.6 Key Developments
11.2 Atos SE
11.2.1 Key Facts
11.2.2 Business Description
11.2.3 Products and Services
11.2.4 Financial Overview
11.2.5 SWOT Analysis
11.2.6 Key Developments
11.3 BAE Systems plc
11.3.1 Key Facts
11.3.2 Business Description
11.3.3 Products and Services
11.3.4 Financial Overview
11.3.5 SWOT Analysis
11.3.6 Key Developments
11.4 Thales Group
11.4.1 Key Facts
11.4.2 Business Description
11.4.3 Products and Services
11.4.4 Financial Overview
11.4.5 SWOT Analysis
11.4.6 Key Developments
11.5 Bayanat Engineering Qatar
11.5.1 Key Facts
11.5.2 Business Description
11.5.3 Products and Services
11.5.4 Financial Overview
11.5.5 SWOT Analysis
11.5.6 Key Developments
11.6 GLOBESOFT QATAR
11.6.1 Key Facts
11.6.2 Business Description
11.6.3 Products and Services
11.6.4 Financial Overview
11.6.5 SWOT Analysis
11.6.6 Key Developments
11.7 HIT SECURITY
11.7.1 Key Facts
11.7.2 Business Description
11.7.3 Products and Services
11.7.4 Financial Overview
11.7.5 SWOT Analysis
11.7.6 Key Developments
11.8 NOBEL SECURITY SOLUTIONS QATAR
11.8.1 Key Facts
11.8.2 Business Description
11.8.3 Products and Services
11.8.4 Financial Overview
11.8.5 SWOT Analysis
11.8.6 Key Developments
11.9 SENIORS IT
11.9.1 Key Facts
11.9.2 Business Description
11.9.3 Products and Services
11.9.4 Financial Overview
11.9.5 SWOT Analysis
11.9.6 Key Developments
11.10 PROTIVITI INC
11.10.1 Key Facts
11.10.2 Business Description
11.10.3 Products and Services
11.10.4 Financial Overview
11.10.5 SWOT Analysis
11.10.6 Key Developments
12. Appendix
12.1 About The Insight Partners
12.2 Word Index
LIST OF TABLES
Table 1. Qatar Homeland Security and Emergency Market Revenue and Forecast to 2028 (US$ Million)
Table 2. List of Abbreviation
LIST OF FIGURES
Figure 1. Homeland Security and Emergency Market Segmentation
Figure 2. Qatar Homeland Security and Emergency Market Overview
Figure 3. Homeland Security and Emergency Market, by Vertical
Figure 4. Homeland Security and Emergency Market, by End User
Figure 6. Homeland Security and Emergency Market - Porter's Five Forces Analysis
Figure 7. Homeland Security and Emergency Market: Ecosystem Analysis
Figure 8. Homeland Security and Emergency Market: Impact Analysis of Drivers and Restraints
Figure 9. Qatar Homeland Security and Emergency Market Revenue Forecast and Analysis (US$ Million)
Figure 10. Homeland Security and Emergency Market, by Vertical (2020 & 2028)
Figure 11. Border Security: Homeland Security and Emergency Market Revenue and Forecast to 2028 (US$ Million)
Figure 12. Critical Infrastructure: Homeland Security and Emergency Market Revenue and Forecast to 2028 (US$ Million)
Figure 13. Cyber Security: Homeland Security and Emergency Market Revenue and Forecast to 2028 (US$ Million)
Figure 14. Mass Transport Security: Homeland Security and Emergency Market Revenue and Forecast to 2028 (US$ Million)
Figure 15. Homeland Security and Emergency Market, by End User (2020 & 2028)
Figure 16. Government: Homeland Security and Emergency Market Revenue and Forecast to 2028 (US$ Million)
Figure 17. Defense Forces: Homeland Security and Emergency Market Revenue and Forecast to 2028 (US$ Million)
Figure 18. Transport: Homeland Security and Emergency Market Revenue and Forecast to 2028 (US$ Million)
Figure 19. Industries: Homeland Security and Emergency Market Revenue and Forecast to 2028 (US$ Million)
Figure 20. Impact of COVID-19 Pandemic in Qatar Market
Advanced Information and Security Solutions

ATOS SE

BAE Systems

Bayanat Engineering Qatar

Globesoft Qatar

HIT Security

Nobel Security Solution Qatar

Protiviti

Seniors IT

Thales Group
---