North America and Europe Industrial Automation Market Forecast to 2028 – COVID-19 Impact and Regional Analysis – by Component (Hardware and Software), System (Supervisory Control and Data Acquisition, Distributed Control System, Programmable Logic Control, and Others), and End User (Oil & Gas, Automotive, Food & Beverage, Chemical & Materials, Aerospace & Defense, and Others)
Code:
BMIRE00027316
|
Pages:
231
|
Industry:
Electronics and Semiconductor
|
Date:
Nov 2022
|
Type:
Regional
The North America and Europe industrial automation market is expected to grow from US$ 85.05 billion in 2022 to US$ 127.11 billion by 2028; it is estimated to grow at a CAGR of 6.9% from 2022 to 2028.
Market Introduction
Industrial automation uses control systems, such as robots, computers, and information technologies, to handle various machinery in an industry to replace human intervention. Depending on the operations involved, the industrial automation systems are majorly classified into two types—process plant automation and manufacturing automation. Industrial automation offers high product quality, reliability, and production rate while reducing production and design costs by deploying new, innovative, and integrated technologies and services. They possess various features, such as high productivity, quality, flexibility, and information accuracy, which are likely to increase the uptake of automation in the industrial sector during the forecast period. Also, the surge in the uptake of automation solutions in the oil & gas, manufacturing, chemicals & materials, pharmaceuticals, and other industries is driving the industrial automation market growth.
The North America and Europe industrial automation market is mainly driven by the rising demand for automation across end use industries such as food & beverage, construction, and e-commerce industry. Inventory sold by e-commerce sellers is stored in warehouses; to reduce the time for sorting and stocking of these products, automated storage and retrieval systems (ASRS) seems to be one of the best tools. The purchasing pattern of consumers is moving toward online shopping. For instance, more than 60% of the population in the US is engaged in online shopping. Further, customers expect faster delivery time owing to which e-commerce players are adopting automation in their processes. The fluctuations in demand of stock-keeping units (SKUs) create complexities in picking operations, which slows down the fulfillment process.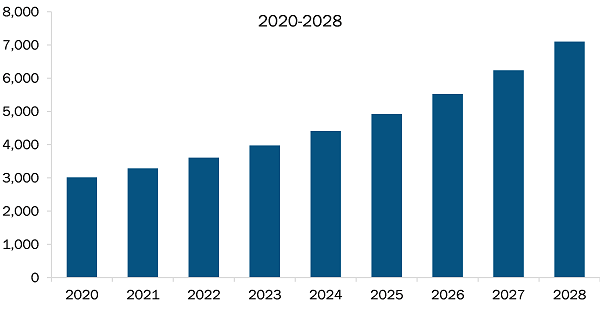 Several e-commerce giants have also increased their investment in automating their warehouse facilities over the years. In August 2022, The Kroger Co. announced the expansion of its customer fulfillment center (CFC) network, supported by Ocado Group's technology. Two new CFCs are automated by utilizing technology from Ocado Group. The first such automated CFC was opened in April 2021. Additionally, new products and technologies are being launched regularly for supporting the growing automation of warehouses. In June 2022, Amazon announced the launch of new fleet of robots and automated systems. An autonomous robot, named Proteus, and robotic system titled Cardinal, was announced by Amazon. As per the company, Proteus allows for full autonomy of the warehouse floor and can operate in a manner that augments simple, safe interaction between technology and people. These factors are expected to boost the industrial automation market growth during the forecast period.
Further, the growth in the adoption of industrial robots for different applications such as production, labelling, packaging, and loading/unloading operations is another major factor catalyzing the industrial automation market size across the North America and Europe regions. The demand for industrial robots is increasing due to the growth in the adoption of automated technologies across different industrial facilities that are enabling to enhance the overall operational efficiency of facilities. Many industries including food & beverage, retail, e-commerce, consumer electronics, and others have been constantly pushing the adoption of industrial robotic technologies for automating their respective facility operations and catalyzing the industrial automation market size across North America and European regions.
Key Market Segments
The North America and Europe industrial automation market, by system, is segmented into supervisory control and data acquisition (SCADA), distributed control system, programmable logic control, and others. The others segment dominated the industrial automation market in 2021. The segment includes industrial automation systems such as Enterprise Resource Planning (ERP), Product Lifecycle Management (PLM), and Manufacturing Execution Systems (MES). ERP for industrial automation is used to accelerate business growth. Using multiple software to manage different departmental activities, many companies are switching to a single integrated solution, thereby increasing the deployment of ERP in the industrial sector. Product lifecycle management (PLM) is a term that describes how manufacturers connect computer-aided design (CAD) with engineering and manufacturing requirements to speed product development cycles, manage quality and cost, and track products through distribution and end of life. Manufacturing Execution Systems (MES) are software solutions that ensure quality and efficiency are built into the manufacturing process and are proactively and systematically enforced. Manufacturing Execution Systems connect multiple plants, sites, and vendors' live production information and integrate easily with equipment, controllers, and enterprise business applications.
The supervisory control and data acquisition (SCADA) segment is the second-largest segment and is likely to gain prominence during the forecast period in the industrial automation market. SCADA combines software and hardware elements that allow industrial organizations to control and monitor industrial processes locally or remotely. They also gather real-time process data through sensors, valves, pumps, motors, and more through human-machine interface (HMI) software and record events into a log file. The growing adoption of Industry 4.0 solutions, high demand for industrial mobility solutions for efficient management of process industry, and the use of software platforms such as IoT and artificial intelligence in the industrial sector drive the demand for SCADA in industrial automation market. Such instances have been catalyzing the industrial automation market growth for SCADA segment.
Major Sources and Companies Listed
ABB Ltd.; Bosch Rexroth AG; Emerson Electric Co.; Hitachi Ltd.; Honeywell International, Inc.; Mitsubishi Electric Corporation; Omron Corporation; Rockwell Automation, Inc.; Schneider Electric SE; and Siemens AG are some of the key industrial automation market players in North America and Europe. Various other companies are also introducing new technologies and offerings, helping the North America and Europe industrial automation market players expand their business in terms of revenue. Moreover, apart from the above listed industrial automation market players, several other companies were also analyzed to get a holistic view of the industrial automation market.
Reasons to Buy Report
To understand the North America and Europe industrial automation market landscape and identify market segments that are most likely to guarantee a strong return.

To stay ahead of the race by comprehending the ever-changing competitive landscape for the North America and Europe industrial automation market analysis.

To efficiently plan M&A and partnership deals in the North America and Europe industrial automation market analysis by identifying market segments with the most promising probable sales.

To make knowledgeable business decisions from the perceptive and comprehensive analysis of the market performance of various North America and Europe industrial automation market segments.

To obtain revenue forecast for the market by various segments from 2022 to 2028 in US$.
1.

Introduction
1.1 Scope of the Study
1.2 The Insight Partners Research Report Guidance
1.3 Market Segmentation
2.

North America and Europe Industrial Automation Market- Key Takeaways
3. Research Methodology
3.1 Coverage
3.2 Secondary Research
3.3 Primary Research
4.

North America and Europe Industrial Automation Market Landscape
4.1 Market Overview
4.2 PEST Analysis
4.2.1 North America – PEST Analysis
4.2.2 Europe – PEST Analysis
4.3 Ecosystem Analysis
4.4 Expert Opinion
5.

North America and Europe Industrial Automation Market – Key Industry Dynamics
5.1 Market Drivers
5.1.1 Rising Uptake of Automation across Food & Beverage Industry
5.1.2 Increase in Machine Vision Systems Adoption for Industrial Automation
5.2 Key Market Restraints
5.2.1 Requirement of High Initial Investment
5.3 Key Market Opportunities
5.3.1 Integration of Robotics in the Construction Industry
5.4 Future Trends
5.4.1 Surging Demand for Automation in the E-commerce Industry
5.5 Impact Analysis of Drivers and Restraints
6.

North America and Europe Industrial Automation Market – Key Market Dynamics
6.1 North America and Europe Industrial Automation Market Overview
6.2 North America and Europe Industrial Automation Market Forecast and Analysis
6.3 Market Positioning of Key Players
7.

North America and Europe Industrial Automation Market Analysis – By Component
7.1 Overview
7.2 North America and Europe Industrial Automation Market, By Component (2021 and 2028)
7.3 Hardware
7.3.1 Overview
7.3.2 Hardware: North America and Europe Industrial Automation Market – Revenue and Forecast to 2028 (US$ Billion)
7.3.3 Motors and Drives
7.3.3.1 Overview
7.3.3.2 Motors and Drives: North America and Europe Industrial Automation Market – Revenue and Forecast to 2028 (US$ Billion)
7.3.4 Robots
7.3.4.1 Overview
7.3.4.2 Robots: North America and Europe Industrial Automation Market – Revenue and Forecast to 2028 (US$ Billion)
7.3.5 Sensor
7.3.5.1 Overview
7.3.5.2 Sensor: North America and Europe Industrial Automation Market – Revenue and Forecast to 2028 (US$ Billion)
7.3.6 Machine Vision System
7.3.6.1 Overview
7.3.6.2 Machine Vision System: North America and Europe Industrial Automation Market – Revenue and Forecast to 2028 (US$ Billion)
7.3.7 Others
7.3.7.1 Overview
7.3.7.2 Others: North America and Europe Industrial Automation Market – Revenue and Forecast to 2028 (US$ Billion)
7.4 Software
7.4.1 Overview
7.4.2 Software: North America and Europe Industrial Automation Market – Revenue and Forecast to 2028 (US$ Billion)
8.

North America and Europe Industrial Automation Market Analysis – By System
8.1 Overview
8.2 North America and Europe Industrial Automation Market, By System (2021 and 2028)
8.3 Supervisory Control and Data Acquisition
8.3.1 Overview
8.3.2 Supervisory Control and Data Acquisition: North America and Europe Industrial Automation Market – Revenue and Forecast to 2028 (US$ Billion)
8.4 Distributed Control System
8.4.1 Overview
8.4.2 Distributed Control System: North America and Europe Industrial Automation Market – Revenue and Forecast to 2028 (US$ Billion)
8.5 Programmable Logic Control
8.5.1 Overview
8.5.2 Programmable Logic Control: North America and Europe Industrial Automation Market – Revenue and Forecast to 2028 (US$ Billion)
8.6 Others
8.6.1 Overview
8.6.2 Others: North America and Europe Industrial Automation Market – Revenue and Forecast to 2028 (US$ Billion)
9.

North America and Europe Industrial Automation Market Analysis – By End User
9.1 Overview
9.2 North America and Europe Industrial Automation Market, By End User (2021 and 2028)
9.3 Oil & Gas
9.3.1 Overview
9.3.2 Oil & Gas: North America and Europe Industrial Automation Market – Revenue and Forecast to 2028 (US$ Billion)
9.4 Automotive
9.4.1 Overview
9.4.2 Automotive: North America and Europe Industrial Automation Market – Revenue and Forecast to 2028 (US$ Billion)
9.5 Food & Beverage
9.5.1 Overview
9.5.2 Food & Beverage: North America and Europe Industrial Automation Market – Revenue and Forecast to 2028 (US$ Billion)
9.6 Chemical & Materials
9.6.1 Overview
9.6.2 Chemical & Materials: North America and Europe Industrial Automation Market – Revenue and Forecast to 2028 (US$ Billion)
9.7 Aerospace & Defense
9.7.1 Overview
9.7.2 Aerospace & Defense: North America and Europe Industrial Automation Market – Revenue and Forecast to 2028 (US$ Billion)
9.8 Others
9.8.1 Overview
9.8.2 Others: North America and Europe Industrial Automation Market – Revenue and Forecast to 2028 (US$ Billion)
10.

North America and Europe Industrial Automation Market – Geographic Analysis
10.1 Overview
10.2 North America: Industrial Automation Market
10.2.1 North America: Industrial Automation Market – Revenue and Forecast to 2028 (US$ Billion)
10.2.2 North America: Industrial Automation Market, by Component
10.2.3 North America: Industrial Automation Market, by System
10.2.4 North America: Industrial Automation Market, by End User
10.2.5 North America: Industrial Automation Market, by Key Country
10.2.5.1 US: Industrial Automation Market – Revenue and Forecast to 2028 (US$ Billion)
10.2.5.1.1 US: Industrial Automation Market, by Component
10.2.5.1.2 US: Industrial Automation Market, by Hardware
10.2.5.1.3 US: Industrial Automation Market, by System
10.2.5.1.4 US: Industrial Automation Market, by End User
10.2.5.2 Canada: Industrial Automation Market – Revenue and Forecast to 2028 (US$ Billion)
10.2.5.2.1 Canada: Industrial Automation Market, by Component
10.2.5.2.2 Canada: Industrial Automation Market, by Hardware
10.2.5.2.3 Canada: Industrial Automation Market, by System
10.2.5.2.4 Canada: Industrial Automation Market, by End User
10.2.5.3 Mexico: Industrial Automation Market – Revenue and Forecast to 2028 (US$ Billion)
10.2.5.3.1 Mexico: Industrial Automation Market, by Component
10.2.5.3.2 Mexico: Industrial Automation Market, by Hardware
10.2.5.3.3 Mexico: Industrial Automation Market, by System
10.2.5.3.4 Mexico: Industrial Automation Market, by End User
10.3 Europe: Industrial Automation Market
10.3.1 Europe: Industrial Automation Market – Revenue and Forecast to 2028 (US$ Billion)
10.3.2 Europe: Industrial Automation Market, by Component
10.3.3 Europe: Industrial Automation Market, by System
10.3.4 Europe: Industrial Automation Market, by End User
10.3.5 Europe: Industrial Automation Market, by Key Country
10.3.5.1 Germany: Industrial Automation Market – Revenue and Forecast to 2028 (US$ Billion)
10.3.5.1.1 Germany: Industrial Automation Market, by Component
10.3.5.1.2 Germany: Industrial Automation Market, by Hardware
10.3.5.1.3 Germany: Industrial Automation Market, by System
10.3.5.1.4 Germany: Industrial Automation Market, by End User
10.3.5.2 France: Industrial Automation Market – Revenue and Forecast to 2028 (US$ Billion)
10.3.5.2.1 France: Industrial Automation Market, by Component
10.3.5.2.2 France: Industrial Automation Market, by Hardware
10.3.5.2.3 France: Industrial Automation Market, by System
10.3.5.2.4 France: Industrial Automation Market, by End User
10.3.5.3 Italy: Industrial Automation Market – Revenue and Forecast to 2028 (US$ Billion)
10.3.5.3.1 Italy: Industrial Automation Market, by Component
10.3.5.3.2 Italy: Industrial Automation Market, by Hardware
10.3.5.3.3 Italy: Industrial Automation Market, by System
10.3.5.3.4 Italy: Industrial Automation Market, by End User
10.3.5.4 UK: Industrial Automation Market – Revenue and Forecast to 2028 (US$ Billion)
10.3.5.4.1 UK: Industrial Automation Market, by Component
10.3.5.4.2 UK: Industrial Automation Market, by Hardware
10.3.5.4.3 UK: Industrial Automation Market, by System
10.3.5.4.4 UK: Industrial Automation Market, by End User
10.3.5.5 Russia: Industrial Automation Market – Revenue and Forecast to 2028 (US$ Billion)
10.3.5.5.1 Russia: Industrial Automation Market, by Component
10.3.5.5.2 Russia: Industrial Automation Market, by Hardware
10.3.5.5.3 Russia: Industrial Automation Market, by System
10.3.5.5.4 Russia: Industrial Automation Market, by End User
10.3.5.6 Rest of Europe: Industrial Automation Market – Revenue and Forecast to 2028 (US$ Billion)
10.3.5.6.1 Rest of Europe: Industrial Automation Market, by Component
10.3.5.6.2 Rest of Europe: Industrial Automation Market, by Hardware
10.3.5.6.3 Rest of Europe: Industrial Automation Market, by System
10.3.5.6.4 Rest of Europe: Industrial Automation Market, by End User
11.

Impact of COVID-19 Pandemic on Industrial Automation Market
11.1 Overview
11.2 North America: Impact Assessment of COVID-19 Pandemic
11.3 Europe: Impact Assessment of COVID-19 Pandemic
12.

Industry Landscape
12.1 Overview
12.2 Market Initiative
12.3 Merger and Acquisition
12.4 New Product Launch
13.

Company Profiles
13.1 ABB Ltd
13.1.1 Key Facts
13.1.2 Business Description
13.1.3 Products and Services
13.1.4 Financial Overview
13.1.5 SWOT Analysis
13.1.6 Key Developments
13.2 Bosch Rexroth AG
13.2.1 Key Facts
13.2.2 Business Description
13.2.3 Products and Services
13.2.4 Financial Overview
13.2.5 SWOT Analysis
13.2.6 Key Developments
13.3 Emerson Electric Co
13.3.1 Key Facts
13.3.2 Business Description
13.3.3 Products and Services
13.3.4 Financial Overview
13.3.5 SWOT Analysis
13.3.6 Key Developments
13.4 Hitachi Ltd
13.4.1 Key Facts
13.4.2 Business Description
13.4.3 Products and Services
13.4.4 Financial Overview
13.4.5 SWOT Analysis
13.4.6 Key Developments
13.5 Honeywell International Inc
13.5.1 Key Facts
13.5.2 Business Description
13.5.3 Products and Services
13.5.4 Financial Overview
13.5.5 SWOT Analysis
13.5.6 Key Developments
13.6 Mitsubishi Electric Corp
13.6.1 Key Facts
13.6.2 Business Description
13.6.3 Products and Services
13.6.4 Financial Overview
13.6.5 SWOT Analysis
13.6.6 Key Developments
13.7 OMRON Corp
13.7.1 Key Facts
13.7.2 Business Description
13.7.3 Products and Services
13.7.4 Financial Overview
13.7.5 SWOT Analysis
13.7.6 Key Developments
13.8 Rockwell Automation Inc
13.8.1 Key Facts
13.8.2 Business Description
13.8.3 Products and Services
13.8.4 Financial Overview
13.8.5 SWOT Analysis
13.8.6 Key Developments
13.9 Schneider Electric SE
13.9.1 Key Facts
13.9.2 Business Description
13.9.3 Products and Services
13.9.4 Financial Overview
13.9.5 SWOT Analysis
13.9.6 Key Developments
13.10 Siemens AG
13.10.1 Key Facts
13.10.2 Business Description
13.10.3 Products and Services
13.10.4 Financial Overview
13.10.5 SWOT Analysis
13.10.6 Key Developments
14.

Appendix
14.1 About The Insight Partners
14.2 Word Index
LIST OF TABLES
Table 1. North America and Europe Industrial Automation Market Revenue and Forecasts to 2028 (US$ Bn)
Table 2. North America: Industrial Automation Market, by Component – Revenue and Forecast to 2028 (US$ Billion)
Table 3. North America: Industrial Automation Market, by Hardware – Revenue and Forecast to 2028 (US$ Billion)
Table 4. North America: Industrial Automation Market, by System – Revenue and Forecast to 2028 (US$ Billion)
Table 5. North America: Industrial Automation Market, by End User – Revenue and Forecast to 2028 (US$ Billion)
Table 6. US: Industrial Automation Market, by Component –Revenue and Forecast to 2028 (US$ Billion)
Table 7. US: Industrial Automation Market, by Hardware –Revenue and Forecast to 2028 (US$ Billion)
Table 8. US: Industrial Automation Market, by System –Revenue and Forecast to 2028 (US$ Billion)
Table 9. US: Industrial Automation Market, by End User –Revenue and Forecast to 2028 (US$ Billion)
Table 10. Canada: Industrial Automation Market, by Component – Revenue and Forecast to 2028 (US$ Billion)
Table 11. Canada: Industrial Automation Market, by Hardware – Revenue and Forecast to 2028 (US$ Billion)
Table 12. Canada: Industrial Automation Market, by System – Revenue and Forecast to 2028 (US$ Billion)
Table 13. Canada: Industrial Automation Market, by End User – Revenue and Forecast to 2028 (US$ Billion)
Table 14. Mexico: Industrial Automation Market, by Component – Revenue and Forecast to 2028 (US$ Billion)
Table 15. Mexico: Industrial Automation Market, by Hardware – Revenue and Forecast to 2028 (US$ Billion)
Table 16. Mexico: Industrial Automation Market, by System – Revenue and Forecast to 2028 (US$ Billion)
Table 17. Mexico: Industrial Automation Market, by End User – Revenue and Forecast to 2028 (US$ Billion)
Table 18. Europe: Industrial Automation Market, by Component– Revenue and Forecast to 2028 (US$ Billion)
Table 19. Europe: Industrial Automation Market, by Hardware– Revenue and Forecast to 2028 (US$ Billion)
Table 20. Europe: Industrial Automation Market, by System – Revenue and Forecast to 2028 (US$ Billion)
Table 21. Europe: Industrial Automation Market, by End User– Revenue and Forecast to 2028 (US$ Billion)
Table 22. Germany: Industrial Automation Market, by Component – Revenue and Forecast to 2028 (US$ Billion)
Table 23. Germany: Industrial Automation Market, by Hardware – Revenue and Forecast to 2028 (US$ Billion)
Table 24. Germany: Industrial Automation Market, by System – Revenue and Forecast to 2028 (US$ Billion)
Table 25. Germany: Industrial Automation Market, by End User – Revenue and Forecast to 2028 (US$ Billion)
Table 26. France: Industrial Automation Market, by Component – Revenue and Forecast to 2028 (US$ Billion)
Table 27. France: Industrial Automation Market, by Hardware – Revenue and Forecast to 2028 (US$ Billion)
Table 28. France: Industrial Automation Market, by System – Revenue and Forecast to 2028 (US$ Billion)
Table 29. France: Industrial Automation Market, by End User – Revenue and Forecast t2o 2028 (US$ Billion)
Table 30. Italy: Industrial Automation Market, by Component – Revenue and Forecast to 2028 (US$ Billion)
Table 31. Italy: Industrial Automation Market, by Hardware – Revenue and Forecast to 2028 (US$ Billion)
Table 32. Italy: Industrial Automation Market, by System – Revenue and Forecast to 2028 (US$ Billion)
Table 33. Italy: Industrial Automation Market, by End User – Revenue and Forecast to 2028 (US$ Billion)
Table 34. UK: Industrial Automation Market, by Component – Revenue and Forecast to 2028 (US$ Billion)
Table 35. UK: Industrial Automation Market, by Hardware – Revenue and Forecast to 2028 (US$ Billion)
Table 36. UK: Industrial Automation Market, by System – Revenue and Forecast to 2028 (US$ Billion)
Table 37. UK: Industrial Automation Market, by End User – Revenue and Forecast to 2028 (US$ Billion)
Table 38. Russia: Industrial Automation Market, by Component – Revenue and Forecast to 2028 (US$ Billion)
Table 39. Russia: Industrial Automation Market, by Hardware – Revenue and Forecast to 2028 (US$ Billion)
Table 40. Russia: Industrial Automation Market, by System – Revenue and Forecast to 2028 (US$ Billion)
Table 41. Russia: Industrial Automation Market, by End User – Revenue and Forecast to 2028 (US$ Billion)
Table 42. Rest of Europe: Industrial Automation Market, by Component – Revenue and Forecast to 2028 (US$ Billion)
Table 43. Rest of Europe: Industrial Automation Market, by Hardware – Revenue and Forecast to 2028 (US$ Billion)
Table 44. Rest of Europe: Industrial Automation Market, by System – Revenue and Forecast to 2028 (US$ Billion)
Table 45. Rest of Europe: Industrial Automation Market, by End User – Revenue and Forecast to 2028 (US$ Billion)
Table 46. List of Abbreviation
LIST OF FIGURES
Figure 1. Industrial Automation Market Segmentation
Figure 2. Industrial Automation Market Segmentation – By Region
Figure 3. North America and Europe Industrial Automation Market Overview
Figure 4. Hardware Held the Highest Share in North America & Europe Industrial Automation Market in 2021
Figure 5. Others Held the Highest Share in North America & Europe Industrial Automation Market in 2021
Figure 6. Automotive Held the Highest Share in North America & Europe Industrial Automation Market in 2021
Figure 7. Industrial Automation Market, by Geography
Figure 8. North America – PEST Analysis
Figure 9. Europe – PEST Analysis
Figure 10. Expert Opinion
Figure 11. Industrial Automation Market Impact Analysis of Drivers and Restraints
Figure 12. North America and Europe Industrial Automation Market – Geographic Analysis
Figure 13. North America and Europe Industrial Automation Market Forecast and Analysis, (US$ Bn)
Figure 14. North America and Europe Industrial Automation Market Revenue Share, by Component (2021 and 2028)
Figure 15. Hardware: North America and Europe Industrial Automation Market – Revenue and Forecast to 2028 (US$ Billion)
Figure 16. Motors and Drives: North America and Europe Industrial Automation Market – Revenue and Forecast to 2028 (US$ Billion)
Figure 17. Robots: North America and Europe Industrial Automation Market – Revenue and Forecast to 2028 (US$ Billion)
Figure 18. Sensor: North America and Europe Industrial Automation Market – Revenue and Forecast to 2028 (US$ Billion)
Figure 19. Machine Vision System: North America and Europe Industrial Automation Market – Revenue and Forecast to 2028 (US$ Billion)
Figure 20. Others: North America and Europe Industrial Automation Market – Revenue and Forecast to 2028 (US$ Billion)
Figure 21. Software: North America and Europe Industrial Automation Market – Revenue and Forecast to 2028 (US$ Billion)
Figure 22. North America and Europe Industrial Automation Market Revenue Share, by System (2021 and 2028)
Figure 23. Supervisory Control and Data Acquisition: North America and Europe Industrial Automation Market – Revenue and Forecast to 2028 (US$ Billion)
Figure 24. Distributed Control System: North America and Europe Industrial Automation Market – Revenue and Forecast to 2028 (US$ Billion)
Figure 25. Programmable Logic Control: North America and Europe Industrial Automation Market – Revenue and Forecast to 2028 (US$ Billion)
Figure 26. Others: North America and Europe Industrial Automation Market – Revenue and Forecast to 2028 (US$ Billion)
Figure 27. North America and Europe Industrial Automation Market Revenue Share, by End User (2021 and 2028)
Figure 28. Oil & Gas: North America and Europe Industrial Automation Market – Revenue and Forecast to 2028 (US$ Billion)
Figure 29. Automotive: North America and Europe Industrial Automation Market – Revenue and Forecast to 2028 (US$ Billion)
Figure 30. Food & Beverage: North America and Europe Industrial Automation Market – Revenue and Forecast to 2028 (US$ Billion)
Figure 31. Chemical & Materials: North America and Europe Industrial Automation Market – Revenue and Forecast to 2028 (US$ Billion)
Figure 32. Aerospace & Defense: North America and Europe Industrial Automation Market – Revenue and Forecast to 2028 (US$ Billion)
Figure 33. Others: North America and Europe Industrial Automation Market – Revenue and Forecast to 2028 (US$ Billion)
Figure 34. North America and Europe Industrial Automation Market Revenue Share, by Region (2021 and 2028)
Figure 35. North America: Industrial Automation Market – Revenue and Forecast to 2028 (US$ Billion)
Figure 36. North America: Industrial Automation Market Revenue Share, by Component (2021 and 2028)
Figure 37. North America: Industrial Automation Market Revenue Share, by System (2021 and 2028)
Figure 38. North America: Industrial Automation Market Revenue Share, by End User (2021 and 2028)
Figure 39. North America: Industrial Automation Market Revenue Share, by Key Country (2021 and 2028)
Figure 40. US: Industrial Automation Market – Revenue and Forecast to 2028 (US$ Billion)
Figure 41. Canada: Industrial Automation Market – Revenue and Forecast to 2028 (US$ Billion)
Figure 42. Mexico: Industrial Automation Market – Revenue and Forecast to 2028 (US$ Billion)
Figure 43. Europe: Industrial Automation Market – Revenue and Forecast to 2028 (US$ Billion)
Figure 44. Europe: Industrial Automation Market Revenue Share, by Component (2021 and 2028)
Figure 45. Europe: Industrial Automation Market Revenue Share, by System (2021 and 2028)
Figure 46. Europe: Industrial Automation Market Revenue Share, by End User (2021 and 2028)
Figure 47. Europe: Industrial Automation Market Revenue Share, by Key Country (2021 and 2028)
Figure 48. Germany: Industrial Automation Market – Revenue and Forecast to 2028 (US$ Billion)
Figure 49. France: Industrial Automation Market – Revenue and Forecast to 2028 (US$ Billion)
Figure 50. Italy: Industrial Automation Market – Revenue and Forecast to 2028 (US$ Billion)
Figure 51. UK: Industrial Automation Market – Revenue and Forecast to 2028 (US$ Billion)
Figure 52. Russia: Industrial Automation Market – Revenue and Forecast to 2028 (US$ Billion)
Figure 53. Rest of Europe: Industrial Automation Market – Revenue and Forecast to 2028 (US$ Billion)
Figure 54. Impact of COVID-19 Pandemic in North American Country Markets
Figure 55. Impact of COVID-19 Pandemic in Europe Country Markets
ABB Ltd.

Bosch Rexroth AG

Emerson Electric Co.

Hitachi Ltd.

Honeywell International, Inc.

Mitsubishi Electric Corporation

Omron Corporation

Rockwell Automation, Inc.

Schneider Electric SE

Siemens AG
---