North America Advanced Planning and Scheduling (APS) Software Market Forecast to 2028 - COVID-19 Impact and Regional Analysis By Deployment (Cloud-Based and On-Premise), Organization Size (Large Enterprises and SMEs), and Industry (Manufacturing, Pharmaceuticals & Life Sciences, Retail & Consumer Goods, Food & Beverage, Chemicals, and Others)
Code:
TIPRE00022152
|
Pages:
100
|
Industry:
Technology, Media and Telecommunications
|
Date:
May 2021

Market Introduction
Online sales in the US and Canada are constantly mounting and reflecting an unstoppable attitude toward its growth over the next decade. In the region, the US has a highly skilled workforce in the retail & consumer goods products arena. As per the International Trade Administration (ITA), in 2019, the consumer goods market in the US was the largest in the globe, registering US$ 635 billion. Since the market in the US is broad and open, the consumer is receptive to both domestic and imported brands. With the strong APS software, the retail & consumer goods industry can enhance the synchronization of the manufacturing processes by gaining insights, which enables them to improve further and surge utilization, thus reducing wastage. According to the Centre for Environment and Development (CED), the food & beverage industry in the US plays a crucial role in the economy, accounting for ~5% of the GDP, 10% of the total US employment, and 10% of the consumers' disposable personal income (DPI). In 2017, the industry had total sales of US$ 1.4 trillion, and it meets the growing needs of 320 million American consumers and other consumers overseas by handling food supplies. The sector has been more stable based on employment and labor income than other manufacturing industries due to the steady demand for food and the competitive prices of raw commodities. Food & beverage industry poses several production scheduling challenges such as limited intermediate storage, spoilage issues, cross-contamination, and constraints created by conveyance equipment. Thus, to avoid such challenges, the planning and scheduling in the industry are crucial. APS software allows the industry to make informed decisions for simplifying their business processes, resulting in increased output and higher revenues. Thus, the above factors propel the market growth in the region.
In case of COVID-19, North America is highly affected, especially the US. North America is one of the most important regions for the adoption and growth of new technologies due to favorable government policies to boost innovation, the presence of a huge industrial base, and high purchasing power, especially in developed countries such as the US and Canada. Hence, any impact on the growth of industries is expected to affect the region's economic growth negatively. The US is one of the prominent markets for APS software. The huge increase in the number of confirmed cases and rising reported deaths in the country has affected numerous industries, including manufacturing. The factory and business shutdowns across the US, Canada, and Mexico negatively impact the adoption of the APS software. Several industries in the region work on APS software to manage their complex production process. However, due to the closed business of various industries the market for APS software slightly affected in 2020. Moreover, APS vendors continued their operations remotely to offer the best services to their end-users. The impact of COVID-19 is short-term; it is likely to decrease in the coming months.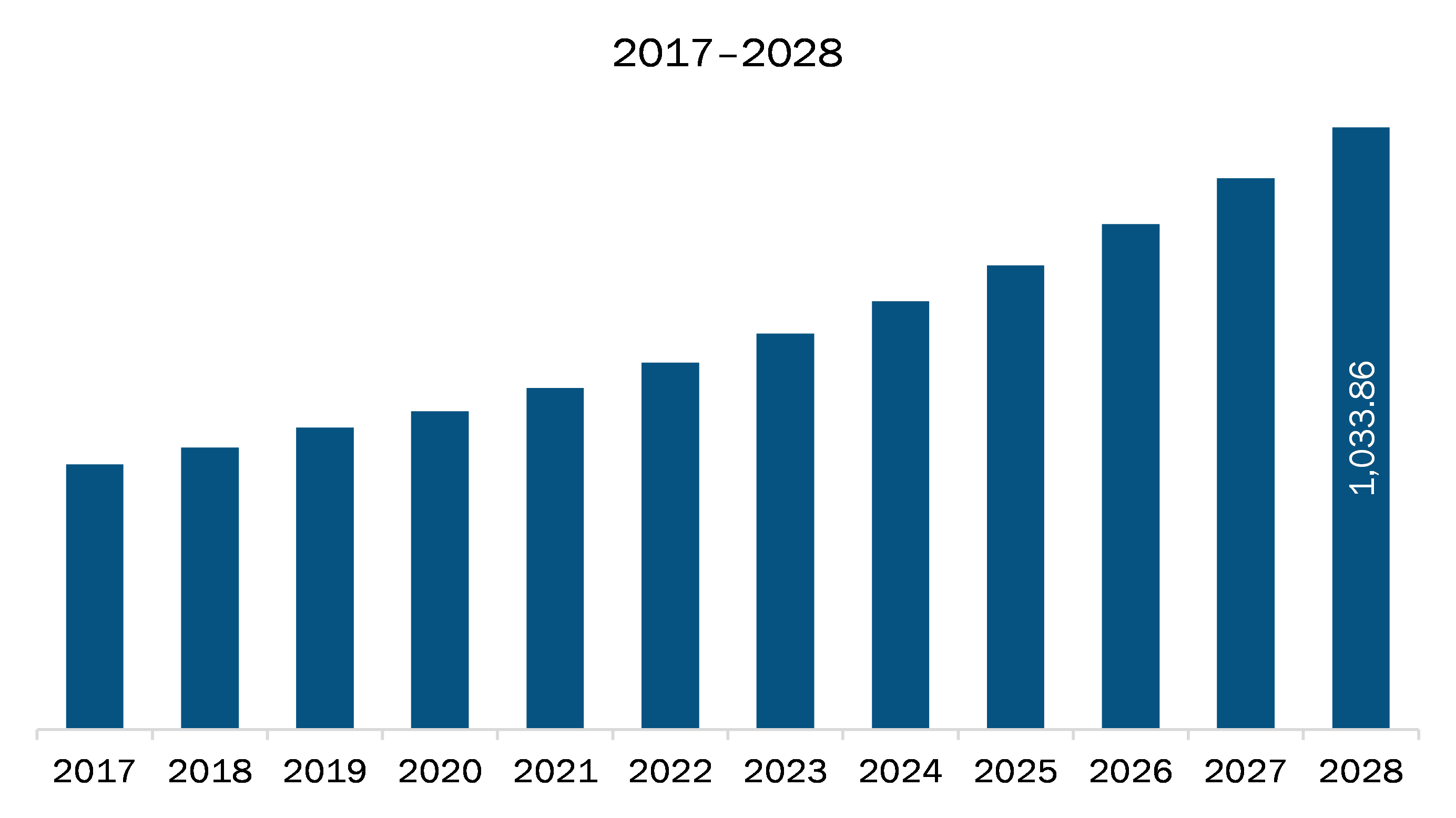 Get more information on this report :
Market Overview and Dynamics
The North America advanced planning and scheduling (APS) software market is expected to grow from US$ 546.51 million in 2020 to US$ 1,033.86 million by 2028; it is estimated to grow at a CAGR of 8.4 % from 2021 to 2028. Scope for continuous developments in APS software will drive the market. Vendors operating in the North America APS software market need to continuously innovate and offer comprehensive solutions. This can be achieved by increasing investments in research and development (R&D) and spending on mergers and acquisitions (M&A). With M&A vendors can extend their offering and enhance their technological capabilities. They can also expand their APS software suite by adding features that allow their integration with the legacy solutions, including MES and ERP. For example, company across North America such as Cybetech's Cyberplan APS software can easily be integrated with all key ERPs including SAP, JDE, Sage, Oracle, Panthera. In most of the cases, end users prefer APS software that can be integrated with their existing ERP systems without any hassle. Therefore, vendors such as Dassault Systems Acumatica Inc., Siemens, and Plex Systems are now considering offering APS solutions with integration capability. Competition in the North America APS software market is increasing with the rise in number of vendors entering into the market. To differentiate themselves from their competitors, the vendors are likely to consider adding more functionalities in their software products. Vendors must try to anticipate future trend beforehand. For instance, artificial advanced analytics is becoming a potential point of focus for many North America APS software market players. Offering end-to-end suite would further help manufacturers through increased efficiency and reduced complexity.
Key Market Segments
In terms of deployment, the on-premise segment accounted for the largest share of the North America advanced planning and scheduling (APS) software market in 2020. In terms of organization size, the large enterprises segment held a larger market share of the North America advanced planning and scheduling (APS) software market in 2020. Further, the manufacturing segment held a larger share of the North America advanced planning and scheduling (APS) software market based on industry in 2020.
Major Sources and Companies Listed
A few major primary and secondary sources referred to for preparing this report on the North America advanced planning and scheduling (APS) software market are company websites, annual reports, financial reports, national government documents, and statistical database, among others. Major companies listed in the report are ACUMATICA, INC; ASPROVA CORPORATION; CYBERTEC; Dassault Systèmes SE; GLOBAL SHOP SOLUTIONS; INFORM SOFTWARE; PLEX SYSTEMS; Siemens AG; and THE ACCESS GROUP.
Reasons to buy report
To understand the North America advanced planning and scheduling (APS) software market landscape and identify market segments that are most likely to guarantee a strong return
Stay ahead of the race by comprehending the ever-changing competitive landscape for North America advanced planning and scheduling (APS) software market
Efficiently plan M&A and partnership deals in North America advanced planning and scheduling (APS) software market by identifying market segments with the most promising probable sales
Helps to take knowledgeable business decisions from perceptive and comprehensive analysis of market performance of various segment form North America advanced planning and scheduling (APS) software market
Obtain market revenue forecast for market by various segments from 2021-2028 in North America region

.
North America Advanced Planning and Scheduling (APS) Software Market Segmentation
North America Advanced Planning and Scheduling (APS) Software Market - By Deployment
North America Advanced Planning and Scheduling (APS) Software Market - By Organization Size
North America Advanced Planning and Scheduling (APS) Software Market - By Industry
Manufacturing
Pharmaceuticals & Life Sciences
Retail & Consumer Goods
Food & Beverage
Chemicals
Others
North America Advanced Planning and Scheduling (APS) Software Market – By Country
North America Advanced Planning and Scheduling (APS) Software Market –Company Profiles
ACUMATICA, INC
ASPROVA CORPORATION
CYBERTEC
Dassault Systèmes SE
GLOBAL SHOP SOLUTIONS
INFORM SOFTWARE
PLEX SYSTEMS
Siemens AG
THE ACCESS GROUP
1. Introduction
1.1 Study Scope
1.2 The Insight Partners Research Report Guidance
1.3 Market Segmentation
2. Key Takeaways
3. Research Methodology
3.1 Coverage
3.2 Secondary Research
3.3 Primary Research
4. North America APS Software Market Landscape
4.1 Market Overview
4.2 North America PEST Analysis
4.3 Ecosystem Analysis
4.4 Expert Opinion
5. North America APS Software Market –Key Market Dynamics
5.1 Market Drivers
5.1.1 Escalating Need to Enhance Overall Production Process
5.1.2 Growing Adoption of Cloud-Based Solutions
5.2 Market Restraints
5.2.1 Dearth of Expertise and Awareness
5.3 Market Opportunities
5.3.1 Scope for Continuous Developments in APS Software
5.4 Market Trend
5.4.1 Digital Transformation of Manufacturing Operations
5.5 Impact Analysis of Drivers and Restraints
6. APS Software Market – North America Analysis
6.1 North America APS Software Market Overview
6.2 North America APS Software Market – Revenue and Forecast to 2028 (US$ Million)
7. North America APS Software Market Analysis – By Deployment
7.1 Overview
7.2 North America APS Software Market Breakdown, by Deployment, 2020 & 2028
7.3 Cloud-Based
7.3.1 Overview
7.3.2 Cloud-Based Market Revenue and Forecast to 2028 (US$ Million)
7.4 On-Premise
7.4.1 Overview
7.4.2 On-Premise Market Revenue and Forecast to 2028 (US$ Million)
8. North America APS Software Market Analysis – By Organization Size
8.1 Overview
8.2 North America APS Software Market Breakdown, by Organization Size, 2020 & 2028
8.3 Small and Medium Enterprises
8.3.1 Overview
8.3.2 Small and Medium Enterprises Market Revenue and Forecast to 2028 (US$ Million)
8.4 Large Enterprises
8.4.1 Overview
8.4.2 Large Enterprises Market Revenue and Forecast to 2028 (US$ Million)
9. North America APS Software Market Analysis – By Industry
9.1 Overview
9.2 North America APS Software Market Breakdown, by Industry, 2020 & 2028
9.3 Manufacturing
9.3.1 Overview
9.3.2 Manufacturing Market Revenue and Forecast to 2028 (US$ Million)
9.4 Pharmaceuticals & Life Sciences
9.4.1 Overview
9.4.2 Pharmaceuticals & Life Sciences Market Revenue and Forecast to 2028 (US$ Million)
9.5 Retail & Consumer Goods
9.5.1 Overview
9.5.2 Retail & Consumer Goods Market Revenue and Forecast to 2028 (US$ Million)
9.6 Food & Beverage
9.6.1 Overview
9.6.2 Food & Beverage Market Revenue and Forecast to 2028 (US$ Million)
9.7 Chemicals
9.7.1 Overview
9.7.2 Chemicals Market Revenue and Forecast to 2028 (US$ Million)
9.8 Others
9.8.1 Overview
9.8.2 Others Market Revenue and Forecast to 2028 (US$ Million)
10. North America APS Software Market – Country Analysis
10.1 Overview
10.1.1 North America: APS Software Market, By Country
10.1.1.1 US: APS Software Market – Revenue and Forecast to 2028 (US$ Million)
10.1.1.1.1 US: APS Software Market, By Deployment
10.1.1.1.2 US: APS Software Market, By Organization Size
10.1.1.1.3 US: APS Software Market, By Industry
10.1.1.2 Canada: APS Software Market – Revenue and Forecast to 2028 (US$ Million)
10.1.1.2.1 Canada: APS Software Market, By Deployment
10.1.1.2.2 Canada: APS Software Market, By Organization Size
10.1.1.2.3 Canada: APS Software Market, By Industry
10.1.1.3 Mexico: APS Software Market – Revenue and Forecast to 2028 (US$ Million)
10.1.1.3.1 Mexico: APS Software Market, By Deployment
10.1.1.3.2 Mexico: APS Software Market, By Organization Size
10.1.1.3.3 Mexico: APS Software Market, By Industry
11. North America APS Software Market - COVID-19 Impact Analysis
11.1 North America
12. Industry Landscape
12.1 Overview
12.2 Market Initiative
13. Company Profiles
13.1 ACUMATICA, INC
13.1.1 Key Facts
13.1.2 Business Description
13.1.3 Products and Services
13.1.4 Financial Overview
13.1.5 SWOT Analysis
13.1.6 Key Developments
13.2 ASPROVA CORPORATION
13.2.1 Key Facts
13.2.2 Business Description
13.2.3 Products and Services
13.2.4 Financial Overview
13.2.5 SWOT Analysis
13.2.6 Key Developments
13.3 CYBERTEC
13.3.1 Key Facts
13.3.2 Business Description
13.3.3 Products and Services
13.3.4 Financial Overview
13.3.5 SWOT Analysis
13.3.6 Key Developments
13.4 Dassault Systèmes SE
13.4.1 Key Facts
13.4.2 Business Description
13.4.3 Products and Services
13.4.4 Financial Overview
13.4.5 SWOT Analysis
13.4.6 Key Developments
13.5 GLOBAL SHOP SOLUTIONS
13.5.1 Key Facts
13.5.2 Business Description
13.5.3 Products and Services
13.5.4 Financial Overview
13.5.5 SWOT Analysis
13.5.6 Key Developments
13.6 INFORM SOFTWARE
13.6.1 Key Facts
13.6.2 Business Description
13.6.3 Products and Services
13.6.4 Financial Overview
13.6.5 SWOT Analysis
13.6.6 Key Developments
13.7 PLEX SYSTEMS
13.7.1 Key Facts
13.7.2 Business Description
13.7.3 Products and Services
13.7.4 Financial Overview
13.7.5 SWOT Analysis
13.7.6 Key Developments
13.8 Siemens AG
13.8.1 Key Facts
13.8.2 Business Description
13.8.3 Products and Services
13.8.4 Financial Overview
13.8.5 SWOT Analysis
13.8.6 Key Developments
13.9 THE ACCESS GROUP
13.9.1 Key Facts
13.9.2 Business Description
13.9.3 Products and Services
13.9.4 Financial Overview
13.9.5 SWOT Analysis
13.9.6 Key Developments
14. Appendix
14.1 About The Insight Partners
14.2 Word Index
LIST OF TABLES
Table 1. North America APS Software Market – Revenue and Forecast to 2028 (US$ Million)
Table 2. US APS Software Market, By Deployment – Revenue and Forecast to 2028 (US$ Million)
Table 3. US APS Software Market, By Organization Size – Revenue and Forecast to 2028 (US$ Million)
Table 4. US APS Software Market, By Industry – Revenue and Forecast to 2028 (US$ Million)
Table 5. Canada APS Software Market, By Deployment – Revenue and Forecast to 2028 (US$ Million)
Table 6. Canada APS Software Market, By Organization Size – Revenue and Forecast to 2028 (US$ Million)
Table 7. Canada APS Software Market, By Industry – Revenue and Forecast to 2028 (US$ Million)
Table 8. Mexico APS Software Market, By Deployment – Revenue and Forecast to 2028 (US$ Million)
Table 9. Mexico APS Software Market, By Organization Size – Revenue and Forecast to 2028 (US$ Million)
Table 10. Mexico APS Software Market, By Industry – Revenue and Forecast to 2028 (US$ Million)
Table 11. List of Abbreviation
LIST OF FIGURES
Figure 1. North America APS Software Market Segmentation
Figure 2. North America APS Software Market Segmentation – By Country
Figure 3. North America APS Software Market Overview
Figure 4. On-Premise Segment is Expected to Dominate the Market by Deployment
Figure 5. Large Enterprise Segment held Largest Market Share in 2020
Figure 6. Manufacturing Segment held Largest Market Share in 2020
Figure 7. US held Largest Market Share in 2020
Figure 8. North America – PEST Analysis
Figure 9. Expert Opinion
Figure 10. North America APS Software Market Impact Analysis of Drivers and Restraints
Figure 11. North America APS Software Market – Revenue and Forecast to 2028 (US$ Million)
Figure 12. North America APS Software Market Breakdown, by Deployment (2020 and 2028)
Figure 13. North America Cloud-Based Market Revenue and Forecast to 2028 (US$ Million)
Figure 14. North America On-Premise Market Revenue and Forecast to 2028 (US$ Million)
Figure 15. North America APS Software Market Breakdown, by Organization Size (2020 and 2028)
Figure 16. North America Small and Medium Enterprises Market Revenue and Forecast to 2028 (US$ Million)
Figure 17. North America Large Enterprises Market Revenue and Forecast to 2028 (US$ Million)
Figure 18. North America APS Software Market Breakdown, by Industry (2020 and 2028)
Figure 19. North America Manufacturing Market Revenue and Forecast to 2028 (US$ Million)
Figure 20. North America Pharmaceuticals & Life Sciences Market Revenue and Forecast to 2028 (US$ Million)
Figure 21. North America Retail & Consumer Goods Market Revenue and Forecast to 2028 (US$ Million)
Figure 22. North America Food & Beverage Market Revenue and Forecast to 2028 (US$ Million)
Figure 23. North America Chemicals Market Revenue and Forecast to 2028 (US$ Million)
Figure 24. North America Others Market Revenue and Forecast to 2028 (US$ Million)
Figure 25. North America: APS Software Market, by Key Country – Revenue (2020) (USD Million)
Figure 26. North America APS Software Market Revenue Share, By Country (2020 and 2028)
Figure 27. US: APS Software Market – Revenue and Forecast to 2028 (US$ Million)
Figure 28. Canada: APS Software Market – Revenue and Forecast to 2028 (US$ Million)
Figure 29. Mexico: APS Software Market – Revenue and Forecast to 2028 (US$ Million)
Figure 30. Impact of COVID-19 Pandemic in North American Country Markets
ACUMATICA, INC

ASPROVA CORPORATION

CYBERTEC

Dassault Systèmes SE

GLOBAL SHOP SOLUTIONS

INFORM SOFTWARE

PLEX SYSTEMS

Siemens AG

THE ACCESS GROUP
Save and reduce time carrying out entry-level research by identifying the growth, size, leading players and segments in the

North America advanced planning and scheduling (APS) software market

.

Highlights key business priorities in order to assist companies to realign their business strategies

The key findings and recommendations highlight crucial progressive industry trends in North America advanced planning and scheduling (APS) software market, thereby allowing players across the value chain to develop effective long-term strategies

Develop/modify business expansion plans by using substantial growth offering developed and emerging markets

Scrutinize in-depth North America market trends and outlook coupled with the factors driving the advanced planning and scheduling (APS) software market, as well as those hindering it

Enhance the decision-making process by understanding the strategies that underpin commercial interest with respect to client products, segmentation, pricing and distribution
---
Related Tags
North America Advanced Planning and Scheduling (APS) Software Market
North America Advanced Planning and Scheduling (APS) Software Market Research
North America Advanced Planning and Scheduling (APS) Software Market Insight
North America Advanced Planning and Scheduling (APS) Software Market Trends
North America Advanced Planning and Scheduling (APS) Software Market Forecast
North America Advanced Planning and Scheduling (APS) Software Market Share
North America Advanced Planning and Scheduling (APS) Software Market 2028
North America Advanced Planning and Scheduling (APS) Software Market Growth
North America Advanced Planning and Scheduling (APS) Software Industry
Sector
North America Advanced Planning and Scheduling (APS) Software PDF Report
North America Advanced Planning and Scheduling (APS) Software Analysis
North America Advanced Planning and Scheduling (APS) Software Research
Competitive Analysis
---