Middle East & Africa Lighting Contactor Market Forecast to 2028 - COVID-19 Impact and Regional Analysis By Type (Electrically Held and Mechanically Held), End-User (Commercial, Residential, and Industrial), and Application (Indoors and Outdoors)
BMIRE00027420
|
Pages:
109
|
Electronics and Semiconductor
|
Nov 2022
|
Type:
Regional
|
Status:
Published
The lighting contactor market in MEA is expected to grow from US$ 65.36 million in 2022 to US$ 101.86 million by 2028. It is estimated to grow at a CAGR of 7.7% from 2022 to 2028.
Penetration of IoT in Lighting Control Systems
Nowadays, lights come with a variety of features, such as software-enabled control, Bluetooth, and WiFi. The IoT in lighting is expected to transform the industry in the near future. These lights are connected to the network. The IoT-enabled lights can be a game changer for the lighting market. Some of these lights have sensors that help provide information. For instance, light with sensors can detect how long a customer spent in a retail store aisle looking at a particular product. These lights can be managed via mobile app or web to increase or reduce the brightness, color changing, etc. IoT-enabled lights find significant demand in the commercial sector. Due to increasing demand, various companies, such as Philips and Wipro, are offering a variety of IoT-enabled lights. Thus, IoT-enabled lights are driving the lighting contactor market. In August 2021, Signify launched Wiz smart light range, including LED smart downlighter, T-Bulb, T-Beamer, and Batten. The company expanded its Philips smart WiFi ecosystem in India with this launch. Such IoT-enabled light launches are increasing the demand for contactors and, thus, driving the lighting contactor market.
Market Overview
Based on country, the MEA lighting contactor market is segmented into South Africa, Saudi Arabia, the UAE, and the Rest of MEA. The MEA government focuses on taking advantage of a range of technologically advanced solutions to boost the overall lighting industry of the country. In addition to the rising acceptance of emerging technology, adopting advanced solutions is fueling the shift from traditional lighting to smart lighting systems across the region. Increased demand for energy-efficient lighting solutions in the GCC is spurring new growth in the lighting industry. In July 2021, IDRO announced its joint venture to produce explosion-proof LED lamps. The joint venture project is expected to reduce power consumption by 14,000 MWh annually. Tuya Smart and Nexleds announced their collaboration to enhance the Middle East lighting contactor market. Increasing developments and investments are further positively impacting the growth of lighting contactors in the Middle East. Downlights, panel lights, flood lights, and light bulbs offered by Tuva are a few of the products of this partnership. Further, developments in the lighting sector are contributing to the lighting contactor industry. Various smart city programs initiated by governments of the MEA countries, such as the UAE Vision 2021 and Middle East Smart Lighting & Energy Summit 2021, would contribute to the MEA lighting contactors market in the coming years. Masdar City in Abu Dhabi, powered by renewable energy and built with environment-friendly materials, including low-carbon cement and recycled aluminum, inculcates smart lighting solutions for reduced power consumption. The project includes several intelligent solutions that save energy and water and an integrated smart network of electric or zero-carbon mobility options. Developments in the region such as USAID's Energy Efficiency for Development (EE4D) program in partnership with other countries announced its plans for scaling clean energy and energy efficiency are contributing to the demand for lighting contactors further driving the market growth in the MEA.
MEA Lighting Contactor Market Revenue and Forecast to 2028 (US$ Million)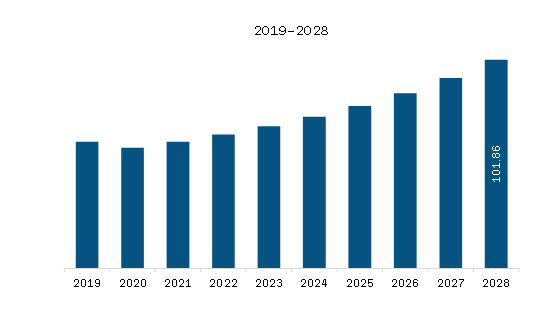 MEA Lighting Contactor Market Segmentation
The MEA lighting contactor market is segmented into type, end user, application, and country. Based on type, the market is segmented into electrically held and mechanically held. The electrically held segment registered a larger market share in 2022.
Based on end-user, the MEA lighting contactor market is segmented into commercial, residential, and industrial. The commercial segment registered the largest market share in 2022. Based on application, the MEA lighting contactor market is segmented into indoor and outdoor. The indoor segment registered a larger market share in 2022. Based on country, the market is segmented into Australia, China, India, Japan, South Korea, and Rest of MEA. China dominated the market share in 2022. ABB Ltd.; Eaton; Hager Group; Hitachi Industrial Equipment Systems Co., Ltd; Ripley Lighting Controls; Rockwell Automation, Inc.; Schneider Electric SE; and Siemens AG are the leading companies operating in the lighting contactor market in the region.
1.

Introduction

1.1 Study Scope

1.2 The Insight Partners Research Report Guidance

1.3 Market Segmentation
2.

Key Takeaways
3.

Research Methodology

3.1 Coverage

3.2 Secondary Research

3.3 Primary Research
4.

MEA Lighting Contactor Market Landscape

4.1 Market Overview

4.2 MEA PEST Analysis

4.3 Ecosystem Analysis

4.4 Expert Opinions
5.

MEA Lighting Contactor Market – Key Market Dynamics

5.1 Market Drivers

5.1.1 Penetration of IoT in Lighting Control Systems

5.1.2 Smart Lighting Solutions Boosts Market Growth

5.2 Market Restraints

5.2.1 Rising Usage of Portable Lights

5.3 Future Trends

5.3.1 Increasing Trend of Horticulture Lights

5.4 Impact Analysis of Drivers and Restraints
6.

Lighting Contactor Market – MEA Market Analysis

6.1 MEA Lighting Contactor Market Overview

6.2 MEA Lighting Contactor Market Revenue Forecast and Analysis

6.3 MEA Lighting Contactor Market Volume Forecast and Analysis
7.

MEA Lighting Contactor Market Analysis – By Type

7.1 Overview

7.2 MEA Lighting Contactor Market, By Type (2021 and 2028)

7.3 Electrically Held

7.3.1 Overview

7.3.2 Electrically Held: Lighting Contactor Market – Revenue and Forecast to 2028 (US$ Million)

7.4 Mechanically Held

7.4.1 Overview

7.4.2 Mechanically Held: Lighting Contactor Market – Revenue and Forecast to 2028 (US$ Million)
8.

MEA Lighting Contactor Market Analysis – By End-User

8.1 Overview

8.2 MEA Lighting Contactor Market, By End-User (2021 and 2028)

8.3 Commercial

8.3.1 Overview

8.3.2 Commercial: Lighting Contactor Market – Revenue and Forecast to 2028 (US$ Million)

8.4 Residential

8.4.1 Overview

8.4.2 Residential: Lighting Contactor Market – Revenue and Forecast to 2028 (US$ Million)

8.5 Industrial

8.5.1 Overview

8.5.2 Industrial: Lighting Contactor Market – Revenue and Forecast to 2028 (US$ Million)
9.

MEA Lighting Contactor Market Analysis – By Application

9.1 Overview

9.2 MEA Lighting Contactor Market, By Application (2021 and 2028)

9.3 Indoor

9.3.1 Overview

9.3.2 Indoor: Lighting Contactor Market – Revenue and Forecast to 2028 (US$ Million)

9.4 Outdoor

9.4.1 Overview

9.4.2 Outdoor: Lighting Contactor Market – Revenue and Forecast to 2028 (US$ Million)
10.

MEA Lighting Contactor Market – Country Analysis

10.1 Overview

10.1.1 MEA: Lighting Contactor Market, By Country

10.1.1.1 South Africa: Lighting Contactor Market – Revenue and Forecast to 2028 (US$ Million)

10.1.1.1.1 South Africa: Lighting Contactor Market, By Type

10.1.1.1.2 South Africa: Lighting Contactor Market, By End-User

10.1.1.1.3 South Africa: Lighting Contactor Market, By Application

10.1.1.2 Saudi Arabia: Lighting Contactor Market – Revenue and Forecast to 2028 (US$ Million)

10.1.1.2.1 Saudi Arabia: Lighting Contactor Market, By Type

10.1.1.2.2 Saudi Arabia: Lighting Contactor Market, By End-User

10.1.1.2.3 Saudi Arabia: Lighting Contactor Market, By Application

10.1.1.3 UAE: Lighting Contactor Market – Revenue and Forecast to 2028 (US$ Million)

10.1.1.3.1 UAE: Lighting Contactor Market, By Type

10.1.1.3.2 UAE: Lighting Contactor Market, By End-User

10.1.1.3.3 UAE: Lighting Contactor Market, By Application

10.1.1.4 Rest of MEA: Lighting Contactor Market – Revenue and Forecast to 2028 (US$ Million)

10.1.1.4.1 Rest of MEA: Lighting Contactor Market, By Type

10.1.1.4.2 Rest of MEA: Lighting Contactor Market, By End-User

10.1.1.4.3 Rest of MEA: Lighting Contactor Market, By Application
11.

Industry Landscape

11.1 Overview

11.2 Market Initiative

11.3 Mergers and Acquisition

11.4 New Product Development
12.

Company Profiles

12.1 ABB Ltd.

12.1.1 Key Facts

12.1.2 Business Description

12.1.3 Products and Services

12.1.4 Financial Overview

12.1.5 SWOT Analysis

12.1.6 Key Developments

12.2 Eaton

12.2.1 Key Facts

12.2.2 Business Description

12.2.3 Products and Services

12.2.4 Financial Overview

12.2.5 SWOT Analysis

12.2.6 Key Developments

12.3 Ripley Lighting Controls

12.3.1 Key Facts

12.3.2 Business Description

12.3.3 Products and Services

12.3.4 Financial Overview

12.3.5 SWOT Analysis

12.3.6 Key Developments

12.4 Hager Group

12.4.1 Key Facts

12.4.2 Business Description

12.4.3 Products and Services

12.4.4 Financial Overview

12.4.5 SWOT Analysis

12.4.6 Key Developments

12.5 Hitachi Industrial Equipment Systems Co., Ltd

12.5.1 Key Facts

12.5.2 Business Description

12.5.3 Products and Services

12.5.4 Financial Overview

12.5.5 SWOT Analysis

12.5.6 Key Developments

12.6 Rockwell Automation, Inc.

12.6.1 Key Facts

12.6.2 Business Description

12.6.3 Products and Services

12.6.4 Financial Overview

12.6.5 SWOT Analysis

12.6.6 Key Developments

12.7 Schneider Electric SE

12.7.1 Key Facts

12.7.2 Business Description

12.7.3 Products and Services

12.7.4 Financial Overview

12.7.5 SWOT Analysis

12.7.6 Key Developments

12.8 Siemens AG

12.8.1 Key Facts

12.8.2 Business Description

12.8.3 Products and Services

12.8.4 Financial Overview

12.8.5 SWOT Analysis

12.8.6 Key Developments
13.

Appendix

13.1 About The Insight Partners

13.2 Word Index
LIST OF TABLES
Table 1. MEA Lighting Contactor Market Revenue and Forecast to 2028 (US$ Million)
Table 2. MEA Lighting Contactor Market Volume and Forecast to 2028 (Thousand Units)
Table 3. South Africa Lighting Contactor Market, By Type– Revenue and Forecast to 2028 (US$ Million)
Table 4. South Africa Lighting Contactor Market, By End-User– Revenue and Forecast to 2028 (US$ Million)
Table 5. South Africa Lighting Contactor Market, By Application– Revenue and Forecast to 2028 (US$ Million)
Table 6. Saudi Arabia Lighting Contactor Market, By Type– Revenue and Forecast to 2028 (US$ Million)
Table 7. Saudi Arabia Lighting Contactor Market, By End-User– Revenue and Forecast to 2028 (US$ Million)
Table 8. Saudi Arabia Lighting Contactor Market, By Application– Revenue and Forecast to 2028 (US$ Million)
Table 9. UAE Lighting Contactor Market, By Type– Revenue and Forecast to 2028 (US$ Million)
Table 10. UAE Lighting Contactor Market, By End-User – Revenue and Forecast to 2028 (US$ Million)
Table 11. UAE Lighting Contactor Market, By Application– Revenue and Forecast to 2028 (US$ Million)
Table 12. Rest of MEA Lighting Contactor Market, By Type– Revenue and Forecast to 2028 (US$ Million)
Table 13. Rest of MEA Lighting Contactor Market, By End-User – Revenue and Forecast to 2028 (US$ Million)
Table 14. Rest of MEA Lighting Contactor Market, By Application– Revenue and Forecast to 2028 (US$ Million)
Table 15. List of Abbreviation
LIST OF FIGURES
Figure 1. MEA Lighting Contactor Market Segmentation
Figure 2. MEA Lighting Contactor Market Segmentation – By Country
Figure 3. MEA Lighting Contactor Market Overview
Figure 4. MEA Lighting Contactor Market, by Type
Figure 5. MEA Lighting Contactor Market, by Country
Figure 6. MEA – PEST Analysis
Figure 7. Lighting Contactor Market- Ecosystem Analysis
Figure 8. MEA Lighting Contactor Market Impact Analysis of Drivers and Restraints
Figure 9. MEA Lighting Contactor Market Revenue Forecast and Analysis (US$ Million)
Figure 10. MEA Lighting Contactor Market Volume Forecast and Analysis (Thousand Units)
Figure 11. MEA Lighting Contactor Market Revenue Share, By Type (2021 and 2028)
Figure 12. MEA Electrically Held: Lighting Contactor Market – Revenue and Forecast to 2028 (US$ Million)
Figure 13. MEA Mechanically held: Lighting Contactor Market – Revenue and Forecast to 2028 (US$ Million)
Figure 14. MEA Lighting Contactor Market Revenue Share, by End-User (2021 and 2028)
Figure 15. MEA Commercial: Lighting Contactor Market – Revenue and Forecast to 2028 (US$ Million)
Figure 16. MEA Residential: Lighting Contactor Market – Revenue and Forecast to 2028 (US$ Million)
Figure 17. MEA Industrial: Lighting Contactor Market – Revenue and Forecast to 2028 (US$ Million)
Figure 18. MEA Lighting Contactor Market Revenue Share, by Application (2021 and 2028)
Figure 19. MEA Indoor: Lighting Contactor Market – Revenue and Forecast to 2028 (US$ Million)
Figure 20. MEA Outdoor: Lighting Contactor Market – Revenue and Forecast to 2028 (US$ Million)
Figure 21. MEA Lighting Contactor Market, by Key Country – Revenue (2021) (US$ Million)
Figure 22. MEA: Lighting Contactor Market Revenue Share, By Country (2021 and 2028)
Figure 23. South Africa: Lighting Contactor Market – Revenue and Forecast to 2028 (US$ Million)
Figure 24. Saudi Arabia: Lighting Contactor Market – Revenue and Forecast to 2028 (US$ Million)
Figure 25. UAE: Lighting Contactor Market – Revenue and Forecast to 2028 (US$ Million)
Figure 26. Rest of MEA: Lighting Contactor Market – Revenue and Forecast to 2028 (US$ Million)
ABB Ltd.
Eaton
Hager Group
Hitachi Industrial Equipment Systems Co., Ltd
Ripley Lighting Controls
Rockwell Automation, Inc.
Schneider Electric SE
Siemens AG
Save and reduce time carrying out entry-level research by identifying the growth, size, leading players, and segments in the MEA lighting contactor market.
Highlights key business priorities in order to assist companies to realign their business strategies
The key findings and recommendations highlight crucial progressive industry trends in the MEA lighting contactor market, thereby allowing players across the value chain to develop effective long-term strategies
Develop/modify business expansion plans by using substantial growth offering developed and emerging markets
Scrutinize in-depth MEA market trends and outlook coupled with the factors driving the lighting contactor market, as well as those hindering it
Enhance the decision-making process by understanding the strategies that underpin commercial interest with respect to client products, segmentation, pricing, and distribution
---