Germany PropTech Market Forecast to 2028 - COVID-19 Impact and Country Analysis By Offerings (Solution and Services), Component (Security and Surveillance, Asset Management, Sales and Advertisement, and Others), and Building Type (Residential and Non-residential)
Code:
TIPRE00021551
|
Pages:
83
|
Industry:
Technology, Media and Telecommunications
|
Date:
Apr 2021

Market Introduction
PropTech, also referred as property technology, comprises the set of technology driven products, solutions, or services that aid in several business operations and management across the real estate sector. The rising adoption of numerous technologically enabled innovative solutions or services across the real estate industry drive the growth of the Germany PropTech market. Furthermore, the emergence of robust and efficient solution for property management and various other business operation among the asset and facility manager across residential and commercial buildings is positively influencing the growth of the market. Additionally, the improved and efficient business operation through technologically enabled property management solution is projected to witness notable adoption among the end users during the coming years.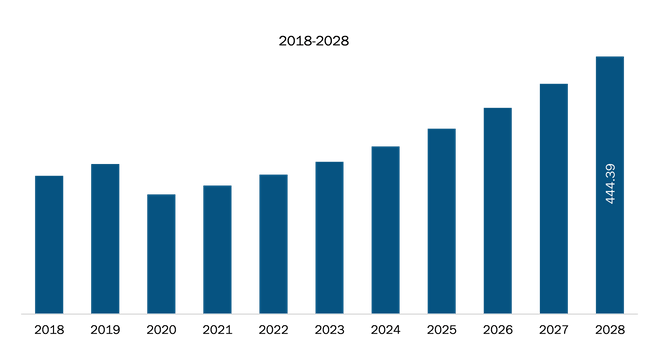 Get more information on this report :



Market Overview and Dynamics

The Germany PropTech market is expected to reach US$ 444.39 million by 2028 from US$ 206.30 million in 2020. The market is estimated to grow at a CAGR of 10.4% from 2021 to 2028. Germany is one of the technologically advanced countries across the world. The country is known for having high GDP per capita and is among the countries that have a high standard of living. Germany is the Europe's biggest construction market with Europe's largest building stock. The construction industry in the country is growing due a stable economy and investment climate coupled with favorable government policies.

One of the crucial factors influencing the strong growth rate of the market in Germany is that the strong inclination toward the adoption of new technologies to improve the overall standard of living. The adoption of smart home system in Germany has risen from 2 million in 2016 to 6.6 million in 2020 and is expected to reach 9.3 million by 2022. Also, the adoption of energy management system for household has risen from 1.2 million in 2106 to 4 million in 2020 and is anticipated to reach 6.1 million by 2022. All these rising adoptions are subsequently fueling the growth of the PropTech market in Germany. Moreover, the government has a strong inclination for improving the urban infrastructure.

Germany is a home to the most active backers of PropTech start-ups.

Further, because of pandemic of COVID-19, PropTech companies had to reduce its workforce and cut salaries as their operations were reduced significantly. Recruitment and hiring continued with low pace, as well as the migration of people is reduced drastically as companies are adopting work from home strategies for employees whose work is possible from home also. At the beginning of pandemic, short-term rental platforms were hampered as instructions were given for halting of leisure bookings. Most of these platforms, which were previously offering short-term rentals, began to focus on pushing mid-term and long-term rentals.

Key Market Segments

The Germany PropTech market is segmented on the basis of offering, component, and building type. Based on offering, the market is bifurcated into solution and services. By component, the market is segmented into security & surveillance, asset management, sales & advertisement, and others. The market, based on building type, is bifurcated into residential and non-residential.

Major Sources and Companies Listed

The top companies operating in the Germany PropTech market are ALPHAPENTA, BETTERHOMES AG, BOTTIMMO AG, HAUSGOLD, Homeday GmbH, immoverkauf24 GmbH, Maklaro.de, McMakler GmbH, PriceHubble, and realbest Germany GmbH. Various other companies operating in the market are coming up with new technologies and offerings, which is bolstering the growth of the market.

Reasons to buy report
To understand the Germany PropTech market landscape and identify market segments that are most likely to guarantee a strong return.

To stay ahead of the race by comprehending the ever-changing competitive landscape for the market

To efficiently plan M&A and partnership deals in the Germany PropTech market by identifying market segments with the most promising probable sales

To make knowledgeable business decisions from perceptive and comprehensive analysis of market performance of various segments of the Germany PropTech market

To obtain revenue forecast for market by various segments from 2021 to 2028 in Germany
Germany PropTech Market Segmentation
Germany PropTech Market – by Offerings
Germany PropTech Market – by Component
Security and Surveillance

Asset Management

Sales and Advertisement

Others
Germany PropTech Market – by Building Type
Residential

Non-residential
Germany PropTech Market - Companies Mentioned
1. Introduction
1.1 Study Scope
1.2 The Insight Partners Research Report Guidance
1.3 Market Segmentation
2. Key Takeaways
3. Research Methodology
3.1 Coverage
3.2 Secondary Research
3.3 Primary Research
4. Germany PropTech Market Landscape
4.1 Market Overview
4.1.1 Germany – PEST Analysis
4.2 Ecosystem Analysis
4.3 Expert Opinion
5. Germany PropTech Market – Key Market Dynamics
5.1 Market Drivers
5.1.1 Rising Awareness About Need of Energy Conservation
5.1.2 Use of Augmented Reality and Virtual Reality in Marketing Activities
5.2 Market Restraints
5.2.1 High Prices and Disrupted Supply of Raw Materials
5.3 Market Opportunities
5.3.1 Use of Big Data in Real Estate Sector
5.4 Future Trends
5.4.1 Emergence of Smart Cities
5.5 Impact Analysis of Drivers and Restraints
6. PropTech – Germany Market Analysis
6.1 Germany PropTech Market Overview
6.2 Germany PropTech Market – Revenue, and Forecast to 2028 (US$ Million)
6.3 Market Positioning – Germany Market Players Ranking
7. Germany PropTech Market Analysis – By Offerings
7.1 Overview
7.2 Germany PropTech Market, By Offerings (2020 and 2028)
7.3 Solution
7.3.1 Overview
7.3.2 Solution: Germany PropTech Market – Revenue, and Forecast to 2028 (US$ Million)
7.4 Services
7.4.1 Overview
7.4.2 Services: Germany PropTech Market – Revenue, and Forecast to 2028 (US$ Million)
8. Germany PropTech Market Analysis – By Component
8.1 Overview
8.2 Germany PropTech Market, By Component (2020 and 2028)
8.3 Security and Surveillance
8.3.1 Overview
8.3.2 Security and Surveillance: Germany PropTech Market – Revenue, and Forecast to 2028 (US$ Million)
8.4 Asset Management
8.4.1 Overview
8.4.2 Asset Management: Germany PropTech Market – Revenue, and Forecast to 2028 (US$ Million)
8.5 Sales and Advertisement
8.5.1 Overview
8.5.2 Sales and Advertisement: Germany PropTech Market – Revenue, and Forecast to 2028 (US$ Million)
8.6 Others
8.6.1 Overview
8.6.2 Others: Germany PropTech Market – Revenue, and Forecast to 2028 (US$ Million)
9. Germany PropTech Market Analysis – By Building Type
9.1 Overview
9.2 Germany PropTech Market, By Building Type (2020 and 2028)
9.3 Residential
9.3.1 Overview
9.3.2 Residential: Germany PropTech Market – Revenue, and Forecast to 2028 (US$ Million)
9.4 Non-residential
9.4.1 Overview
9.4.2 Non-residential: Germany PropTech Market – Revenue, and Forecast to 2028 (US$ Million)
10. Germany PropTech Market- COVID-19 Impact Analysis
10.1 Overview
11. Industry Landscape
11.1 Market Initiative
11.2 New Development
12. Company Profiles
12.1 ALPHAPENTA
12.1.1 Key Facts
12.1.2 Business Description
12.1.3 Products and Services
12.1.4 Financial Overview
12.1.5 SWOT Analysis
12.1.6 Key Developments
12.2 BETTERHOMES AG
12.2.1 Key Facts
12.2.2 Business Description
12.2.3 Products and Services
12.2.4 Financial Overview
12.2.5 SWOT Analysis
12.2.6 Key Developments
12.3 BOTTIMMO AG
12.3.1 Key Facts
12.3.2 Business Description
12.3.3 Products and Services
12.3.4 Financial Overview
12.3.5 SWOT Analysis
12.3.6 Key Developments
12.4 HAUSGOLD
12.4.1 Key Facts
12.4.2 Business Description
12.4.3 Products and Services
12.4.4 Financial Overview
12.4.5 SWOT Analysis
12.4.6 Key Developments
12.5 Homeday GmbH
12.5.1 Key Facts
12.5.2 Business Description
12.5.3 Products and Services
12.5.4 Financial Overview
12.5.5 SWOT Analysis
12.5.6 Key Developments
12.6 immoverkauf24 GmbH
12.6.1 Key Facts
12.6.2 Business Description
12.6.3 Products and Services
12.6.4 Financial Overview
12.6.5 SWOT Analysis
12.6.6 Key Developments
12.7 Maklaro.de
12.7.1 Key Facts
12.7.2 Business Description
12.7.3 Products and Services
12.7.4 Financial Overview
12.7.5 SWOT Analysis
12.7.6 Key Developments
12.8 McMakler GmbH
12.8.1 Key Facts
12.8.2 Business Description
12.8.3 Products and Services
12.8.4 Financial Overview
12.8.5 SWOT Analysis
12.8.6 Key Developments
12.9 PriceHubble
12.9.1 Key Facts
12.9.2 Business Description
12.9.3 Products and Services
12.9.4 Financial Overview
12.9.5 SWOT Analysis
12.9.6 Key Developments
12.10 realbest Germany GmbH
12.10.1 Key Facts
12.10.2 Business Description
12.10.3 Products and Services
12.10.4 Financial Overview
12.10.5 SWOT Analysis
12.10.6 Key Developments
13. Appendix
13.1 About The Insight Partners
13.2 Word Index
LIST OF TABLES
Table 1. Germany PropTech Market – Revenue, and Forecast to 2028 (US$ Million)
Table 2. List of Abbreviation
LIST OF FIGURES
Figure 1. Germany PropTech Market Segmentation
Figure 2. Germany PropTech Market Overview
Figure 3. Solutions Offerings to Dominate the Germany PropTech Market
Figure 4. Asset Management Component to Dominate the Germany PropTech Market
Figure 5. Residential Building Type to Dominate the Germany PropTech Market
Figure 6. Germany – PEST Analysis
Figure 7. Germany PropTech Market – Ecosystem Analysis
Figure 8. Expert Opinion
Figure 9. PropTech Market Impact Analysis of Drivers and Restraints
Figure 10. Germany: PropTech Market – Revenue and Forecast to 2028 (US$ Million)
Figure 11. Germany PropTech Market Revenue Share, by Offerings (2020 and 2028)
Figure 12. Solution: Germany PropTech Market – Revenue, and Forecast to 2028 (US$ Million)
Figure 13. Services: Germany PropTech Market – Revenue, and Forecast to 2028 (US$ Million)
Figure 14. Germany PropTech Market Revenue Share, by Component (2020 and 2028)
Figure 15. Security and Surveillance: Germany PropTech Market – Revenue, and Forecast to 2028 (US$ Million)
Figure 16. Asset Management: Germany PropTech Market – Revenue, and Forecast to 2028 (US$ Million)
Figure 17. Sales and Advertisement: Germany PropTech Market – Revenue, and Forecast to 2028 (US$ Million)
Figure 18. Others: Germany PropTech Market – Revenue, and Forecast to 2028 (US$ Million)
Figure 19. Germany PropTech Market Revenue Share, by Building Type (2020 and 2028)
Figure 20. Residential: Germany PropTech Market – Revenue, and Forecast to 2028 (US$ Million)
Figure 21. Non-residential: Germany PropTech Market – Revenue, and Forecast to 2028 (US$ Million)
Figure 22. Impact of COVID-19 Pandemic on Germany PropTech Market
The List of Companies - Germany PropTech Market


ALPHAPENTA

BETTERHOMES AG

BOTTIMMO AG

HAUSGOLD

Homeday GmbH

immoverkauf24 GmbH

Maklaro.de

McMakler GmbH

PriceHubble

realbest Germany GmbH
Save and reduce time carrying out entry-level research by identifying the growth, size, leading players and segments in the Germany PropTech market

Highlights key business priorities in order to assist companies to realign their business strategies

The key findings and recommendations highlight crucial progressive industry trends in the Germany PropTech market, thereby allowing players across the value chain to develop effective long-term strategies

Develop/modify business expansion plans by using substantial growth offering developed and emerging markets

Scrutinize in-depth Germany market trends and outlook coupled with the factors driving the market, as well as those hindering it

Enhance the decision-making process by understanding the strategies that underpin commercial interest with respect to client products, segmentation, pricing and distribution
---
Related Tags
Germany PropTech Market
Germany PropTech Market Research
Germany PropTech Market Insight
Germany PropTech Market Trends
Germany PropTech Market Forecast
Germany PropTech Market Share
Germany PropTech Market 2028
Germany PropTech Market Growth
Germany PropTech Industry
Sector
Germany PropTech PDF Report
Germany PropTech Analysis
Germany PropTech Research
Competitive Analysis
---