Europe Skull Clamp Market Forecast to 2028 - COVID-19 Impact and Regional Analysis by Product (Three-Pin Skull Clamp, Four-Pin Skull Clamp, and Two-Pin Skull Clamp), Application (Surgery and Medical Imaging), Material (Stainless Steel, Aluminum Alloy, Titanium, and Radiolucent), Accessories (Skull Pins, Headrests, and Others), End User (Hospitals, Specialty Clinics, and Ambulatory Surgical Centers)
BMIRE00028471
|
Pages:
124
|
Medical Device
|
May 2023
|
Type:
Regional
|
Status:
Published
The Europe skull clamp market was valued at US$ 666.13 million in 2022 and is projected to reach US$ 1,120.52 million by 2028; it is expected to grow at a CAGR of 9.1% from 2022 to 2028.
Surgical Robot Innovation and Adoption is Driving the Europe Skull clamp Market
Brain conditions are complex to identify, and ~20% of patients remain unaware of their symptoms. The use of robotics is becoming common in abdominal surgeries. The technology is further being explored for its potential use in minimally invasive brain surgeries. Robotic surgeries allow surgeons to perform complicated procedures with more ease, control, and precision than traditional ones. Additionally, the growing emphasis on minimally invasive surgeries and improving surgical outcomes drive traction toward robot-assisted surgeries. Robots allow surgeons to venture deep into the brain through tiny incisions. After they are at the skull base, robots can effectively remove a tumor. Several government authorities and organizations are offering financial aid and platforms for researchers to improve the landscape of brain diagnosis and treatment. These research and development activities are focused on encouraging the adoption of advanced technologies such as robotics in neurosurgeries. Further, WPI Automation and Interventional Medicine Laboratory, together, have developed a steady hand-guided aneurysm clip applier that can provide high-precision motion while allowing neurosurgeons to maintain contact with a surgical instrument. Force sensors are incorporated between the instrument and the robot; surgeons apply force on the instrument to guide the movement of connected robots. Tremor reduction, force scaling, and virtual fixtures are the features of robotic surgeries that can enable enhanced control. This aneurysm clip applier system was demonstrated at the CNS Conference in Denver, Colorado, wherein it received good participant feedback.
The acceptance of robotic techniques for treating neurological and brain diseases is expected to increase due to their ability to improve overall performance with greater flexibility, accelerated recovery, and high accuracy. Moreover, the techniques are expected to streamline workflows and processes, along with improving patient experience and delivering superior surgical outcomes. Thus, advancements in robotics are likely to bring new trends to neurosurgery, impacting the skull clamp market in the coming years.
Europe Skull Clamp Market Overview
The European skull clamp market is segmented into Germany, the UK, France, Italy, Spain, and the Rest of Europe. The region holds a significant market share in the skull clamp market. The European skull clamp market is expected to witness significant growth during the forecast period due to factors such as the significant growth in elderly population, increasing incidences of cancer and diabetes cases, and the favorable government initiatives for the treatments in the region. The growing incidence of traumatic brain injuries in Germany contributes to the growth of the market in the country. About 270,000 people suffer a traumatic brain injury annually in the country. For instance, an article entitled "Work-related traumatic brain injury," published in 2020, shows that approximately 2,200 work-related traumatic brain injuries (TBI) occur yearly in Germany. About 49,881 work-related head injuries were reported during 2014–2018, of which 10,800 (22%) were work-related TBI, and out of all reported cases, 254 head injuries were fatal. Findings show that TBI cases are rising in people aged 65 and above. Thus, high incidences of TBI result in the demand of brain surgeries, and that increases the demand for skull clamp, thereby contributing to the market's growth.
Europe Skull Clamp Market Revenue and Forecast to 2028 (US$ Million)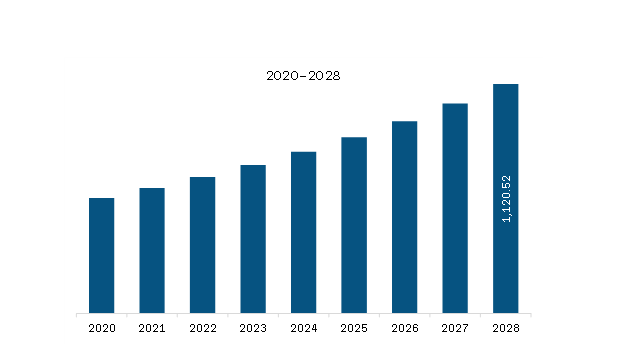 Get more information on this report :
Europe Skull Clamp Market Segmentation
The Europe skull clamp market is segmented into product, application, material, accessories, end user, and country.
The Europe skull clamp market, by product, is segmented into three-pin skull clamp, four-pin skull clamp, and two-pin skull clamp. The three-pin skull clamp segment held the largest market share in 2022.
Based on application, the Europe skull clamp market is divided into surgery and medical imaging. The surgery segment held a larger share of the market in 2022.
Based on material, the Europe skull clamp market is divided into stainless steel, aluminium alloy, titanium, and radiolucent. The stainless steel segment held the largest share of the market in 2022.
Based on accessories, the Europe skull clamp market is divided into skull pins, headrest, and others. The skull pins segment held the largest share of the market in 2022.
The skull clamp market, by end user, is segmented into hospitals, specialty clinics, and ambulatory surgical centers. The hospitals segment held the largest share of the market in 2022.
Based on country, the Europe skull clamp market is segmented into France, the UK, Germany, Italy, Spain, and Rest of Europe. Germany dominated the market in 2022.
Black Forest Medical Group; Integra LifeSciences Holdings Corp; Eschmann Technologies Ltd; BD; TeDan Surgical Innovations; Herbert Thailand Co Ltd; BMedifa GmbH & Co KG; and Schaerer Medical AG are the leading companies operating in the Europe skull clamp market.
1.

Introduction
1.1 Scope of the Study
1.2 The Insight Partners Research Report Guidance
1.3 Market Segmentation
1.3.1 Europe Skull Clamp Market – by Product
1.3.2 Europe Skull Clamp Market – by Application
1.3.3 Europe Skull Clamp Market – by Material
1.3.4 Europe Skull Clamp Market – by Accessories
1.3.5 Europe Skull Clamp Market – by Skull Pins
1.3.6 Europe Skull Clamp Market – by End User
1.3.7 Europe Skull Clamp Market – by Country
2.

Europe Skull Clamp Market – Key Takeaways
3. Research Methodology
3.1 Coverage
3.2 Secondary Research
3.3 Primary Research
4.

Europe Skull Clamp Market – Market Landscape
4.1 Overview
4.2 Europe PEST Analysis
4.3 Expert's Opinion
5.

Europe Skull Clamp Market – Key Market Dynamics
5.1 Market Drivers
5.1.1 Increasing Prevalence of Neurosurgeries
5.1.2 Rise in Number of Traumatic Brain Injuries
5.2 Market Restraints
5.2.1 Growing Number of Injuries Caused by Skull Clamps
5.3 Market Opportunities
5.3.1 Introduction of Technologically Advanced Products
5.4 Future Trends
5.4.1 Surgical Robot Innovation and Adoption
5.5 Impact Analysis
6.

Skull Clamp Market – Europe Analysis
6.1 Europe Skull Clamp Market Revenue Forecast and Analysis
7.

Europe Skull Clamp Market – Revenue and Forecast to 2028 – by Product
7.1 Overview
7.2 Europe Skull Clamp Market Revenue Share, by Product 2021 & 2028 (%)
7.3 Three-Pin Skull Clamp
7.3.1 Overview
7.3.2 Three-Pin Skull Clamp: Europe Skull Clamp Market – Revenue and Forecast to 2028 (US$ Million)
7.4 Four-Pin Skull Clamp
7.4.1 Overview
7.4.2 Four-Pin Skull Clamp: Europe Skull Clamp Market – Revenue and Forecast to 2028 (US$ Million)
7.5 Two-Pin Skull Clamp
7.5.1 Overview
7.5.2 Two-Pin Skull Clamp: Europe Skull Clamp Market – Revenue and Forecast to 2028 (US$ Million)
8.

Europe Skull Clamp Market Analysis and Forecasts to 2028 – by Application
8.1 Overview
8.2 Europe Skull Clamp Market, by Application 2021 & 2028 (%)
8.3 Surgery
8.3.1 Overview
8.3.2 Surgery: Europe Skull Clamp Market – Revenue and Forecast to 2028 (US$ Million)
8.4 Medical Imaging
8.4.1 Overview
8.4.2 Medical Imaging: Europe Skull Clamp Market – Revenue and Forecast to 2028 (US$ Million)
9.

Europe Skull Clamp Market Analysis and Forecasts to 2028 – by Material
9.1 Overview
9.2 Europe Skull Clamp Market, by Material 2021 & 2028 (%)
9.3 Stainless Steel
9.3.1 Overview
9.3.2 Stainless Steel: Europe Skull Clamp Market – Revenue and Forecast to 2028 (US$ Million)
9.4 Aluminium Alloy
9.4.1 Overview
9.4.2 Aluminium Alloy: Europe Skull Clamp Market – Revenue and Forecast to 2028 (US$ Million)
9.5 Titanium
9.5.1 Overview
9.5.2 Titanium: Europe Skull Clamp Market – Revenue and Forecast to 2028 (US$ Million)
9.6 Radiolucent
9.6.1 Overview
9.6.2 Radiolucent: Europe Skull Clamp Market – Revenue and Forecast to 2028 (US$ Million)
10.

Europe Skull Clamp Market Analysis and Forecasts to 2028 – by Accessories
10.1 Overview
10.2 Europe Skull Clamp Market, by Accessories 2021 & 2028 (%)
10.3 Skull Pins
10.3.1 Overview
10.3.2 Skull Pins: Europe Skull Clamp Market – Revenue and Forecast to 2028 (US$ Million)
10.3.3 Disposable Pins
10.3.4 Overview
10.3.5 Disposable Pins: Europe Skull Clamp Market – Revenue and Forecast to 2028 (US$ Million)
10.3.6 Reusable Pins
10.3.7 Overview
10.3.8 Reusable Pins: Europe Skull Clamp Market – Revenue and Forecast to 2028 (US$ Million)
10.5 Headrest
10.5.1 Overview
10.5.2 Headrest: Europe Skull Clamp Market – Revenue and Forecast to 2028 (US$ Million)
10.6 Others
10.6.1 Overview
10.6.2 Others: Europe Skull Clamp Market – Revenue and Forecast to 2028 (US$ Million)
11.

Europe Skull Clamp Market – Revenue and Forecast to 2028 – by End User
11.1 Overview
11.2 Skull Clamp Market Revenue Share, by End User 2021 & 2028 (%)
11.3 Hospitals
11.3.1 Overview
11.3.2 Hospitals: Europe Skull Clamp Market – Revenue and Forecast to 2028 (US$ Million)
11.4 Speciality Clinics
11.4.1 Overview
11.4.2 Speciality Clinics: Europe Skull Clamp Market – Revenue and Forecast to 2028 (US$ Million)
11.5 Ambulatory Surgical Centers
11.5.1 Overview
11.5.2 Ambulatory Surgical Centers: Europe Skull Clamp Market – Revenue and Forecast to 2028 (US$ Million)
12.

Europe Skull Clamp Market – Revenue and Forecast to 2028 – Country Analysis
12.1 Overview
12.1.1 Europe: Skull Clamp Market, by Country, 2021 & 2028 (%)
12.1.1.1 Germany: Skull Clamp Market – Revenue and Forecast to 2028 (US$ Million)
12.1.1.1.1 Overview
12.1.1.1.2 Germany: Skull Clamp Market – Revenue and Forecast to 2028 (US$ Million)
12.1.1.1.3 Germany: Skull Clamp Market, by Product, 2019–2028 (US$ Million)
12.1.1.1.4 Germany: Skull Clamp Market, by Application, 2019–2028 (US$ Million)
12.1.1.1.5 Germany: Skull Clamp Market, by Material, 2019–2028 (US$ Million)
12.1.1.1.6 Germany: Skull Clamp Market, by Accessories, 2019–2028 (US$ Million)
12.1.1.1.6.1 Germany: Skull Clamp Market, by Skull pins, 2019–2028 (US$ Million)
12.1.1.1.7 Germany: Skull Clamp Market, by End User, 2019–2028 (US$ Million)
12.1.1.1 UK: Skull Clamp Market – Revenue and Forecast to 2028 (US$ Million)
12.1.1.1.1 Overview
12.1.1.1.2 UK: Skull Clamp Market – Revenue and Forecast to 2028 (US$ Million)
12.1.1.1.3 UK: Skull Clamp Market, by Product, 2019–2028 (US$ Million)
12.1.1.1.4 UK: Skull Clamp Market, by Application, 2019–2028 (US$ Million)
12.1.1.1.5 UK: Skull Clamp Market, by Material, 2019–2028 (US$ Million)
12.1.1.1.6 UK: Skull Clamp Market, by Accessories, 2019–2028 (US$ Million)
12.1.1.1.6.1 UK: Skull Clamp Market, by Skull pins, 2019–2028 (US$ Million)
12.1.1.1.7 UK: Skull Clamp Market, by End User, 2019–2028 (US$ Million)
12.1.1.2 France: Skull Clamp Market – Revenue and Forecast to 2028 (US$ Million)
12.1.1.2.1 Overview
12.1.1.2.2 France: Skull Clamp Market – Revenue and Forecast to 2028 (US$ Million)
12.1.1.2.3 France: Skull Clamp Market, by Product, 2019–2028 (US$ Million)
12.1.1.2.4 France: Skull Clamp Market, by Application, 2019–2028 (US$ Million)
12.1.1.2.5 France: Skull Clamp Market, by Material, 2019–2028 (US$ Million)
12.1.1.2.6 France: Skull Clamp Market, by Accessories, 2019–2028 (US$ Million)
12.1.1.2.6.1 France: Skull Clamp Market, by Skull pins, 2019–2028 (US$ Million)
12.1.1.2.7 France: Skull Clamp Market, by End User, 2019–2028 (US$ Million)
12.1.1.3 Italy: Skull Clamp Market – Revenue and Forecast to 2028 (US$ Million)
12.1.1.3.1 Overview
12.1.1.3.2 Italy: Skull Clamp Market – Revenue and Forecast to 2028 (US$ Million)
12.1.1.3.3 Italy: Skull Clamp Market, by Product, 2019–2028 (US$ Million)
12.1.1.3.4 Italy: Skull Clamp Market, by Application, 2019–2028 (US$ Million)
12.1.1.3.5 Italy: Skull Clamp Market, by Material, 2019–2028 (US$ Million)
12.1.1.3.6 Italy: Skull Clamp Market, by Accessories, 2019–2028 (US$ Million)
12.1.1.3.6.1 Italy: Skull Clamp Market, by Skull pins, 2019–2028 (US$ Million)
12.1.1.3.7 Italy: Skull Clamp Market, by End User, 2019–2028 (US$ Million)
12.1.1.4 Spain: Skull Clamp Market – Revenue and Forecast to 2028 (US$ Million)
12.1.1.4.1 Overview
12.1.1.4.2 Spain: Skull Clamp Market – Revenue and Forecast to 2028 (US$ Million)
12.1.1.4.3 Spain: Skull Clamp Market, by Product, 2019–2028 (US$ Million)
12.1.1.4.4 Spain: Skull Clamp Market, by Application, 2019–2028 (US$ Million)
12.1.1.4.5 Spain: Skull Clamp Market, by Material, 2019–2028 (US$ Million)
12.1.1.4.6 Spain: Skull Clamp Market, by Accessories, 2019–2028 (US$ Million)
12.1.1.4.6.1 Spain: Skull Clamp Market, by Skull pins, 2019–2028 (US$ Million)
12.1.1.4.7 Spain: Skull Clamp Market, by End User, 2019–2028 (US$ Million)
12.1.1.5 Rest of Europe: Skull Clamp Market – Revenue and Forecast to 2028 (US$ Million)
12.1.1.5.1 Overview
12.1.1.5.2 Rest of Europe: Skull Clamp Market – Revenue and Forecast to 2028 (US$ Million)
12.1.1.5.3 Rest of Europe: Skull Clamp Market, by Product, 2019–2028 (US$ Million)
12.1.1.5.4 Rest of Europe: Skull Clamp Market, by Application, 2019–2028 (US$ Million)
12.1.1.5.5 Rest of Europe: Skull Clamp Market, by Material, 2019–2028 (US$ Million)
12.1.1.5.6 Rest of Europe: Skull Clamp Market, by Accessories, 2019–2028 (US$ Million)
12.1.1.5.6.1 Rest of Europe: Skull Clamp Market, by Skull pins, 2019–2028 (US$ Million)
12.1.1.5.7 Rest of Europe: Skull Clamp Market, by End User, 2019–2028 (US$ Million)
13.

Company Profiles
13.1 Black Forest Medical Group
13.1.1 Key Facts
13.1.2 Business Description
13.1.3 Products and Services
13.1.4 Financial Overview
13.1.5 SWOT Analysis
13.1.6 Key Developments
13.2 Integra LifeSciences Holdings Corp
13.2.1 Key Facts
13.2.2 Business Description
13.2.3 Products and Services
13.2.4 Financial Overview
13.2.5 SWOT Analysis
13.2.6 Key Developments
13.3 Eschmann Technologies Ltd
13.3.1 Key Facts
13.3.2 Business Description
13.3.3 Products and Services
13.3.4 Financial Overview
13.3.5 SWOT Analysis
13.3.6 Key Developments
13.4 BD
13.4.1 Key Facts
13.4.2 Business Description
13.4.3 Products and Services
13.4.4 Financial Overview
13.4.5 SWOT Analysis
13.4.6 Key Developments
13.5 TeDan Surgical Innovations
13.5.1 Key Facts
13.5.2 Business Description
13.5.3 Products and Services
13.5.4 Financial Overview
13.5.5 SWOT Analysis
13.5.6 Key Developments
13.6 BMedifa GmbH & Co KG
13.6.1 Key Facts
13.6.2 Business Description
13.6.3 Products and Services
13.6.4 Financial Overview
13.6.5 SWOT Analysis
13.6.6 Key Developments
13.7 Schaerer Medical AG
13.7.1 Key Facts
13.7.2 Business Description
13.7.3 Products and Services
13.7.4 Financial Overview
13.7.5 SWOT Analysis
13.7.6 Key Developments
14.

Appendix
14.1 About The Insight Partners
14.2 Glossary of Terms
LIST OF TABLES
Table 1. Germany Skull Clamp Market, by Product – Revenue and Forecast to 2028 (US$ Million)
Table 2. Germany Skull Clamp Market, by Application – Revenue and Forecast to 2028 (US$ Million)
Table 3. Germany Skull Clamp Market, by Material – Revenue and Forecast to 2028 (US$ Million)
Table 4. Germany Skull Clamp Market, by Accessories – Revenue and Forecast to 2028 (US$ Million)
Table 5. Germany Skull Clamp Market, by Skull pins – Revenue and Forecast to 2028 (US$ Million)
Table 6. Germany Skull Clamp Market, by End User – Revenue and Forecast to 2028 (US$ Million)
Table 7. UK Skull Clamp Market, by Product – Revenue and Forecast to 2028 (US$ Million)
Table 8. UK Skull Clamp Market, by Application – Revenue and Forecast to 2028 (US$ Million)
Table 9. UK Skull Clamp Market, by Material – Revenue and Forecast to 2028 (US$ Million)
Table 10. UK Skull Clamp Market, by Accessories – Revenue and Forecast to 2028 (US$ Million)
Table 11. UK Skull Clamp Market, by Skull pins – Revenue and Forecast to 2028 (US$ Million)
Table 12. UK Skull Clamp Market, by End User – Revenue and Forecast to 2028 (US$ Million)
Table 13. France Skull Clamp Market, by Product – Revenue and Forecast to 2028 (US$ Million)
Table 14. France Skull Clamp Market, by Application – Revenue and Forecast to 2028 (US$ Million)
Table 15. France Skull Clamp Market, by Material – Revenue and Forecast to 2028 (US$ Million)
Table 16. France Skull Clamp Market, by Accessories – Revenue and Forecast to 2028 (US$ Million)
Table 17. France Skull Clamp Market, by Skull pins – Revenue and Forecast to 2028 (US$ Million)
Table 18. France Skull Clamp Market, by End User – Revenue and Forecast to 2028 (US$ Million)
Table 19. Italy Skull Clamp Market, by Product – Revenue and Forecast to 2028 (US$ Million)
Table 20. Italy Skull Clamp Market, by Application – Revenue and Forecast to 2028 (US$ Million)
Table 21. Italy Skull Clamp Market, by Material – Revenue and Forecast to 2028 (US$ Million)
Table 22. Italy Skull Clamp Market, by Accessories – Revenue and Forecast to 2028 (US$ Million)
Table 23. Italy Skull Clamp Market, by Skull pins – Revenue and Forecast to 2028 (US$ Million)
Table 24. Italy Skull Clamp Market, by End User – Revenue and Forecast to 2028 (US$ Million)
Table 25. Spain Skull Clamp Market, by Product – Revenue and Forecast to 2028 (US$ Million)
Table 26. Spain Skull Clamp Market, by Application – Revenue and Forecast to 2028 (US$ Million)
Table 27. Spain Skull Clamp Market, by Material – Revenue and Forecast to 2028 (US$ Million)
Table 28. Spain Skull Clamp Market, by Accessories– Revenue and Forecast to 2028 (US$ Million)
Table 29. Spain Skull Clamp Market, by Skull pins – Revenue and Forecast to 2028 (US$ Million)
Table 30. Spain Skull Clamp Market, by End User – Revenue and Forecast to 2028 (US$ Million)
Table 31. Rest of Europe Skull Clamp Market, by Product – Revenue and Forecast to 2028 (US$ Million)
Table 32. Rest of Europe Skull Clamp Market, by Application – Revenue and Forecast to 2028 (US$ Million)
Table 33. Rest of Europe Skull Clamp Market, by Material – Revenue and Forecast to 2028 (US$ Million)
Table 34. Rest of Europe Skull Clamp Market, by Accessories – Revenue and Forecast to 2028 (US$ Million)
Table 35. Rest of Europe Skull Clamp Market, by Skull pins – Revenue and Forecast to 2028 (US$ Million)
Table 36. Rest of Europe Skull Clamp Market, by End User – Revenue and Forecast to 2028 (US$ Million)
Table 37. Glossary of Terms
LIST OF FIGURES
Figure 1. Europe Skull Clamp Market Segmentation
Figure 2. Europe Skull Clamp Market, by Country
Figure 3. Europe Skull Clamp Market Overview
Figure 4. Three-Pin Skull Clamp Segment Held the Largest Share of Product Segment in Europe Skull Clamp Market
Figure 5. UK is Expected to Show Remarkable Growth During Forecast Period
Figure 6. Europe: PEST Analysis
Figure 7. Experts' Opinion
Figure 8. Europe Skull Clamp Market: Impact Analysis of Drivers and Restraints
Figure 9. Europe Skull Clamp Market – Revenue Forecast and Analysis – 2020–2028
Figure 10. Europe Skull Clamp Market Revenue Share, by Product 2021 & 2028 (%)
Figure 11. Three-Pin Skull Clamp: Europe Skull Clamp Market – Revenue and Forecast to 2028 (US$ Million)
Figure 12. Four-Pin Skull Clamp: Europe Skull Clamp Market – Revenue and Forecast to 2028 (US$ Million)
Figure 13. Two-Pin Skull Clamp: Europe Skull Clamp Market – Revenue and Forecast to 2028 (US$ Million)
Figure 14. Europe Skull Clamp Market, by Application 2021 & 2028 (%)
Figure 15. Surgery: Europe Skull Clamp Market – Revenue and Forecast to 2028 (US$ Million)
Figure 16. Medical Imaging: Europe Skull Clamp Market – Revenue and Forecast to 2028 (US$ Million)
Figure 17. Europe Skull Clamp Market, by Material 2021 & 2028 (%)
Figure 18. Stainless Steel: Europe Skull Clamp Market – Revenue and Forecast to 2028 (US$ Million)
Figure 19. Aluminium Alloy: Europe Skull Clamp Market – Revenue and Forecast to 2028 (US$ Million)
Figure 20. Titanium Alloy: Europe Skull Clamp Market – Revenue and Forecast to 2028 (US$ Million)
Figure 21. Radiolucent: Europe Skull Clamp Market – Revenue and Forecast to 2028 (US$ Million)
Figure 22. Europe Skull Clamp Market, by Accessories 2021 & 2028 (%)
Figure 23. Skull Pins: Europe Skull Clamp Market – Revenue and Forecast to 2028 (US$ Million)
Figure 24. Disposable Pins: Europe Skull Clamp Market – Revenue and Forecast to 2028 (US$ Million)
Figure 25. Reusable Pins: Europe Skull Clamp Market – Revenue and Forecast to 2028 (US$ Million)
Figure 26. Headrest: Europe Skull Clamp Market – Revenue and Forecast to 2028 (US$ Million)
Figure 27. Others: Europe Skull Clamp Market – Revenue and Forecast to 2028 (US$ Million)
Figure 28. Skull Clamp Market Revenue Share, by End User 2021 & 2028 (%)
Figure 29. Hospitals: Europe Skull Clamp Market – Revenue and Forecast to 2028 (US$ Million)
Figure 30. Speciality Clinics: Europe Skull Clamp Market – Revenue and Forecast to 2028 (US$ Million)
Figure 31. Other End Users: Europe Skull Clamp Market – Revenue and Forecast to 2028 (US$ Million)
Figure 32. Europe: Skull Clamp Market, by Key Country – Revenue (2021) (US$ Million)
Figure 33. Europe: Skull Clamp Market, by Country, 2021 & 2028 (%)
Figure 34. Germany: Skull Clamp Market – Revenue and Forecast to 2028 (US$ Million)
Figure 35. UK: Skull Clamp Market – Revenue and Forecast to 2028 (US$ Million)
Figure 36. France: Skull Clamp Market – Revenue and Forecast to 2028 (US$ Million)
Figure 37. Italy: Skull Clamp Market – Revenue and Forecast to 2028 (US$ Million)
Figure 38. Spain: Skull Clamp Market – Revenue and Forecast to 2028 (US$ Million)
Figure 39. Rest of Europe: Skull Clamp Market – Revenue and Forecast to 2028 (US$ Million)
Black Forest Medical Group

Integra LifeSciences Holdings Corp

Eschmann Technologies Ltd

BD

TeDan Surgical Innovations

Schaerer Medical AG

BMedifa GmbH & Co KG
---