Europe Elevator Safety System Market Forecast to 2028 – COVID-19 Impact and Regional Analysis– by Type (Control System, Maintenance System, and Communication System), and Application (Residential and Non-residential) 
Code:
BMIRE00027865
|
Pages:
92
|
Industry:
Electronics and Semiconductor
|
Date:
Jan 2023
|
Type:
Regional
The Europe elevator safety system market is expected to grow from US$ 3,526.95 million in 2022 to US$ 6,362.37 million by 2028. It is estimated to grow at a CAGR of 10.3% from 2022 to 2028.
Stringent Regulations and Standards on Elevator Safety Drives the Europe Elevator Safety System Market
Due to a lack of awareness, elevators are often not used as instructed by manufacturers. The crowding of an elevator leads to crossing the threshold of maximum capacity. Since old elevators lack several safety features, their misuse, may result in serious and fatal accidents, causing damage to live and properties. Accidents can also occur due to poor design, insufficient maintenance, and malfunctioning components. Common elevator malfunctions include failures in the pulley system (leading to rapid descent), missing teeth on the elevator track, and faults in electric components. Elevator-related accidents prompt the formation of stringent regulations and standards that elevator manufacturers and elevator safety device manufacturers must adhere to. ISO 22559-1, IS 14665, ASME A17.1, EN81.1, and BS EN 81-20 are a few such standards that should be considered by manufacturers for ensuring regulatory compliance with their offerings. Non-adherence can lead to severe penalties such as product recalls and temporary license suspensions. In the European Union (EU), Directive 2014/33/EU, also known as the Lift Directive, governs the lift industry and ensures the safety of lifts functioning in the region.
As a result of such safety regulations and standards, elevator manufacturers are increasingly incorporating modern safety features in their products. These features are enabled by mechanical and electrical elevator safety systems such as guide grips, overspeed governors, car operating switches, car safety switches, terminal limit switches, compensating rope sheave switches, overload relays, phase failure protective relays, buffers, two-way communication systems, sensors, and air cushions. In addition to facilitating better safety of users by reducing the chances of malfunctioning, these systems also lower the chances of penalties for such malfunction. Hence, the stringent regulations and standards on elevator safety is boosting the Europe elevator safety system market growth during the forecast period.
Europe Elevator Safety System Market Overview
Germany, France, the UK, and Italy are among the prime contributors to the European elevator safety system market. Western Europe is renowned for its improved living conditions, with higher income levels among residents. EU elevator regulation determines the basic health and safety requirements for elevators and elevator safety components. The key players in the region are required to adhere to market supply conditions, market surveillance, and inspection principles for across elevator safety components such as devices that prevent the cabin from falling, overspeed limiting devices, locking devices, buffers, safety devices connected to the lifters, and electrical safety devices in the form of safety switches containing electronic components.
The European Lift Association (ELA) represents the elevator associations in the European Union (EU) or the European Free Trade Area (EFTA). It has become the main communication vector of the lift, escalator, and moving walkways industry to the European Parliament, the European Commission, and various other institutions and organizations.
In October 2021, Wittur, a leading producer and supplier of elevator components, unveiled Wittur SMART (IoT), the new "easy to use" application with a hardware–software combination that offers tangible benefits for safety device installers and end users in the elevator industry. In addition, this new application drives WSG-TR, a gearless synchronous lift machine that boosts the modernization of belt-driven elevators.
Furthermore, Programmable Electronic Systems in Safety Related Applications for Lifts (PESSRAL), a supplement to the European standard EN 81-1/2, placed the foundations for integrating programmable electronic safety bus systems in elevator technology. In addition, several companies acquired programmable safety controllers in machinery and plant construction and are actively participating in PESSRAL, intending to develop programmable electronic safety systems for elevator construction, thereby propelling Europe elevator safety system market growth during the forecast period.
Europe Elevator Safety System Market Revenue and Forecast to 2028 (US$ Million)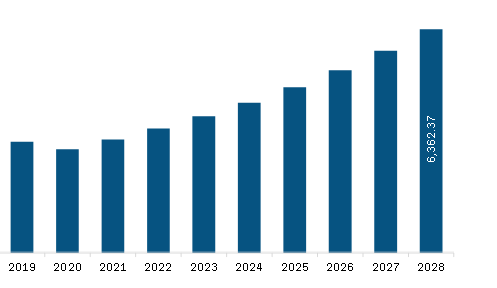 Get more information on this report :
Europe Elevator Safety System Market Segmentation
The Europe elevator safety system market is segmented into type, application, and country.
Based on type, the Europe elevator safety system market is segmented into control system, maintenance system and communication system. The control system segment held the largest market share in 2022.
Based on application, the Europe elevator safety system market is bifurcated into residential, and non-residential. The residential segment dominated the market share in 2022.
Based on country, the Europe elevator safety system market is segmented into Germany, France, Italy, Russia, the UK, and the Rest of Europe. The Germany dominated the market share in 2022.
2N Telekomunikace AS; Chr Mayr GmbH + Co KG; Flexco Industries Inc; OLEO International Ltd; Otis Elevator Co; and TK Elevator GmbH are the leading companies operating in the Europe elevator safety system market.
1.

Introduction
1.1 Study Scope
1.2 The Insight Partners Research Report Guidance
1.3 Market Segmentation
2.

Key Takeaways
3. Research Methodology
3.1 Coverage
3.2 Secondary Research
3.3 Primary Research
4.

Europe Elevator Safety System Market Landscape
4.1 Market Overview
4.2 Europe PEST Analysis
4.3 Ecosystem Analysis
4.4 Expert Opinions
5.

Europe Elevator Safety System Market – Key Market Dynamics
5.1 Market Drivers
5.1.1 Increased Use of Elevators with Rapid Urbanization
5.1.2 Stringent Regulations and Standards on Elevator Safety
5.2 Market Restraints
5.2.1 Complexities in Integration of Modern Elevator Safety Systems with Legacy Systems
5.3 Market Opportunities
5.3.1 Renovation of Old Buildings and Elevators
5.4 Future Trends
5.4.1 Integration of Big Data, Artificial Intelligence, and Machine Learning for Real-Time Monitoring and Predictive Maintenance
5.5 Impact Analysis of Drivers and Restraints
6.

Europe Elevator Safety System Market –Market Analysis
6.1 Europe Elevator Safety System Market Overview
6.2 Europe Elevator Safety System Market Revenue Forecast and Analysis
7.

Europe Elevator Safety System Market – By Type
7.1 Overview
7.2 Europe Elevator Safety System Market, by Type (2021 and 2028)
7.3 Control System
7.3.1 Overview
7.3.2 Control System: Europe Elevator Safety System Market – Revenue and Forecast to 2028 (US$ Million)
7.4 Maintenance System
7.4.1 Overview
7.4.2 Maintenance System: Europe Elevator Safety System Market – Revenue and Forecast to 2028 (US$ Million)
7.5 Communication System
7.5.1 Overview
7.5.2 Communication System: Europe Elevator Safety System Market – Revenue and Forecast to 2028 (US$ Million)
8.

Europe Elevator Safety System Market Analysis – by Application
8.1 Overview
8.2 Europe Elevator Safety System Market, by Application (2021 and 2028)
8.3 Residential
8.3.1 Overview
8.3.2 Residential: Europe Elevator Safety System Market – Revenue and Forecast to 2028 (US$ Million)
8.4 Non-residential
8.4.1 Overview
8.4.2 Non-residential: Europe Elevator Safety System Market – Revenue and Forecast to 2028 (US$ Million)
9.

Europe Elevator Safety System Market – Country Analysis
9.1 Overview
9.1.1 Europe Elevator Safety System Market Breakdown, by Country
9.1.1.1 Germany : Europe Elevator Safety System Market - Revenue and Forecast to 2028
9.1.1.1.1 Germany : Europe Elevator Safety System Market Breakdown, By Type
9.1.1.1.2 Germany : Europe Elevator Safety System Market Breakdown, By Application
9.1.1.2 France : Europe Elevator Safety System Market - Revenue and Forecast to 2028
9.1.1.2.1 France : Europe Elevator Safety System Market Breakdown, By Type
9.1.1.2.2 France : Europe Elevator Safety System Market Breakdown, By Application
9.1.1.3 Italy : Europe Elevator Safety System Market - Revenue and Forecast to 2028
9.1.1.3.1 Italy : Europe Elevator Safety System Market Breakdown, By Type
9.1.1.3.2 Italy : Europe Elevator Safety System Market Breakdown, By Application
9.1.1.4 UK : Europe Elevator Safety System Market - Revenue and Forecast to 2028
9.1.1.4.1 UK : Europe Elevator Safety System Market Breakdown, By Type
9.1.1.4.2 UK : Europe Elevator Safety System Market Breakdown, By Application
9.1.1.5 Russia : Europe Elevator Safety System Market - Revenue and Forecast to 2028
9.1.1.5.1 Russia : Europe Elevator Safety System Market Breakdown, By Type
9.1.1.5.2 Russia : Europe Elevator Safety System Market Breakdown, By Application
9.1.1.6 Rest of Europe : Europe Elevator Safety System Market - Revenue and Forecast to 2028
9.1.1.6.1 Rest of Europe : Europe Elevator Safety System Market Breakdown, By Type
9.1.1.6.2 Rest of Europe : Europe Elevator Safety System Market Breakdown, By Application
10.

Industry Landscape
10.1 Overview
10.2 Market Initiative
10.3 New Product Development
10.4 Merger and Acquisition
11.

Company Profiles
11.1 2N Telekomunikace AS
11.1.1 Key Facts
11.1.2 Business Description
11.1.3 Products and Services
11.1.4 Financial Overview
11.1.5 SWOT Analysis
11.1.6 Key Developments
11.2 OLEO International Ltd
11.2.1 Key Facts
11.2.2 Business Description
11.2.3 Products and Services
11.2.4 Financial Overview
11.2.5 SWOT Analysis
11.2.6 Key Developments
11.3 Otis Elevator Co
11.3.1 Key Facts
11.3.2 Business Description
11.3.3 Products and Services
11.3.4 Financial Overview
11.3.5 SWOT Analysis
11.3.6 Key Developments
11.4 TK Elevator GmbH
11.4.1 Key Facts
11.4.2 Business Description
11.4.3 Products and Services
11.4.4 Financial Overview
11.4.5 SWOT Analysis
11.4.6 Key Developments
11.5 Flexco Industries Inc
11.5.1 Key Facts
11.5.2 Business Description
11.5.3 Products and Services
11.5.4 Financial Overview
11.5.5 SWOT Analysis
11.5.6 Key Developments
11.6 Chr Mayr GmbH + Co KG
11.6.1 Key Facts
11.6.2 Business Description
11.6.3 Products and Services
11.6.4 Financial Overview
11.6.5 SWOT Analysis
11.6.6 Key Developments
12.

Appendix
12.1 About The Insight Partners
12.2 Word Index
LIST OF TABLES
Table 1. Europe Elevator Safety System Market Revenue and Forecast to 2028 (US$ Million)
Table 2. Europe Elevator Safety System Market - Revenue and Forecast to 2028 – By Type (US$ Million)
Table 3. Europe Elevator Safety System Market - Revenue and Forecast to 2028 – By Application (US$ Million)
Table 4. Germany : Europe Elevator Safety System Market - Revenue and Forecast to 2028 – By Type (US$ Million)
Table 5. Germany : Europe Elevator Safety System Market - Revenue and Forecast to 2028 – By Application (US$ Million)
Table 6. France : Europe Elevator Safety System Market - Revenue and Forecast to 2028 – By Type (US$ Million)
Table 7. France : Europe Elevator Safety System Market - Revenue and Forecast to 2028 – By Application (US$ Million)
Table 8. Italy : Europe Elevator Safety System Market - Revenue and Forecast to 2028 – By Type (US$ Million)
Table 9. Italy : Europe Elevator Safety System Market - Revenue and Forecast to 2028 – By Application (US$ Million)
Table 10. UK : Europe Elevator Safety System Market - Revenue and Forecast to 2028 – By Type (US$ Million)
Table 11. UK : Europe Elevator Safety System Market - Revenue and Forecast to 2028 – By Application (US$ Million)
Table 12. Russia : Europe Elevator Safety System Market - Revenue and Forecast to 2028 – By Type (US$ Million)
Table 13. Russia : Europe Elevator Safety System Market - Revenue and Forecast to 2028 – By Application (US$ Million)
Table 14. Rest of Europe : Europe Elevator Safety System Market - Revenue and Forecast to 2028 – By Type (US$ Million)
Table 15. Rest of Europe : Europe Elevator Safety System Market - Revenue and Forecast to 2028 – By Application (US$ Million)
Table 16. List of Abbreviation
LIST OF FIGURES
Figure 1. Europe Elevator Safety System Market Segmentation
Figure 2. Europe Elevator Safety System Market Segmentation – By Country
Figure 3. Europe Elevator Safety System Market Overview
Figure 4. Europe Elevator Safety System Market, by Type
Figure 5. Europe Elevator Safety System Market, by Country
Figure 6. Europe – PEST Analysis
Figure 7. Europe Elevator Safety System Market- Ecosystem Analysis
Figure 8. Europe Elevator Safety System Market: Impact Analysis of Drivers and Restraints
Figure 9. Europe Elevator Safety System Market Revenue Forecast and Analysis (US$ Million)
Figure 10. Europe Elevator Safety System Market Breakdown, By Type, 2021 & 2028 (%)
Figure 11. Control System: Europe Elevator Safety System Market – Revenue and Forecast to 2028 (US$ Million)
Figure 12. Maintenance System: Europe Elevator Safety System Market – Revenue and Forecast to 2028 (US$ Million)
Figure 13. Communication System: Europe Elevator Safety System Market – Revenue and Forecast to 2028 (US$ Million)
Figure 14. Europe Elevator Safety System Market Breakdown, By Application, 2021 & 2028 (%)
Figure 15. Residential: Europe Elevator Safety System Market – Revenue and Forecast to 2028 (US$ Million)
Figure 16. Non-residential: Europe Elevator Safety System Market – Revenue and Forecast to 2028 (US$ Million)
Figure 17. Europe Elevator Safety System Market, By Key Country- Revenue (2021) (US$ Million)
Figure 18. Europe Elevator Safety System Market Breakdown, by Country, 2018 & 2027(%)
Figure 19. Germany : Europe Elevator Safety System Market - Revenue and Forecast to 2028 (US$ Million)
Figure 20. France : Europe Elevator Safety System Market - Revenue and Forecast to 2028 (US$ Million)
Figure 21. Italy : Europe Elevator Safety System Market - Revenue and Forecast to 2028 (US$ Million)
Figure 22. UK : Europe Elevator Safety System Market - Revenue and Forecast to 2028 (US$ Million)
Figure 23. Russia : Europe Elevator Safety System Market - Revenue and Forecast to 2028 (US$ Million)
Figure 24. Rest of Europe : Europe Elevator Safety System Market - Revenue and Forecast to 2028 (US$ Million)
2N Telekomunikace AS

Chr Mayr GmbH + Co KG

Flexco Industries Inc

OLEO International Ltd

Otis Elevator Co

TK Elevator GmbH
---