Europe Automatic Door Sensors Market Forecast to 2027 - COVID-19 Impact and Regional Analysis By Type (Microwave Sensors, Infrared Sensors, Laser Sensors, and Others) and Application (Residential, Commercial, Industrial, and Others)
Code:
TIPRE00021048
|
Pages:
100
|
Industry:
Electronics and Semiconductor
|
Date:
Apr 2021

Market Introduction
The Europe automatic door sensors market has been analyzed on the basis of historical, current, and future trends in countries, such as France, Germany, Italy, the UK, and Russia, as well as Rest of Europe. Countries in Western Europe are technologically advanced and urbanized. On the other hand, Eastern European countries are gradually urbanizing their cities. The urbanized Western European countries are experiencing decent surge in attractive commercial infrastructure—such as office buildings, hotels, stadiums, hospitals, and airports—with enhanced building systems, including automatic door opening & closing systems. European countries are concentrated with prominent industries, such as food & beverages, automobiles, aerospace, chemicals, pharmaceuticals, and semiconductors. With growing number of industrial construction projects, automatic door systems & sensors business is expected to gain high momentum in Europe. With the projected rise in the construction activities in Nordic countries, Spain, Portugal, Belgium, and Ireland, the scope of installation of automatic door sensors is expected to increase in the coming years. Escalating opportunities due to COVID-19 pandemic and growing popularity of smart airports and airport development activities are the major factor driving the growth of the Europe automatic door sensors market.
Moreover, in case of COVID-19, Europe is highly affected specially the UK and Russia. The tremendous growth in the spread of the virus has urged governments across Europe to impose strict restrictions on vehicles and human's movement. Due to travel bans, mass lockdowns, and business shutdowns, the pandemic has affected economies and countless industries in various countries across Europe region. Europe is expected to suffer an economic hit due to a lack of revenue from various industries, as countries such as the UK, Germany, Russia, and Italy recorded the highest number of coronavirus cases. Additionally, with the outbreak of another variant of COVID-19 in the UK, the automatic door sensors market is expected to get hampered. The region is a significant manufacturing and industrial hub for sectors such as healthcare, aviation, manufacturing, Automatic, energy and power, and others. However, due to COVID-19, many businesses in Europe face financial challenges as they had to reduce their activities substantially, owing to lack of workforce, government-imposed restrictions, and decreasing sales. However, with the increasing initiatives undertaken by the governments of countries such as the UK and Germany to strengthen the transport infrastructure in the countries is expected to drive the growth of the market.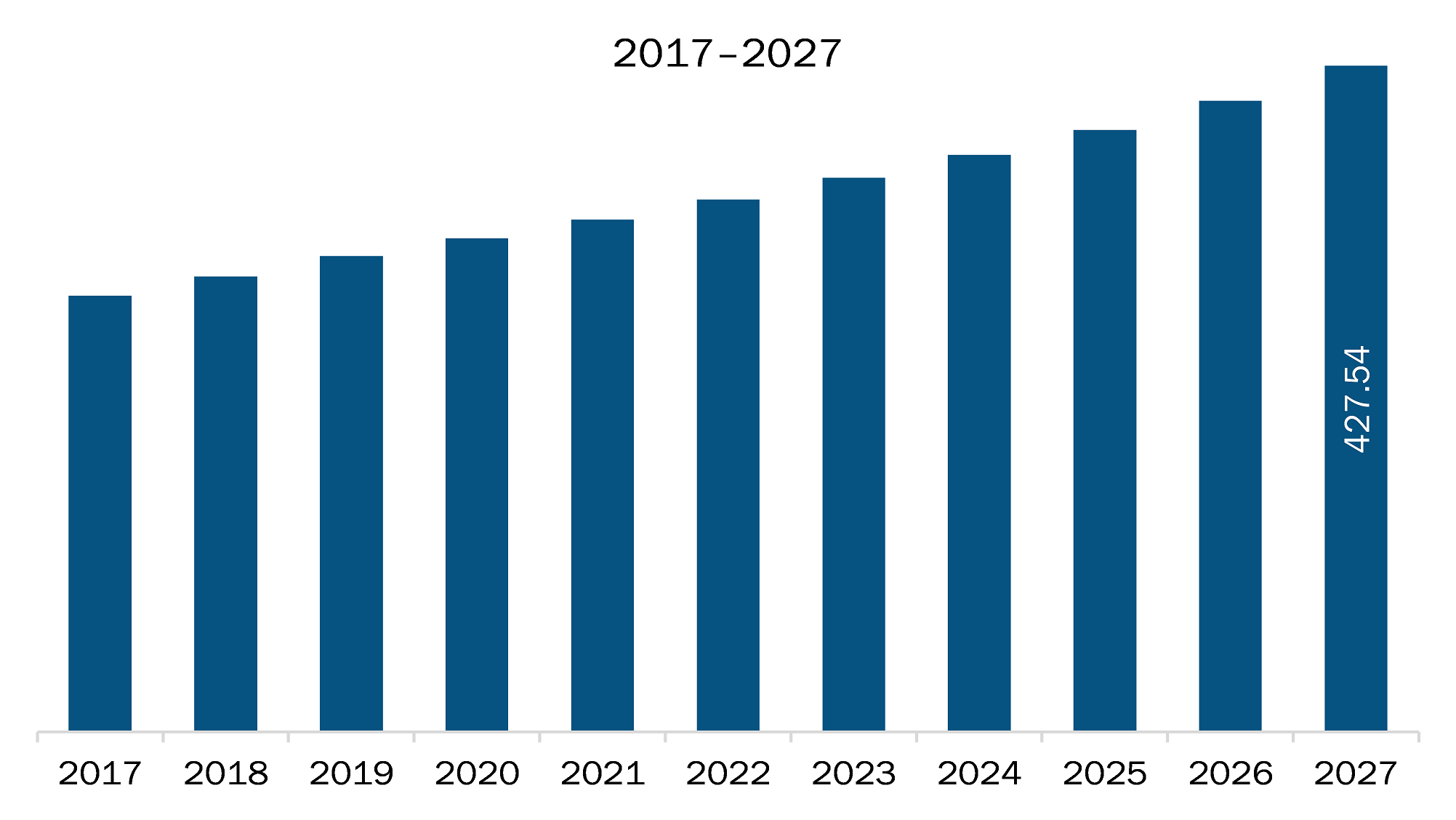 Get more information on this report :
Market Overview and Dynamics
The Europe automatic door sensors market is expected to grow from US$ 305.30 million in 2019 to US$ 427.54 million by 2027; it is estimated to grow at a CAGR of 4.4 % from 2020 to 2027. Benefits offered by automatic door sensors is expected to escalate the demand the automatic door sensors, which will drive the Europe automatic door sensors market in coming years. The adoption of automatic door sensors has increased across numerous industries owing to the advantages, such as convenience, safety, scope of customization, efficiency, reliability, customization, and smooth machine function, offered by automatic door sensors. Automatic door sensors are installed on the sides or top of the gate that assist in opening and closing of the gates. Additionally, automatic door sensors offer other benefits such as easy availability, reduced energy consumption, and accessibility, which are anticipated to spur the Europe automatic door sensors market growth during the forecast period.
Key Market Segments
In terms of type, the microwave sensors segment accounted for the largest share of the Europe automatic door sensors market in 2019. In terms of application, the commercial segment held a larger market share of the Europe automatic door sensors market in 2019.
Major Sources and Companies Listed
A few major primary and secondary sources referred to for preparing this report on the Europe automatic door sensors market are company websites, annual reports, financial reports, national government documents, and statistical database, among others. Major companies listed in the report are BBC Bircher AG, BEA, GEZE GmbH, Hotron Ltd, Nabtesco Corporation, and Pepperl+Fuchs.
Reasons to buy report
To understand the Europe automatic door sensors market landscape and identify market segments that are most likely to guarantee a strong return
Stay ahead of the race by comprehending the ever-changing competitive landscape for Europe automatic door sensors market
Efficiently plan M&A and partnership deals in Europe automatic door sensors market by identifying market segments with the most promising probable sales
Helps to take knowledgeable business decisions from perceptive and comprehensive analysis of market performance of various segment form Europe automatic door sensors market
Obtain market revenue forecast for market by various segments from 2020-2027 in Europe region

.
Europe Automatic Door Sensors Market Segmentation
Europe Automatic Door Sensors Market - By Type
Microwave Sensors
Infrared Sensors
Laser Sensors
Others
Europe Automatic Door Sensors Market - By Application
Residential
Commercial
Industrial
Others
Europe Automatic Door Sensors Market - By Country
UK
Germany
France
Italy
Russia
Rest of Europe
Europe Automatic Door Sensors Market - Company Profiles
BBC Bircher AG
BEA
GEZE GmbH
Hotron Ltd
Nabtesco Corporation
Pepperl+Fuchs
1. Introduction
1.1 Study Scope
1.2 The Insight Partners Research Report Guidance
1.3 Market Segmentation
2. Key Takeaways
3. Research Methodology
3.1 Coverage
3.2 Secondary Research
3.3 Primary Research
4. Europe Automatic Door Sensors Market Landscape
4.1 Market Overview
4.2 Europe PEST Analysis
4.3 Ecosystem Analysis
4.4 Expert Opinion
5. Europe Automatic Door Sensors Market – Key Market Dynamics
5.1 Market Drivers
5.1.1 Benefits offered by automatic door sensors
5.1.2 Mounting demand from end use industries
5.2 Market Restraints
5.2.1 High initial and maintenance cost
5.3 Market Opportunity
5.3.1 Escalating opportunities due to COVID-19 pandemic
5.4 Market Trend
5.4.1 Growing popularity of smart airports and airport development activities
5.5 Impact Analysis of Drivers and Restraints
6. Automatic Door Sensors Market– Europe Analysis
6.1 Europe Automatic Door Sensors Market Overview
6.2 Europe Automatic Door Sensors Market – Revenue and Forecast to 2027 (US$ Million)
7. Europe Automatic Door Sensors Market Analysis – By Type
7.1 Overview
7.2 Europe Automatic Door Sensors Market, By Type (2019 and 2027)
7.3 Microwave Sensors
7.3.1 Overview
7.3.2 Microwave Sensors: Automatic Door Sensors Market – Revenue and Forecast to 2027 (US$ Million)
7.4 Infrared Sensors
7.4.1 Overview
7.4.2 Infrared Sensors: Automatic Door Sensors Market – Revenue and Forecast to 2027 (US$ Million)
7.5 Laser Sensors
7.5.1 Overview
7.5.2 Laser Sensors: Automatic Door Sensors Market – Revenue and Forecast to 2027 (US$ Million)
7.6 Others
7.6.1 Overview
7.6.2 Others: Automatic Door Sensors Market – Revenue and Forecast to 2027 (US$ Million)
8. Europe Automatic Door Sensors Market Analysis 2027– By Application
8.1 Overview
8.2 Europe Automatic Door Sensors Market Breakdown, By Application, 2019 and 2027
8.3 Residential
8.3.1 Overview
8.3.2 Residential: Automatic Door Sensors Market Revenue and Forecast to 2027 (US$ Million)
8.4 Commercial
8.4.1 Overview
8.4.2 Commercial: Automatic Door Sensors Market Revenue and Forecast to 2027 (US$ Million)
8.5 Industrial
8.5.1 Overview
8.5.2 Industrial: Automatic Door Sensors Market Revenue and Forecast to 2027 (US$ Million)
8.6 Others
8.6.1 Overview
8.6.2 Others: Automatic Door Sensors Market Revenue and Forecast to 2027 (US$ Million)
9. Europe Automatic Door Sensors Market – Country Analysis
9.1 Overview
9.1.1 Europe: Automatic Door Sensors Market, By Country
9.1.1.1 Germany: Automatic Door Sensors Market – Revenue and Forecast to 2027 (US$ Million)
9.1.1.1.1 Germany: Automatic Door Sensors Market, by Type
9.1.1.1.2 Germany: Automatic Door Sensors Market, by Application
9.1.1.2 France: Automatic Door Sensors Market – Revenue and Forecast to 2027 (US$ Million)
9.1.1.2.1 France: Automatic Door Sensors Market, by Type
9.1.1.2.2 France: Automatic Door Sensors Market, by Application
9.1.1.3 Russia: Automatic Door Sensors Market – Revenue and Forecast to 2027 (US$ Million)
9.1.1.3.1 Russia: Automatic Door Sensors Market, by Type
9.1.1.3.2 Russia: Automatic Door Sensors Market, by Application
9.1.1.4 UK: Automatic Door Sensors Market – Revenue and Forecast to 2027 (US$ Million)
9.1.1.4.1 UK: Automatic Door Sensors Market, by Type
9.1.1.4.2 UK: Automatic Door Sensors Market, by Application
9.1.1.5 Italy: Automatic Door Sensors Market – Revenue and Forecast to 2027 (US$ Million)
9.1.1.5.1 Italy: Automatic Door Sensors Market, by Type
9.1.1.5.2 Italy: Automatic Door Sensors Market, by Application
9.1.1.6 Rest of Europe: Automatic Door Sensors Market – Revenue and Forecast to 2027 (US$ Million)
9.1.1.6.1 Rest of Europe: Automatic Door Sensors Market, by Type
9.1.1.6.2 Rest of Europe: Automatic Door Sensors Market, by Application
10. Impact of COVID-19 Pandemic
10.1 Europe: Impact Assessment of COVID-19 Pandemic
11. Industry Landscape
11.1 Overview
11.2 Market Initiative
12. Company Profiles
12.1 BEA
12.1.1 Key Facts
12.1.2 Business Description
12.1.3 Products and Services
12.1.4 Financial Overview
12.1.5 SWOT Analysis
12.1.6 Key Developments
12.2 BBC Bircher AG
12.2.1 Key Facts
12.2.2 Business Description
12.2.3 Products and Services
12.2.4 Financial Overview
12.2.5 SWOT Analysis
12.2.6 Key Developments
12.3 GEZE GmbH
12.3.1 Key Facts
12.3.2 Business Description
12.3.3 Products and Services
12.3.4 Financial Overview
12.3.5 SWOT Analysis
12.3.6 Key Developments
12.4 Hotron Ltd
12.4.1 Key Facts
12.4.2 Business Description
12.4.3 Products and Services
12.4.4 Financial Overview
12.4.5 SWOT Analysis
12.4.6 Key Developments
12.5 Pepperl+Fuchs
12.5.1 Key Facts
12.5.2 Business Description
12.5.3 Products and Services
12.5.4 Financial Overview
12.5.5 SWOT Analysis
12.5.6 Key Developments
12.6 Nabtesco Corporation
12.6.1 Key Facts
12.6.2 Business Description
12.6.3 Products and Services
12.6.4 Financial Overview
12.6.5 SWOT Analysis
12.6.6 Key Developments
13. Appendix
13.1 About The Insight Partners
13.2 Word Index
LIST OF TABLES
Table 1. Europe Automatic Door Sensors Market – Revenue and Forecast to 2027 (US$ Million)
Table 2. Germany Automatic Door Sensors Market, By Type – Revenue and Forecast to 2027 (US$ Million)
Table 3. Germany: Automatic Door Sensors Market, By Application – Revenue and Forecast to 2027(US$ Million)
Table 4. France Automatic Door Sensors Market, By Type – Revenue and Forecast to 2027 (US$ Million)
Table 5. France Automatic Door Sensors Market, By Application – Revenue and Forecast to 2027 (US$ Million)
Table 6. Russia Automatic Door Sensors Market, By Type – Revenue and Forecast to 2027 (US$ Million)
Table 7. Russia Automatic Door Sensors Market, By Application – Revenue and Forecast to 2027 (US$ Million)
Table 8. UK Automatic Door Sensors Market, By Type – Revenue and Forecast to 2027 (US$ Million)
Table 9. UK: Automatic Door Sensors Market, By Application – Revenue and Forecast to 2027 (US$ Million)
Table 10. Italy Automatic Door Sensors Market, By Type – Revenue and Forecast to 2027 (US$ Million)
Table 11. Italy: Automatic Door Sensors Market, By Application – Revenue and Forecast to 2027 (US$ Million)
Table 12. Rest of Europe Automatic Door Sensors Market, By Type – Revenue and Forecast to 2027 (US$ Million)
Table 13. Rest of Europe Automatic Door Sensors, By Application – Revenue and Forecast to 2027 (US$ Million)
Table 14. List of Abbreviation
LIST OF FIGURES
Figure 1. Europe Automatic Door Sensors Market Segmentation
Figure 2. Europe Automatic Door Sensors Market Segmentation – By Country
Figure 3. Europe Automatic Door Sensors Market Overview
Figure 4. Europe Automatic Door Sensors Market, by Country
Figure 5. Europe Automatic Door Sensors Market, By Type
Figure 6. Europe Automatic Door Sensors Market, By Application
Figure 7. Europe – PEST Analysis
Figure 8. Expert Opinion
Figure 9. Europe Automatic Door Sensors Market: Impact Analysis of Drivers and Restraints
Figure 10. Europe Automatic Door Sensors Market – Revenue and Forecast to 2027 (US$ Million)
Figure 11. Europe Automatic Door Sensors Market Revenue Share, by Type (2019 and 2027)
Figure 12. Europe Microwave Sensors: Automatic Door Sensors Market – Revenue and Forecast to 2027 (US$ Million)
Figure 13. Europe Infrared Sensors: Automatic Door Sensors Market – Revenue and Forecast to 2027 (US$ Million)
Figure 14. Europe Laser Sensors: Automatic Door Sensors Market – Revenue and Forecast to 2027 (US$ Million)
Figure 15. Europe Others: Automatic Door Sensors Market– Revenue and Forecast to 2027 (US$ Million)
Figure 16. Europe Automatic Door Sensors Market Breakdown, By Application, 2019 and 2027 (%)
Figure 17. Europe Residential: Automatic Door Sensors Market Revenue and Forecast to 2027 (US$ Million)
Figure 18. Europe Commercial: Automatic Door Sensors Market Revenue and Forecast to 2027 (US$ Million)
Figure 19. Europe Industrial: Automatic Door Sensors Market Revenue and Forecast to 2027 (US$ Million)
Figure 20. Europe Others: Automatic Door Sensors Market Revenue and Forecast to 2027 (US$ Million)
Figure 21. Europe: Automatic Door Sensors Market, by Key Country – Revenue (2019) (USD Million)
Figure 22. Europe: Automatic Door Sensors Market Revenue Share, By Country (2019 and 2027)
Figure 23. Germany: Automatic Door Sensors Market – Revenue and Forecast to 2027 (US$ Million)
Figure 24. France: Automatic Door Sensors Market – Revenue and Forecast to 2027 (US$ Million)
Figure 25. Russia: Automatic Door Sensors Market – Revenue and Forecast to 2027 (US$ Million)
Figure 26. UK: Automatic Door Sensors Market – Revenue and Forecast to 2027 (US$ Million)
Figure 27. Italy: Automatic Door Sensors Market – Revenue and Forecast to 2027 (US$ Million)
Figure 28. Rest of Europe: Automatic Door Sensors Market – Revenue and Forecast to 2027 (US$ Million)
Figure 29. Impact of COVID-19 Pandemic in Europe Country Markets
BBC Bircher AG

BEA

GEZE GmbH

Hotron Ltd

Nabtesco Corporation

Pepperl+Fuchs
---
Related Tags
Europe Automatic Door Sensors Market
Europe Automatic Door Sensors Market Research
Europe Automatic Door Sensors Market Insight
Europe Automatic Door Sensors Market Trends
Europe Automatic Door Sensors Market Forecast
Europe Automatic Door Sensors Market Share
Europe Automatic Door Sensors Market 2027
Europe Automatic Door Sensors Market Growth
Europe Automatic Door Sensors Industry
Sector
Europe Automatic Door Sensors PDF Report
Europe Automatic Door Sensors Analysis
Europe Automatic Door Sensors Research
Competitive Analysis
---