Asia Pacific Xanthan Gum Market Forecast to 2028 - COVID-19 Impact and Regional Analysis By Form (Dry and Liquid) and Application (Food and Beverages, Oil and Gas, Pharmaceuticals and Nutraceuticals, Personal Care, and Others)
Code:
TIPRE00025262
|
Pages:
106
|
Industry:
Food and Beverages
|
Date:
Oct 2021

Market Introduction
Asia Pacific comprises of various flourishing and strong economies such as China, Japan, India, Australia, South Korea, and rest of Asia Pacific region. The Asia Pacific xanthan gum market is expected to register a remarkable growth owing to growing number of food and beverage processing plants across various countries such as India, China, Japan, among others, emerging personal care and cosmetics industry in China, and South Korea, and growing utilization in oilfield applications. Moreover, rising consumption of natural and processed food and beverage items, as well as growing consumer health consciousness, are likely to propel the market growth across the region in the upcoming years. Furthermore, increasing demand for bakery and confectionary products in countries like China, India, Australia, Malaysia, and Vietnam also propelling the market growth. Gluten-free bakery products are gaining high popularity across the region due to growing health consciousness amongst the people. Xanthan-gum is used as a partial replacement to wheat flour in gluten-free bakery products. Thus, this factor is further anticipated to fuel the regional market growth over the forecast period.
The outbreak of COVID-19 is wreaking havoc on the economic growth of Asia Pacific. The severity of the consequences and impact is entirely dependent on the transmission of the novel coronavirus. Various governments in Asia Pacific are considering taking actions to limit the spread by imposing lockdowns, which is slowing down the operations of various industries in the region. This factor is anticipated to severely impact the growth of regional market. However, with increasing recovery rates, governments are easing out restrictions imposed on various industrial operations which is expected to create a positive impact for the growth of xanthan gum market across the region.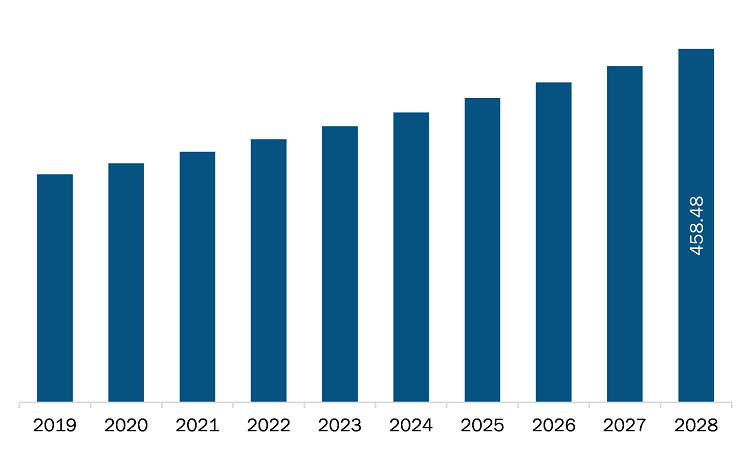 Get more information on this report :
Market Overview and Dynamics
The xanthan gum market in Asia Pacific is expected to grow from US$ 325.07 million in 2021 to US$ 458.48 million by 2028; it is estimated to grow at a CAGR of 5.0% from 2021 to 2028. Xanthan gum is a common food additive that is used as a gluten alternative. Gluten is the protein that gives wheat flour its structure. Xanthan gum is typically used with non-gluten-containing flour to produce gluten-free goods with good structure and texture. This demand is driven by the growing awareness about health risks associated with gluten consumption, such as celiac disease, as well as FDA and USDA regulatory standards limiting the amount of gluten in food products. For instance, according to the FDA's gluten-free food labeling rule, all products labeled "gluten-free," "no gluten," "free of gluten," or "without gluten" must have fewer than 20 parts per million (ppm) of gluten. Moreover, xanthan gum is a vital gluten-free baking ingredient because it helps baked goods hold together and develop elasticity. Further, xanthan gum is used in gluten-free baking for various products, including cakes and pancakes, cookies, muffins, quick bread, pizza dough, bread, and salad dressings. Among these, xanthan gum is often utilized in the making of pizza dough. The nutritional value of xanthan gum, which includes carbs and fiber, also increases its acceptability. In addition, xanthan gum is used in gluten-free products to improve the texture and shelf life. It works similarly to gluten in terms of keeping baked goods moist and soft. However, gluten, which accounts for around 75% of the protein in wheat, barley, and rye, can cause significant intestine damage and raise the risk of cardiovascular events in celiac disease patients. Hence, consumers facing gluten-intolerance issues and other health-related problems caused due to gluten are demanding gluten-free products, which is further raising the demand for gluten-free food products, thereby boosting the xanthan gum market.
Key Market Segments
In terms of form, the dry segment held a larger share in 2020. Based on application, food and beverages segment held the largest share in 2020.
Major Sources and Companies Listed
A few major primary and secondary sources referred to for preparing this report on the xanthan gum market in Asia Pacific are company websites, annual reports, financial reports, national government documents, and statistical database, among others. Major companies listed in the report are ADM; Cargill, Incorporated; CP Kelco; Deosen; FUFENG GROUP; HEBEI XINHE BIOCHEMICAL CO. LTD; Ingredion Incorporated; Solvay; and UNIONCHEM among others.
Reasons to buy report
To understand the Asia Pacific xanthan gum market landscape and identify market segments that are most likely to guarantee a strong return
Stay ahead of the race by comprehending the ever-changing competitive landscape for Asia Pacific xanthan gum market
Efficiently plan M&A and partnership deals in Asia Pacific xanthan gum market by identifying market segments with the most promising probable sales
Helps to take knowledgeable business decisions from perceptive and comprehensive analysis of market performance of various segment form Asia Pacific xanthan gum market
Obtain market revenue forecast for market by various segments from 2021-2028 in Asia Pacific region

.
Asia Pacific Xanthan Gum Market Segmentation
Asia Pacific Xanthan Gum Market – By Form
Asia Pacific Xanthan Gum Market – By Application
Food and Beverages
Oil and Gas
Pharmaceuticals and Nutraceuticals
Personal Care
Others
Asia Pacific Xanthan Gum Market – By Country
Australia
China
India
Japan
South Korea
Rest of APAC
Asia Pacific Xanthan Gum Market – Companies Mentioned
ADM
Cargill, Incorporated
CP Kelco
Deosen
FUFENG GROUP
HEBEI XINHE BIOCHEMICAL CO. LTD
Ingredion Incorporated
Solvay
UNIONCHEM
1.1 Study Scope
1.2 The Insight Partners Research Report Guidance
1.3 Market Segmentation
2. Key Takeaways
3. Research Methodology
3.1 Scope of the Study
3.2 Research Methodology
3.2.1 Data Collection:
3.2.2 Primary Interviews:
3.2.3 Hypothesis formulation:
3.2.4 Macro-economic factor analysis:
3.2.5 Developing base number:
3.2.6 Data Triangulation:
3.2.7 Country level data:
4. Asia Pacific Xanthan Gum – Market Landscape
4.1 Market Overview
4.2 Porter's Five Forces Analysis
4.2.1 Threat of New Entrants:
4.2.2 Bargaining Power of Buyers:
4.2.3 Bargaining Power of Suppliers:
4.2.4 Competitive Rivalry:
4.2.5 Threat of Substitutes:
4.3 Ecosystem Analysis
4.4 Expert Opinion
5. Asia Pacific Xanthan Gum Market – Key Market Dynamics
5.1 Market Drivers
5.1.1 Increase in Demand for Gluten-Free Food Products
5.1.2 Multi-usability of Xanthan Gum
5.2 Market Restraints
5.2.1 Availableness of Substitutes
5.3 Market Opportunities
5.3.1 Elevating Demand from Oil & Gas Industry
5.4 Future Trends
5.4.1 Heighten Product Innovations in Xanthan Gum Market
5.5 Impact Analysis of Drivers and Restraint
6. Asia Pacific Xanthan Gum – Market Analysis
6.1 Asia Pacific Xanthan Gum Market Overview
6.1.1 Asia Pacific: Xanthan Gum Market –Revenue and Forecast to 2028 (US$ Million)
7. Asia Pacific Xanthan Gum Market Analysis – By Form
7.1 Overview
7.1.1 Asia- Pacific: Xanthan Gum Market, By Form
7.2 Dry
7.2.1 Overview
7.2.2 Dry : Xanthan Gum Market – Revenue and Forecast to 2028 (US$ Million)
7.3 Liquid
7.3.1 Overview
7.3.2 Liquid : Xanthan Gum Market – Revenue and Forecast to 2028 (US$ Million)
8. Asia Pacific Xanthan Gum Market Analysis – By Application
8.1 Overview
8.1.1 Asia Pacific: Xanthan Gum Market, by Application
8.2 Food and Beverages
8.2.1 Overview
8.2.2 Food and Beverages: Xanthan Gum Market – Revenue and Forecast to 2028 (US$ Million)
8.3 Pharmaceuticals and Nutraceuticals
8.3.1 Overview
8.3.2 Pharmaceuticals and Nutraceuticals: Xanthan Gum Market – Revenue and Forecast to 2028 (US$ million)
8.4 Personal Care
8.4.1 Overview
8.4.2 Personal Care: Xanthan Gum Market – Revenue and Forecast to 2028 (US$ Million)
8.5 Oil & Gas
8.5.1 Overview
8.5.2 Oil & Gas: Xanthan Gum Market – Revenue and Forecast to 2028 (US$ Million)
8.6 Others
8.6.1 Overview
8.6.2 Others: Xanthan Gum Market – Revenue and Forecast to 2028 (US$ Million)
9. Asia Pacific Xanthan Gum Market – Country Analysis
9.1 Overview
9.1.1 Asia Pacific: Xanthan Gum Market, by Key Country
9.1.1.1 Australia: Xanthan Gum Market – Revenue and Forecast to 2028 (US$ Million)
9.1.1.1.1 Australia: Xanthan Gum Market, by Form
9.1.1.1.2 Australia: Xanthan Gum Market, by Application
9.1.1.2 China: Xanthan Gum Market – Revenue and Forecast to 2028 (US$ Million)
9.1.1.2.1 China: Xanthan Gum Market, by Form
9.1.1.2.2 China: Xanthan Gum Market, by Application
9.1.1.3 Japan: Xanthan Gum Market – Revenue and Forecast to 2028 (US$ Million)
9.1.1.3.1 Japan: Xanthan Gum Market, by Form
9.1.1.3.2 Japan: Xanthan Gum Market, by Application
9.1.1.4 India: Xanthan Gum Market – Revenue and Forecast to 2028 (US$ Million)
9.1.1.4.1 India: Xanthan Gum Market, by Form
9.1.1.4.2 India: Xanthan Gum Market, by Application
9.1.1.5 South Korea: Xanthan Gum Market – Revenue and Forecast to 2028 (US$ Million)
9.1.1.5.1 South Korea: Xanthan Gum Market, by Form
9.1.1.5.2 South Korea: Xanthan Gum Market, by Application
9.1.1.6 Rest of Asia Pacific: Xanthan Gum Market – Revenue and Forecast to 2028 (US$ Million)
9.1.1.6.1 Rest of Asia Pacific: Xanthan Gum Market, by Form
9.1.1.6.2 Rest of Asia Pacific: Xanthan Gum Market, by Application
10. Asia Pacific Xanthan Gum Market – Impact of COVID-19 Pandemic
10.1 Overview
11. Company Profiles
11.1 ADM
11.1.1 Key Facts
11.1.2 Business Description
11.1.3 Products and Services
11.1.4 Financial Overview
11.1.5 SWOT Analysis
11.1.6 Key Developments
11.2 Cargill, Incorporated
11.2.1 Key Facts
11.2.2 Business Description
11.2.3 Products and Services
11.2.4 Financial Overview
11.2.5 SWOT Analysis
11.2.6 Key Developments
11.3 CP Kelco
11.3.1 Key Facts
11.3.2 Business Description
11.3.3 Products and Services
11.3.4 Financial Overview
11.3.5 SWOT Analysis
11.3.6 Key Developments
11.4 Deosen
11.4.1 Key Facts
11.4.2 Business Description
11.4.3 Products and Services
11.4.4 Financial Overview
11.4.5 SWOT Analysis
11.4.6 Key Developments
11.5 FUFENG GROUP
11.5.1 Key Facts
11.5.2 Business Description
11.5.3 Products and Services
11.5.4 Financial Overview
11.5.5 SWOT Analysis
11.5.6 Key Developments
11.6 HEBEI XINHE BIOCHEMICAL CO. LTD
11.6.1 Key Facts
11.6.2 Business Description
11.6.3 Products and Services
11.6.4 Financial Overview
11.6.5 SWOT Analysis
11.6.6 Key Developments
11.7 Ingredion Incorporated
11.7.1 Key Facts
11.7.2 Business Description
11.7.3 Products and Services
11.7.4 Financial Overview
11.7.5 SWOT Analysis
11.7.6 Key Developments
11.8 UNIONCHEM
11.8.1 Key Facts
11.8.2 Business Description
11.8.3 Products and Services
11.8.4 Financial Overview
11.8.5 SWOT Analysis
11.8.6 Key Developments
11.9 Solvay
11.9.1 Key Facts
11.9.2 Business Description
11.9.3 Products and Services
11.9.4 Financial Overview
11.9.5 SWOT Analysis
11.9.6 Key Developments
12. Appendix
12.1 About The Insight Partners
12.2 Glossary


Table 1. Asia Pacific Xanthan Gum Market –Revenue Forecast to 2028 (US$ Million)
Table 2. Australia Xanthan Gum Market, by Form – Revenue and Forecast to 2028 (US$ Million)
Table 3. Australia Xanthan Gum Market, by Application – Revenue and Forecast to 2028 (US$ Million)
Table 4. China Xanthan Gum Market, by Form – Revenue and Forecast to 2028 (US$ Million)
Table 5. China Xanthan Gum Market, by Application – Revenue and Forecast to 2028 (US$ Million)
Table 6. Japan Xanthan Gum Market, by Form – Revenue and Forecast to 2028 (US$ Million)
Table 7. Japan Xanthan Gum Market, by Application – Revenue and Forecast to 2028 (US$ Million)
Table 8. India Xanthan Gum Market, by Form – Revenue and Forecast to 2028 (US$ Million)
Table 9. India Xanthan Gum Market, by Application – Revenue and Forecast to 2028 (US$ Million)
Table 10. South Korea Xanthan Gum Market, by Form – Revenue and Forecast to 2028 (US$ Million)
Table 11. South Korea Xanthan Gum Market, by Application – Revenue and Forecast to 2028 (US$ Million)
Table 12. Rest of Asia Pacific Xanthan Gum Market, by Form – Revenue and Forecast to 2028 (US$ Million)
Table 13. Rest of Asia Pacific Xanthan Gum Market, by Application – Revenue and Forecast to 2028 (US$ Million)
Table 14. Glossary of terms, Xanthan Gum Market


Figure 1. Asia Pacific Xanthan Gum Market Segmentation
Figure 2. Asia Pacific Xanthan Gum Market Segmentation – By Country
Figure 3. Asia Pacific Xanthan Gum Market Overview
Figure 4. Food Segment Held Largest Share of Asia Pacific Xanthan Gum Market
Figure 5. China Held Largest Share of Asia Pacific Xanthan Gum Market
Figure 6. Porter's Five Forces Analysis
Figure 7. Ecosystem: Xanthan Gums
Figure 8. Expert Opinion
Figure 9. Asia Pacific Xanthan Gum Market Impact Analysis of Driver and Restraint
Figure 10. Asia Pacific: Xanthan Gum Market – Revenue and Forecast to 2028 (US$ Million)
Figure 11. Asia Pacific: Xanthan Gum Market Revenue Share, by Form (2020 and 2028)
Figure 12. Dry: Xanthan Gum Market – Revenue and Forecast to 2028 (US$ Million)
Figure 13. Liquid : Xanthan Gum Market – Revenue and Forecast to 2028 (US$ Million)
Figure 14. Asia Pacific: Xanthan Gum Market Revenue Share, by Application (2020 and 2028)
Figure 15. Food and Beverages: Xanthan Gum Market – Revenue and Forecast to 2028 (US$ Million)
Figure 16. Pharmaceuticals and Nutraceuticals: Xanthan Gum Market – Revenue and Forecast to 2028 (US$ Million)
Figure 17. Personal Care: Xanthan Gum Market – Revenue and Forecast To 2028 (US$ Million)
Figure 18. Oil & Gas: Xanthan Gum Market – Revenue and Forecast to 2028 (US$ Million)
Figure 19. Others: Xanthan Gum Market – Revenue and Forecast to 2028 (US$ Million)
Figure 20. Geographic Overview of Asia Pacific Xanthan Gum Market
Figure 21. Asia Pacific: Xanthan Gum Market Revenue Share, by Key Country (2020 and 2028)
Figure 22. Australia: Xanthan Gum Market – Revenue and Forecast to 2028 (US$ Million)
Figure 23. China: Xanthan Gum Market – Revenue and Forecast to 2028 (US$ Million)
Figure 24. Japan: Xanthan Gum Market – Revenue and Forecast to 2028 (US$ Million)
Figure 25. India: Xanthan Gum Market – Revenue and Forecast to 2028 (US$ Million)
Figure 26. South Korea: Xanthan Gum Market – Revenue and Forecast to 2028 (US$ Million)
Figure 27. Rest of Asia Pacific: Xanthan Gum Market – Revenue and Forecast to 2028 (US$ Million)
Figure 28. Impact of COVID-19 Pandemic in Asia Pacific Country Markets
ADM

Cargill, Incorporated

CP Kelco

Deosen

FUFENG GROUP

HEBEI XINHE BIOCHEMICAL CO. LTD

Ingredion Incorporated

Solvay

UNIONCHEM
Save and reduce time carrying out entry-level research by identifying the growth, size, leading players and segments in the

Asia Pacific xanthan gum market

.

Highlights key business priorities in order to assist companies to realign their business strategies

The key findings and recommendations highlight crucial progressive industry trends in the

Asia Pacific xanthan gum market

, thereby allowing players across the value chain to develop effective long-term strategies

Develop/modify business expansion plans by using substantial growth offering developed and emerging markets

Scrutinize in-depth Asia Pacific market trends and outlook coupled with the factors driving the xanthan gum market, as well as those hindering it

Enhance the decision-making process by understanding the strategies that underpin commercial interest with respect to client products, segmentation, pricing and distribution
---
Related Tags
Asia Pacific Xanthan Gum Market Market
Asia Pacific Xanthan Gum Market Market Research
Asia Pacific Xanthan Gum Market Market Insight
Asia Pacific Xanthan Gum Market Market Trends
Asia Pacific Xanthan Gum Market Market Forecast
Asia Pacific Xanthan Gum Market Market Share
Asia Pacific Xanthan Gum Market Market 2028
Asia Pacific Xanthan Gum Market Market Growth
Asia Pacific Xanthan Gum Market Industry
Sector
Asia Pacific Xanthan Gum Market PDF Report
Asia Pacific Xanthan Gum Market Analysis
Asia Pacific Xanthan Gum Market Research
Competitive Analysis
---