Asia Pacific Organic Wine Market Forecast to 2028 – COVID-19 Impact and Regional Analysis – by Type (Still and Sparkling), Packaging Type (Bottles and Can), and Distribution Channel (Supermarkets and Hypermarkets, Specialty Stores, Online Retail, and Direct Selling) 
BMIRE00025942
|
Pages:
124
|
Food and Beverages
|
Sep 2022
|
Type:
Regional
|
Status:
Published
The

organic wine market

in Asia Pacific is expected to grow from US$

1,264.33

million in 2022 to US$

2,445.12

million by 2028. It is estimated to grow at a CAGR of 11.6% from 2022 to 2028.
The use of natural and chemical-free products has risen recently as health-conscious customers have become more aware of the product's benefits. The demand for organic wine has increased because of this trend. Organic wine grapes are processed according to strict guidelines on organic farming prohibiting using various artificial ingredients, such as synthetic fertilizers and pesticides. In industrialized countries, drinking wine at social events and festivities has become a status symbol, which is the fundamental reason for the rise in wine demand.
Furthermore, consumers' high discretionary income and the expansion of promotional and marketing methods have boosted the demand for organic wine. In recent years, ethical food consumption has increased in most developed countries. This current shift in postmodern consumerism can be described from various perspectives, including the expanding health-conscious niche market, the symbol of higher social and economic status, and the growing number of people concerned about the micro- and macro-effects of food and beverages. When pesticides are applied near a winery, they have the potential to leak into the water supply, food supply, and other areas. However, organic wines do not employ chemical-laden pesticides, making them significantly safer for neighboring families and farmworkers.
The organic wine sector has been expanding for several years, but as customers become more conscious of the food and beverage they consume, the sector is now proliferating. The advent of sustainable winemaking processes has encouraged the shift to organic wines, and this trend is projected to continue over the forecast period. Furthermore, a considerable increase in the number of wine exhibits and expos is expected to increase organic wine sales in the coming decade.
Asia Pacific Organic Wine Market Revenue and Forecast to 2028 (US$ Million)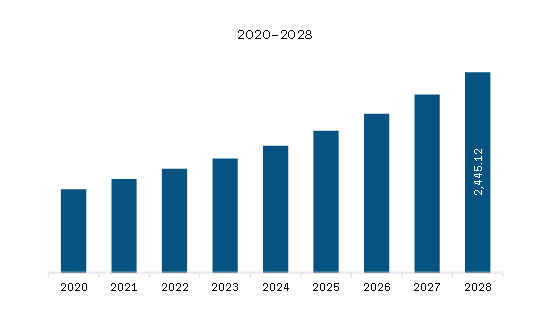 Asia Pacific Organic Wine Market Segmentation
The Asia Pacific organic wine market is segmented by type, packaging type, distribution channel, and country. Based on type, the market has been divided into still and sparkling. The still wine segment is dominating the market in 2022. It is further sub-segmented into red, white, and rose.
Based on packaging type, the market has been bifurcated into bottles and cans. The bottles segment is dominating the market in 2022.
Based on distribution channel, the market is segmented into supermarkets and hypermarkets, specialty stores, online retail, and direct selling. The direct selling segment is dominating the market in 2022.
Based on country, the market is segmented into Australia, China, India, Japan, South Korea, and the Rest of Asia Pacific. Further, China is dominating the market in 2022.
A few key players dominating the Asia Pacific organic wine market are Avondale, Bronco Wine Company, EMILIANA ORGANIC VINEYARDS, Frey Vineyards, GRGICH HILLS ESTATE, Kendall-Jackson, Società Agricola Querciabella SpA, and The Organic Wine Company.
1.

Introduction
1.1 Study Scope
1.2 The Insight Partners Research Report Guidance
1.3 Market Segmentation
2.

Key Takeaways
3. Research Methodology
3.1 Scope of the Study
3.2 Research Methodology
3.2.1 Data Collection
3.2.2 Primary Interviews
3.2.3 Hypothesis Formulation
3.2.4 Macro-economic Factor Analysis
3.2.5 Developing Base Number
3.2.6 Data Triangulation
3.2.7 Country Level Data
4.

APAC Organic Wine Market Landscape
4.1 Market Overview
4.2 Porter's Five Forces Analysis
4.2.1 Bargaining Power of Suppliers
4.2.2 Bargaining Power of Buyers
4.2.3 Threat of New Entrants
4.2.4 Competitive Rivalry
4.2.5 Threat of Substitutes
4.3 Expert Opinion
4.4 Ecosystem Analysis
5.

Organic Wine Market — Key Market Dynamics
5.1 Key Market Drivers
5.1.2 Growing Preference for Organic Products
5.2 Market Restraints
5.2.1 High Production Cost of Organic Wine Compared to Conventional Wine
5.3 Market Opportunities
5.3.1 Growing Wine Consumption
5.4 Future Trends
5.5 Impact Analysis of Drivers and Restraints
6.

Organic Wine Market – APAC Analysis
6.1 APAC Organic Wine Market Overview
6.2 APAC Organic Wine Market –Revenue and Forecast to 2028
7.

APAC Organic Wine Market Analysis – By Type
7.1 Overview
7.2 APAC Organic Wine Market Breakdown, by Type, 2021 & 2028
7.3 Still
7.3.1 Overview
7.3.2 Still: APAC Organic Wine Market – Revenue and Forecast to 2028 (US$ Million)
7.3.2.1 Red: Still Organic Wine Market – Revenue and Forecast to 2028 (US$ Million)
7.3.2.2 White: Still Wine Market – Revenue and Forecast to 2028 (US$ Million)
7.3.2.3 Rose: Still Organic Wine Market – Revenue and Forecast to 2028 (US$ Million)
7.4 Sparkling
7.4.1 Overview
7.4.2 Sparkling: APAC Organic Wine Market – Revenue and Forecast to 2028 (US$ Million)
8.

APAC Organic Wine Market Analysis – By Packaging Type
8.1 Overview
8.2 APAC Organic Wine Market Breakdown, by Packaging Type, 2021 & 2028
8.3 Bottles
8.3.1 Overview
8.3.2 Bottles: APAC Organic Wine Market – Revenue and Forecast to 2028 (US$ Million)
8.4 Cans
8.4.1 Overview
8.4.2 Cans: APAC Organic Wine Market – Revenue and Forecast to 2028 (US$ Million)
9.

APAC Organic Wine Market Analysis – By Distribution Channel
9.1 Overview
9.2 APAC Organic Wine Market Breakdown, by Distribution Channel, 2021 & 2028
9.3 Supermarkets and Hypermarkets
9.3.1 Overview
9.3.2 Supermarkets and Hypermarkets: APAC Organic Wine Market – Revenue and Forecast to 2028 (US$ Million)
9.4 Specialty Stores
9.4.1 Overview
9.4.2 Specialty Stores: APAC Organic Wine Market – Revenue and Forecast to 2028 (US$ Million)
9.5 Online Retail
9.5.1 Overview
9.5.2 Online Retail: APAC Organic Wine Market – Revenue and Forecast to 2028 (US$ Million)
9.6 Direct Selling
9.6.1 Overview
9.6.2 Direct Selling: APAC Organic Wine Market – Revenue and Forecast to 2028 (US$ Million)
10.

APAC Organic Wine Market – Country Analysis
10.1 Overview
10.1.1 APAC: Organic Wine Market, by Key Country
10.1.1.1 Australia: Organic Wine Market –Revenue and Forecast to 2028 (US$ Million)
10.1.1.1.1 Australia: Organic Wine Market, by Type
10.1.1.1.1.1 Australia: Still Organic Wine Market, by Color
10.1.1.1.2 Australia: Organic Wine Market, by Packaging Type
10.1.1.1.3 Australia: Organic Wine Market, by Distribution Channel
10.1.1.2 China: Organic Wine Market –Revenue and Forecast to 2028 (US$ Million)
10.1.1.2.1 China: Organic Wine Market, by Type
10.1.1.2.1.1 China: Still Organic Wine Market, by Color
10.1.1.2.2 China: Organic Wine Market, by Packaging type
10.1.1.2.3 China: Organic Wine Market, by Distribution Channel
10.1.1.3 India: Organic Wine Market –Revenue and Forecast to 2028 (US$ Million)
10.1.1.3.1 India: Organic Wine Market, by Type
10.1.1.3.1.1 India: Still Organic Wine Market, by Color
10.1.1.3.2 India: Organic Wine Market, by Packaging Type
10.1.1.3.3 India: Organic Wine Market, by Distribution Channel
10.1.1.4 Japan: Organic Wine Market –Revenue and Forecast to 2028 (US$ Million)
10.1.1.4.1 Japan: Organic Wine Market, by Type
10.1.1.4.1.1 Japan: Still Organic Wine Market, by Color
10.1.1.4.2 Japan: Organic Wine Market, by Packaging Type
10.1.1.4.3 Japan: Organic Wine Market, by Distribution Channel
10.1.1.5 South Korea: Organic Wine Market –Revenue and Forecast to 2028 (US$ Million)
10.1.1.5.1 South Korea: Organic Wine Market, by Type
10.1.1.5.1.1 South Korea: Still Organic Wine market, by Color
10.1.1.5.2 South Korea: Organic Wine Market, by Packaging Type
10.1.1.5.3 South Korea: Organic Wine Market, by Distribution Channel
10.1.1.6 Rest of APAC: Organic Wine Market –Revenue and Forecast to 2028 (US$ Million)
10.1.1.6.1 Rest of APAC: Organic Wine Market, by Type
10.1.1.6.1.1 Rest of APAC: Still Organic Wine Market, by Color
10.1.1.6.2 Rest of APAC: Organic Wine Market, by Packaging Type
10.1.1.6.3 Rest of APAC: Organic Wine Market, by Distribution Channel
11.

Industry Landscape
11.1 Overview
11.2 Business Planning and Strategy
11.3 Expansion & Collaboration
11.4 Product News
12.

Company Profiles
12.1 Avondale
12.1.1 Key Facts
12.1.2 Business Description
12.1.3 Products and Services
12.1.4 Financial Overview
12.1.5 SWOT Analysis
12.1.6 Key Developments
12.2 Kendall-Jackson
12.2.1 Key Facts
12.2.2 Business Description
12.2.3 Products and Services
12.2.4 Financial Overview
12.2.5 SWOT Analysis
12.2.6 Key Developments
12.3 The Organic Wine Company
12.3.1 Key Facts
12.3.2 Business Description
12.3.3 Products and Services
12.3.4 Financial Overview
12.3.5 SWOT Analysis
12.3.6 Key Developments
12.4 Bronco Wine Company
12.4.1 Key Facts
12.4.2 Business Description
12.4.3 Products and Services
12.4.4 Financial Overview
12.4.5 SWOT Analysis
12.4.6 Key Developments
12.5 GRGICH HILLS ESTATE
12.5.1 Key Facts
12.5.2 Business Description
12.5.3 Products and Services
12.5.4 Financial Overview
12.5.5 SWOT Analysis
12.5.6 Key Developments
12.6 EMILIANA ORGANIC VINEYARDS
12.6.1 Key Facts
12.6.2 Business Description
12.6.3 Products and Services
12.6.4 Financial Overview
12.6.5 SWOT Analysis
12.6.6 Key Developments
12.7 Società Agricola Querciabella SpA
12.7.1 Key Facts
12.7.2 Business Description
12.7.3 Products and Services
12.7.4 Financial Overview
12.7.5 SWOT Analysis
12.7.6 Key Developments
12.8 Frey Vineyards
12.8.1 Key Facts
12.8.2 Business Description
12.8.3 Products and Services
12.8.4 Financial Overview
12.8.5 SWOT Analysis
12.8.6 Key Developments
13.

Appendix
13.1 About The Insight Partners
13.2 Word Index
LIST OF TABLES
Table 1. APAC Organic Wine Market –Revenue and Forecast to 2028 (US$ Million)
Table 2. Australia Organic Wine Market, by Type – Revenue and Forecast to 2028 (US$ Million)
Table 3. Australia Still Organic Wine Market, by Color – Revenue and Forecast to 2028 (US$ Million)
Table 4. Australia Organic Wine Market, by Packaging type – Revenue and Forecast to 2028 (US$ Million)
Table 5. Australia Organic Wine Market, by Distribution Channel – Revenue and Forecast to 2028 (US$ Million)
Table 6. China Organic Wine Market, by Type– Revenue and Forecast to 2028 (US$ Million)
Table 7. China Still Organic Wine Market, by Color – Revenue and Forecast to 2028 (US$ Million)
Table 8. China Organic Wine Market, by Packaging Type – Revenue and Forecast to 2028 (US$ Million)
Table 9. China Organic Wine Market, by Distribution Channel – Revenue and Forecast to 2028 (US$ Million)
Table 10. India Organic Wine Market, by Type– Revenue and Forecast to 2028 (US$ Million)
Table 11. India Still Organic Wine Market, by Color – Revenue and Forecast to 2028 (US$ Million)
Table 12. India Organic Wine Market, by Packaging type – Revenue and Forecast to 2028 (US$ Million)
Table 13. India Organic Wine Market, by Distribution Channel – Revenue and Forecast to 2028 (US$ Million)
Table 14. Japan Organic Wine Market, by Type– Revenue and Forecast to 2028 (US$ Million)
Table 15. Japan Still Organic Wine Market, by Color – Revenue and Forecast to 2028 (US$ Million)
Table 16. Japan Organic Wine Market, by Packaging type– Revenue and Forecast to 2028 (US$ Million)
Table 17. Japan Organic Wine Market, by Distribution Channel– Revenue and Forecast to 2028 (US$ Million)
Table 18. South Korea Organic Wine Market, by Type– Revenue and Forecast to 2028 (US$ Million)
Table 19. South Korea Still Organic Wine Market, by Color – Revenue and Forecast to 2028 (US$ Million)
Table 20. South Korea Organic Wine Market, by Packaging Type – Revenue and Forecast to 2028 (US$ Million)
Table 21. South Korea Organic Wine Market, by Distribution Channel– Revenue and Forecast to 2028 (US$ Million)
Table 22. Rest of APAC Organic Wine Market, by Type– Revenue and Forecast to 2028 (US$ Million
Table 23. Rest of APAC Still Organic Wine Market, by Color – Revenue and Forecast to 2028 (US$ Million)
Table 24. Rest of APAC Organic Wine Market, by Packaging Type – Revenue and Forecast to 2028 (US$ Million)
Table 25. Rest of APAC Organic Wine Market, by Distribution Channel – Revenue and Forecast to 2028 (US$ Million)
Table 26. List of Abbreviation
LIST OF FIGURES
Figure 1. APAC Organic Wine Market Segmentation
Figure 2. APAC Organic Wine Market Segmentation – By Country
Figure 3. APAC Organic Wine Market Overview
Figure 4. APAC Organic Wine Market, By Distribution Channel
Figure 5. APAC Organic Wine Market, By Country
Figure 6. Porter's Five Forces Analysis
Figure 7. Expert Opinion
Figure 8. Ecosystem Analysis – APAC Organic Wine Market
Figure 9. APAC Organic Wine Market Impact Analysis of Drivers and Restraints
Figure 10. APAC Organic Wine Market – Revenue and Forecast to 2028 (US$ Million)
Figure 11. APAC Organic Wine Market Breakdown, by Type, 2021 & 2028
Figure 12. Still: APAC Organic Wine Market – Revenue and Forecast to 2028 (US$ Million)
Figure 13. Red: Still Organic Wine Market – Revenue and Forecast to 2028 (US$ Million)
Figure 14. White: Still Organic Wine Market – Revenue and Forecast to 2028 (US$ Million)
Figure 15. Rose: Still Organic Wine Market – Revenue and Forecast to 2028 (US$ Million)
Figure 16. Sparkling: APAC Organic Wine Market – Revenue and Forecast to 2028 (US$ Million)
Figure 17. APAC Organic Wine Market Breakdown, by Packaging Type, 2021 & 2028
Figure 18. Bottles: APAC Organic Wine Market – Revenue and Forecast to 2028 (US$ Million)
Figure 19. Cans: APAC Organic Wine Market – Revenue and Forecast to 2028 (US$ Million)
Figure 20. APAC Organic Wine Market Breakdown, by Distribution Channel, 2021 & 2028
Figure 21. Supermarkets and Hypermarkets: APAC Organic Wine Market – Revenue and Forecast to 2028 (US$ Million)
Figure 22. Specialty Stores: APAC Organic Wine Market – Revenue and Forecast to 2028 (US$ Million)
Figure 23. Online Retail: APAC Organic Wine Market – Revenue and Forecast to 2028 (US$ Million)
Figure 24. Direct Selling: APAC Organic Wine Market – Revenue and Forecast to 2028 (US$ Million)
Figure 25. APAC: Organic Wine Market, by key Country– Revenue (2021) (US$ Million)
Figure 26. APAC: Organic Wine Market Revenue Share, by Key Country (2021 and 2028)
Figure 27. Australia: Organic Wine Market –Revenue and Forecast to 2028 (US$ Million)
Figure 28. China: Organic Wine Market –Revenue and Forecast to 2028 (US$ Million)
Figure 29. India: Organic Wine Market –Revenue and Forecast to 2028 (US$ Million)
Figure 30. Japan: Organic Wine Market –Revenue and Forecast to 2028 (US$ Million)
Figure 31. South Korea: Organic Wine Market –Revenue and Forecast to 2028 (US$ Million)
Figure 32. Rest of APAC: Organic Wine Market –Revenue and Forecast to 2028 (US$ Million)
Avondale

Bronco Wine Company

EMILIANA ORGANIC VINEYARDS

Frey Vineyards

GRGICH HILLS ESTATE

Kendall-Jackson

Società Agricola Querciabella SpA

The Organic Wine Company
Save and reduce time carrying out entry-level research by identifying the growth, size, leading players and segments in the Asia Pacific Organic Wine Market.

Highlights key business priorities in order to assist companies to realign their business strategies

The key findings and recommendations highlight crucial progressive industry trends in the Asia Pacific Organic Wine Market, thereby allowing players across the value chain to develop effective long-term strategies

Develop/modify business expansion plans by using substantial growth offering developed and emerging markets

Scrutinize in-depth Asia Pacific market trends and outlook coupled with the factors driving the Organic Wine Market, as well as those hindering it

Enhance the decision-making process by understanding the strategies that underpin commercial interest with respect to client products, segmentation, pricing and distribution
---