Asia Pacific HVAC Chillers Market Forecast to 2028 - COVID-19 Impact and Regional Analysis By Technology (Air-Cooled, Water-Cooled, and Steam-Fired), Type (Process Chillers, Scroll Chillers, Screw Chillers, Centrifugal Chillers, and Absorption Chillers), and Application (Industrial, Commercial, and Residential)
Code:
TIPRE00026114
|
Pages:
123
|
Industry:
Manufacturing and Construction
|
Date:
Nov 2021

Market Introduction
Asia-Pacific (APAC) HVAC Chillers market is segmented into Australia, China, India, Japan, South Korea, and the Rest of APAC. The ongoing industrialization of cities, elevating disposable income of consumers, rising demand for luxury products, and stringent government norms focusing on global warming are the factors contributing to the growth of the Asia-Pacific HVAC chiller market. The construction sectors in countries such as China and India are witnessing huge investments, specifically for the establishment of retail spaces, commercial office buildings, and manufacturing facilities, as well as for the expansion and construction of airports. According to Civil Aviation Administration of China (CAAC), China aims to construct 216 new airports by 2035 to meet the growing demands for air travel. In 2020, the building construction spending in Asia crossed US$ 4.5 trillion, which was ~50% of the global expenditure on construction projects. Moreover, the growing popularity and adoption of new trends such as green building in emerging and developed countries is providing significant growth opportunities for the HVAC chillers market players. Stringent government norms and standards for controlling energy consumption and promoting energy-efficient practices is also contributing to the rise in acceptance of green technologies. According to the World Green Building Council (World GBC), Australia (~46%) and China (~42%) majorly focus on supporting the construction of green buildings. Moreover, countries such as India, Japan, and China are investing heavily in commercial building projects, which further propels the HVAC chiller demand. Increasing focus on the construction of skyscrapers in China and Japan is offering new opportunities for the flourishment of the HVAC chillers market players in APAC.
In case of COVID-19, APAC is highly affected specially India. APAC includes most of the world's highly populated countries, such as China, India, and Japan, which has led to a harsh impact of the COVID-19 pandemic on these countries. Moreover, the temporary shutdown of industrial facilities has resulted in disruption in industrial as well as commercial operations due to reduction in demand caused by COVID-19 pandemic. Moreover, the pandemic has also raised the concerns regarding the reduction in investments under the commercial and industrial construction sector across Asian countries such as India, Japan, South Korea, and other Southeast Asian countries. However, the highest impact countries across the APAC HVAC chillers market in 2020 is China followed by Japan, and South Korea. Also, one of the major vendors of this market i.e., Daikin Industries Ltd. based in Japan has also announced that it has witnessed a decline of nearly 2.2% in its FY 2020 revenues compared to its previous year 2019. However, the APAC market has also witnessed a decline of 5.9% on y-o-y basis compared to its previous FY 2019 which is expected to regain and surpass its share in the market by the end of FY 2022, according to the research study.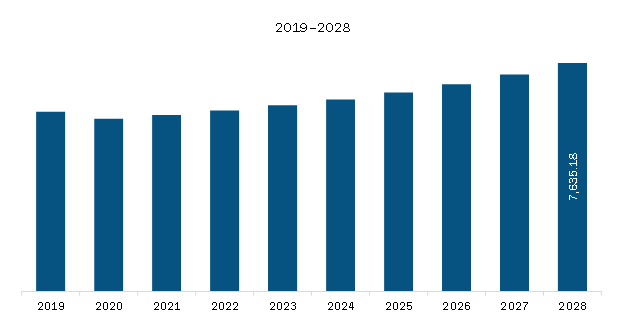 Get more information on this report :
Market Overview and Dynamics
The APAC HVAC chillers market is expected to grow from US$ 4,680.90 million in 2021 to US$ 6,847.80 million by 2028; it is estimated to grow at a CAGR of 5.6% from 2021 to 2028. HVAC Chillers play a crucial role in maintaining the required temperature of any space, machinery, or equipment. HVAC Chillers remove the heat and transfer it somewhere else. These chillers can be utilized in numerous residential spaces, for example small to large size rooms, garages, basements, and crawlspaces. Popularity of HVAC chillers is increasing owing to various advantages such a portability, convenience, and quick and easy maintenance. Moreover, the adoption of HVAC chillers is rising in restaurants, hotels, kitchens, and dining rooms to handle the concerns regarding temperature levels. Other industry verticals where these chillers are used are rubber, petrochemicals, medical, plastic, commercial office buildings, sports venues, and others. Growing aviation sector and increasing count of new commercial construction buildings drives the demand for respective chillers. Screw chillers are vapor compressor chillers that make use of a screw compressor for transporting the coolant through the system. These chillers are suitable for high rise buildings considering quiet operation, compact installation, high energy efficiency and lower maintenance costs. With growing real estate sector all over the region, requirement for screw chillers is forecasted to increase remarkably, thereby driving the APAC HVAC chillers market.
Key Market Segments
In terms of technology, the air-cooled segment accounted for the largest share of the APAC HVAC chillers market in 2020. In terms of type, the screw chillers segment held a larger market share of the APAC HVAC chillers market in 2020. Further, the industrial segment held a larger share of the APAC HVAC chillers market based on application in 2020.
Major Sources and Companies Listed
A few major primary and secondary sources referred to for preparing this report on the APAC HVAC chillers market are company websites, annual reports, financial reports, national government documents, and statistical database, among others. Major companies listed in the report are AIREDALE INTERNATIONAL AIR CONDITIONING LTD.; Carrier Global Corporation; DAIKIN INDUSTRIES, Ltd.; Johnson Controls, Inc.; Kaltra; LG Electronics; Mitsubishi Electric Corporation; SKM Air Conditioning; and Trane.
Reasons to buy report
To understand the APAC HVAC chillers market landscape and identify market segments that are most likely to guarantee a strong return

Stay ahead of the race by comprehending the ever-changing competitive landscape for APAC HVAC chillers market

Efficiently plan M&A and partnership deals in APAC HVAC chillers market by identifying market segments with the most promising probable sales

Helps to take knowledgeable business decisions from perceptive and comprehensive analysis of market performance of various segment form APAC HVAC chillers market

Obtain market revenue forecast for market by various segments from 2021-2028 in APAC region

.
APAC HVAC Chillers Market Segmentation
APAC HVAC Chillers Market - By Technology
APAC HVAC Chillers Market - By Type
APAC HVAC Chillers Market - By Application
Industrial

Commercial

Residential
APAC HVAC Chillers Market - By Country
Australia

China

India

Japan

South Korea

Rest of APAC
APAC HVAC Chillers Market - Company Profiles
Carrier Global Corporation

DAIKIN INDUSTRIES, Ltd.

Johnson Controls, Inc.

Kaltra

LG Electronics

Mitsubishi Electric Corporation

SKM Air Conditioning

Trane
TABLE OF CONTENTS
1. Introduction
1.1 Study Scope
1.2 The Insight Partners Research Report Guidance
1.3 Market Segmentation
2. Key Takeaways
3. Research Methodology
3.1 Coverage
3.2 Secondary Research
3.3 Primary Research
4. APAC HVAC Chillers Market Landscape
4.1 Market Overview
4.2 APAC PEST Analysis
4.3 Ecosystem Analysis
4.4 Expert Opinions
5. APAC HVAC Chillers Market Key Market Dynamics
5.1 Market Drivers
5.1.1 Surging Demand for HVAC Chillers from Several Industries
5.1.2 Escalating Number of Data Centers
5.2 Market Restraints
5.2.1 Dearth in Efficiency in Humid Environment and High Maintenance Cost
5.3 Market Opportunities
5.3.1 Economic Growth in Developing Countries of the Region
5.4 Future Trends
5.4.1 Growing Development of IoT Enabled HVAC Chillers
5.5 Impact Analysis of Drivers and Restraints
6. HVAC Chillers Market APAC Analysis
6.1 APAC HVAC Chillers Market Overview
6.2 APAC HVAC Chillers Market Revenue and Forecast to 2028 (US$ Million)
7. APAC HVAC Chillers Market Analysis By Technology
7.1 Overview
7.2 APAC HVAC Chillers Market Breakdown, By Technology (2020 and 2028)
7.3 Air-Cooled
7.3.1 Overview
7.3.2 Air-Cooled: HVAC Chillers Market Revenue and Forecast to 2028 (US$ Million)
7.4 Water-Cooled
7.4.1 Overview
7.4.2 Water-Cooled: HVAC Chillers Market Revenue and Forecast to 2028 (US$ Million)
7.5 Steam-Fired
7.5.1 Overview
7.5.2 Steam-Fired: HVAC Chillers Market Revenue and Forecast to 2028 (US$ Million)
8. APAC HVAC Chillers Market Analysis By Type
8.1 Overview
8.2 APAC HVAC Chillers Market Breakdown, By Type (2020 and 2028)
8.3 Process Chillers
8.3.1 Overview
8.3.2 Process Chillers: HVAC Chillers Market Revenue and Forecast to 2028 (US$ Million)
8.4 Scroll Chillers
8.4.1 Overview
8.4.2 Scroll Chillers: HVAC Chillers Market Revenue and Forecast to 2028 (US$ Million)
8.5 Screw Chillers
8.5.1 Overview
8.5.2 Screw Chillers: HVAC Chillers Market Revenue and Forecast to 2028 (US$ Million)
8.6 Centrifugal Chillers
8.6.1 Overview
8.6.2 Centrifugal Chillers: HVAC Chillers Market Revenue and Forecast to 2028 (US$ Million)
8.7 Absorption Chillers
8.7.1 Overview
8.7.2 Absorption Chillers: HVAC Chillers Market Revenue and Forecast to 2028 (US$ Million)
9. APAC HVAC Chillers Market Analysis By Application
9.1 Overview
9.2 APAC HVAC Chillers Market Breakdown, By Application (2020 and 2028)
9.3 Industrial
9.3.1 Overview
9.3.2 Industrial: HVAC Chillers Market Revenue and Forecast to 2028 (US$ Million)
9.4 Commercial
9.4.1 Overview
9.4.2 Commercial: HVAC Chillers Market Revenue and Forecast to 2028 (US$ Million)
9.5 Residential
9.5.1 Overview
9.5.2 Residential: HVAC Chillers Market Revenue and Forecast to 2028 (US$ Million)
10. APAC HVAC Chillers Market Country Analysis
10.1 Overview
10.1.1 APAC: HVAC Chillers Market- by Key Country
10.1.1.1 Australia: HVAC Chillers Market Revenue and Forecast to 2028 (US$ Million)
10.1.1.1.1 Australia: HVAC Chillers Market- by Technology
10.1.1.1.2 Australia: HVAC Chillers Market- By Type
10.1.1.1.3 Australia: HVAC Chillers Market- By Application
10.1.1.2 China: HVAC Chillers Market Revenue and Forecast to 2028 (US$ Million)
10.1.1.2.1 China: HVAC Chillers Market- by Technology
10.1.1.2.2 China: HVAC Chillers Market- By Type
10.1.1.2.3 China: HVAC Chillers Market- By Application
10.1.1.3 India: HVAC Chillers Market Revenue and Forecast to 2028 (US$ Million)
10.1.1.3.1 India: HVAC Chillers Market- by Technology
10.1.1.3.2 India: HVAC Chillers Market- By Type
10.1.1.3.3 India: HVAC Chillers Market- By Application
10.1.1.4 Japan: HVAC Chillers Market Revenue and Forecast to 2028 (US$ Million)
10.1.1.4.1 Japan: HVAC Chillers Market- by Technology
10.1.1.4.2 Japan: HVAC Chillers Market- By Type
10.1.1.4.3 Japan: HVAC Chillers Market- By Application
10.1.1.5 South Korea: HVAC Chillers Market Revenue and Forecast to 2028 (US$ Million)
10.1.1.5.1 South Korea: HVAC Chillers Market- by Technology
10.1.1.5.2 South Korea: HVAC Chillers Market- By Type
10.1.1.5.3 South Korea: HVAC Chillers Market- By Application
10.1.1.6 Rest of APAC: HVAC Chillers Market Revenue and Forecast to 2028 (US$ Million)
10.1.1.6.1 Rest of APAC: HVAC Chillers Market- by Technology
10.1.1.6.2 Rest of APAC: HVAC Chillers Market- By Type
10.1.1.6.3 Rest of APAC: HVAC Chillers Market- By Application
11. Impact of COVID-19 Pandemic on APAC HVAC Chillers Market
11.1 APAC: Impact Assessment of COVID-19 Pandemic
12. Industry Landscape
12.1 Overview
12.2 New Development
13. Company Profiles
13.1 LG Electronics
13.1.1 Key Facts
13.1.2 Business Description
13.1.3 Products and Services
13.1.4 Financial Overview
13.1.5 SWOT Analysis
13.1.6 Key Developments
13.2 Mitsubishi Electric Corporation
13.2.1 Key Facts
13.2.2 Business Description
13.2.3 Products and Services
13.2.4 Financial Overview
13.2.5 SWOT Analysis
13.2.6 Key Developments
13.3 Carrier Global Corporation
13.3.1 Key Facts
13.3.2 Business Description
13.3.3 Products and Services
13.3.4 Financial Overview
13.3.5 SWOT Analysis
13.3.6 Key Developments
13.4 DAIKIN INDUSTRIES, Ltd.
13.4.1 Key Facts
13.4.2 Business Description
13.4.3 Products and Services
13.4.4 Financial Overview
13.4.5 SWOT Analysis
13.4.6 Key Developments
13.5 Trane
13.5.1 Key Facts
13.5.2 Business Description
13.5.3 Products and Services
13.5.4 Financial Overview
13.5.5 SWOT Analysis
13.5.6 Key Developments
13.6 Kaltra
13.6.1 Key Facts
13.6.2 Business Description
13.6.3 Products and Services
13.6.4 Financial Overview
13.6.5 SWOT Analysis
13.6.6 Key Developments
13.7 SKM Air Conditioning
13.7.1 Key Facts
13.7.2 Business Description
13.7.3 Products and Services
13.7.4 Financial Overview
13.7.5 SWOT Analysis
13.7.6 Key Developments
13.8 Johnson Controls, Inc.
13.8.1 Key Facts
13.8.2 Business Description
13.8.3 Products and Services
13.8.4 Financial Overview
13.8.5 SWOT Analysis
13.8.6 Key Developments
13.9 AIREDALE INTERNATIONAL AIR CONDITIONING LTD.
13.9.1 Key Facts
13.9.2 Business Description
13.9.3 Products and Services
13.9.4 Financial Overview
13.9.5 SWOT Analysis
13.9.6 Key Developments
14. Appendix
14.1 About The Insight Partners
14.2 Word Index

LIST OF TABLES
Table 1. APAC HVAC Chillers Market Revenue, and Forecast to 2028 (US$ Million)
Table 2. Australia: HVAC Chillers Market- by Technology Revenue and Forecast to 2028 (US$ Million)
Table 3. Australia: HVAC Chillers Market- By Type Revenue and Forecast to 2028 (US$ Million)
Table 4. Australia: HVAC Chillers Market- By Application Revenue and Forecast to 2028 (US$ Million)
Table 5. China: HVAC Chillers Market- by Technology Revenue and Forecast to 2028 (US$ Million)
Table 6. China: HVAC Chillers Market- By Type Revenue and Forecast to 2028 (US$ Million)
Table 7. China: HVAC Chillers Market- By Application Revenue and Forecast to 2028 (US$ Million)
Table 8. India: HVAC Chillers Market- by Technology Revenue and Forecast to 2028 (US$ Million)
Table 9. India: HVAC Chillers Market- By Type Revenue and Forecast to 2028 (US$ Million)
Table 10. India: HVAC Chillers Market- By Application Revenue and Forecast to 2028 (US$ Million)
Table 11. Japan: HVAC Chillers Market- by Technology Revenue and Forecast to 2028 (US$ Million)
Table 12. Japan: HVAC Chillers Market- By Type Revenue and Forecast to 2028 (US$ Million)
Table 13. Japan: HVAC Chillers Market- By Application Revenue and Forecast to 2028 (US$ Million)
Table 14. South Korea: HVAC Chillers Market- by Technology Revenue and Forecast to 2028 (US$ Million)
Table 15. South Korea: HVAC Chillers Market- By Type Revenue and Forecast to 2028 (US$ Million)
Table 16. South Korea: HVAC Chillers Market- By Application Revenue and Forecast to 2028 (US$ Million)
Table 17. Rest of APAC: HVAC Chillers Market- by Technology Revenue and Forecast to 2028 (US$ Million)
Table 18. Rest of APAC: HVAC Chillers Market- By Type Revenue and Forecast to 2028 (US$ Million)
Table 19. Rest of APAC: HVAC Chillers Market- By Application Revenue and Forecast to 2028 (US$ Million)
Table 20. List of Abbreviation


LIST OF FIGURES
Figure 1. APAC HVAC Chillers Market Segmentation
Figure 2. APAC HVAC Chillers Market Segmentation By Country
Figure 3. APAC HVAC Chillers Market Overview
Figure 4. Air-Cooled HVAC Chillers Segment Held the Largest Market Share in 2020
Figure 5. Screw Chillers Segment Held the Largest Market Share in 2020
Figure 6. Industrial Segment Held the Largest Market Share in 2020
Figure 7. China was the Largest Revenue Contributor in 2020
Figure 8. APAC PEST Analysis
Figure 9. APAC HVAC Chillers Market Ecosystem Analysis
Figure 10. Expert Opinions
Figure 11. APAC HVAC Chillers Market: Impact Analysis of Drivers and Restraints
Figure 12. APAC HVAC Chillers Market Revenue and Forecast to 2028 (US$ Million)
Figure 13. APAC HVAC Chillers Market Breakdown, By Technology (2020 and 2028)
Figure 14. APAC Air-Cooled: HVAC Chillers Market Revenue and Forecast to 2028 (US$ Million)
Figure 15. APAC Water-Cooled: HVAC Chillers Market Revenue and Forecast to 2028 (US$ Million)
Figure 16. APAC Steam-Fired: HVAC Chillers Market Revenue and Forecast to 2028 (US$ Million)
Figure 17. APAC HVAC Chillers Market Breakdown, By Type (2020 and 2028)
Figure 18. APAC Process Chillers: HVAC Chillers Market Revenue and Forecast to 2028 (US$ Million)
Figure 19. APAC Scroll Chillers: HVAC Chillers Market Revenue and Forecast to 2028 (US$ Million)
Figure 20. APAC Screw Chillers: HVAC Chillers Market Revenue and Forecast to 2028 (US$ Million)
Figure 21. APAC Centrifugal Chillers: HVAC Chillers Market Revenue and Forecast to 2028 (US$ Million)
Figure 22. APAC Absorption Chillers: HVAC Chillers Market Revenue and Forecast to 2028 (US$ Million)
Figure 23. APAC HVAC Chillers Market Breakdown, By Application (2020 and 2028)
Figure 24. APAC Industrial: HVAC Chillers Market Revenue and Forecast to 2028 (US$ Million)
Figure 25. APAC Commercial: HVAC Chillers Market Revenue and Forecast to 2028 (US$ Million)
Figure 26. APAC Residential: HVAC Chillers Market Revenue and Forecast to 2028 (US$ Million)
Figure 27. APAC: HVAC Chillers Market Revenue Overview, by Country (2020) (US$ Mn)
Figure 28. APAC: HVAC Chillers Market Revenue Share, By Key Country (2020 and 2028)
Figure 29. Australia: HVAC Chillers Market Revenue and Forecast to 2028 (US$ Million)
Figure 30. China: HVAC Chillers Market Revenue and Forecast to 2028 (US$ Million)
Figure 31. India: HVAC Chillers Market Revenue and Forecast to 2028 (US$ Million)
Figure 32. Japan: HVAC Chillers Market Revenue and Forecast to 2028 (US$ Million)
Figure 33. South Korea: HVAC Chillers Market Revenue and Forecast to 2028 (US$ Million)
Figure 34. Rest of APAC: HVAC Chillers Market Revenue and Forecast to 2028 (US$ Million)
Figure 35. Impact of COVID-19 Pandemic in APAC Country Markets


1. AIREDALE INTERNATIONAL AIR CONDITIONING LTD.
2. Carrier Global Corporation
3. DAIKIN INDUSTRIES, Ltd.
4. Johnson Controls, Inc.
5. Kaltra
6. LG Electronics
7. Mitsubishi Electric Corporation
8. SKM Air Conditioning
9. Trane




- Save and reduce time carrying out entry-level research by identifying the growth, size, leading players, and segments in the APAC HVAC chillers market.
- Highlights key business priorities in order to assist companies to realign their business strategies
- The key findings and recommendations highlight crucial progressive industry trends in the APAC HVAC chillers market, thereby allowing players across the value chain to develop effective long-term strategies
- Develop/modify business expansion plans by using substantial growth offering developed and emerging markets
- Scrutinize in-depth APAC market trends and outlook coupled with the factors driving the HVAC chillers market, as well as those hindering it
- Enhance the decision-making process by understanding the strategies that underpin commercial interest with respect to client products, segmentation, pricing, and distribution


---
Related Tags
Asia Pacific HVAC Chillers Market
Asia Pacific HVAC Chillers Market Research
Asia Pacific HVAC Chillers Market Insight
Asia Pacific HVAC Chillers Market Trends
Asia Pacific HVAC Chillers Market Forecast
Asia Pacific HVAC Chillers Market Share
Asia Pacific HVAC Chillers Market 2028
Asia Pacific HVAC Chillers Market Growth
Asia Pacific HVAC Chillers Industry
Sector
Asia Pacific HVAC Chillers PDF Report
Asia Pacific HVAC Chillers Analysis
Asia Pacific HVAC Chillers Research
Competitive Analysis
---