Asia Pacific ePRO, ePatient Diaries, and eCOA Market Forecast to 2028 - COVID-19 Impact and Regional Analysis By Type of Solution (ECOA (Electronic Clinical Outcome Assessments), EPROs (Patient Reported Outcomes), ClinROs (Clinician Reported Outcomes), ObsROs (Observer Reported Outcomes), PerfOs (Performance Outcomes), and ePatient Diaries); Modality (Computer, and Mobile Devices (Smartphones and Tablets)); End User (Clinical Trial Sponsors, Contract Research Organizations (CRO's), Hospitals, Academic Institutes, Pharmaceutical Companies, and Others)
TIPRE00022816
|
Pages:
148
|
Healthcare IT
|
Jun 2021
|
Type:
Regional
|
Status:
Published
Market Introduction
The usage of electronic Clinical Outcome Assessment (eCOA) is a push towards adapting to the 'new normal' as it is a method to gather patient data electronically through the use of technology such as smart home devices, handheld monitors, wearables, e-diaries, tablets and web servers to allow the stakeholders in the trials (patients, healthy volunteers, investigators and caregivers) to report outcomes directly and digitally. Although historically COA was only related to the evaluation of Patient-Related Outcomes (PRO), the FDA has now broadened the definition to include PerfO, ClinRO and ObsRO along with PRO. In simple terms, when the above parameters are reported electronically, they fit under the eCOA spectrum.
eCOA/ePRO platform has substantial benefits for sponsors and CROs, as it reduces administrative burden, mitigates cost, and speeds trials. Such a system shows strong results with fewer errors and discrepancies, improved data quality, clearer signals, and standardized, accurate studies. The increasing adoption of EHR, and government regulations mandating maintain health records is driving the growth of the market.
Thus, a growing demand for clinical trials is expected to create a significant demand for ePRO, ePatient Diaries, and eCOA in the coming years, which is further anticipated to drive the ePRO, ePatient Diaries, and eCOA market.
The DIA China Digital Health Community organized a series of Remote Digital Clinical Trials During COVID-19 Pandemic online seminars to increase global interest in remote clinical trials and digital clinical trial resources. Veteran clinicians and researchers presented real-life examples of remote clinical trial and digital trial technology implementations in China and strategies and plans based on their experiences. Sponsors and CROs have been able to preserve their business continuity in China by using remote clinical trials to overcome the difficulties of conducting conventional clinical trials faced by the COVID-19 pandemic (impacting on-site subject visits, data monitoring, and drug delivery). However, since these trials are just getting underway in China, it's important to optimize the effect of these technologies and services, and relevant regulations should evolve to support these developments accordingly. Thus, ePRO, e-Patient Diaries, and eCOA market is moderately impacted due to COVID -19.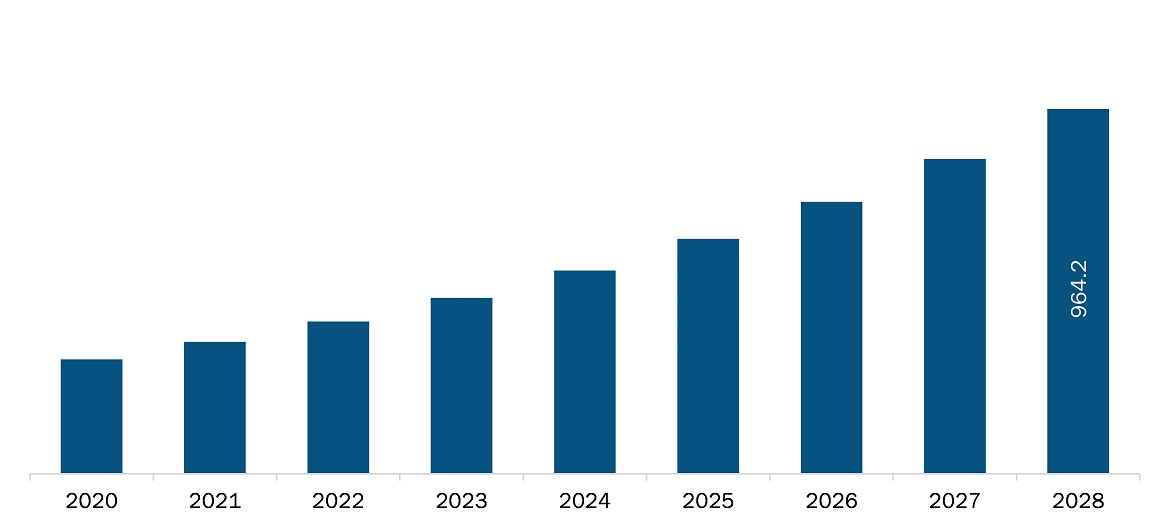 Get more information on this report :
Market Overview and Dynamics
The ePRO, ePatient Diaries, and eCOA market in Asia Pacific is expected to grow from US$ 348.8 million in 2021 to US$ 964.2 million by 2028; it is estimated to grow at a CAGR of 15.6% from 2021 to 2028. Increasing number of smartphone users is likely to boost the ePRO, e-Patient Diaries, and eCOA's adoption in the coming years. Mobile-enabled portals make it easier for patients to communicate with healthcare providers and allow patients to check test results, and review their medical record using smartphones. Also, market players are launching products for mobile applications, which will further boost the market's growth. For instance, in December 2020, Mednet, a healthcare technology company, announced its latest software release featuring expanded electronic patient reported outcomes (ePRO) capabilities. The new ePRO module is designed to increase patient engagement and enable remote participation, an increasingly important requirement in the COVID-19 era, while significantly improving the user experience for clinical staff as well as study participants. The new Mednet module is the result of a year-long development process designed to improve the user experience of Mednet's ePRO capability, including fully optimized module for mobile tablets. Also, in Nov 2020, Medable launched telehealth eCOA technology, which reportedly enables outcome assessment to be conducted remotely via web and mobile.
Key Market Segments
In terms of type of solution, the e-clinical outcome assessments segment accounted for the largest share of the Asia Pacific ePRO, ePatient Diaries, and eCOA market in 2020. In terms of modality, the mobile devices segment held a larger market share of the ePRO, ePatient Diaries, and eCOA market in 2020. In terms of end user, the cinical trial sponsors segment held a larger market share of the ePRO, ePatient Diaries, and eCOA market in 2020.
Major Sources and Companies Listed
A few major primary and secondary sources referred to for preparing this report on the EPRO, ePatient Diaries, and eCOA market in Asia Pacific are company websites, annual reports, financial reports, national government documents, and statistical database, among others. Major companies listed in the report are ERT Clinical, ArisGlobal LLC, The Diary Pte. Ltd, ICON PLC, PAREXEL INTERNATIONAL CORPORATION, Anju Software, Inc., Kayentis, Bracket Global LLC, Dassault Systèmes SE, and CRF Health.
Reasons to buy report
To understand the Asia Pacific ePRO, ePatient Diaries, and eCOA market landscape and identify market segments that are most likely to guarantee a strong return
Stay ahead of the race by comprehending the ever-changing competitive landscape for Asia Pacific ePRO, ePatient Diaries, and eCOA market
Efficiently plan M&A and partnership deals in Asia Pacific ePRO, ePatient Diaries, and eCOA market by identifying market segments with the most promising probable sales
Helps to take knowledgeable business decisions from perceptive and comprehensive analysis of market performance of various segment form Asia Pacific ePRO, ePatient Diaries, and eCOA market
Obtain market revenue forecast for market by various segments from 2021-2028 in Asia Pacific region

.
ASIA PACIFIC EPRO, EPATIENT DIARIES, AND ECOA MARKET SEGMENTATION
By Type of Solution
eClinical Outcome Assessments
e-Patient Reported Outcomes
Clinician Reported Outcomes
Observer Reported Outcomes
Performance Outcomes
e-Patient Diaries
By Modality
By End User
Clinical Trial Sponsors
Contract Research Organizations
Hospitals
Academic Institutes
Pharmaceutical Companies
Others
By Country
Asia Pacific

China
Japan
India
South Korea
Australia
Rest of Asia Pacific
Companies Mentioned
ERT Clinical
ArisGlobal LLC
The Diary Pte. Ltd
ICON PLC
PAREXEL INTERNATIONAL CORPORATION
Anju Software, Inc.
Kayentis
Bracket Global LLC
Dassault Systèmes SE
CRF Health
1. Introduction
1.1 Scope of the Study
1.2 The Insight Partners Research Report Guidance
1.3 Market Segmentation
1.3.1 ePRO, ePatient Diaries, and eCOA Market – By Type of Solution
1.3.2 ePRO, ePatient Diaries, and eCOA Market – By Modality
1.3.3 ePRO, ePatient Diaries, and eCOA Market – By End User
1.3.4 Asia Pacific ePRO, ePatient Diaries, and eCOA Market – By Country
2. Asia Pacific ePRO, ePatient Diaries, and eCOA Market – Key Takeaways
3. Research Methodology
3.1 Coverage
3.2 Secondary Research
3.3 Primary Research
4. Asia Pacific ePRO, ePatient Diaries, and eCOA Market – Market Landscape
4.1 Overview
4.2 PEST Analysis
4.2.1 ePRO, ePatient Diaries, and eCOA Market- Asia Pacific PEST Analysis
4.3 Expert Opinion
5. Asia Pacific ePRO, ePatient Diaries, and eCOA Market - Key Market Dynamics
5.1 Market Drivers
5.1.1 Increasing Demand for Electronic Health Records (EHRs)
5.1.2 Rising Use of Smartphones
5.1.3 Growing Demand for Clinical Trials
5.2 Market Restraints
5.2.1 Concerns Regarding Data Privacy
5.3 Market Opportunities
5.3.1 Growing Healthcare IT Industry in Emerging Economies
5.4 Future Trends
5.4.1 Rise of Patient-Centric Practices
5.5 Impact Analysis
6. ePRO, ePatient Diaries, and eCOA Market – Asia Pacific Analysis
6.1 Asia Pacific ePRO, ePatient Diaries, and eCOA Market Revenue Forecasts and Analysis
7. Asia Pacific ePRO, ePatient Diaries, and eCOA Market Analysis and Forecasts To 2028 – By Type of Solution
7.1 Overview
7.2 ePRO, e-Patient Diaries, and eCOA Market Share, by Type of Solution, 2020 and 2028 (%)
7.3 eCOA (ELECTRONIC CLINICAL OUTCOME ASSESSMENTS)
7.3.1 Overview
7.3.2 eCOA: ePRO, e-Patient Diaries, and eCOA Market– Revenue and Forecast to 2028 (USD Million)
7.4 ePROs (PATIENT REPORTED OUTCOMES)
7.4.1 Overview
7.4.2 ePRO: ePRO, e-Patient Diaries, and eCOA Market– Revenue and Forecast to 2028 (USD Million)
7.5 ClinROs (CLINICIAN REPORTED OUTCOMES)
7.5.1 Overview
7.5.2 ClinROs: ePRO, e-Patient Diaries, and eCOA Market– Revenue and Forecast to 2028 (USD Million)
7.6 ObsROs (OBSERVER REPORTED OUTCOMES)
7.6.1 Overview
7.6.2 ObsROs: ePRO, e-Patient Diaries, and eCOA Market– Revenue and Forecast to 2028 (USD Million)
7.7 PerfOs (PERFORMANCE OUTCOMES)
7.7.1 Overview
7.7.2 PerfOs: ePRO, e-Patient Diaries, and eCOA Market– Revenue and Forecast to 2028 (USD Million)
7.8 E-PATIENT DIARIES
7.8.1 Overview
7.8.2 E-Patient Diaries: ePRO, e-Patient Diaries, and eCOA Market– Revenue and Forecast to 2028 (USD Million)
8. Asia Pacific ePRO, ePatient Diaries, and eCOA Market Analysis and Forecasts To 2028 – By Modality
8.1 Overview
8.2 ePRO, e-Patient Diaries, and eCOA Market Share, by Modality, 2020 and 2028 (%)
8.3 Computer
8.3.1 Overview
8.3.2 Computer: ePRO, e-Patient Diaries, and eCOA Market– Revenue and Forecast to 2028 (USD Million)
8.4 MOBILE DEVICES (SMARTPHONES AND TABLETS)
8.4.1 Overview
8.4.2 Mobile Devices: ePRO, e-Patient Diaries, and eCOA Market– Revenue and Forecast to 2028 (USD Million)
9. Asia Pacific ePRO, ePatient Diaries, and eCOA Market Analysis and Forecasts to 2028– By End User
9.1 Overview
9.2 ePRO, e-Patient Diaries, and eCOA Market Share, by End User, 2020 and 2028 (%)
9.3 CLINICAL TRIAL SPONSORS
9.3.1 Overview
9.3.2 Clinical Trial Sponsors: ePRO, e-Patient Diaries, and eCOA Market– Revenue and Forecast to 2028(USD Million)
9.4 CONTRACT RESEARCH ORGANIZATIONS (CROs)
9.4.1 Overview
9.4.2 Contract Research Organizations: ePRO, e-Patient Diaries, and eCOA Market– Revenue and Forecast to 2028 (USD Million)
9.5 HOSPITALS
9.5.1 Overview
9.5.2 Hospitals: ePRO, e-Patient Diaries, and eCOA Market– Revenue and Forecast to 2028 (USD Million)
9.6 Academic Institutes
9.6.1 Overview
9.6.2 Academic Institutes: ePRO, e-Patient Diaries, and eCOA Market– Revenue and Forecast to 2028 (USD Million)
9.7 Pharmaceutical Companies
9.7.1 Overview
9.7.2 Pharmaceutical Companies: ePRO, e-Patient Diaries, and eCOA Market– Revenue and Forecast to 2028 (USD Million)
9.8 Others
9.8.1 Overview
9.8.2 Others: ePRO, e-Patient Diaries, and eCOA Market– Revenue and Forecast to 2028 (USD Million)
10. ePRO, ePatient Diaries, and eCOA Market Revenue and Forecasts to 2028 – Geographical Analysis
10.1 Asia Pacific: ePRO, e-Patient Diaries, and eCOA Market
10.1.1 Overview
10.1.2 Asia-Pacific: ePRO, e-Patient Diaries, and eCOA Market, by Country, 2020 & 2028 (%)
10.1.2.1 China: ePRO, e-Patient Diaries, and eCOA Market – Revenue and Forecast to 2028 (USD Million)
10.1.2.1.1 China: ePRO, e-Patient Diaries, and eCOA Market – Revenue and Forecast to 2028 (USD Million)
10.1.2.1.2 China: ePRO, e-Patient Diaries, and eCOA Market, by Type of Solution, 2019–2028 (USD Million)
10.1.2.1.3 China: ePRO, e-Patient Diaries, and eCOA Market, by Modality, 2019–2028 (USD Million)
10.1.2.1.4 China: ePRO, e-Patient Diaries, and eCOA Market, by End User, 2019–2028 (USD Million)
10.1.2.2 Japan: ePRO, e-Patient Diaries, and eCOA Market – Revenue and Forecast to 2028 (USD Million)
10.1.2.2.1 Japan: ePRO, e-Patient Diaries, and eCOA Market – Revenue and Forecast to 2028 (USD Million)
10.1.2.2.2 Japan: ePRO, e-Patient Diaries, and eCOA Market, by Type of Solution, 2019–2028 (USD Million)
10.1.2.2.3 Japan: ePRO, e-Patient Diaries, and eCOA Market, by Modality, 2019–2028 (USD Million)
10.1.2.2.4 Japan: ePRO, e-Patient Diaries, and eCOA Market, by End User, 2019–2028 (USD Million)
10.1.2.3 India: ePRO, e-Patient Diaries, and eCOA Market – Revenue and Forecast to 2028 (USD Million)
10.1.2.3.1 India: ePRO, e-Patient Diaries, and eCOA Market – Revenue and Forecast to 2028 (USD Million)
10.1.2.3.2 India: ePRO, e-Patient Diaries, and eCOA Market, by Type of Solution, 2019–2028 (USD Million)
10.1.2.3.3 India: ePRO, e-Patient Diaries, and eCOA Market, by Modality, 2019–2028 (USD Million)
10.1.2.3.4 India: ePRO, e-Patient Diaries, and eCOA Market, by End User, 2019–2028 (USD Million)
10.1.2.4 Australia: ePRO, e-Patient Diaries, and eCOA Market – Revenue and Forecast to 2028 (USD Million)
10.1.2.4.1 Australia: ePRO, e-Patient Diaries, and eCOA Market – Revenue and Forecast to 2028 (USD Million)
10.1.2.4.2 Australia: ePRO, e-Patient Diaries, and eCOA Market, by Type of Solution, 2019–2028 (USD Million)
10.1.2.4.3 Australia: ePRO, e-Patient Diaries, and eCOA Market, by Modality, 2019–2028 (USD Million)
10.1.2.4.4 Australia: ePRO, e-Patient Diaries, and eCOA Market, by End User, 2019–2028 (USD Million)
10.1.2.5 South Korea: ePRO, e-Patient Diaries, and eCOA Market – Revenue and Forecast to 2028 (USD Million)
10.1.2.5.1 South Korea: ePRO, e-Patient Diaries, and eCOA Market – Revenue and Forecast to 2028 (USD Million)
10.1.2.5.2 South Korea: ePRO, e-Patient Diaries, and eCOA Market, by Type of Solution, 2019–2028 (USD Million)
10.1.2.5.3 South Korea: ePRO, e-Patient Diaries, and eCOA Market, by Modality, 2019–2028 (USD Million)
10.1.2.5.4 South Korea: ePRO, e-Patient Diaries, and eCOA Market, by End User, 2019–2028 (USD Million)
10.1.2.6 Rest of Asia-Pacific: ePRO, e-Patient Diaries, and eCOA Market – Revenue and Forecast to 2028 (USD Million)
10.1.2.6.1 Rest of Asia-Pacific: ePRO, e-Patient Diaries, and eCOA Market – Revenue and Forecast to 2028 (USD Million)
10.1.2.6.2 Rest of Asia-Pacific: ePRO, e-Patient Diaries, and eCOA Market, by Type of Solution, 2019–2028 (USD Million)
10.1.2.6.3 Rest of Asia-Pacific: ePRO, e-Patient Diaries, and eCOA Market, by Modality, 2019–2028 (USD Million)
10.1.2.6.4 Rest of Asia-Pacific: ePRO, e-Patient Diaries, and eCOA Market, by End User, 2019–2028 (USD Million)
11. Impact Of COVID-19 Pandemic on Asia Pacific ePRO, ePatient Diaries, and eCOA Market
11.1 Asia Pacific: Impact Assessment of COVID-19 Pandemic
12. Industry Landscape
12.1 Overview
12.2 Growth Strategies Done by the Companies in the Market, (%)
12.3 Organic Developments
12.3.1 Overview
12.4 Inorganic Developments
12.4.1 Overview
13. COMPANY PROFILES
13.1 ERT Clinical
13.1.1 Key Facts
13.1.2 Business Description
13.1.3 Products and Services
13.1.4 Financial Overview
13.1.5 SWOT Analysis
13.1.6 Key Developments
13.2 ArisGlobal LLC
13.2.1 Key Facts
13.2.2 Business Description
13.2.3 Products and Services
13.2.4 Financial Overview
13.2.5 SWOT Analysis
13.2.6 Key Developments
13.3 The Diary Pte. Ltd
13.3.1 Key Facts
13.3.2 Business Description
13.3.3 Products and Services
13.3.4 Financial Overview
13.3.5 SWOT Analysis
13.3.6 Key Developments
13.4 ICON PLC
13.4.1 Key Facts
13.4.2 Business Description
13.4.3 Products and Services
13.4.4 Financial Overview
13.4.5 SWOT Analysis
13.4.6 Key Developments
13.5 PAREXEL INTERNATIONAL CORPORATION
13.5.1 Key Facts
13.5.2 Business Description
13.5.3 Products and Services
13.5.4 Financial Overview
13.5.5 SWOT Analysis
13.5.6 Key Developments
13.6 OmniComm Systems, Inc. (Anju Software, Inc.)
13.6.1 Key Facts
13.6.2 Business Description
13.6.3 Products and Services
13.6.4 Financial Overview
13.6.5 SWOT Analysis
13.6.6 Key Developments
13.7 Kayentis
13.7.1 Key Facts
13.7.2 Business Description
13.7.3 Products and Services
13.7.4 Financial Overview
13.7.5 SWOT Analysis
13.7.6 Key Developments
13.8 Bracket Global LLC (Signant Health)
13.8.1 Key Facts
13.8.2 Business Description
13.8.3 Products and Services
13.8.4 Financial Overview
13.8.5 SWOT Analysis
13.8.6 Key Developments
13.9 Medidata Solutions (Dassault Systemes SE)
13.9.1 Key Facts
13.9.2 Business Description
13.9.3 Products and Services
13.9.4 Financial Overview
13.9.5 SWOT Analysis
13.9.6 Key Developments
13.10 CRF Health (Signant Health)
13.10.1 Key Facts
13.10.2 Business Description
13.10.3 Products and Services
13.10.4 Financial Overview
13.10.5 SWOT Analysis
13.10.6 Key Developments
14. Appendix
14.1 About the Insight Partners
14.2 Glossary of Terms
LIST OF TABLES
Table 1. China: ePRO, e-Patient Diaries, and eCOA Market, by Type of Solution – Revenue and Forecast to 2028(USD Million)
Table 2. China: ePRO, e-Patient Diaries, and eCOA Market, by Modality – Revenue and Forecast to 2028 (USD Million)
Table 3. China: ePRO, e-Patient Diaries, and eCOA Market, by End User – Revenue and Forecast to 2028 (USD Million)
Table 4. Japan: ePRO, e-Patient Diaries, and eCOA Market, by Type of Solution – Revenue and Forecast to 2028 (USD Million)
Table 5. Japan: ePRO, e-Patient Diaries, and eCOA Market, by Modality – Revenue and Forecast to 2028 (USD Million)
Table 6. Japan: ePRO, e-Patient Diaries, and eCOA Market, by End User– Revenue and Forecast to 2028 (USD Million)
Table 7. India: ePRO, e-Patient Diaries, and eCOA Market, by Type of Solution – Revenue and Forecast to 2028 (USD Million)
Table 8. India: ePRO, e-Patient Diaries, and eCOA Market, by Modality – Revenue and Forecast to 2028 (USD Million)
Table 9. India: ePRO, e-Patient Diaries, and eCOA Market, by End User – Revenue and Forecast to 2028 (USD Million)
Table 10. Australia: ePRO, e-Patient Diaries, and eCOA Market, by Type of Solution – Revenue and Forecast to 2028 (USD Million)
Table 11. Australia: ePRO, e-Patient Diaries, and eCOA Market, by Modality – Revenue and Forecast to 2028 (USD Million)
Table 12. Australia: ePRO, e-Patient Diaries, and eCOA Market, by End User– Revenue and Forecast to 2028 (USD Million)
Table 13. South Korea: ePRO, e-Patient Diaries, and eCOA Market, by Type of Solution – Revenue and Forecast to 2028 (USD Million)
Table 14. South Korea: ePRO, e-Patient Diaries, and eCOA Market, by Modality – Revenue and Forecast to 2028 (USD Million)
Table 15. South Korea: ePRO, e-Patient Diaries, and eCOA Market, by End User – Revenue and Forecast to 2028 (USD Million)
Table 16. Rest of Asia-Pacific: ePRO, e-Patient Diaries, and eCOA Market, by Type of Solution – Revenue and Forecast to 2028 (USD Million)
Table 17. Rest of Asia-Pacific: ePRO, e-Patient Diaries, and eCOA Market, by Modality – Revenue and Forecast to 2028 (USD Million)
Table 18. Rest of Asia-Pacific: ePRO, e-Patient Diaries, and eCOA Market, by End User – Revenue and Forecast to 2028 (USD Million)
Table 19. Organic Developments Done by Companies
Table 20. Inorganic Developments Done by Companies
Table 21. Glossary of Terms, ePRO, ePatient Diaries, and eCOA Market
LIST OF FIGURES
Figure 1. ePRO, ePatient Diaries, and eCOA Market Segmentation
Figure 2. Asia Pacific ePRO, ePatient Diaries, and eCOA Market Overview
Figure 3. e-Clinical Outcome Assessments Segment Held Largest Share of Type of Solution in ePRO, ePatient Diaries, and eCOA Market
Figure 4. India is Expected to Show Remarkable Growth During the Forecast Period
Figure 5. ePRO, ePatient Diaries, and eCOA Market - Asia Pacific PEST Analysis
Figure 6. ePRO, ePatient Diaries, and eCOA Market Impact Analysis of Driver and Restraints
Figure 7. Asia Pacific ePRO, ePatient Diaries, and eCOA Market – Revenue Forecasts and Analysis – 2020- 2028
Figure 1. ePRO, e-Patient Diaries, and eCOA Market Share, by Type of Solution, 2020 and 2028 (%)
Figure 2. eCOA: ePRO, e-Patient Diaries, and eCOA Market– Revenue and Forecast to 2028 (USD Million)
Figure 3. ePRO: ePRO, e-Patient Diaries, and eCOA Market– Revenue and Forecast to 2028 (USD Million)
Figure 4. ClinROs: ePRO, e-Patient Diaries, and eCOA Market– Revenue and Forecast to 2028 (USD Million)
Figure 5. ObsROs: ePRO, e-Patient Diaries, and eCOA Market– Revenue and Forecast to 2028 (USD Million)
Figure 6. PerfOs: ePRO, e-Patient Diaries, and eCOA Market– Revenue and Forecast to 2028 (USD Million)
Figure 7. E-Patient Diaries: ePRO, e-Patient Diaries, and eCOA Market– Revenue and Forecast to 2028 (USD Million)
Figure 8. ePRO, e-Patient Diaries, and eCOA Market Share, by Modality, 2020 and 2028 (%)
Figure 9. Computer: ePRO, e-Patient Diaries, and eCOA Market– Revenue and Forecast to 2028 (USD Million)
Figure 10. Mobile Devices: ePRO, e-Patient Diaries, and eCOA Market– Revenue and Forecast to 2028 (USD Million)
Figure 11. ePRO, e-Patient Diaries, and eCOA Market Share, by End User, 2020 and 2028 (%)
Figure 12. Clinical Trial Sponsors: ePRO, e-Patient Diaries, and eCOA Market– Revenue and Forecast to 2028 (USD Million)
Figure 13. Contract Research Organizations: ePRO, e-Patient Diaries, and eCOA Market– Revenue and Forecast to 2028 (USD Million)
Figure 14. Hospitals: ePRO, e-Patient Diaries, and eCOA Market– Revenue and Forecast to 2028 (USD Million)
Figure 15. Academic Institutes: ePRO, e-Patient Diaries, and eCOA Market– Revenue and Forecast to 2028 (USD Million)
Figure 16. Pharmaceutical Companies: ePRO, e-Patient Diaries, and eCOA Market– Revenue and Forecast to 2028 (USD Million)
Figure 17. Others: ePRO, e-Patient Diaries, and eCOA Market– Revenue and Forecast to 2028 (USD Million)
Figure 18. Asia-Pacific: ePRO, e-Patient Diaries, and eCOA Market, by Key Country – Revenue (2020) (USD Million)
Figure 19. Asia-Pacific: ePRO, e-Patient Diaries, and eCOA Market, by Country, 2020 & 2028 (%)
Figure 20. China: ePRO, e-Patient Diaries, and eCOA Market – Revenue and Forecast to 2028 (USD Million)
Figure 21. Japan: ePRO, e-Patient Diaries, and eCOA Market – Revenue and Forecast to 2028 (USD Million)
Figure 22. India: ePRO, e-Patient Diaries, and eCOA Market – Revenue and Forecast to 2028 (USD Million)
Figure 23. Australia: ePRO, e-Patient Diaries, and eCOA Market – Revenue and Forecast to 2028 (USD Million)
Figure 24. South Korea: ePRO, e-Patient Diaries, and eCOA Market – Revenue and Forecast to 2028 (USD Million)
Figure 25. Rest of Asia-Pacific: ePRO, e-Patient Diaries, and eCOA Market – Revenue and Forecast to 2028 (USD Million)
Figure 26. Impact of COVID-19 Pandemic in Asia Pacific Country Markets
Figure 27. Growth Strategies Done by the Companies in the Market, (%)
ERT Clinical

ArisGlobal LLC

The Diary Pte. Ltd

ICON PLC

PAREXEL INTERNATIONAL CORPORATION

Anju Software, Inc.

Kayentis

Bracket Global LLC

Dassault Systèmes SE

CRF Health
Save and reduce time carrying out entry-level research by identifying the growth, size, leading players and segments in the

Asia Pacific ePRO, ePatient Diaries, and eCOA market

.

Highlights key business priorities in order to assist companies to realign their business strategies

The key findings and recommendations highlight crucial progressive industry trends in the

Asia Pacific ePRO, ePatient Diaries, and eCOA market

, thereby allowing players across the value chain to develop effective long-term strategies

Develop/modify business expansion plans by using substantial growth offering developed and emerging markets

Scrutinize in-depth Asia Pacific market trends and outlook coupled with the factors driving the ePRO, ePatient Diaries, and eCOA market, as well as those hindering it

Enhance the decision-making process by understanding the strategies that underpin commercial interest with respect to client products, segmentation, pricing and distribution
---