Report : North America Photovoltaic Market Forecast to 2027 - COVID-19 Impact and Regional Analysis By Application (Residential Applications, Commercial, Utility Applications); Type (Organic Components, Inorganic Components); Component (Cells, Optics, Trackers)
The inorganic components Segment to Dominate North America Photovoltaic Market during 2018–2027
According to a new market research study on "North America Photovoltaic Market to 2027 – Regional Analysis and Forecast by Type, Component, Application," is expected to reach US$ 120.74 Bn by 2027 from US$ 20.88 Bn in 2018. The market is estimated to grow at a CAGR of 21.7 % from 2019 to 2027.The report provides trends prevailing in the North America photovoltaic market along with the drivers and restraints pertaining to the market growth. The growing demand for sustainable source of energy and increasing use of solar energy in utilities, residential, and commercial applications have propelled the growth of photovoltaic market in North America.
The photovoltaic market, by type, is segmented into organic components, inorganic components. The inorganic component segment held the largest share of the North America market in 2018. The thin-film inorganic material is the largest sector of the photovoltaic industry. Inorganic materials used in the production of photovoltaic cells have been studied by the power generation industry and are increasingly used by the photovoltaic industry which is fueling the adoption of inorganic component in photovoltaic market.
Mitsubishi Electric Corporation, Panasonic Corporation, Kaneka Corporation, Kyocera Corporation, Sharp Corporation, JA Solar Co., Ltd., Renesola Co. Ltd, Trina Solar, Jink Solar, Shunfeng International Clean Energy Co., Ltd. are among the leading companies in the photovoltaic market. The companies are focused on adopting organic growth strategies such as product launches and expansions to sustain their position in the dynamic market. For instance, in November 2019, ReneSola announced the sale of 13MW of project development rights to SUNfarming Polska Asset 4 sp. z o.o. ("SUNfarming"), a Wroclaw-based investor with in-house project development and EPC provider and a company of the SUNfarming Group Germany.
North America Photovoltaic Market, By Country, 2019 to 2027 (%)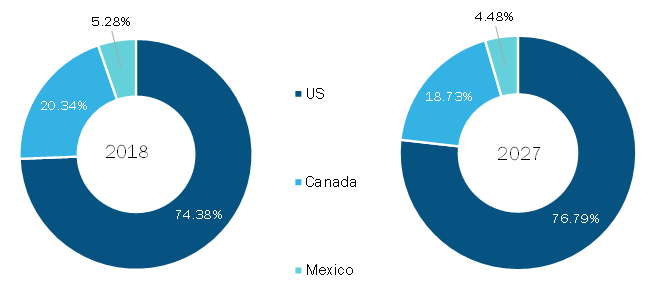 The report segments the North America Photovoltaic Market as follows:
Photovoltaic Market – By Application
Residential Applications

Commercial

Utility Applications
Photovoltaic Market – By Type
Organic Components

Inorganic Components
Photovoltaic Market – By Component
Photovoltaic Market – By Country
Contact Us
Contact Person: Sameer Joshi
Download Free PDF Brochure
---