Report : North America Machine Condition Monitoring Market Forecast to 2027 - Covid-19 Impact and Regional Analysis by Monitoring Technique (Vibration Monitoring, Thermography, Oil Analysis, Corrosion Monitoring, Ultrasound Emission, and Motor Current Analysis); Offering (Hardware and Software); Deployment (On-Premises and Cloud); Monitoring Process (Online Condition Monitoring and Portable Condition Monitoring); and Industry (Oil & Gas, Power Generation, Automotive, Aerospace & Defense, Food & Beverages, Manufacturing, and Others)
Vibration MonitoringSegment to Dominate North America Machine Condition Monitoring Marketduring 2019–2027
According to a new market research study on "North America Machine Condition MonitoringForecast to 2027- COVID-19 Impact and Analysis by Monitoring Technique, Offering, Deployment, Monitoring Process, andIndustry,"is expected to reach US$ 1380.9Mnby 2027 from US$ 951.9 Mn in 2019. The market is estimated to grow at a CAGR of 4.1% from 2020 to 2027.The report provides trends prevailing in the North Americamachine condition monitoringmarket along with the drivers and restraints pertaining to the market growth.The positive growth outlook of North Americamanufacturing industry and increasing demand for automated solutions in manufacturing facilitiesare the key driving factors responsible for the growth of global machine condition monitoring market. However, few performance issues related to some machine condition monitoring may restrain the growth of this market.
The machine condition monitoringmarket, by monitoring technique, is segmented into vibration monitoring, thermography, oil analysis, corrosion monitoring, ultrasound emission, and motor current analysis. The vibration monitoringsegment held the largest share of the North Americamarket in 2019. Vibration monitoring is usually the key element of most condition-based maintenance programs. Though vibration monitoring cannot deliver all of the information required for an effective condition-based maintenance program. It is limited to mechanical condition monitoring and not for other vital parameters essential for maintaining consistency and effectiveness of machinery. Thus, a complete condition-based maintenance program should include additional monitoring as well as diagnostic techniques.
ASL Limited, Emerson Electric Co., General Electric Co., Honeywell International Inc., National Instruments, Parker-Hannifin Corp., Rockwell Automation, Schaeffler Technologies, SKF, and Wilcoxon Sensing Technologies are among the leading companies in the machine condition monitoringmarket. The companies are focused on adopting organic growth strategies such as product launches and expansions to sustain their position in the dynamic market. For instance, in year2020, with Schaeffler OPTIME, comprehensive and automated condition monitoring is now a cost-effective proposition for maintenance personnel and facility operators. Schaeffler OPTIME has become an efficient and easy-to-use low-cost solution designed specifically for the comprehensive condition monitoring of all indirectly process-critical assets across entire machine and equipment parks.
North America: Machine Condition Monitoring Market, By Country, 2019 and 2027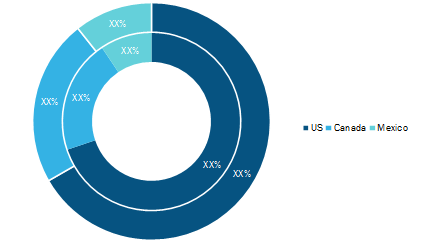 The report segments the North Americamachine condition monitoring market as follows:
North America Machine Condition Monitoring Market, by Monitoring Technique
Vibration Monitoring

Thermography

Oil Analysis

Corrosion Monitoring

Ultrasound Emission

Motor Current Analysis
North America Machine Condition Monitoring Market, by Offering
Hardware

Vibration Sensors

Proximity Probes

Tachometers

Infrared Sensors

Spectrometers

Ultrasound Detectors

Corrosion Probes

Others

Software

North America Machine Condition Monitoring Market, by Deployment Type

North America Machine Condition Monitoring Market, by Monitoring Process
Online Condition Monitoring

Portable Condition Monitoring
North America Machine Condition Monitoring Market, by Industry
Oil & Gas

Power Generation

Automotive

Aerospace & Defense

Food & Beverages

Manufacturing

Others

North America Machine Condition Monitoring Market, by Country

North America Machine Condition Monitoring Market-Companies
Emerson Electric

General Electric.

SKF

National Instruments

Honeywell International Inc.

Als Ltd.

Meggitt

Parker Hannifin

Rockwell Automation

Schaeffler
Contact Us
Contact Person: Sameer Joshi
Phone: +1-646-491-9876
Email Id: sales@businessmarketinsights.com
Download Free PDF Brochure
---