Report : North America Industrial Fans Market Forecast to 2030 – COVID-19 Impact and Regional Analysis – by Technology (Centrifugal, and Axial), and Industrial (Chemical & Petrochemicals, Healthcare, Automotive Manufacturing, Food & Beverage, Oil & Gas, Mining, and Others)
Increasing Demand from Food & Beverages Industry boosts North America industrial fans Market Growth
According to a new market study titled "North America Industrial Fans Market Forecast to 2030 – COVID-19 Impact and Regional Analysis – by Technology and Industrial," the market is expected to grow from US$ 1.47 billion in 2022 to US$ 2.65 billion by 2030; it is estimated to record a CAGR of 7.7% from 2023 to 2030. The report provides trends prevailing in the market along with drivers and restraints.
Industrial fans are used for heat reduction applications, where cold air is blown to cool the industrial environment and processes. As the power requirement of applications and systems increases, the need for higher-power cooling also rises. The design of an industrial fan is evolving to meet these needs, which improves performance at a relatively low cost. Modern centrifugal and axial industrial fans have been developed to reduce the energy consumption of ventilation systems in modern buildings and structures. Industrial fans were undergoing several improvements to maximize output while conserving energy. The major improvements in industrial fan technology are an increase in energy efficiency, expansion of the working area for airflow rates at specified dimensions and speeds, noise reduction, and optimization of design performance. In May 2021, ebm-papst launched new EC centrifugal fans with more power and better efficiency. These fans offer better ventilation and air conditioning. Several other companies are focused on developing industrial fans through research and innovation, which will help in fulfilling the changing needs of customers across the US. Thus, technological advancements in industrial fans are expected to fuel the North America industrial fans market growth during the forecast period.
ebm-papst, SystemAir, Johnson Controls, Witt & Sohn AG, and Greenheck are the key North America industrial fans market players profiled in this research study. These players operating in the North America industrial fans market adopt organic growth strategies, such as product launches and expansions, to sustain their position in the North America industrial fans market.
North America Industrial Fans Market Revenue and Forecast to 2030 (US$ Million)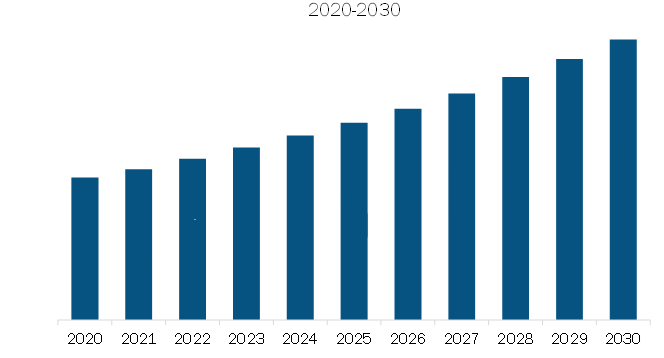 The North America industrial fans market is bifurcated on the basis of technology and industry. Based on technology, the market is bifurcated into centrifugal and axial. Based on industry, the market is segmented into chemical & petrochemicals, healthcare, automotive manufacturing, food & beverages, oil & gas, mining, and others. These industries are majorly driving the North America industrial fans market growth across the region.
A centrifugal fan relies on blades to extract air and gases at right angles and spin the air outward radially. In addition, the centrifugal fan can operate effectively in environments with high pressure and extreme temperatures and provides a stronger and more stable airflow than axial fans. Moreover, these fans are largely used across harsh conditions where there is dust and debris, along with air pollution control systems, dust control systems, air conditioning units, and furnaces. Also, they are highly useful in industrial processes such as conveying material in dust collector systems, combustion air for burners, drying and cooling, general ventilation, and air circulation. The demand for customized centrifugal blowers continues to rise due to the need for diverse industrial applications.
Furthermore, centrifugal fans are used in various industries as they are ideal for high-pressure performances such as drying or air conditioning. They allow continuous airflow generation and release stable energy up to 80% from the systems. Therefore, as these fans are durable and have a smart overload protection device, their demand is growing significantly for industrial purposes.
Contact Us
Contact Person: Sameer Joshi
Phone: +1-646-491-9876
Email Id: sales@businessmarketinsights.com
Download Free PDF Brochure
---