Report : India Tele-intensive Care Unit Market Forecast to 2027 - Covid-19 Impact and Country Analysis by Type (Centralized, Decentralized, Others); Component (Hardware, Software); and Zone
Centralized segment by type is estimated to lead the market growth during the forecast period
According to a new market research study of "Indian Tele-intensive Care Unit Market Forecast to 2027 - COVID-19 Impact and Global Analysis by Type, and Component," Indian tele-intensive care unit market is projected to reach US$ 169.68 million by 2027 from US$ 32.40 million in 2019. The market is estimated to grow at CAGR of 23.9% from 2020 to 2027. The report highlights trends prevailing in the India tele-intensive care unit market and the factors driving market along with those that act as hindrances.
Based on type, the Indian tele-intensive care unit market is further segmented into centralized, decentralized, and others. The centralized segment held a larger share of the market in 2019. The growth of the segment was determined due to its usability and higher adoption. Various players are offering centralized type of product for tele-intensive care unit. For instance, in April 2020, a team from Cloudphysician Healthcare Pvt Ltd was helping a district hospital in Muzaffarpur, Bihar, in treating COVID-19 patients. Similarly, TeleICU Services Pvt Ltd., founded in 2015, located in New Delhi, offers tele-ICU services with a centralized center of intensivist which helps the hospital staff in monitoring the critically ill patient and guiding interventions. However, the decentralized segment is estimated to register a higher CAGR during the forecast period owing to the multiple advantages offered by this type. It allows the intensivists to access the tele-ICU via desktop or laptop without relying on a central hub from which they are practicing.
Indian tele-intensive care unit market is expected to grow owing to factors such as growing government initiatives for digital health, and increasing ICU admission. However, the market is likely to have diminished growth due to barriers to telehealth in rural areas.
Koninklijke Philips N.V., InTouch Technologies, Inc., CEIBA HEALTHCARE, Advanced ICU Care, Apollo Telehealth, Eagle Telemedicine, InteleICU, Cloudphysician, General Electric Company, and CareBridge Technologies are among the leading companies operating in the Indian tele-intensive care unit market.
Indian Tele-intensive Care Unit Market, By Country, 2019 (%)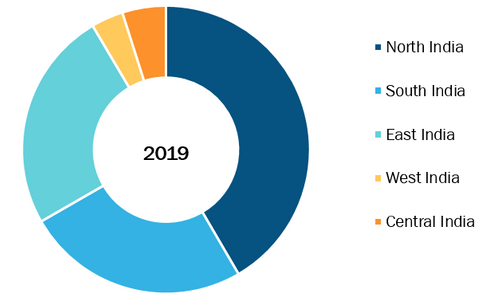 The report segments Indian tele-intensive care unit market as follows:
By Type
Centralized

Decentralized

Others
By Component
Hardware

Therapeutic Devices

Computer Systems

Communication Lines

Software
By Zone
North India

South India

Hyderabad

Chennai

Bangalore

East India

West India

Central India
Contact Us
Contact Person: Sameer Joshi
Download Free PDF Brochure
---