Report : Europe Pharmaceutical Drug Delivery Market Forecast to 2027 - Covid-19 Impact and Regional Analysis By  Route of Administration (Oral Drug Delivery, Injectable Drug Delivery, Topical Drug Delivery, Ocular Drug Delivery, Pulmonary Drug Delivery, Nasal Drug Delivery, Transmucosal Drug Delivery, Implantable Drug Delivery); Application (Infectious Diseases, Cancer, Cardiovascular Diseases, Diabetes, Respiratory. Diseases, Central Nervous System Disorders, Autoimmune Diseases, and Other Diseases); End User (Hospitals, Home Care Settings, ASC/Clinics, Other End Users); and Country
CancerApplicationSegmentto Grow atFaster PaceDuringForecast Period
According to our new market research study on "EuropePharmaceutical Drug DeliveryMarketForecast to 2027 - COVID-19 Impact and Global Analysisby Route Of Administration, Application, and End User,"the Europepharmaceutical drug delivery market is projectedto reach US$ 5,62,102.6 million by2027 from US$ 3,52,775.1 million in2019;it is estimated to grow at CAGR of 6.2% from 2020 to 2027. The report highlights trends prevailing in the Europepharmaceutical drug deliverymarketand the factors driving the market growth along with those hindering it.
The Europepharmaceutical drug deliverymarket, based on application, is further segmented into infectious diseases, cancer, cardiovascular diseases, diabetes, respiratory diseases, central nervous system disorders, autoimmune diseases, and other applications.The cancer segment held the largest share of the market in 2019. However, the infectious diseases segment is estimated to register the highest CAGR during the forecast period; the projected growth of the market for this segment is attributed to the growing adoption of unhealthy practices and lack of preventive care. Increasing number of vaccines and medications are likely to drive the demand for drug delivery devices during the forecast period. Moreover, these vaccine development activities are anticipated to grow considerably owing to increasing number of partnerships and developments in the medical industry.
The growth of theEuropepharmaceutical drug delivery marketis attributed to the factors such asincrease in the number of naturally occurring outbreaks in the region. However, needlestick injuries and infectionsrestrain the growth of the market.
Leading companies operating in the pharmaceutical drug delivery marketareBayer AG, GlaxoSmithKline plc, MERCK KGaA, Pfizer Inc., Novartis AG, among others.

Europe Pharmaceutical Drug Delivery Market, By Country, 2019 (%)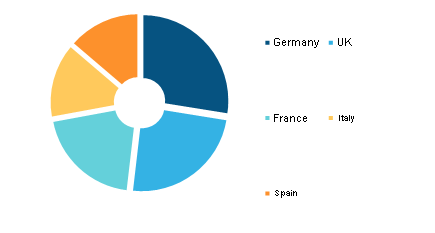 The report segments EuropePharmaceutical Drug Delivery Market as follows:
By Route of Administration
Oral Drug Delivery

Injectable Drug Delivery

Topical Drug Delivery

Ocular Drug Delivery

Pulmonary Drug Delivery

Nasal Drug Delivery

Transmucosal Drug Delivery

Implantable Drug Delivery

By Application
Infectious Diseases

Cancer

Cardiovascular Diseases

Diabetes

Respiratory Diseases

Central Nervous System Disorders

Autoimmune Diseases

Other Applications

By End User
Hospitals

Home Care Settings

ASC/Clinics

Other End Users

By Country
Europe

UK

Germany

France

Italy

Spain
Contact Us
Contact Person: Sameer Joshi
Phone: +1-646-491-9876
Email Id: sales@businessmarketinsights.com
Download Free PDF Brochure
---