Report : Europe Intraoperative Neuromonitoring Market Forecast to 2027 - COVID-19 Impact and Regional Analysis By Product (Systems, Accessories, and Services); Source (Insourced Monitoring, and Outsourced Monitoring); Application (Spinal Surgery, Neurosurgery, Vascular Surgery, ENT Surgery, Orthopedic Surgery, and Other Surgeries); Modality (Motor Evoked Potentials, Somatosensory Evoked Potentials, Electroencephalography, Electromyography, Brainstem Auditory Evoked Potentials, and Visual Evoked Potentials); and End User (Hospitals, and Ambulatory Surgical Centers), and Country
Systems Segment Held Largest Share of Intraoperative Neuromonitoring Market in 2019
According to our new market research study on "Europe Intraoperative Neuromonitoring Market to 2027 – Regional Analysis and Forecast – by Product, Source, Application, Modality and End User" the market is expected to reach US$ 1,050.41 million by 2027 from US$ 596.95 million in 2019; it is estimated to grow at a CAGR of 7.4% from 2020 to 2027. The report provides trends prevailing in the Europe intraoperative neuromonitoring market and the factors driving the market growth along with those hindering it.
In 2019, the systems segment accounted for the largest market share of the intraoperative neuromonitoring market. Systems in intraoperative monitoring are becoming a crucial factor in neurosurgery as it offers an early warning concerning motor & sensory functions during surgery, thus yielding better results and avoiding post-operative neurophysiological deficits. Moreover, market players are developing new products to gain high market share.
The growth of the Europe intraoperative neuromonitoring market is mainly attributed to grow due to rising prevalence of neurologic disorders such as, stroke, cerebral aneurysms and others, increasing research and funds along with the developments made by the players operating in the region. In France and UK, the market is expected to grow due to the rise in the geriatric population leads to the risk of age-related diseases such as cardiovascular, spinal diseases, orthopedic diseases, and more. Therefore, the need for the advancements in medical and materials science is rising in the region. However, the lack of the skilled professional issue is the major factor hindering the market growth in Europe.
Medtronic; inomed Medizintechnik GmbH; Natus Medical Incorporated; NuVasive, Inc; and SpecialtyCare; are among the leading companies operating in the Europe intraoperative neuromonitoring market.


Europe Intraoperative Neuromonitoring Market, By Country, 2019 (%)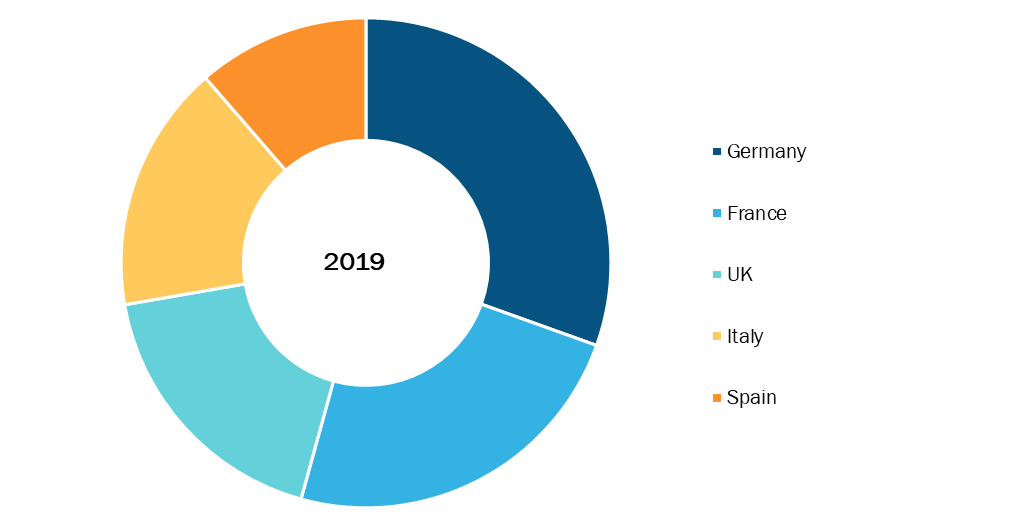 The Report Segments Europe Intraoperative Neuromonitoring Market as Follows:
Europe Intraoperative Neuromonitoring Market – By Product
Europe Intraoperative Neuromonitoring Market – By Source
Insourced Monitoring

Outsourced Monitoring
Europe Intraoperative Neuromonitoring Market – By Application
Spinal Surgery

Neurosurgery

Orthopedic Surgery

ENT Surgery

Vascular Surgery

Other Surgeries
Europe Intraoperative Neuromonitoring Market – By Modality
Somatosensory Evoked Potentials

Motor Evoked Potentials

Electromyography

Electroencephalography

Brainstem Auditory Evoked Potentials

Visual Evoked Potentials
Europe Intraoperative Neuromonitoring Market – By End User
Europe Intraoperative Neuromonitoring Market – By Country
Germany

France

UK

Italy

Spain
Contact Us
Contact Person: Sameer Joshi
Download Free PDF Brochure
---