Report : Europe IGBT and Thyristor Market Forecast to 2027 - COVID-19 Impact and Regional Analysis By IGBT Packaging Type (IGBT Discrete, IGBT Module); IGBT Power Rating (Low, Medium, High); IGBT Application (Energy & Power, Rail Traction Systems, Uninterrupted Power Supply, Electric Vehicles and Hybrid Electric Vehicles, Consumer Electronics, Others); Thyristor Application (Power Transmission Systems, Motor Controllers, Light Dimmers, Pressure Control Systems, Liquid-Level Regulators, Others)
Solution Module Segment to Dominate Europe IGBT and Thyristor Market during 2020-2027
According to a new market research study on "Europe IGBT and Thyristor Market to 2027 - Regional Analysis and Forecast by IGBT Packaging Type, IGBT Power Rating, IGBT Application, and Thyristor Application" is expected to reach US$ 2,016.5 Mn by 2027 from US$ 1,349.1 Mn in 2019. The market is estimated to grow at a CAGR of 5.4% from 2020 to 2027.The report provides trends prevailing in the Europe IGBT and Thyristor market along with the drivers and restraints pertaining to the market growth. The growth of the Europe IGBT and Thyristor market is attributed to the growing prevalence of breast cancer and increasing number of initiatives and investments pertaining to breast cancer management. However, the high cost associated with IGBT and Thyristor hinders the market growth.
The IGBT and Thyristor market, by solution, is segmented into discrete, and module. The module segment held the largest share of the Europe market in 2019; moreover, it is anticipated to register the highest CAGR of 6.1% in the market during the forecast period. The IGBT modules are used in various applications in the traction inverters and for the DC-AC stages of uninterruptible power supplies (UPS), energy storage systems, solar inverters, and motor drive applications.
ABB Ltd., INFINEON TECHNOLOGIES AG, Mitsubishi Electric Corporation, Renesas Electronics Corporation, among others are the leading companies in the IGBT and thyristor market. The companies are focused on adopting organic growth strategies such as product launches and expansions to sustain their position in the dynamic market.
Europe IGBT and Thyristor Market, By Country, 2019 (%)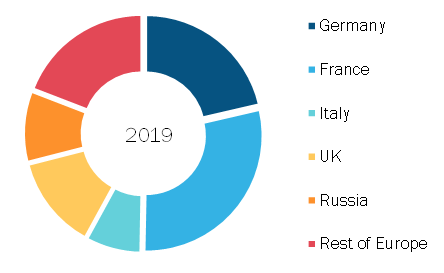 The report segments the Europe IGBT and Thyristor market as follows:
IGBT and Thyristor Market by IGBT Packaging Type
IGBT Discrete

IGBT Module
IGBT and Thyristor Market by IGBT Power Rating
IGBT and Thyristor Market by IGBT Application
Energy & Power

Rail Traction Systems

Uninterrupted Power Supply

Electric Vehicles

Hybrid Electric Vehicles

Consumer Electronics

Others
IGBT and Thyristor Market by Thyristor Application
Power Transmission Systems

Motor Controllers

Light Dimmers

Pressure Control Systems

Liquid-Level Regulators

Others
IGBT and Thyristor Market by Country
Germany

France

Italy

United Kingdom

Russia

Rest of Europe
Contact Us
Contact Person: Sameer Joshi
Download Free PDF Brochure
---