Report : Europe Adult Diapers Market Forecast to 2027 - COVID-19 Impact and Regional Analysis By Product Type (Pant Type, Pad Type, Tape Type, Others); Distribution Channel (Pharmacies, Convenience Store, Online, Others); End User (Household, Hospitals, Others); and Country
Rising demand for adult diapers from geriatric population to drive adult diapers market growth at CAGR of 12.6%
According to our latest market study on "Europe Adult Diapers Market to 2027 – COVID-19 Impact and Regional Analysis – by Product Type (Pant Type, Pad Type, Tape Type, and Others); Distribution Channel (Pharmacies, Convenience Stores, Online, and Others); End User (Household, Hospitals, and Others); and Country" the market was valued at US$ 2,821.2 million in 2018 and is projected to reach US$ 8,167.4 million by 2027; it is expected to grow at a CAGR of 12.6% from 2019 to 2027. The report highlights key factors driving the market with the prominent players and their developments in the market.
Adult, or grown-up, diapers are commonly used by elderly individuals experiencing conditions such as dementia, extreme bowel looseness, versatility debilitation, and incontinence. There are various types of styles of adult diapers available in the market, based on the hip, waist, and leg cuff sizes, which help achieve a fair degree of a custom fit. Based on product type, the Europe adult diapers market has been segmented into pant type, pad type, tape type, and others. The pant type segment dominated the market in 2018. Pant-style adult diapers are the most popular ones as they confer flexibility and feature breathable waistband, which makes them easy to use and enables air to pass through, preventing the development of rashes. It also prevents side leakage, and its thin absorption sheet offers a good fit. The pant type adult diapers are known for their capability to absorb huge volumes of fluids and moisture; they are made from spongy material that feels comfortable and soft against the skin, and soaks up urinary discharge. These pant type diapers are convenient for both men and women with incontinence issues or impaired mobility.
Urinary incontinence and sleep disturbance have shown to be critical indicators of alleged limitations in usual role activities due to physical health problems. Doctors recommend the use of adult diapers in such cases. France and the UK are likely to be the major contributors to the overall demands for personal hygiene products in the region. Additionally, adult diapers are also used for bed-ridden patients. The rising awareness regarding urinary incontinence in Italy, Germany, and France, among other countries, is expected to add to the demand for adult diapers. Moreover, the mounting spending capacity of the consumers in regions like France, Germany, and Italy is another factor contributing to the growth of the market in Europe.
The COVID-19 pandemic first began in Wuhan (China) in December 2019, and since then, it has spread at a fast pace worldwide. Italy, Germany, and the UK are among the most-affected countries in terms of confirmed cases and reported deaths, as of May 2020. According to the latest WHO figures, there are ~5,939,234 confirmed cases, including 367,255 deaths, globally. Increase in the number of hospitalizations related to COVID-19 cases has created a strain on the suppliers of pharmaceutical and personal hygiene products, such as sanitary napkins and adult diapers. This represents a significant opportunity for adult diaper manufacturers to work upon and get a competitive edge over other market players.
Domtar Corporation, Drylock Technologies, Kimberly-Clark Corporation, Essity, Ontex, Abena, and Chiaus are among the well-established players in the Europe adult diapers market. The key companies in this region mainly focus on product enhancements by implementing advance technologies and expanding their presence in untapped markets. For instance, in 2019, Ontex announced the opening of new production facility in Radomsko, Poland, and is environmentally friendly surroundings for the production of products which are marked with a green energy certificate.
Europe Adult Diapers Market Breakdown - by Region, 2018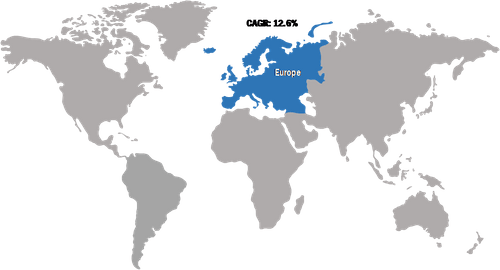 The report segments the Europe adult diapers market as follows:

By Product Type
Pant Type

Pad Type

Tape Type

Others
By Distribution Channel
Pharmacies

Convenience Store

Online

Others
By End User
By Country
Europe

Germany

UK

France

Italy

Russia

Rest of Europe
Contact Us
Contact Person: Sameer Joshi
Download Free PDF Brochure
---