Report : Asia Pacific EEG Machines Market Forecast to 2028 - COVID-19 Impact and Regional Analysis By Product Type (Integrated EEG and Portable EEG), Application (Disease Diagnosis, Sleep Monitoring, Anesthesia Monitoring Trauma and Surgery, and Others), and End User (Hospitals, Diagnostic Centers, Ambulatory Surgical Centers, Research Laboratories, and Others)
The integrated EEG segment by product type is estimated to lead the market growth during the forecast period.
According to a new market research study of "Asia Pacific EEG Machines Market Forecast to 2028 - COVID-19 Impact and Regional Analysis by Product Type, Application, End User and Country." The Asia Pacific EEG machines market is expected to reach US$ 354.66 million by 2028 from US$ 190.78 million in 2021; it is estimated to grow at a CAGR of 9.3% from 2021 to 2028. The report highlights trends prevailing in the Asia Pacific EEG machines market and the factors driving market along with those that act as hindrances.
Neuromarketing is emerging as a new trend and an interesting topic for various academic and commercial organizations. The development in neuroscience has allowed making tools for recognizing and analyzing consumers' expressions and unspoken responses to the marketing stimuli. There have been continuous developments carried out for neuromarketing, which has demanded a good number of EEG machines, functional magnetic resonance (fMRI), magnetoencephalography (MEG), transcranial magnetic stimulator (TMS), positron emission tomography (PET), and functional near-infrared spectroscopy (fNIRS).
In various researches, EEG machines have allowed researchers to conduct research studies easily from anywhere. EEG machine has helped measure consumers' response in an appropriate environment, including retail stores, movie theatres, and bars. The use of EEG for neuromarketing has paved a great potential for market players to create more effective and engaging advertisements. Also, it is expected that neuromarketing will be widely accepted in developing countries and contribute to the surging demand for EEG machines.
The COVID-19 pandemic has created an extraordinary emergency that is particularly affecting the supply chain. The supply chain disruptions, along with the enormous demand for effective therapies for the treatment of COVID-19, have put the healthcare research industry in a critical situation in Asia Pacific. Restrictive measures have been taken to control the spread of this pandemic. The pandemic could affect three main aspects of the global economy –production, supply chain, and firms and financial markets. National governments have announced largely uncoordinated, country-specific responses to the virus. As authorities encourage "social distancing" and consumers stay indoors, several businesses are hit. However, coherent, coordinated, and credible policy responses are expected to offer the best chance at limiting the economic fallout. This pandemic is affecting the business operation of the various key players operating in this region.
Based on product type, Asia Pacific Europe EEG machine market is segmented into integrated EEG and portable EEG. In terms of application, the Asia Pacific EEG machines market is segmented into disease diagnosis, trauma and surgery, sleep monitoring, anesthesia monitoring, and others. Based on end user, the Asia Pacific EEG machines market is segmented into hospitals, diagnostic centers, ambulatory surgical centers, research laboratories, and others. Geographically, the Asia Pacific EEG Machines market is sub-segmented into Japan, China, India, South Korea, Australia and Rest of Asia Pacific.
Koninklijke Philips N.V., Medtronic, Natus Medical Incorporated, Nihon Kohden Corporation, Fresenius SE & Co. KGaA, D & DJ BURTON HOLDINGS, Cephalon A/S and NeuroStyle Ptd. Ltd.are among the leading companies operating in the Asia Pacific EEG Machines market.


Asia Pacific EEG Machines Market, By Country (% Share)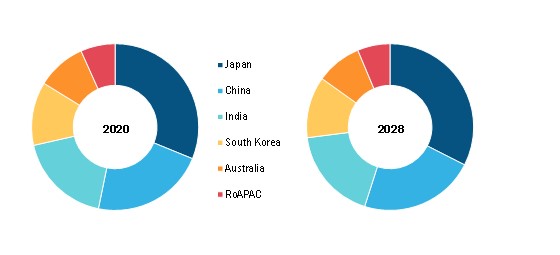 Contact Us
Contact Person: Sameer Joshi
Phone: +1-646-491-9876
Email Id: sales@businessmarketinsights.com

Download Free PDF Brochure
---