Report : Asia Pacific Bioactive Wound Management Market to 2027- Covid-19 Impact and Regional Analysis by Product (Bioengineered Skin Substitutes, Collagen-based Dressing, Antimicrobial Dressings, Alginates, and Hydrocolloids) ; Application (Pressure Ulcers, Diabetic Foot Ulcers, Venous Leg Ulcers, Burn Wounds, and Surgical Wounds); End User ([Hospitals and Clinics, Ambulatory Surgical Centers, and Others)], and Country
Alginates Segment Held Largest Share of Asia PacificBioactive Wound Management Market in 2019
According to our new market research study on "Asia PacificBioactive wound management Marketto 2027 – Regional Analysis and Forecast – by Product, Application,and End User,"the market is expected to reach US$ 676.54millionby 2027 from US$ 371.37million in 2019; it is estimated to grow at a CAGR of 7.9% from 2020 to 2027. The report provides trends prevailing in the Asia Pacificbioactive wound management market and the factors driving the market growth along with those hindering it.
Based on the product, the Asia Pacificbioactive wound management market is segmented into alginates, collagen-based dressing, antimicrobial dressings, bioengineered skin substitutes, and hydrocolloids.The alginates segment held the largest share of the market in 2019. The growth of the alginates segment is attributed to the increasing need for efficient and cost-effective wound management, availability of wide range of products in the market, and increasing adoption of bioactive treatment for chronic wounds. However, the bioengineered skin substitutes segment is expected to grow with the highest growth rate during the forecast period, owing to its acceptance in a wide range of chronic wounds due to its faster healing and reduced infection properties.
The growth of the Asia Pacificbioactive wound management marketis mainly attributed to growing prevalence of wounds and ulcers, and healthcare expenditure in Asia Pacific. However, high cost associated with wound management is likely to pose a negative impact on the market growth.
Smith & Nephew, Hartman Group, Integra Life Sciences Corporation,Coloplast Group,and ConvaTec Group Plc. are some of the leading companies operating in the Asia Pacificbioactive wound management market.
Asia Pacific Bioactive Wound Management Market, By Country, 2019 (%)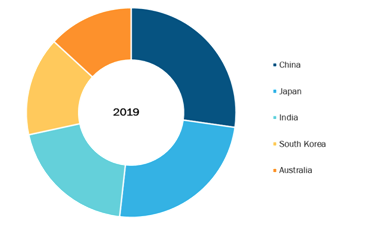 The report segments Asia Pacificbioactive wound management marketas follows:
Asia Pacific Bioactive Wound Management Market– ByProduct
Alginates

Collagen-based Dressing

Antimicrobial Dressings

Bioengineered Skin Substitutes

Hydrocolloids

Asia Pacific Bioactive Wound Management Market – ByApplication
Burn Wounds

Surgical Wounds

Pressure Ulcers

Diabetic Foot Ulcers

Venous Leg Ulcers

Asia Pacific Bioactive Wound Management Market – By Endusers
Hospitals and Clinics

Ambulatory Surgical Centers

Others

Asia Pacific Bioactive Wound Management Market– By Country
Asia Pacific

China

Japan

India

South Korea

Australia
Contact Us
Contact Person: Sameer Joshi
Phone: +1-646-491-9876
Email Id: sales@businessmarketinsights.com
Download Free PDF Brochure
---